Midleton Hurling and Football, Ladies Football and Camogie Club News
01 August, 2021
Midleton GAA…at the 'Heart of the Community'. Ní neart go cur le chéile. There is no strength without unity.
COVID Update & Return to Play

Team managers will advise of date, time and venue for training. Please remember that players/parents are required to complete a Health Questionnaire declaration BEFORE each training session or match.
Midleton GAA 'One Club' have put together a comprehensive guide to the Safe Return to Play for all teams. All parents, players and coaches are asked to familiarise themselves with these guidelines including, but not limited to, the Health Questionnaire requirements and access maps to the 4 facilities being used by Midelton GAA 'One Club'.
Key links:
Midleton GAA 'One Club' Guide and other Return to Play information: covid-19-news
FOIREANN (was Return to Play) where Health Questionnaire can be completed prior to each training session/match (FYI, use the same email and password from last year):
Mega Lotto Results & New Jackpot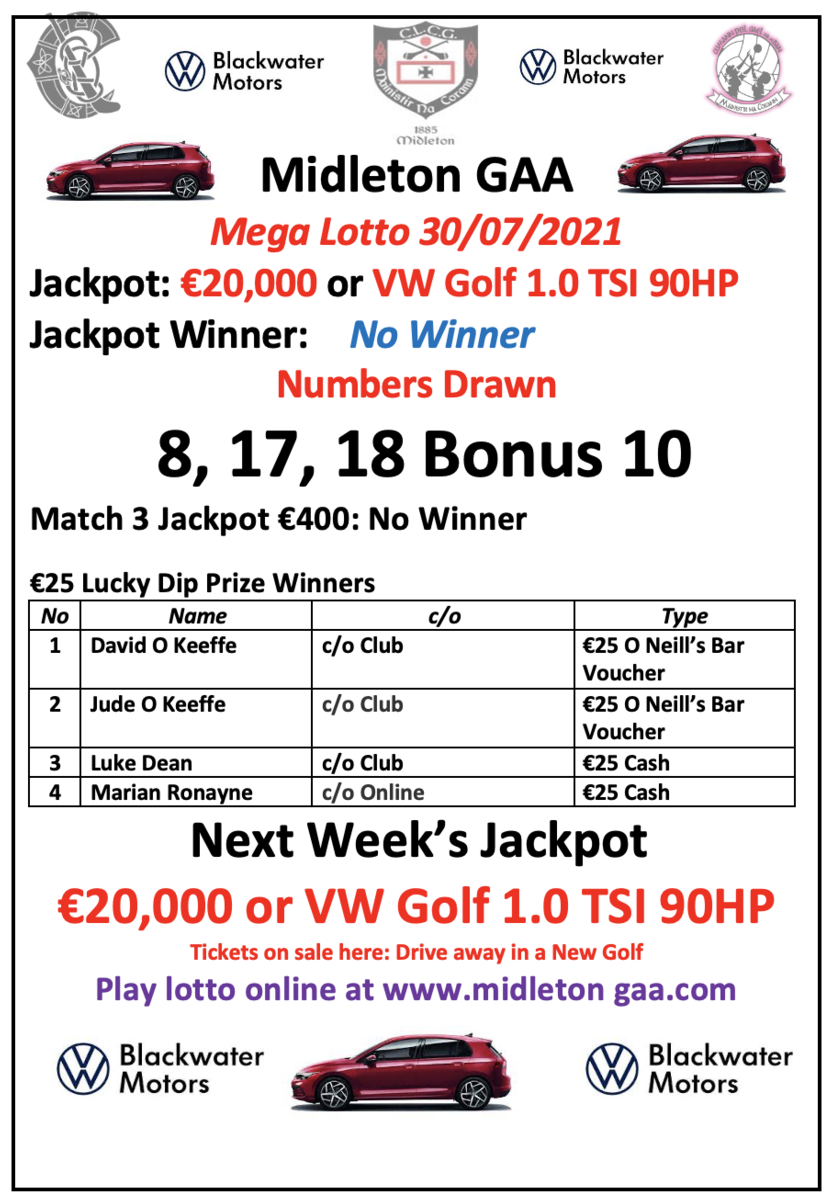 Our Lotto Jackpot was a choice of €20,000 or a VW Golf 1.0 TSI (in partnership with Blackwater Motors) the numbers 08, 17, 18 Bonus 10. There was no winner of the jackpot so next Friday's jackpot will remain the same.
4 Lucky Dip Prize Winners this week were David O'Keeffe, Jude O'Keeffe, Luke Dean & Marion Ronayne with the first 2 named winners receiving €25 O'Neill's Bar Voucher and the later 2 receiving €25 in cash. In total Midleton GAA will give out local business vouchers to the value of €3,800 every year as part of our "Shop Local, Buy Local" campaign.
How to play: Tickets are on sale at Pat Walsh Paints, Chadwicks, Frank Murphy Butchers, Murphy's Pharmacy, Crowley Butchers, or buy online, through Klubfunder, at https://www.klubfunder.com/Clubs/Midleton%20GAA/lotto select your numbers and number of draws to play. You can buy an annual ticket by selecting "50" from the "Number of Draws" to Play dropdown.
GAA Fixtures & Results
It's continuing to be busy on the fixture front. As usual we will endeavor to keep the club website up to date with fixtures and results as well as posting results, as much as possible, on twitter and facebook. Team managers are asked to submit results and any fixture changes to pro.midleton.cork@gaa.ie or text 0868643079.
Website Links:
Fixtures club_fixtures
Results club_results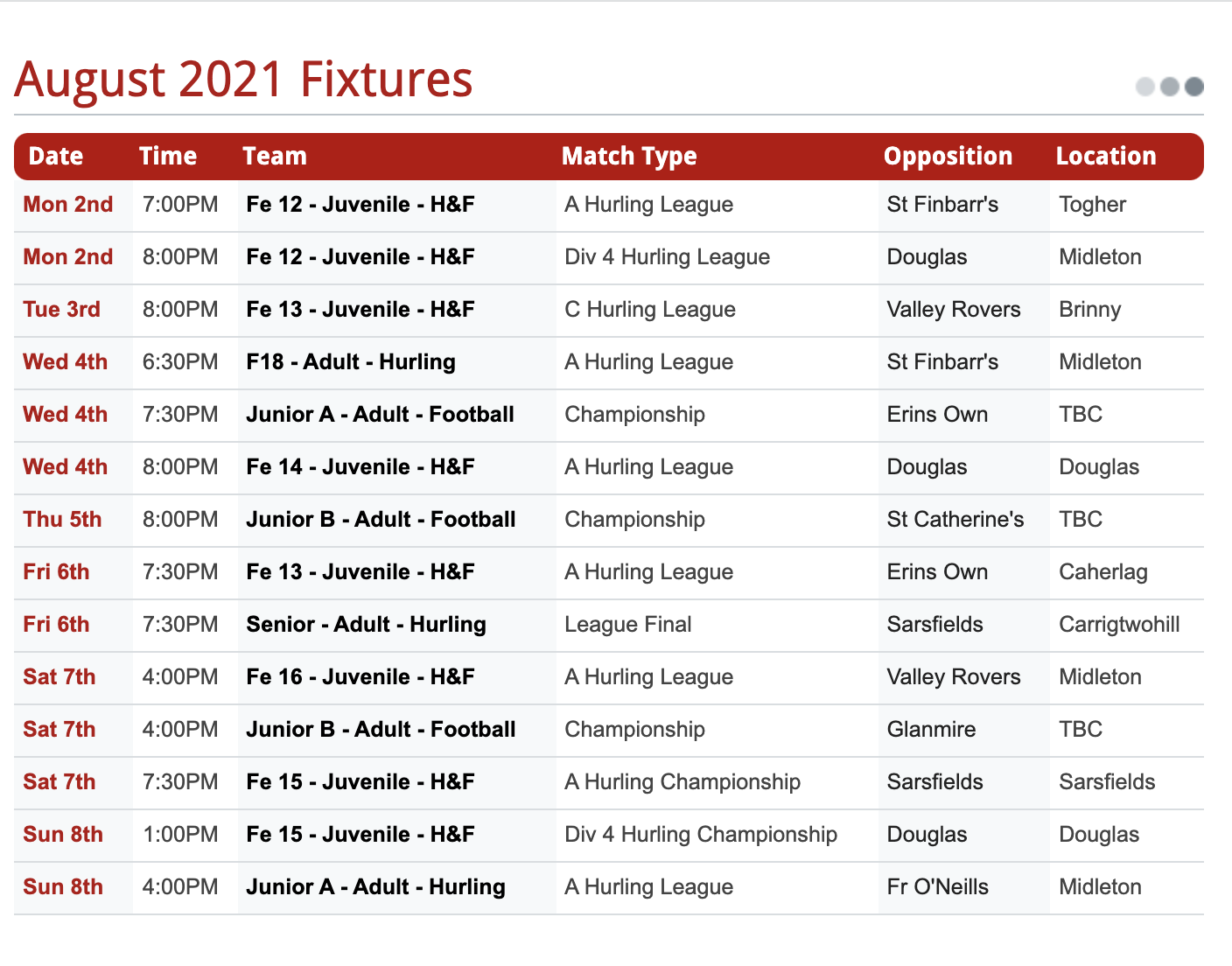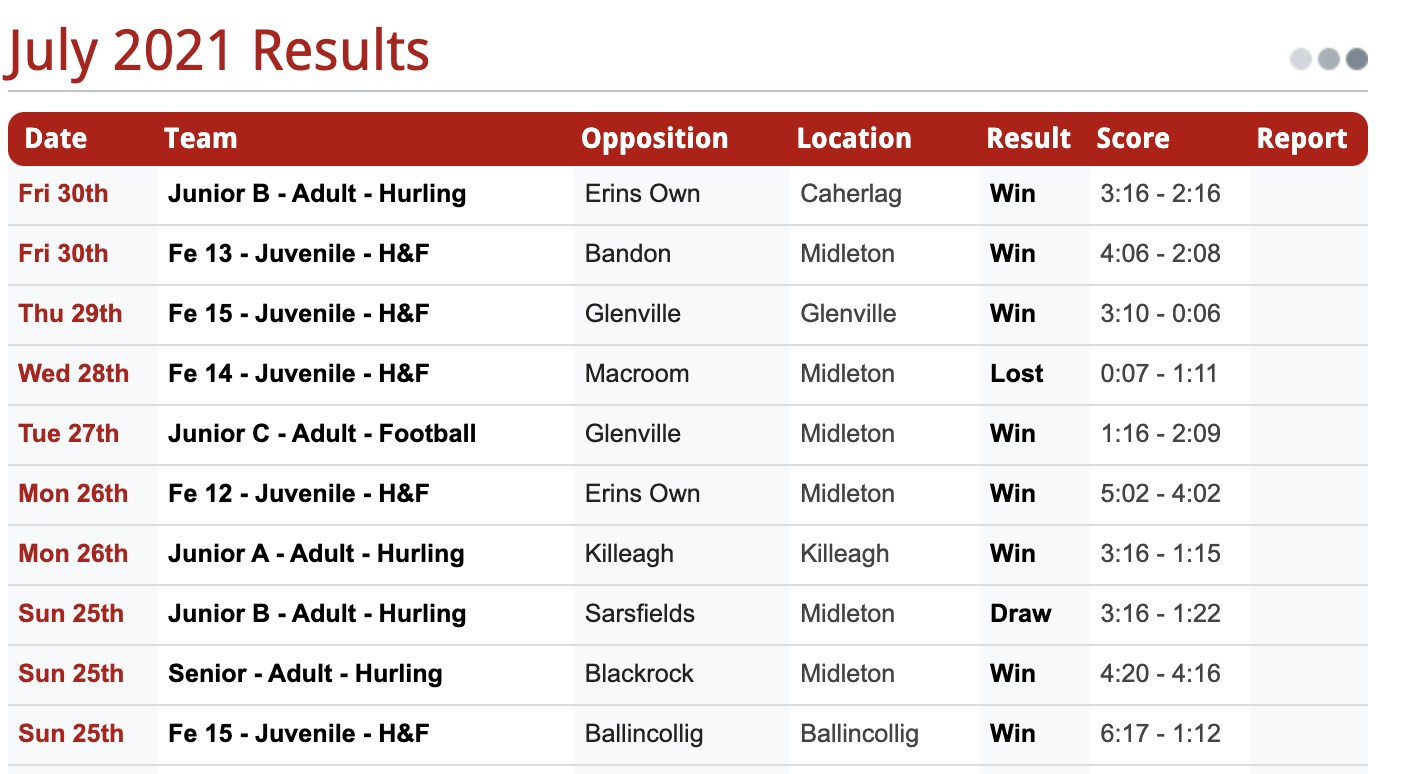 Junior C Championship Round 3
Tuesday 28th July 2021 vs Glenville in Midleton
Final score Midleton 1-16 Glenville 2-09
We played our final group game on Tuesday night against Glenville at home. On the night we were able to field a strong team and had Kieran Denihan making his championship debut for the club. Well done to Kieran who contributed handsomely to the collective effort. On the night we produced a very composed hour of football to win comfortably. Well done to all.
Team: Padraig Dunlea, Declan McInerney, Neil Fitzgerald, Dáire Mooney, Ryan Cahill, Robbie Barry, Aaron Coughlan, Conor Evans, Evan McCarthy, Luke Deane, Kieran Denihan, Alan Power, Davy O'Brien, Leonard Saunderson, Cian Murray. Substitutes: Sean Corcoran and Ciarán Evans.
Juvenile
FÉ8 NOTES
Well done to all the Fé8 boys who took to the field across five teams on Saturday 24th July last in extremely hot conditions to play Carrigaline in the latest football GO GAMES. Despite the heatwave the lads showed great skill and energy in all the games they played. Thanks to all the parents and friends who came to support the lads and thanks to Carrigaline who made the journey.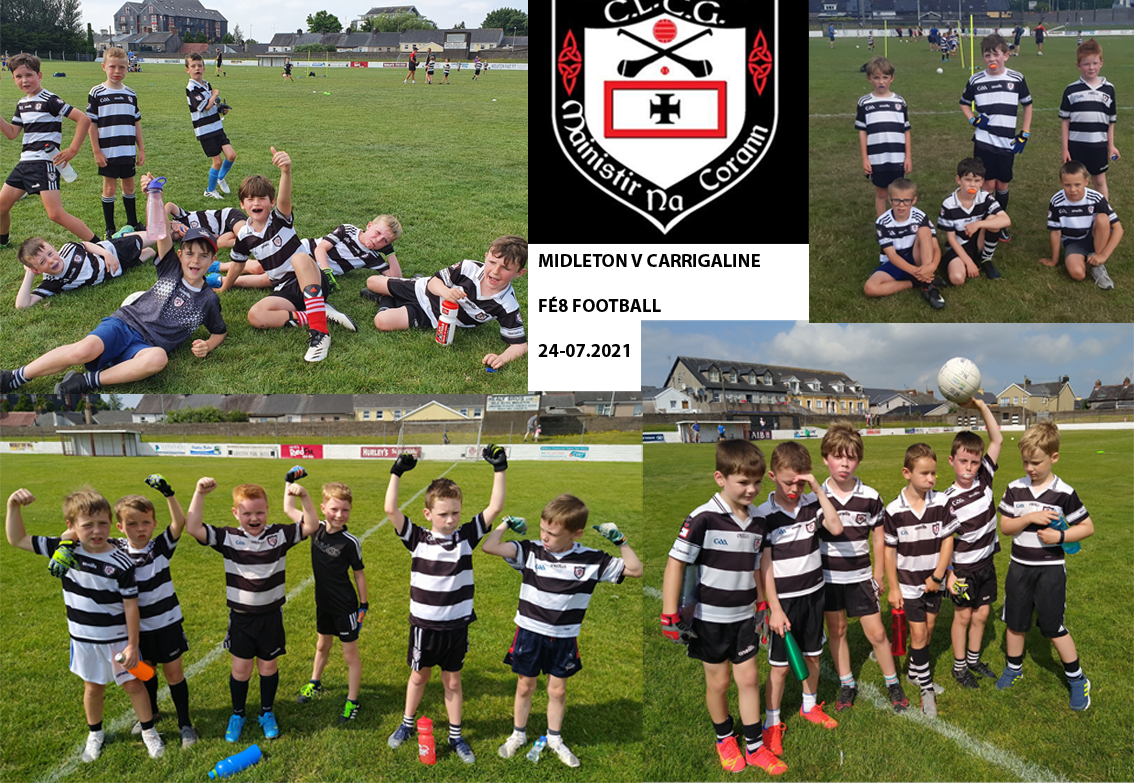 Fe8 v Carrigaline
FÉ9 NOTES:
Our lads travelled to Togher on Saturday to play St Finbarr's in both Hurling and Football games. Our numbers were slightly down due to a lot of folk away on holidays but the 22 young lads we took were absolutely magnificent in all their games each in both Hurling and the Football. We played 2 Hurling and 2 Football matches and the lads got great scores in each of their matches. We would like to thank the parents of this group for there continued support and for making the trip to Togher. We also would like to thank St Finbarr's GAA for hosting us. Training will continue on Wednesday evenings.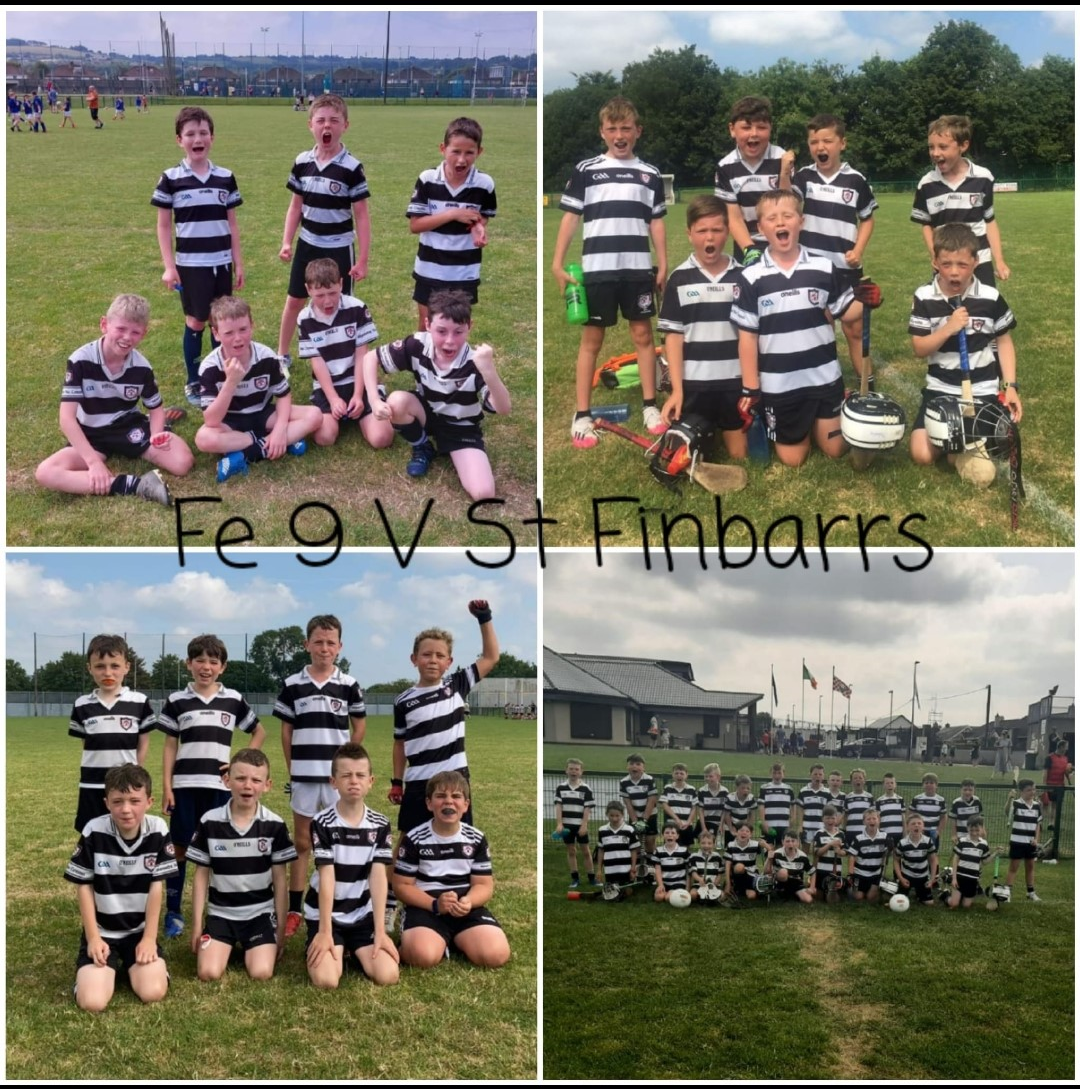 Fe9 v St Finbarr's
Fé10 Notes
Great blitz against Douglas recently. Well done lads, keep the good work up.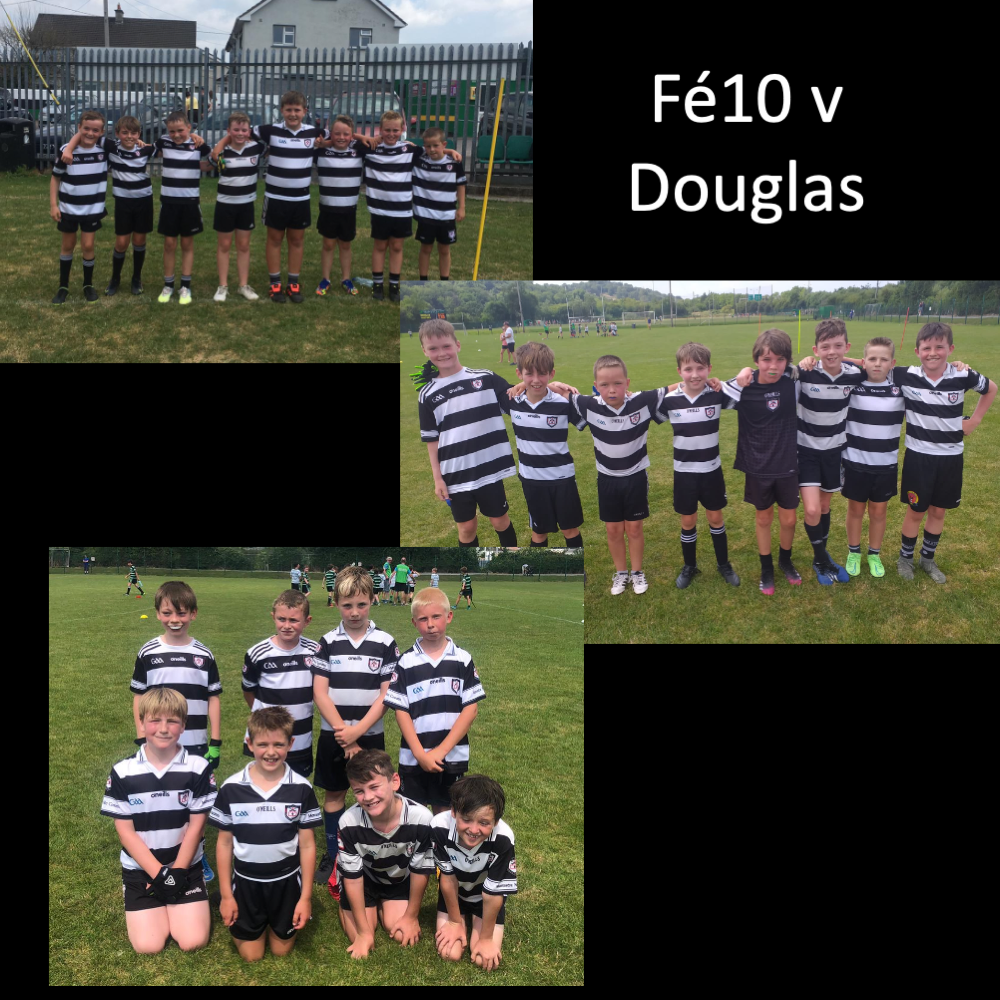 Fe10 v Douglas
Fé11 Notes
Another hard mornings football away to Douglas this weekend for our fé11 Magpies. Great effort in 27 degrees. Well done all. Training continues Tuesday and Thursday.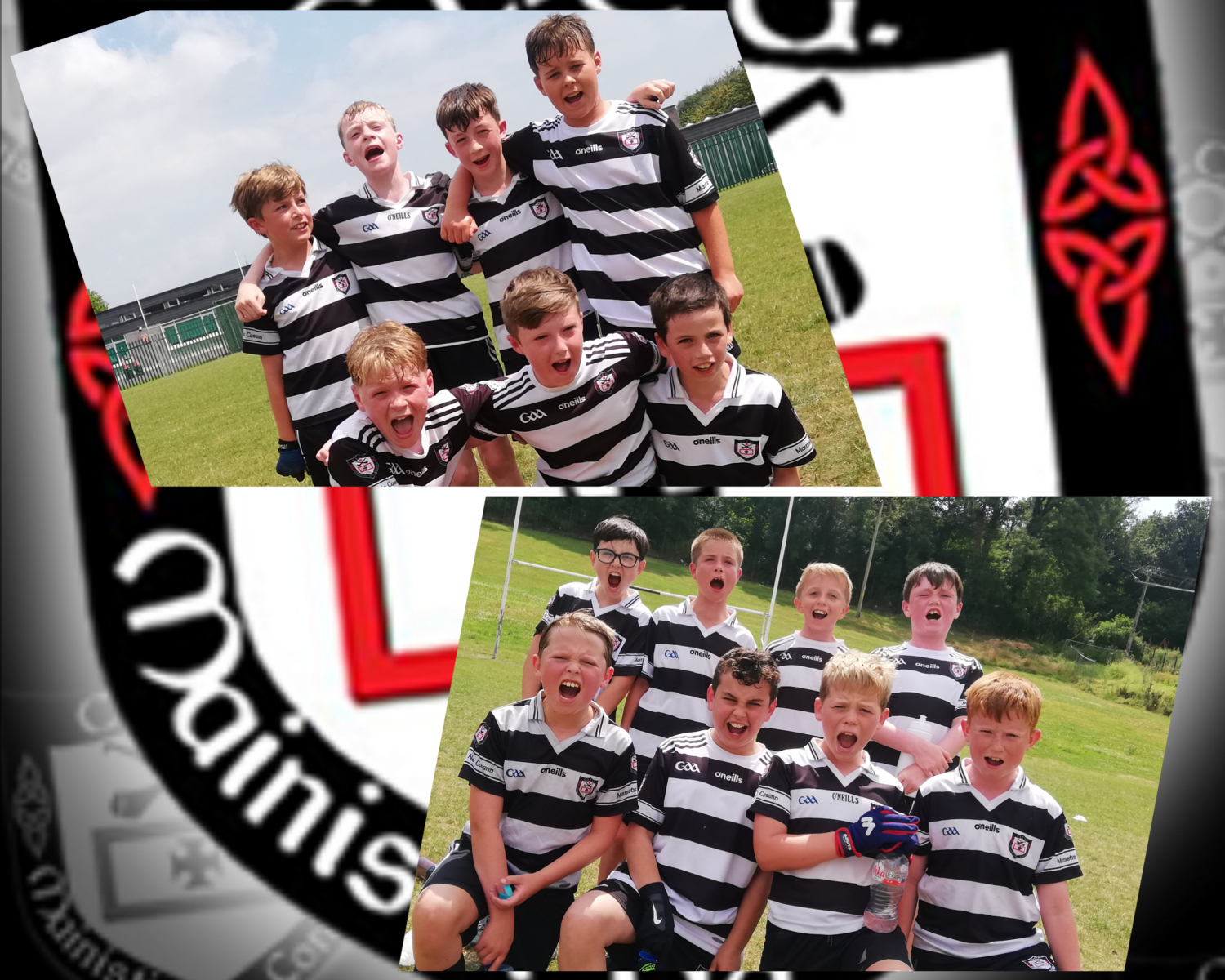 Fe11 v Douglas
U15 P1 HURLING CHAMPIONSHIP
Saturday in Clonmult Park, saw us take on Glen Rovers. Conditions were very difficult for both teams, stifling heat definitely affected the players from the start but they still managed to put on a full blooded affair, Midleton drew first blood with a pointed free and thereafter the Glen took the lead, but we drove on and led at the water break 1-05 to 0-4.
The match was being played at a blistering pace by halftime we had stretched our lead 1-11 to 1-05.
The start of the second half saw a Glen player receive a red card. The numerical advantage was always going to be important with the conditions almost unbearable for the players. Our defence was very disciplined and deserve great credit for the way they defended as a unit. The second water break was most welcome and we had increased our lead again 2-13 to 1-08.
As expected the Glen threw everything at us in the last fifteen minutes and found the net twice as the clock ticked [slowly] down, we responded well to the challenge. This quarter saw two players one from each side receive red cards in what was a tempestuous last 15 minutes. Final score Midleton 2-19 Glen Rovers 3-12.
A fantastic win and performance in a must win game, great credit to every player for contributing hugely towards the end result. Next up is Sars on Sat 7th.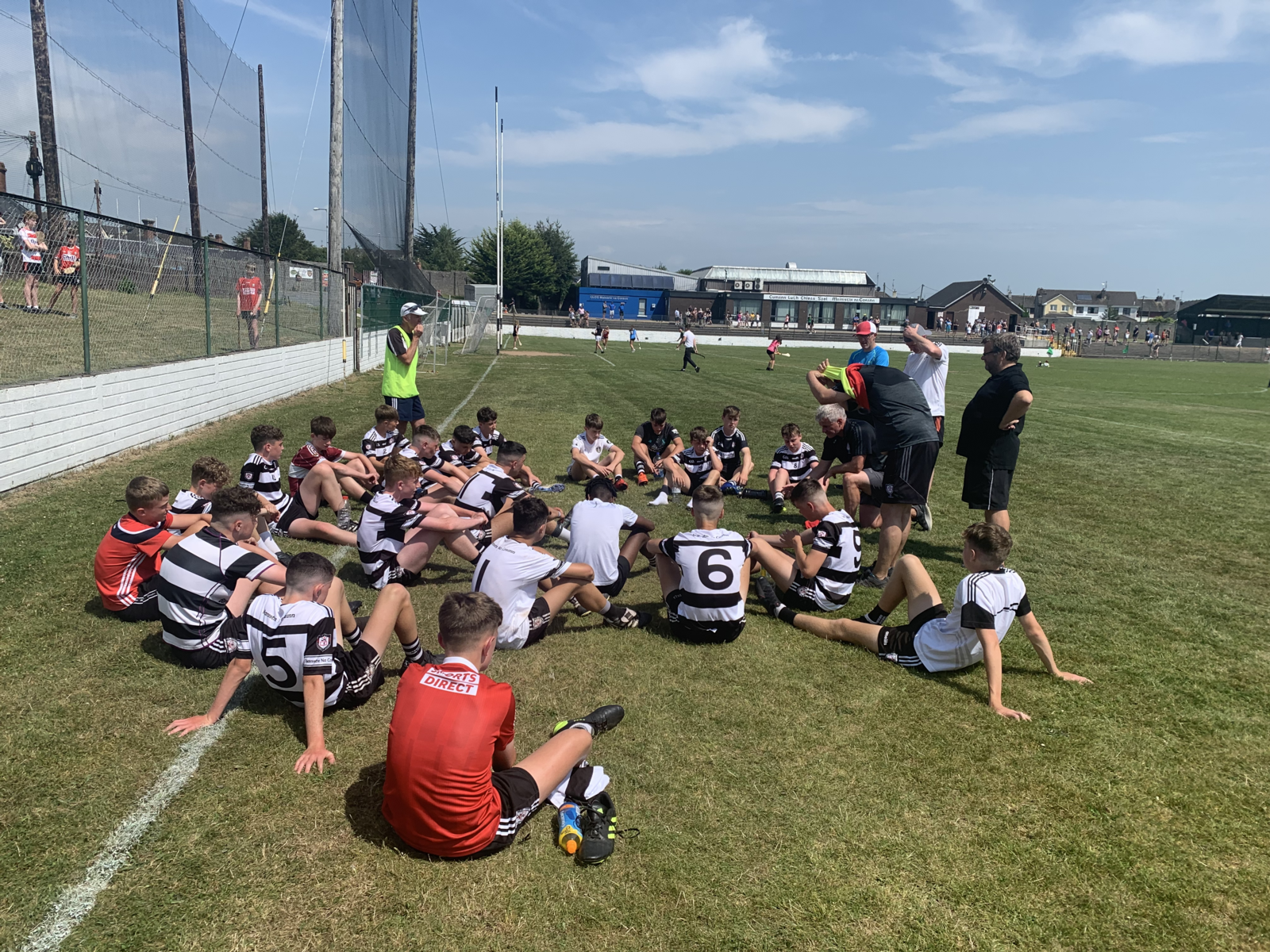 Fe15 Post Match Team Talk v Glen Rovers
Camogie Notes
U12 Notes
The U12's were in Ballygarvan recently for their final phase 1 group game. The girls dug deep and came away with the win against a strong Ballygarvan side in very hot conditions. Well done to the girls who top their group and now look forward to phase 2.
Congratulations to Ciara Hynes who made some fantastic saves as she captained the U12's to victory against Ballygarvan on Saturday evening!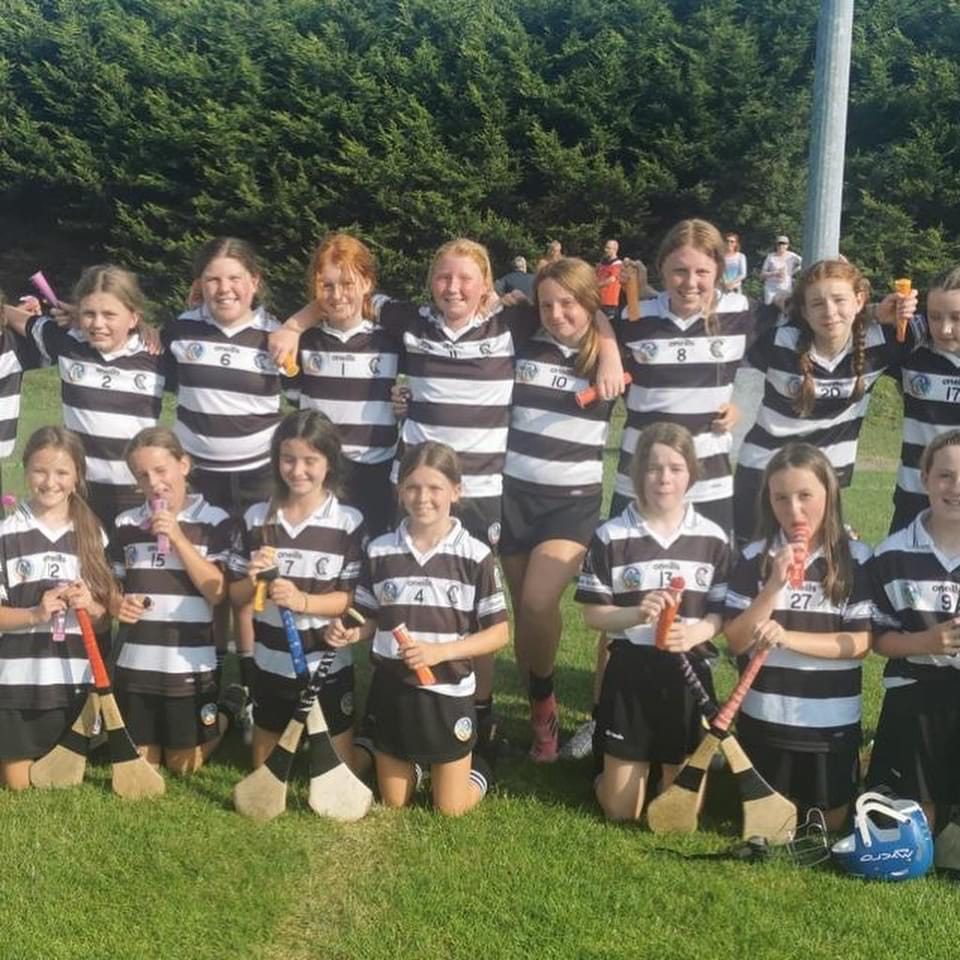 U12 Team v Ballygarvan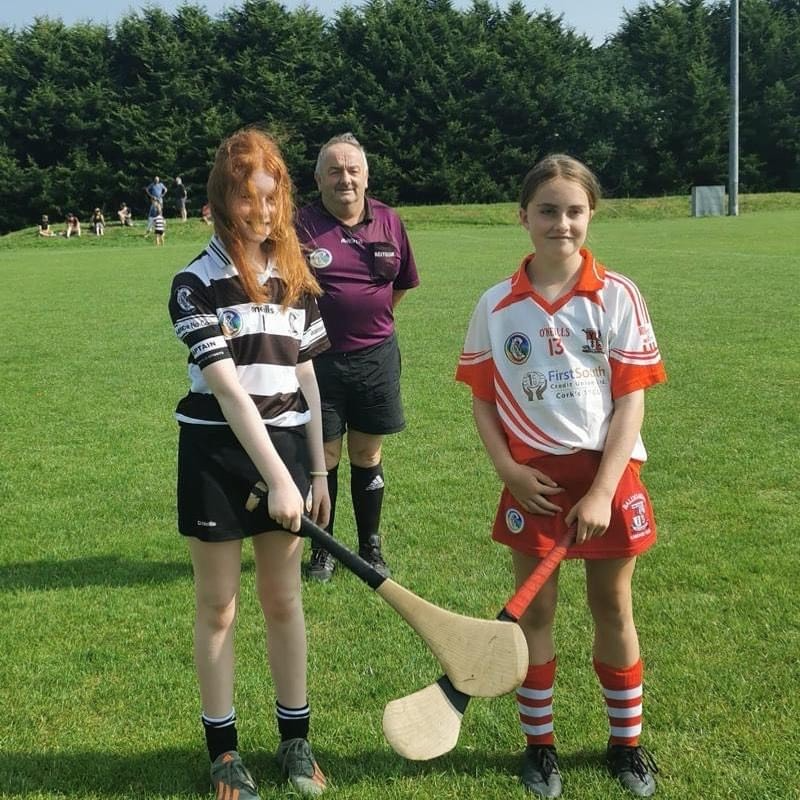 U12 Team Captain Ciara Hynes v Ballygarvan
Ladies Football Notes
U14 League
Our U14A had a draw vs Rockbán in the club on Wednesday evening. Well done to the girls for digging deep in difficult playing conditions as they also had to battle the elements of the weather. Once again thank you to the Parents for the support on the sideline. This team have two league matches coming up in the next few weeks.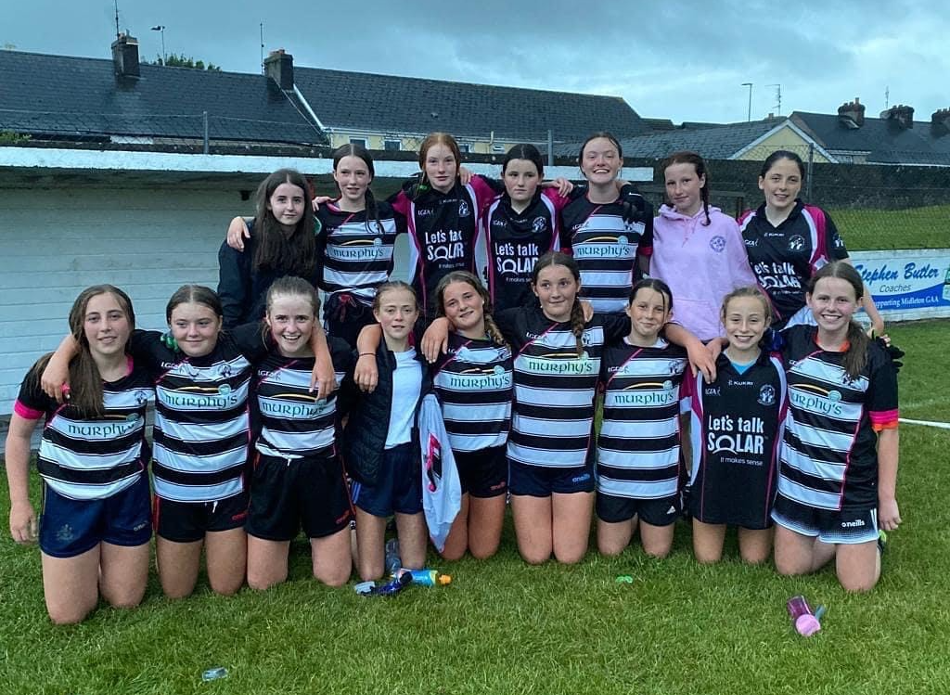 U16 League
Our U16 Ladies travelled to Glanmire on Monday evening for their final league match which has now seen us qualify for the league playoffs. It was a tough game from the start and we took a while to find our stride. The girls gave each other great encouragement at the half time break and started to play to their potential in the second half. Even though the result did not go our way on the night we can take some great positives from the game. Well done everyone.