Midleton Hurling and Football, Ladies Football and Camogie Club News
25 July, 2021
Midleton GAA…at the 'Heart of the Community'. Ní neart go cur le chéile. There is no strength without unity.
COVID Update & Return to Play

Team managers will advise of date, time and venue for training. Please remember that players/parents are required to complete a Health Questionnaire declaration BEFORE each training session or match.
Midleton GAA 'One Club' have put together a comprehensive guide to the Safe Return to Play for all teams. All parents, players and coaches are asked to familiarise themselves with these guidelines including, but not limited to, the Health Questionnaire requirements and access maps to the 4 facilities being used by Midelton GAA 'One Club'.
Key links:
Midleton GAA 'One Club' Guide and other Return to Play information: covid-19-news
FOIREANN (was Return to Play) where Health Questionnaire can be completed prior to each training session/match (FYI, use the same email and password from last year):
Mega Lotto Results & New Jackpot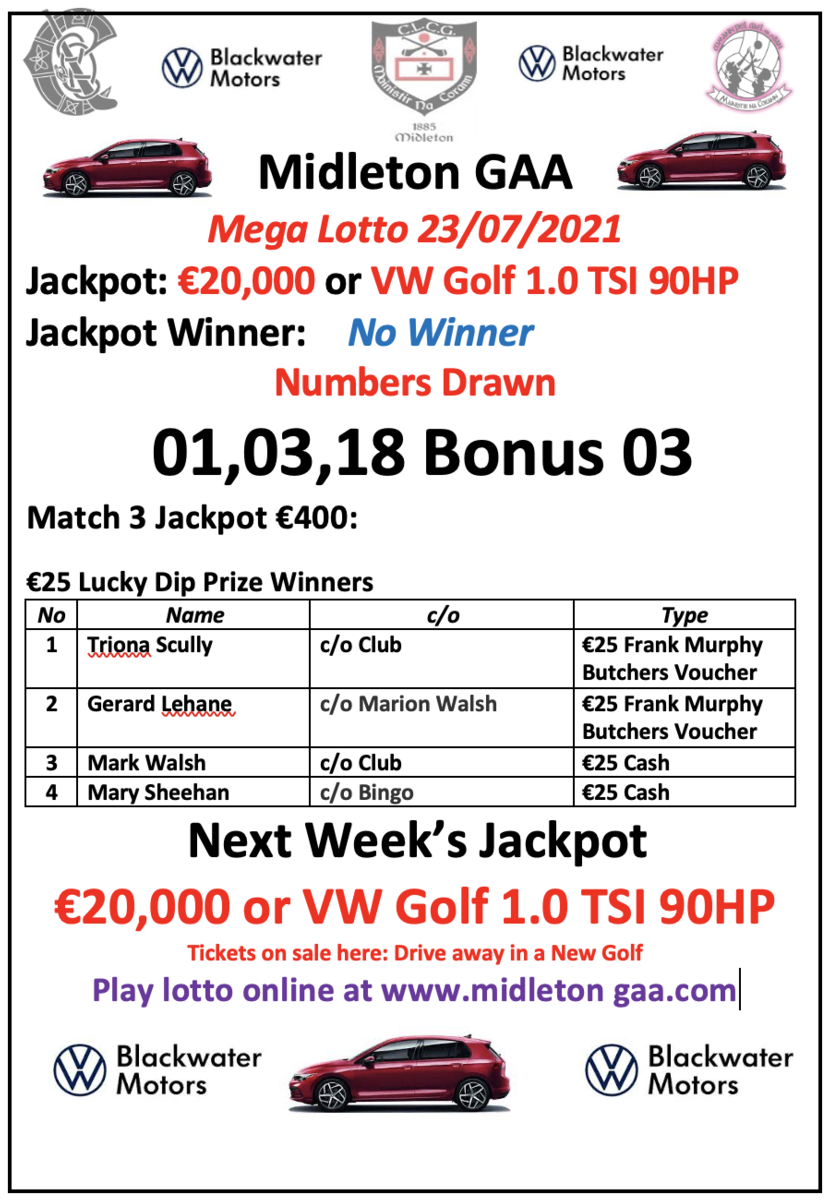 Our Lotto Jackpot was a choice of €20,000 or a VW Golf 1.0 TSI (in partnership with Blackwater Motors) the numbers 01, 03, 18 Bonus 03. There was no winner of the jackpot so next Friday's jackpot will remain the same.
4 Lucky Dip Prize Winners this week were Triona Scully, Gerard Lehane, Mark Walsh & Mary Sheehan with the first 2 named winners receiving €25 Frank Murphy Butcher Voucher and the later 2 receiving €25 in cash. In total Midleton GAA will give out local business vouchers to the value of €3,800 every year as part of our "Shop Local, Buy Local" campaign.
How to play: Tickets are on sale at Pat Walsh Paints, Chadwicks, Frank Murphy Butchers, Murphy's Pharmacy, Crowley Butchers, or buy online, through Klubfunder, at https://www.klubfunder.com/Clubs/Midleton%20GAA/lotto select your numbers and number of draws to play. You can buy an annual ticket by selecting "50" from the "Number of Draws" to Play dropdown.
Midleton GAA Golf Classic
This year has seen the successful return of a vital fundraising and social event in our club calendar. This cannot be held successfully without the help and support of many people, including:
Main sponsors Blackwater Motors
Team and Tee Box Sponsors
The Moloney Family in East Cork Golf Club
Local businesses who helped provide food and beverages at the event
Club members who helped in organising the event
The many golfers who took part in this social event
We look forward to seeing you all back again in 2022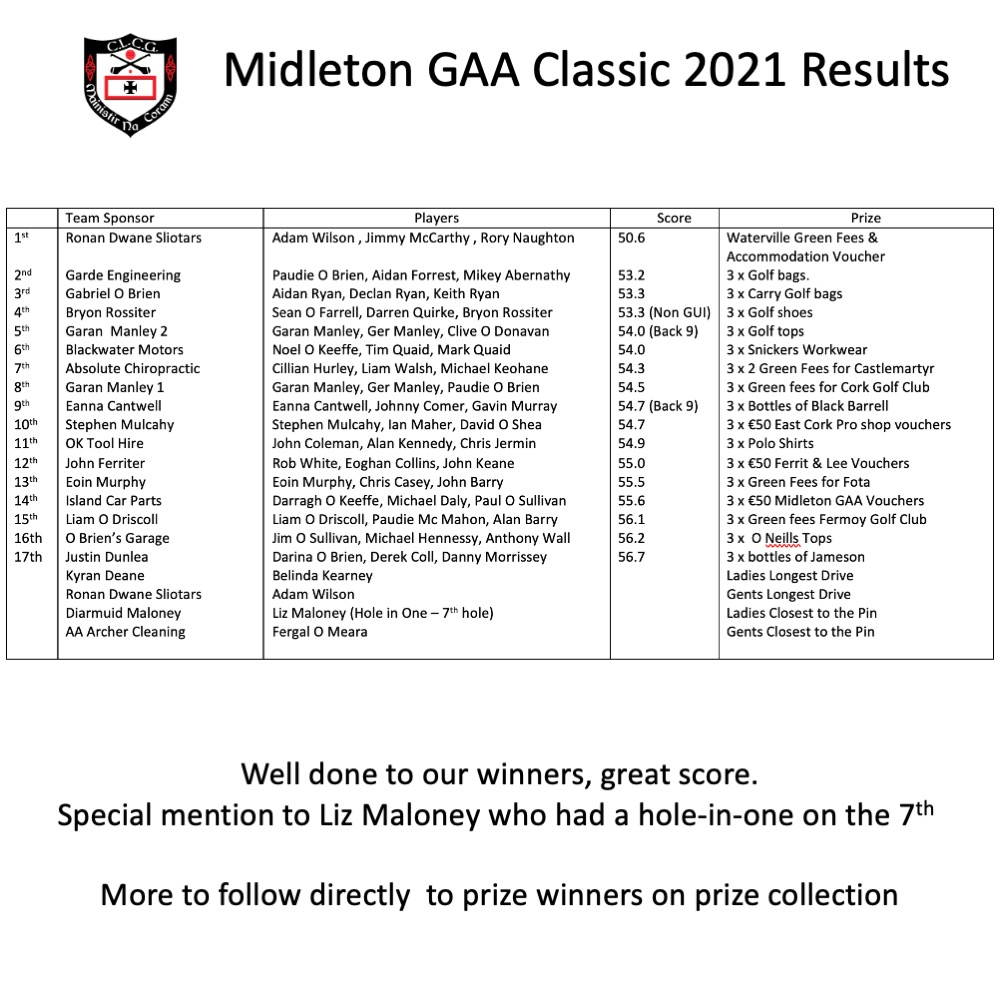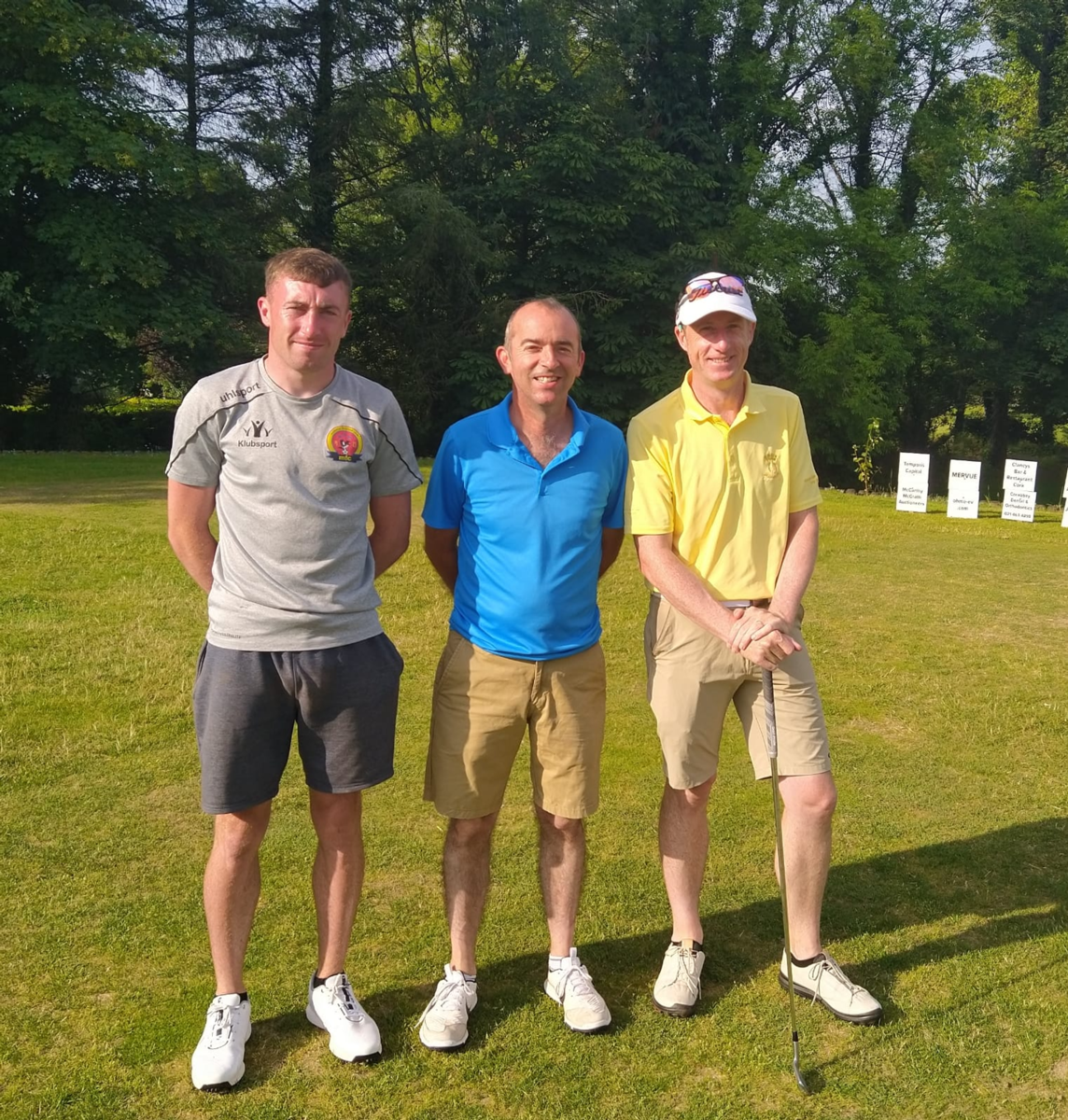 Winners of 2021 Golf Classic were Adam Wilson, Jimmy McCarthy & Rory Naughton playing in a team sponsored by Ronan Dwane Sliothars
GAA Fixtures & Results
Fixtures are coming 'hot and heavy' across all sections of the club, at both adult and juvenile sections. We will endeavor to keep the club website up to date with fixtures and results as well as posting results, as much as possible, on twitter and facebook. Team managers are asked to submit results and any fixture changes to pro.midleton.cork@gaa.ie or text 0868643079.
Website Links:
Fixtures club_fixtures
Results club_results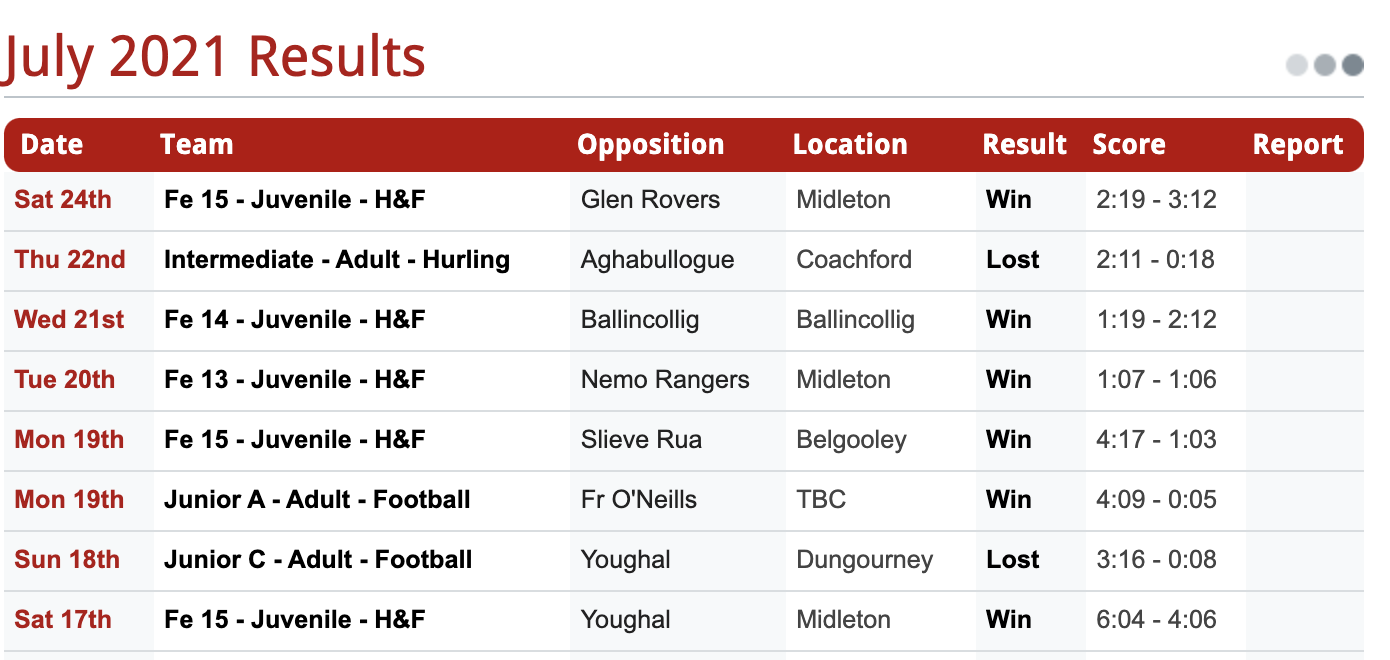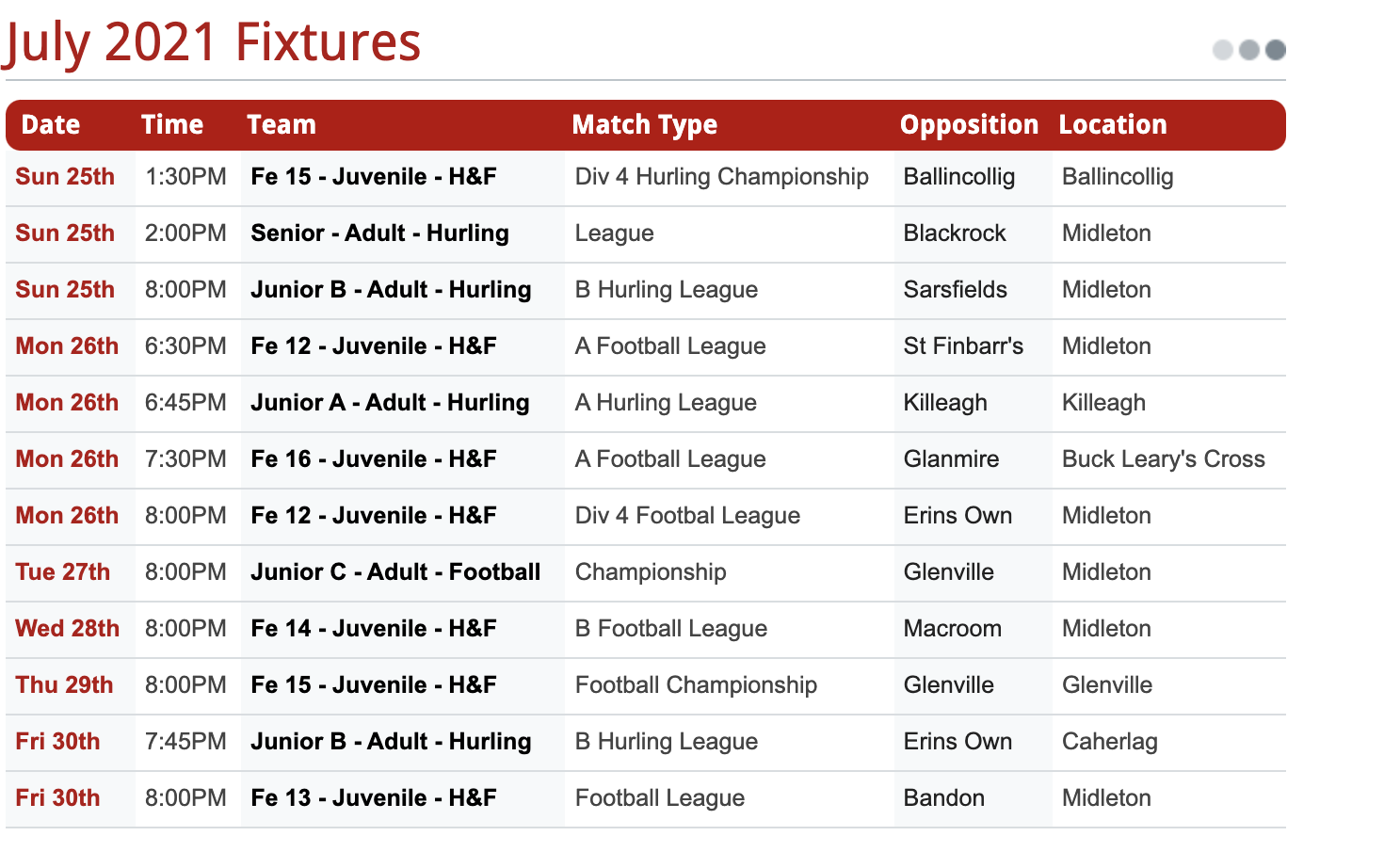 Junior A Football Championship
Monday 19th July 2021 vs Fr. O'Neills
Midleton 4:09 Fr. O'Neills 0:05
Eoghan Collins, Cian Crowley, Aidan Ryan, Willie Casey, Luke Dineen (Capt.) (1-0), Seamus O'Farrell (-1), Seadnaidh Smyth, Padraig O'Farrell, Sean O'Meara, Cormac Beausang (1-1,1f), Eoghan Maloney, Cathal Gunning, Christian Daly (1-0), Jonny comer (1-4), Garan Manley (1-1,1f). Subs used, Dan Cagney. Dara McCarthy, (-1), Tommy O'Connell, Darren Quirke, Niall Walsh.
Junior C Championship Round 2
Sunday 18th July 2021 vs Youghal in Dungourney
Final score: Midleton 0-08 Youghal 3-16
On Sunday morning we travelled to Dungourney to play Youghal in round two of the junior C championship. We started brightly but loosing our full back to injury was a cruel break as we only had fifteen players. Thank you to Declan for coming to the game at half time, it was really appreciated. As the game wore on and the heat took its toll on everyone, Youghal finished the stronger. Unfortunately this loss means we can no longer qualify for the knockout stages. We will complete the group stage with our round three game versus Glenville on Tuesday 27th July at 8pm.
Team: Padraig Dunlea, Ryan Cahill, Chris Power, Leonard Saunderson, Fergus Wade, Robbie Barry, Conor Evans, Niall Walsh, Adam Meade, Alan Power, Jack Fitzgerald, Ciarán Evans, Davy O'Brien, Charlie Walsh and Luke Deane.
Substitutes: Declan McInerney.
Junior C League Round 3
Wednesday 21st July 2021 vs Lisgoold in Lisgoold
Final score Midleton 5-10 Lisgoold 0-05
On Wednesday night we looked to get the show back on the road after Sunday's defeat, when we travelled to Lisgoold. Despite starting with fourteen players we took the game to the hosts right from the start. On the night we played some great football and showed a great hunger to contest every ball. On the night several players went above and beyond to come and tog out. You know who you are and this is really appreciated by the whole group.
Team: Leonard Saunderson, Jerome Curtin, Eoin Ferriter, Daniel Wathen, Andrew Rea, Barry Fitzgerald, Aaron Coughlan, Daniel Cagney, Conor Evans, Liam Kelly, Charlie Walsh, Alan Power, Jan Haandrikman, Christian Daly and Kieran Denihan.
Substitutes: Robbie Barry, Brian O'Sullivan, Colin Sunderland, Ben O'Neill and Adam Faye.
Juvenile
Fé 7 Notes
We welcomed Carrigtohill to Clonmult on Saturday for an hours hurling. We played twelve very competitive games and got positive results in the majority of these.

We were thrilled with all our players, they battled for every ball and played some great hurling over the course of the games. We fielded four teams and all our players got plenty of touches and showed great skills.
Fé 11 Notes
On Saturday the Fé11s welcomed St. Finbarrs to a sweltering Clonmult for a great afternoons hurling. In super tough conditions, our young Magpies battled hard and had some well-deserved wins. Well done all.
Training and matches for the following week will be txt out as usual.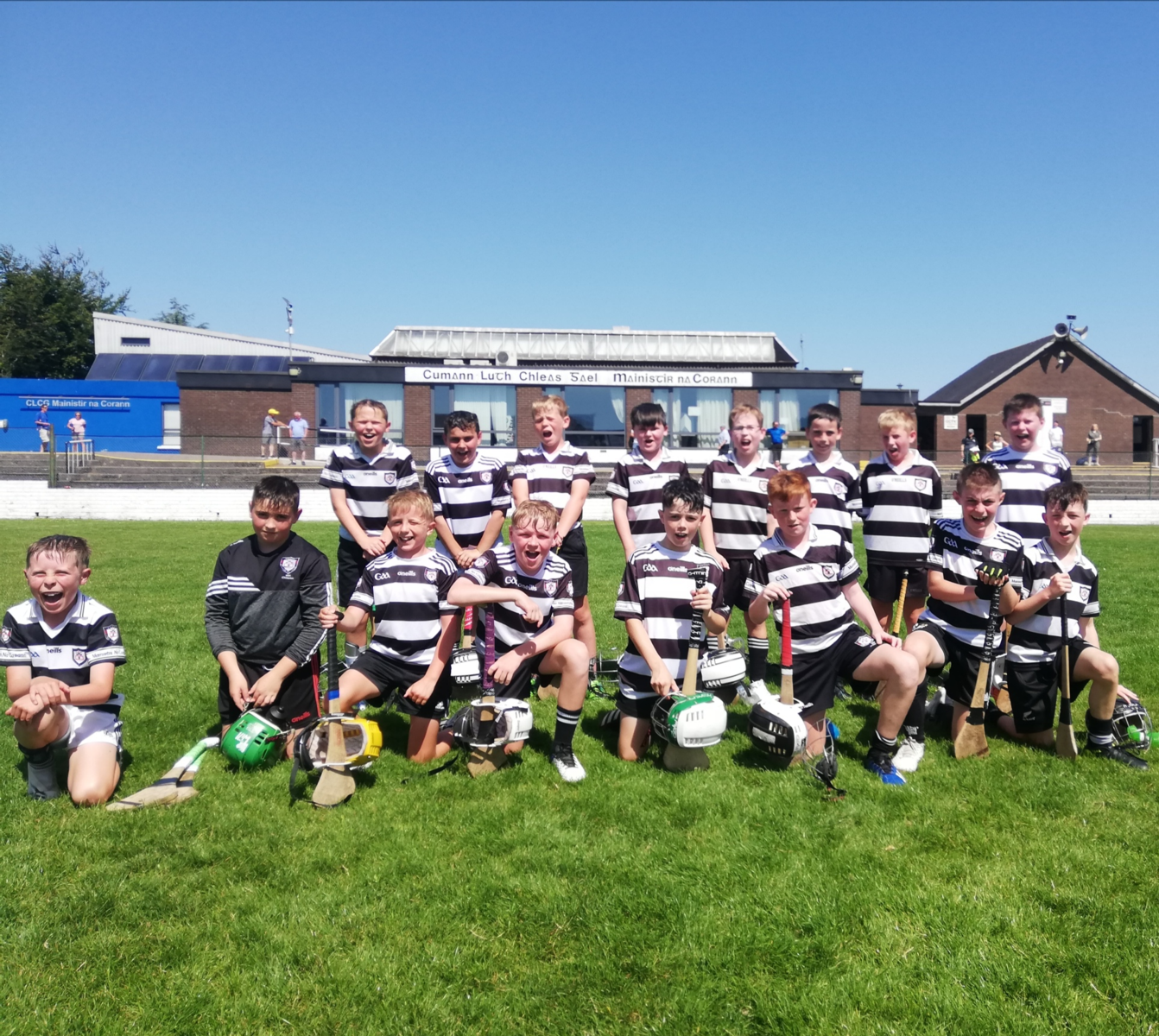 Fé11 v St Finbarrs
Fé 9 Notes
Our lads hosted Killeagh and Aghada on Saturday on a glorious morning in Midleton.
We had 27 players in attendance for this and all our lads performed to best of their ability and got some good scores in each of the games. We would like to thank Aghada and Killeagh for making the journey to Midleton and also like to thank all the parents from the 3 clubs for their commitment.
The lads will be Training again on Wednesday and we hope to play St Finbarrs in Togher next weekend.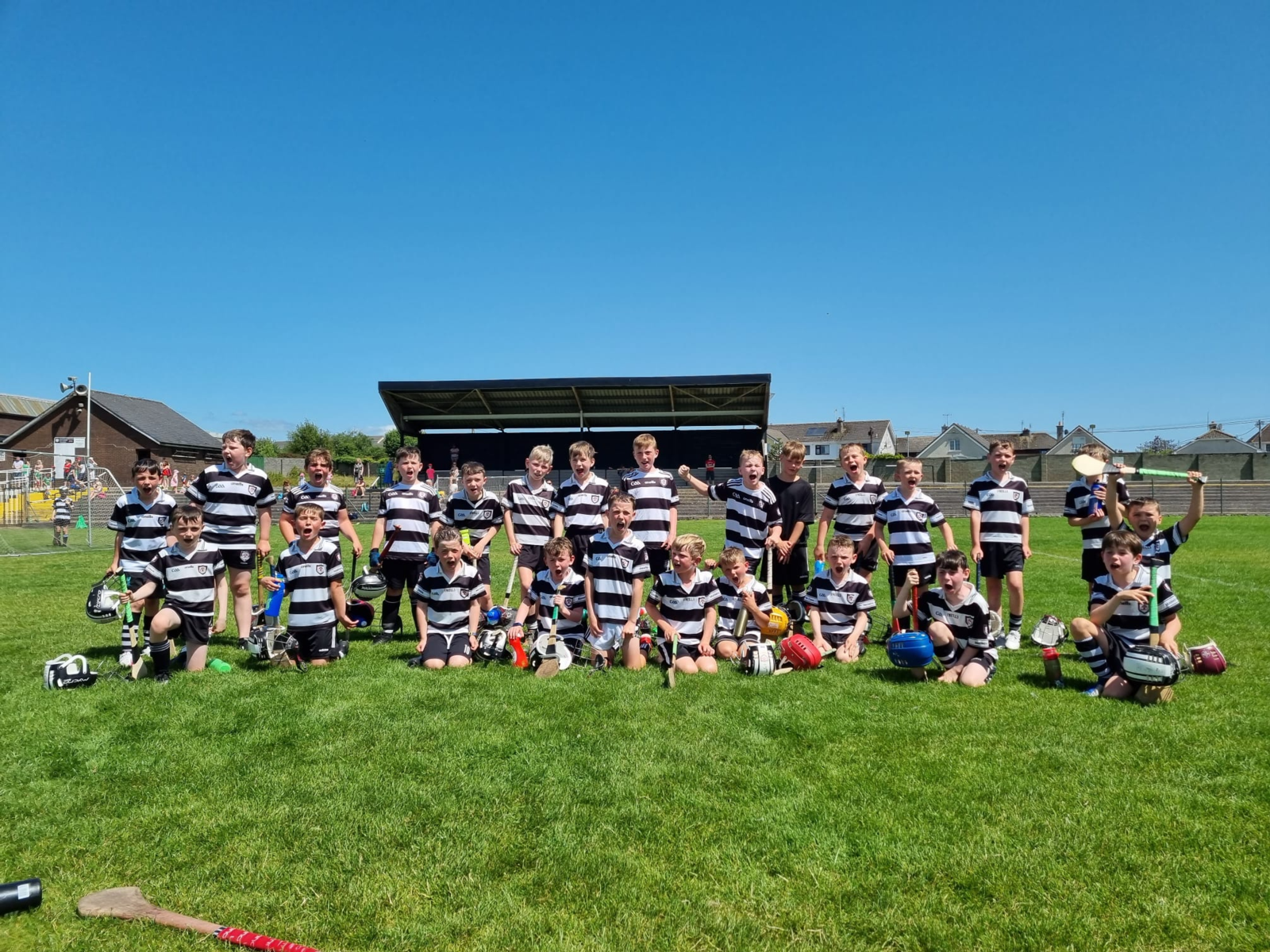 Fé9 in Blitz
Camogie
U12 Notes
U12 V St Catherines
The U12's took on St Catherine's in a challenge game in Ballynoe on Wednesday evening last 21st July.The result didn't go our way but the girls competed well against strong opposition in sweltering heat. We are looking forward now to our final league group game against Ballygarvan on Saturday 24th July . Thanks to St Catherine's for a good competitive game.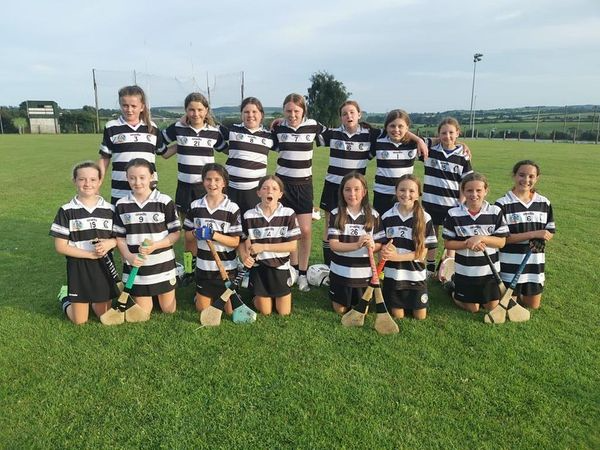 FE 12 V St Catherines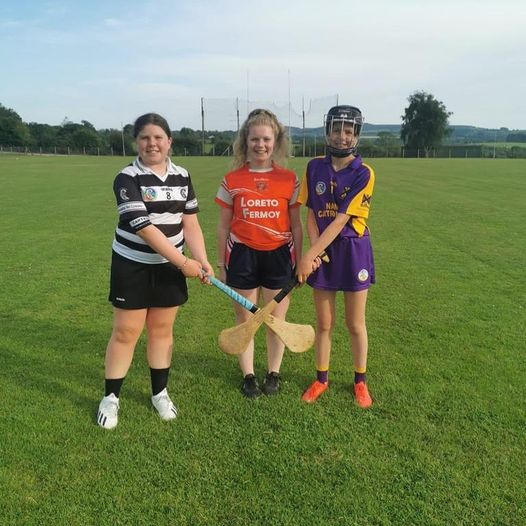 FE12 Captain Molly McGrath
U16 Notes
Midleton v Eire Og U16
Midleton hosted Éire Óg on Wed 7th July for an evening throw in ,in what was the last round robin league game before we enter the knockout stages of the Premier league. This is a 'Champions League' type group format with 4 groups of 4 teams where teams will playoff against other teams who finished in similar positions in their respective groups
It turned out to be a high scoring affair and both sides managed some well taken long range points from play with Éire Óg taking entering the half-time interval leading by 1-7 to 1-3
Upon the restart, the third quarter was very competitive and Midleton matched their opponents and trailed at the end of the quarter by 2-9 to 2-3.
In the final quarter, Éire Óg stretched their advantage with a series of well taken points from play and despite all the hard work by the Midleton girls the final score was 3-16 to 3-04 to the opposition.
It must be remembered that this Éire Óg team won the All Ireland Féile competition in 2019 and their experience and skill was evident on the night, however the Midleton team can be very happy with the night's work having ran then so close for the majority of the game.
Midleton have now qualified for the Premier league plate league consisting of a knockout competition for teams finishing 2nd and 3rd in their respective groups and we await out quarter final opponents from the County board.
Midleton Panel: Jill Connaughton, Elle McManus, Ruthi Hennessy, Laura Goulding, Muireann Ni Chonchubhair, Emily Lamb, Aoife Fitzgerald, Emma O'Sullivan, Isabelle Nestor, Kelly Quirke, Saoirse Ni Theangana , Beth Ryan, Amy McCarthy, Emma O'Neill, Rachel Ryan, Lora Dineen, Seana O'Brien, Rachel Greene, Rionnach Finn, Jade Fitzgerald, Kate O'Sullivan, Pippa Hennessy, Sorcha Cronin, Kate Sanderson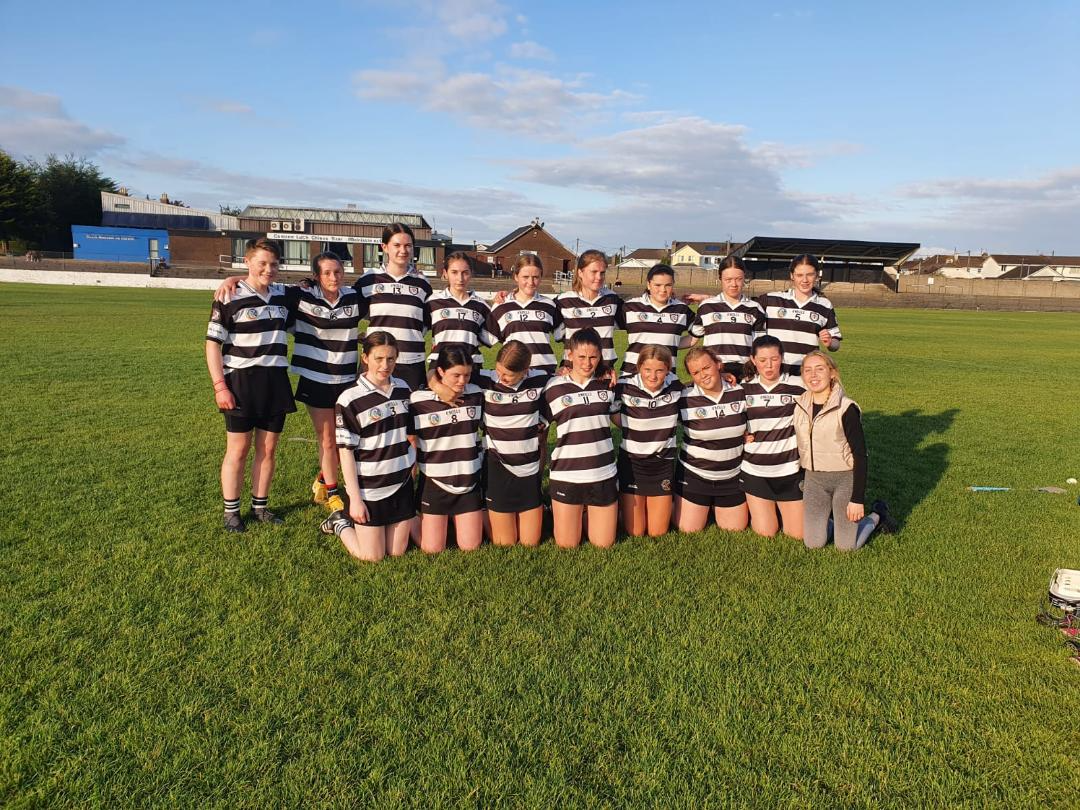 FÉ16 V Eire Og
Midleton v Castlemartyr U16 on Sunday 18th July in Ladysbridge
Midleton U16 travelled to Castlemartyr for a local challenge match in what turned out to be a blistering evening in Ladysbridge. Credit to both sides who put on a fantastic high-scoring performance given the extreme heat and showed great skill and determination throughout.
Midleton took some early hard earned early scores but Castlemartyr always kept within touching range and never allowed the visitors to get away. The half time score was 1-8 to 0-8 to Midleton.
The second half also dished up some fine play from both teams who kept their respective scores ticking along throughout the half, in the end it finished with a Midleton victory 3-13 to 2-11
The challenge gave Midleton an opportunity to give some pitch time to squad members who had very little opportunity so far this season and the mentors were delighted to see so many girls now pushing for places in what is a very competitive panel.
Additionally there will be opportunity with the commencement of the Imokilly U15 league and Feile tournament in August for more pitch time for the girls.
Next up for the U16 panel will be the Premier league quarter finals followed by 1st round of Championship, details from County board to follow.
Midleton Panel: Jill Connaughton, Elle McManus, Ruthi Hennessy, Laura Goulding, Muireann Ni Chonchubhair, Emily Lamb, Aoife Fitzgerald, Emma O'Sullivan, Isabelle Nestor, Kelly Quirke, Saoirse Ni Theangana , Beth Ryan, Amy McCarthy, Emma O'Neill, Rachel Ryan, Lora Dineen, Seana O'Brien, Rachel Greene, Rionnach Finn, Jade Fitzgerald, Kate O'Sullivan, Pippa Hennessy, Sorcha Cronin, Kate Sanderson, Kate Griffin
Cork U16A notes
All Ireland Camogie Final Cork V Kilkenny
On Sunday 18th July all roads led to St Brendan's Park, Birr Co Offaly for the All Ireland Camogie Final where Cork came up against Kilkenny . Cork had already overcome Tipperary,Waterford , Dublin and Galwasy to earn their spot in the final.It was a nail biting game from start to finish with a final score line of Cork 2-12 to Kilkenny 2-10.Congratulations to one an all from their management team and to each and every girl ,most importantly our own Jill Connaughton who proudly stood in goals on the day to represent her club and county. Well done Jill and to all your team mates . A great honour for you and your family .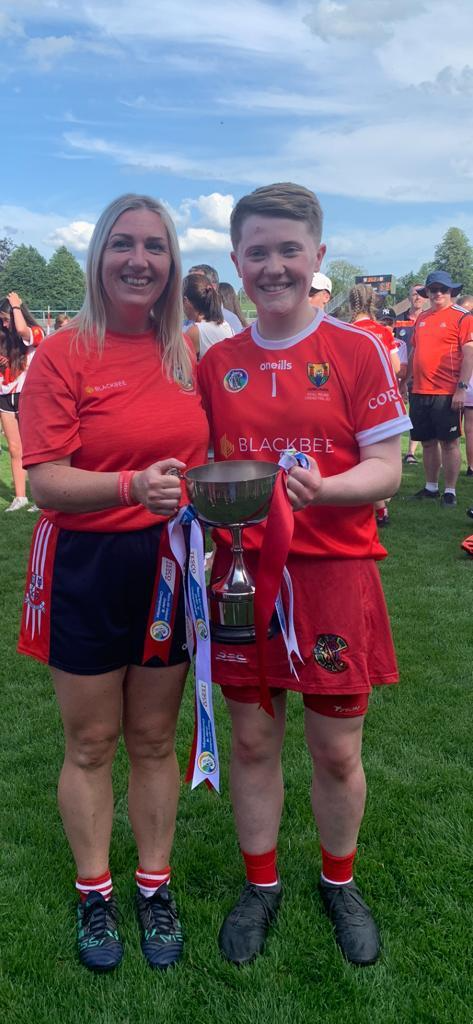 Ladies Football Notes
U12 League v Cobh
On Sunday last our U12 girls took on Cobh in Clonmult Park. A great team performance was put in by all the girls who deserve great credit as it was the hottest part of the day. Great support on and off the ball saw plenty of scores come our way. Well done to you all.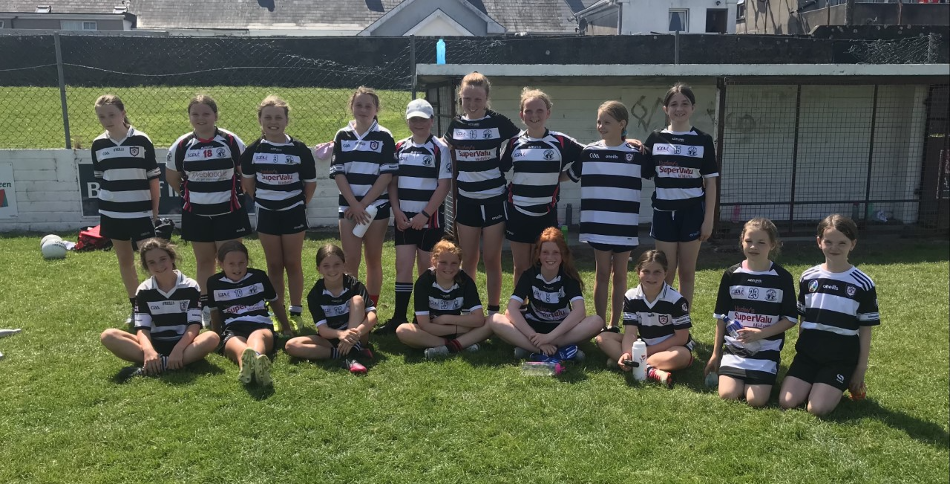 U10
Last Saturday saw the U10 girls have a second challenge game of the season away to Inch Rovers in Killeagh. In what was intense heat and with only 2 teams compared to the opposition's 3, the 20 girls put in an outstanding performance of effort and skill playing 3 games each. The improvement in the girls was very evident to see, with great kicking, catching, passing, and tackling skills and team work on display. Keep up the practice girls.
The girls now take a well-deserved break for the next 2 weeks before the 2nd half of this disrupted season gets underway. We hope to see them all back and eager for more football on the 9th of August.