Midleton Hurling and Football, Ladies Football and Camogie Club News
18 July, 2021
The key messages for this week:
COVID-19 Update… Safe Return to Play
Great win for our Junior B Hurlers against Ballyhea last Sunday in 2020 County Final
Golf Classic (21st & 22nd July) tee times are filling up
Midleton GAA…at the 'Heart of the Community'. Ní neart go cur le chéile. There is no strength without unity.
COVID Update & Return to Play

Team managers will advise of date, time and venue for training. Please remember that players/parents are required to complete a Health Questionnaire declaration BEFORE each training session or match.
Midleton GAA 'One Club' have put together a comprehensive guide to the Safe Return to Play for all teams. All parents, players and coaches are asked to familiarise themselves with these guidelines including, but not limited to, the Health Questionnaire requirements and access maps to the 4 facilities being used by Midelton GAA 'One Club'.
Key links:
Midleton GAA 'One Club' Guide and other Return to Play information: covid-19-news
FOIREANN (was Return to Play) where Health Questionnaire can be completed prior to each training session/match (FYI, use the same email and password from last year):
Mega Lotto Results & New Jackpot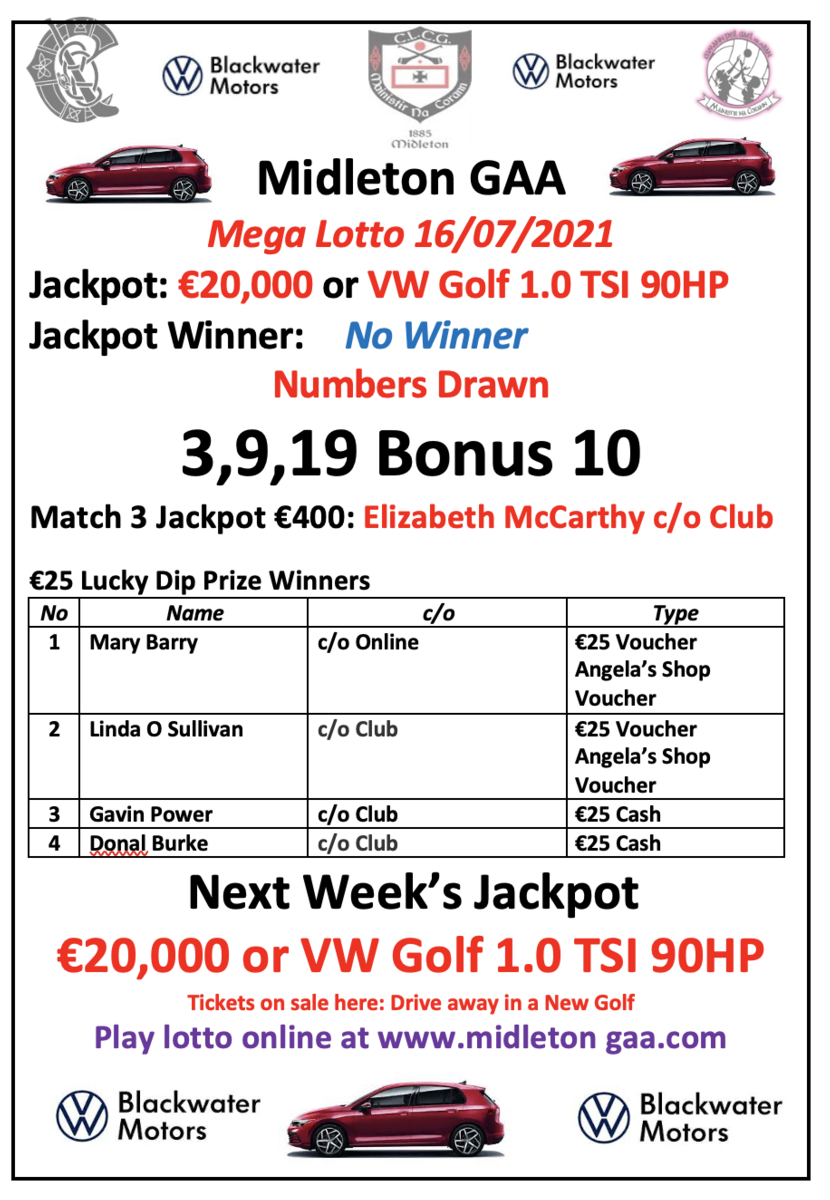 Our Lotto Jackpot was a choice of €20,000 or a VW Golf 1.0 TSI (in partnership with Blackwater Motors) the numbers 03, 09, 19 Bonus 10. There was no winner of the jackpot so next Friday's jackpot will remain the same.
Congratulations to Elizabeth McCarthy, winner of the €400 match 3 Jackpot.
4 Lucky Dip Prize Winners this week were Mary Barry, Linda O'Sullivan, Gavin Power & Donal Burke with the first 2 named winners receiving €25 Angela's Shop Voucher and the later 2 receiving €25 in cash. In total Midleton GAA will give out local business vouchers to the value of €3,800 every year as part of our "Shop Local, Buy Local" campaign.
How to play: Tickets are on sale at Pat Walsh Paints, Chadwicks, Frank Murphy Butchers, Murphy's Pharmacy, Crowley Butchers, or buy online, through Klubfunder, at https://www.klubfunder.com/Clubs/Midleton%20GAA/lotto select your numbers and number of draws to play. You can buy an annual ticket by selecting "50" from the "Number of Draws" to Play dropdown.
Midleton GAA Golf Classic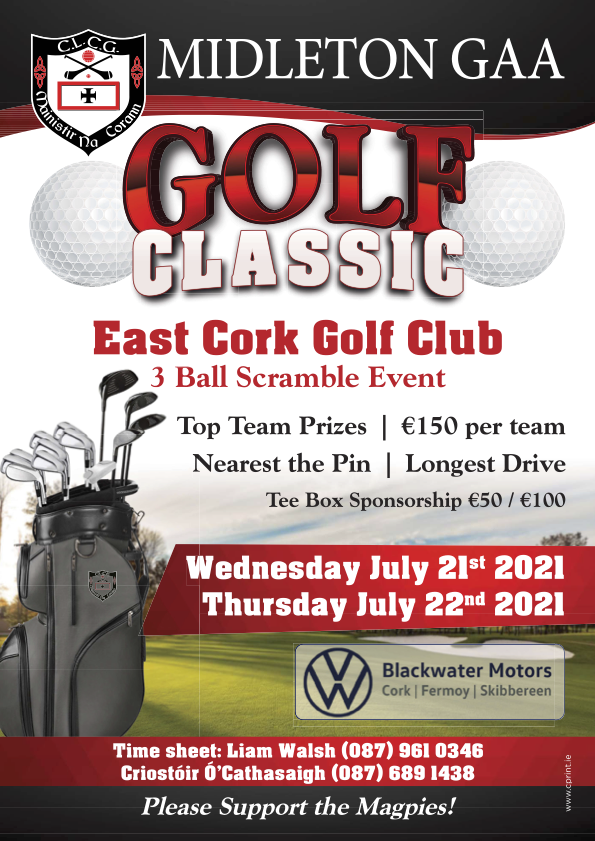 Main Sponsor - Blackwater Motors
When: Wed & Thurs, 21st & 22nd July 2021
Where: East Cork Golf Club
This is a popular event in the Midleton GAA social and fundraising calendar. Combining a social 3-man scramble format with great prizes, food, and fun, this is a must for your mid-Summer diary.
Contact Liam Walsh (087 9610346) or Criostoir Ó Cathasaigh (087 6891438) to reserve your tee time
Or
Book your team online at: https://www.klubfunder.com/Clubs/Midleton%20GAA/EventRegistration#EventRegistrationOptions (give your preferred tee time)
Park South Update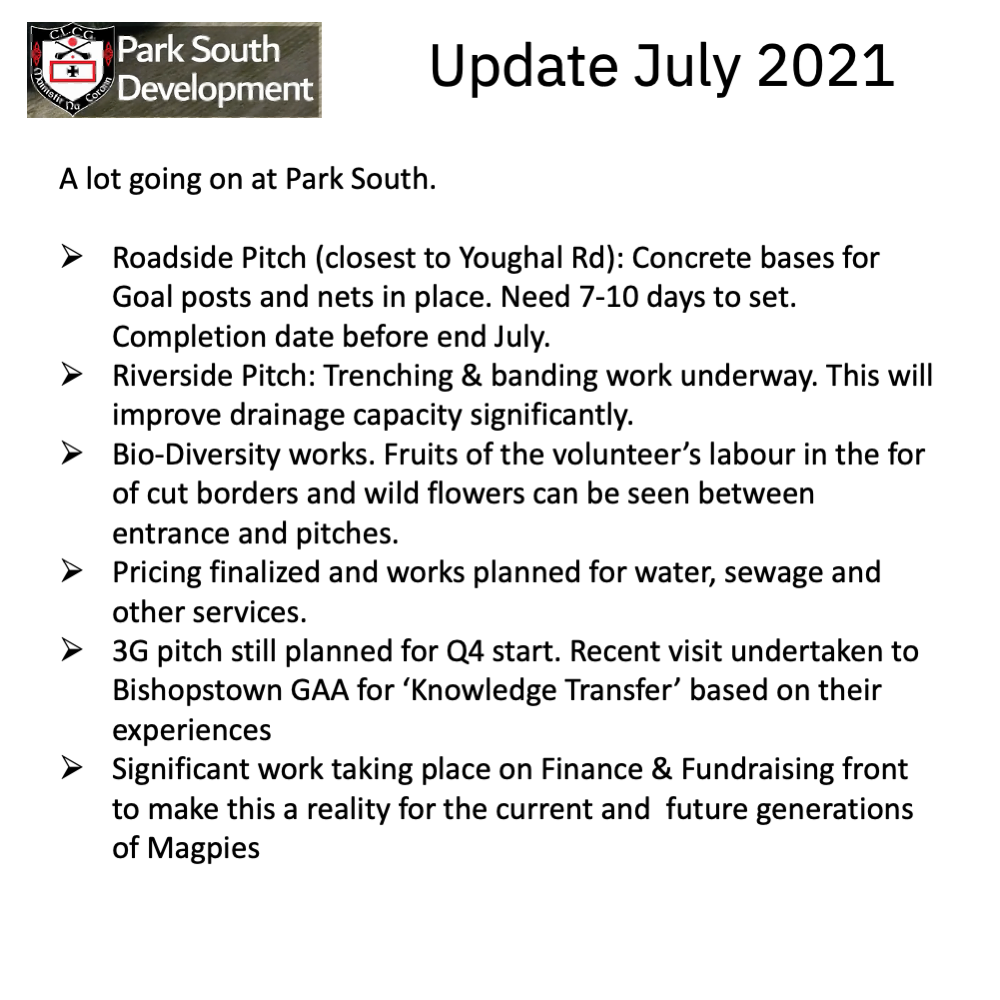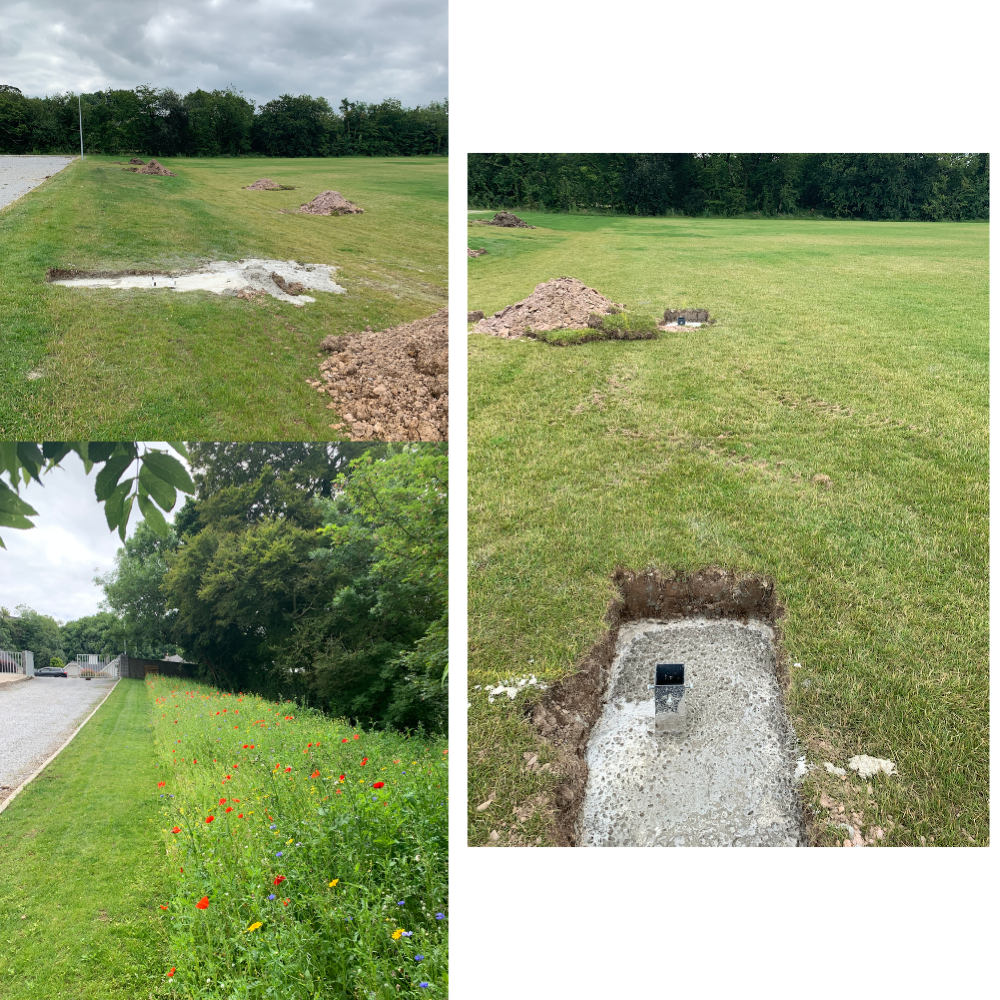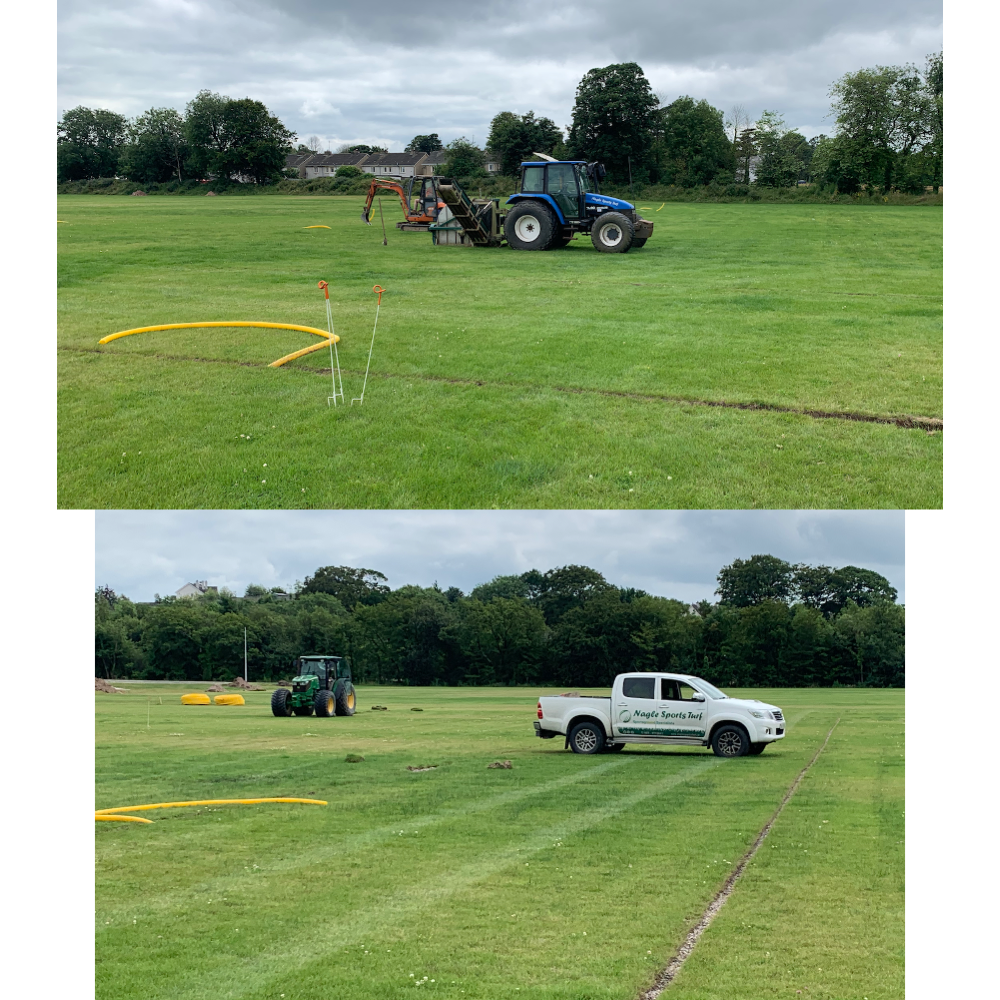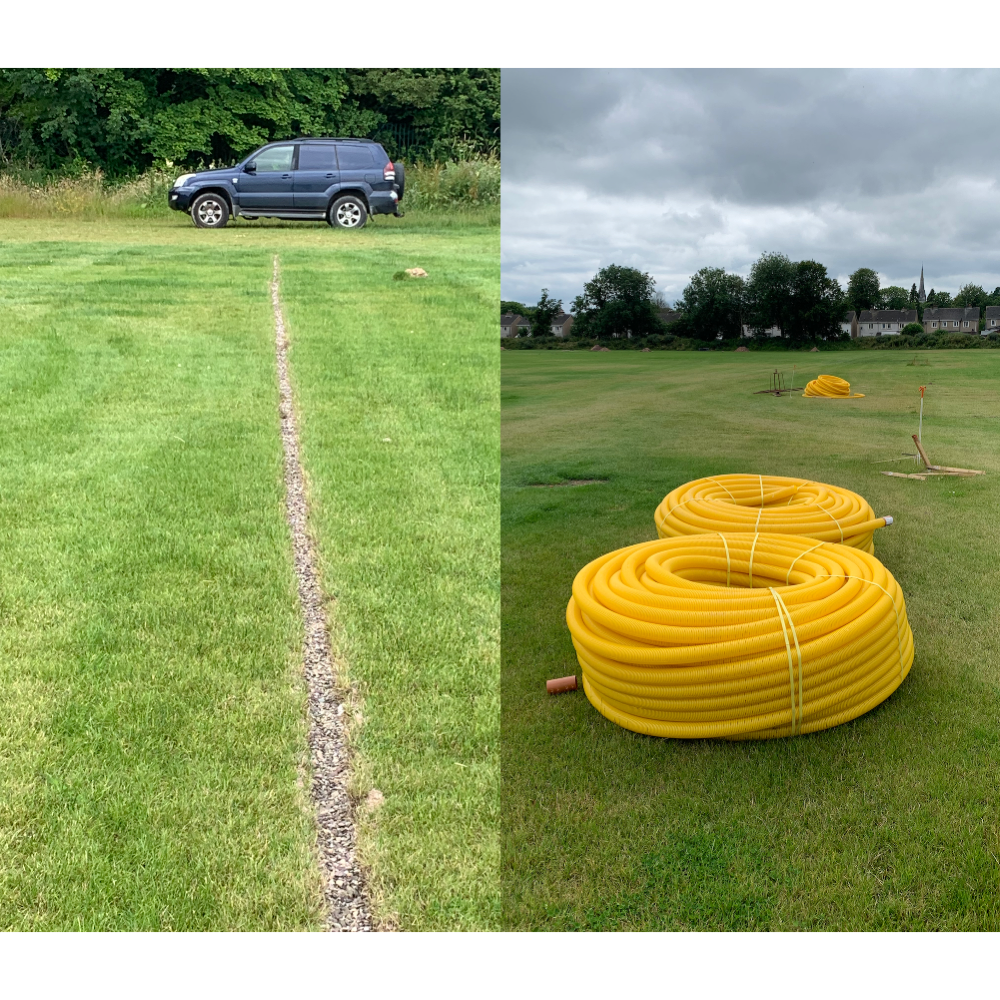 GAA Fixtures & Results
Fixtures are coming 'hot and heavy' across all sections of the club, at both adult and juvenile sections. We will endeavor to keep the club website up to date with fixtures and results as well as posting results, as much as possible, on twitter and facebook. Team managers are asked to submit results and any fixture changes to pro.midleton.cork@gaa.ie or text 0868643079.
Website Links:
Fixtures club_fixtures
Results club_results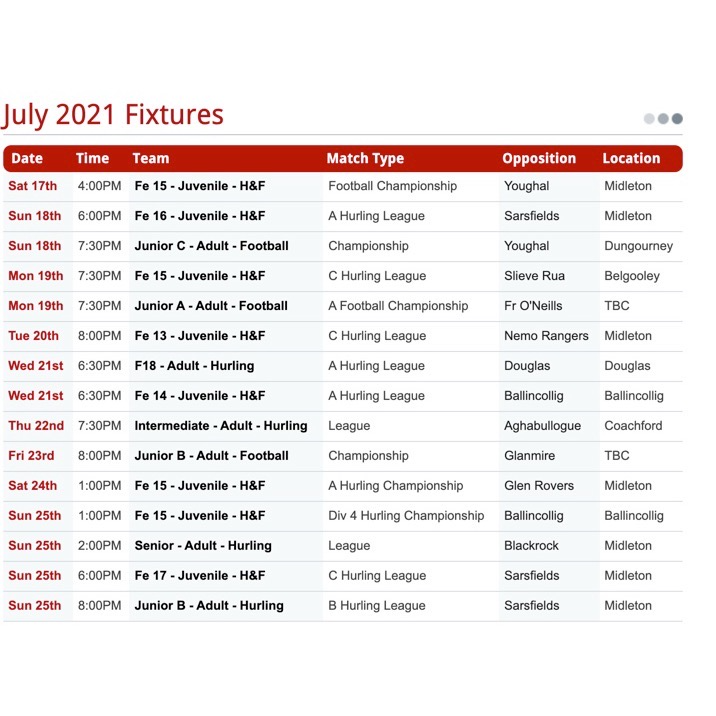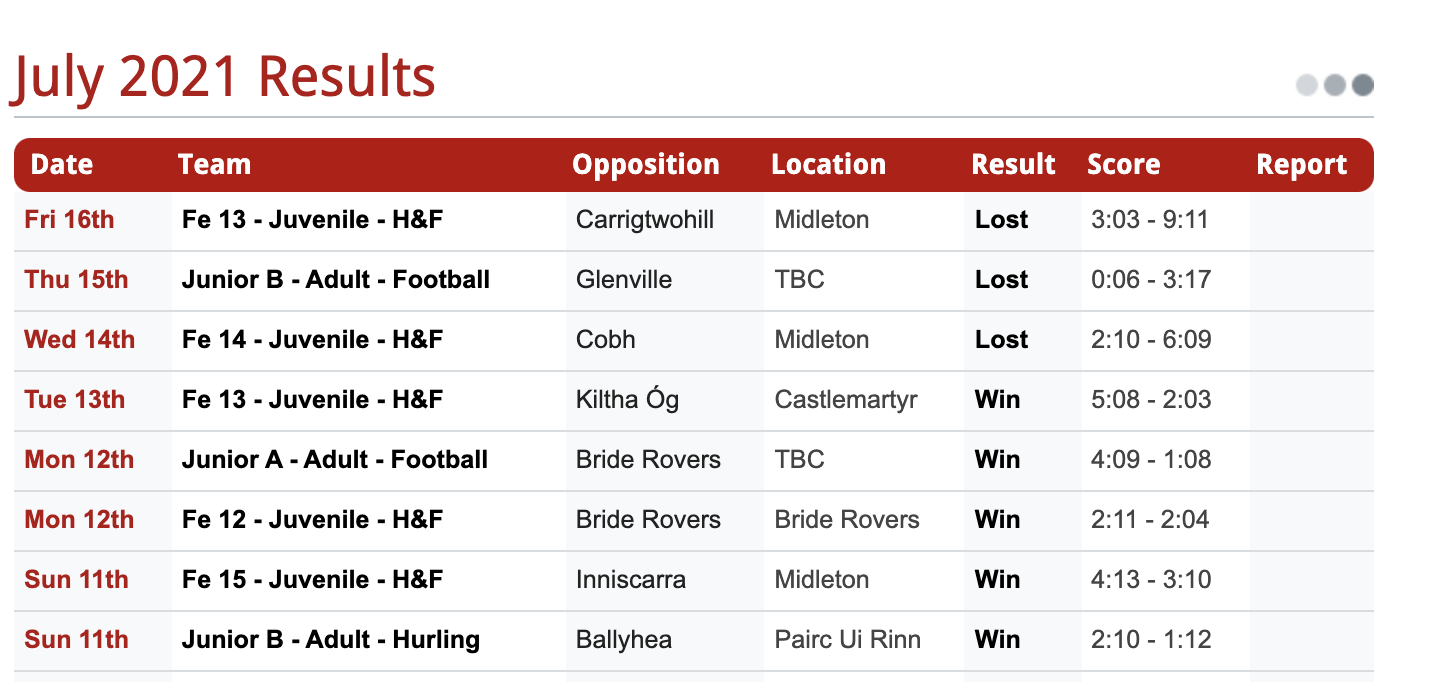 2020 Junior B County Final
Sunday 11th July 2021 vs Ballyhea in Pairc Uí Rinn
Midleton 2-10 Ballyhea 1-12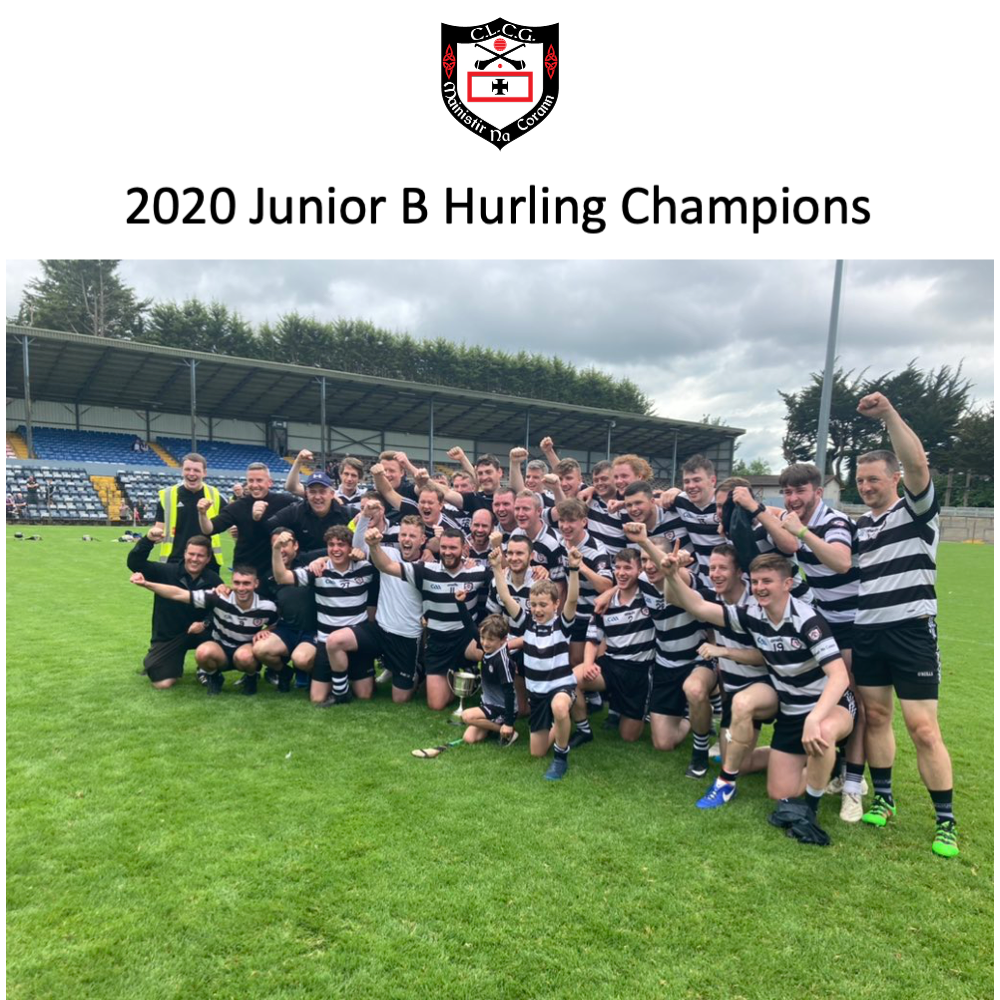 MIDLETON: C Swayne; C Evans, E Walsh, D O'Sullivan; B O'Shea, P Dowling, R McConville; L McCarthy, K Mulcahy; S O' Farrell, P O'Shea, M O'Keeffe; C Hurley, J Keane, T O'Sullivan.
Subs: C Daly for M O'Keeffe (bs 23), K Ryan for C Swayne (h-t), C Daly for T O'Sullivan (h-t).
Scorers for Midleton: C Daly 2-0, M O'Keeffe 0-6 (0-5 f), J Keane 0-2, P O'Shea 0-2 (0-1 f).
Junior A Football Championship
Monday 12th July in Rathcormac v Bride Rovers
Midleton 4-9 v Bride Rovers 1-8
Team; Eoghan Collins, Cian Crowley, Aidan Ryan, Willie Casey, Luke Dineen (Captain), Seamus O'Farrell, Cathal Gunning (-1), Sean O'Meara (-1), Padraig O'Farrell (1-0), Ian Kennefic (-1), Eoin Maloney, Dan Cagney, Christian Daly (1-2, penalty 1-0), Cormac Beausang (2-2,1f), Darragh McCarthy. Sub used Jonny Comer (-2)
Junior B Football 2021 Championship Round 1
Thursday 15th July 2021 vs Glenville
Midleton 1-06 v Glenville 3-17
On Thursday night we travelled to Glenville to play the home team in the first round of the junior B championship. In our first-year fielding three championship football teams we were tight on numbers but not on enthusiasm and endeavour. With fielded a team with three minors, four nineteen-year-olds along with several more experienced players on the night and to a man everyone fought right to the end against a very strong Glenville team including Cork star Shane O'Regan. Glenville raced into an early lead and it took Midleton a little while to gel as many of these players had not played together before. As the game wore on the Midleton players really started to find their feet and through some wonderful defending and great saves did their best to keep Glenville at bay. Midleton fought right to the end and scored a cracking goal in the second half through Ben O'Neill. Well done to everyone who togged out and gave their all on the night. We now move on to play Glanmire in round two on Friday 23rd July.
Team: Brian O'Sullivan (Captain), Coleman Quinn, Eoin Ferriter, Daniel Wathen, Brendan Ferriter, Gavin Reddy, Colin Sunderland, Adam Faye, Darren Quirke, Andrew Rea, Liam Kelly, Liam McGrath, Tim O'Sullivan, Jerome Curtin and Ben O'Neill.
Juvenile
Fé13 Notes
Fe13s were out twice this week on P2 football. Firstly out on Tuesday with a very good team performance in beating Kilta óg in Castlemartyr. The second game was a home game versus carrigtwohill which we lost. Lots holidays and few injuries as well at the moment so good opportunities for others to get good game time. Best wishes to Jack Walsh who picked up a nasty wrist injury unfortunately.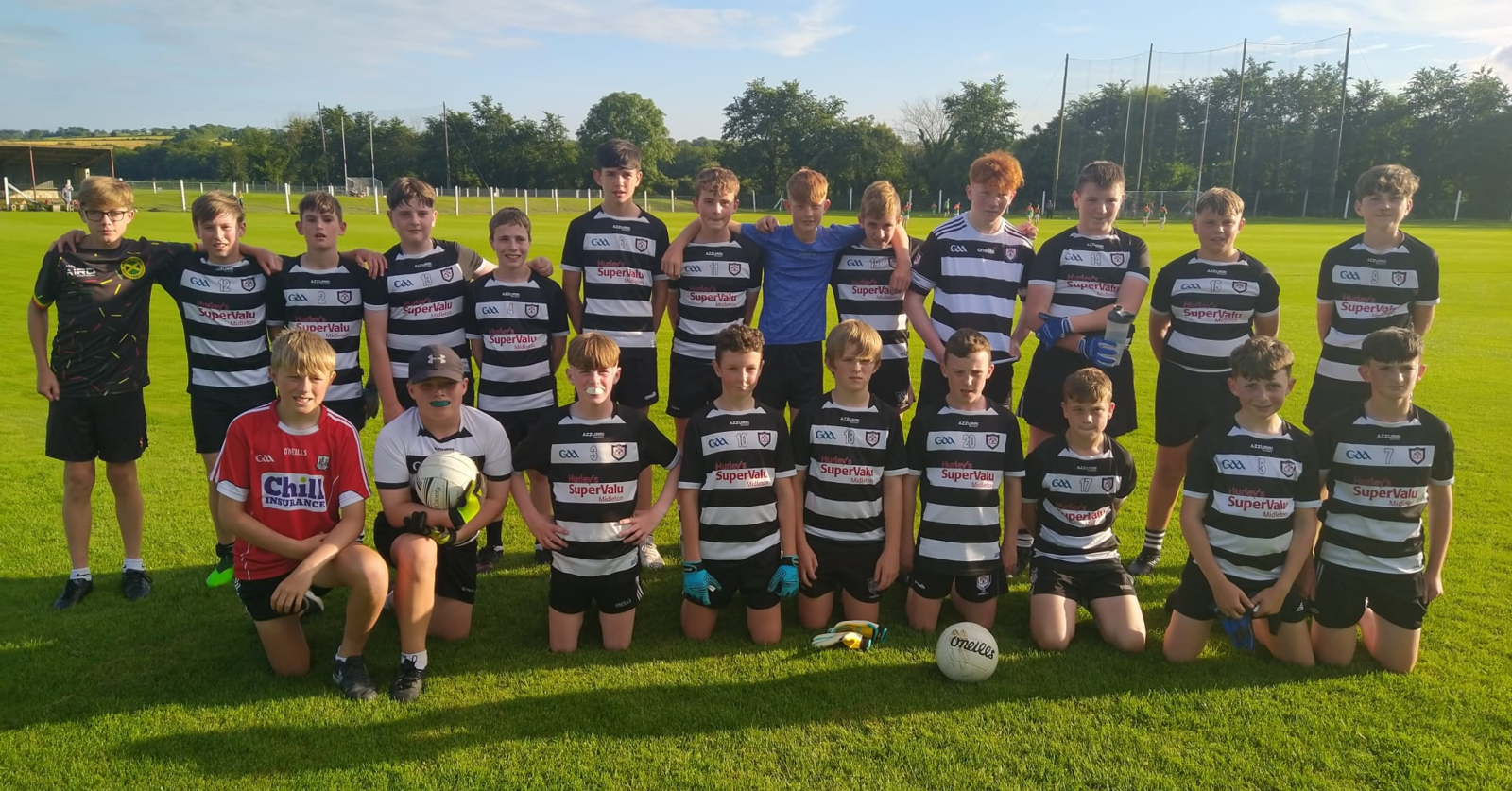 Fé13 v Kiltha Óg
Camogie Notes
U6 Notes
U6 V Carrigtwohill
On Saturday 17th July Carrigtwohill Camogie Club invited us up for our first ever match in glorious sunshine and the girls didn't disappoint.. We had a great morning of camogie and each and every girl gave it their all. The first of many outings for our youngest group in the club. Thank you to Carrigtwohill for hosting and all the parents for supporting our Mini Magpies. Well done to all.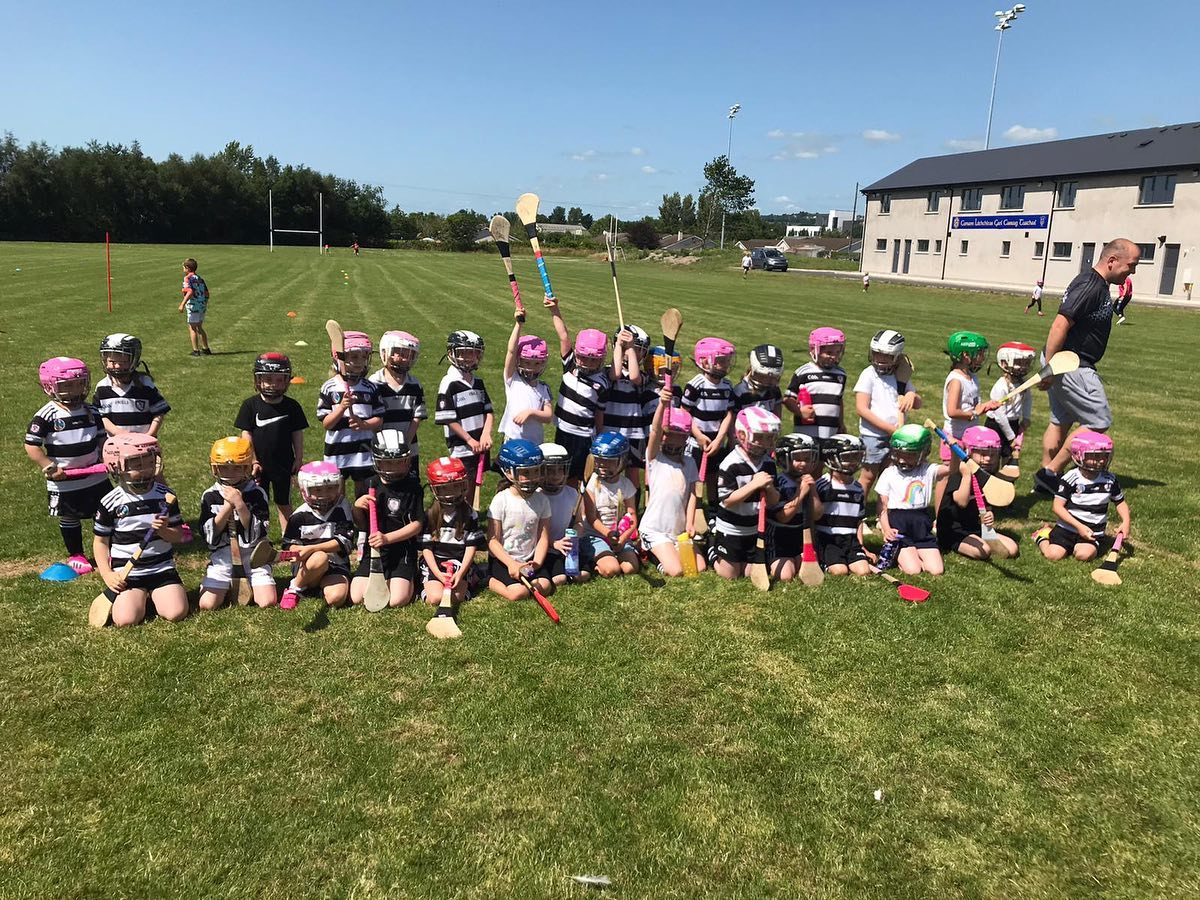 Fé6 V Carrigtwohill
U7/8 Notes
U7/8 V Sarsfield
We welcomed Sarsfield Camogie down to Ballinacurra for a friendly match last Saturday morning . Great skills on show from all the girls and most importantly Great fun was had by all. Thanks to Sarsfield for travelling down , we had a great time.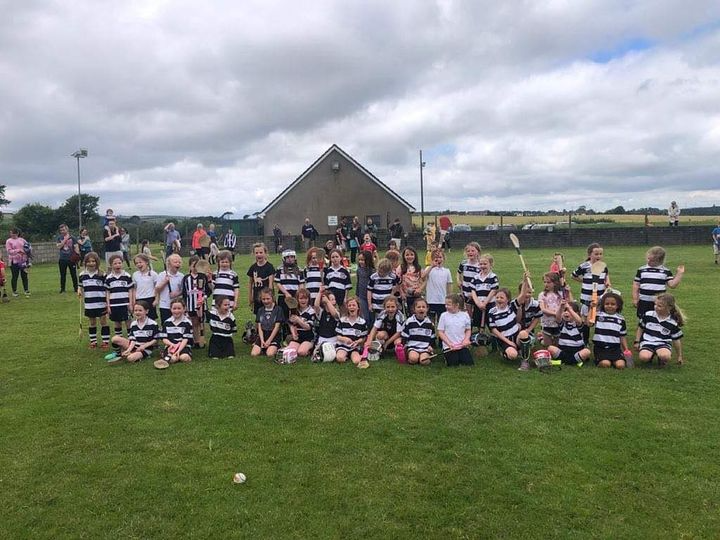 U7/8 V Sarsfield
U11 Notes
U11 Camogie V Youghal
Our U11 Camogie team travelled to Youghal on Thursday evening for a friendly game. The players played their absolute hearts out for this evening's game which was played in warm and sunny conditions.
We started out slow but by the time the 2nd and third games started we were in full flow and really working as a team up and down the field. A great group of ladies who have a never say die attitude and fought for every ball on the field today. Their determination alone is a pleasure to watch as are the skills they are developing with each week they are playing. Super proud performances by each player. A big thanks to Youghal camogie for hosting and well done to all the players and coaches and the families for cheering the players on. Up the magpies.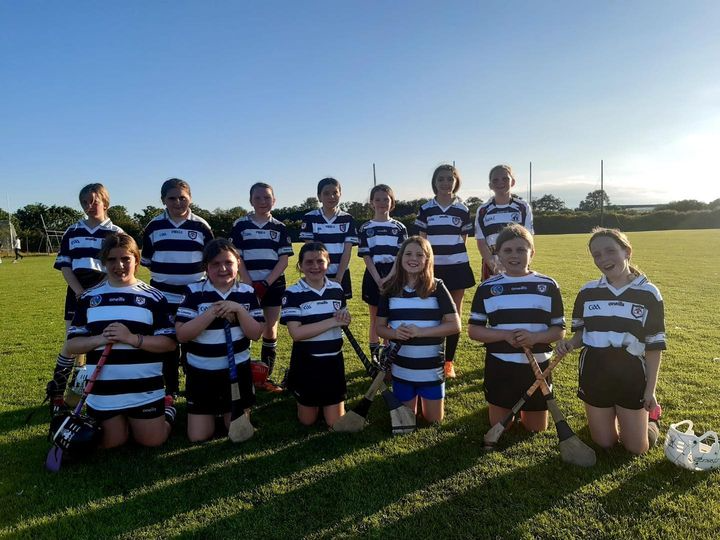 U11 V Youghal
U14 Notes
U14A Camogie V Cloughduv League Rd 3
On Saturday 10th July we hosted Cloughduv in the final group game of the league needing a draw to top the group. The teams started well and matched each other with goals and points but a special mention goes to our forward Tia Wall Wallace who with her back to goal reacted quickly to a Kate O Sullivan shot and flicked the sliotar into the back of the net with the deftest of touch, a quality finish befitting a great game. The Midleton girls came out for the second half and raced into an eight point lead with Rebecca Cronin and Sarah McConville putting in star performances up front as well as Sophie Wall and Chloe Griffin being solid at corner back. We could only make one change for the last quarter as we were down quite a few players for this game. Our girls tried to maintain the fast pace but tired towards the end and although captain Mia Collins led by example all credit was due to Cloughduv who came back strong to get a goal in the last couple of minutes to take a one point lead only for Tia to pop over a great point from a narrow angle to see the match end in the draw we needed. This was a fair result where no team deserved to lose and the final score was
Midleton 3-8
Cloughduv 5-2
A big thank you to Cloughduv's management team of Stuart and fellow mentors, Ger Sheehan for refereeing and the big crowd who came out to support the girls.
We the coaches would like to wish our regular centre back Pippa Hennessey a speedy recovery and we look forward to seeing you soon back on the pitch in the black and white jersey.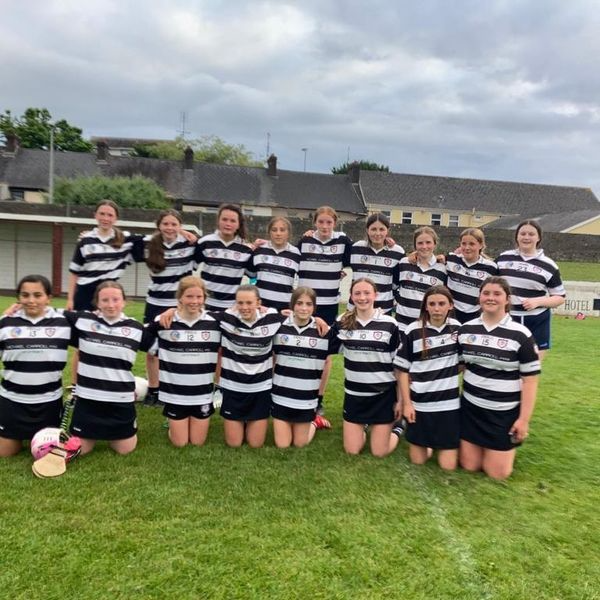 U14 V Cloughduv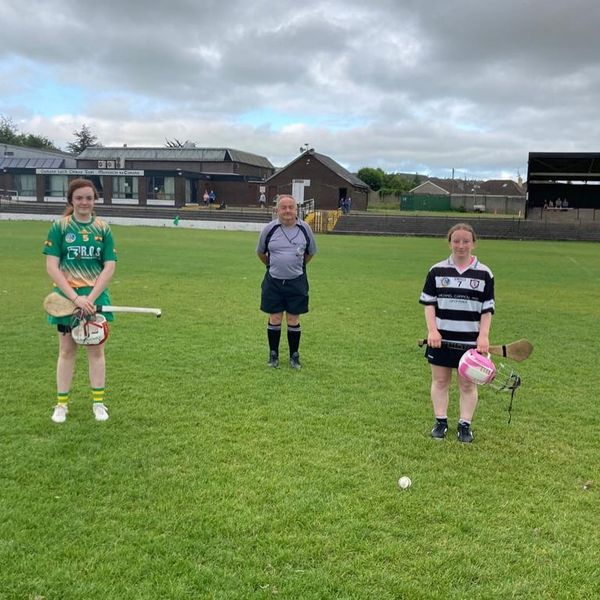 U14 Captains V Cloughduv
FE16A Cork Camogie
All Ireland Camogie Final Cork V Kilkenny
Wishing the Cork U16A Panel and their management the very best of luck in the All Ireland Final on Sunday 18th July in Birr,Co Offaly as they take on Kilkenny with a throw in time of 4.30pm. In particular we wish Jill Connaughton all the best as she stands in goals in the Cork colours and we will all be cheering her on Sunday afternoon . We are so proud of Jill and her acheivements. This event will be live streamed for those who wish to watch, links will be shared on our social media channels.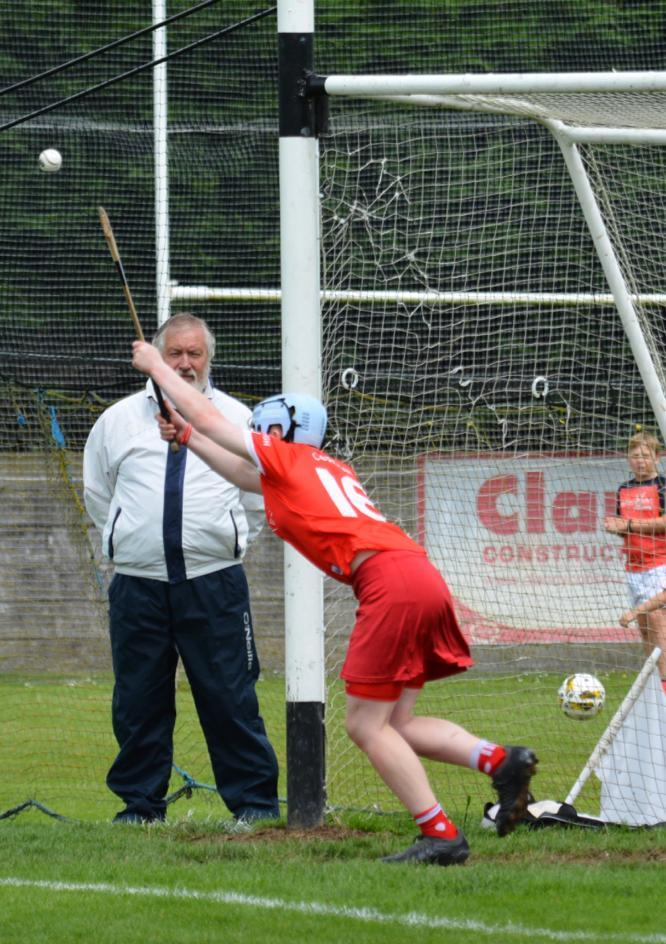 U16A Cork Jill Connaughton
Ladies Football Notes
Training for this week:
Monday evening- Ballinacurra Pitch
6.30-7.30pm - U8,10,12,14
7.30-8.30pm - U16,Minor and Junior
Thursday evening - Ballinacurra pitch
7-8pm - U16, Minor and Junior
Reminder to fill in your Health Questionnaire before you attend training.
Condolences
Cumann Luthchleas Gael Mainistir na Corann would like to offer our condolences to Club Vice President Dave O'Brien, Nancy, Liz, Dave, Willie and the wider O'Brien family on the recent passing of Dave's brother John Paul. His passing will be deeply felt by his family, and his many friends in Midleton GAA.
Ar dheis Dé go raibh a-anam dílis.