Midleton Hurling and Football, Ladies Football and Camogie Club News
04 July, 2021
The key messages for this week:
COVID-19 Update… Safe Return to Play
Great win for Junior B Hurlers over Delanys in the County Semi Final. Final scheduled for Sunday 11th.
Golf Classic (21st & 22nd July) tee times are filling up
Midleton GAA…at the 'Heart of the Community'. Ní neart go cur le chéile. There is no strength without unity.
COVID Update & Return to Play

Team managers will advise of date, time and venue for training. Please remember that players/parents are required to complete a Health Questionnaire declaration BEFORE each training session or match.
Midleton GAA 'One Club' have put together a comprehensive guide to the Safe Return to Play for all teams. All parents, players and coaches are asked to familiarise themselves with these guidelines including, but not limited to, the Health Questionnaire requirements and access maps to the 4 facilities being used by Midelton GAA 'One Club'.
Key links:
Midleton GAA 'One Club' Guide and other Return to Play information: covid-19-news
FOIREANN (was Return to Play) where Health Questionnaire can be completed prior to each training session/match (FYI, use the same email and password from last year):
Mega Lotto Results & New Jackpot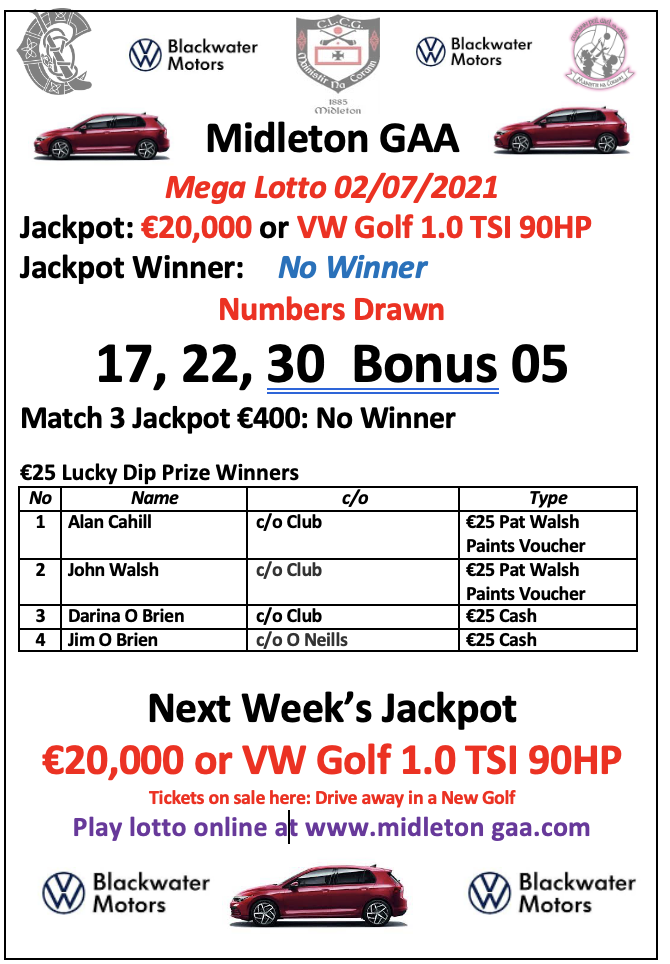 Our Lotto Jackpot was €20,000 the numbers 17, 22, 30 Bonus 05. There was no winner of the jackpot so next Friday's jackpot will remain €20,000.
4 Lucky Dip Prize Winners this week were Alan Cahill, John Walsh, Darina O'Brien, & Jim O'Brien with the first 2 named winners receiving €25 Pat Walsh Paints Voucher and the later 2 receiving €25 in cash. In total Midleton GAA will give out local business vouchers to the value of €3,800 every year as part of our "Shop Local, Buy Local" campaign.
How to play: Tickets are on sale at Pat Walsh Paints, Chadwicks, Frank Murphy Butchers, Murphy's Pharmacy, Crowley Butchers, or buy online, through Klubfunder, at https://www.klubfunder.com/Clubs/Midleton%20GAA/lotto select your numbers and number of draws to play. You can buy an annual ticket by selecting "50" from the "Number of Draws" to Play dropdown.
Our lotto jackpot is being 'spiced up'. €20,000 or a VW Golf 1.0 TSI. A bit of a no-brainer but the choice is yours. Many thanks to Blackwater Motors who are partnering with us in offering this jackpot.
Bingo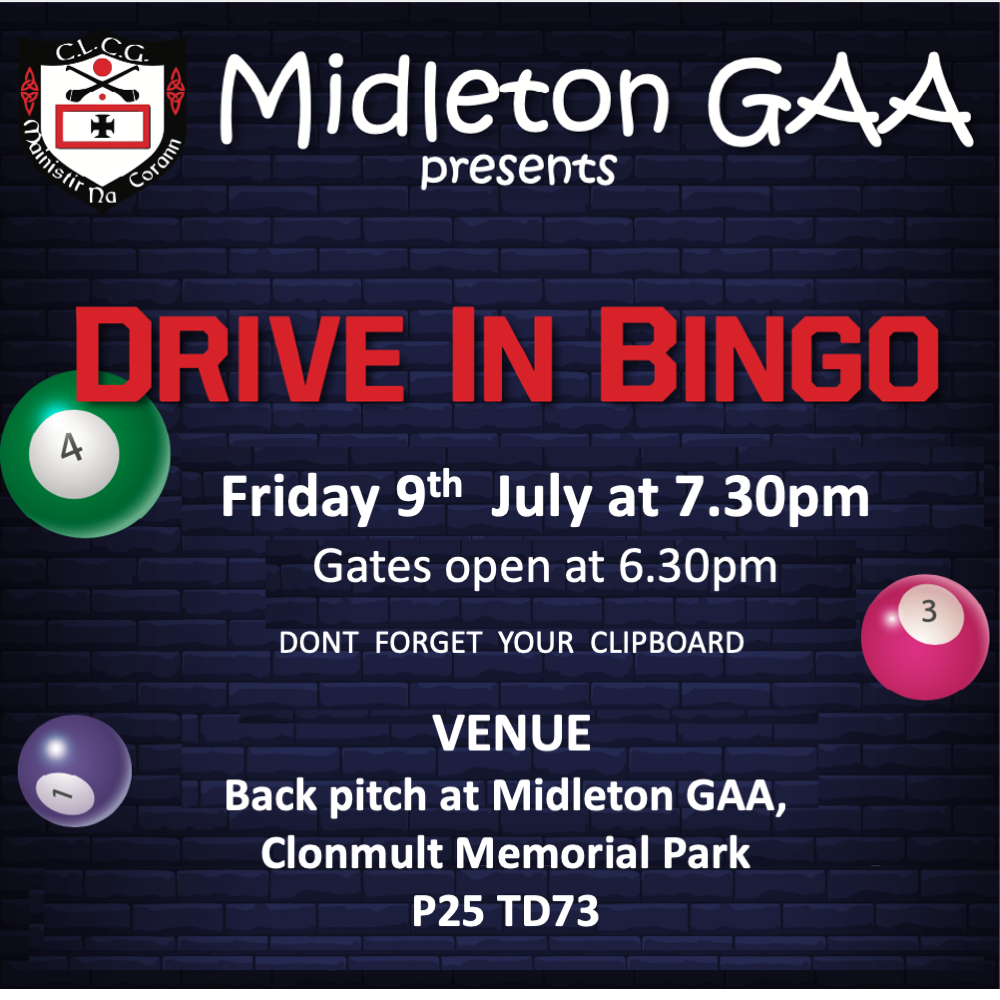 Midleton GAA Golf Classic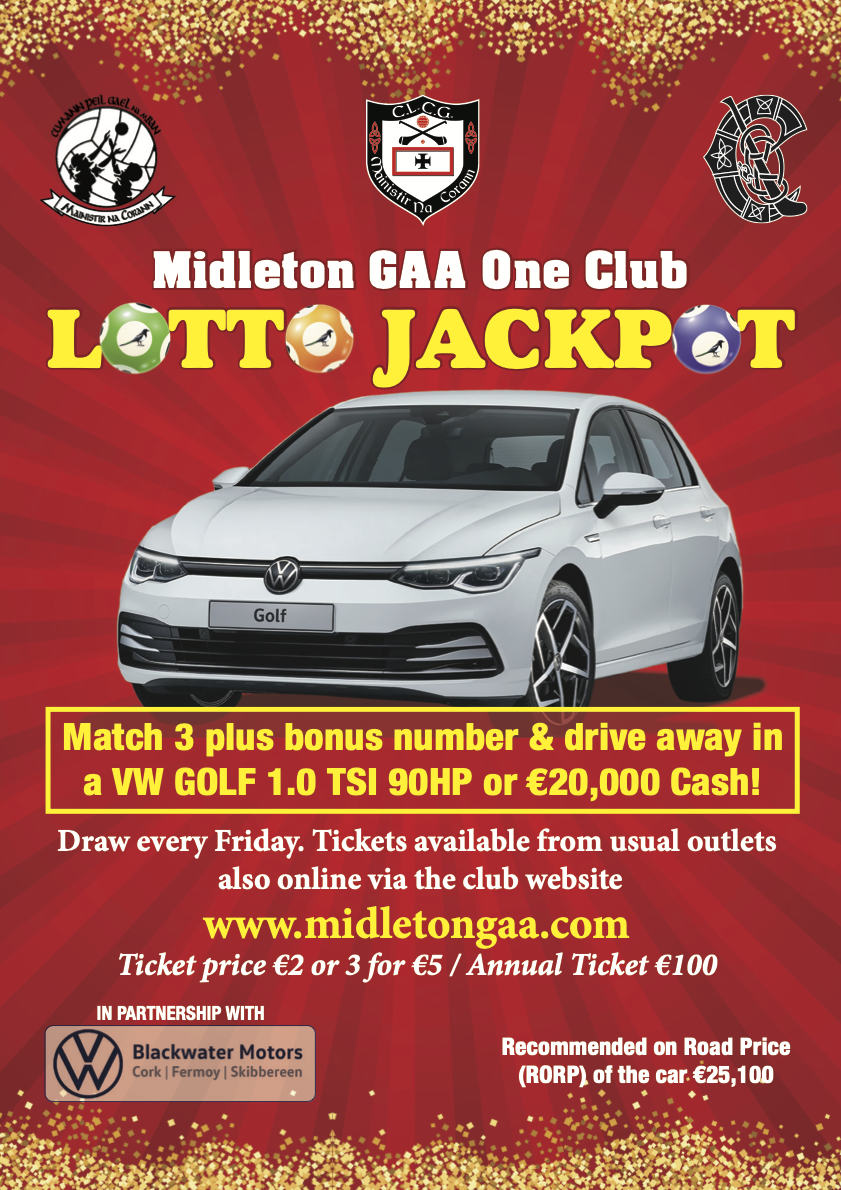 Main Sponsor - Blackwater Motors
When: Wed & Thurs, 21st & 22nd July 2021
Where: East Cork Golf Club
This is a popular event in the Midleton GAA social and fundraising calendar. Combining a social 3-man scramble format with great prizes, food, and fun, this is a must for your mid-Summer diary.
Contact Liam Walsh (087 9610346) or Criostoir Ó Cathasaigh (087 6891438) to reserve your tee time
Or
Book your team online at: https://www.klubfunder.com/Clubs/Midleton%20GAA/EventRegistration#EventRegistrationOptions (give your preferred tee time)
Communication this week re Clonmult Memorial Park Coffee Franchise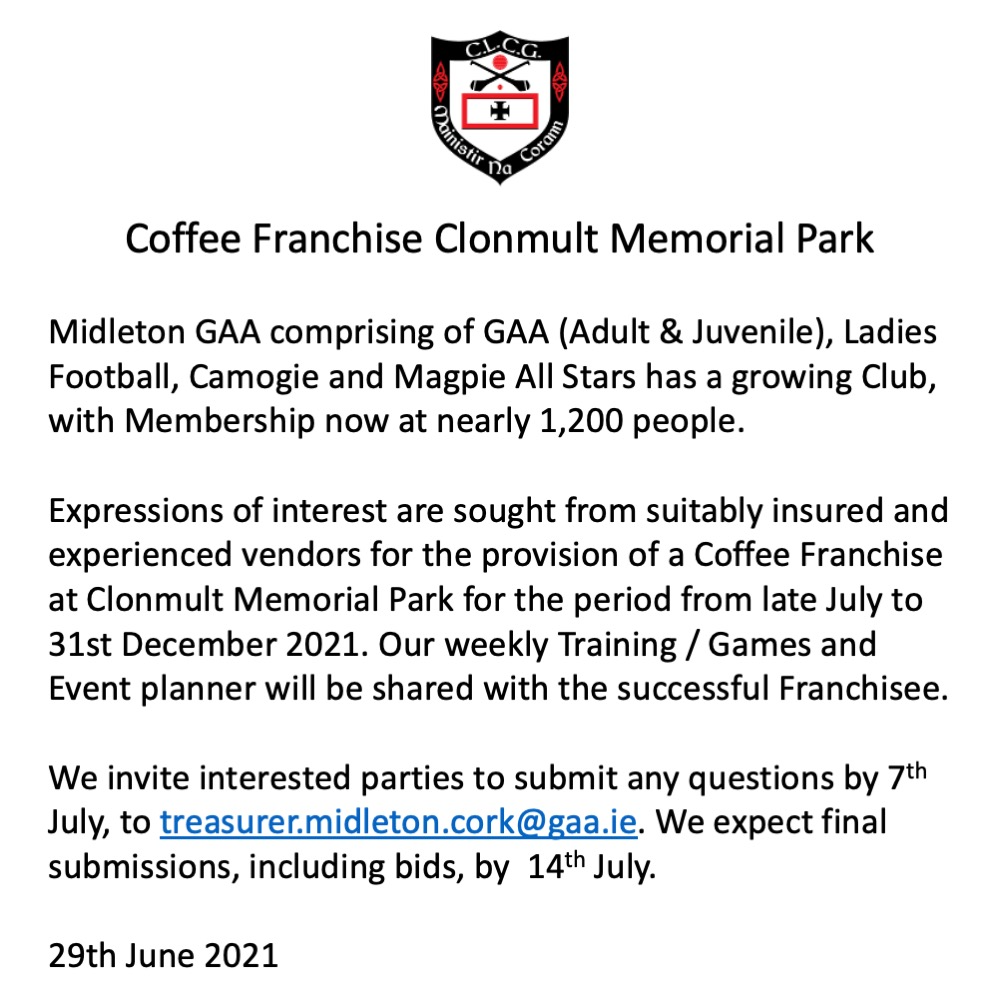 GAA Fixtures & Results
Fixtures are coming 'hot and heavy' across all sections of the club, at both adult and juvenile sections. We will endeavor to keep the club website up to date with fixtures and results as well as posting results, as much as possible, on twitter and facebook. Team managers are asked to submit results and any fixture changes to pro.midleton.cork@gaa.ie or text 0868643079.
Website Links:
Fixtures club_fixtures
Results club_results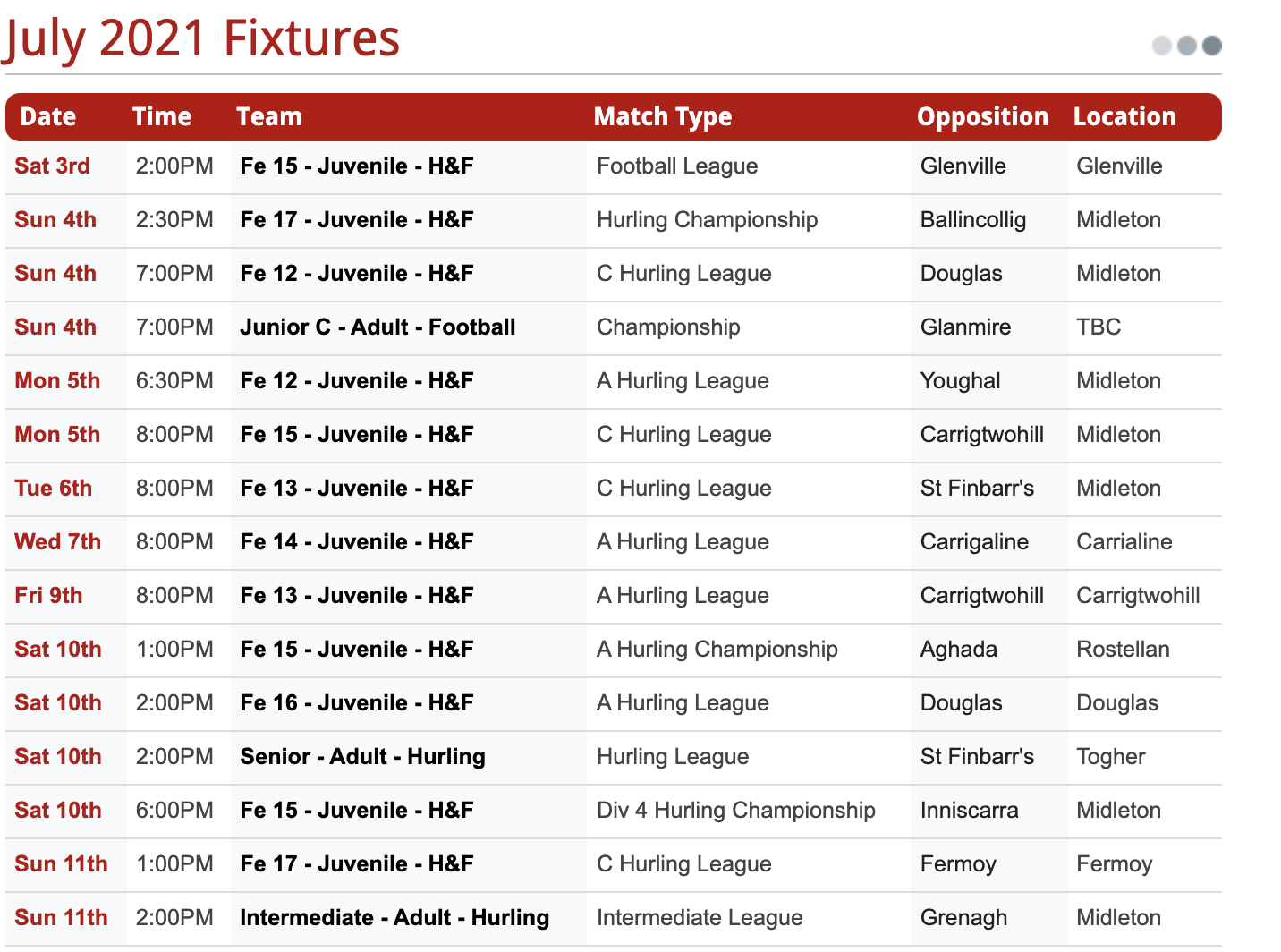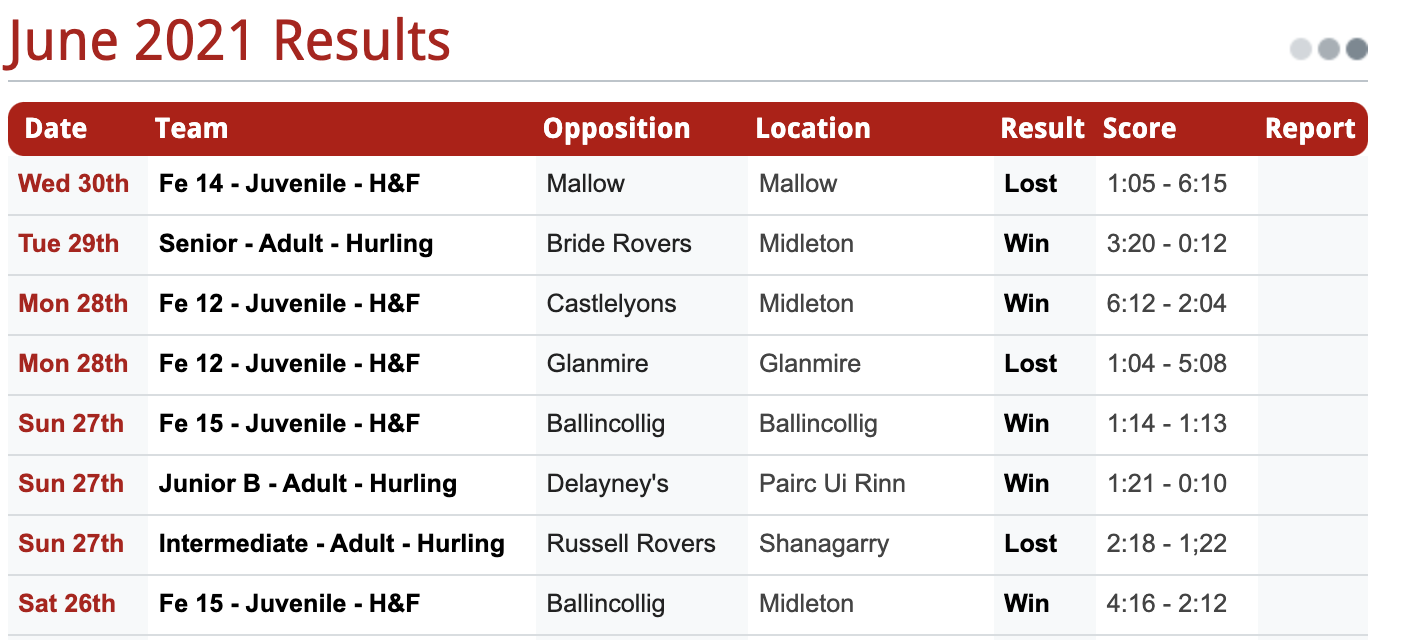 Junior B Hurling Notes
County Semi Final Sunday 27th June 2021 in Pairc Ui Rinn vs Delanys
Final Score: Midleton 1:21 Delanys 0:10
MIDLETON: C Swayne; C Evans, E Walsh, D O'Sullivan; B O'Shea, P Dowling, R McConville; L McCarthy, K Mulcahy; S Farrell, P O'Shea, M O'Keeffe; C Hurley, J Keane, T O'Sullivan.
Subs: N Walsh for K Mulcahy (38), C Daly for J Keane (39), T Abernethy for P O'Shea (53).
Scorers for Midleton: M O'Keeffe 0-10 (0-5 f), C Hurley 1-1, S O'Farrell 0-3, K Mulcahy 0-2, P O'Shea, B O'Shea, T O'Sullivan, C Daly, L McCarthy (0-1 each).
The final will take place next weekend against the winners of Ballyhea & Belgooley who play this Sunday.
Ladies Football
Training details for this week are as follows:
U8/10/14 6.30-7.30pm in Ballinacurra
There is No training for the U12, minor and junior ladies.
U16 league game v Inch Rovers on Monday July 5th in Killeagh GAA Club. Please be there for 7.25pm.
U12 League v Delaneys
Our U12 girls had their first away League game on Saturday. A tough encounter but the girls battled hard and never gave up. Well done for the great effort you showed as a team.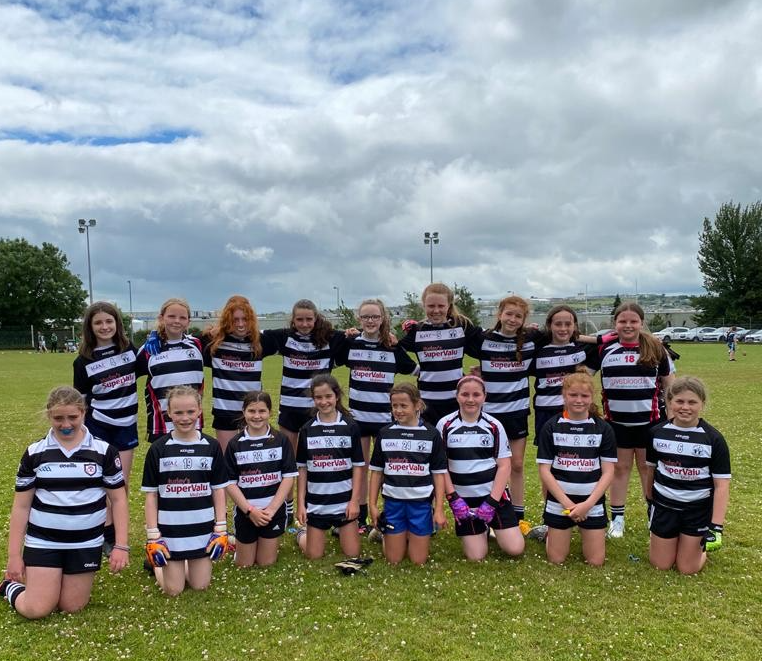 U12 v Delanys
Juvenile
Fé7 Notes
It has been a hectic last three weeks for the Fé 7 panel. On the 12/6 we hosted Bishopstown for a wonderful mornings hurling. The is was followed by a football blitz a week later in Ballincollig, all our players performed to their best and enjoyed both days. On Saturday morning we travelled to Sars for a hurling blitz. Each of our teams played four games and they performed excellently in each match.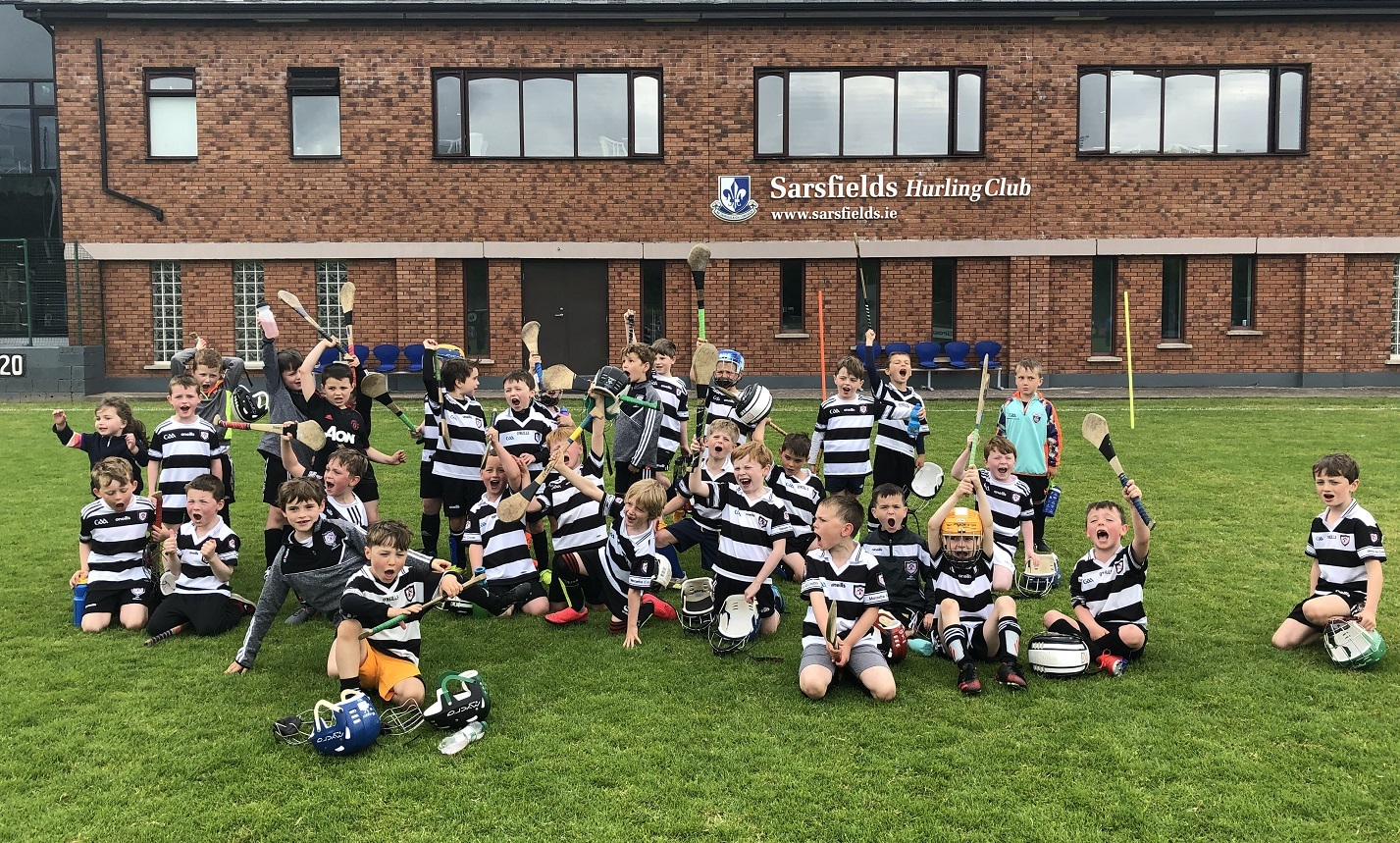 FÉ7 v Sars
Fé8 Notes
The Fé8 boys were on the road early on Saturday last with a 9.15am throw in for the trip to Riverstown to play Sarsfields in the GO GAMES series of hurling matches. We were delighted to see nearly 40 magpies making the trip. Every player participated in all of the matches, which were very keenly contested. The lads continue to improve each week. Thanks to everyone who came to support for the lads. Thanks to Sarsfields for very sporting games. We will continue to train every Tuesday night at Park South and hopefully participate in more matches over the summer months.
FÉ8 V SARS
Fé9 Notes
Last weekend we hosted Sarsfields GAA in Hurling. We had 30 young magpies in attendance, and we played 3 matches with the 4 groups. The lads were absolutely excellent in all their matches and they are doing what we ask them in Training. The lads got some brilliant Scores throughout all 4 games and all our coaches are very pleased with the effort and commitment shown by the group. We will be back Training Wednesday evening.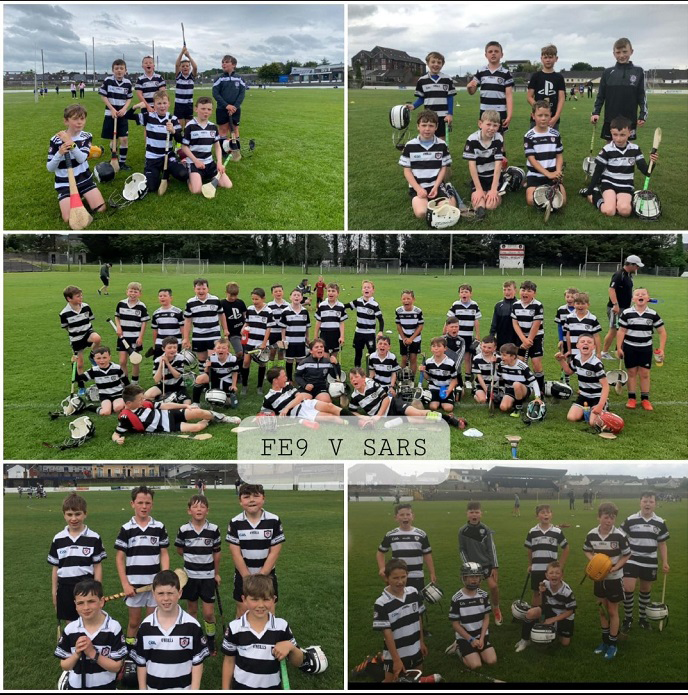 FÉ9 v Sars
Fé11 Notes
Fé11 v Sarsfields.
Round 2 of the Rebel og Hurling fixtures saw the Fé11 Magpies travel to Buck Leary's cross. A fantastic mornings hurling followed, with our boys coming out on top, winning 6 from 9 hard games. Excellent work again boys. Training continues Tuesdays and Thursdays.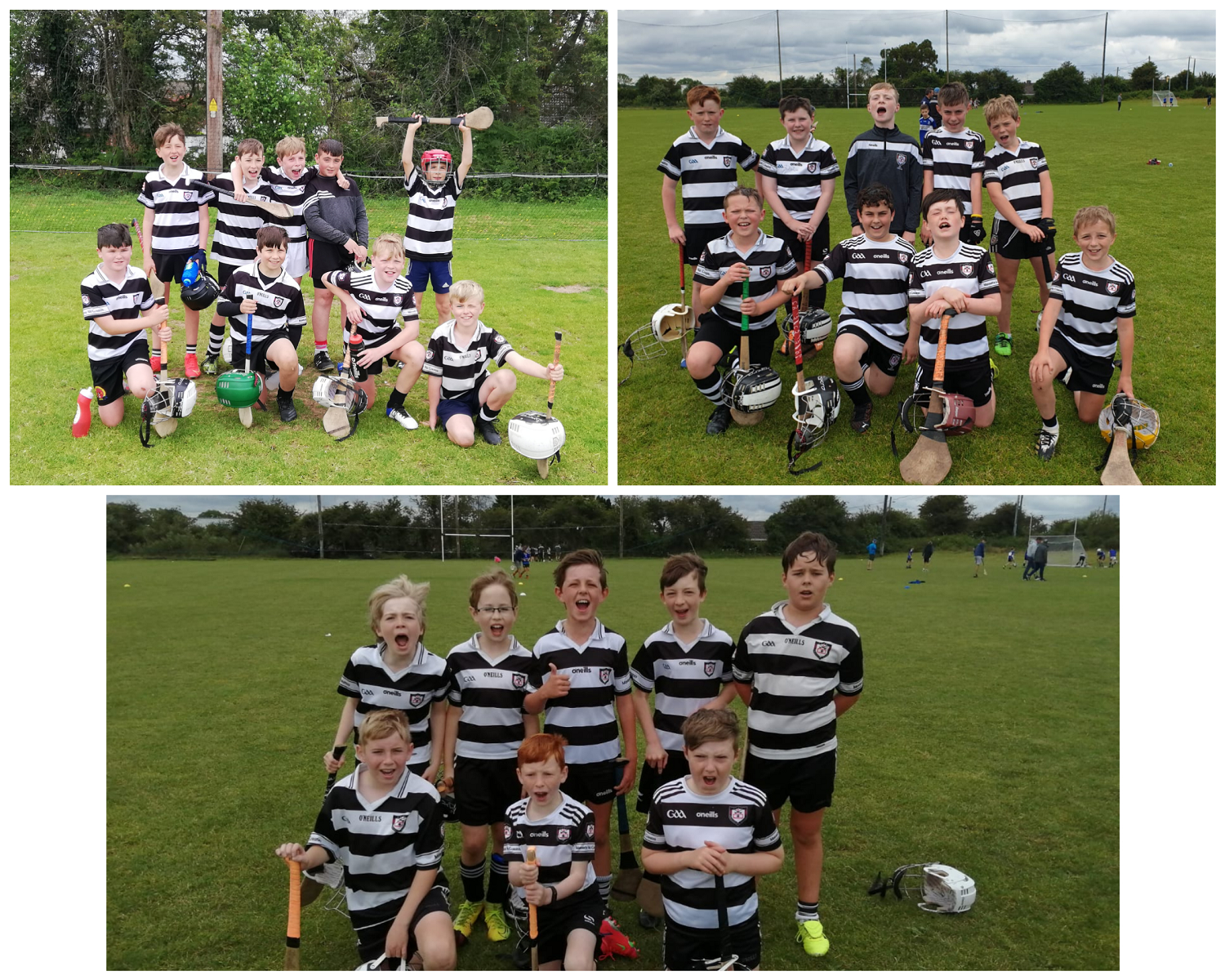 FÉ11 v Sars
Fé13 Notes
The Fé13 players and coaches were delighted to hear that our Fé13 player Kacper returned home this week from Crumlin Childrens Hospital and continues to show great signs in his recovery from illness. Keep it going Kacper!!
Fé13 C3 HURLING V DOUGLAS
The second hurling match for the Fé13 C3 lads was a first home appearance against Douglas on Tuesday June 22nd last. With scores hard to come by in the first half, the lads went in at half time behind on a score line of 1-04 to 0-00. However, a much improved second half saw the lads storming back into the match with fantastic hurling and spirit shown all over the field. Unfortunately, time caught up on the lads, losing out in the end to a single point on a full-time score of 4-05 to 3-09. Goals on the night came from a brace each from Ruairi O'Riordan and Sean Gregory. The panel for the match was: Adam Spillane, Harry Waterman, David Kelly, Dara Birdthistle, Ewan Murphy, Luke Bamber, Rossa O'Connor, Rian Casey, Cuan Twomey, Fionn Bohan, James Carey, James O'Meara, Jason Morley, Michael Allegrini, Michael Barrett, Patrick Collins, Patrick O'Dowd, Ruairi O'Riordan and Sean Gregory.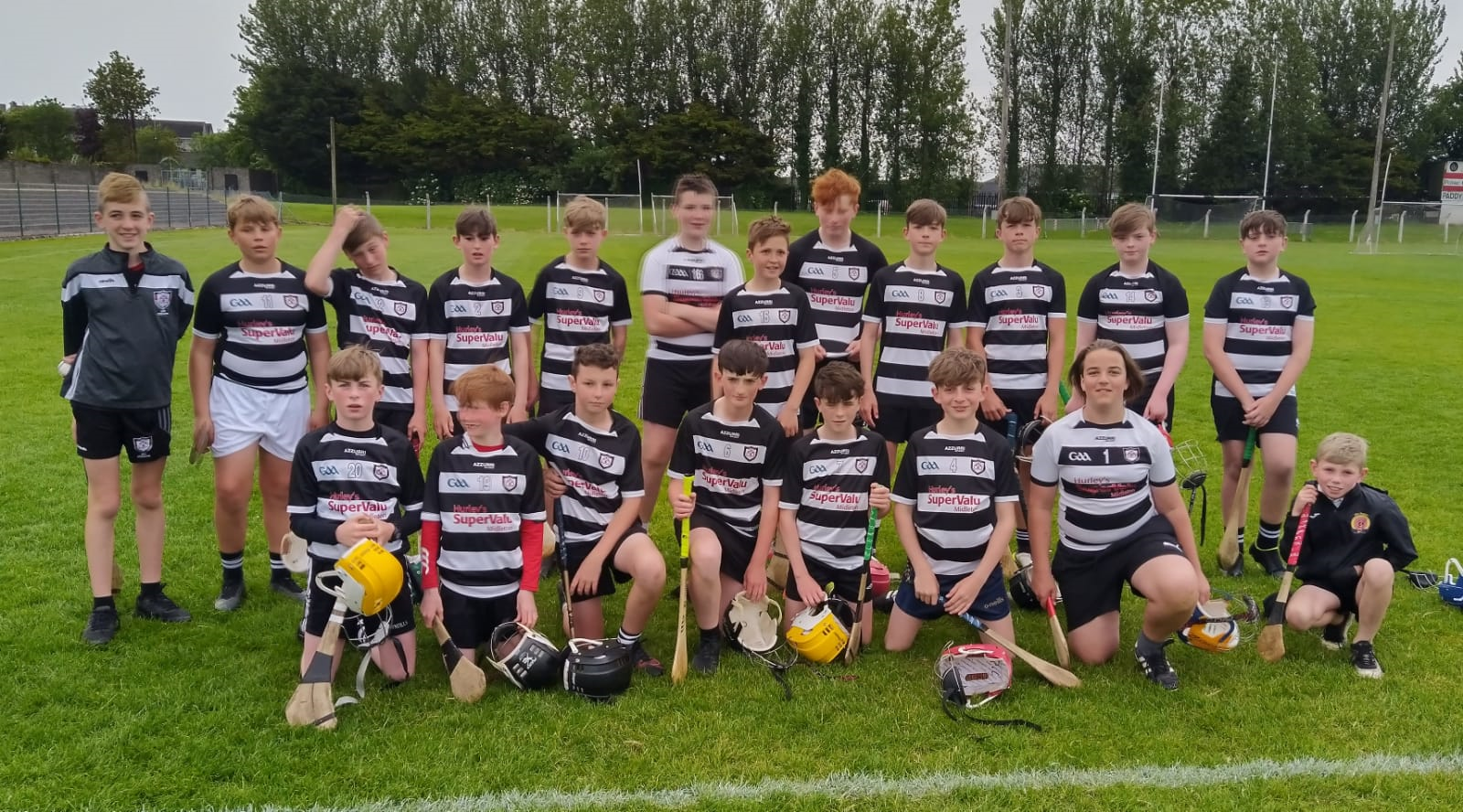 FÉ13 C3 v Douglas
FÉ13 P1 HURLING V KILLEAGH
The second hurling match for the Fé13 P1 team was a trip to play Killeagh on Friday June 25th. The lads started brightly with some fine scores and were leading 0-06 to 1-02 at the first water break. Despite Max Murphy grabbing two goals, Killeagh outscored us after that water break to go in at half time ahead on a score of 4-05 to 2-07. The lads battled well in parts of the second half with Max Murphy grabbing his third goal. However it wasn't to be on the night with Killeagh winning in the end on a final score of 6-12 to 3-09. There is no doubt that if the lads continue to work hard in training, the results will come. The panel for the match was: James Carey, Fionn Bohan, Cian Lawton, Jason Morley, Cuan Twomey, Harry Waterman, David Kelly, Senan Carroll, Shane O'Mahony, Jack Walsh, Scott Dunlea, Patrick O'Dowd, Ruairi O'Riordan, Max Murphy, Darragh Mullins, Rian Casey, Michael Allegrini and Ewan Murphy.
FÉ13 C3 HURLING V SARSFIELDS
The third hurling match for the Fé13 C3 lads was an away trip to Sarsfields on Saturday 26th June. Despite playing some good hurling in parts and creating good chances, we were defeated to a better Sarsfields team on the night. Final score 2-13 to 0-05. The panel for the match was: Michael Allegrini, Rian Casey, Harry Waterman, Adam Spillane, Fionn Bohan, Cuan Twomey, Luke Bamber, David Kelly, Jason Morley, Patrick O'Dowd, Ruairi O'Riordan, James O'Meara, Charlie McCarthy, Josh Quill, Riain McCormack, Peader Egan. Thanks to Charlie, Josh, Riain & Peader from the Fé12 group who all played very well on the night.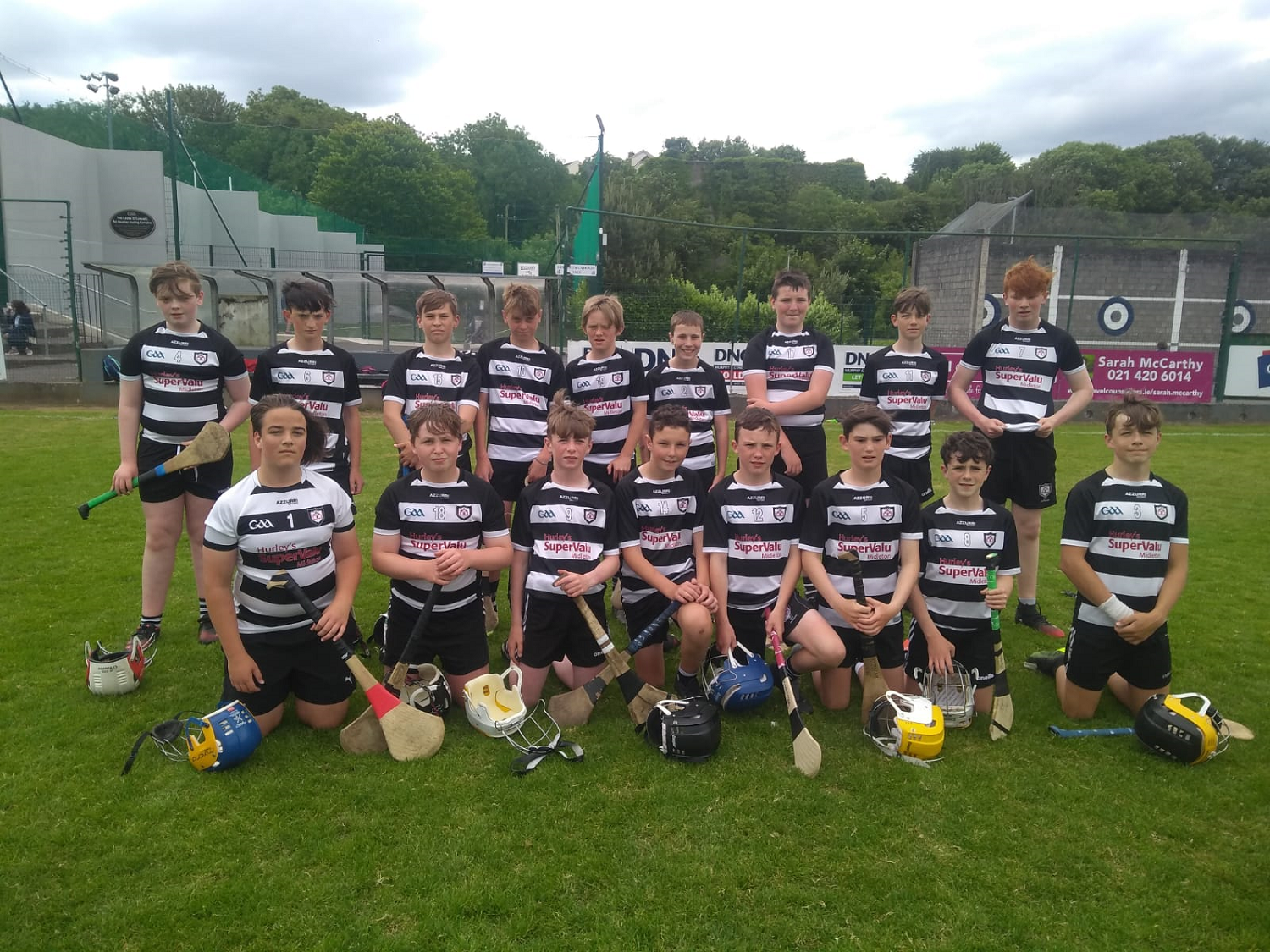 FÉ13 C3 v Sarsfields
FÉ13 P2 FOOTBALL V GLENVILLE
With the postponement of our first football fixture a couple of weeks ago, the Fé13 boys took to the field on Friday July 2nd for what was their first competitive football match of 2021. On a damp night for football, the lads took the game to the visitors from the off with an early goal from a clever finish by Patrick O'Dowd setting the tone. Further goals from Scott Dunlea and Patrick O'Dowd, some fine point scoring from the forwards outstanding defending left the half time score of 3-09 to 0-00. The second half continued at the same tempo with Ruairi O'Riordan and Sean Gregory grabbing a goal each to leave the full time score 5-16 to 1-03. This was a fine team performance for the lads first football match of the year ,with some excellent performances from the entire panel. The panel for the match was: Luke Bamber, Michael Barrett, Dara Birdthistle, Fionn Bohan, James Carey, Rian Casey, Scott Dunlea, Sean Gregory, Cian Lawton (captain), Jason Morley, Darragh Mullins, Michael Allegrini, Max Murphy, Bradley O'Brien, Rossa O'Connor, Jamie O'Donovan, Patrick O'Dowd, Shane O'Mahony, Ruairi O'Riordan, Cuan Twomey, Jack Walsh, Harry Waterman.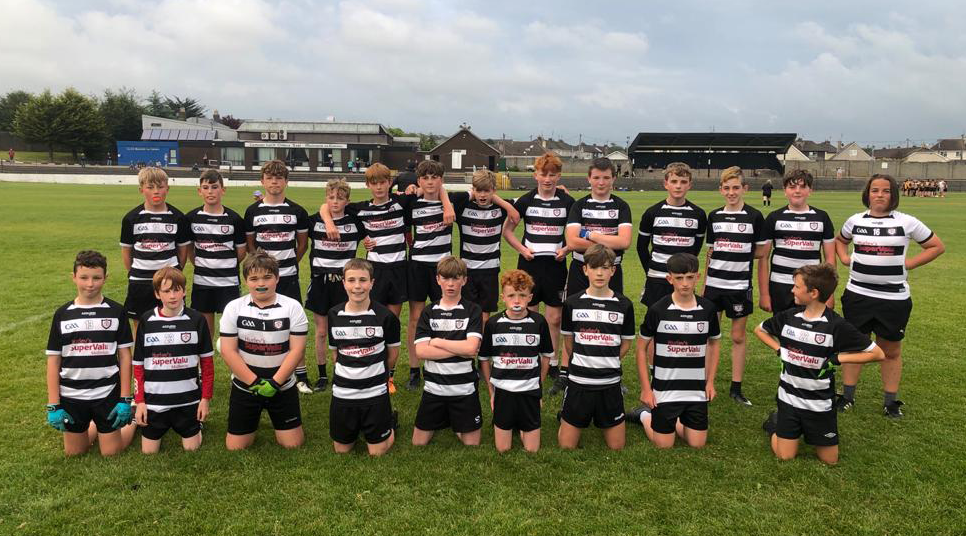 FÉ13 P2 V GLENVILLE
Camogie Notes
Last week saw another jam packed seven days of matches for girls aged 14 right up to our Junior Team as you can see from all the Match reports below. Best of luck to all Teams over the coming weeks , great to see all the girls back out on the pitches playing the sport they love and enjoying themselves. Team Managers will be contact with Match details. Please reply to Teamer messages as soon as you can and remember to fill out a health questionnaire before each training session and match. If your daughter is interested in joining our club please contact Sinead on 086 0638151 , new players are always welcome from our U6 group up to our Adult Team.
Junior League V's Cobh Sunday June 27th. Midleton 3-16 Cobh 3-8
Despite having reduced numbers for our trip to Cobh, the girls more than made up for it with work rate , commitment and no little skill to run out winners by 8 points. Top scorer Clara McCarthy excelled from placed balls as well as general play to score 2-08. Another goal from the hard working Rebecca Cassidy , and points from Sadhbh Beausang 0-3, Vivienne Gleeson 0-2, Jodie Keegan O 'Connell 0-1, Lucy Wallis 01 and Rebecca Cassidy again kept the scoreboard ticking. All the girls worked really hard in hot conditions and were deserving of their 2nd League win.
Team: Caoimhe Cronin, Rayanna Power, Meghan Kelly, Leah Hogan, Rebecca Crowley, Lucy Wallis, Vivienne Gleeson, Rebecca Cassidy, Sadhbh Beausang, Hannah Power, Jodie Keegan O'Connell, Clara McCarthy.
Minor Challenge V Cork U-16 B June 29th Castle Road.
Our first Minor game of the year was on Tuesday night against a Cork U-16 Selection . A very entertaining hours camogie ensued and the girls put in a super effort against very strong opposition. This game will benefit the group hugely and credit to everyone who work their socks off and more than held their own throughout. Special mention to first timers to the Minor Grade, Saoirse Ni Theangana, Laura Goulding, Isabelle Nestor, Kelly Quirke, Rachel Ryan & Elle McManus. Thanks to everyone for attending our first game in what hopefully will be a very enjoyable Minor campaign.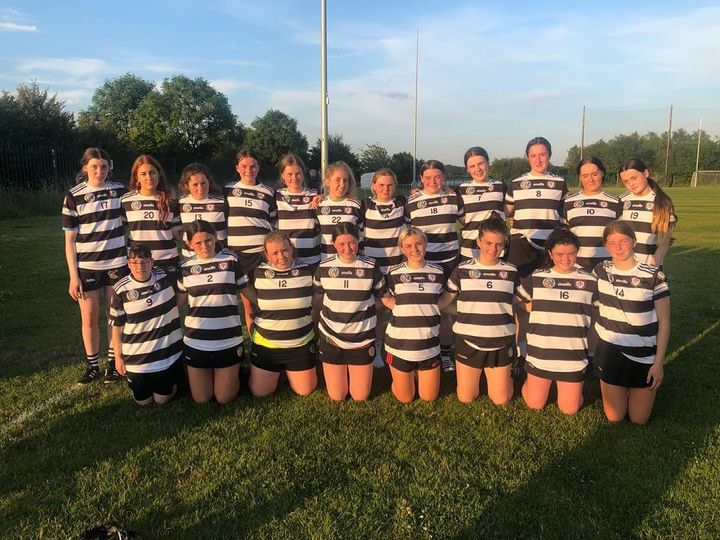 Minor Team V Cork U16
Team: Meghan Kelly, Leah Hogan, Aoife Fitzgerald, Caoimhe Cronin, Mischa Daly, Vivienne Gleeson, Jodie Keegan O'Connell, Clara McCarthy, Theresa Geary , Abbie Foley, Emma O'Sullivan, Rebecca Crowley, Yvonne Abernethy, Emily Lamb, Saoirse Ni Theangana, Laura Goulding, Isabelle Nestor, Kelly Quirke, Rachel Ryan, Elle McManus.
Midleton v Glen Rovers U16 (Deferred County Final ) on Sunday 20th June 2021 at Castle Road, Blackrock.
It had been almost 9 months since the Midleton U16 panel of 2020 had defeated Tracton in the County U16A 2020 semi-final in Clonmult Park
With the resumption of matches allowed from 07th June onwards, the County board fixed the remaining outstanding 2020 finals on the weekend of 19/20 June in Castle Road.
Midleton's opponents were Glen Rovers and the match was held with up to 100 spectators allowed entrance into Castle Road in an all ticket affair.
The first quarter saw an amount of Glen pressure on the Midleton goal, however the defence held firm and managed to get to the water break in arrears by the minimum 0-2 to 0-1.
The second quarter saw the Glen push out to a 0-5 to 0-1 lead however the Midleton girls rallied towards the end of the quarter to reduce the deficit to 0-5 to 0-2.
Upon the resumption of the third quarter the Glen pressure eventually started to pay off and they raced into a lead of 2-7 to 0-4 at the final water break with some well worked scores.
Despite facing an uphill struggle the Midleton girls showed great spirit and determination and fought to the very end and put over more scores in the final quarter but ultimately came up short against a very skillful and hard working Glen Rovers team with the final score Glen Rovers 3-7 to Midleton 1-5.
The Midleton girls can be proud of their achievement and have no regrets having left everything on the pitch.
Midleton Panel: Jill Connaughton, Elle McManus, Ruthi Hennessy, Laura Goulding, Muireann Ni Chonchubhair, Yvonne Abernethy, Aoife Fitzgerald, Emily Lamb, Emma O'Sullivan, Isabelle Nestor, Abbie Foley, Kelly Quirke, Saoirse Ni Theangana , Chloe Garde (C), Mia Tarrant, Rachel Ryan, Lora Dineen, Rebecca Crowley, Jade Fitzgerald, Kate O'Sullivan, Pippa Hennessy.
Midleton v Cobh U16 on Sunday 27th June in Cobh
Midleton travelled to Cobh on Sunday 27th for an evening throw in, in what turned out to be a thriller in beautiful Summer conditions.
Cobh started strongly and opened the scoring with a placed ball free having applied early pressure to the Midleton goal, Midleton managed to find their rhythm and scored 1-1 in quick succession, however Cobh also finished the quarter strongly with another free and a goal to leave the sides all level at first water break 1-2 apiece.
Both sides kept the score board ticking in the second quarter with a combination of well worked goals and points form play and placed balls but Midleton managed to edge the half by 2-4 to 2-3.
The third quarter resumed and turned out to be a high scoring affair with a succession of Cobh scores but Midleton rallied strongly throughout the quarter with a total of 6 points added and when it finished Cobh held a 3 point lead 4-6 to 2-9.
The final quarter was end to end nail biting stuff with Midleton always chasing the game. Having equalised with another well worked goal, Cobh took the lead again to lead by 3 points as the match went into dying moments. Midleton were not finished and were awarded a free on the 20m line, a brilliant struck ball was buried in the Cobh net to draw matters square and when the final whistle was blown the final score was a well earned draw Midleton 4-9 Cobh 5-6.
Next league game is away to home to Eire Og on Wednesday July 07th in Clonmult Park with an 8pm throwin
Midleton Panel: Jill Connaughton, Elle McManus, Ruthi Hennessy, Laura Goulding, Muireann Ni Chonchubhair, Emily Lamb, Aoife Fitzgerald, Emma O'Sullivan, Isabelle Nestor, Kelly Quirke, Saoirse Ni Theangana , Beth Ryan, Amy McCarthy, Emma O'Neill, Rachel Ryan, Lora Dineen, Seana O'Brien, Rachel Greene, Rionnach Finn, Jade Fitzgerald, Kate O'Sullivan, Pippa Hennessy, Sorcha Cronin, Kate Sanderson
Midleton U14 V Cobh, challenge game, Sat June 26th.
On Saturday 26th June we played a very competitive challenge game away to Cobh who kindly invited us to O Connell park. Midleton got some early scores from both Sarah McConville and Faye Dunlea taking great points from open play. Cobh replied with some nice points of their own and the sides went in level at half time. The second half started with the two teams exchanging goals and points early on. Miriam Finn played a great game in midfield and put in some great ball to our forward line. Cara Foley put in a player of the match performance at wing forward showing off her skills and pace. Cobh played really well and Midleton were only one point down thanks to some great defending including brilliant goalkeeping from Kate Griffin. With probably the last pick of the game Cobh scored a goal and the final score was
Midleton 3-5
Cobh 4-6
A big thank you to Cobh, Barry Day for refereeing and our ever loyal travelling support.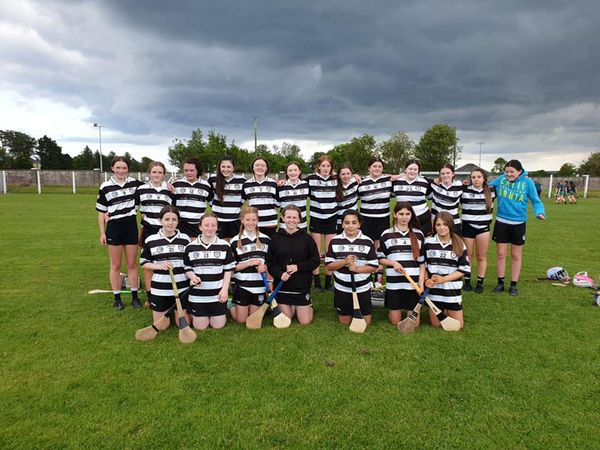 U14 Team v Cobh
Midleton U14A Versus Glen Rovers League Match
Our Second Round of the League took place on a very warm Wednesday evening where our girls took on Glen Rovers on home soil, this was our first time pitted against one of the city's oldest clubs. Midleton quickly got into the game with some nice scores from Mia Collins, Faye Dunlea and Kate O Sullivan. As expected the Glen Rovers rallied well and levelled the game at 3-2 going in to the half time break. After receiving their instructions from the selectors at the break the girls came out for the second half and found another gear and quickly raced into a handsome lead with our forwards putting a further 4 goals and 9 points on the board to Glen Rovers 2 points, we introduced our subs throughout the second half with Chloe Griffin, Leila Garde Berdassa, Cara Wallace, Sophie Wall and Emma Keeshan all playing their part and helping the team to an emphatic win over Glen Rovers who were a well coached outfit and kept battling away to the final whistle.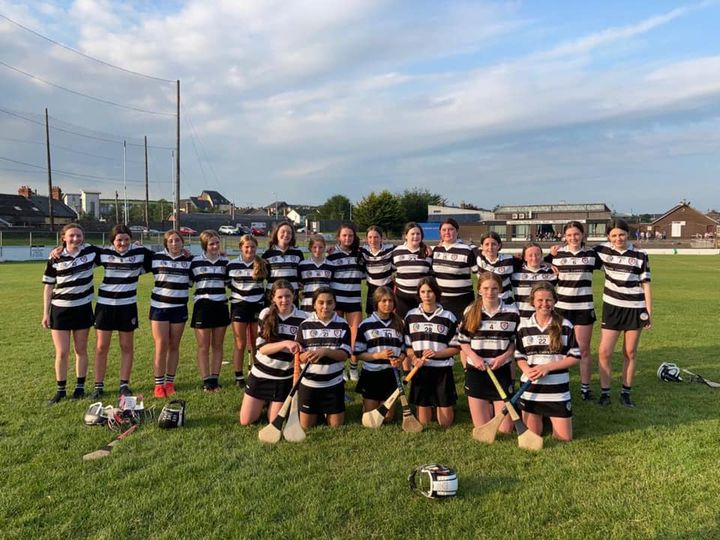 U16 Panel v Glen Rovers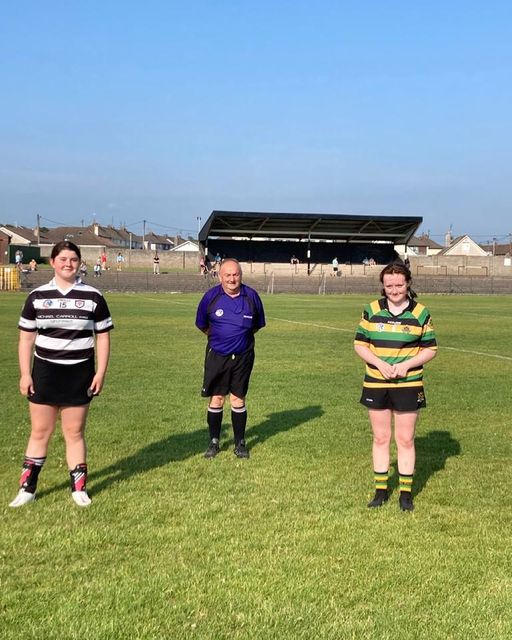 Midleton Captain Tia Wall Wallace V Glen Rovers
A big thank you to Ger Sheehan for refereeing the game, Glen Rovers and their mentors, our parents for their great support and finally the entire Midleton U14 management team on a job well done.
Final score
Midleton 7-11
Glen Rovers 3-4
Well done to Jill Connaughton who represented her club on Cork U16 last weekend in goals against Waterford.Best of Luck Jill and to all your Team mates for the upcoming season.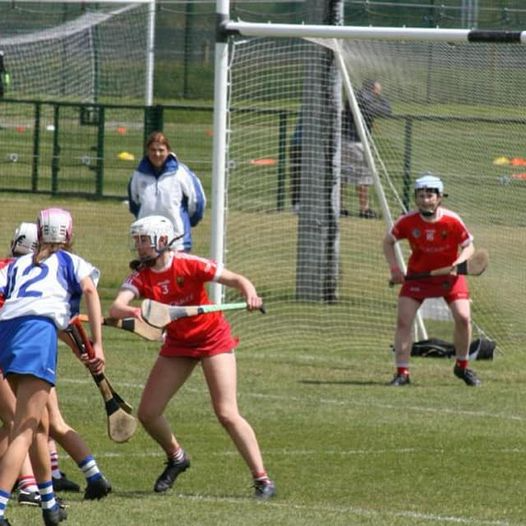 Follow Midleton Camogie Club on our Facebook,Instagram and Twitter pages for regular updates,photos and match reports.
Park South Works
The 'trenching' and 'banding' drainage work has started on the 'Riverside' Pitch in Park South. This will aid drainage especially in the most 'vulnerable' parts of the field. The 'Roadside' Pitch continues to get good use for training.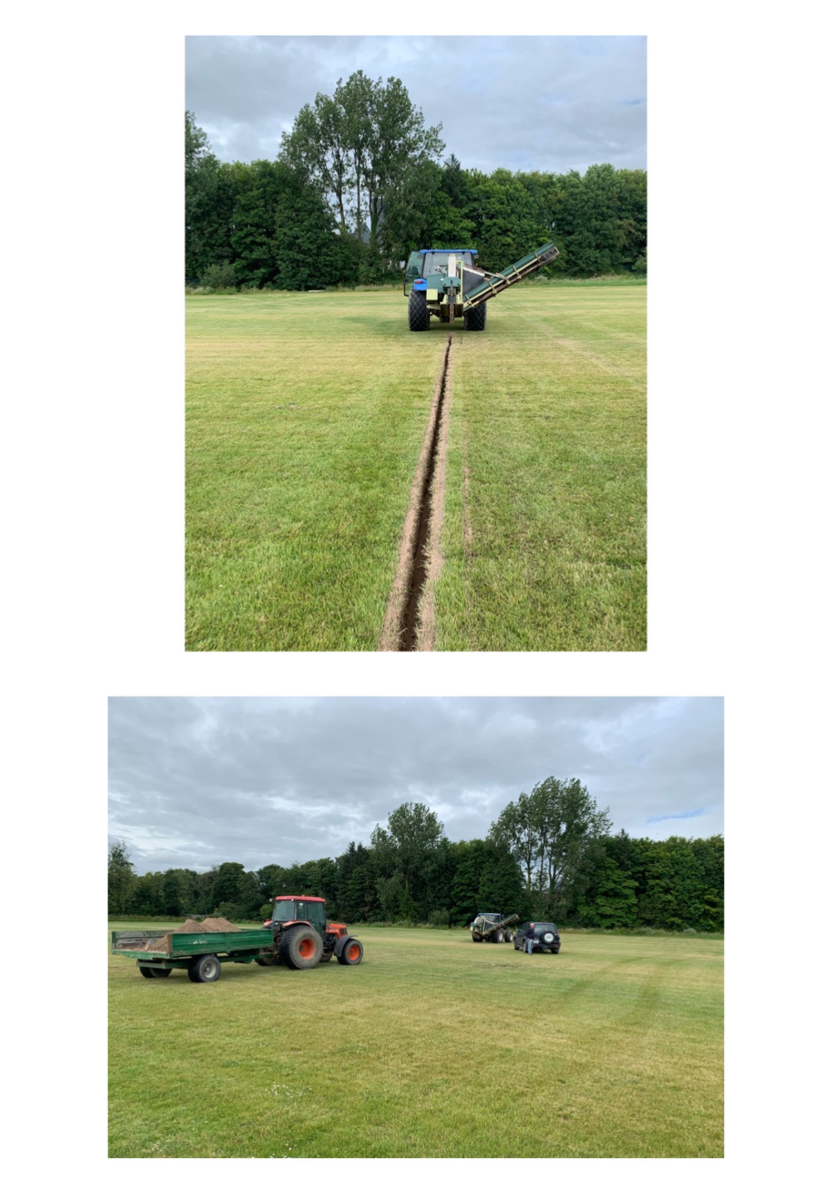 Club Shop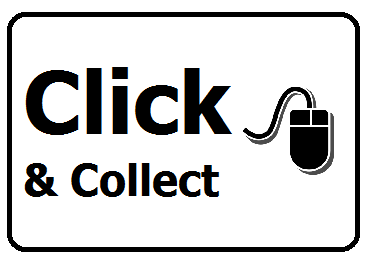 The club shop is back open online. You can order and pay for club gear online through Klubfunder.
Go to https://tinyurl.com/y3os6hus
Once ordered you will be contacted to arrange for collection. For any queries email: midletongaaclubshop@gmail.com
Condolences
Cumann Luthchleas Gael Mhainistir na Corann would like to offer our condolences to the extended O'Brien family on the passing of their dad Paddy. A proud Éire Óg man who, along with his brothers Billy and Derry also hurled with their division Muskerry, defeating Midleton in the first round of the county senior championship in 1963. Paddy lodged in the Mill Road when he first came to the town and having met and married his future wife and lifelong partner Dinah (Savage) they reared their family in number 1 Park Street before moving to the Rocky Road. Paddy and his brother Billy both played with the Midleton intermediate team in the 1960's. When his sons Seán Ó and Padraig started playing with the club Paddy became involved and acted as a selector in many under age and adult teams in the 1970/80's. These teams brought great success to the club but no doubt his greatest day was the 9th Oct 1983 when, along with the recently departed Ollie O'Keeffe, he acted as selector on the senior team that brought the county senior championship to the club for the first time since 1916. Another great day for him, his family and the club came in 2013 when Paddy's grandson Padraig O'Shea captained our senior team to our 7th county senior success. Along with Dinah he was a regular attendee at all club games and was ever present at training sessions in the club no matter what the team or grade involved. Paddy's contribution to the club was immense, may he rest in peace along with the love of his life Dinah.
The club would also like to convey our sympathies to the Cahill family 10 Joseph Ahern's Terrace on the passing of Michael Cahill junior. His family is steeped in the history of Midleton GAA club with his brother Liam playing on our winning Intermediate team of 1978 and also has a county winning under 21 medal. His father Mick Cahill played with the Cork minors in 1936 and was a star of Midleton teams around this time. Michael's grandfather Pats Cahill played and starred on our county winning senior teams of 1914/16 along with winning a Croke cup medal in 1914. Michael's nephew Ian Kenefick has also won County senior and under 21 medals with the club and continues his family's contribution to club teams.
Ar dheis Dé go raibh a n-anamacha