Midleton Hurling and Football, Ladies Football and Camogie Club News
27 June, 2021
The key messages for this week:
COVID-19 Update… Safe Return to Play
Best of luck to Junior B Hurlers in their County Semi-Final
Updated Lotto Jackpot Option €20,000 or VW Golf 1.0 TSI (RORP €25,100)
Approaching 60 teams registered for the golf…book your tee time
Midleton GAA…at the 'Heart of the Community'. Ní neart go cur le chéile. There is no strength without unity.
COVID Update & Return to Play

Team managers will advise of date, time and venue for training. Please remember that players/parents are required to complete a Health Questionnaire declaration BEFORE each training session or match.
Midleton GAA 'One Club' have put together a comprehensive guide to the Safe Return to Play for all teams. All parents, players and coaches are asked to familiarise themselves with these guidelines including, but not limited to, the Health Questionnaire requirements and access maps to the 4 facilities being used by Midelton GAA 'One Club'.
Key links:
Midleton GAA 'One Club' Guide and other Return to Play information: covid-19-news
FOIREANN (was Return to Play) where Health Questionnaire can be completed prior to each training session/match (FYI, use the same email and password from last year):
Mega Lotto Results & New Jackpot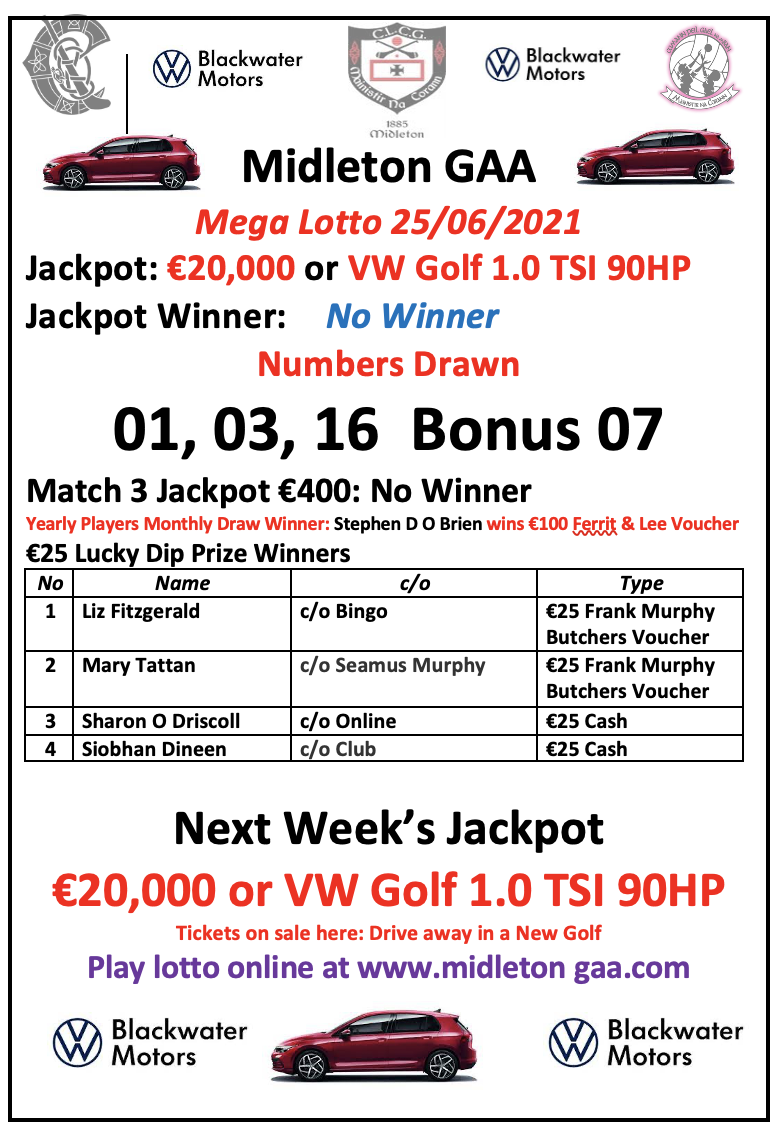 Our Lotto Jackpot was €20,000 the numbers 01, 03, 16 Bonus 07. There was no winner of the jackpot so next Friday's jackpot will remain €20,000.
Yearly Players Monthly Draw Winner: Stephen D O Brien wins €100 Ferrit & Lee Voucher
4 Lucky Dip Prize Winners this week were Liz Fitzgerald, Mary Tattan, Sharon O Driscoll, & Siobhan Dineen with the first 2 named winners receiving €25 Frank Murphy Butchers Voucher and the later 2 receiving €25 in cash. In total Midleton GAA will give out local business vouchers to the value of €3,800 every year as part of our "Shop Local, Buy Local" campaign.
How to play: Tickets are on sale at Pat Walsh Paints, Chadwicks, Frank Murphy Butchers, Murphy's Pharmacy, Crowley Butchers, or buy online, through Klubfunder, at https://www.klubfunder.com/Clubs/Midleton%20GAA/lotto select your numbers and number of draws to play. You can buy an annual ticket by selecting "50" from the "Number of Draws" to Play dropdown.
Our lotto jackpot is being 'spiced up'. €20,000 or a VW Golf 1.0 TSI. A bit of a no-brainer but the choice is yours. Many thanks to Blackwater Motors who are partnering with us in offering this jackpot.
GAA Fixtures & Results
A lot of fixtures for both adult and juvenile sections at the moment. We will endeavor to keep the club website up to date with fixtures and results as well as posting results, as much as possible, on twitter and facebook. Team managers are asked to submit results and any fixture changes to pro.midleton.cork@gaa.ie or text 0868643079.
Website Links:
Fixtures club_fixtures
Results club_results
Junior B Hurling Notes
County Quarter Final Sunday 20th June 2021 in Riverstown vs Blarney
Final Score: Midleton 0:19 Blarney 0:10
The semi-final takes place at 3pm on Sunday 27Th in Pairc Ui Rinn versus Delaneys.
Junior B league round 1 Friday 25th June 2021 in Killeagh vs Killeagh
Final Score: Midleton 2-07 Killeagh 2-17
On Friday night our fifth team in hurling travelled to Killeagh to play the hosts in the East Cork Junior B hurling league. With the junior B team preparing for the county semi-final this Sunday, the junior C team stepped in to fulfil this fixture. We started the game very well and through some assured defensive play allied to some excellent score taking lead by two points at half time. As the second half wore on Killeagh's third team took control of the game and finished the game stronger than us. On the night we fielded six minors and each and every player who took to the field acquitted themselves really well. Congratulations to Neil, Rory and Cian who made their debuts for the adult side of the club. Overall a great effort against a very good Killeagh team as we look to prepare for the next round of the junior C league in two weeks' time.
We would like to take this opportunity to wish Gavin and the junior B panel the best of luck this Sunday. Up the Magpies!
Team: Jerome Curtin, Daniel Wathen, Adam Faye, Neil Fitzgerald, Brendan Ferriter, Jack Fitzgerald, Ryan Cahill, Colin Sunderland, Rory Hartnett, Brian O'Sullivan, Colin Dowling, Luke Deane, Ben O'Neill, Sean Corcoran, Andy Rea, Cian Murray, Declan McInerney and Joe Coppinger.
Midleton GAA Golf Classic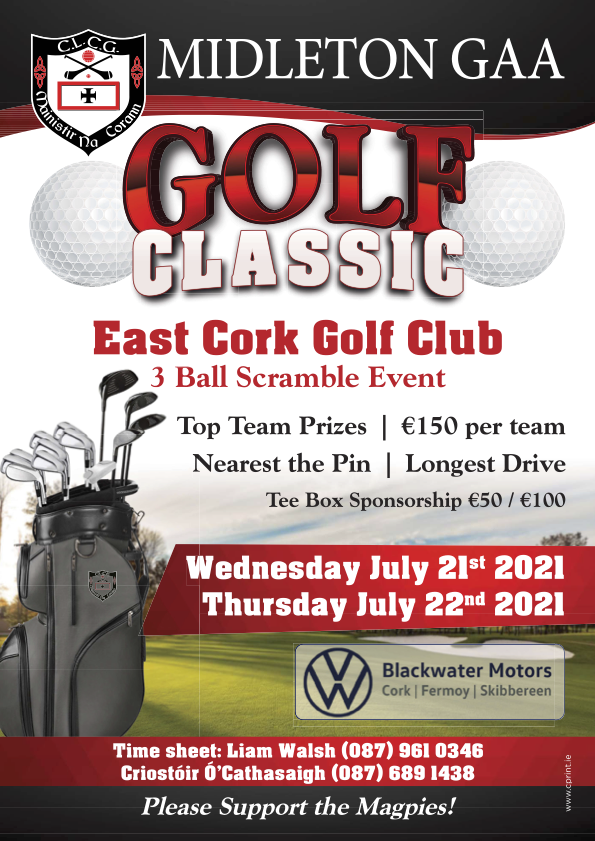 Main Sponsor - Blackwater Motors
When: Wed & Thurs, 21st & 22nd July 2021
Where: East Cork Golf Club
This is a popular event in the Midleton GAA social and fundraising calendar. Combining a social 3-man scramble format with great prizes, food, and fun, this is a must for your mid-Summer diary.
Contact Liam Walsh (087 9610346) or Criostoir Ó Cathasaigh (087 6891438) to reserve your tee time
Or
Book your team online at: https://www.klubfunder.com/Clubs/Midleton%20GAA/EventRegistration#EventRegistrationOptions (give your preferred tee time)
Ladies Football
Training for week
Monday 28th Ballinacurra Gaa Club:
U8, U10, U12 & U14- 6.30 to 7.30pm
Minors/Juniors 7.30 -8.30pm
U16 game v Cobh in Ballinacurra. Please be there for 7.20pm. Remember to sign Health Questionnaire and bring your own water.
U12 League v St Coleman's
Our 12 girls commenced their league campaign for 2021 last Sunday with a home fixture against St Coleman's. A great effort was put in by all girls on the night. Some lovely passages of play and football skill was to be seen. Well done to all of you especially our younger panel members. Midleton won on the narrowest of margins. Captain on the night was Olivia McGrath.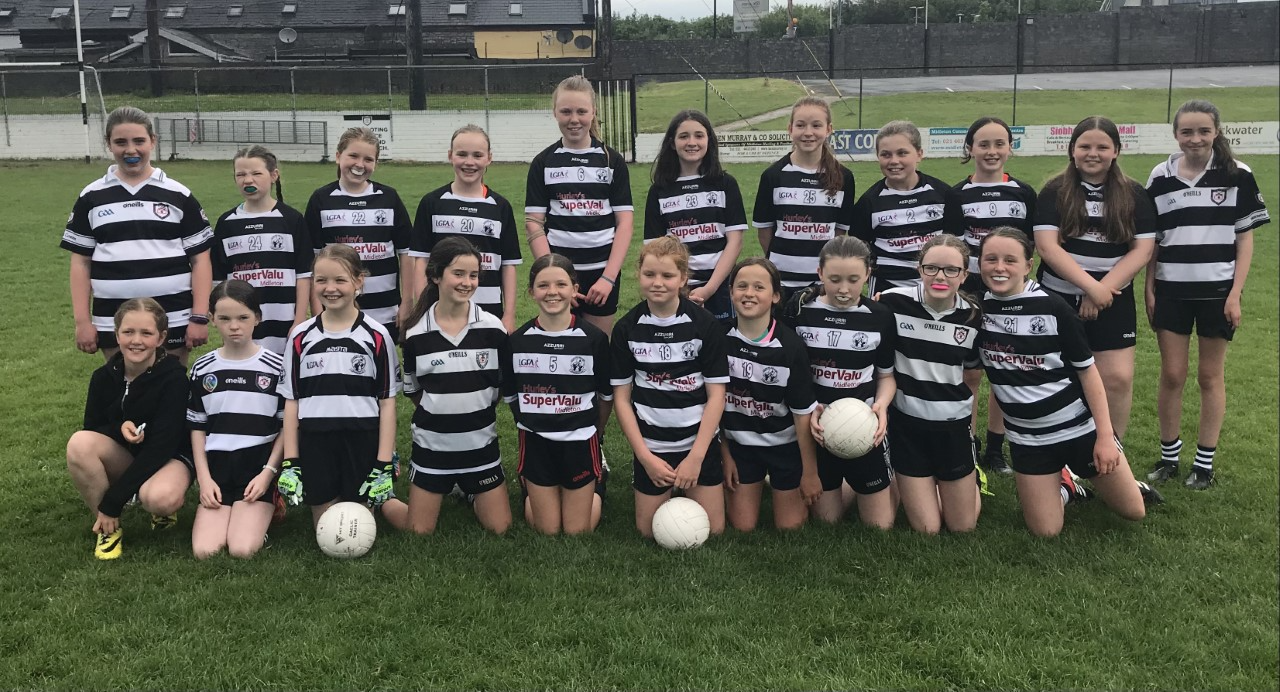 U12 League v St Coleman's
Camogie Notes
As always we had a jam packed schedule with Camogie matches this week.
Our U12's kicked off the week as they made the long trip to Newtownshandrum on Saturday 19th June for their second league match. The girls were up against it from the start against a very good Newtown side. We edged a low scoring first half to lead by a goal to no score at the break. Newtown came out strong in the second half and the game was finely poised at the water break, Midleton leading by 2:01 to 1:02. Newtown drew first blood in the final quarter with a goal to put them a point up but our girls battled hard and got the goal to edge it in the end on a score line of 3:02 to 2:02. Well done to the girls and a big thanks to the parents for travelling in their numbers and roaring the girls on! It was almost like a home match
Thanks to Newtownshandrum GAA Club for hosting us and for a great match. Well done to Jaimey Healy who played a true captains part on the night and taking the win home. Well done to all, great results.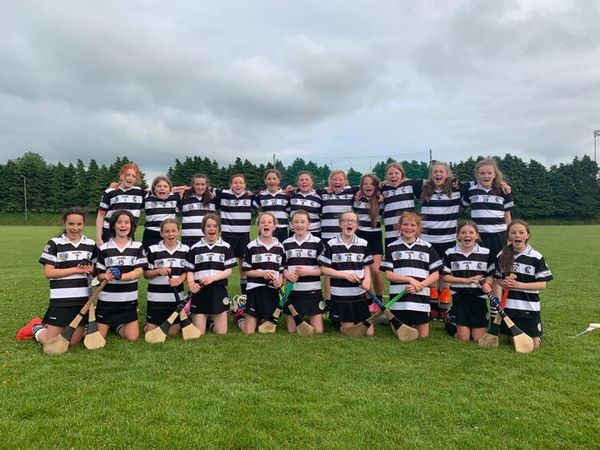 U12 V Newtownshandrum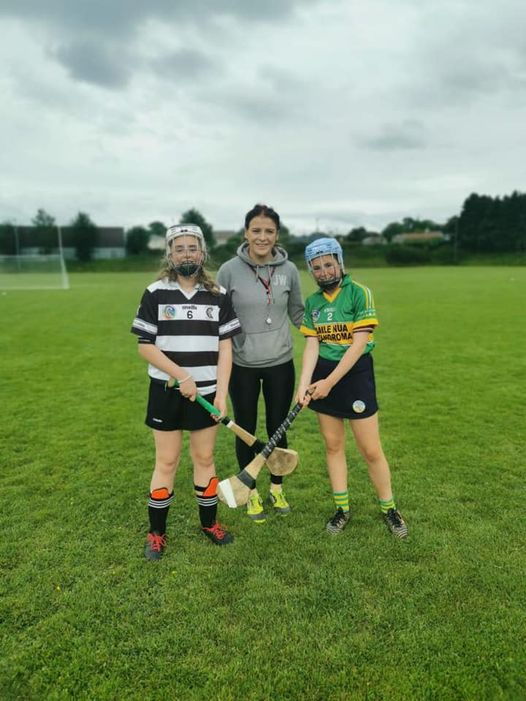 U12 Captain V Newtownshandrum
Our u13s had first outing of the year against Douglas on Sunday last 20th June as always our players were full of desire and played some great hurling with all 22 players contributing to a very competitive match thanks to Douglas for hosting us. We also got to show off our new Jerseys on the evening which were kindly sponsored by our Coach Aine of Cronin and Wall properties. Thank you Aine they were very much appreciated by us all and the girls looked very smart in them!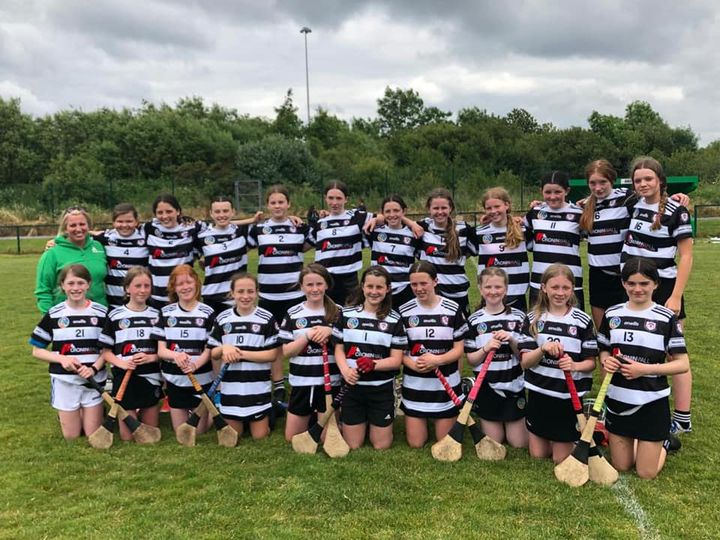 U13 V Douglas
We played Killeagh at their grounds on Wednesday 23rd June in beautiful conditions. There was huge excitement for our U11's girls first game of the season.We played with great spirit and got great experience of rising and striking the sliotar, blocking and competing again. All our girls really enjoyed the full experience of wearing the Midleton colours on the day. There was some lovely passages of play and it was great to see all the girls support each other in all sections of the pitch. A big well done to all the players, parents and thanks to the coaches, the referee and our good neighbours Killeagh Camogie/Inch Rovers Club for hosting us for the game.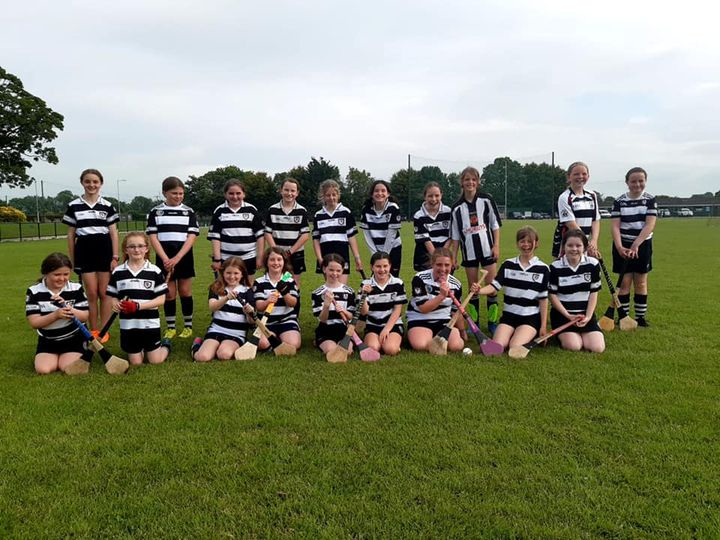 U11 V Killeagh
U7 V Dungourney
On Wednesday night we brought 36 six to eight year olds out to Dungourney to play a blitz. The sun was out and our hosts had a everything really well set up so it was all lined up for a great night of camogie. We had 4 older and 2 younger teams. The girls played some brilliant camogie and most importantly had great fun. It was only the girls second game and it didn't show,each girl played excellent, tried extremely hard and scored some great goals. We certainly have some Magpie stars for the future. Well done to all who travelled and thank you to Dungourney for hosting us.
U12 V Ballinora
The U12's were in action again in the league on Friday evening with a home game this time around against Ballinora in Clonmult park. It was a tough battle with two strong teams giving it their all and battling until the very end. The teams matched each other score for score and In the end they couldn't be separated with the game ending in a draw. Well done to all of the girls who did Midleton proud this evening. Thanks to the parents who were out in force supporting the girls as always, it is great to see such support for them all. Congratulations to Emily O Sullivan who captained the team on the day !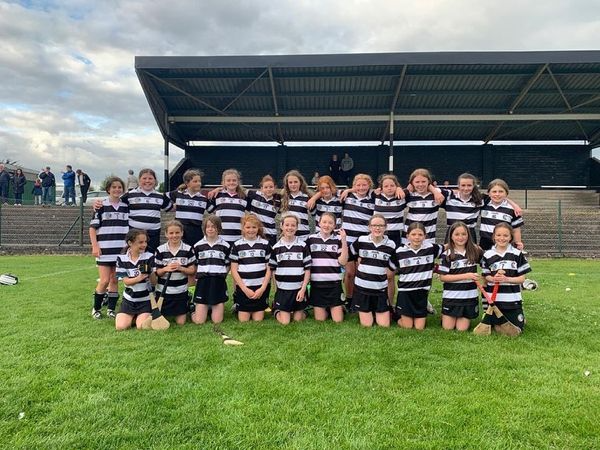 U12 V Ballinora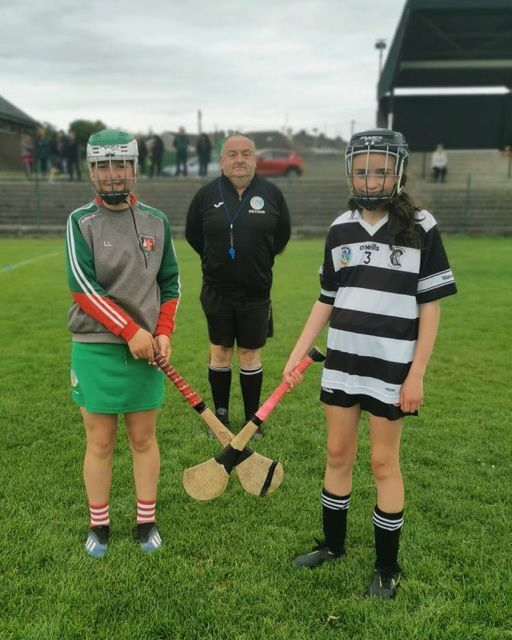 U12 Captain V Ballinora
Finally Huge congratulations to our Junior Player Lucy Wallace who started with Cork Junior Team on Saturday 26th June in Lixnaw for the Munster Camogie Semi Final. Well done to all on the day.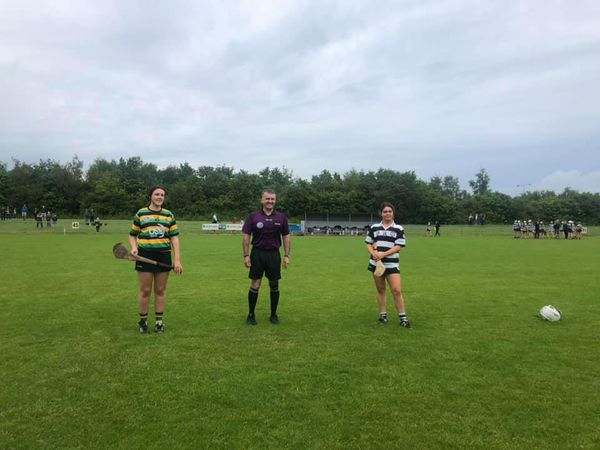 Captains from U16 County Final
Child Protection
Midleton GAA club will be running a child safeguarding course on Monday 28th June at 7pm. This course will be run online and facilitated by Des Cullinane.
If you are unsure whether you need to do this course or if you want to register, please email childrensofficer.midleton.cork@gaa.ie
Club Shop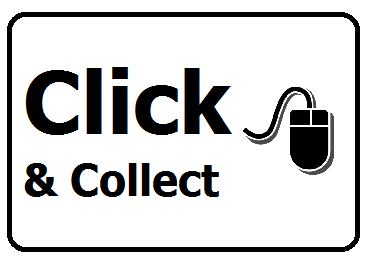 The club shop is back open online. You can order and pay for club gear online through Klubfunder.
Go to https://tinyurl.com/y3os6hus
Once ordered you will be contacted to arrange for collection. For any queries email: midletongaaclubshop@gmail.com