Midleton Hurling and Football, Ladies Football and Camogie Club News
13 June, 2021
The key messages for this week:
COVID-19 Update… Safe Return to Play
Great win for Junior B Hurlers
Updated Lotto Jackpot Option €20,000 or VW Golf 1.0 TSI
Match fixtures re-commenced this week
Magpie All-Stars – Active Community Awards winners to be announced next Friday
Golf Classic – tee times filling up
Blast from the Past…c1975 Intermediate Team
Midleton GAA…at the 'Heart of the Community'. Ní neart go cur le chéile. There is no strength without unity.
COVID Update & Return to Play

Team managers will advise of date, time and venue for training. Please remember that players/parents are required to complete a Health Questionnaire declaration BEFORE each training session or match.
Midleton GAA 'One Club' have put together a comprehensive guide to the Safe Return to Play for all teams. All parents, players and coaches are asked to familiarise themselves with these guidelines including, but not limited to, the Health Questionnaire requirements and access maps to the 4 facilities being used by Midelton GAA 'One Club'.
Key links:
Midleton GAA 'One Club' Guide and other Return to Play information: covid-19-news
FOIREANN (was Return to Play) where Health Questionnaire can be completed prior to each training session/match (FYI, use the same email and password from last year):
Mega Lotto Results & New Jackpot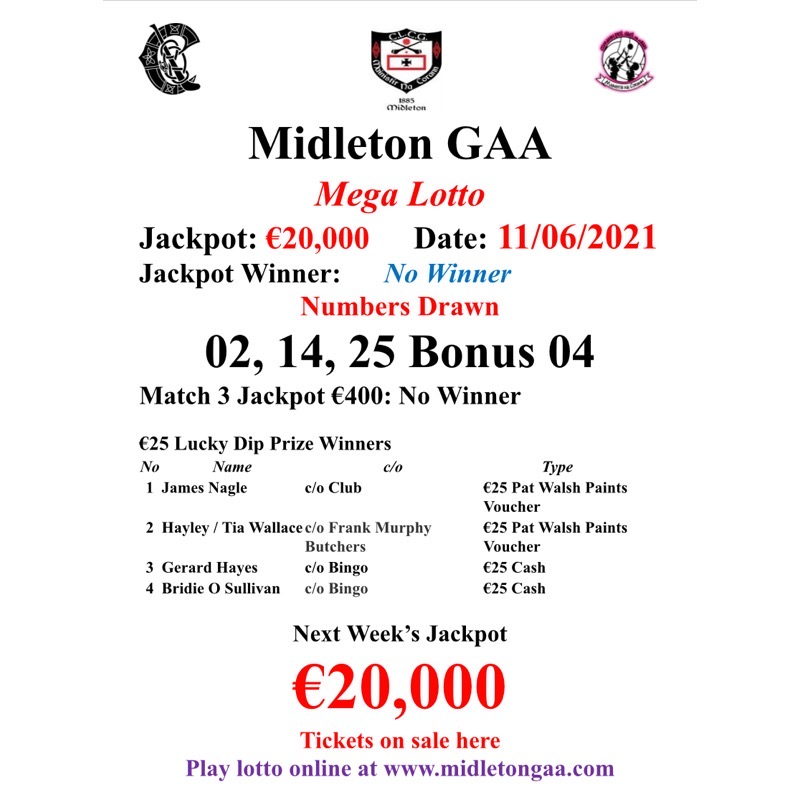 Our Lotto Jackpot was €20,000 the numbers 02, 14, 25, Bonus 04. There was no winner of the jackpot so next Friday's jackpot will remain €20,000.
4 Lucky Dip Prize Winners this week were James Nagle, Hayley Tia Wallace, Gerard Hayes, & Bridie O'Sullivan with the first 2 named winners receiving €25 Pat Walsh Paint Vouchers and the later 2 receiving €25 in cash. In total Midleton GAA will give out local business vouchers to the value of €3,800 every year as part of our "Shop Local, Buy Local" campaign.
How to play: Tickets are on sale at Pat Walsh Paints, Chadwicks, Frank Murphy Butchers, Murphy's Pharmacy, Crowley Butchers, or buy online, through Klubfunder, at https://www.klubfunder.com/Clubs/Midleton%20GAA/lotto select your numbers and number of draws to play. You can buy an annual ticket by selecting "50" from the "Number of Draws" to Play dropdown.
Our lotto jackpot is being 'spiced up'. €20,000 or a VW Golf 1.0 TSI. A bit of a no-brainer but the choice is yours. Play online at tinyurl.com/y6c2yfdv Many thanks to Blackwater Motors who are partnering with us in offering this jackpot.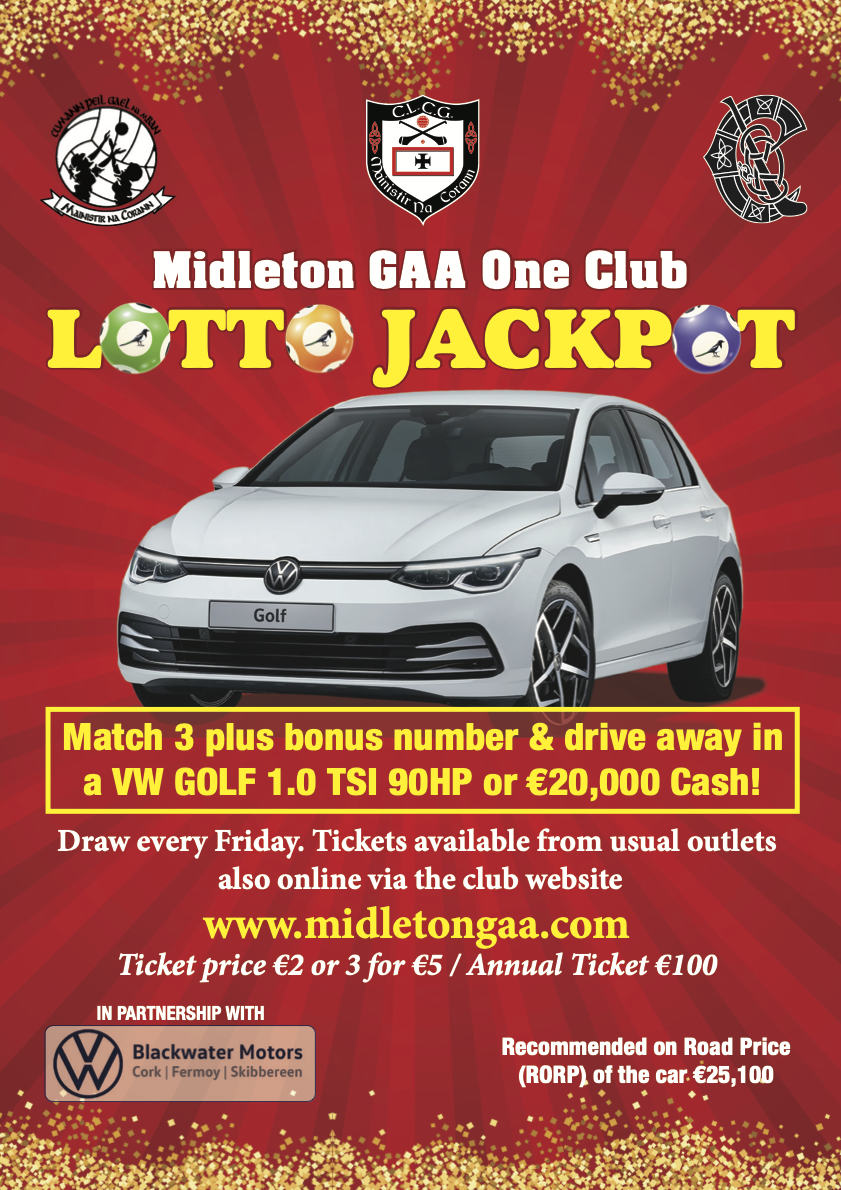 Midleton GAA, Midleton Camogie & Midleton Ladies Football One Club Membership 2021
Click here to see the letter signed by all 'One Club' Chairpersons re Membership 2021
Key Points
Míle buíochas to those who have already paid their membership.
For those who have not yet paid, please note that it is due by 31 May. If unpaid at this date then players, coaches and officers will be unable to partake in club activities such as training and matches. This policy has been re-stated by the 'One-Club' Executive and will be strictly implemented this year.
Per Croke Park rules, players not paid and registered before 31st May will not be eligible for Injury Fund benefits.
Easiest way to pay membership is online through Klubfunder. Click here at:
Cheque, Cash and Instalment Options available. Please contact Tracy Saunderson, GAA Registrar 087 662 5544, Amy Quirke, Ladies Football Registrar 086 266 4659 or Shirley Garde Camogie Registrar 086 198 5207
Membership Rates 2021
Adult , Full Member, Voting Rights (GAAOnly):
Non Player, Team Mentor, Officer, Committee Member €100
Player 18 years and older €200
Player 18 years and older, Full Time Student (3rd Level), Apprentice or Unemployed €100
Non Player, OAP (65+), Unemployed €50
Youth Membership
Player in Junior Infants €50.00 €50
Player Senior Infants – Fe18 €90.00 (U18 on Jan 1st 2021) €135
Family Membership €300
Diaspora Membership ( Social member - No Voting Rights) €50
Notes:
Employed Child/Children do not qualify for Family Membership.
A Child/Children born in 2002 or before do not qualify for Family Membership.
Gym Membership for Adults is not included in Family Membership, Annual Gym membership is an additional charge of €100.00 per Adult per year.
Diaspora Membership is for those supporters living away from Midleton. It is a non-voting social membership.
There will be a cap of a maximum of €500 per household. Children in full time employment cannot be included in this calculation.
GAA Fixtures & Results
Monday saw the re-commencement of match fixtures and unsurprisingly it was a hectic week.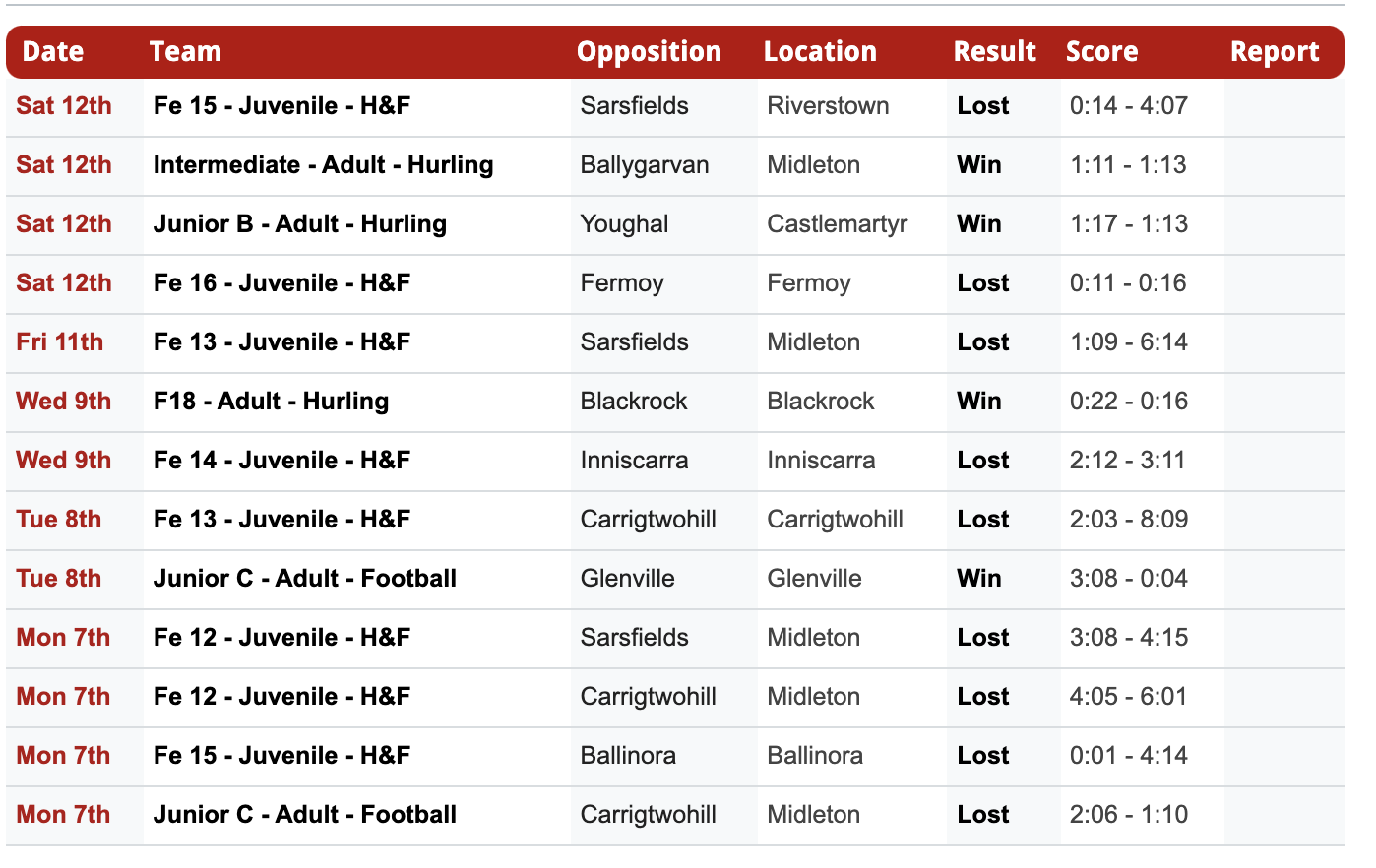 Special mention for our Junior B hurlers who lifted the Eamonn Flemming Cup in winning the 2020 East Cork Junior B Hurling Championship. Next up is the winners of Blarney & Inniscarra. Additionally, well done to the Fé10 who played their 1st Rebel Óg matches this week (see more in Juvenile Notes section).
The coming week is a very busy week on the fixture front. Best of luck to all our teams and in particular our Junior C footballers who take on Aghada in the final of the 2020 East Cork Championship next Wednesday evening. Another final up for decision this week (Friday) is for the Magpie All-Stars. See later in the notes more details of the Active Community Award that they have been nominated for.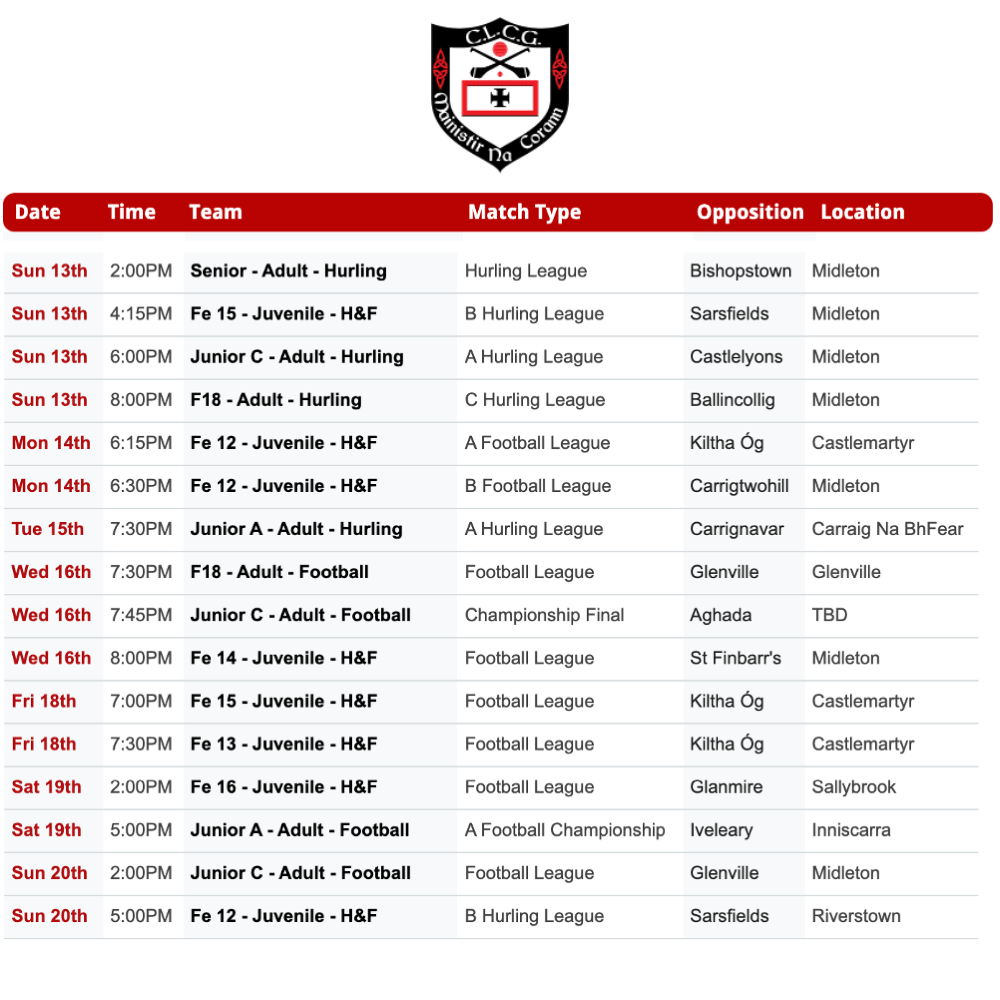 We will endeavor to keep the club website up to date with fixtures and results as well as posting results, as much as possible, on twitter and facebook.
Junior B Hurling Notes
2020 - Junior B Hurling - Eammon Fleming Cup 1961
Midleton 1:17
Youghal 1:13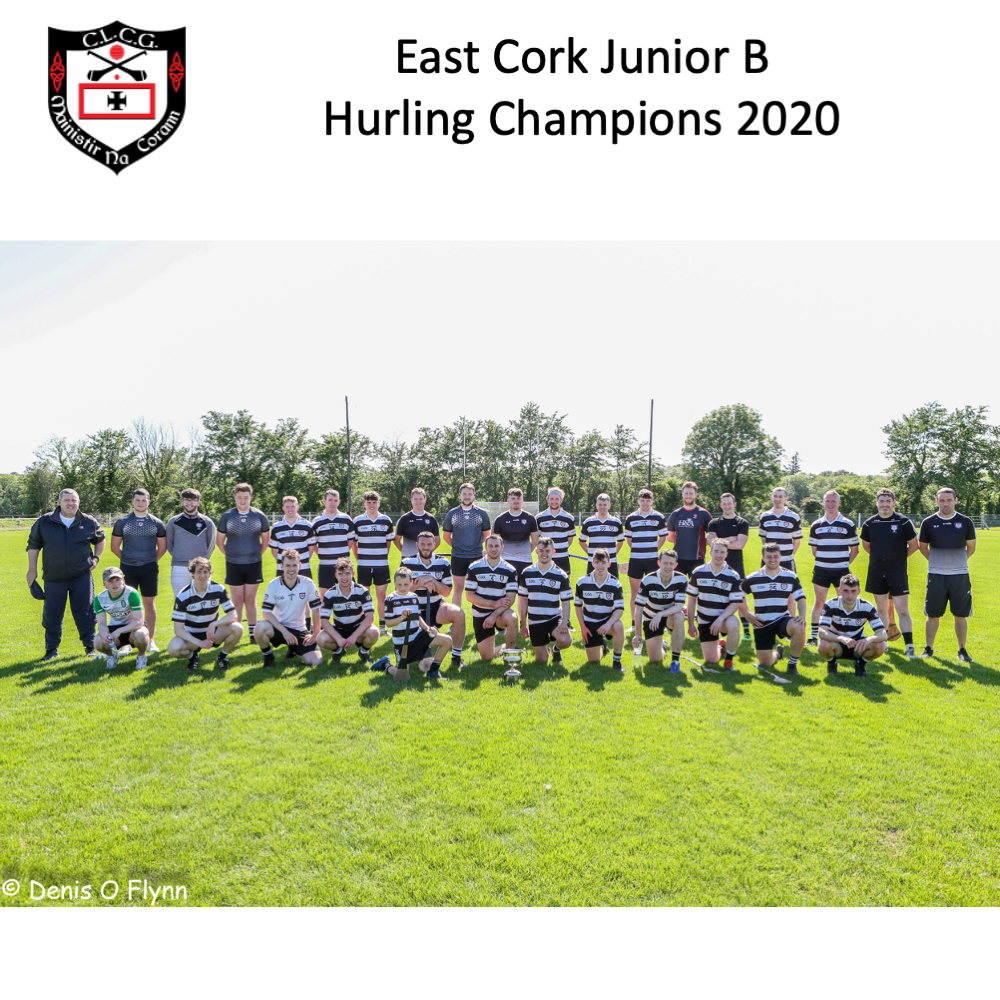 Junior B Hurlers lift Eammon Flemming Cup
Midleton GAA Golf Classic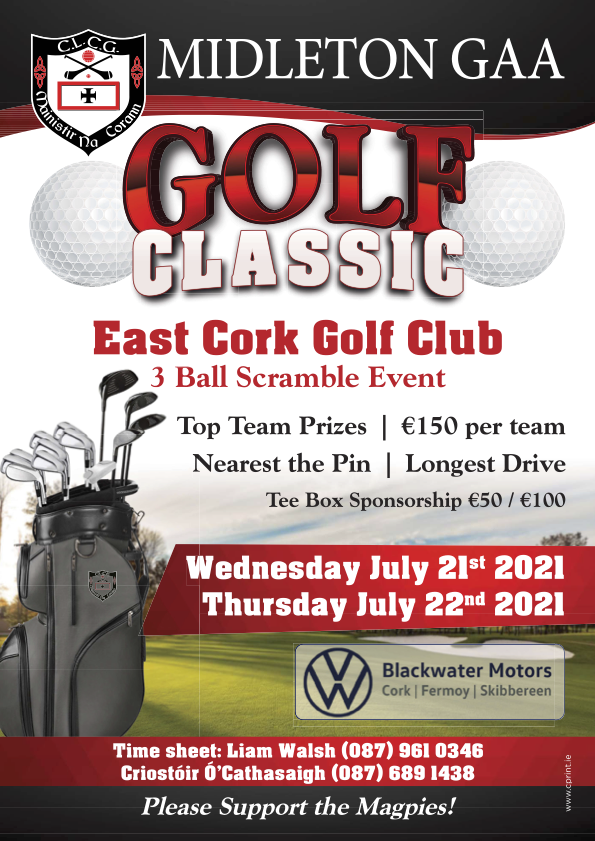 Main Sponsor - Blackwater Motors
When: Wed & Thurs, 21st & 22nd July 2021
Where: East Cork Golf Club
This is a popular event in the Midleton GAA social and fundraising calendar. Combining a social 3-man scramble format with great prizes, food, and fun, this is a must for your mid-Summer diary.
Contact Liam Walsh (087 9610346) or Criostoir Ó Cathasaigh (087 6891438) to reserve your tee time
Or
Book your team online at: https://www.klubfunder.com/Clubs/Midleton%20GAA/EventRegistration#EventRegistrationOptions (give your preferred tee time)
Juvenile
Fé8 Notes
There was much excitement at Clonmult Park on Saturday morning last as the first Fé8 hurling match of the year took place with Bishopstown the visitors. We had 40 young magpies wearing the famous black and white spread across 6 teams. All matches were very exciting with some great skill on display as the lads continue to improve. Keep up the good work and the practice at home. Thanks to everyone who came to show their support for the lads. Thanks to Bishopstown for making the trip and for the very sporting matches. We will be back training on Tuesday night with football training at Park South. Next Saturday will be an away trip to Ballincollig for the first football match of the year.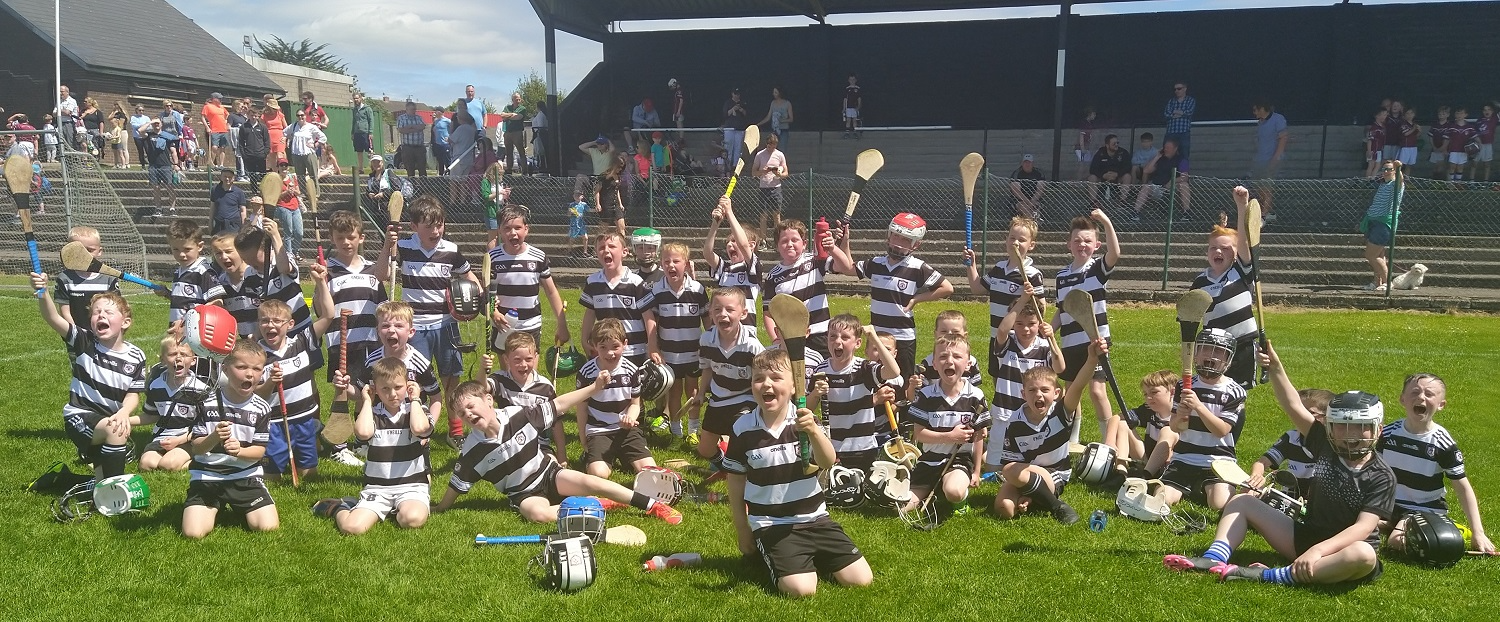 Fé11 Notes
Saturday saw the start of our Rebel Óg Hurling fixtures v Bishopstown at home in Clonmult in glorious sunshine. Coaches could not be prouder of the effort the lads gave in the heat. Some brilliant hurling on display. Well done all.
Fé11 v Bishopstown
Fé13 Notes
The Fé13 C3 lads made the short trip to Carrigtwohill last Tuesday evening for the first C3 hurling match of the year. After a difficult first half where Carrigtwohill were dominant, the lads really come into the match in the second half and battled right through to the end. With the spirit shown by the lads throughout the match, we're sure that there will be better results over the coming months. Final score Carrigtwohill 8-09 Midleton 2-03. The panel for the match was: Adam Spillane, Cuan Twomey, Dara Birdthistle, Fionn Bohan, Jack Cahill, James Carey, James O'Meara, Jamie O'Donovan, Jason Morley, Michael Allegrini, Michael Barrett, Patrick Collins, Patrick O'Dowd, Peader Egan, Rian Casey, Riain McCormack, Ruairi O'Riordan, Sean Gregory. Thanks to Peader, Riain and Jack from the Fé12 group who helped us out on the night.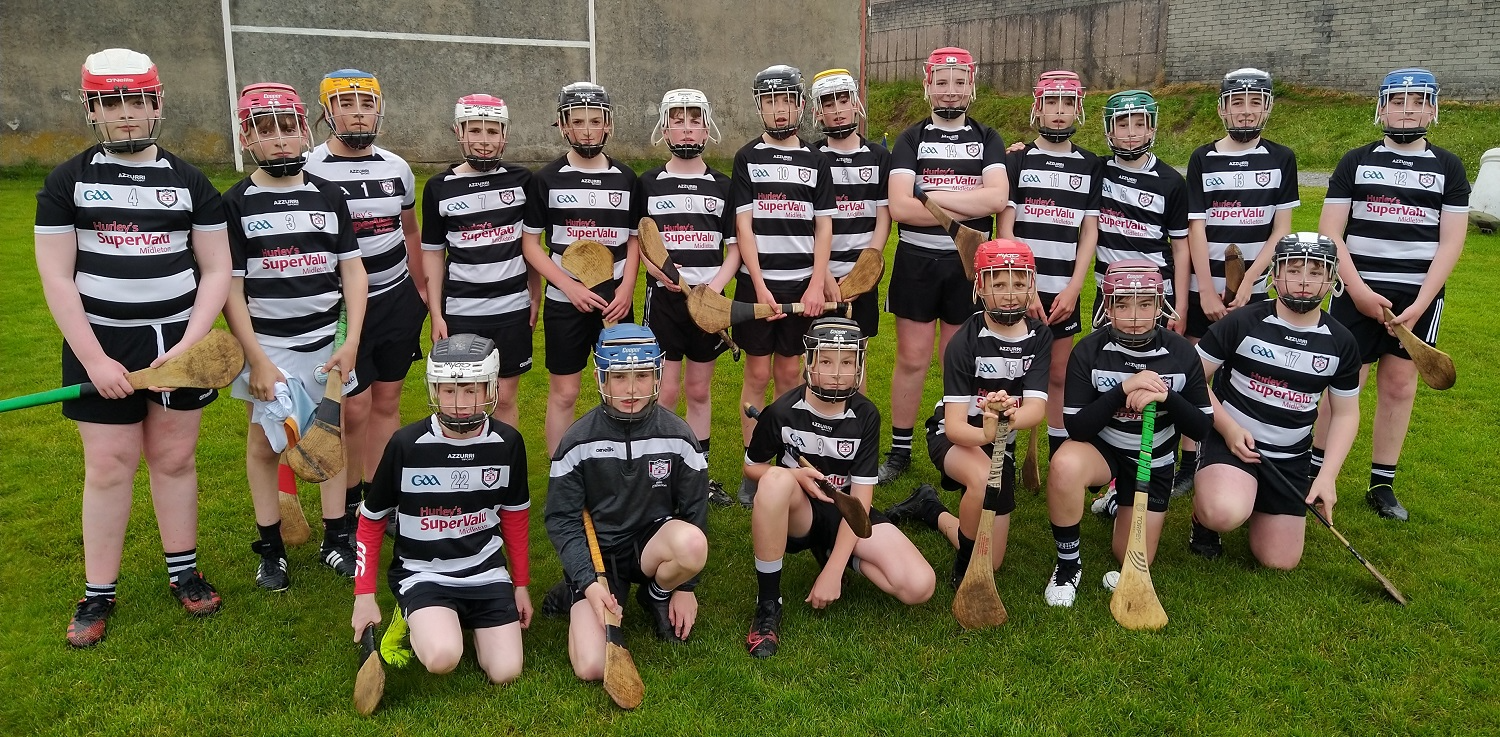 Fé13 C3 v Carrigtwohill
The first P1 Hurling match of the year was a home fixture against Sarsfields last Friday evening. After a promising opening quarter there was only the minimum between the teams at the first water break. However, in the second quarter the visitors scored two goals to see the half time score of 2-06 to 0-05. With the aid of a slight breeze the visitors were dominant in the third quarter, scoring 3-05 in this period. However, credit to the lads who never gave up and finished the match strongly scoring 1-03 in the last quarter. There will be better days ahead for this group of players no doubt. Final score Midleton 1-09 Sarsfields 6-14. The panel for the match was Cian Lawton, Cuan Twomey, Dara Birdthistle, Darragh Mullins, David Kelly, Ewan Murphy, Fionn Bohan, Harry Waterman, Jack Walsh, James Carey, Jason Morley, Max Murphy, Patrick O'Dowd, Rian Casey, Ruairi O'Riordan, Scott Dunlea, Senan Carroll, Shane O'Mahony. Next match for the Fé13 group is an away football match v Kiltha Óg on Friday 18th.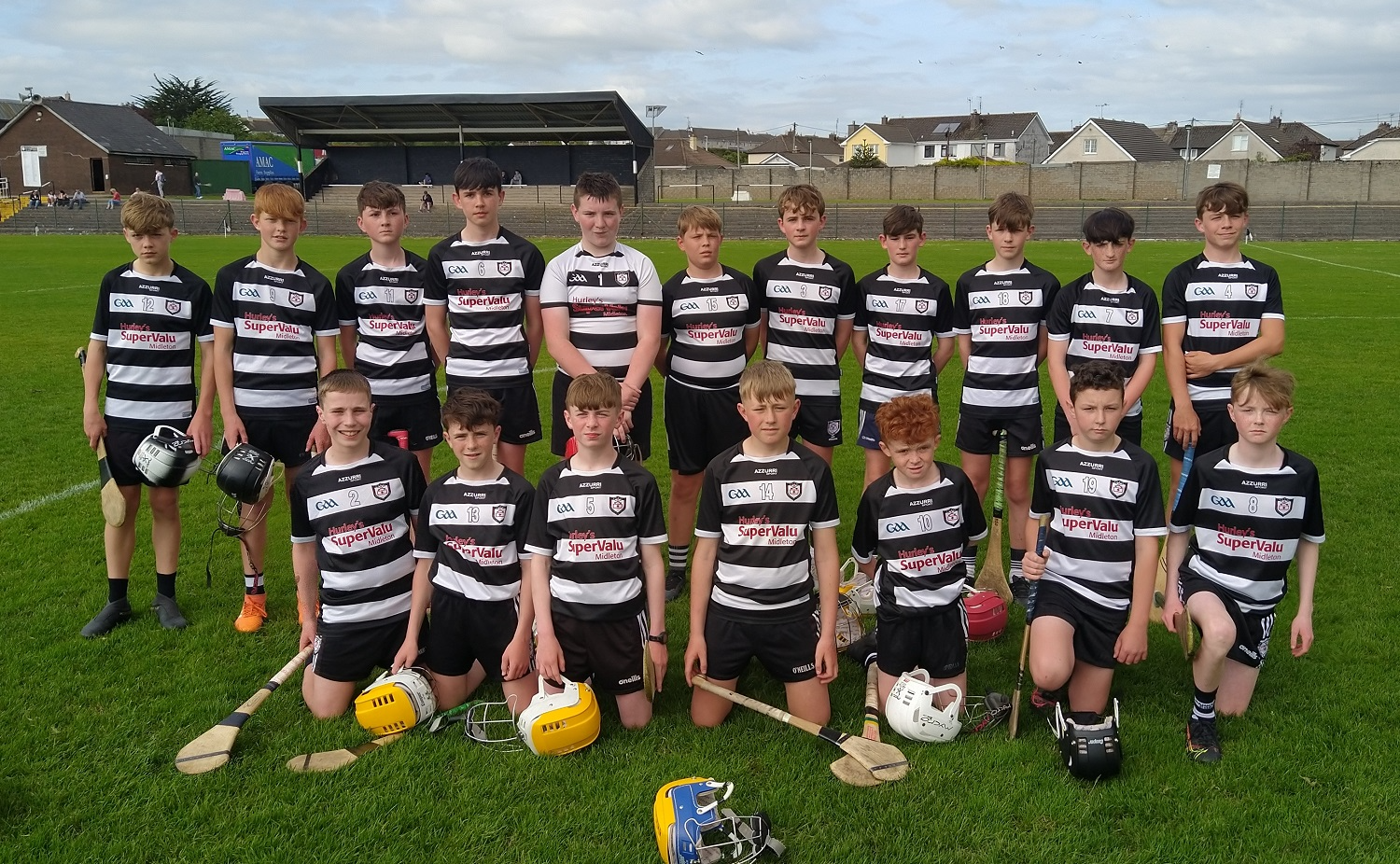 Fé13 P1 v Sarsfields
Midleton Magpie All-Stars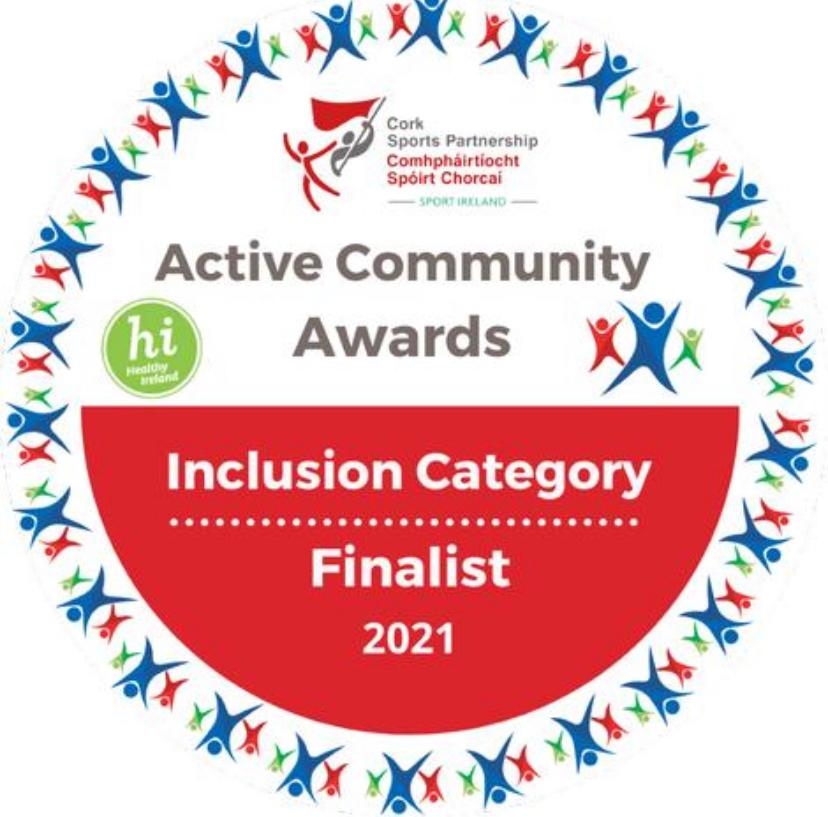 As you may be aware our Magpie All-Stars have been nominated and are finalists in the Inclusion Category of the Active Community Awards. The awards ceremony takes place next Friday, 18th June at 7pm and will be streamed live on Facebook and YouTube.
www.cork sports.ie/active-communities-awards
Best of luck to the All-Stars.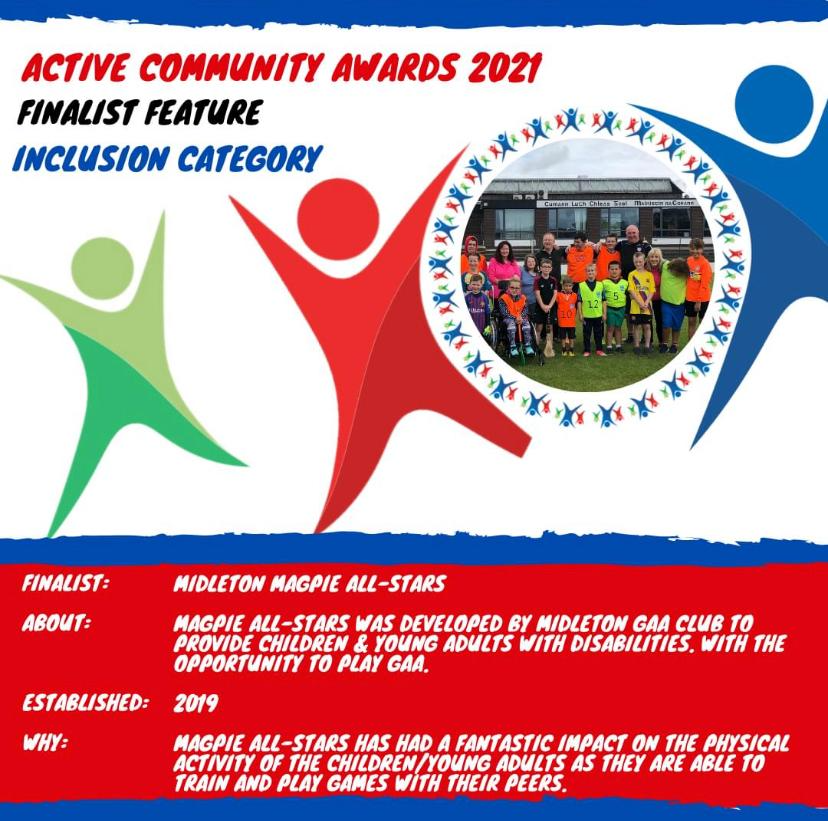 Ladies Football
Training for this week:
Monday evening- Ballinacurra Pitch
6.30-7.30pm - U8,10,12,14's
7.30-8.30pm - Minor and Junior
Thursday evening - Park South 7-8pm - U16's
U16's first League football game v Aghada in Ballinacuura GAA Club tomorrow night. Please be there for 7.30pm, come togged, bring GUMSHIELD, your own water & complete your Health Questionnaire.
Our Junior Ladies will have a football challenge game next Thursday in Buck Leary's Cross at 07:30pm.
Camogie
This week saw Camogie return to play with matches beginning for most age groups.We had a great game to start, at home in Clonmult on Monday last 7th June with the U12 girls edging out the Barrs by a single point on a score line of 3:05 to 3:04. Excellent displays all round against a strong Barrs team. Well done to all the girls and their management on a superb first match ! We look forward to many more days like this . Congratulations to Kerrie Morey who captained the team on the day, well done Kerrie!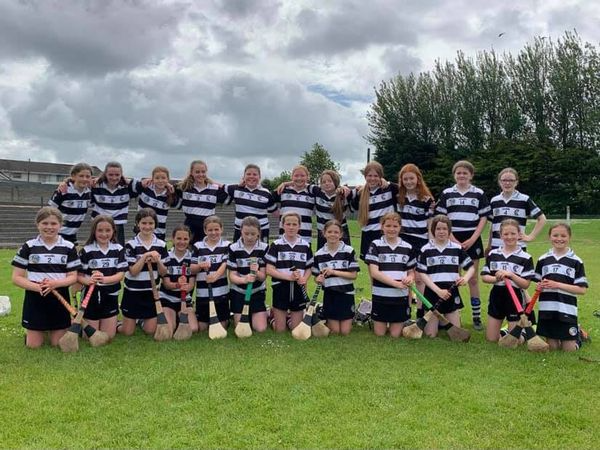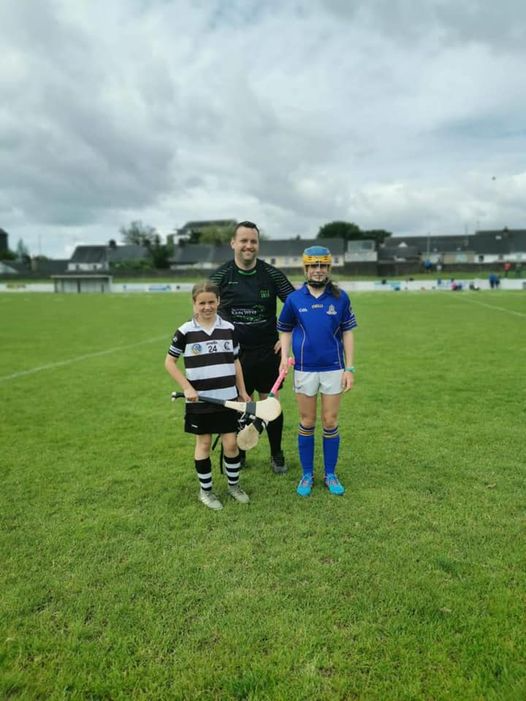 Midleton Captain Kerrie Morey v St Finbarrs
U13 Imokilly Final (2020) V Sars
On Tuesday evening last luck was not on our sides as our girls who finally got to play the U13 Imokilly league final that had been postponed from September last year. Our girls came up against a really strong Sars side and were only 1-3 to 1 point down at half time with plenty to play for with a strong wind behind them in the second half. Unfortunately we did not take our chances and although the girls battled away Sars ran out worthy winners in the end. Many thanks to PJ Ahern (Carrigtohill) for refereeing and the parents who braved the elements to support us.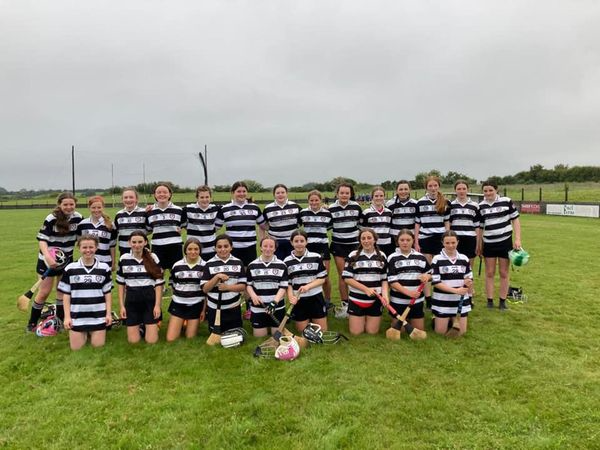 Well done to Sarsfields on the win.
FT Score Sars 2-05 Midleton 0-01
Midleton scorer: Faye Dunlea
We played Our first Junior match this Season on Tuesday 8th June with a challenge game against a very strong Cobh side. Well done to all in what was a very wet and windy night. We will regroup again at the weekend with another challenge match against Inniscarra on Sunday evening.Team managers will be in contact and Details to follow. Thanks to Cobh Camogie for the game and Balllinacurra GAA for use of their pitch.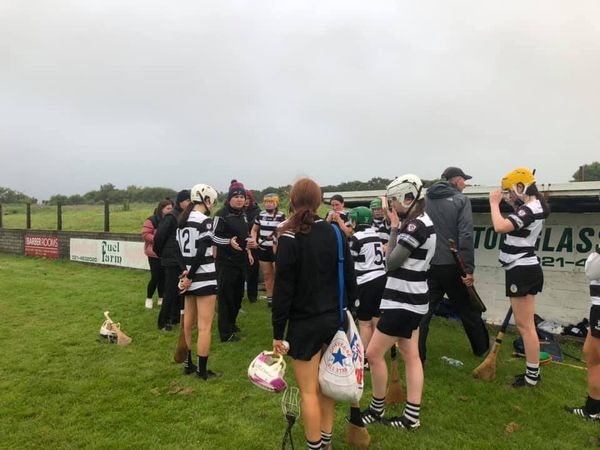 U12 V Milford
The U12's got off to a flyer of a start in the county league and hit the ground running with a 7:04 to 1:02 win over Milford in Ballinacurra on Saturday afternoon. In blistering sunshine all 24 girls got lots of game time with strong performances all over the field! Thanks to Milford for traveling and for a great game of Camogie. A big thank you as always to all the parents and guardians for supporting our girls ! Congratulations to Amy O Connell who captained the team on the day.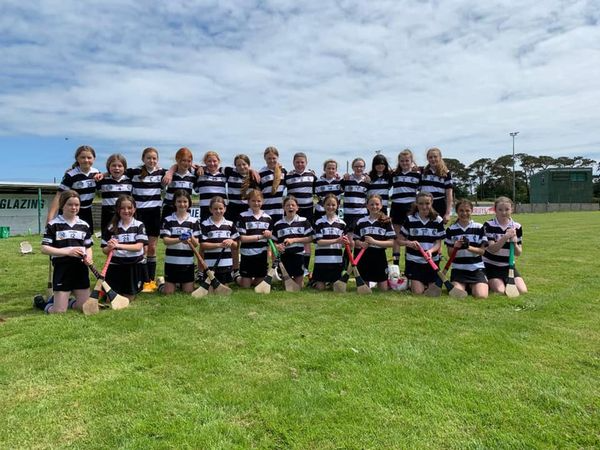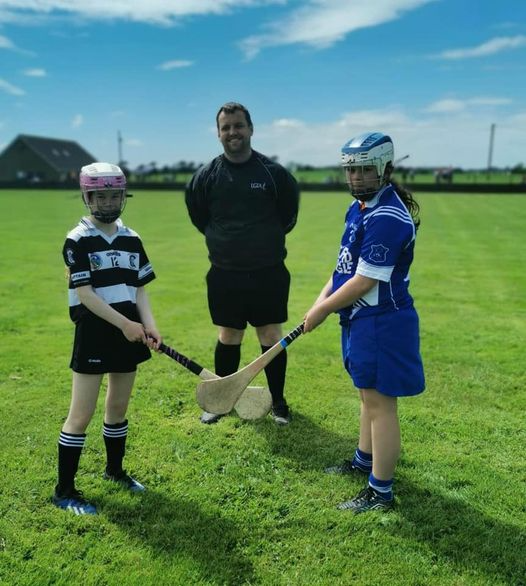 Midleton Captain Amy O'Connell v St Milford
Cork U15 Development Squad
Huge congratulations to our U15 Player Saoirse who has been selected for the Cork 2021 U15 Development Squad ,wishing you all the best Saoirse ,ahead of the coming season, we are all so proud of you. We look forward to watching your progress with Cork over the summer months.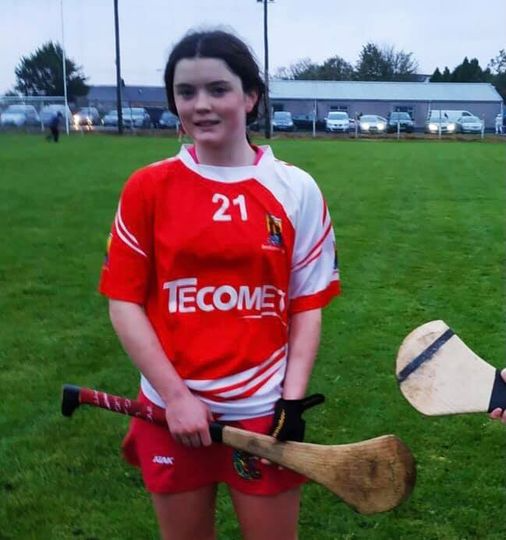 Also best of luck to Jill Connaughton on Cork U16A as they begin their championship today Sunday 13th June, best wishes to all the panel coaches and mentors.
We would like to wish our Players all the very best in their Leaving Cert Exams which have started this week. See you all back on the pitch training soon!
Club Shop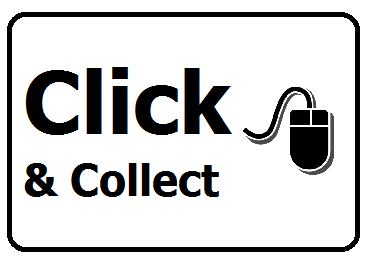 The club shop is back open online. You can order and pay for club gear online through Klubfunder.
Go to https://tinyurl.com/y3os6hus
Once ordered you will be contacted to arrange for collection. For any queries email: midletongaaclubshop@gmail.com
Drive in Bingo
Last Friday evening saw the very popular Drive-In Bingo re-commence on the back pitch at the GAA grounds at Clonmult Memorial Park. Many thanks to those who attended and well done to those club volunteers who organised and stewarded the event.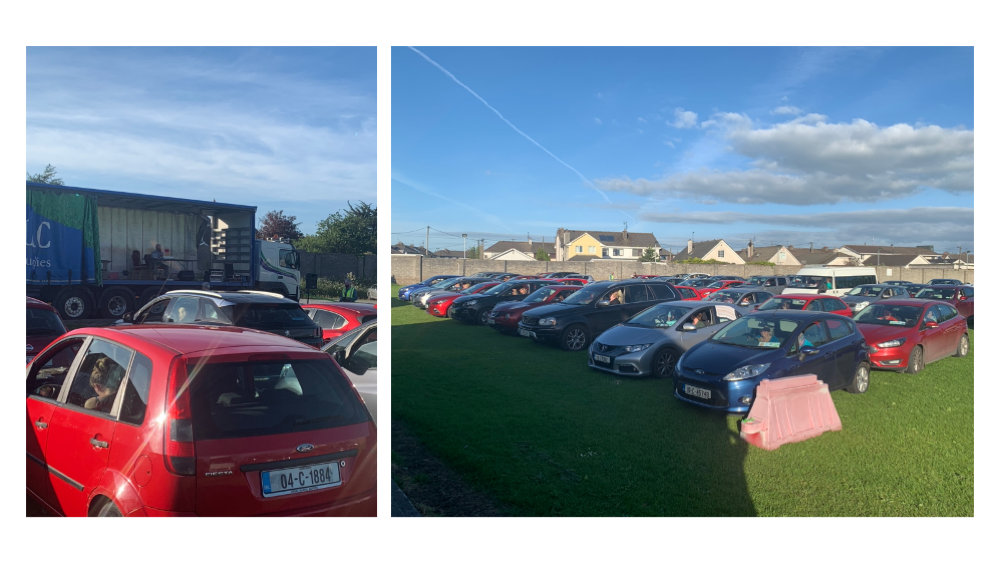 Blast from the Past