Midleton Hurling and Football, Ladies Football and Camogie Club News
30 May, 2021
The key messages for this week:
COVID-19 Update… Safe Return to Play
Membership 2021 deadline on 31st May
Golf Classic & GAA Golf Society – upcoming events
Midleton winner of €20,000 1st prize in Rebels Bounty Draw
Juvenile & Camogie - 2020 Awards & Cork selection
Midleton GAA…at the 'Heart of the Community'. Ní neart go cur le chéile. There is no strength without unity.
COVID Update & Return to Play

Team managers will advise of date, time and venue for training. Please remember that players/parents are required to complete a Health Questionnaire declaration BEFORE each training session or match.
Midleton GAA 'One Club' have put together a comprehensive guide to the Safe Return to Play for all teams. All parents, players and coaches are asked to familiarise themselves with these guidelines including, but not limited to, the Health Questionnaire requirements and access maps to the 4 facilities being used by Midelton GAA 'One Club'.
Key links:
Midleton GAA 'One Club' Guide and other Return to Play information: covid-19-news
FOIREANN (was Return to Play) where Health Questionnaire can be completed prior to each training session/match (FYI, use the same email and password from last year):
Mega Lotto Results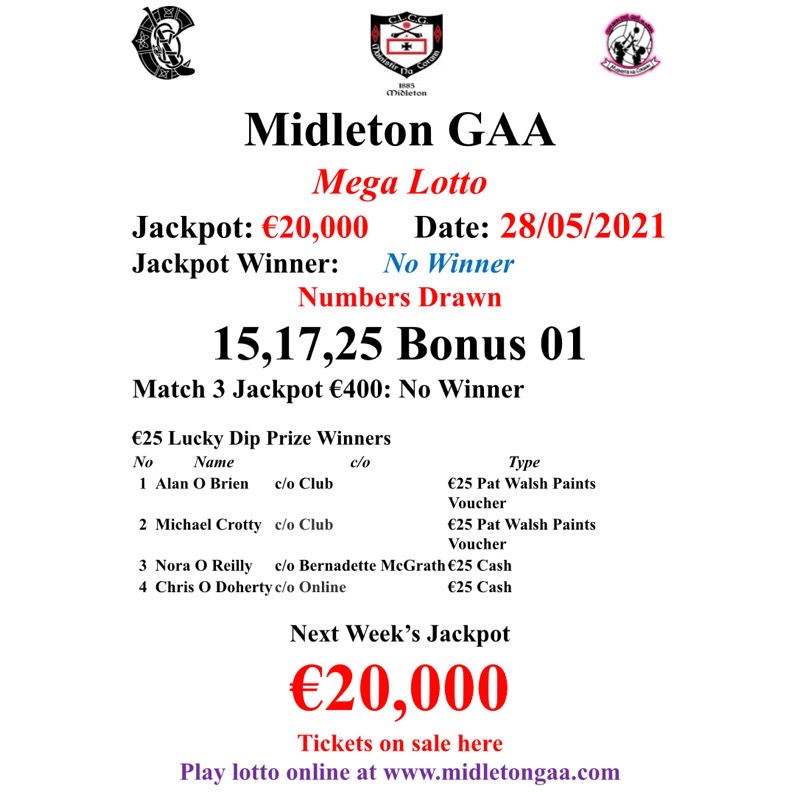 Our Lotto Jackpot was €20,000 the numbers 15,17,25 Bonus 01. There was no winner of the jackpot so next Friday's jackpot will remain €20,000.
4 Lucky Dip Prize Winners this week were Alan O Brien, Michael Crotty, Nora O'Reilly, & Chris O'Doherty with the first 2 named winners receiving €25 Pat Walsh Paint Vouchers and the later 2 receiving €25 in cash. In total Midleton GAA will give out local business vouchers to the value of €3,800 every year as part of our "Shop Local, Buy Local" campaign.
How to play: Tickets are on sale at Pat Walsh Paints, Chadwicks, Frank Murphy Butchers, Murphy's Pharmacy, Crowley Butchers, or buy online, through Klubfunder, at https://www.klubfunder.com/Clubs/Midleton%20GAA/lotto select your numbers and number of draws to play. You can buy an annual ticket by selecting "50" from the "Number of Draws" to Play dropdown.
Midleton GAA, Midleton Camogie & Midleton Ladies Football One Club Membership 2021
Click here to see the letter signed by all 'One Club' Chairpersons re Membership 2021
Key Points
Míle buíochas to those who have already paid their membership.
For those who have not yet paid, please note that it is due by 31 May. If unpaid at this date then players, coaches and officers will be unable to partake in club activities such as training and matches. This policy has been re-stated by the 'One-Club' Executive and will be strictly implemented this year.
Per Croke Park rules, players not paid and registered before 31st May will not be eligible for Injury Fund benefits.
Easiest way to pay membership is online through Klubfunder. Click here at:
Cheque, Cash and Instalment Options available. Please contact Tracy Saunderson, GAA Registrar 087 662 5544, Amy Quirke, Ladies Football Registrar 086 266 4659 or Shirley Garde Camogie Registrar 086 198 5207
Membership Rates 2021
Adult , Full Member, Voting Rights (GAAOnly):
Non Player, Team Mentor, Officer, Committee Member €100
Player 18 years and older €200
Player 18 years and older, Full Time Student (3rd Level), Apprentice or Unemployed €100
Non Player, OAP (65+), Unemployed €50
Youth Membership
Player in Junior Infants €50.00 €50
Player Senior Infants – Fe18 €90.00 (U18 on Jan 1st 2021) €135
Family Membership €300
Diaspora Membership ( Social member - No Voting Rights) €50
Notes:
Employed Child/Children do not qualify for Family Membership.
A Child/Children born in 2002 or before do not qualify for Family Membership.
Gym Membership for Adults is not included in Family Membership, Annual Gym membership is an additional charge of €100.00 per Adult per year.
Diaspora Membership is for those supporters living away from Midleton. It is a non-voting social membership.
There will be a cap of a maximum of €500 per household. Children in full time employment cannot be included in this calculation.
Rebels Bounty May Draw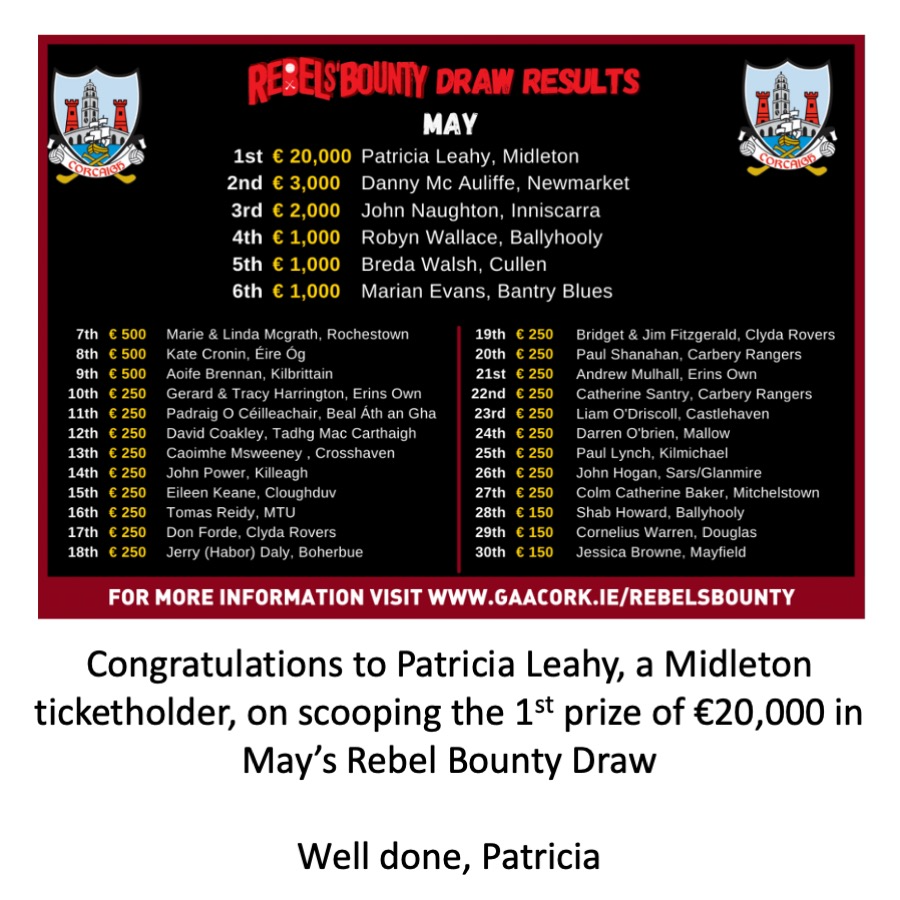 Midleton GAA Golf
Golf Classic
Main Sponsor - Blackwater Motors
When: Wed & Thurs, 21st & 22nd July 2021
Where: East Cork Golf Club
This is a popular event in the Midleton GAA social and fundraising calendar. Combining a social 3-man scramble format with great prizes, food, and fun, this is a must for your mid-Summer diary.
Contact Liam Walsh (087 9610346) or Criostoir Ó Cathasaigh (087 6891438) to reserve your tee time
or
Book your team online at: https://www.klubfunder.com/Clubs/Midleton%20GAA/EventRegistration#EventRegistrationOptions (give your preferred tee time)
Golf Society
Mr. Gerry McCarthy's, Captains Prize will take place on 5th June in East Cork Golf Club
Tee Times from 13:00 to 14.30
"Get the Ball Rolling for 2021"
New members always welcome on the day
Club Shop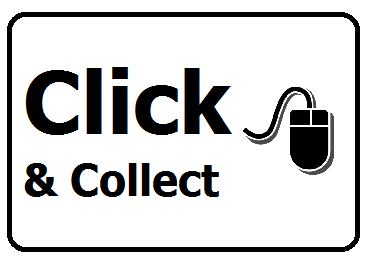 The club shop is back open online. You can order and pay for club gear online through Klubfunder.
Go to https://tinyurl.com/y3os6hus
Once ordered you will be contacted to arrange for collection. For any queries email: midletongaaclubshop@gmail.com
Fé15 Notes
2020 awards
Our awards for most improved players in 2020 at Fè14 have gone in hurling to Darragh Egan, Darragh has been making huge strides in training and in games year on year and has been given this award to reflect the ongoing improvement to a stage where he is now one of the first named players on the team sheet, a potent centre forward who always seems to come away with the ball, Darragh is a very stylish hard-working player who is an example to those around him.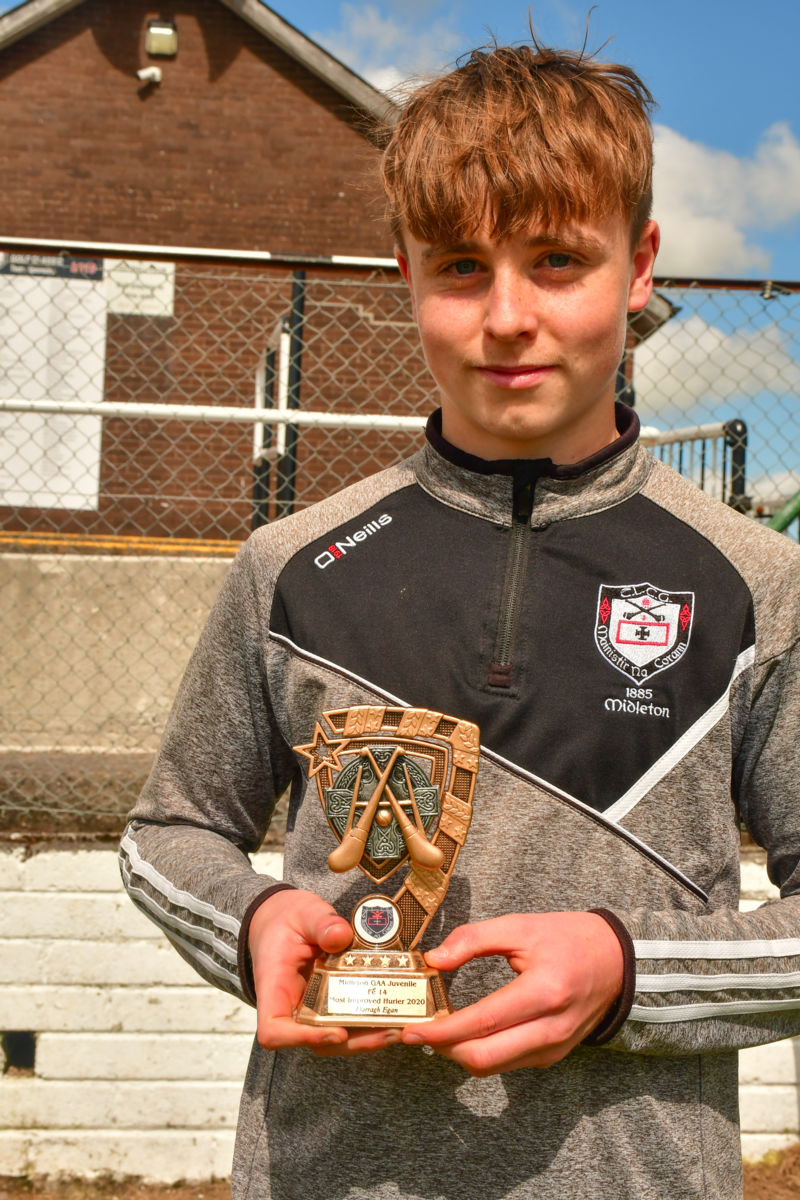 Darragh Egan, most improved hurler, Fé 14 2020
Our football award has gone to Odhran Dennigan who has again made steady progress and has turned into a very stylish footballer with a sweet left peg. Odhran was one of the main contributors to the scoreboard in all the football games played in recent years and has improved to become one of the main forwards in our football team, a deserving recipient of his award. Well done on the awards lads and keep up the good work.
Odhran Dennigan, most improved footballer, Fé14 2020
Ladies Football
Training for this week:
Monday evening- Ballinacurra Pitch
6.30-7.30pm - U8,10,12,14
7.30-8.30pm - U16,Minor and Junior
Thursday evening - Ballinacurra pitch
7-8pm - U16, Minor and Junior
Reminder to fill in your Health Questionnaire before you attend training.
Membership is Now due. You can pay your membership on-line through Klubfunder using this link
https://tinyurl.com/klubfundermembership
More details including rates & payment options at http://www.midletongaa.com/membership
Our U8 &U12 teams need more help urgently. If you can spare one hour on a Monday evening please come along if you can help out.
Camogie
We received great news in the club in the last week, our Goalkeeper Jill Connaughton has been selected for the Cork U16 Panel for 2021. Huge congratulations Jill and so well deserved, all your hard work and dedication over the years has paid off. We are so proud of you and are looking forward to seeing you represent your club in the famous Red and White Jersey.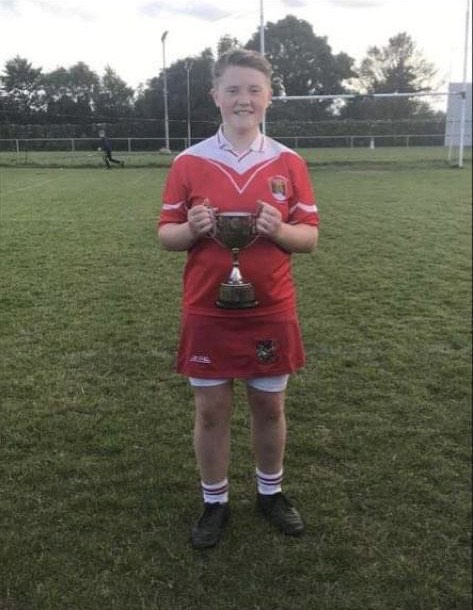 Jill Connaughton selected for Cork U16 Panel
On Wednesday last our coaches gathered at the CBS Pitch to complete their practical training of the Foundation Course. Well done to all who gave up their time to attend and also to Sean Crowley and the CBS School who facilitated same. Our club is growing from strength to strength year on year and this showed in the numbers that completed this course. Thank you to all who volunteer with us we are truly grateful.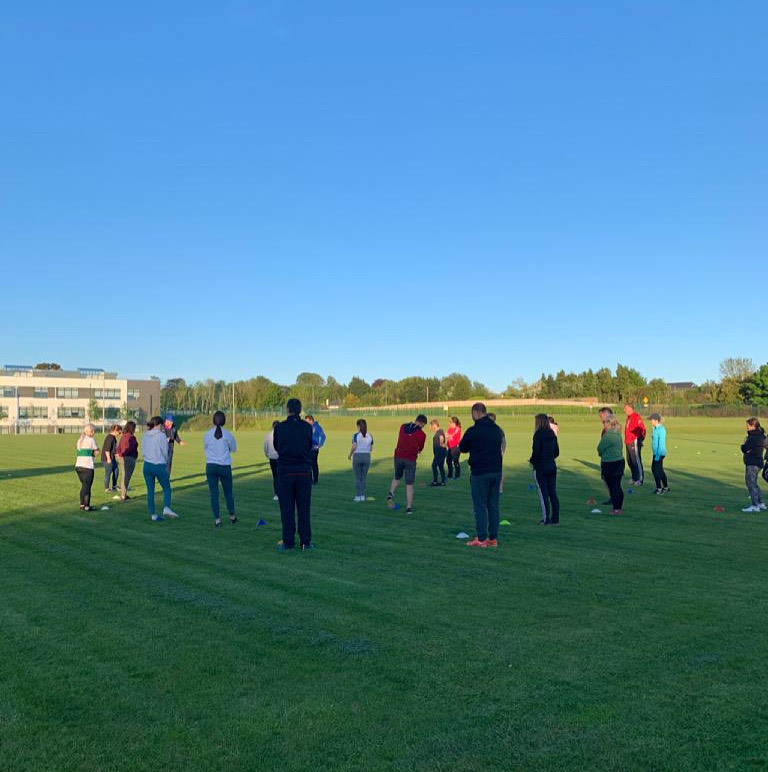 Camogie coaches complete Foundation Level Coaching Course
Condolences
Cumann Luthchleas Gael Mhainistir na Corann would like to offer our sincere condolences to Rita, Martin, Brian, Grainne O'Keeffe and their extended families on Ollie's sad passing. Ollie was a lifelong member and supporter of Midleton GAA club and was one of the few surviving direct descendants of our great 1914/17 senior hurling team. Ollie's father David O'Keeffe was a prominent member of this team and he passed his love of hurling to his sons all of whom played with the club. As well as playing, Ollie was also a most efficient club runai for many years in addition to acting as a selector on our County winning senior team of 1983 and other teams thereafter. He won an All-Ireland intermediate hurling medal with Cork in 1965 and was a selector on the Cork senior team of 1986, when along with five Midleton players, the Liam McCarthy cup was brought back to Leeside. He loved to come to the field to watch our teams train and play and often passed on some of his vast knowledge and experience of the game to club members. Another Magpie called to his eternal reward.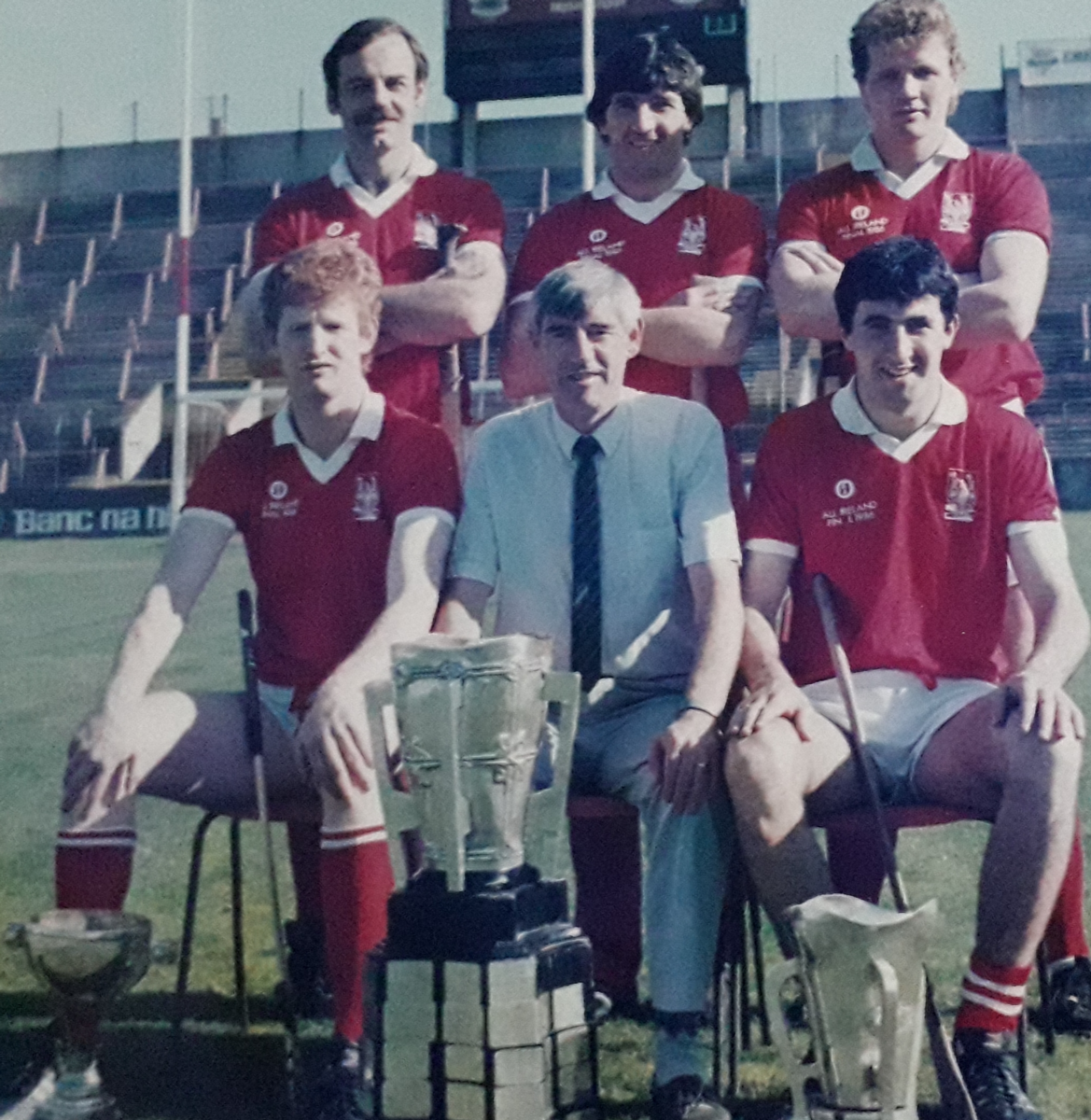 Midleton's contribution to Cork's 1986 All-Ireland victory including Ollie O'Keeffe RIP
The club would also like to sympathise with Pat and Mary Fox on the passing of their mother Ann. Pat junior and his family are very much involved in the club's activities while his father, Ann's husband Pat/Paddy, was another great Midleton GAA man and spent countless hours with the juvenile teams down the years.
Ar dheis Dé go raibh a n-anamacha