Midleton Hurling and Football, Ladies Football and Camogie Club News
06 December, 2020
The key messages for this week:
COVID-19 Guidelines Update…Update from Cork GAA
Lotto Jackpot reaches €18,400. Shane Mulcahy wins €400 in match 3 jackpot.
Club Shop deadline for collection before Christmas - 15th December
Juvenile Christmas Raffle Tickets on sale…draw 11th December
Best of luck to Midleton's members of Cork Minor & U20 panels
Midleton GAA…at the 'Heart of the Community'. Ní neart go cur le chéile. There is no strength without unity.
COVID-19 Update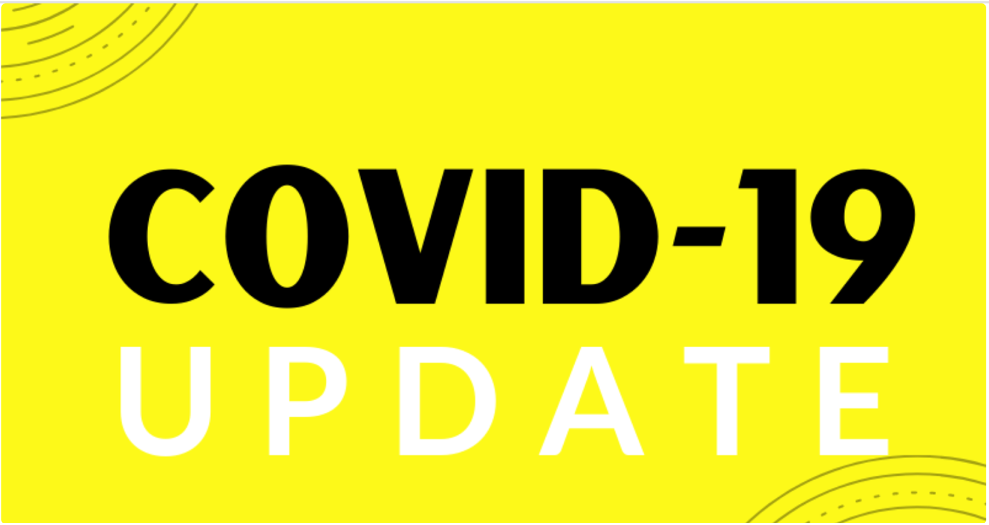 Cork GAA - Advice to Clubs and Counties – for activities post December 1st
https://gaacork.ie/2020/12/01/advice-to-clubs-and-counties-for-activities-post-december-1st/
The last week has seen the country eased restrictions. Along with positive news on the COVID-19 vaccines there are grounds for optimism. In being optimistic however, we should all be very conscious that the virus has not 'gone away', is still very much in the community and that we have to continue to do the right thing for you, your club and your community.
Community guidelines that have been set out in terms of social distancing, hand and coughing etiquette are important both within and outside the GAA environment.
Where training is taking place, completion of the GAA Health Questionnaire prior to each training session https://returntoplay.gaa.ie\
Please also note that the club grounds are closed to activities other than those planned and supervised under the Safe Return to Gaelic Games protocols.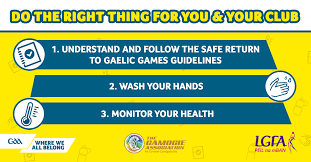 Mega Lotto Results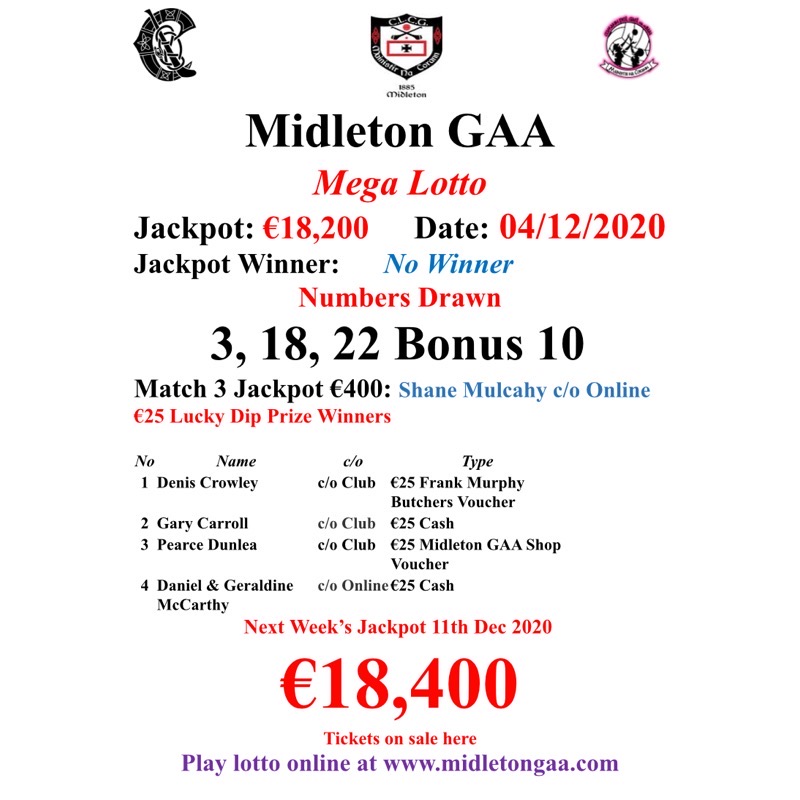 Match 3 Jackpot Winner of €400 – Shane Mulcahy
4 Lucky Dip Prize Winners this week.
The re-launched Lotto is a critical component of our fundraising for Park South. The support to date has been good, especially with the number of annual subscriptions that have been submitted.
In total Midleton GAA will give out local business vouchers to the value of €3,800 every year as part of our "Shop Local, Buy Local" campaign.
How to play: Go to http://www.midletongaa.com click on Play Now in Mega Lotto section. You can buy an annual ticket by selecting "50" from the "Number of Draws" to Play dropdown.
Club Shop
LAST DAY FOR ONLINE ORDERS FOR COLLECTION BEFORE CHRISTMAS…..15TH DECEMBER 2020
You can now order and pay for club gear online through the Klubfunder Platform (you can also access this and other club items through the Klubfunder App…see item below).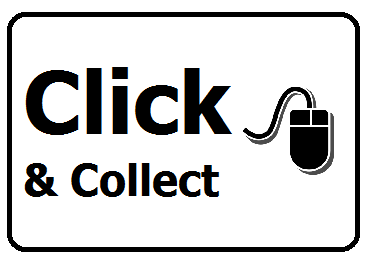 Once ordered you will be contacted to arrange for collection
If you have any questions then email midletongaaclubshop@gmail.com
GAA Newsletter November 2020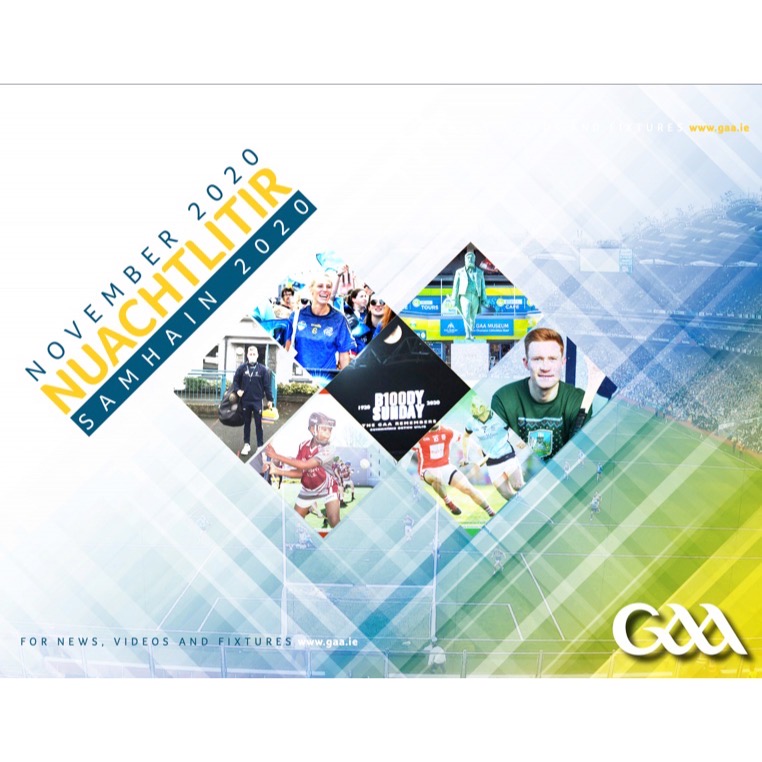 The November edition of the GAA Club Newsletter is now available.
This month's edition includes the following:
Details of the GAA's €9.5M club and international unit financial support package
Bloody Sunday remembered
Games Promotion Officer Conor Herbert preaches to the converted
Menu of resources to assist hurling and camogie coaches
How Croke Park became a sustainable venue
How to get your club winter ready
https://www.gaa.ie/news/read-the-latest-club-newsletter-november-2020/
Cork Minor & U20 Play Resumes
The GAA has got the green light to restart its provincial minor and U-20 competitions as the country moves to Level Three of the Living With Covid plan. When the country moved to Level Five in October, underage inter-county games were prohibited with only senior inter-county games proceeding as they were considered in the elite bracket.
The Electric Ireland Minor Hurling Championship & Bord Gáis Energy Munster GAA Hurling Under 20 Championship will resume next Saturday Dec 12th. Both competitions are at semi-final stage with Cork playing Limerick in Thurles in the Minor match at 1pm and also playing Limercik in the U20 match in LIT Gaelic Grounds, Limerick at 4.30pm. Midleton have three players on the minor panel; Alex Quirke (vice-captain), Bríon Saunderson and Ciarmhac Smyth and two players on the U20 panel; Tommy O'Connell and Sam Quirke. Best of luck to you all.
Midleton GAA AGM
The Midleton GAA Annual General Meeting will take place on Wednesday 9th December 2020.
This year we will hold an 'AGM Day' as opposed to our normal AGM.
Therefore we will NOT meet in our Clubhouse and it will NOT take place online.
Juvenile
Fé12 Notes
The final GAA training of 2020 took place recently on the main pitch with a great turnout on the day from players and coaches alike. We will take a well-earned break for a couple of months and return in early 2021. We are very lucky with the lads in this age group. They have shown excellent commitment, discipline, and willingness to listen and learn as well as having fun along the way in this very strange year. We would sincerely wish to thank the parents for time and effort in supporting their sons in playing football and hurling with Midleton. It takes a lot of time and effort to bring the lads to training and matches at home and around the county. Thanks also to all the coaches who gave us serious time and commitment during the year. A special mention to 9 of our younger lads, those born in 2009, who will play with the Fé12 group again next year – best wishes lads and we will no doubt see you again in the coming years with us. Also, a sincere word of thanks to some of our coaches, who will continue with coaching duties at Fé12 in 2021, namely Andy McCormack, Mike Kelly, Pat Walsh, Declan Connolly who have been with us since Fé6.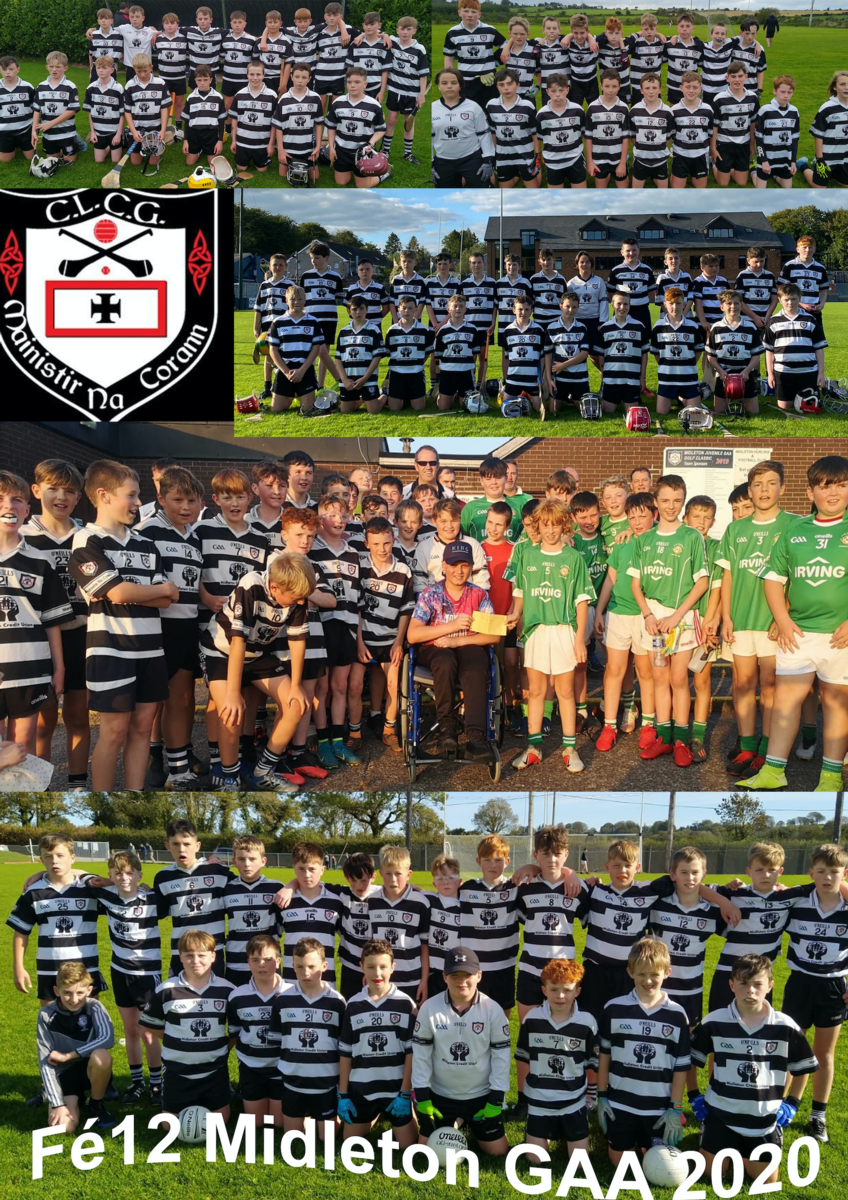 Finally, we wish one of our valued squad members Kascper Kozlowsia and his family our best wishes in his fight with his ongoing serious illness. Kacper recently underwent major surgery in Dublin and will continue his fight over the coming months – we are thinking of you Kacper. Thanks also to all the club members who very generously supported fund raising for Kacper & his family during the year.
Christmas Raffle Tickets
Tickets have gone on sale for the upcoming Christmas Raffle. As you can see from the below ticket, there is a fantastic array of prizes. Tickets will be distributed in the usual manner for those that are still training and for those not training they can be bought online at:
https://www.klubfunder.com/Clubs/Midleton%20GAA/ClubEventItems/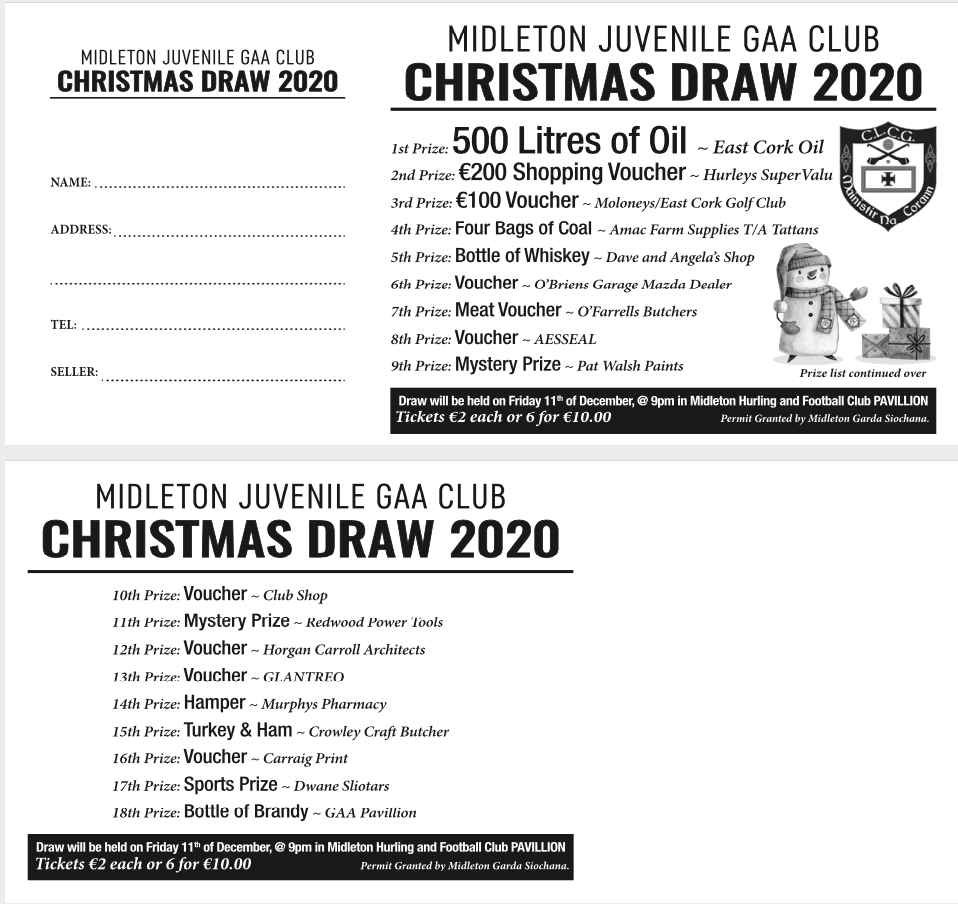 Midleton GAA Healthy Club Project
Upcoming webinar that may be of interest where panel will discuss the impact of Covid-19 on sporting communities and how people can be proactive about looking after the wellbeing of their communities.
https://movinggoalposts.eventbrite.ie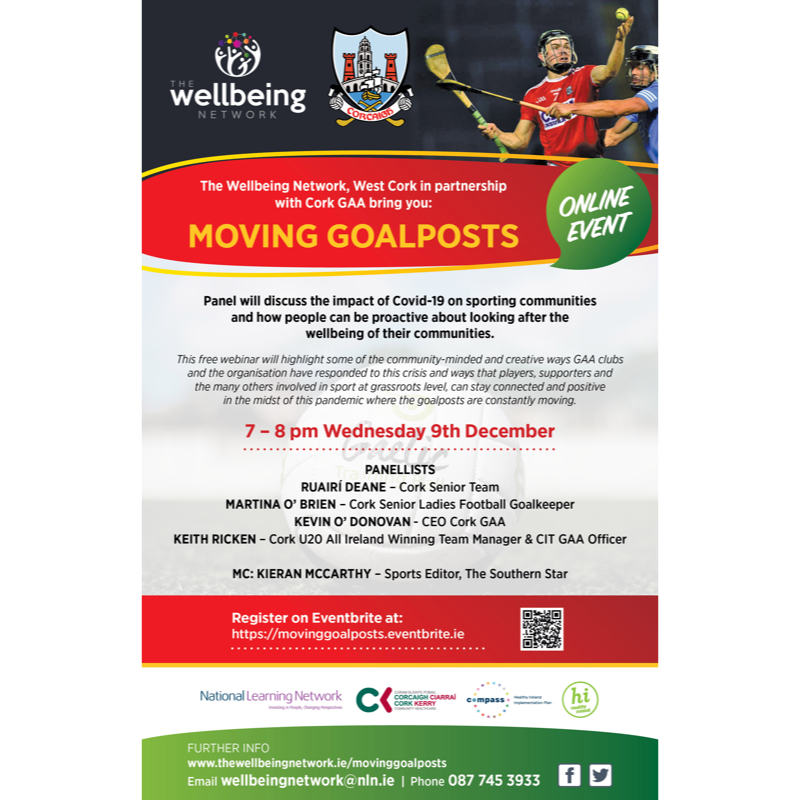 Condolences
Midleton GAA would like to offer our deepest sympathies to Paddy Corcoran, Midleton Ladies Football Club Chairman, and all the Corcoran Family on the recent passing of his father Chris. Chris was the President of Courcey Rovers GAA Club and was a huge servant to the Club.The thoughts and prayers of all members and players are with the Corcoran family at this sad time.
Ar dheis Dé go raibh a anam