Midleton Hurling and Football, Ladies Football and Camogie Club News
11 October, 2020
The key messages for this week:
COVID-19 Guidelines Update…New Guidelines in Place
Are you a #Magpies4ParkSouth and will you #Walk4ParkSouth?
U16 Camogie reach County Final
Midleton GAA…at the 'Heart of the Community'. Ní neart go cur le chéile. There is no strength without unity.
COVID-19 Update
Cork GAA Statement received by email Thursday 8th October
Cork County Executive wishes to remind members that all club games in Cork are currently suspended in line with GAA guidelines. This directive applies to all ages and grades.
We intend to complete our 2020 programme of games when circumstances allow and the CCC will reschedule outstanding fixtures as soon as possible, subject to prevailing government restrictions, GAA guidelines and inter-county championship fixtures.
The remaining thirteen of our sixteen county finals at adult level had been scheduled over the next month and we thank clubs that have qualified for the latter stages of same for your continued patience at this difficult time for members.
No decision has been made on the club U21 fixtures currently outstanding.
Clubs are also reminded that training is permitted under the Level 3 guidelines
All underage training must be on a non-contact basis in pods of up to 15.
Adult teams can continue to train as normal.
All clubs and players are reminded that Health Questionnaires and all other relevant control measures must continue to be followed for club training.
In line with the suspension of games, the launch of Rebels' Bounty scheduled for Sunday next has been postponed.
Rebels' Bounty will instead be launched in late 2019 / early 2020 and a meeting of Cork County Committee, which will be devoted solely to this item, will be held when circumstances allow.
This will allow us to comprehensively outline the benefits of the initiative for clubs and to seek formal approval. There will be an extensive communication drive with clubs in the interim.
It is also planned to hold a general County Committee meeting in the near future on a virtual basis.
Finally, we remind members to comply with all current restrictions and guidelines, and we thank you for you continued support.
Is mise,

Le mór mheas,

Caoimhín Ó Donnabháin,

Rúnaí / Príomh-Oifigeach Feidhmiúcháin,

CLG Coiste Chontae Chorcaí .

Kevin O'Donovan,

Secretary / CEO,

Cork GAA.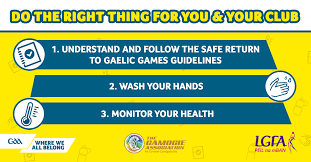 It is now more important than ever that everyone adheres to the community guidelines that have been set out in terms of social distancing, hand and coughing etiquette and also, where training is taking place, completion of the GAA Health Questionnaire prior to each training session https://returntoplay.gaa.ie\
Please also note that the club grounds are closed to activities other than those planned and supervised under the Safe Return to Gaelic Games protocols.
Midleton GAA Safe Return to Play Plan
downloadforms?rdDF=MIDLETON%20GUIDELINES%20FOR%20RETURN%20TO%20TRAINING.pdf
Family Fun Walking Half Marathon
The inaugural Midleton GAA Walking Half Marathon takes place up to 31st Oct 2020. This Virtual only event is part of the fundraising effort for our new playing facilities in Park South. More details and link to registration at walking-half-marathon. Many thanks to Blackwater Motors who are the Main Sponsors of the Event.
Are you a #Magpies4ParkSouth and will you #Walk4ParkSouth?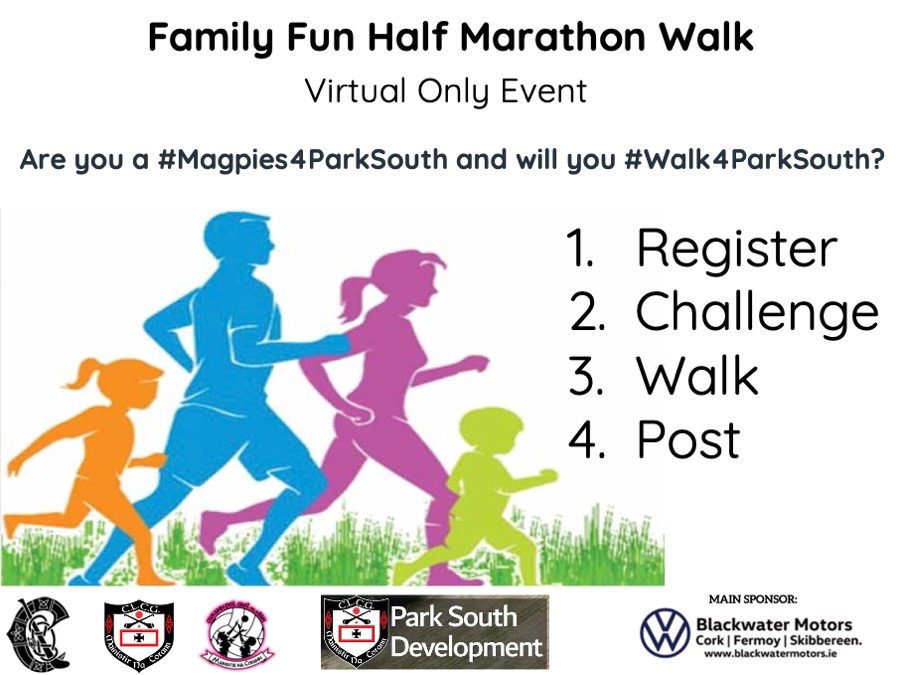 Q: Do I have to do the whole 21km and in one 'go'?
A: No. You can do whatever distance you wish over as many walks as you want until 31st Oct, 1km, 5km, 10km, 21km. Set your target, plan it out and put on your walking shoes.
Q: Do I have to walk the course in Midleton?
A: No, find you own course at home or away
Q: Do I have to be a Midleton member to do the walk?
A: No, we welcome all to register for this fun event.
Q: What are the prize categories?
A: Prize categories (mainly fun) will be announced as the event progresses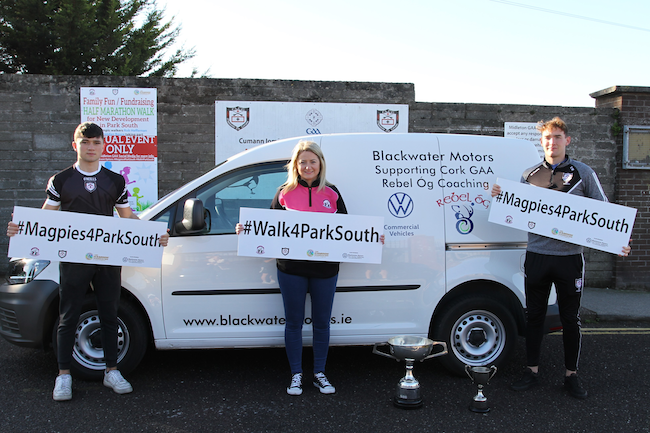 Photographed at promotion of #Walk4ParkSouth event Mickey Finn, Amy Quirke & Eoin Moloney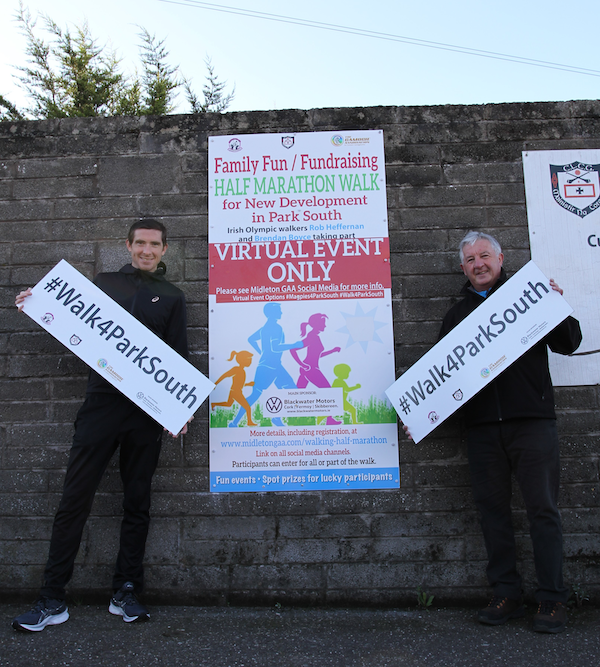 Photographed at promotion of #Walk4ParkSouth event Irish Olympic walker Brendan Boyce & John Fenton
Ok, I want to do it. What are my next steps!!
Register. Click here.
Challenge. Join the Facebook Group 'The Magpie March'. Click here. Post that you have registered with hashtags #Magpies4ParkSouth and #Walk4ParkSouth tag and challenge other friends or families to do the same.
Walk. Complete all or part of the 21km. You could recreate the walk wherever you live.
Post. Post your experience, distances, and selfies completed walks with hashtags #Magpies4ParkSouth and #Walk4ParkSouth.
Prizes for the good and the zany. Speed is good but it's also a fun event.
Mega Lotto Results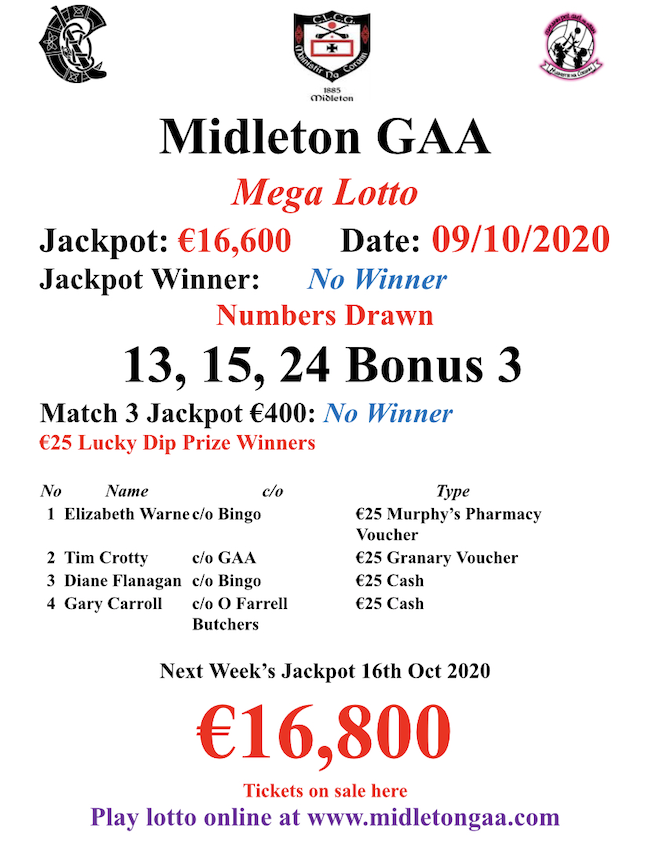 4 Lucky Dip Prize Winners this week
The re-launched Lotto is a critical component of our fundraising for Park South. The support to date has been good, especially with the number of annual subscriptions that have been submitted.
In total Midleton GAA will give out local business vouchers to the value of €3,800 every year as part of our "Shop Local, Buy Local" campaign.
How to play: Go to http://www.midletongaa.com click on Play Now in Mega Lotto section. You can buy an annual ticket by selecting "50" from the "Number of Draws" to Play dropdown.
Drive-in Bingo
Last Sunday Park South Park saw the first 'Drive In Bingo' to be organized by Midleton GAA. Bingo has been an important social occasion in the weekly GAA calendar so it's return, albeit in a different format, was eagerly awaited and much welcomed. The promise of a Sunday afternoon's entertainment also drew a new crowd which resulted in an attendance that exceeded expectations. The occasion also gave the patrons an opportunity, granted from the comfort of their cars, to see the expansive new development in Park South with 2 juvenile pitches under grass.
Next Date: Sunday 25th October (subject to COVID-19 guidance)
Updates will be posted through the usual channels.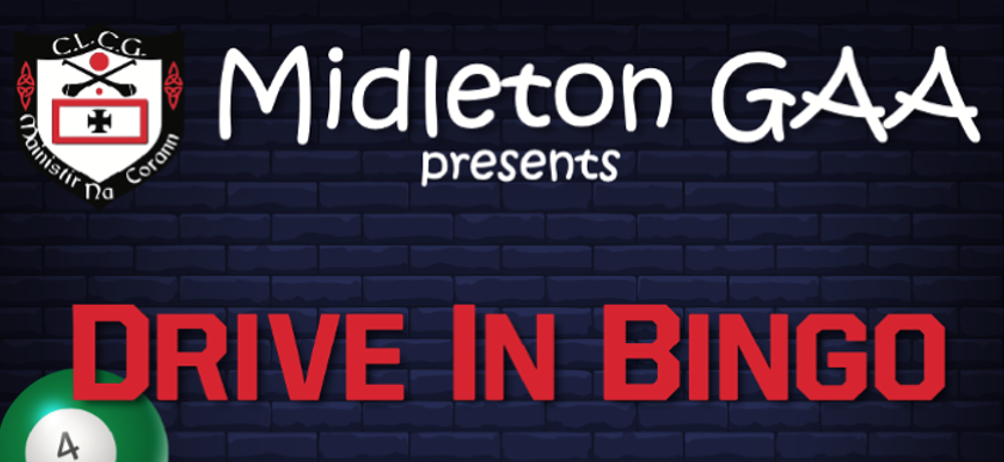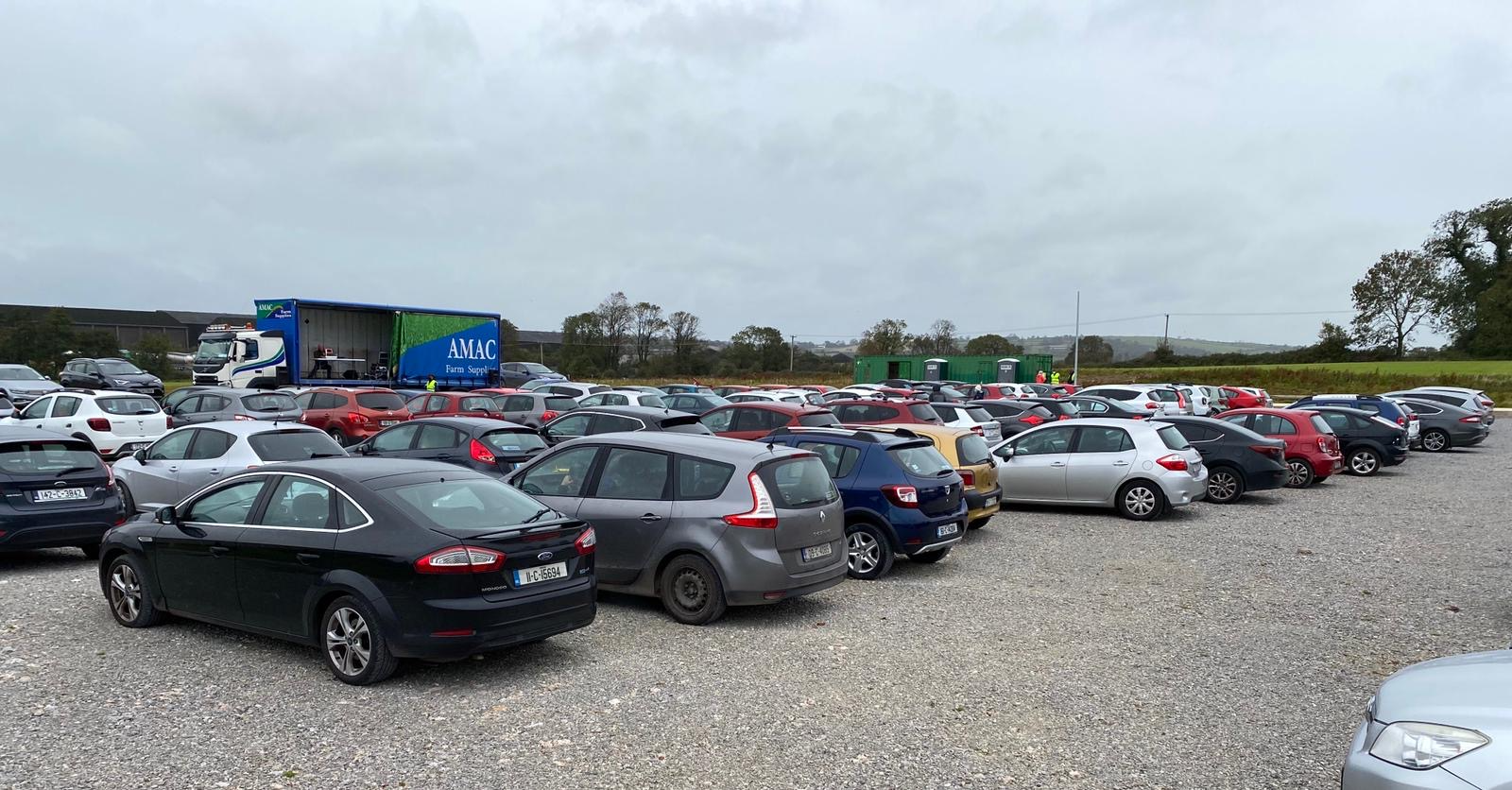 Drive in Bingo @ Park South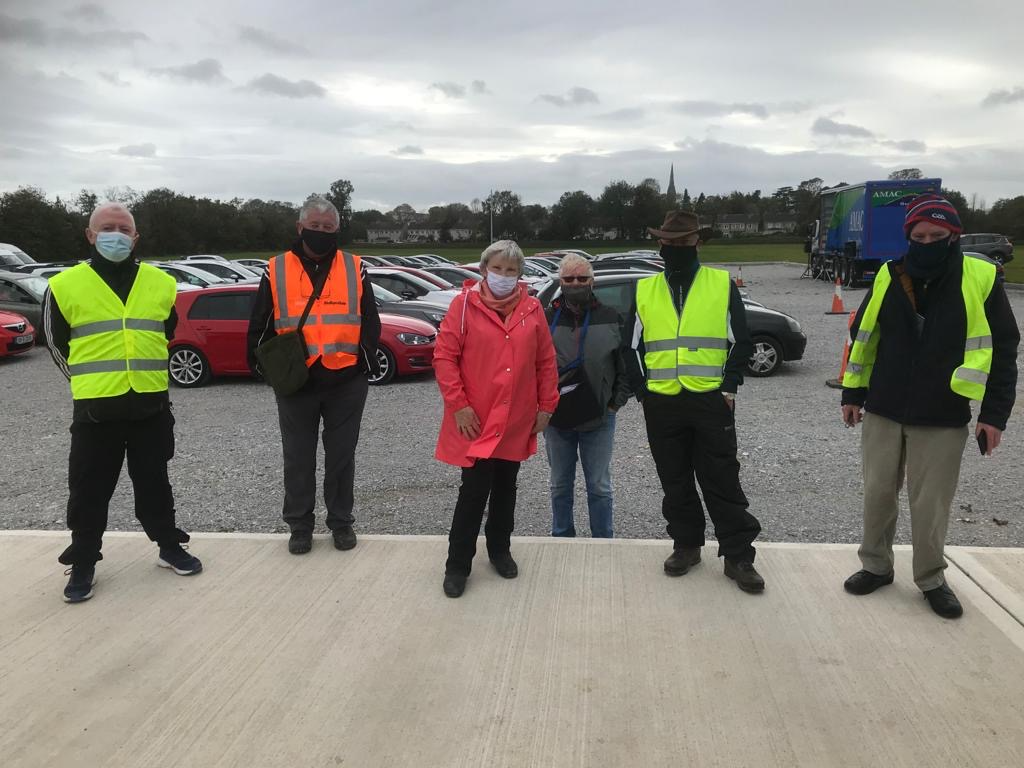 Drive in Bingo @ Park South
Great credit is due to the 'band of volunteers' who made this event possible. Well done.
Fixtures & Results
As you will be aware fixtures are on hold for the next number of weeks. Results for the season to date can be seen on club_results
Junior C Football
Junior C Football Championship Midleton 5:13 Lisgoold 0:10
Sunday 04th October 2020 in Lisgoold at 11am.
On Sunday 04th October we made the short trip to Lisgoold to play the hosts in our first group game of the 2020 East Cork junior C football championship. We started brightly and despite playing into a very strong breeze we took some excellent scores. The half time score line read Midleton 2-05 Lisgoold 0-05. On the changeover and with the wind at our backs we continued to assert ourselves on the scoreboard. Throughout the game we used our excellent levels of fitness and work rate to turn over the ball. Allied to this was our ability to both create and take some excellent scores. Special mention to Dara and Bryan who made their debuts for the club and a warm welcome to both players. Also, well done to Gavin Reddy and Luke Deane who made their football championship debuts for the adult side of the club. The final score read Midleton 5-13 Lisgoold 0-10. We now face Glenville in our final group game. The winners of which will go straight into the East Cork final.
Team: Brian O'Sullivan, Gavin Reddy, Sean Corcoran, Daniel Wathen, Mark Daly, Barry Fitzgerald, Cormac O'Brien (Capt), Niall Walsh, Dara Noone, Chris Power, Bryan Murphy, Andrew Rea, Adam Meade, Micheal Keohane and Alan Power. Substitutes: Fergus Wade, Luke Deane, David O'Brien, Robbie Barry, Coleman Quinn, Ryan Cahill, Liam Kelly, Jan Haandrikman, Leonard Saunderson, Eoin Ferriter, Conor Evans, Coran Swayne, Rory Donegan and Jerome Curtin.
Juvenile
For all age groups Parents will be contacted with regards training times. All training sessions will be in line with GAA guidelines.
Camogie
U16 Notes
County A Championship Semi-Final Midleton 3:02 Tracton 1:03
Sunday 03rd Oct 2020, Clonmult Park Midleton
It had been 2 weeks since the Midleton U16 girls had played the final round robin match and were County top seeds after the round robin format and therefore got a bye into the County A Championship semi-final. A stylish Tracton team, who had an impressive victory over Cloughduv in the county quarter the previous week, were the opponents. The forecast for the day was horrendous, with high winds and rain predicted, thankfully the rain didn't come but the wind was blowing a gale force towards the town end of Clonmult Park
Tracton won the toss and elected to play with the wind in the opening half and opened up the encounter by applying severe pressure on the Midleton goal, however due to some heroic defending and goalkeeping by Midleton the scores were level at 0-1 a piece at the end of the first quarter. The second quarter was a carbon copy of the first with Tracton enjoying the majority of possession and territory. This time Tracton managed scores to take advantages of the elements and took a half time advantage of 1-2 to 0-1.
Upon the restart of the 3rd quarter, Tracton scored a well worked point into the gale to take a 5point lead. The Midleton girls while under pressure at this point didn't panic and showed great composure, nerve and skill to battle back into contention. Midleton took control of proceedings and dominated the remainder of the quarter and drove home some great scores to take a 2-2 to 1-3 lead going int the final quarter. The 4th quarter was a tough tense affair with Midleton holding a 2 points advantage throughout and extended their lead with a well worked goal late. In a very tightly contested game, there was some great displays of skill and hard work from both teams and Midleton eventually run out winners by a score of 3-2 to 1-3
The result means that Midleton have now qualified County Championship Cup final where the Midleton girls will meet Glen Rovers at a later date to be confirmed by the Cork Camogie Association pending Government guidelines.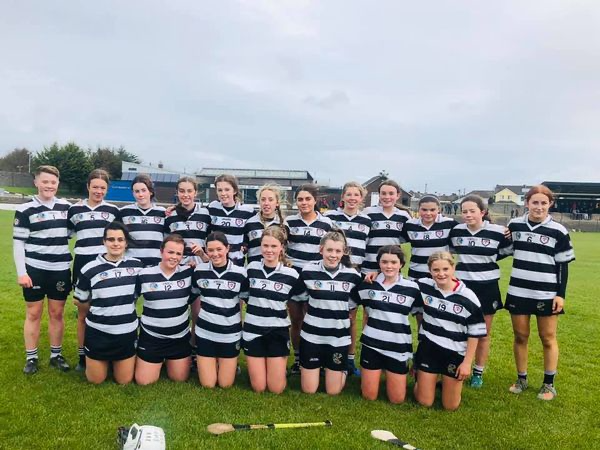 U16 v Tracton
Midleton Panel: Jill Connaughton, Elle McManus, Ruthi Hennessy, Laura Goulding, Muireann Ni Chonchubhair, Yvonne Abernethy, Aoife Fitzgerald, Emily Lamb, Emma O'Sullivan, Isabelle Nestor, Abbie Foley, Kelly Quirke, Saoirse Ni Theangana , Chloe Garde, Mia Tarrant, Rachel Ryan, Lora Dineen, Rebecca Crowley, Jade Fitzgerald, Kate O'Sullivan, Pippa Hennessy.
As of Tuesday 6th October we are in Level 3 of lockdown which means all camogie matches have been postponed. Unfortunately this means our U16 A group will have to wait a few weeks to play their County Final against Glen Rovers. Also our Junior team were due to start their league. All groups will be contacted in due course once details are finalised. We would like to take this opportunity to thank all the parents and guardians for all their patience and co-operation over the past few months to allow the girls to train safely.
U12 Notes
A superb team performance by our Midleton U-12 Camogie Team on Sunday morning last 4th October in Douglas GAA. With a very strong wind against us in the 1st half we battled hard all around the pitch to gain possession of the ball. Our back line and midfielders worked very hard to defend against Douglas who were sending high balls into our goal area. We made a number of changes at the water break and at halftime went in leading by a point. Again, our girls came out fighting in the second half and worked hard to secure possession of the ball and with the assistance of a strong wind put over some fantastic points from the right and left hand sides of the pitch. We continued to press hard and got rewarded with a goal in the 3rd quarter and another in the final quarter of the game. Our defence remained rock solid throughout making it difficult for Douglas. Another huge performance from all the girls showing great team spirit, support and determination in every position on the pitch.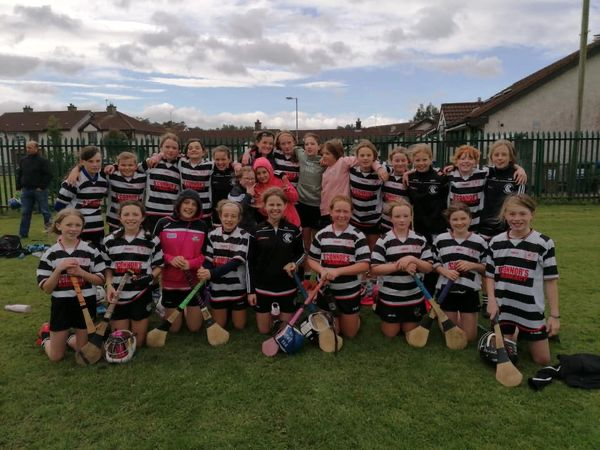 U12 v Douglas
Panel present: Sadhbh Cronin, Emma Fitzgerald, Thea Howard, Abby Hennessy, Sophie McCarthy, Sarah McConville, Julie Murphy, Lucy Murphy, Ciara Ryan Dardis, Niamh Murphy, Emma Keeshan, Rebecca Cronin, Niamh McNamara, Cait O'Leary Hayes, Ciara McGrath, Cara Pyne, Faye Dunlea, Fay Lordan Bailey, Hannah O'Brien, Mia Walsh, Nicole Quirke Lee, Robyn Keating, Rebecca Ryan, Roisin McManus.
U11 Notes
The U11's rounded off the Imokilly league group stage with a good win against Castlemartyr in Midleton last Sunday evening. It was great to have all 22 players on the squad available and everyone got plenty of game time. In horrible conditions for camogie the girls were excellent from start to finish. We played as a team, backing each other all over the pitch, defending as a unit and picking off some great scores up front. Well done girls on three wins from our three league games. Thanks to Megan Kelly who refereed the game today and to Castlemartyr for a good sporting game. Finally, thanks to the parents for coming out in strength again and cheering the girls on!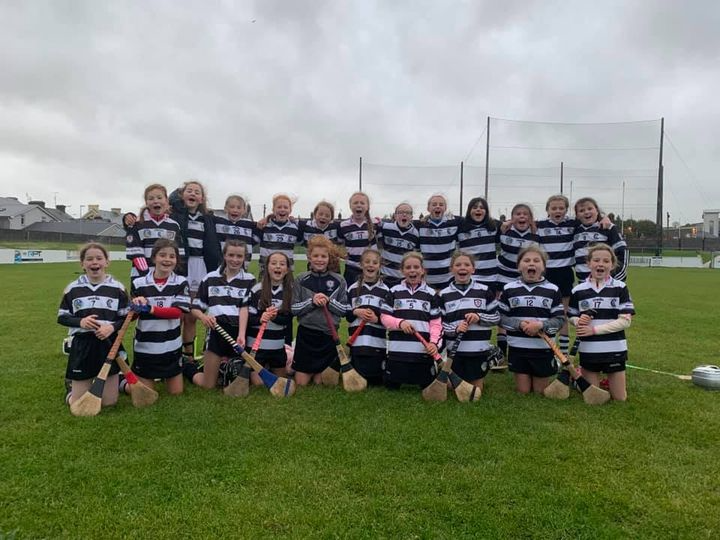 U11 v Castlemartyr
Ladies Football
As a Club we have decided to do two more weeks of training for the girls. On Monday evening in Ballinacurra we will train at the following times:
U8,10,12,14 - 6.30-7.30pm
Please note that the sessions will be in line with the GAA guidelines that were issued.
Can Parents please remember to sign the return to play form for your daughter before she attends training.
GAA Golf Society
Results from outing to Cork Golf Club.
1st Brian Barnes, 2nd Gary Johnson, 3rd Francis Maher, 4th Tom Mintern, 5th Robbie Fitzgerald. Front 9 John Barry, Back 9 Aidan Crowley.
Our next outing is on Saturday 24th October in East Cork Golf Club from 12.30 to 2.00pm. All are welcome.