Midleton Hurling and Football, Ladies Football and Camogie Club News
04 October, 2020
The key messages for this week:
COVID-19 Guidelines Update…Do The Right Thing For You & Your Club

Congratulation to our Junior A Football team, winning the East Cork Championship
Congratulation to our U14 Camogie team Junior A F winning the County Championship
Are you a #Magpies4ParkSouth and will you #Walk4ParkSouth?
Forkum's & Owenacurra contest the Davy Hogan Street Leagues Final
Midleton GAA…at the 'Heart of the Community'. Ní neart go cur le chéile. There is no strength without unity.
Safe Return to Gaelic Games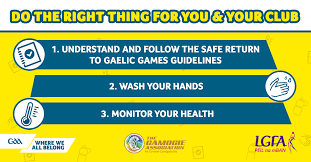 We have put together a comprehensive Plan for the safe return to Gaelic Games in Midleton.
This can be accessed at
downloadforms?rdDF=MIDLETON%20GUIDELINES%20FOR%20RETURN%20TO%20TRAINING.pdf
Prior to return to training, ALL adult players, team personnel and parents/guardians of Juvenile players are required to:
Complete the certified eLearning Module covering the main aspects of the Guidelines. This is available to complete at https://courses.gaa.ie/Covid19ClubEd/#/
Complete the GAA Health Questionnaire once online, which will be available through https://returntoplay.gaa.ie\. Please note that this questionnaire must be completed prior to return to training for the first time.
Using the same online system, all Adult players, parents/guardians of underage players and team personnel will be required to declare, before each training session/game, that their health status has not changed. This must be completed a minimum of 1 hour before the time of the session.
For Insurance purposes membership needs to be paid before training. Go to membership to see how much you need to pay
Midleton GAA H&F Account,Bank of Ireland, Main Street, Midleton
Account Number; 29207259
Sort Code; 90-29-01
IBAN; IE16 BOFI 9029 0129 2072 59
BIC; BOFIIE2D
Please write players name in the reference section.
Please also note that the club grounds are closed to activities other than those planned and supervised under the Safe Return to Gaelic Games protocols.
Mega Lotto Results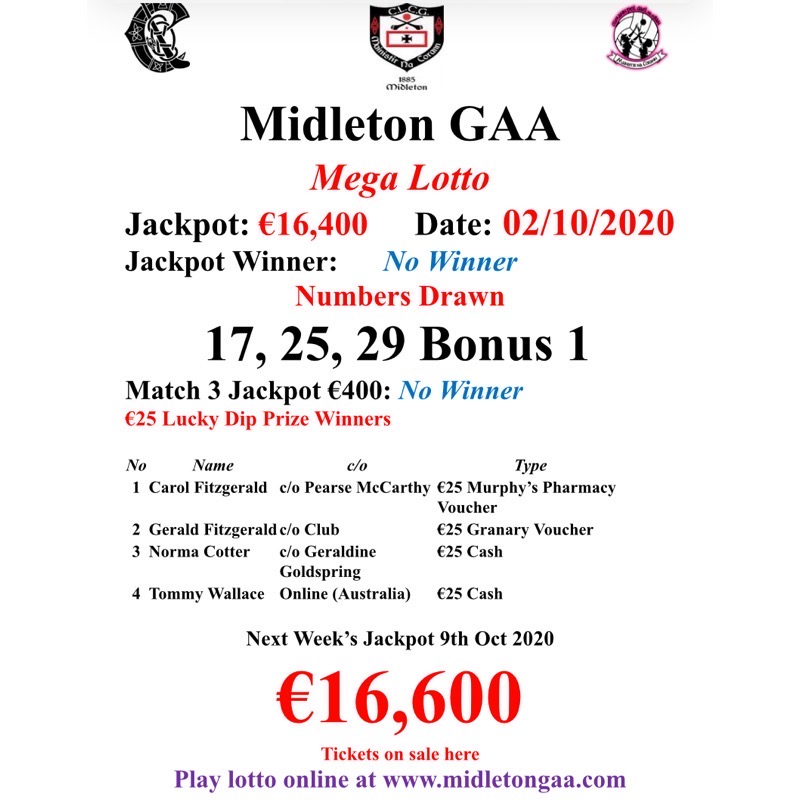 4 Lucky Dip Prize Winners this week
The re-launched Lotto is a critical component of our fundraising for Park South. The support to date has been good, especially with the number of annual subscriptions that have been submitted.
In total Midleton GAA will give out local business vouchers to the value of €3,800 every year as part of our "Shop Local, Buy Local" campaign.
How to play: Go to http://www.midletongaa.com click on Play Now in Mega Lotto section. You can buy an annual ticket by selecting "50" from the "Number of Draws" to Play dropdown.
Fixtures & Results
Please keep an eye on the Fixtures Section of the website for updates on matches over the coming weeks.
Fixtures are getting a bit lighter. The Junior A Footballers are scheduled to play the winners of Kilmurry and Iveleary next Saturday at 3pm in Inchigeela but this is subject to change. The Junior B Hurlers will play the winners of Erins Own and Youghal in the final of the East Cork Championship.
How to stay 'up-to-date':
Some games are streamed. Keep an eye on Social Media Channels for announcements.
'Live' scores will be posted to our Social Media Channels.
The Fixtures & Results sections of the website will be updated with Fixtures for the coming week(s) and Results for the past week.
Fixtures: club_fixtures
Results: club_results
Midleton GAA Dive in Bingo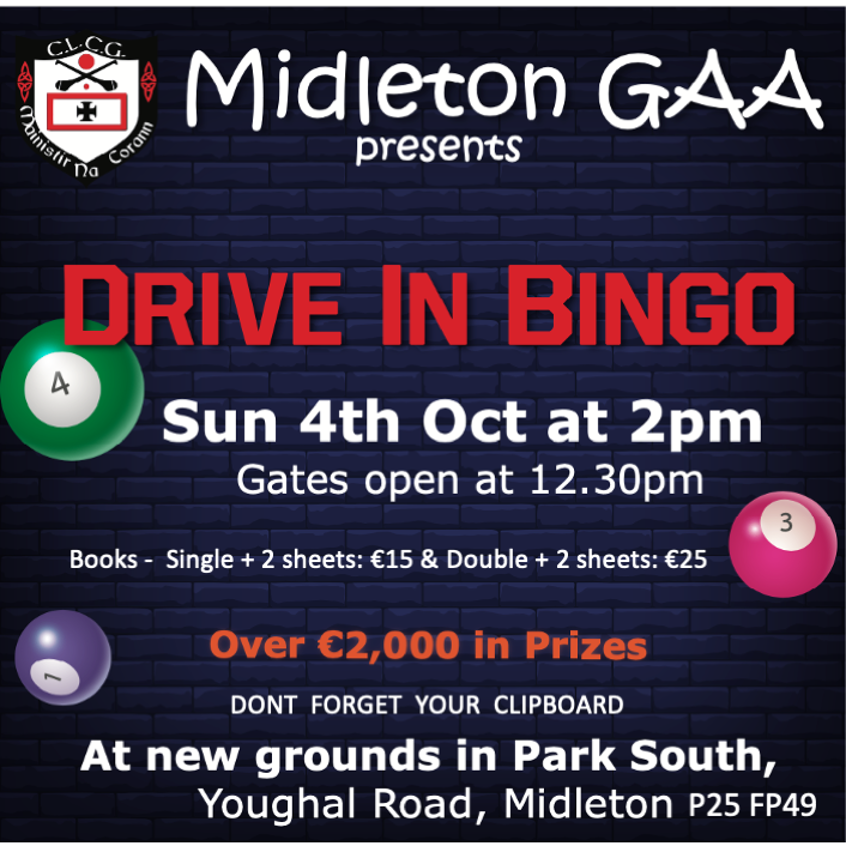 Family Fun Walking Half Marathon
The inaugural Midleton GAA Walking Half Marathon takes place from 1st October to 25th October 2020. The event comprises a 'Virtual' event over the full period of time culminating in a 'live' event on Sunday 25th. This event is part of the fundraising effort for our new playing facilities in Park South. Many thanks to Blackwater Motors who are the Main Sponsors of the Event.
Are you a #Magpies4ParkSouth and will you #Walk4ParkSouth?
Registration for the event will open early next week so keep an eye out on social media for updates.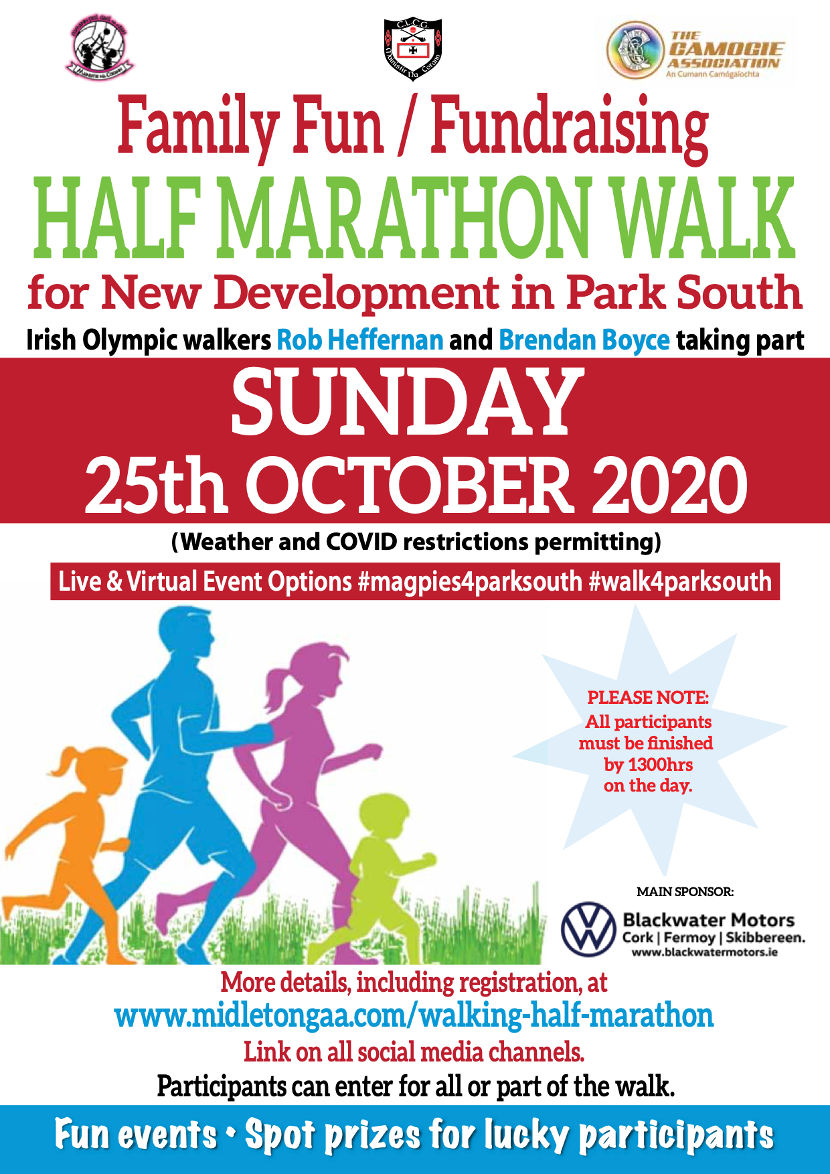 Junior A Football
Final of East Cork Junior A Football Championship Midleton 4:09 Carrigtwohill 0:09
Eoghan Collins, Cian Crowley, Seanaidh Smyth, Luke Dineen , Seamus O'Farrell. Eoin Mitchell, Adam Daly, Padraig O'Farrell, Cathal Gunning (0-1), Luke O'Farrell (0-2), Sean O'Meara (1-1), Garan Manley (1-3,1f), Eoghan Maloney (1-0), Cormac Beausang (0-1f) subs used, Pa White, lan Kennefick (1-0), Christian Daly (0-1), Padraig O'Brien, Tommy O'Connell. Cathal Gunning was awarded match and presented with a nice bowl and stand.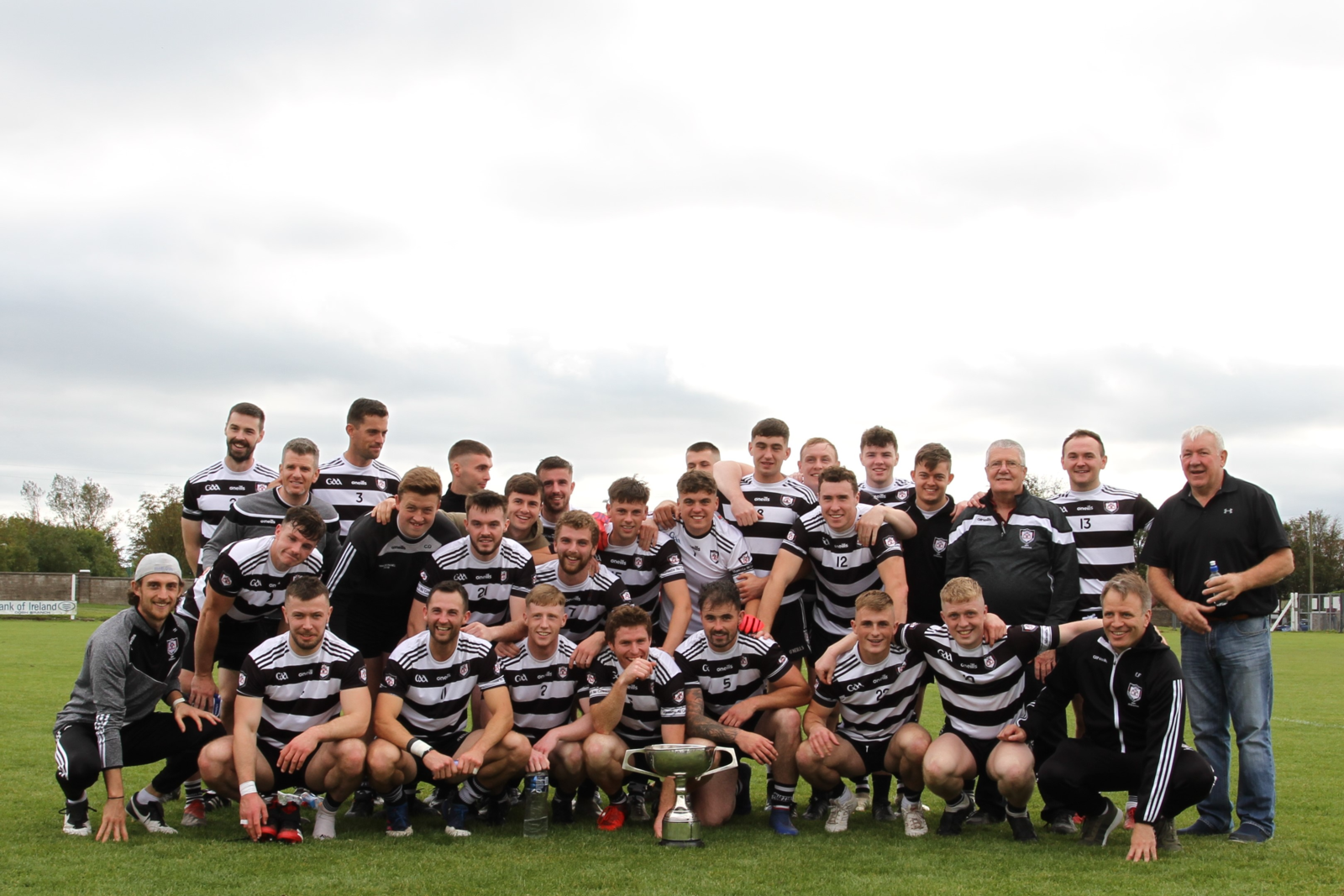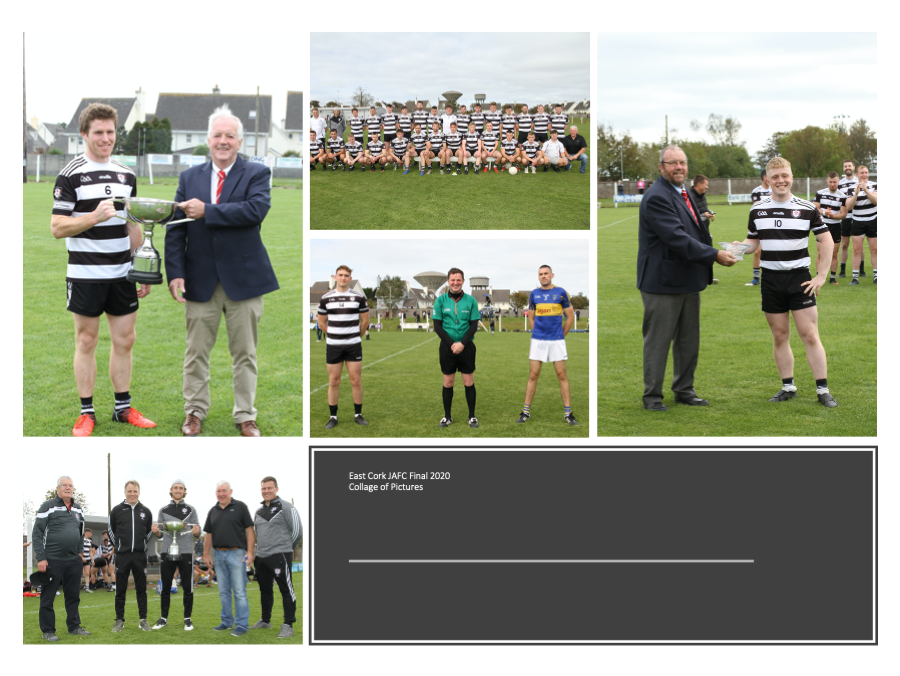 Next up is the winners of Iveleary and Kilmurry on Saturday 10th October at 3pm in Inchigeela but this is subject to change.
Junior B Hurling
East Cork Junior B Hurling Championship Semi Final Midleton 0:12 Castlelyons 0:07
Played last Monday night under lights in Killeagh, Midleton battled well to see off the challenge of Castlelyons. Midleton will play the winners of Erins Own and Youghal in the final of the East Cork Championship.
Juvenile
Davy Hogan Street Leagues 2020 – Final
Forkums 1-04 Owenacurra 0-01
This year's final of the Davy Hogan Street League took place in Midleton last Saturday morning under glorious sunshine. The two teams in the final this year were Forkums & Owenacurra, who finished top of the table after 3 rounds of matches. In a tight opening half there was some outstanding defending and goalkeeping on display which resulted in a low score at half time of 0-01 each. With the aid of a strong breeze in the second half, the Forkums began to pull away, and a well taken penalty by Tadhg O'Dowd made the score 1-04 to 0-01. However Owenacurra refused to give up with Peader Egan scoring a goal with time nearly up. However the whistle had gone for a free out and it was not to be, with Forkums holding on for a well deserved victory. Well done to both teams who provided a very entertaining match. Well done to all the 91 juvenile boys who participated over the last four weeks and provided some outstanding displays of hurling. Special word of thanks to Davy Hogan and all the Hogan family who were in attendance. Thanks to all who worked tirelessly behind the scenes over the las few weeks to ensure this competition was played. Thanks to Andrew Foley and John Hogan PRO who ensured that the memories are captured in photo and video for years to come. Thanks also to Paudie O'Brien who refereed very fairly to all on the day.
The match and presentation, in 3 parts, can be viewed on our YouTube channel by clicking on the below image.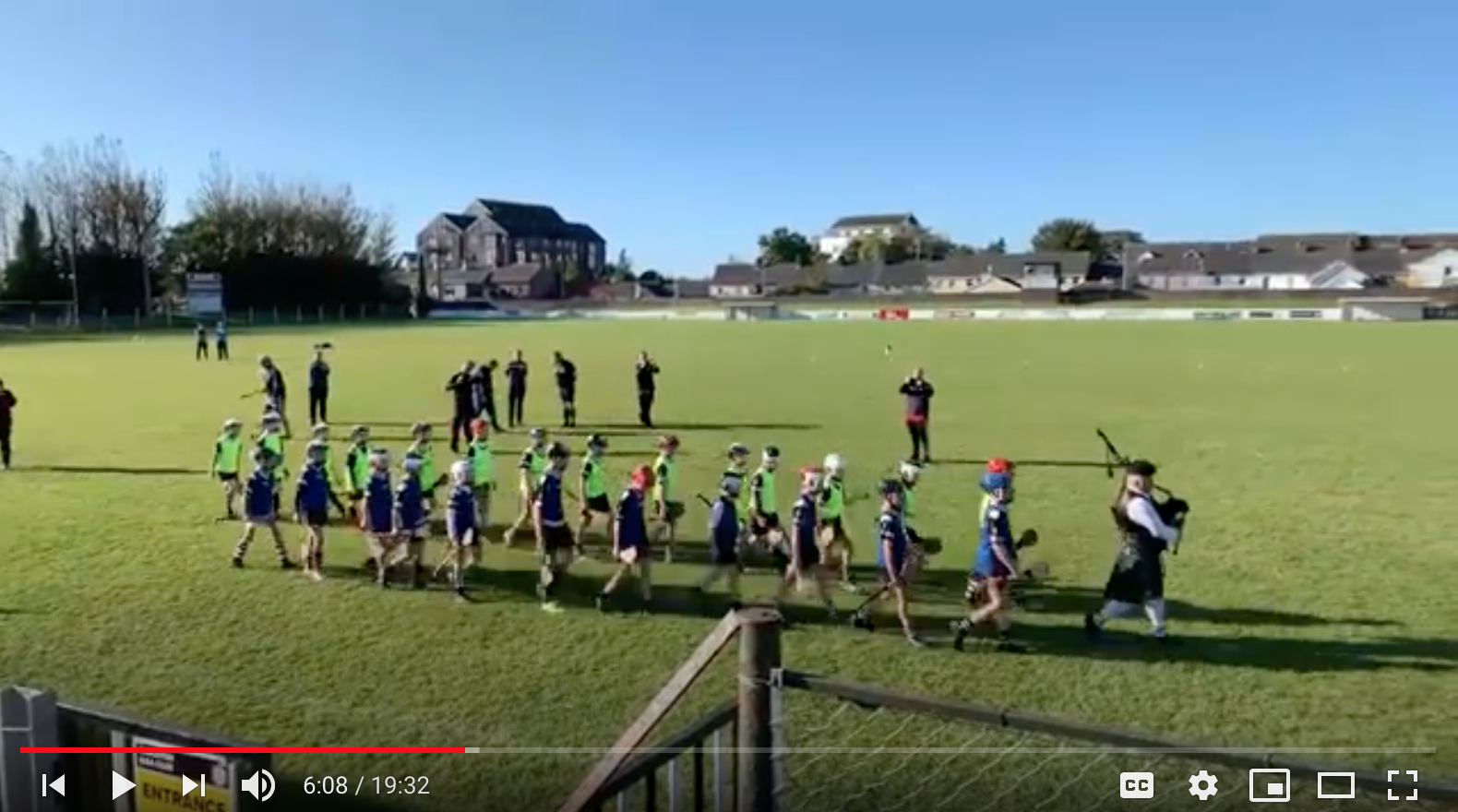 For team panels, panel photos, fixtures, and results click here.
Fé12 Notes
Football Division 2 Final Kiltha Óg 2-11 Midleton 3-04
The final of this year's Fé12 Division 2 football league saw us make the trip to Dungourney last Sunday morning to take on Kiltha Óg. The lads started well with an early point from Cian Lawton and a goal from Ciaran Kelly. Despite Ewan Murphy scoring two well taken points, there was only one score in it at half time with Kiltha Óg ahead 2-03 to 1-03. Our task wasn't helped in the second half when key players Senan Carroll and James O'Meara both departed with injuries. Despite this the lads battled on and going into the final quarter were only 2 points behind, thanks to two goals from the dangerous Ciaran Kelly and another point from Cian Lawton, some fine defending from Liam Walsh and Jason Morley and outstanding goalkeeping from Bradley O'Brien. However, this was not to be our day and Kiltha Óg ran out deserving winners on a final score 2-11 to 3-04. Although disappointed to be beaten on the day this team has a lot of ability and will no doubt have more successful days ahead.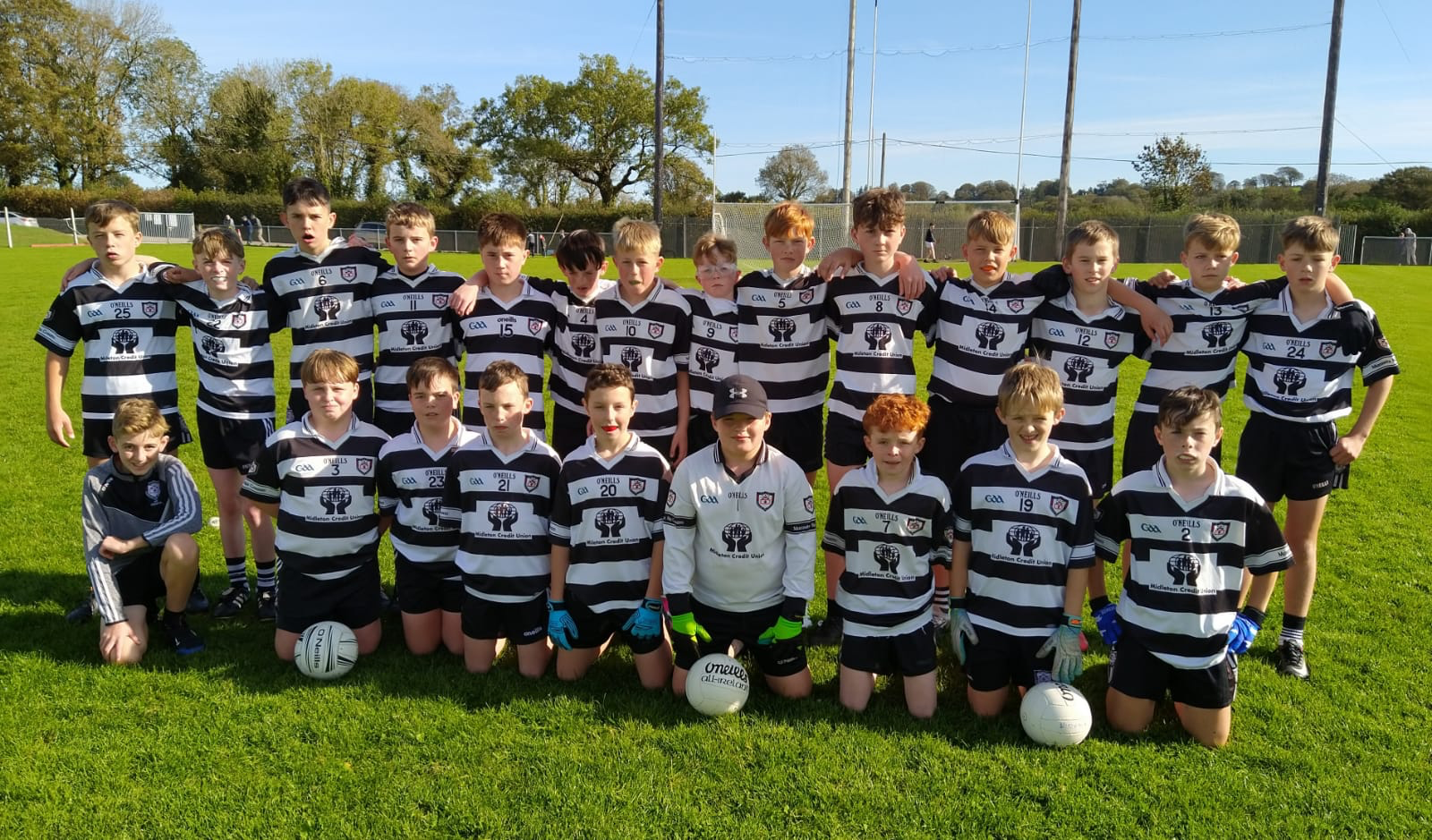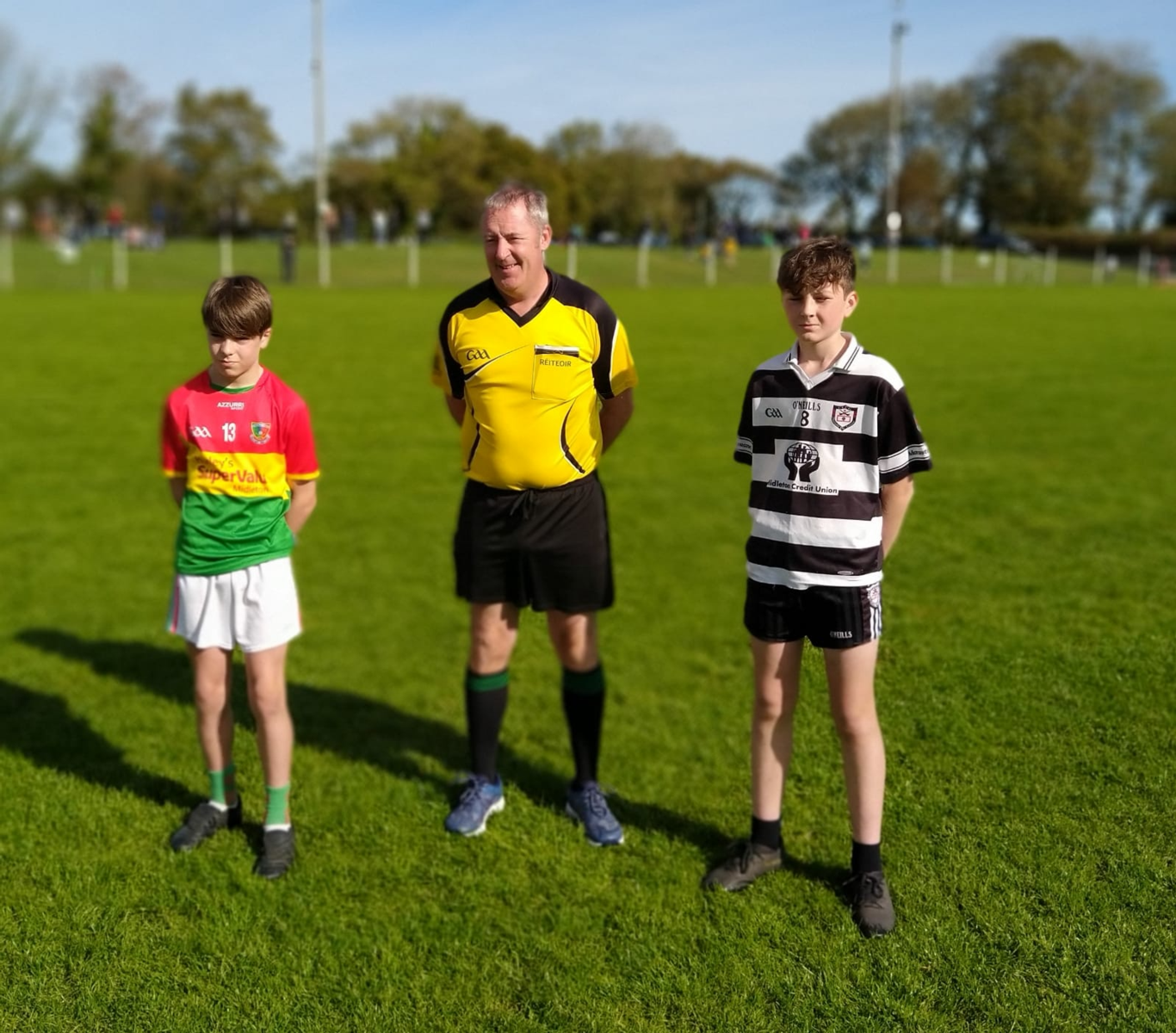 The panel for this match was: Bradley O'Brien, Liam Walsh, Peader Egan, Cuan Tuomey, Shane O'Mahony, Senan Carroll, Jack Walsh, Max Murphy, Darragh Mullins, Scott Dunlea, Cian Lawton, James O'Meara, Ciaran Kelly, Ewan Murphy, Dara Birdthistle, Riain McCormack, Ruairi O'Riordan, Jason Morley, Jack Cahill, Josh Quill, Patrick O'Dowd, Harry Waterman.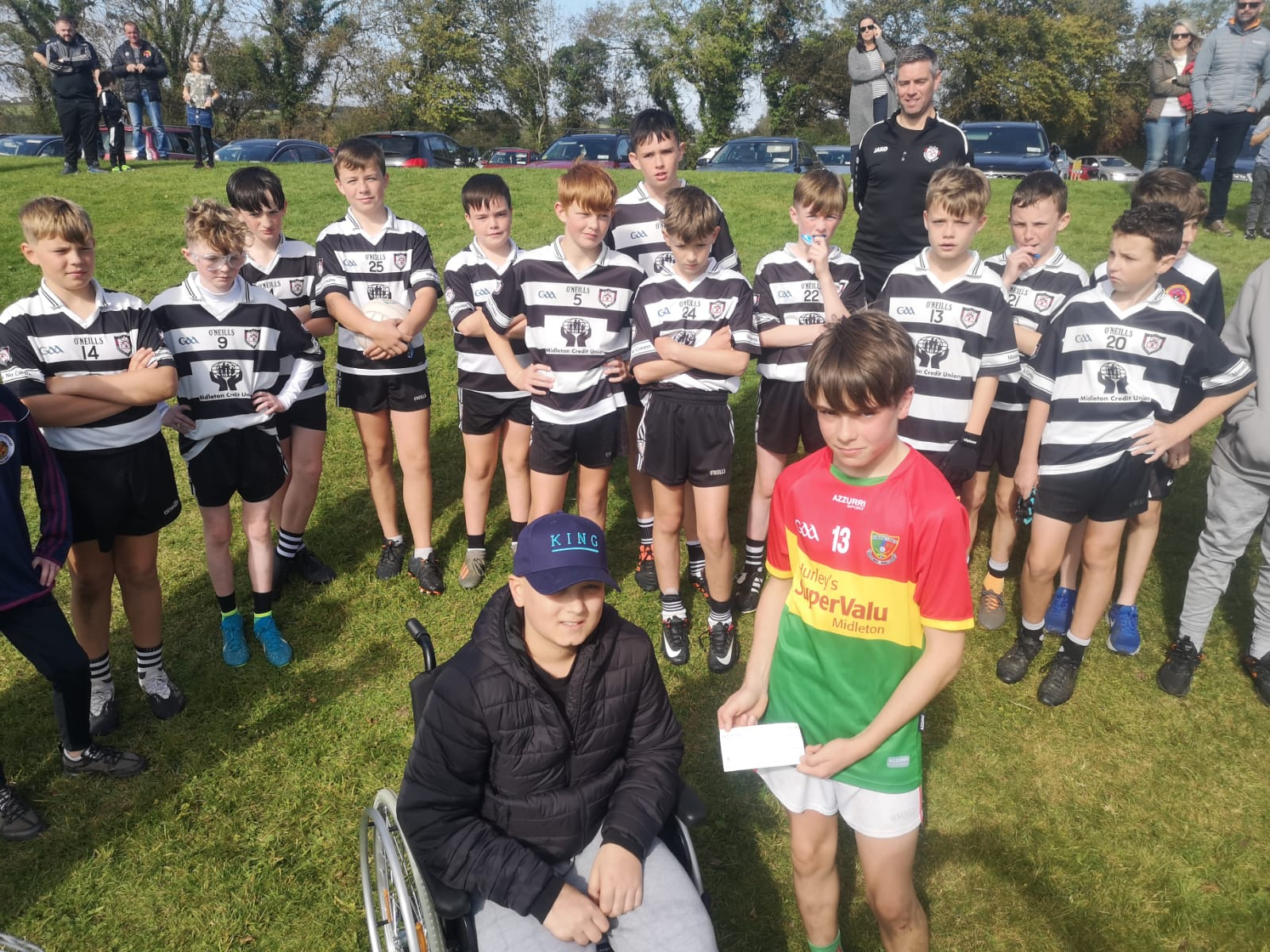 The Fé12 lads were again delighted to see their teammate Kacper make the trip to Dungourney supporting the lads last Sunday. A special thanks to Kiltha Óg for their very generous gift which they presented to Kacper and his family after the match in connection with the ongoing fundraising.
For more information check out: https://www.gofundme.com/f/for-brave-12year-old-boy-with-cancer/donations
Fé8 Notes
We took a small break from the Hurling this Weekend and concentrated with Gaelic Football Training on the main pitch. We hope to get in a Football Challenge Game in the next few weeks so a couple of Football Drills and Games was important to put in to practice. We also hope to play probably two more Hurling Challenge games along with Football games in the next few weeks.
Mid-Week Hurling Training for this group will be on at 5pm to 6pm this Coming Wednesday on the Main Pitch.
Camogie
U14 Notes
Final U14 A Plate Championship Midleton 6:05 Ballinhassig 1:00
On Saturday 3rd of October we lined out in the U14A County final against Ballinhassig Camogie Club at Cork Camogie grounds in Castle Road. We had the wind advantage in the first 15 minutes and we raced into an early lead with a goal from Rachel Ryan and points from Saoirse Ni Theangana. Our defence kept supplying great ball to our tenacious midfield duo of Muireann Ni Conchubhuair and Isobel Nestor who in turn played clever ball down both wings bringing Kelly Quirke and Kate O Sullivan into the game with both players displaying lovely soloing skills when heading for goal. Another goal and three points followed and we went in 2-4 to no score at half time. The second half was a different story with the Ballinhassig girls putting it up to Midleton. Unfortunately for them scores did not come their way and they were not rewarded for their excellent play. Jade Fitzgerald and the rest of the defence put in a real solid performance and only gave up one goal, which Ballinhassig thoroughly deserved. Our free scoring forwards tagged on another few scores and we ended up winning the game on a scoreline of Midleton 6-5 Ballinhassig 1-0 making this the first team in the club to win an A Championship.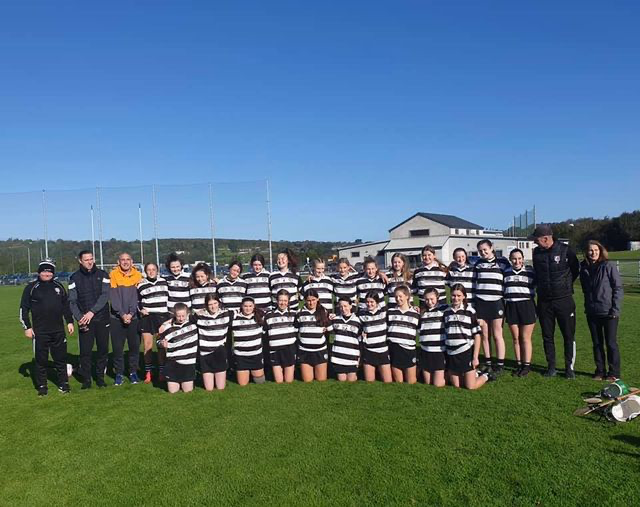 U14 v Ballinhassig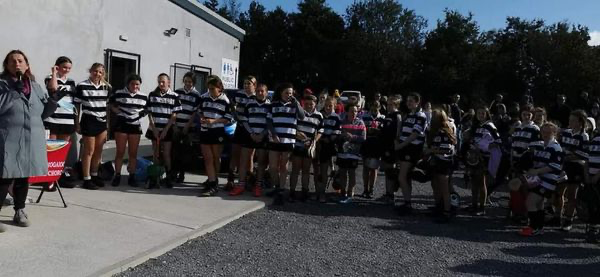 U14 County Final Cup Presentation
Panel: Sophie Walsh, Alannah Magan, Jade Fitzgerald, Kate Saunderson, Pippa Hennessey, Laura Goulding, Sorcha Cronin, Muireann Ni Conchubhuair, Isobel Nestor (Captain), Kate O Sullivan, Saoirse Ni Theangana, Kelly Quirke, Mia Collins, Rachel Ryan, Cara Foley, Tia Wall Wallace, Rachel Greene, Seana O Brien, Grace Kelleher, Beth Ryan, Amy McCarthy, Emma O Neill (Vice Captain), Kate Griffin, Rionnach Finn
Thanks to everyone today for making it a special occasion today for the girls including Ballinhassig Camogie Club, Cork County Board, Midleton Camogie committee and to you the parents. A Final word goes to the coaches Tim Cronin, Johnny Hennessey, Jeremiah Wallace, Tracey Ryan and Tom Collins, without these unsung heroes who volunteer their free time for the girls none of this would have been possible.
Semi Final U14 A Plate Championship Midleton 4:09 St Finbarrs 2:05
On Sunday evening last our girls lined out against St Finbarrs in the U14A County Plate semi final in Togher. This group was trying to be the first team in the club to reach an A Championship County Final. We got off to a good start with a couple of early goals and points with Mia Collins, Rachel Ryan and Tia Wallace leading the line. Our defence was resolute keeping the Barrs to just two points at half time with the Midleton score at two goals and five points, a special mention goes to our wing backs Sorcha Cronin and Pippa Hennessey who stepped out of the defensive line and gave great ball to our forwards to keep the score board ticking over for us. The two teams battled hard all through the second half with Barrs putting in a brave performance but just could not close the gap in the scores with Midleton bringing on all five subs who included Cara Foley, Amy McCarthy, Rionnach Finn, Grace Kelleher and Emma O 'Neill who all got stuck in straight away with Midleton eventually running out worthy winners with a scoreline of Midleton 4-9 St Finbarrs 2-5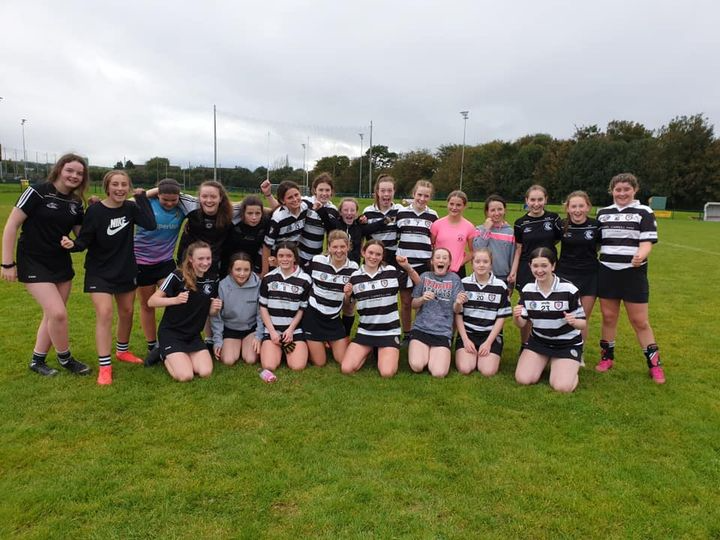 U14 v St Finbarrs
We would like to thank the Barrs club for hosting us and to all our supporters who travelled to cheer on the girls and gave them a well deserved round of applause as they left the pitch. Well done to all involved, a fantastic result, all roads lead to the County Final for these hard working girls and their coaches.
Well done to the U10 Camogie team who enjoyed a great training session in Park South on a beautiful Friday evening. The future is bright for our young Magpies with facilities like this to train and play on for many years to come. A special Thank you to this group of girls as they were busy making signs of well wishes for our U14 Team who played Ballinhassig in the County Final on Saturday 3rd October. It was very much appreciated girls and very thoughtful!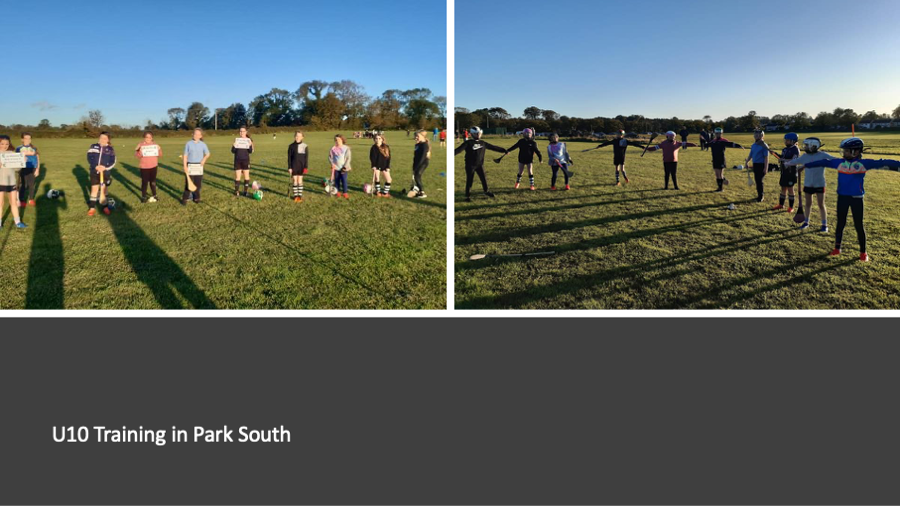 U11 Notes
The U11's played Douglas in a challenge match in Midleton last Sunday morning. Both teams had 22 players, which allowed us to play two 11-a-side games in parallel. This was a great test for the girls against a strong Douglas team. Our girls matched them stride for stride with Douglas & Midleton both winning two games. This team are improving every week and gave 100% again this morning. A special mention to the three U10's, Margaret Spelman, Sadhbh Casey and Anna Griffin who joined us today and played very well. As always, thanks to the parents for the great support and thanks to Douglas for a good hard game. Next up is a short trip to our neighbours Castlemartyr in the Imokilly league.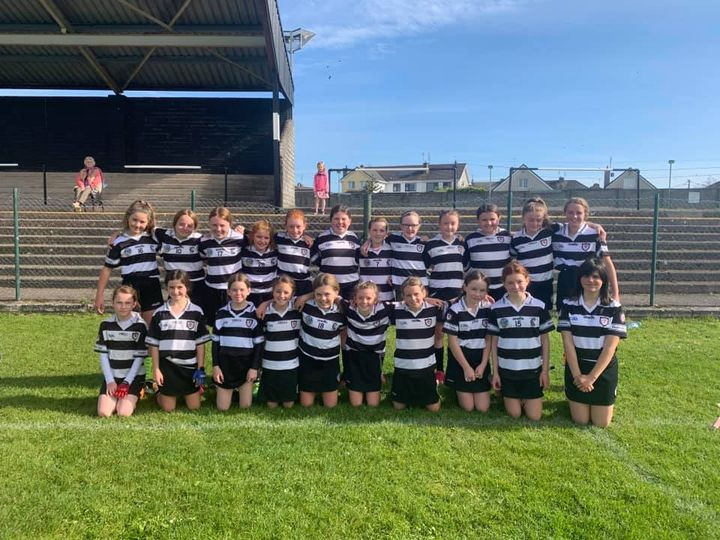 U11 v Douglas
U8/9 Notes
The past week has been a very busy 7 days for this particular group of girls with no less than three challenge games played against Castlemartyr, Aghada and Sarsfields. To the girls credit on each occasion they took to field with great enthusiasm and appetite for the game, displaying some great determination to give it their all and make up for the lost game time. Our numbers at training have been consistently high with a lot of hard work put in to the basic skills of the game and this was reflected in the quality of play by the Midleton girls in each game, showcasing all the skills they have been practicing hard both at training and at home over the last couple of months. Over the three challenge games every ball was keenly contested and the young Magpies displayed no shortage of courage in defence, workrate at midfield and excellent score taking up front, some great team performances and very encouraging signs for the future of this group. We definitely saw the benefits of each game as we progressed through the week, with improvements in all aspects of play and teamwork, making for some very pleased players, coaches and parents. Thanks very much to both Aghada and Sarsfields for hosting us. We encourage the girls to keep practicing at home and a big thanks to all the parents for turning up in big numbers to cheer on the girls.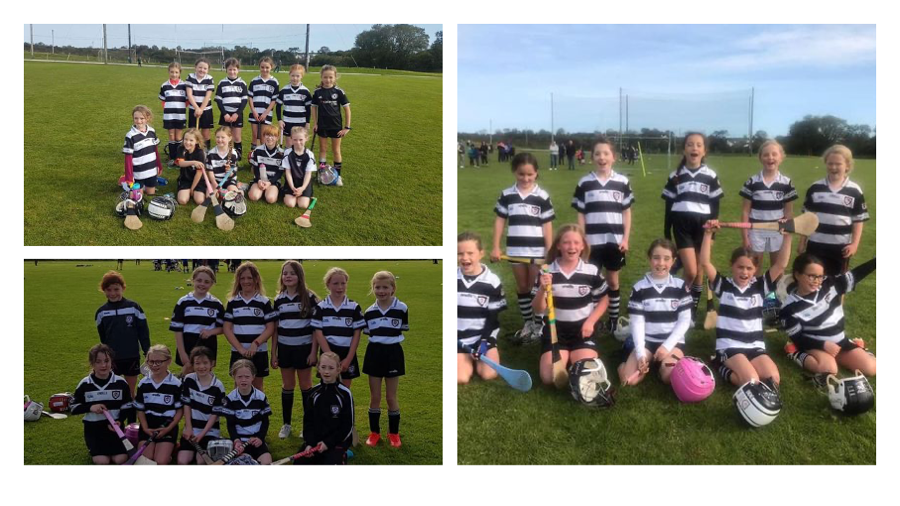 U8/9 Team Photos
Ladies Football
U12 Notes
On Saturday evening our U12 girls took on Bride Rovers on a cold but bright evening. Another great team effort from these fantastic girls. Well done to you all.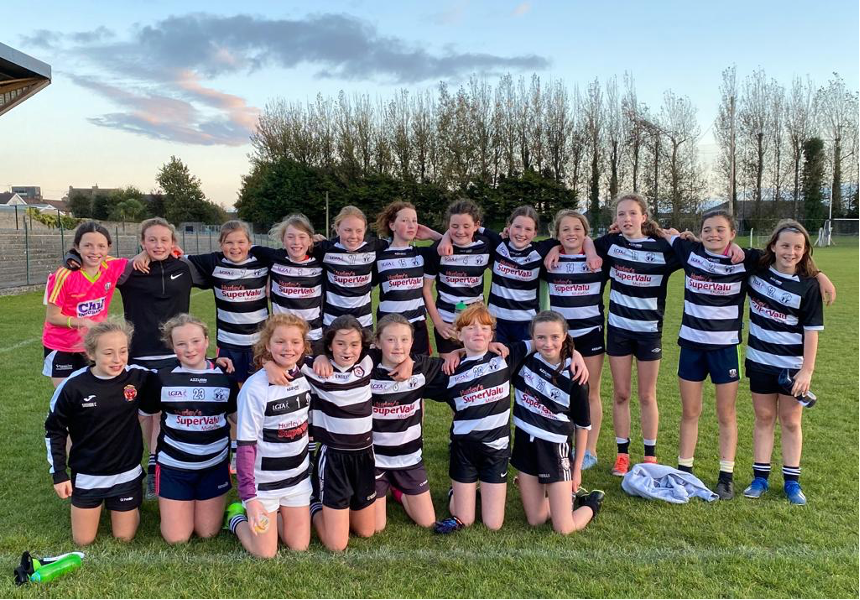 U12 v Bride Rovers
U10 Notes
On Sunday last our U10 girls were on the road again for another league game. We travelled to Killeagh to take on Inch Rovers. We played two 10 a side games. All the girls got 40 minute game time which was great for them. Inch were a very strong side but to our credit we kept competing for every ball and never gave up. We have a break from games this week but will continue our training on Monday night.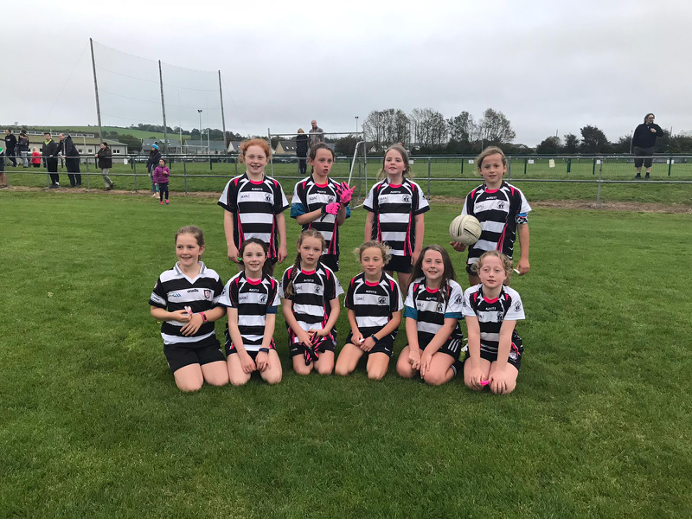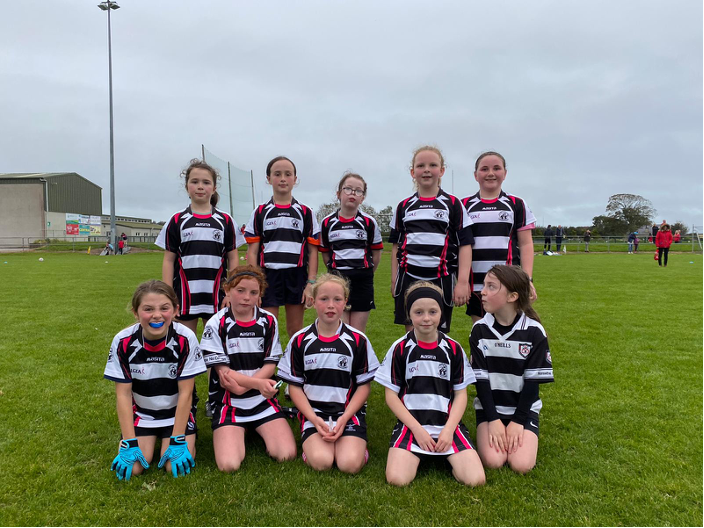 U10 v Inch
Training schedule for the week:
Monday evening in Ballinacurra U8/10/12/14 – 6.30-7.30pm
U16, Minor and Junior - TBC
Congratulations to the U14 Camogie Team who defeated Ballinhassig in the County Final.