Midleton Hurling and Football, Ladies Football and Camogie Club News
27 September, 2020
The key messages for this week:
COVID-19 Guidelines Update…Do The Right Thing For You & Your Club
Best of luck to our Junior A Footballers in today's East Cork Final
Best of luck to our Junior B Hurlers in tomorrow's East Cork Semi Final
Drive in Bingo in Park South next Sun 4th Oct at 2pm
Midleton Magpie All-Stars & GAA National Inclusion Fitness Day
Midleton GAA…at the 'Heart of the Community'. Ní neart go cur le chéile. There is no strength without unity.
Safe Return to Gaelic Games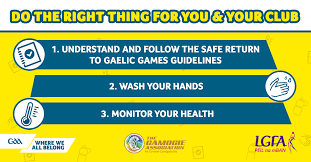 We have put together a comprehensive Plan for the safe return to Gaelic Games in Midleton.
This can be accessed at
downloadforms?rdDF=MIDLETON%20GUIDELINES%20FOR%20RETURN%20TO%20TRAINING.pdf
Prior to return to training, ALL adult players, team personnel and parents/guardians of Juvenile players are required to:
Complete the certified eLearning Module covering the main aspects of the Guidelines. This is available to complete at https://courses.gaa.ie/Covid19ClubEd/#/
Complete the GAA Health Questionnaire once online, which will be available through https://returntoplay.gaa.ie\. Please note that this questionnaire must be completed prior to return to training for the first time.
Using the same online system, all Adult players, parents/guardians of underage players and team personnel will be required to declare, before each training session/game, that their health status has not changed. This must be completed a minimum of 1 hour before the time of the session.
For Insurance purposes membership needs to be paid before training. Go to membership to see how much you need to pay
Midleton GAA H&F Account,Bank of Ireland, Main Street, Midleton
Account Number; 29207259
Sort Code; 90-29-01
IBAN; IE16 BOFI 9029 0129 2072 59
BIC; BOFIIE2D
Please write players name in the reference section.
Please also note that the club grounds are closed to activities other than those planned and supervised under the Safe Return to Gaelic Games protocols.
Mega Lotto Results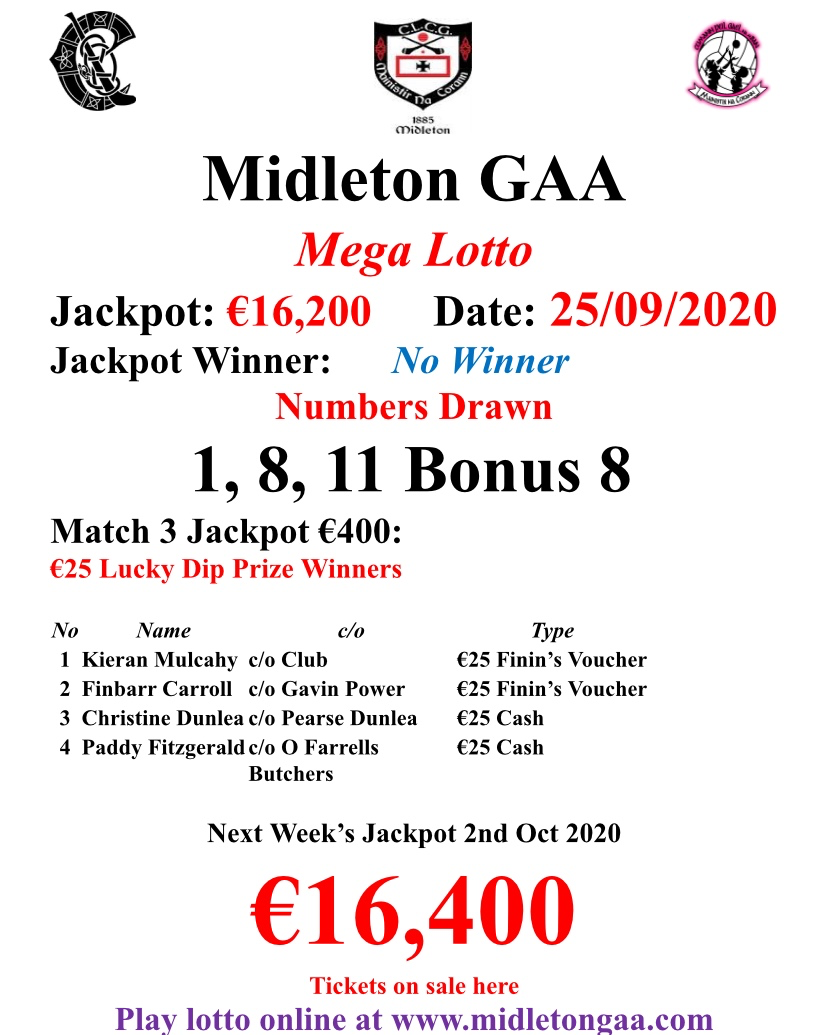 4 Lucky Dip Prize Winners this week
The re-launched Lotto is a critical component of our fundraising for Park South. The support to date has been good, especially with the number of annual subscriptions that have been submitted.
In total Midleton GAA will give out local business vouchers to the value of €3,800 every year as part of our "Shop Local, Buy Local" campaign.
How to play: Go to http://www.midletongaa.com click on Play Now in Mega Lotto section. You can buy an annual ticket by selecting "50" from the "Number of Draws" to Play dropdown.
Fixtures & Results
Please keep an eye on the Fixtures Section of the website for updates on matches over the coming weeks.
See below snapshot of current confirmed fixtures for the next week. There are some other fixtures that are currently being finalized so keep an eye on website, social media and usual comms channels for updates.

How to stay 'up-to-date':
Some games are streamed. Keep an eye on Social Media Channels for announcements.
'Live' scores will be posted to our Social Media Channels.
The Fixtures & Results sections of the website will be updated with Fixtures for the coming week(s) and Results for the past week.
Fixtures: club_fixtures
Results: club_results
Midleton GAA Dive in Bingo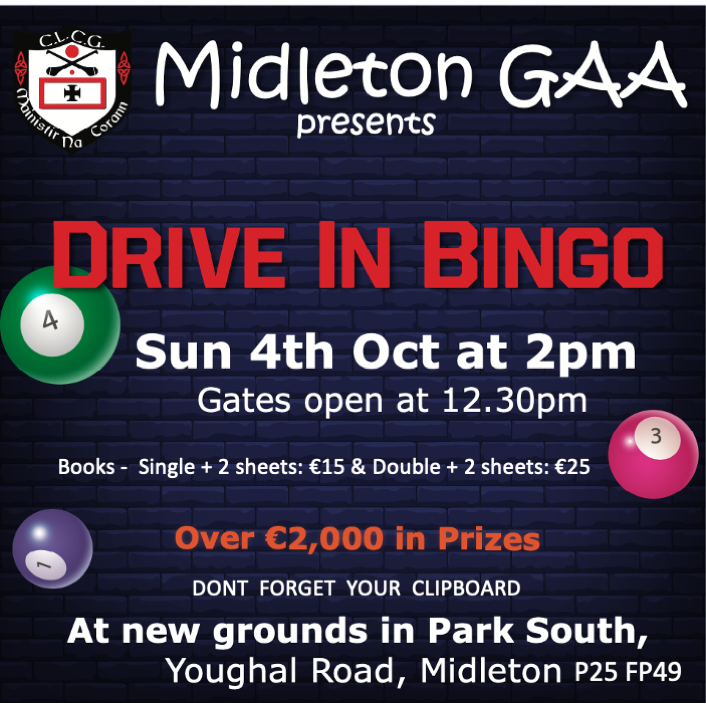 Magpie All-Stars & National Inclusive Fitness Day 2020
On Sunday the 20th of September, The Magpies All Stars marked the GAA National Inclusion and Fitness Day with an extra special training session in Clonmult Memorial Park.
The Magpies All Stars are a community of players of all abilities from age 5 upwards that train in Gaelic Games and fitness activities in Midleton GAA each week.
We were joined by the PJ Mask Characters on the pitch from Trabolgan Holiday Village on the day, to the delight of all the players! And each participant received a medal and a certificate at the end of the session.
Massive Thank You to the Players and their families and to all the coaches and assistants that make such an event possible.
Midleton GAA is proud to be an inclusive club and welcomes members of all ethnicities, abilities, and backgrounds. Midleton GAA is somewhere Where We All Belong.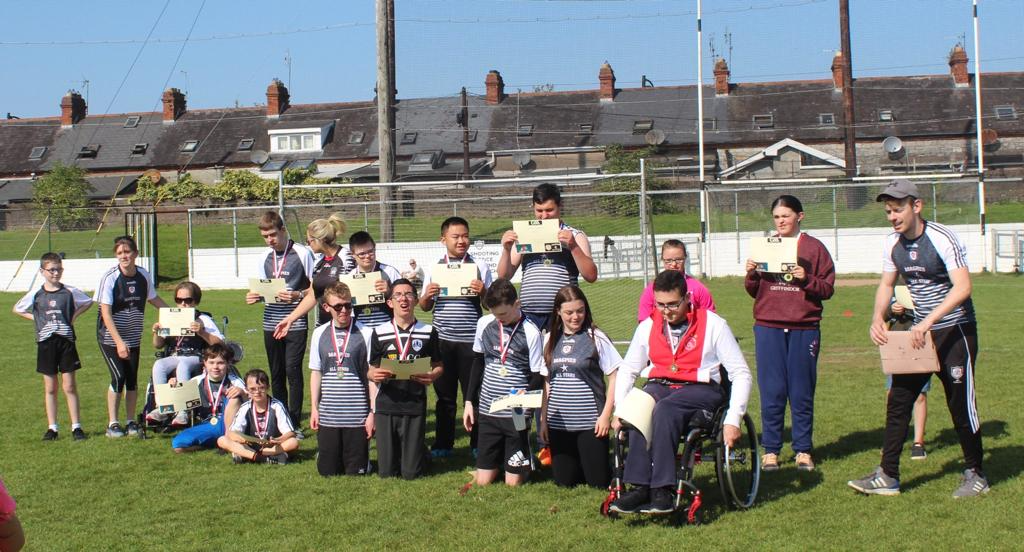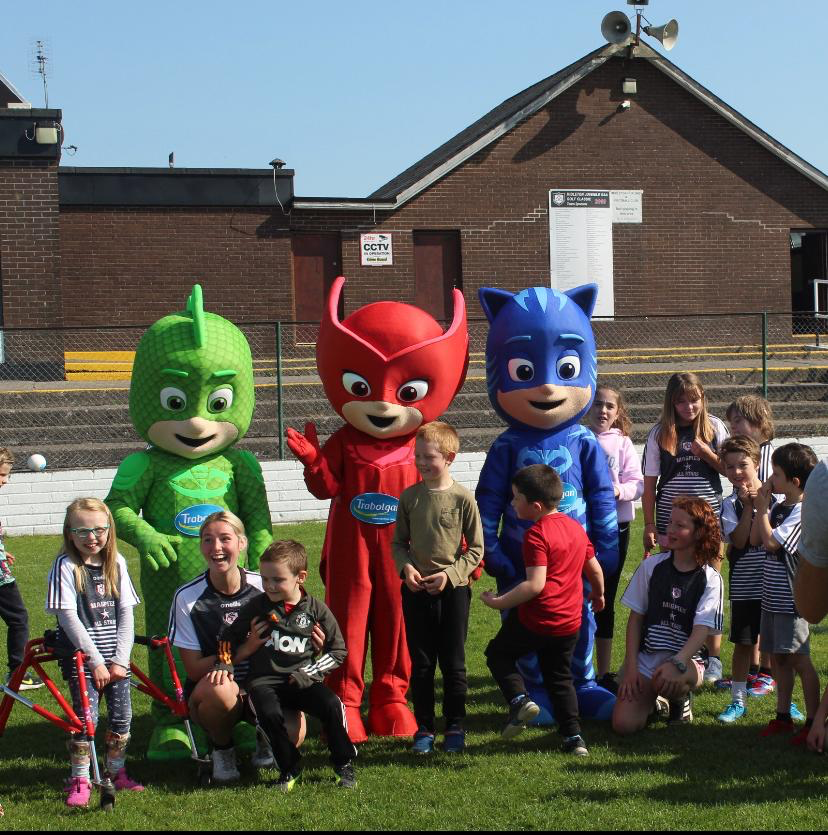 Magpie All-Stars & National Inclusive Fitness Day 2020
Ladies Football
U16 Notes
U16 League Final Round
The U16 girls finished off their 2020 league campaign with a hard victory against a spirited Watergrasshill outfit played in sunny Glenville Monday 21st September. This was our final round game with the girls winning all their 5 rounds.
Watergrasshill started at a blistering pace and it wasn't until after the water break that our girls were able to come to terms with them. Our cause was not helped after the forced withdrawal of Rachel Quirke who suffered a broken finger after contesting a high ball on resumption of play after the water break. The girls rolled up their sleeves and got down to work and in the last period of the first half took control of the game and went in at the break 3 points up 1:6 to 1:3. Midleton had the advantage of playing down the hill in the second half and we were able to move the ball faster. The backline brought the shutters down on the WHG girls and allowed them very little shots on goal, forcing them to kick wide, while our forwards on the other end did the business and came through on a final score of 5:08 to 2:03. This was a very enjoyable game to watch with both teams giving it their best, but we were that bit stronger on the night. That brings down the curtain on 2020 where the U16 team is concerned but we still have some U18 games to play where some of these girls will be involved. As strange as this year is, we had a great few month with some fantastic performances. Well done girls. Training however will continue every Monday and Thursday.
Team: Kate Saunderson, Mia Tarrant (1:1), Emma O'Sullivan, Jade Fitzgerald, Rachel Ryan (1:1), Lily Kelly, Elle McManus, Isabelle Nester (1:0), Aoife Fitzgerald (2:0), Grainne Finn, Amy Murray, Rachel Quirke (0:3), Seana O'Brien, Sophie McCarthy, Aoife Mulcahy, Aisling McCarthy, Elsa Ryan, Selena O'Riordan (0:3), Kelly Quirke.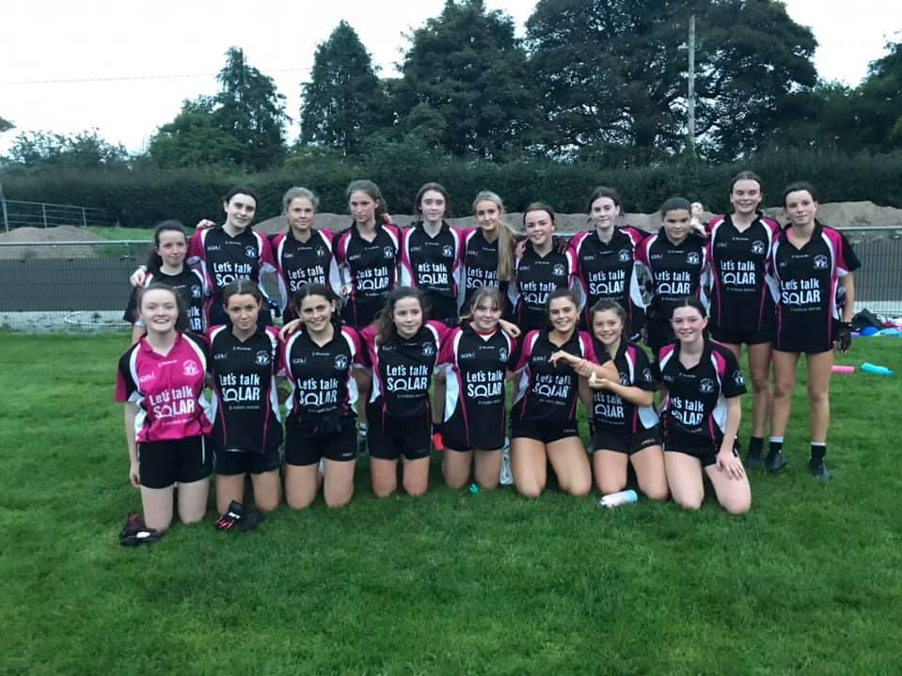 U16 v Watergrasshill
U10 Notes
On a beautiful Sunday afternoon last, we travelled in great numbers to take on Aghada in our next league game. Midleton were on the scoreboard early which helped to settle the girls well. Great teamwork and calling for the ball ensured that it was spread evenly across the pitch and every girl worked hard to compete for the ball. The rolling on and off of all girls meant they got to play in various positions during the game. Final score was Midleton 4-03 Aghada 1-02. Thank you to Aghada for a great game. Next up for this group is a match v Inch Rovers. Good Luck girls.
(Orlaith Corby is missing from the team photo as she had to leave early to attend another game !)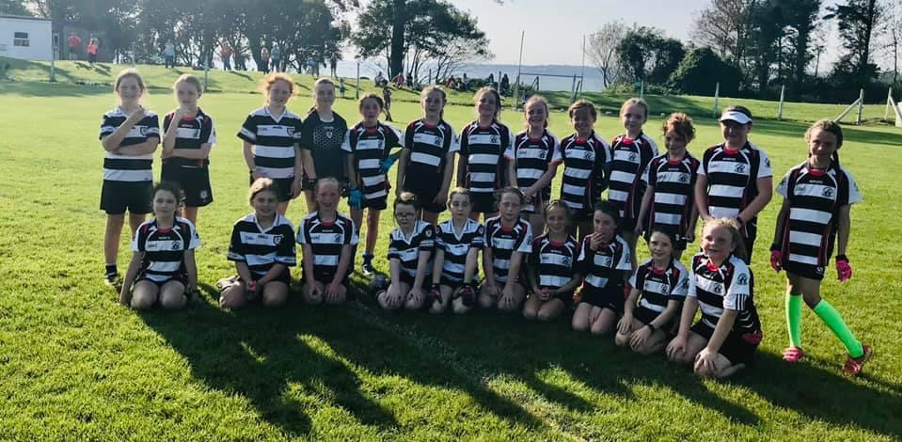 U10 v Aghada
Camogie
Fé16 Notes
Midleton v Killeagh U16 on Sunday 20th Sep at Killeagh GAA Grounds
The Midleton panel completed their Summer 2020 U16A championship campaign with a difficult away encounter away to Killeagh last Sunday 20th Sep. Midleton were looking to continue their impressive performance as shown in their earlier victories against Sarsfield and Fr. O' Neills in the previous group matches of this Championship.
Midleton, despite dominating the possession and field positioning, found it difficult to breakdown a well organised and committed Killeagh defensive and finished the first quarter with the minimum 0-3 to 0-2 advantage. The 2nd quarter continued in a similar fashion with Midleton enjoying the majority of possession and territory and managed to add 2 further points to stretch the lead to 0-5 to 0-2 at the half-time interval. The 3rd quarter was a tough and honest affair, however no scores were added by either team during that period. It wasn't until the final quarter that Midleton's pressure eventually paid dividends and they managed some fine scores to stretch the advantage.
In a very tightly contested game, there was some great displays of skill and endeavour from both teams and Midleton eventually ran out winners at the final whistle by a score of 2-07 to 0-2.
The result means that Midleton have qualified directly to the semi-final of the County Championship and await the winners of the County quarter final between Tracton or Cloughduv. This semi-final is expected to be played on the weekend of 03/03Oct and notifications of exact fixture date/time will be made on all the usual Midleton GAA social media channels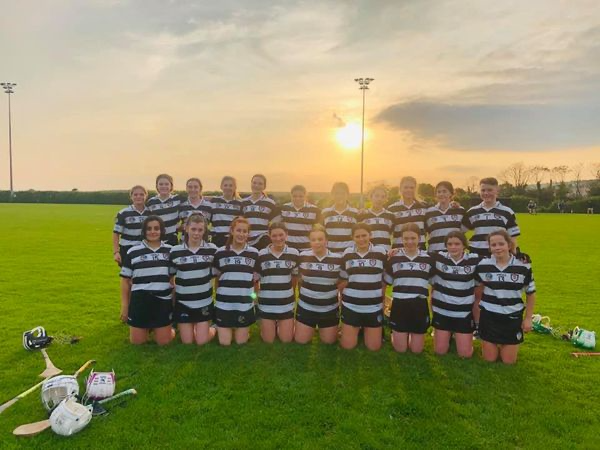 U16 Panel v Killeagh
A special mention to Sisters Pippa and Ruthi Hennessy who are our first sisters to play championship Camogie for Midleton , the girls both played on our U16 Team last weekend in Killeagh! Well done to you both girls History in the making!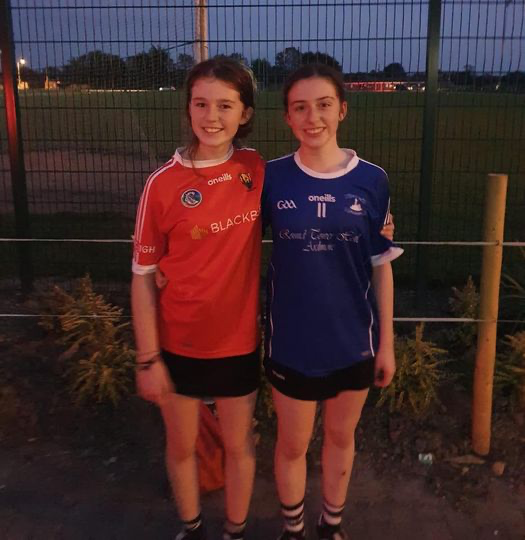 Sisters Pippa & Ruthi Hennessy
Midleton Panel: Jill Connaughton, Elle McManus, Ruthi Hennessy, Laura Goulding, Muireann Ni Chonchubhair, Yvonne Abernethy, Aoife Fitzgerald, Emily Lamb, Emma O'Sullivan, Isabelle Nestor, Abbie Foley, Kelly Quirke, Saoirse Ni Theangana , Chloe Garde, Mia Tarrant, Rachel Ryan, Lora Dineen, Rebecca Crowley, Jade Fitzgerald, Kate O'Sullivan, Pippa Hennessy.
U14 Notes
U14A Championship Quarter Final Midleton 4:14 Kilbrittain/Timoleague 1:09
Last Wednesaday night our U14 girls took on Kilbrittain/Timoleague in the quarter final of the county U14A championship, the game started off with both teams matching each other point for point until captain Isobel Nestor and her teammates stepped up another gear and raced into a healthy lead with Rachel Ryan scoring a well worked goal. Midleton tagged on another few points before the break from Saoirse Ní Theangana's superb free taking. After the break Midleton's defence stood firm with goalkeeper Sophie Walsh pulling off a wonder save from one of the Kilbrittain forwards. More goals followed for Midleton which stretched out the lead further. Every one of our girls were outstanding on the night and all five subs that we are allowed to bring on maintained the standard set by the girls they replaced. We would like to thank Kilbrittain/Timoleague for making the long journey to play us and also to the supporters who we are delighted to see back. It's on to the semi-final where we are away to St Finbarrs next Sunday with throw in at 5pm.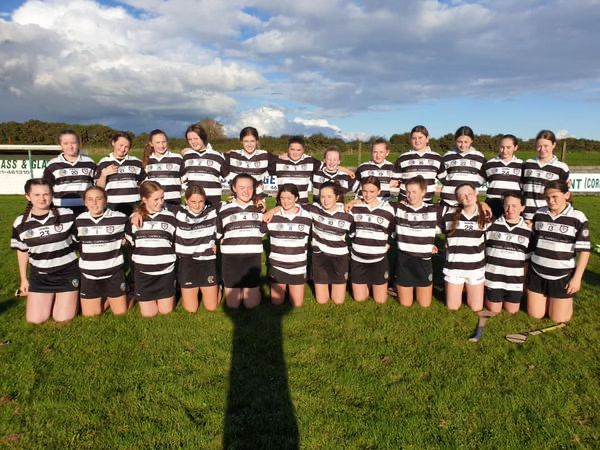 U14 Panel v Kilbrittain/Timoleague
U13 Notes
On a beautiful Sunday evening last we travelled down to play Youghal Camogie in the U13 Imokilly league, our girls soon got into their stride and moved the sliotar up and down the pitch displaying the skills they are working hard on during training. They were lead by captain Kate O Sullivan and players across the whole team chipped in with some great points and goals, only for a fantastic Youghal goalkeeper the scores would have been higher, We also included three U12 players to the matchday panel where Faye Dunlea, Roisin McManus and Rebecca Cronin all played their part in a great performance. We now look forward to Tuesday 29th September where we welcome Aghada in the next round with a home game in Ballinacurra. Well done to both teams and thanks to Youghal Camogie club for hosting us.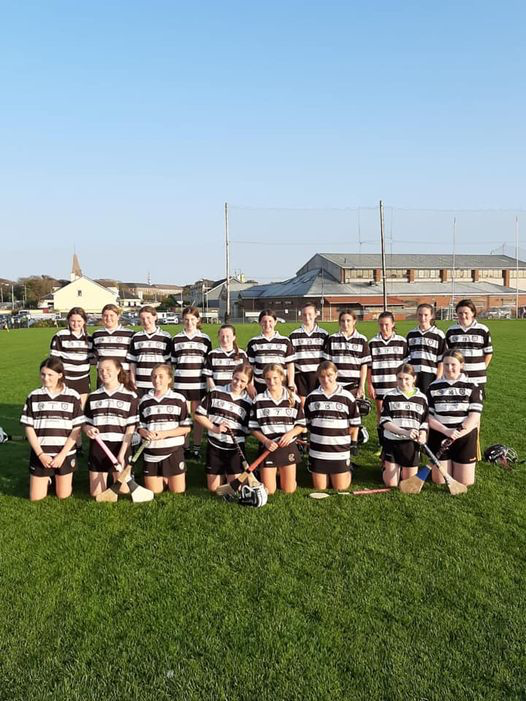 U13 v Youghal
U11 Notes
The U11's had a titanic battle last weekend in Midleton against St Catherine's. In sweltering conditions and in front of a huge support the two teams put on a great display of camogie. From 1 to 19 every girl played her part today. We supported each other all over the pitch and battled hard for every ball. We have played St Catherine's four times in the last two seasons with two wins apiece, so this was always going to be a tight affair. In the end we edged it by a single point. Well done today girls, you did your parents, your coaches and your club proud. Congratulations to Olivia McGrath who captained the team today. Thanks to Vivienne Gleeson who did a great job as referee and to the parents for the magnificent encouragement from the side line! Finally, thanks to St Catherines for a great game and we look forward to the next meeting between these two well matched teams!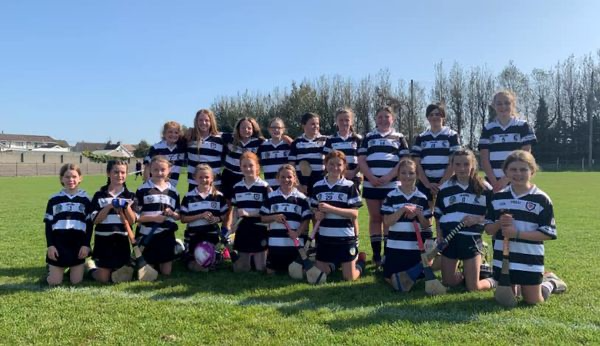 U11 v St Catherine's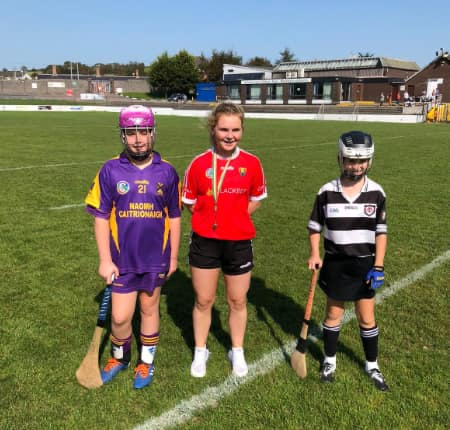 U11 Captains & Referee v St Catherine's
U10 Notes
Match Report v Dungourney
Our U10s were in action again on Tuesday evening, we travelled to Dungourney and played them in 3 games.It was another good team performance and enjoyable evening of camogie for the girls. Thanks to our hosts for inviting us up & all the players and coaches for a good sporting evenings camogie.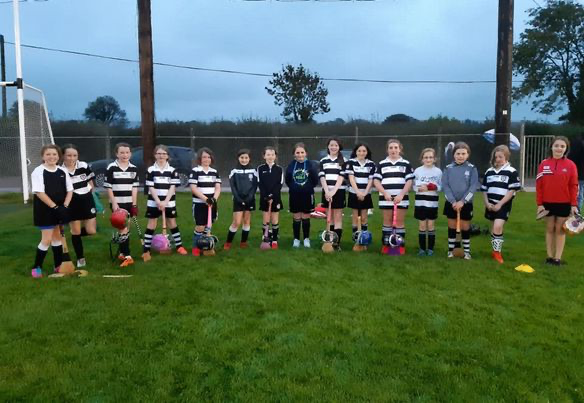 U10 v Dungourney
Match Report v Youghal
Youghal Hosted us for a second time this week as we played 3 games with our U10 Team against them on Saturday morning as we travelled down in beautiful conditions on this sunny day to Youghal. They were all Even enough games overall, but we were delighted to see that every ball was contested. Well done to all the players in their enthusiasm and skills. We would like to thank Youghal for hosting us and we look forward to playing them again sometime. Finally, Thanks again to all the Parents and Coaches for their great commitment witihin this group of girls . Magpies Abu!
Best Wishes
Finally we would like to congratulate our U14/16 player Laura Goulding who represents her club very well on the Cork U14 Team. Laura and her Cork Team mates beat Tipperary 5-08 to 2-07 in Cahir! Well done Laura and to all involved, we are so proud of you.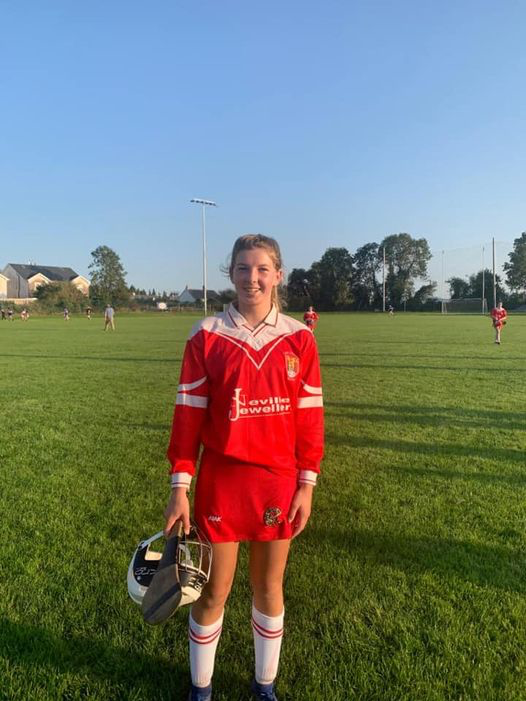 Best wishes to Our U11 girls who will play Douglas at home on Sunday morning 27th September with an early throw in time of 10.40am.
Juvenile
Fé6
Last Sunday we travelled to the Glen in what was a very competitive hurling fixture. It was great to see our lads play such fast and skilful hurling and to also match this a lot of grit and hard work.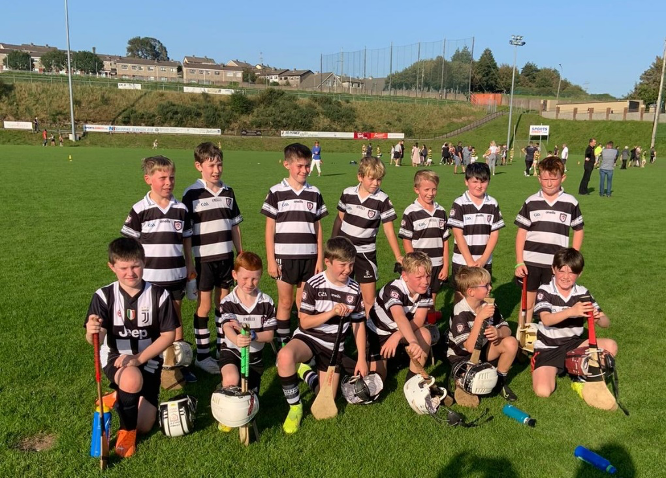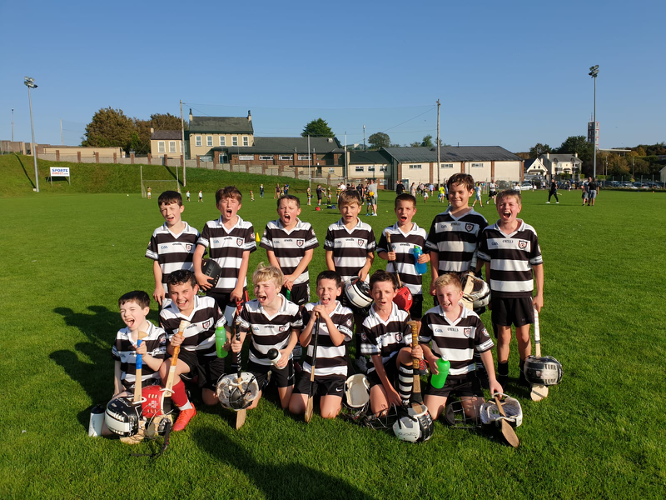 Fé6 v Glen Rovers
Fé8
Our lads made the short trip to Carrigtwohill on Saturday Morning to play Challenge Hurling Matches against our close Neighbour's Carrigtwohill. This was our third match Away in three weeks and the Lads did very well against Carrigtwohill getting great scores in each of the games along with great Defensive skills also. We can see the benefits now of these Challenge games as the lads are Learning and Improving more each week. Thanks to Carrigtwohill GAA for Hosting us. Over all we are very pleased with the progress the lads are making with the Hurling and we hope to organise a few more Challenge games in the next few weeks all going well.
We encourage the lads to keep practicing at home and once again thanks to all the Parents and Coaches for their Commitment.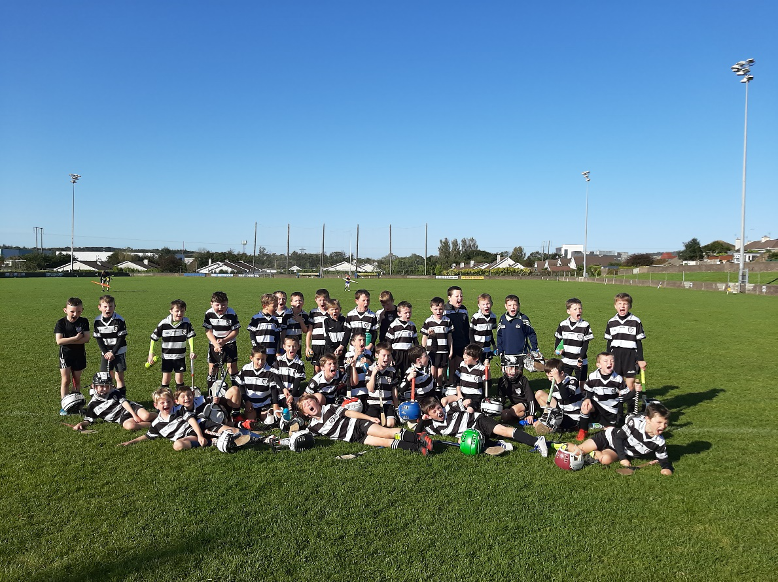 Fé8 v Carrigtwohill
Davy Hogan Street Leagues 2020 – Match Day 3
The final round of matches in this year's Davy Hogan Street League took place last Saturday. In an exciting morning at the club the results meant that it was all to play for in the last match to see who would make it to this year's final. After 3 weeks of epic hurling from all 91 players, the two teams that came out on top after some outstanding performances were Owenacurra and Forkums. Well done to all the teams involved. The Davy Hogan Street leagues are an important event in the Midleton GAA Club calendar and all that participated can be very proud of how they performed. The final will take place next Saturday morning, October 3rd on the main pitch at 10am. If the standard of hurling so far is anything to go by we will be in for a very entertaining final. Good luck to all involved. Special thanks to Brion Saunderson and Tim O'Sullivan who refereed last Saturday morning.
| | | | |
| --- | --- | --- | --- |
| Sons of Rest | 5:01 | Saints | 5:03 |
| Owenacurra | 4:02 | St. Enda's | 1:03 |
| Sons of Rest | 3:01 | St. Enda's | 5:05 |
| Owenacurra | 4:03 | Saints | 2:01 |
| Garyowen | 1:01 | Forkums | 1:05 |
Final Table
| | | | | | | | |
| --- | --- | --- | --- | --- | --- | --- | --- |
| Team | Played | Won | Draw | Lost | Scores For | Scores Against | Points |
| Forkums | 5 | 4 | 1 | 0 | 68 | 40 | 9 |
| Owenacurra | 5 | 4 | 0 | 1 | 64 | 43 | 8 |
| Garryowen | 5 | 3 | 0 | 2 | 66 | 52 | 6 |
| St. Enda's | 5 | 2 | 1 | 2 | 61 | 60 | 5 |
| Saints | 5 | 1 | 0 | 4 | 51 | 88 | 2 |
| Sons of Rest | 5 | 0 | 0 | 5 | 53 | 80 | 0 |
For team panels, panel photos, fixtures, and results click here.
Fé11
Challenge Match v Glen Rovers
Friday evening took us to Cork city for our 2nd challenge match in 7 days. The opposition being the formidable Glen Rovers. This would be a test of skill, courage and physicality. As was expected, the Glen tried to impose themselves on the game from the start, which allowed them to open-up a healthy lead. Some trojan work from the midfield and backs eventually stemmed the tide and we settled into the game allowing the ball to be worked in the forward line where we picked off some tasty scores to stay within touching distance.
The second half saw our young magpies come out of the traps hungry and determined, clawing back 3 goals in quick succession. This seemed to catch the opposition off guard which forced them to make some personnel changes. The scores would be hard to come by from then on, but it wasn't through a lack of effort or heart. The boys keep their heads up and gave it all right till the end.
Both players and coaches took a lot from the game which highlighted our strengths and identified areas where we need to improve. As was said to the lads after the game, this was their first real experience of hard, physical competitive hurling which will only do them good as they encounter more teams in the months and years to come.
Panel: Liam Walsh, Breaninn O'Dalaigh, Jack Cahill, Peadar Egan, Cian Hogan, Cathal O'Neill, Manus Stewart, Maximilian Wisniewski, Jack O'Sullivan Crotty, Robin O'Brien, Danial O'Connell, Billy Murphy, Donnacha Butler, Ronan MacKessey, Charlie McCarthy, Dylan McInerney, Daire Crowley, Rohan Fitzsimmons, Ciarán O'Brien, Aidan O'Regan & Patrick Spelman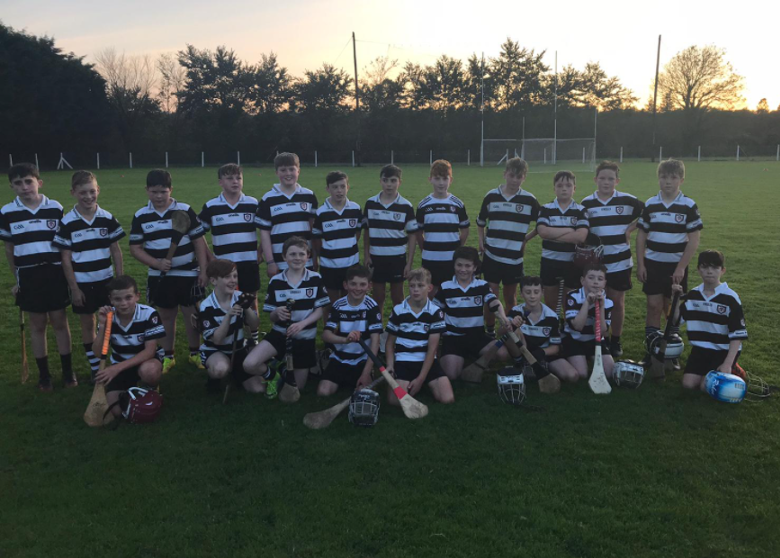 Fé11 v Glen Rovers
Challenge Match v Inniscarra
On a cold Friday evening we travelled to Inniscarra for a hurling challenge game, our first meeting against Inniscarra with this age group, and our second outing in as many weeks. On the night we fielded two teams, with every player getting much needed game time. A well drilled and skillful Inniscarra soon imposed themselves on the young Magpies, sprinting in to an early lead in both games. Despite the early setback our boys regrouped and a combination of tigerish defending, hard work at midfield and skilful score taking up front soon dragged us back in to contention in the first half.
Two rejuvenated Midleton teams took to the field in the second half and gave the home team a lot more to deal with in terms of effort and application, soon reducing the deficits in their respective games with some hard earned scores. During the second half both teams displayed some lovely passages of play and every ball was keenly contested. There was very little separating the teams at the final whistle, with the home team probably shading it overall. Using this as an opportunity to play boys in different positions proved a valuable exercise for coaches, with lessons learned by players against a team that had a few more games played at this level and probably a more settled team in terms of a line up.
Well done to all the boys who played on the night and once again represented the jersey with pride. The panel on the night was:
Eoghan Donovan, Aaron Murphy, Ethan Foley, Jack Connolly, Fionn Byrne, Patrick O Brien, Rory Nolan, Daniel Moloney, Finn Cahill, Nojus Jurciukonis, Alex Molumby, Riain McCormack, Ciaran Kelly, Josh Quill, Hugh Barry, Adam Groarke, John O Sullivan, Kevin Lester, Sebastian Mowinski, Charlie Cahill.
Fé13 Notes
Bill O'Keeffe Memorial Tournament
With no organised games by Rebel Óg at Fé13 this year, we targeted the Bill O'Keeffe Memorial Tournament as a good opportunity to test our Fé13 against the other Premier 1 teams in Cork. This year's participants were Midleton, Sarsfields, Ballincollig, and Inniscarra. Covid-19 required a new format as the traditional tournament format of having four teams play off multiple matches in the same venue was no longer viable. This meant that semi-finals were played last week with the winner of both semi-finals contesting the Trophy final with the losers contesting the Shield final. The semi-finals were great contests with Midleton beating Sarsfields and Ballincollig overcoming Inniscarra.
The scene was set therefore for the finals to take place yesterday in Clonmult Park. First up in the Shield Final were Sarsfields against Inniscarra. Played in fantastic weather and pitch conditions Sarsfields eventually came out on top by a narrow margin.
The Trophy Final between Midleton and Ballincollig took place later in the afternoon. The standard of hurling was extremely high, the intensity on display matched a championship fixture, the tackling, hooking, blocking and score-taking was very good. In the end Ballincollig emerged as 4 point winners on a scoreline of 4:10 to 3:09. The scoreline hides comebacks from both teams with Ballincollig reversing a first half deficit and Midleton reversing a 7 point deficit in the second half to draw level with 5 minutes to play. In an unusual year for sport we are happy that our players are training and playing matches. The level of commitment all the Fé13 players have shown this year augers well for the future of this group.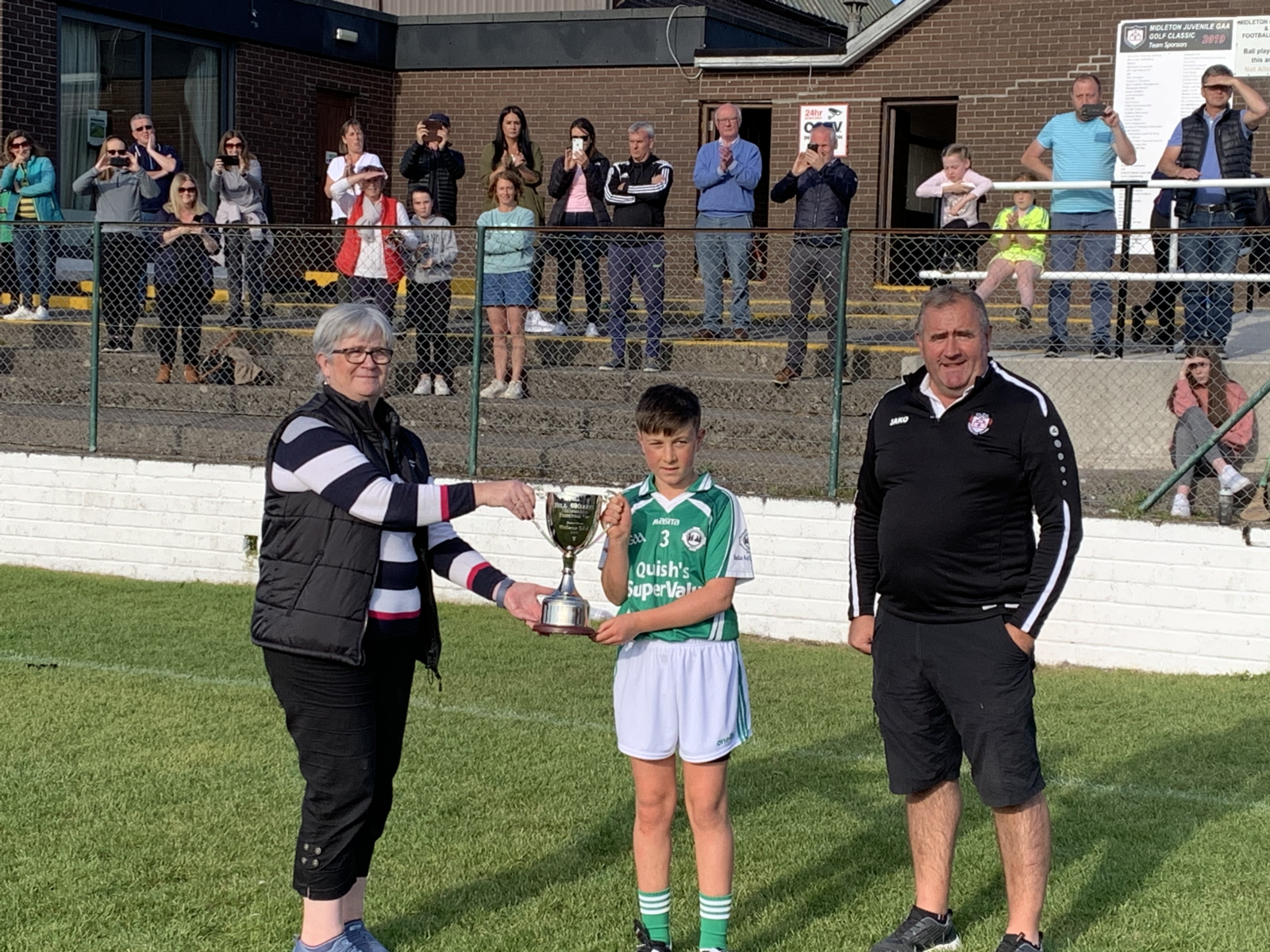 Bill O'Keeffe would not have been happy with Midleton losing the final, but would have been happy at the quality of the hurling on display. He would not begrudge Ballincollig and Sarsfields their victories in a Tournament that honoured him well yesterday.
Many thanks to referees Jim Daly and Niall O'Neill for officiating at yesterday's matches.