Midleton Hurling and Football, Ladies Football and Camogie Club News
06 September, 2020
The key messages for this week:
COVID-19 Guidelines Update…Do The Right Thing For You & Your Club

Full listing of Fixtures & Results can be seen on the website
Midleton GAA…at the 'Heart of the Community'. Ní neart go cur le chéile. There is no strength without unity.
Safe Return to Gaelic Games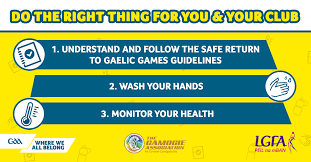 We have put together a comprehensive Plan for the safe return to Gaelic Games in Midleton.
This can be accessed at
downloadforms?rdDF=MIDLETON%20GUIDELINES%20FOR%20RETURN%20TO%20TRAINING.pdf
Prior to return to training, ALL adult players, team personnel and parents/guardians of Juvenile players are required to:
Complete the certified eLearning Module covering the main aspects of the Guidelines. This is available to complete at https://courses.gaa.ie/Covid19ClubEd/#/
Complete the GAA Health Questionnaire once online, which will be available through https://returntoplay.gaa.ie\. Please note that this questionnaire must be completed prior to return to training for the first time.
Using the same online system, all Adult players, parents/guardians of underage players and team personnel will be required to declare, before each training session/game, that their health status has not changed. This must be completed a minimum of 1 hour before the time of the session.
For Insurance purposes membership needs to be paid before training. Go to membership to see how much you need to pay
Midleton GAA H&F Account,Bank of Ireland, Main Street, Midleton
Account Number; 29207259
Sort Code; 90-29-01
IBAN; IE16 BOFI 9029 0129 2072 59
BIC; BOFIIE2D
Please write players name in the reference section.
Please also note that the club grounds are closed to activities other than those planned and supervised under the Safe Return to Gaelic Games protocols.
Mega Lotto Results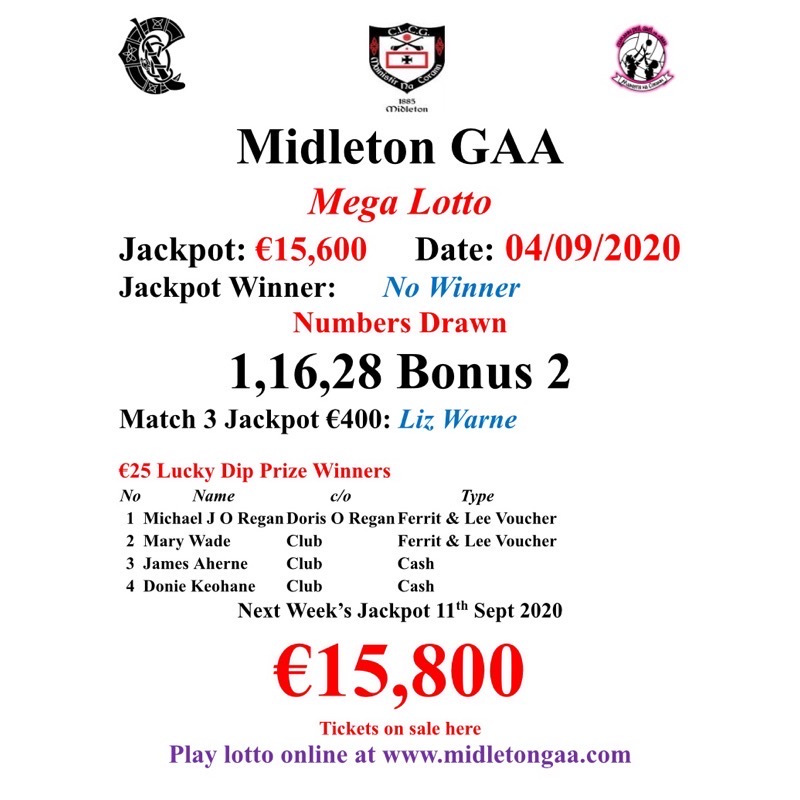 Congratulations to Liz Warne on winning the match 3 Jackpot of €400 on Friday night.
The re-launched Lotto is a critical component of our fundraising for Park South. The support to date has been good, especially with the number of annual subscriptions that have been submitted.
In total Midleton GAA will give out local business vouchers to the value of €3,800 every year as part of our "Shop Local, Buy Local" campaign.
How to play: Go to http://www.midletongaa.com click on Play Now in Mega Lotto section. You can buy an annual ticket by selecting "50" from the "Number of Draws" to Play dropdown.
Fixtures & Results
Please keep an eye on the Fixtures Section of the website for updates on matches over the coming weeks.
See below snapshot of current confirmed fixtures for the next week. There are some other fixtures that are currently being finalized so keep an eye on website, social media and usual comms channels for updates.

How to stay 'up-to-date':
Some games are streamed. Keep an eye on Social Media Channels for announcements.
'Live' scores will be posted to our Social Media Channels.
The Fixtures & Results sections of the website will be updated with Fixtures for the coming week(s) and Results for the past week.
Fixtures: club_fixtures
Results: club_results
Games behind closed doors. As games must now be played "behind closed doors", this means only essential personnel should be in attendance.
Junior A Football Notes
East Cork Championship Midleton 3:7 Glenbower Rovers 1:11
Team: Eoghan Collins, Cian Crowley, Aidan Ryan, Seanaid Smyth, Luke Dineen(1-0), Seamus O'Farrell, Eoin Mitchell, Pa O'Farrell, Adam Daly, Cathal Gunning, Pa White, Sean O'Meara (1-1), Cormac Beausang (0-3, 2f), Eoghan Maloney, Garran Manley (1-3), Subs used Luke O'Farrell, Sean O'Leary Hayes, Tommy O'Connell
Junior B Hurling Notes
East Cork Championship Midleton 1:19 Cloyne 5:07
Last Sunday in Dungourney saw our Junior B's play Cloyne in the final Group 2 match of the Eamonn Fleming Cup. After wins against Carrigtwohill and Dungourney in previous rounds Midleton were in pole position with Cloyne needing a victory to qualify for the quarter finals. With the scene set, a competitive and robust fixture ensued. In the end a draw was enough to see Midleton through as group winners with Cloyne losing out to Carrigtwohill for the runners up berth.
The QF's of the Eamonn Fleming Cup are as follows:

Junior C Hurling Notes
Castlemartyr, Mon 24th Aug, East Cork Championship Midleton 0:11 Castlemartyr 1:15
We travelled to Castlemartyr on Monday 24th Aug to play the home team in the East Cork junior C hurling championship. In very tough conditions for quality hurling due to the rain, both teams produced a great game with some excellent defending and scores being taken. Midleton started with a great mix of youth and experience and despite many players having not played together before we showed some great interplay. At half time the score line read nine points to four in favour of the hosts. There was some great defending by the entire backline and a very steady performance from Keith Ryan in goals. We were unfortunate to lose Brian O'Sullivan to injury prior to half time. We wish Brian a speedy recovery. On the resumption Castlemartyr took a couple of very good scores to pull further ahead, but it was at this point that the Midleton players showed those who were present what this great club is all about. We dug in and showed brilliant resilience to claw our way back into the game. The forward unit were to a man working their socks off and with only minutes to go, it was a four-point game. Unfortunately, the goal we so badly needed, just would not come. Congratulations to Castlemartyr and we will regroup before our next game versus Fr O'Neill's. Six minors made their championship debut for the adult club and each acquitted themselves extremely well. A special thank you to all their coaches who have brought them to this point. Well done to everyone involved with this team.
Team: Keith Ryan, Ryan Cahill, Leo Hennessy, Patrick Kane, Brendan Ferriter, Robbie Barry (Captain), James O'Mahony, Liam Kelly, Gavin Reddy, Chris Power, Brian O'Sullivan, Paul Ahern, Andrew Rea, Sean Corcoran and Eoghan Collins. Substitutes used: Colin Dowling, Aaron Coughlan, Coleman Quinn and Joe Coppinger.
Ladies Football
U12 Notes
East Cork League Midleton 3:11 Aghada 0:06
Our U12 girls had a great game yesterday against Aghada. Great credit is due to the Mentors who played all 25 girls. There was some lovely passages of play and it was great to see all the girls support each other in all sections of the pitch.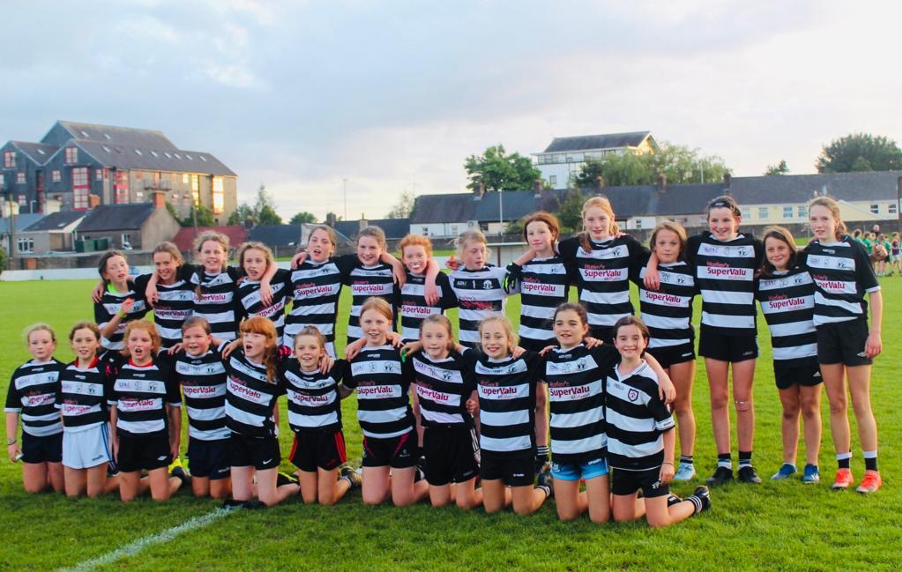 U12 Team V Aghada
Ladies Football Training schedule next week:
Training schedule for this week:
Monday - U8/10/12/14 – 6.45-7.45pm in Ballinacurra Pitch
Monday – U16/Minor/Junior 7.30-8.30pm at Midleton GaaClub
Thursday – U16, Minor and Junior tbc
Our U16's are playing away to St Colmans's on Wednesday evening. A text will be sent to Parents with details.
Juvenile
Fé16 Notes
Fé16 Premier 1 County Semi-Final, Midleton 3:19 Ballincollig 1:12
U16 hurlers through to Premier 1 County Final
Our U16s played Ballincollig in the semi-final of the P1 County C'ship on Saturday afternoon and came away with an impressive win with a fulltime score of 3-19 to 1-12. Having played against a strong wind in the first half our lads led at halftime by 2-10 to 0-05. In the second half, we never let up to confirm the victory. A great result for the club and well done to all the lads in the squad and team management. The Final is fixed for next Saturday (Sep 12th) v Bride Rovers, the time and venue tbc. Best of luck lads.
Midleton Scorers: M Finn 1-13 (0-11f); D Cremin 2-03; D Monak, D Fitzgerald, S O'Connor 0-01 each.
Squad: Z Smith, D Scanlon, M Roe, C Beausang, T O'Leary Hayes, B O'Connell, A Moloney, T Roche, C Lambe, S O'Connor, M Finn, D Cremin, D Fitzgerald, K Monak, D Monak, D Greene, A Howard, TJ Murphy, R Lestor, F Dalton, D Coffey, E Higgins, E McGrath, B Kenneally, R de Barra (inj), N Lang (inj).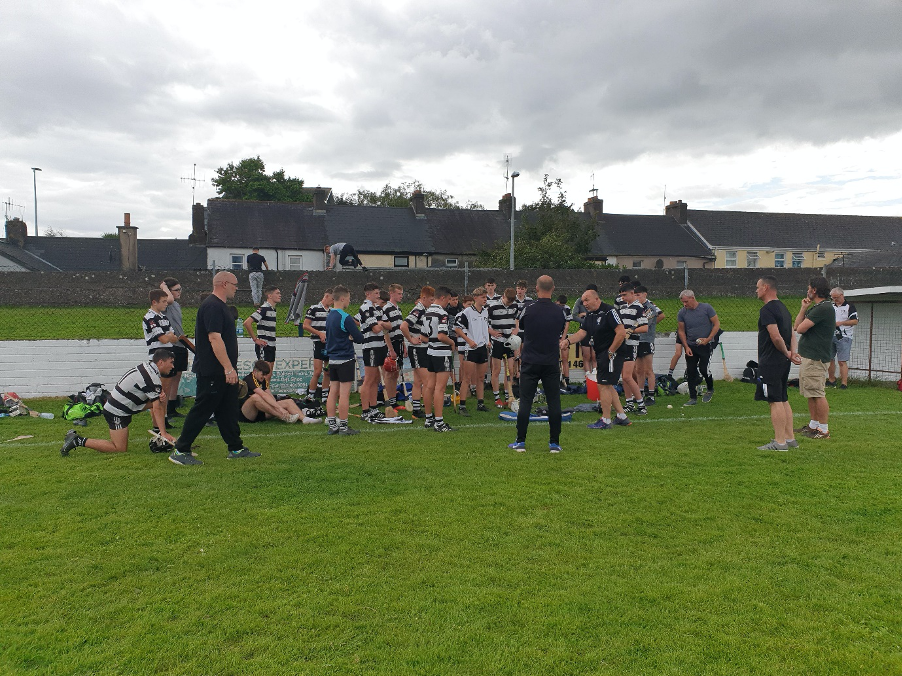 Fé16 Squad & Management v Ballincollig
For those who missed the live stream of the match you can double click on below image to access a recording of the match.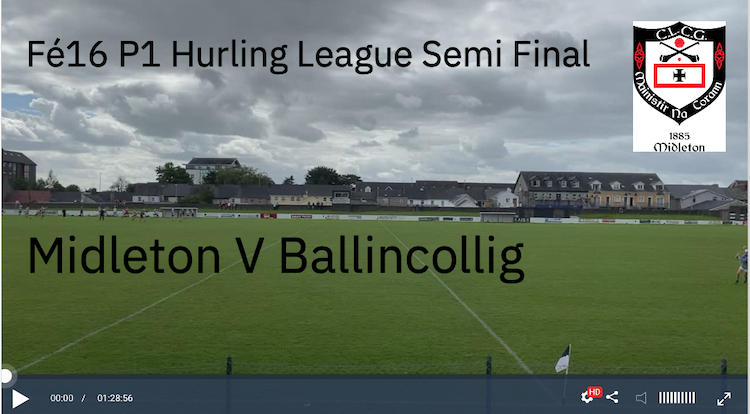 Fé14 Notes
Development Hurling League , Midleton 4:05 Ballincollig 4:11
Our U14 development team took on Ballincollig in the U14 development League on a sunny Sunday afternoon last in our refixed home fixture in Ballincollig. Midleton got off to a fine start finishing the first quarter ahead with a s scoreline of 2-04 to 1-04 with scores from Callum O'Brien (1-02) Callum Deegan (1-00) and Jack Foley (0-02) both frees. The water break seemed to revitalise Ballincollig who came out all guns blazing and put our defence under extreme pressure scoring 3-03 to Midletons single pointed free from the impressive Jack Foley. This score could have been a lot worse if it weren't for the defensive heroics of Diarmund Lester in goals and Eoin Aherne, Sennan Gleeson and Shane McNamara battling hard against an impressive Ballincollig attack.
The second half was a more even affair with Midleton edging the scoreboard 2-00 to 0-04, goals coming from Odhran Rabbite and Cian Stack. Final Score Midleton 4-05 Ballincollig 4-11.
Jack Foley, Sennan Gleeson, Eoin Aherne, Diarmuid Lester, Rian O Donovan, Callum O'Brien and Mathew Gregory impressed for Midleton in what was a closer game than the scoreline suggests.
Next up in the U14 development League is a trip to Glen Rovers on weekend of Sept 27th.
Fé12 Notes
Thanks to all that have donated to the fundraising for our Fé12 player Kacper over the last few weeks. Kacper and his family are extremely grateful and are overwhelmed by all the support. Check out the following link for more details:

https://www.gofundme.com/f/for-brave-12year-old-boy-with-cancer/donations
Division 3B Hurling League Sarsfields 10-07 Midleton 3-02
It was a busy week for our Fé12 boys this week. First up was a trip to Riverstown for the Division 3B hurling league v Sarsfields. This turned out to be a tough battle for the lads against strong opposition. Big credit should go to the boys however for not giving up with particular strong performances from Rian Casey and James Lambe in defence, and also to Luke Bamber, Rory O'Riordan and Dara Birdthistle in attack, who all scored a goal each in the second half. The panel for this match was: Michael Allegrini, Patrick Collins, Fionn Bohan, Cian Hogan, Rian Casey, Cuan Twomey, James Lambe, Liam Walsh, Ruairi O'Riordan (captain), James O'Meara, Sean Gregory, Dara Cahill, Dara Birdthistle, James Carey, Jamie O'Donovan, Deniss Brusevics, Luke Bamber, Jack Connolly, Michael Barrett, Bradley O'Brien, Adam Spillane, Riain McCormack, Bréaninn O'Dalaigh, Jack Cahill.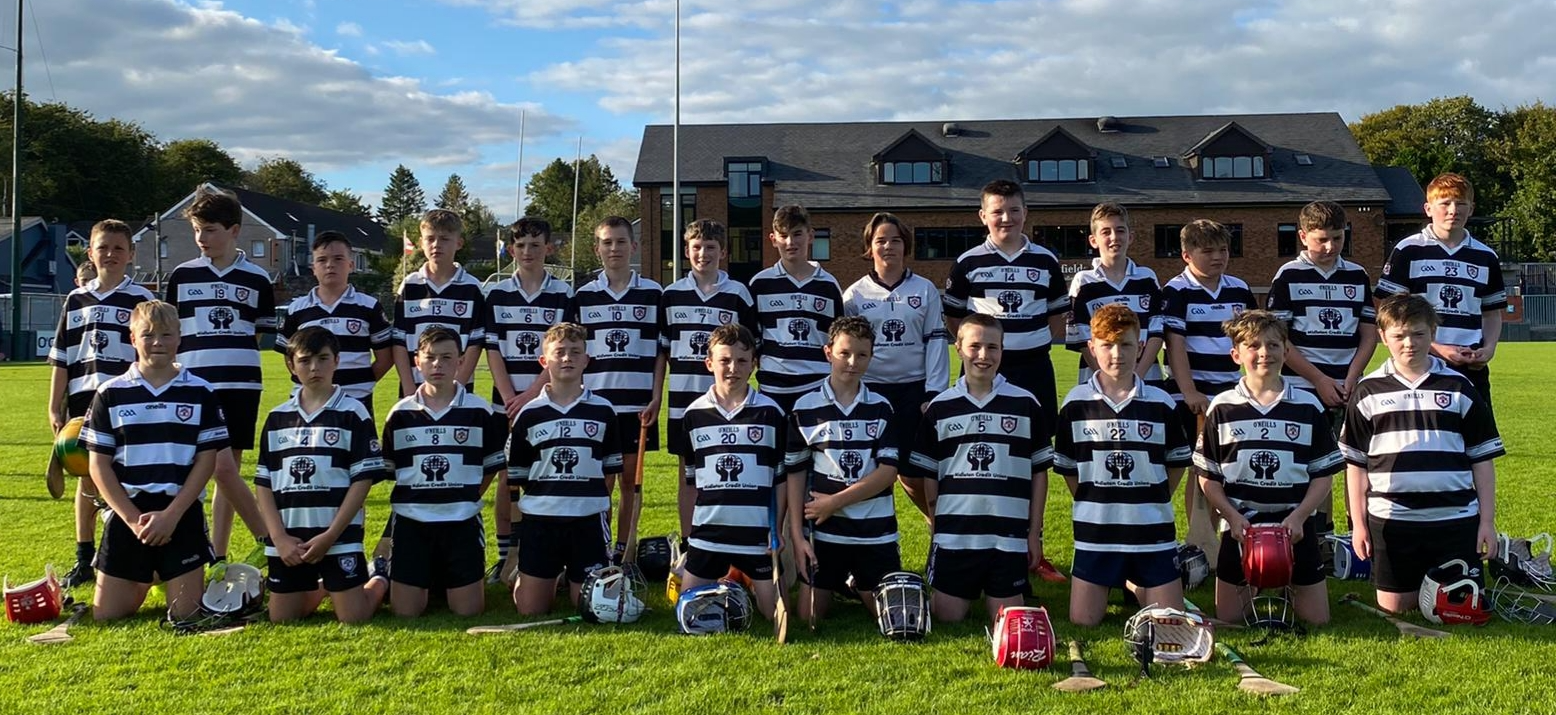 Fé12 V Sarsfields
Division 3B Football League Whitechurch
Next up was an away trip to Whitechurch for the last round of the Division 3B Football league on Monday night. On a windy night with conditions far from ideal for football the lads played very in the opening half, trailing at half time 1-02 to 2-03 against the much-fancied opposition, with James O'Meara scoring the goal. Despite a Ciaran Kelly goal in the second half and all the lads battling hard throughout, the scores just wouldn't come and we were defeated on a final score of 2-02 to 4-07. The panel on the night was Bradley O'Brien, Michael Allegrini, Cian Hogan, Josh Quill, Fionn Bohan, Liam Walsh, Cuan Twomey (captain), Donnacha Horgan, Luke Bamber, James O'Meara, Ruairi O'Riordan, Ciaran Kelly, Riain McCormack, Dara Birdthistle, Bréaninn O'Dalaigh, Rian Casey, Jamie O'Donovan, Rossa, Patrick Collins, Dara Cahill, Sean Gregory.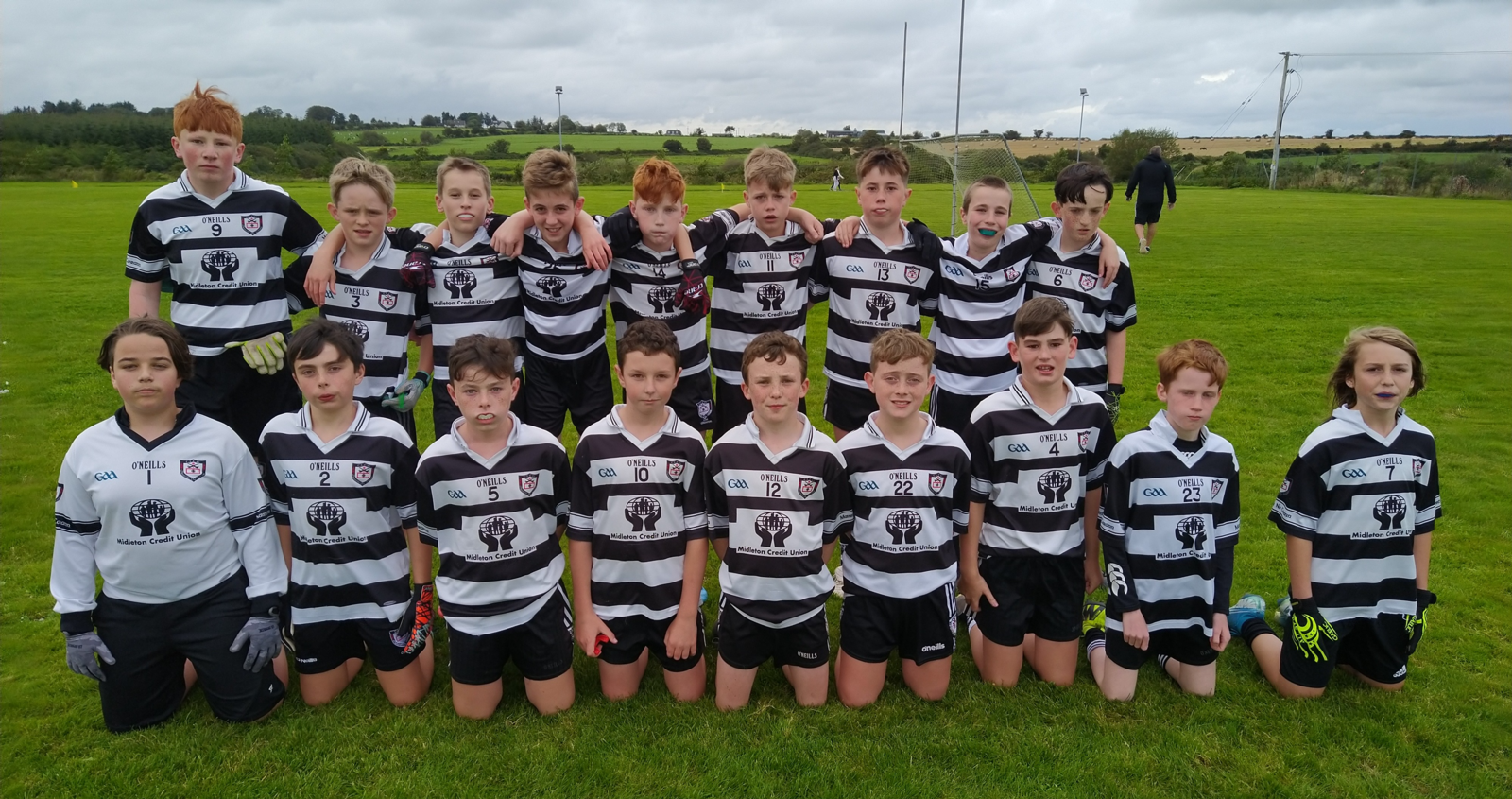 Fé12 V Whitechurch
Hurling Challenge Game v Killeagh
On Wednesday we played Killeagh in a very competitive hurling challenge game. The panel for this game was; Harry Waterman, Liam Walsh, Peader Egan, Fionn Bohan, Josh Quill, Cian Lawton, Jason Morley, Shane O'Mahony, Jack Cahill, Ruairi O'Riordan, Max Murphy, Darragh Mullins, Scott Dunlea, Ewan Murphy, David Kelly, Ciaran Kelly, Rian Casey, Patrick O'Dowd.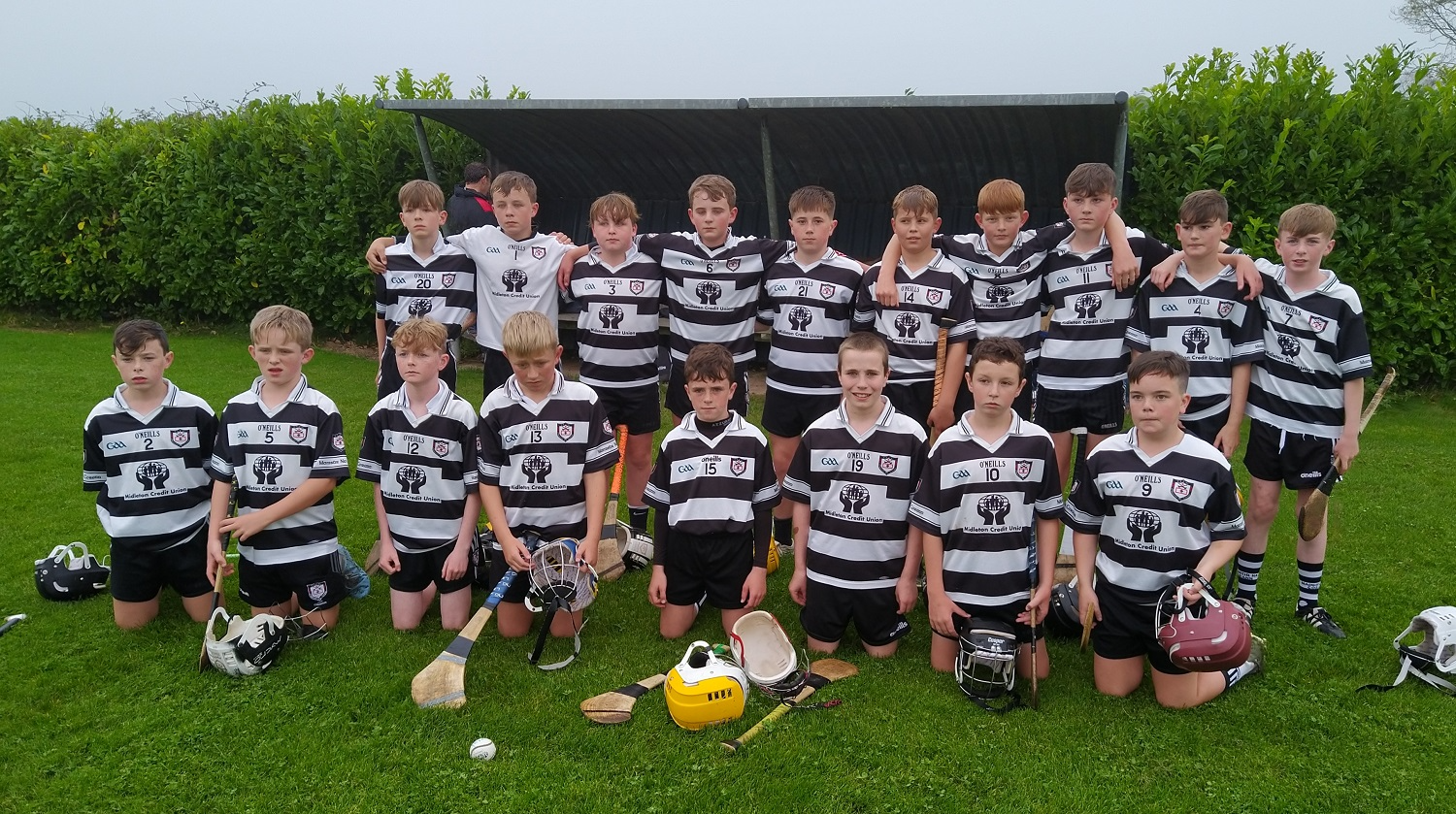 Fé12 V Killeagh
Midleton 2-03 v St. Catherine's 5-11 Division 3B Hurling league
The week ended with a hurling match at home against St. Catherine's in the Division 3B hurling league. Despite playing against opposition that were top of the league, the lads performed very well and displayed a never say die attitude throughout the game. This was especially evident with some fantastic goalkeeping in each half by James Carey and Michael Allegrini, by Peader Egan in the heart of the defence and by Liam Walsh & Cuan Twomey who worked tirelessly throughout. Despite Jack Cahill and Ruairi O'Riordan scoring the goals the visitors ran out victorious in the end. Well done to all the lads involved. The panel for this match was: James Carey, Michael Allegrini, Cian Hogan, Rian Casey, Patrick Collins, Josh Quill, Peader Egan, Patrick Collins, Cuan Twomey, Liam Walsh, James O'Meara, Jack Cahill, Ruairi O'Riordan (captain), Riain McCormack, Bradley O'Brien, Luke Bamber, Sean Gregory, Jamie O'Donovan, Jack Connolly, Adam Spillane, Bréaninn O'Dalaigh.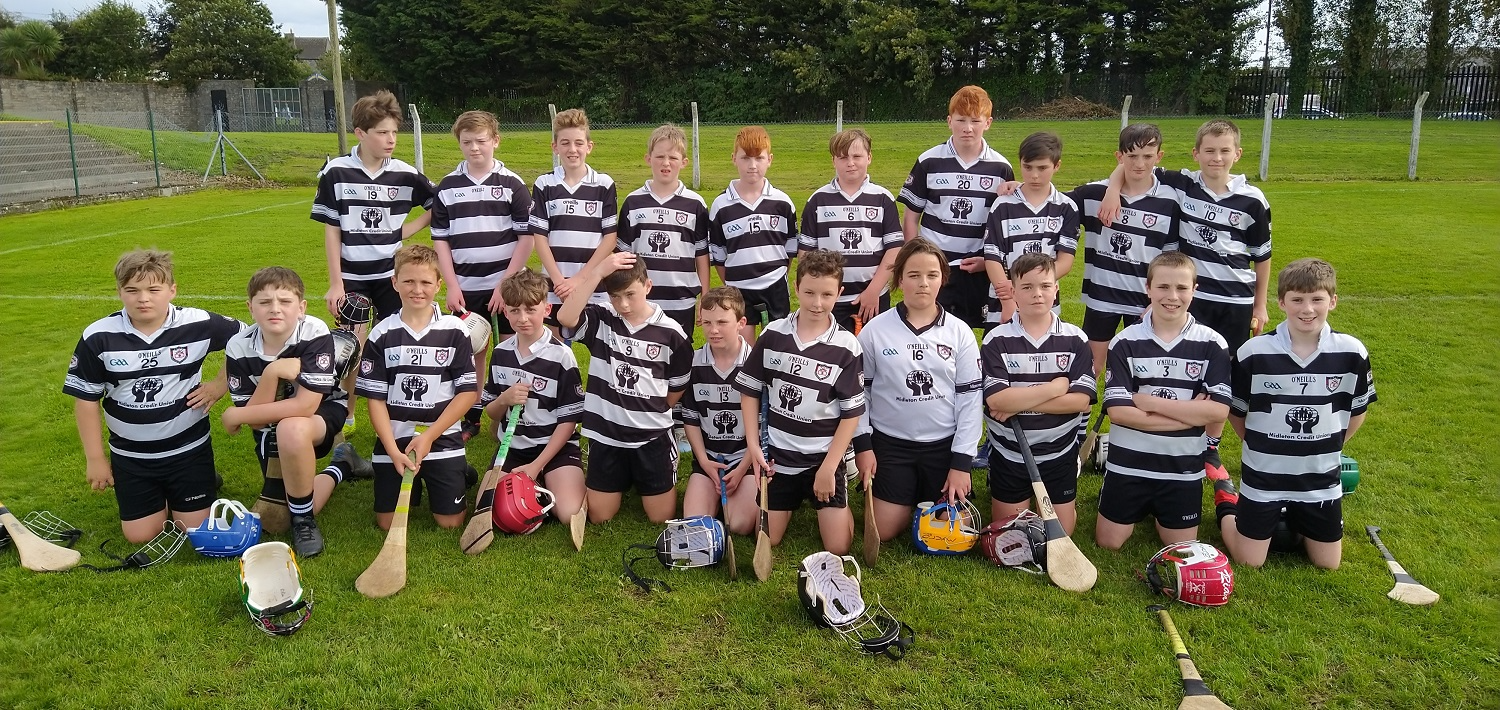 Fé12 V St Catherine's
Fé11 Notes
Our Fé11 took to the field against Carrigtwohill in challenge matches. Pictures below.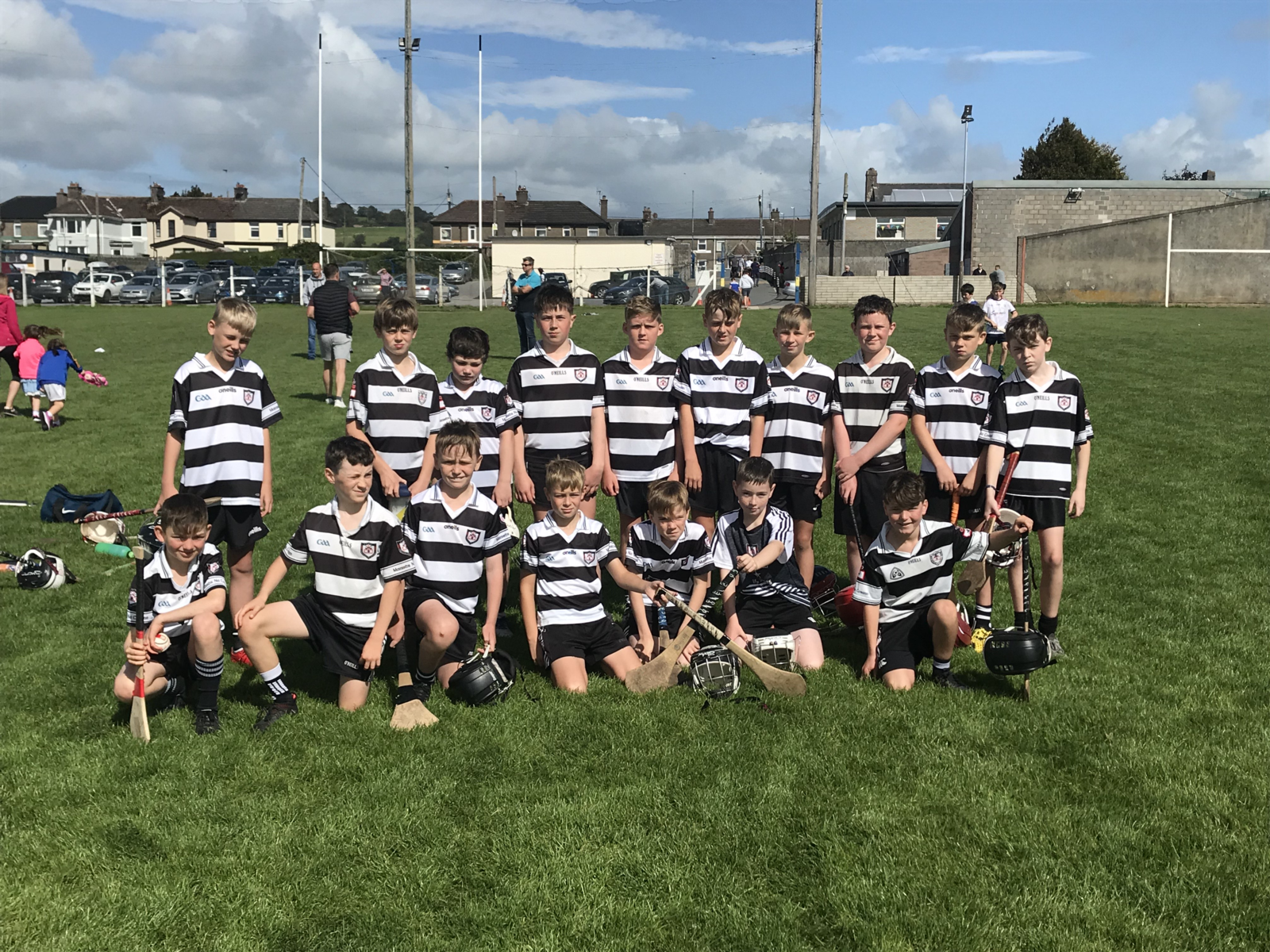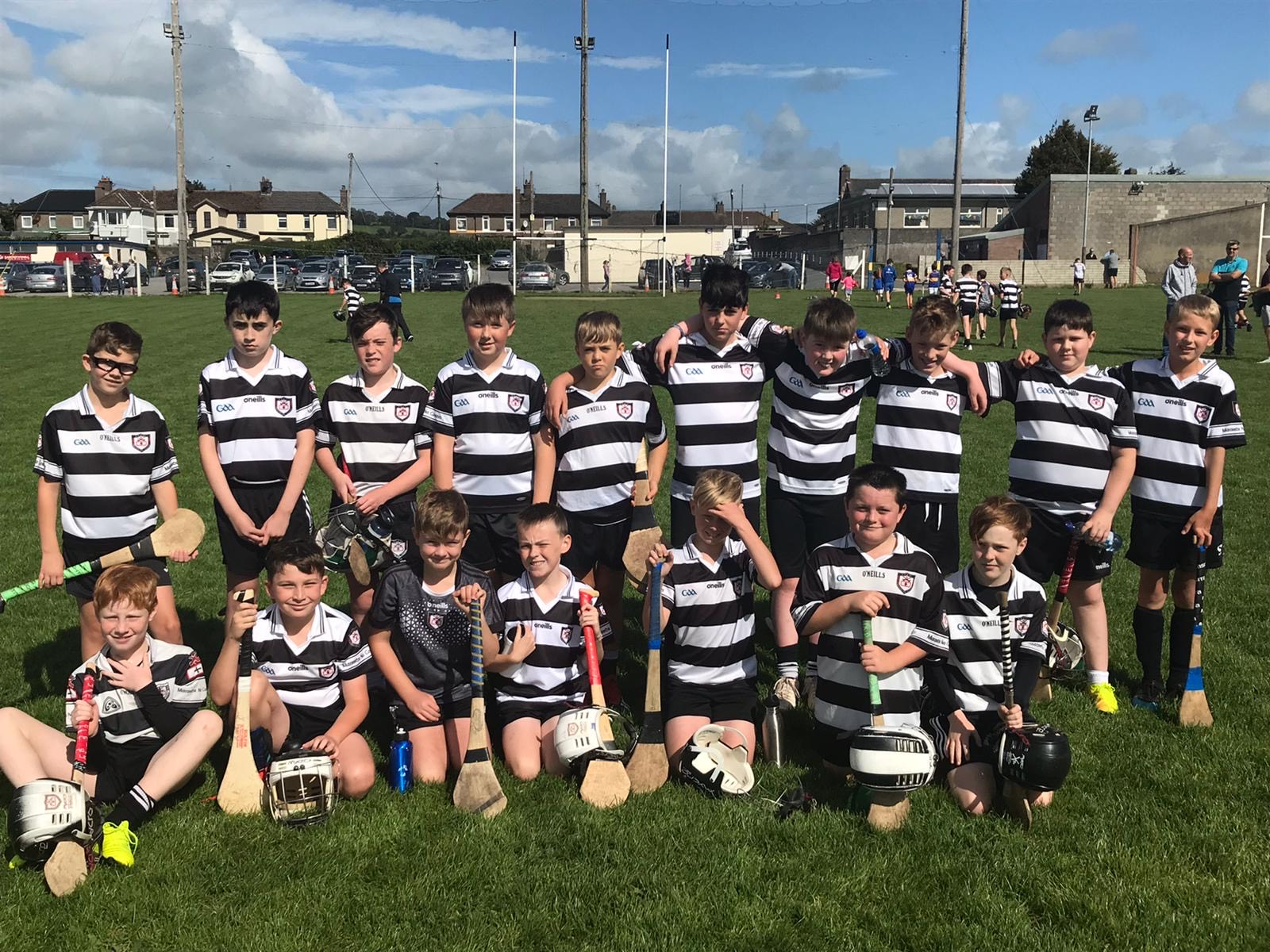 Fé11 V Carrigtwohill
Fé8 Notes
There was great numbers at Hurling Training again on Saturday.The lads are Showing great signs of improvement each week.We will play Youghal GAA next Saturday (12th Sept) in a Hurling Challenge game in Youghal at 10am.This will be our first game since February last so we will look forward to this challenge.
Fé7 Notes
Thanks to the 37 Fé7 boys who lined out last Saturday in an eagerly awaited challenge match against Sarsfields. There was some fantastic displays across 5 different teams where the lads played with enthusiasm and excitement, while showing their hurling skills that they have been developing. Keep up the great work and practice. Thanks to Sarsfields for making the trip down and for the good sporting games and encouragement to all the lads.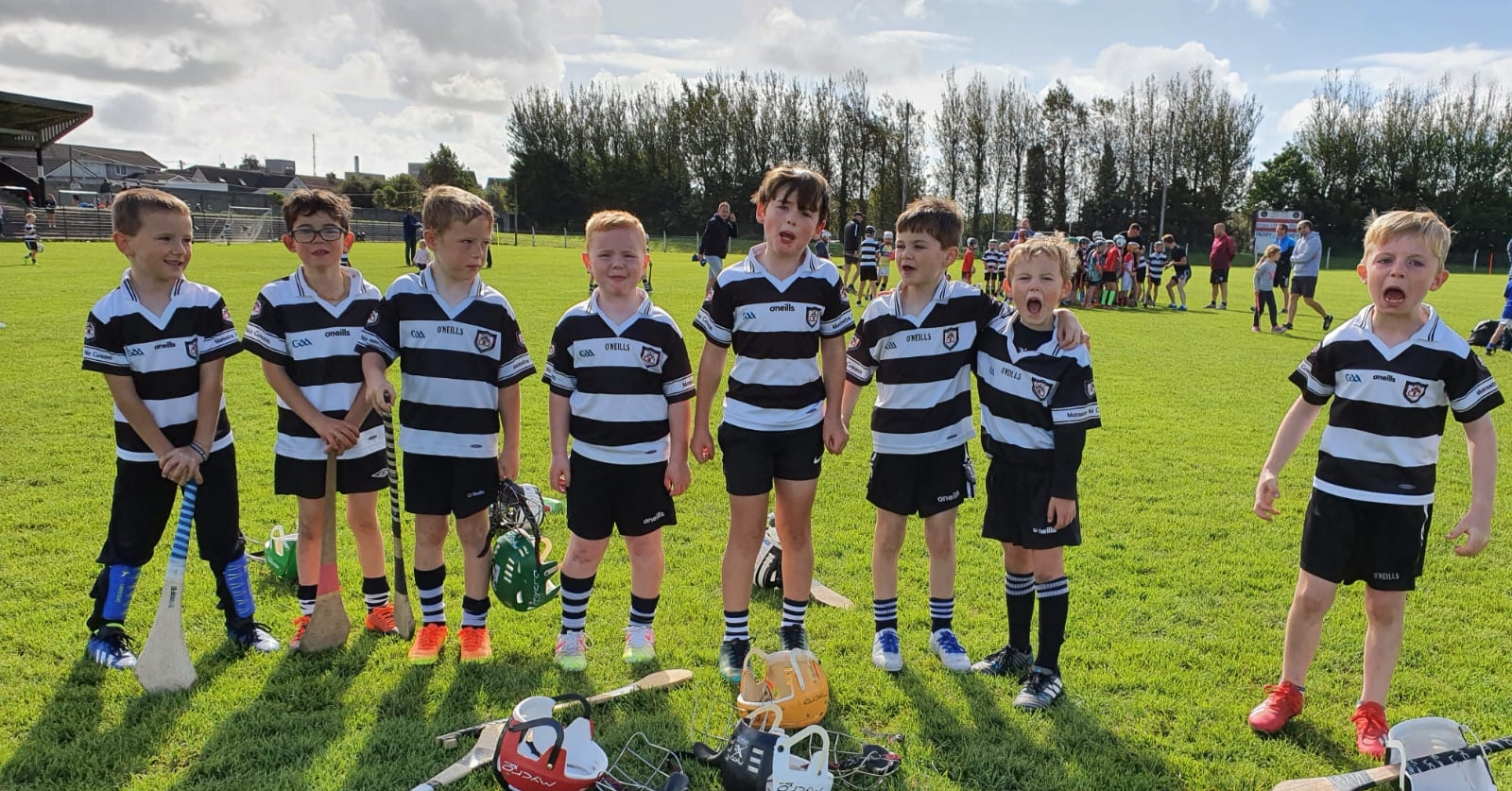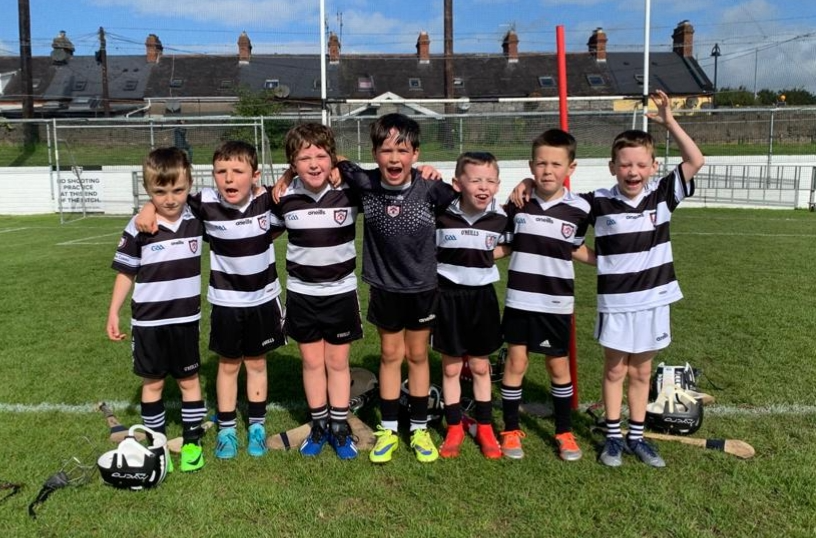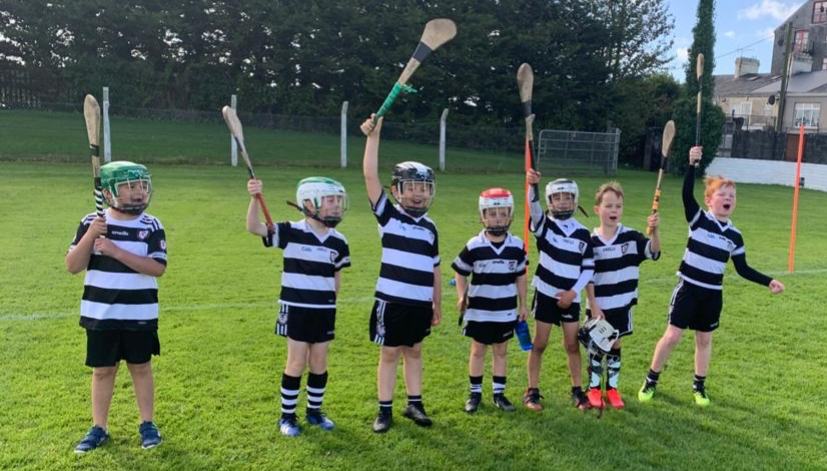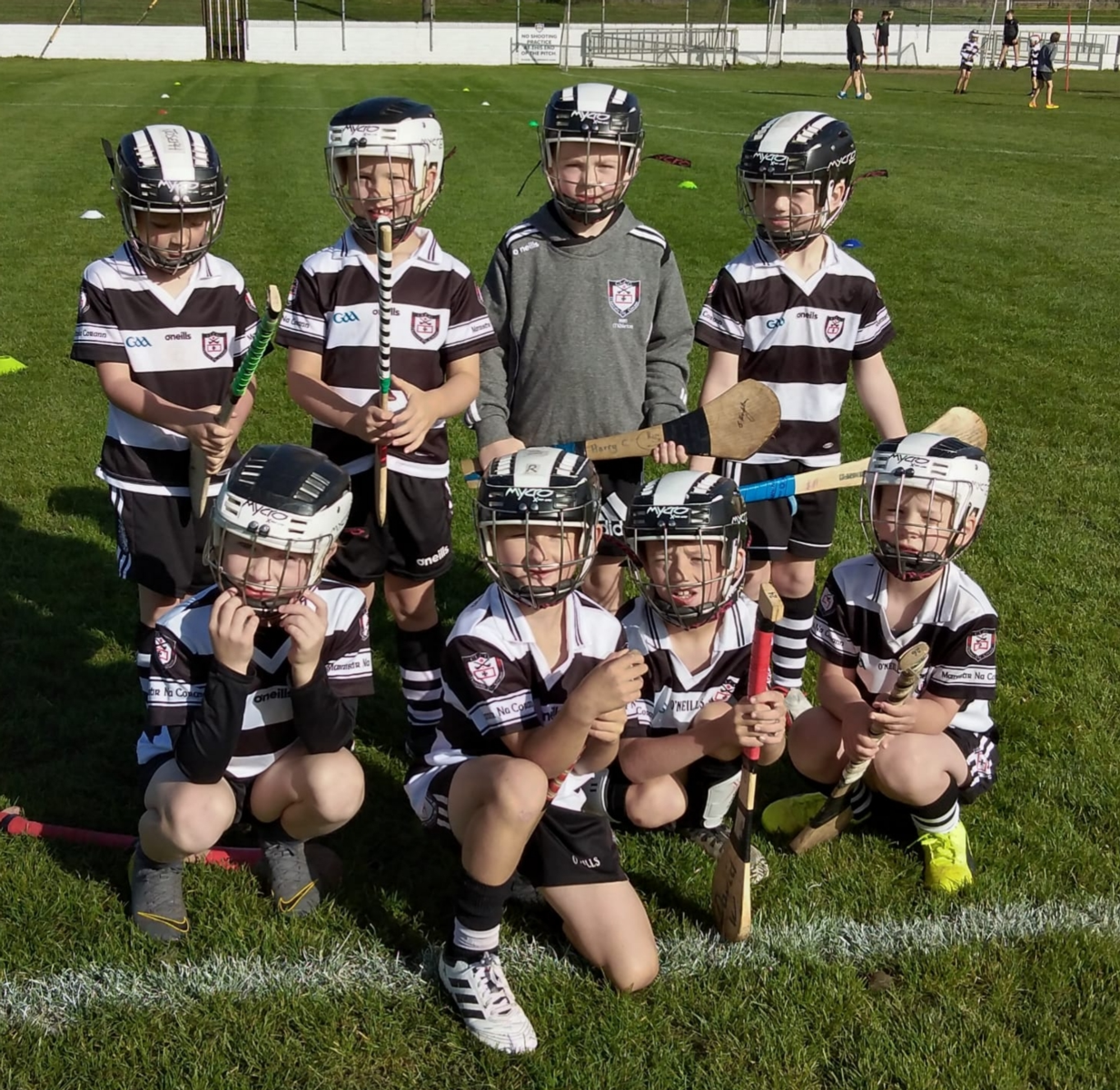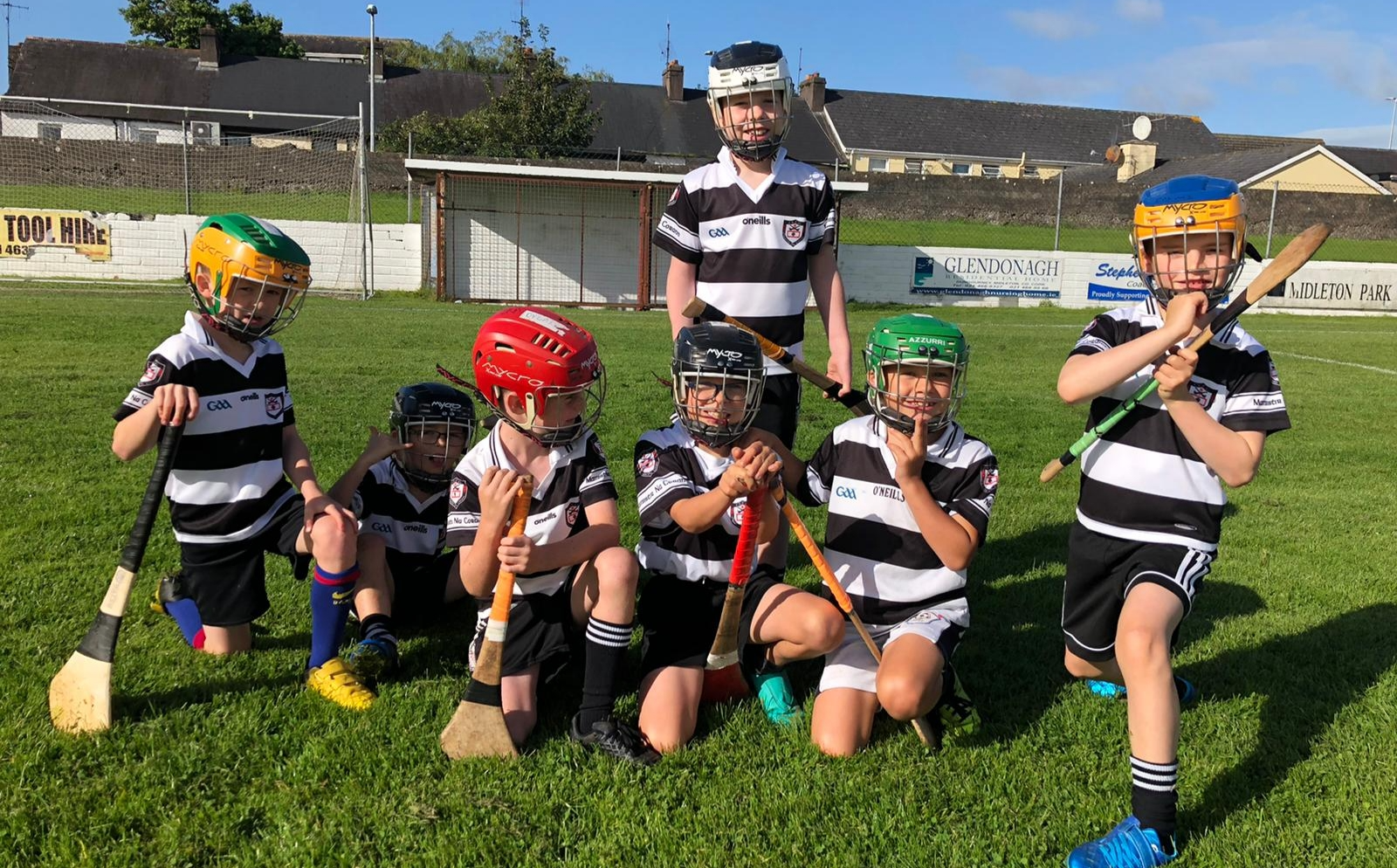 Fé7 V Sarsfields
Camogie
Junior Notes
Junior Championship Sunday 30th August Midleton 0:13 Aghada 4:18
Our inaugural season in the Junior Camogie Championship came to an end at the Quarter Final stage last weekend on Sunday 30th August in Rostellan against a very accomplished Aghada Team. As always the girls kept battling to the final whistle and were unfortunate not to raise a green flag or 2. On the night we were well beaten but now that we have dipped our toes in at Adult level we have a better idea what is required and will look to continue to build for next year and beyond. It has been a great achievement to get an Adult Camogie Team on the field this year and now every girl in the club and area can aspire to playing Camogie at Adult level. We will continue to train and play games for as long as possible this year, and as happened over the last couple of months, look to attract more players to get involved. Thanks to everybody for their support and involvement to date.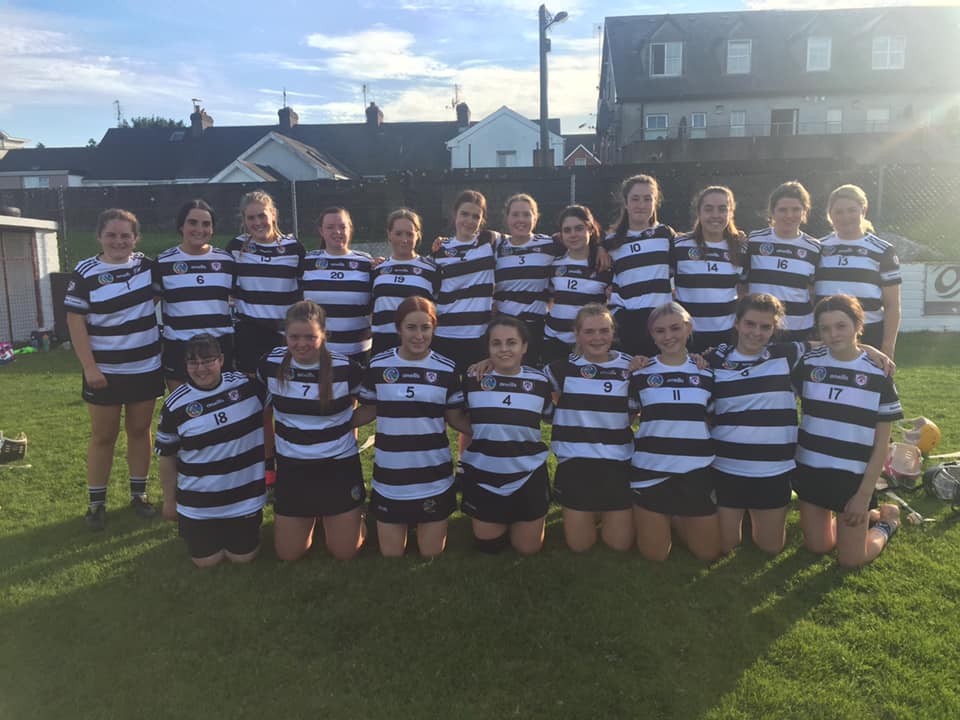 Junior Panel 2020
U16 Notes
Wed 03rd Sep at Aghavine, Ballymacoda Midleton 4:09 Fr. O'Neills 0:05
The Midleton U16 panel continued their Summer 2020 A championship campaign with a difficult away encounter away to Fr. O'Neill's last Wednesday 03rd Sep. Midleton were looking to continue their impressive performance as shown in their victory against Sars in the 1st round of the Championship. Midleton despite playing into a stiff breeze started strongly and won many of the early exchanges and having applied severe pressure on the Fr. O'Neills goal managed to finish the first quarter with a 0-5 to 0-1 advantage. The 2nd quarter continued in a similar fashion with Midleton enjoying the majority of possession and stretched the lead to 2- 7 to 0-3 at the half-time interval. Fr. O'Neills began to exert themselves in the 3rd and 4th quarters and managed some fine scores, however the Midleton defence managed to protect the goal and refused to concede throughout the full encounter.
In a very tightly contested game, there was some superb display of skill and heart from both teams and Midleton eventually ran out winners at the final whistle by a score of 4-09 to 0-5.
Next up for Midleton is an away fixture Killeagh on Sunday 13th Sep where we are looking forward to another exciting match and progressing to the knockout stage of the County championships
Midleton Team: Jill Connaughton, Elle McManus, Ruthi Hennessy, Laura Goulding, Muireann Ni Chonchubhair, Yvonne Abernethy, Aoife Fitzgerald, Emily Lamb, Emma O'Sullivan, Isabelle Nestor, Abbie Foley, Kelly Quirke, Saoirse Ni Theangana , Chloe Garde, Mia Tarrant, Rachel Ryan, Lora Dineen, Rebecca Crowley, Jade Fitzgerald, Kate O'Sullivan, Pippa Hennessy.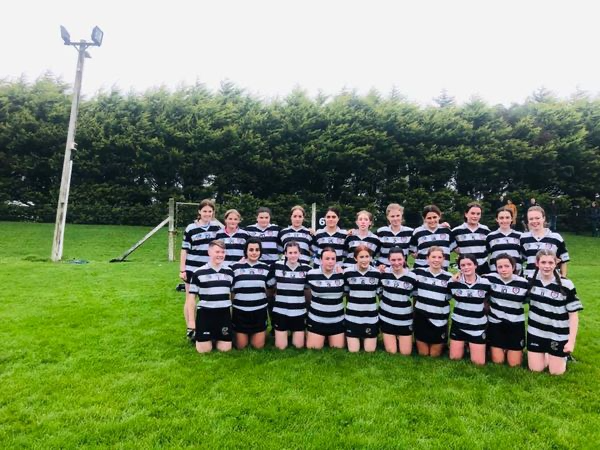 U16 Panel v Fr. O'Neills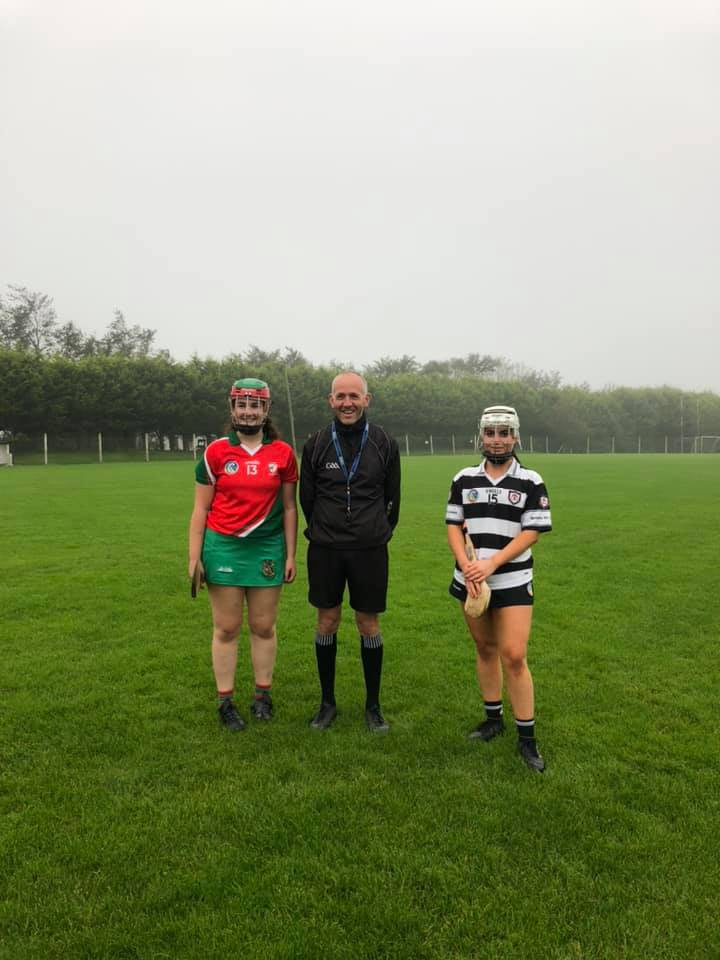 U16 Captains v Fr. O'Neills
U12 Notes
U12 V Inniscarra
Our under 12s played Iniscarra at home in Midleton last Sunday afternoon in what were very hot conditions on the pitch. In an outstanding game with great performances from both teams who produced a brilliant game of Camogie. In a match that was end to end from start to finish the girls from both sides given a brilliant display of skill and workrate. Well done to both teams for a very entertaining match thanks to Ger Sheehan for refereeing and well done to Rebecca Ryan who Captained the team.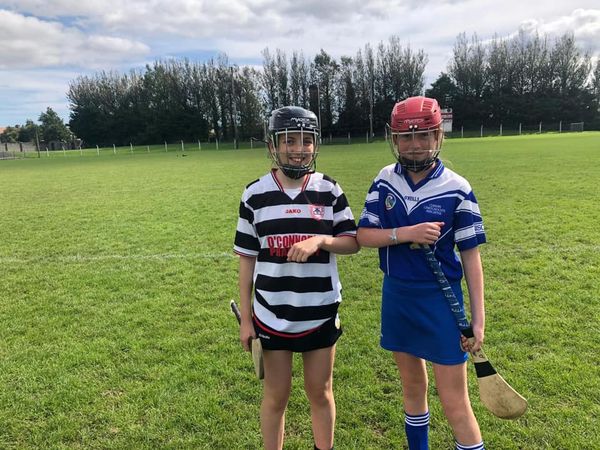 U12 Captains v Inniscarra
Upcoming Games
We would like to wish all our girls and their management team who have matches on today Sunday 6th September the best of luck we will have three teams take to the pitch . First up are our U11 group who will come up against Youghal in the Imokilly league. Our second team to line out are the U12's who will compete with Sars and Lastly the U14's who will play Erins Own with a throw in at 6.30pm Hopefully we will get the results we are looking for especially with all the hard work put into training all these girls over the past few months. Best of luck.