Midleton Hurling and Football, Ladies Football and Camogie Club News
30 August, 2020
The key messages for this week:
COVID-19 Guidelines Update…Do The Right Thing For You & Your Club
Disappointing result in Senior match against Douglas. Best of luck to Intermediate & Junior Hurlers and Junior Camogie team in their upcoming championship matches.
Full listing of Fixtures & Results can be seen on the website
Midleton GAA…at the 'Heart of the Community'. Ní neart go cur le chéile. There is no strength without unity.
Safe Return to Gaelic Games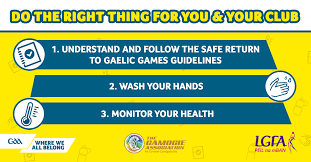 We have put together a comprehensive Plan for the safe return to Gaelic Games in Midleton.
This can be accessed at
downloadforms?rdDF=MIDLETON%20GUIDELINES%20FOR%20RETURN%20TO%20TRAINING.pdf
Prior to return to training, ALL adult players, team personnel and parents/guardians of Juvenile players are required to:
Complete the certified eLearning Module covering the main aspects of the Guidelines. This is available to complete at https://courses.gaa.ie/Covid19ClubEd/#/
Complete the GAA Health Questionnaire once online, which will be available through https://returntoplay.gaa.ie\. Please note that this questionnaire must be completed prior to return to training for the first time.
Using the same online system, all Adult players, parents/guardians of underage players and team personnel will be required to declare, before each training session/game, that their health status has not changed. This must be completed a minimum of 1 hour before the time of the session.
For Insurance purposes membership needs to be paid before training. Go to membership to see how much you need to pay
Midleton GAA H&F Account,Bank of Ireland, Main Street, Midleton
Account Number; 29207259
Sort Code; 90-29-01
IBAN; IE16 BOFI 9029 0129 2072 59
BIC; BOFIIE2D
Please write players name in the reference section.
Please also note that the club grounds are closed to activities other than those planned and supervised under the Safe Return to Gaelic Games protocols.
Mega Lotto Results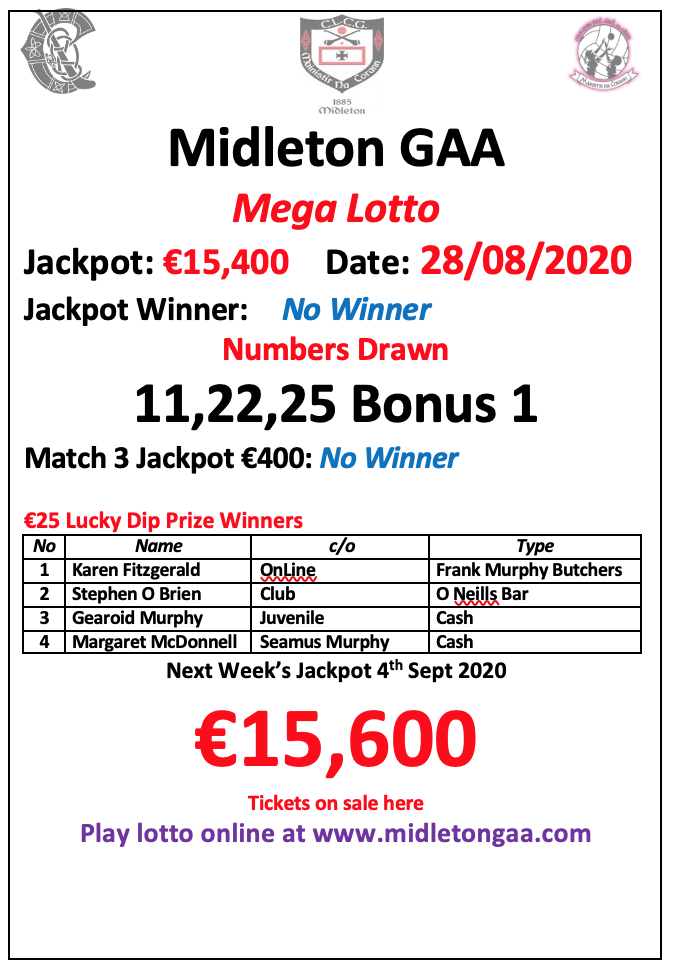 The re-launched Lotto is a critical component of our fundraising for Park South. The support to date has been good, especially with the number of annual subscriptions that have been submitted.
In total Midleton GAA will give out local business vouchers to the value of €3,800 every year as part of our "Shop Local, Buy Local" campaign.
How to play: Go to http://www.midletongaa.com click on Play Now in Mega Lotto section. You can buy an annual ticket by selecting "50" from the "Number of Draws" to Play dropdown.
Fixtures & Results
Please keep an eye on the Fixtures Section of the website for updates on matches over the coming weeks.
See below snapshot of current confirmed fixtures for the next while.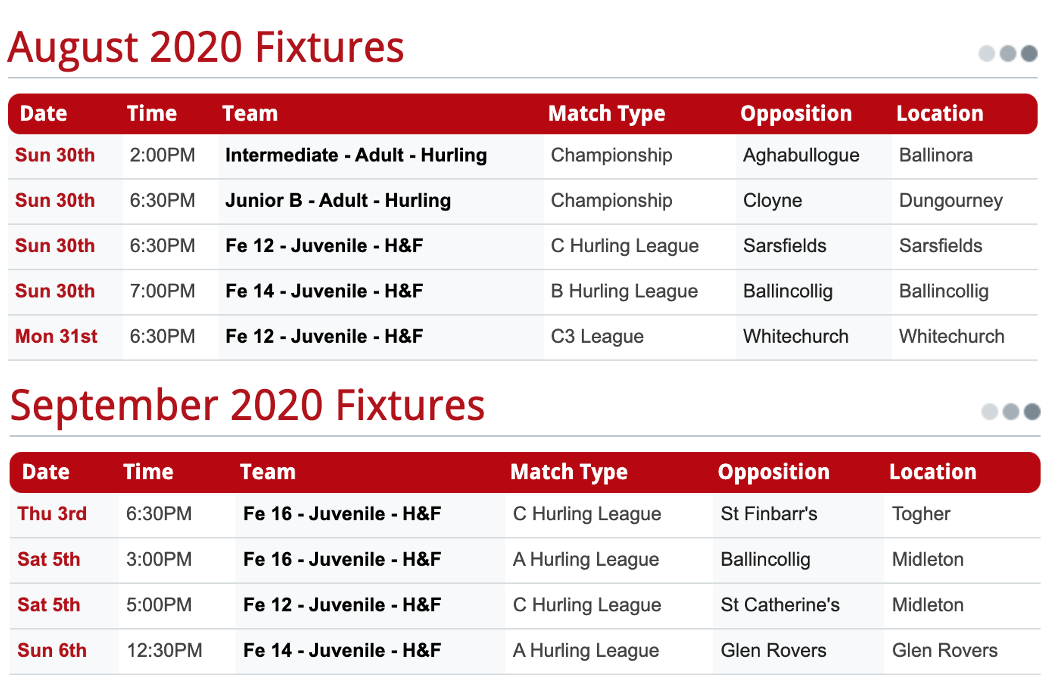 How to stay 'up-to-date':
Some games are streamed. Keep an eye on Social Media Channels for announcements.
'Live' scores will be posted to our Social Media Channels.
The Fixtures & Results sections of the website will be updated with Fixtures for the coming week(s) and Results for the past week.
Fixtures: club_fixtures
Results: club_results
Games behind closed doors. As games must now be played "behind closed doors", this means only essential personnel should be in attendance.
Senior Hurling Notes
Senior Championship Midleton 1:18 Douglas 0:22
In a 'winner takes all game' we lost out by a point to Douglas. Having led by six during the opening half a seven in-a-row from Douglas either side of the interval break handed them the lead - 0-14 to 1-10 - for the first time in match on 33 minutes. With the second half seeing the scores level on seven occasions we failed to narrow the one point gap in the end.
Team & Subs Used: J Loftus; K Burke, E Moloney, S Smyth; P O'Farrell, S O'Leary Hayes, J Nagle; S Quirke, C Walsh; P White, C Lehane, C Beausang; L O'Farrell, T O'Connell, G Manley.
Subs: S O'Meara for Manly (47mins); J Hegarty for Walsh (53).
Scorers: C Lehane (0-9, 0-4 frees, 0-1 '65); L O'Farrell (1-2); P White, C Walsh (0-2 each); S O'Leary Hayes, J Nagle, T O'Connell (0-1 each).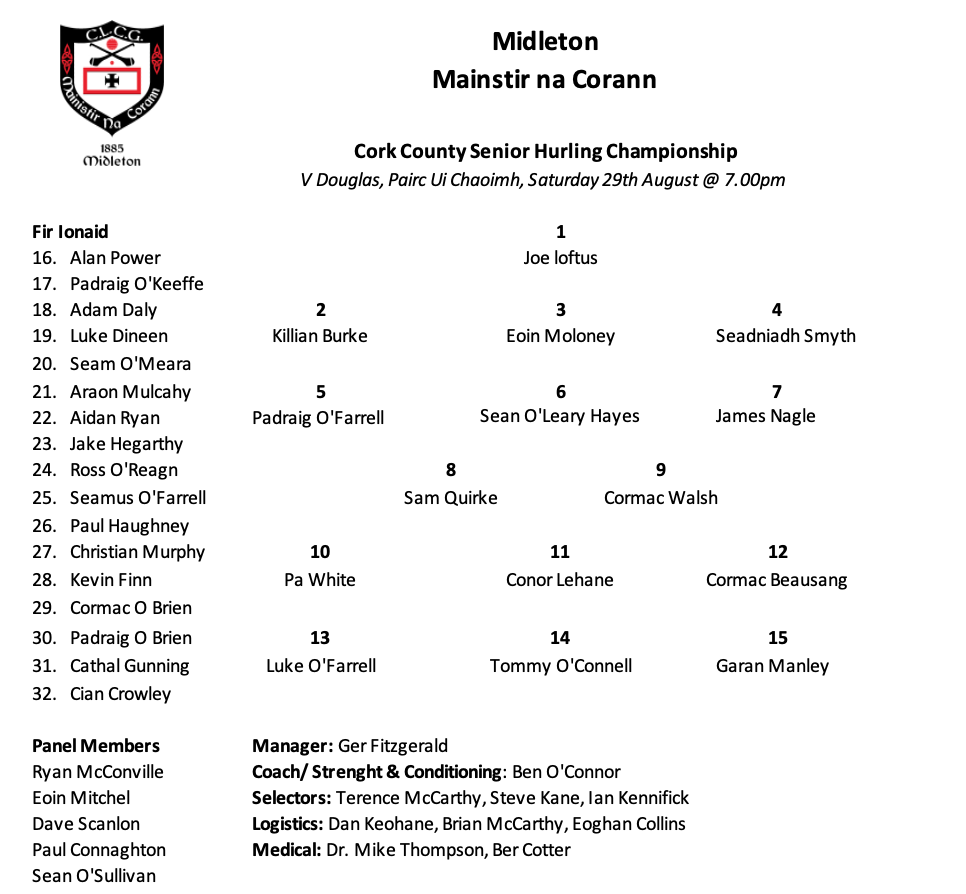 Junior B Hurling Notes
East Cork Championship Midleton 7:15 Dungourney 0:14
1st Water Break Midleton 1-4 Dungourney 0-5
Half-Time Midleton 1-5 Dungourney 0-10
2nd Water Break Midleton 5-9 Dungourney 0-12
Full-Time Midleton 7-15 Dungourney 0-14
Scorers:
M. O'Keeffe (1-7, 4 frees), C. Daly (3-0), T. O'Sullivan (1-3), C. Hurley (1-1), C. O'Neill (1-0) P. O'Shea (0-2), T. Abernathy, L. McCarthy (0-1 each)
Team: C. Swayne, C. Evans, B. Fitzgerald, D. O'Sullivan, B. O'Shea, E. Mulcahy, F. Wade, K. Mulcahy, L. McCarthy, M. O'Keeffe, P. O'Shea, T. Abernathy, C. Daly, J. Keane, T. O'Sullivan
Subs: C. O'Neill for C. Daly (43), C. Hurley for J. Keane (46), M. Keohane for F. Wade(46)
Next up is Cloyne in Dungourney this evening, Sunday 30th August.
Juvenile
Fé12 Notes
There were no competitive matches for the Fé12 lads this week. A planned trip to Rathcormac on Monday was cancelled when Bride Rovers unfortunately conceded the game to us at late notice. We played a useful hurling challenge match v Blackrock on Tuesday night with 17 lads making the trip to St. Michael's GAA in Mahon. This week there is a Division Division 3B hurling match away to Sarsfields on Sunday and then a Division 3B hurling match away to Whitechurch on Monday.
This year we are missing one of our strongest and most dedicated players, Kacper Kozlowski, who is unfortunately undergoing treatment for a serious illness. His friends and neighbours organised a Spinathon last Saturday to raise much needed funds to help Kacper & his family over the next few months. There was great support across the entire day from friends, neighbours and the wider Midleton community with a large number of Midleton GAA club members working up a sweat on the bikes. Thanks to Sinead Dunlea and all those who organised this fundraiser. Keep an eye out for further fundraisers over the next while and support if you can. If you wish to donate visit https://www.gofundme.com/f/for-brave-12year-old-boy-with-cancer/donations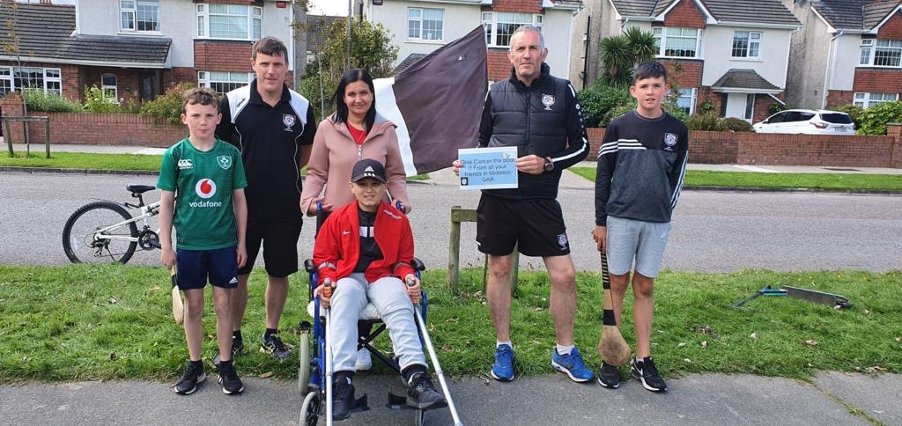 Fé12 Coaches and Players pictured with Kacper Kozlowski at Saturday's Spinathon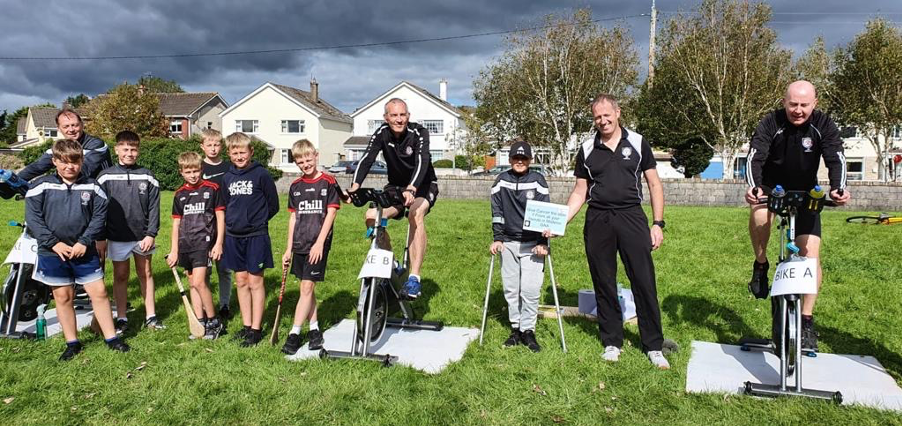 Fé12 Coaches and Players taking part in the Spinathon for Kacper Kozlowski
Fé7 Notes
Training continues for the Fé7 group every Saturday morning. There was a great attendance at training this weekend with all the lads eager to display their footballing skills. We will continue to train every Saturday on the main pitch at 10am. New members always welcome.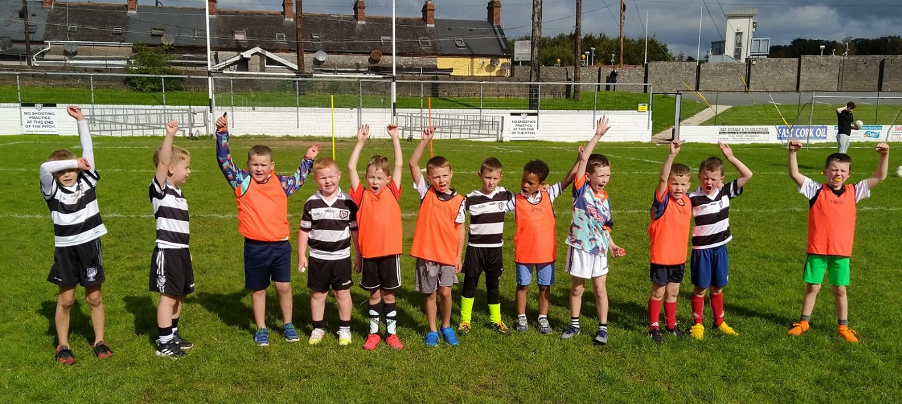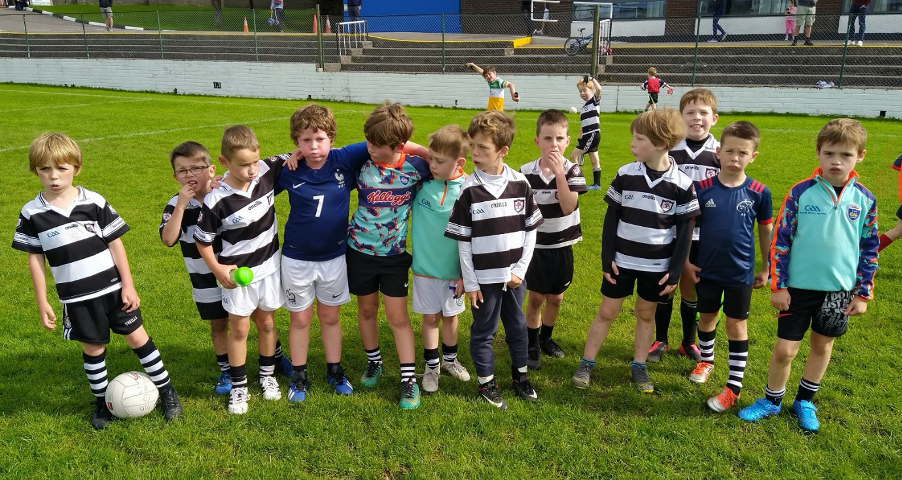 Fé7 Training Session
Camogie
Minor Notes
Championship Midleton 2:03 Youghal 0:16
We bowed out of the Minor Camogie Championship against a more experienced and physically stronger Youghal team. 2 first half goals, one a wonderful overhead strike by Sadhbh Beausang, gave us an interval lead of 2 points. Unfortunately , try as we might , we could not stem the Youghal challenge and they dominated the last quarter to run out winners by 7 points. Well done to all the girls involved, who gave everything on the day and kept going until the final whistle. It was disappointing to go out in the 2nd round, but this is a young team and they will be back again. Hopefully we will have League fixtures at some point before the year is over.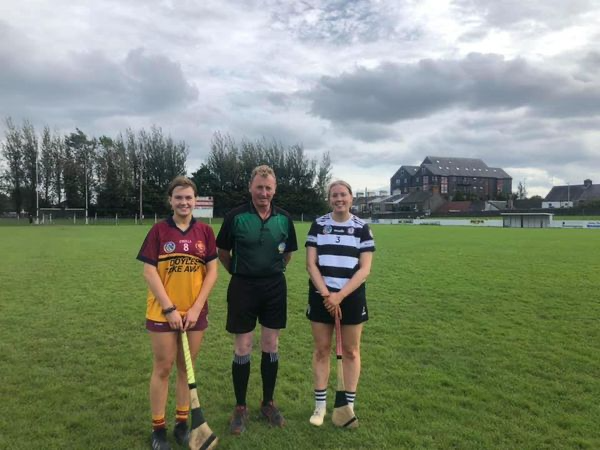 Minor Camogie Captains V Youghal
U14
Huge Congratulations to our U14 girls who just edged out a strong Cobh side in what was a highly entertaining game with both teams giving it their all last Sunday 23rd August. Well done girls on a great team performance up next we will move on to the next round in the championship where we will play Erins Own at home on Sunday evening September 6th best of luck girls ye seem to be on a winning streak!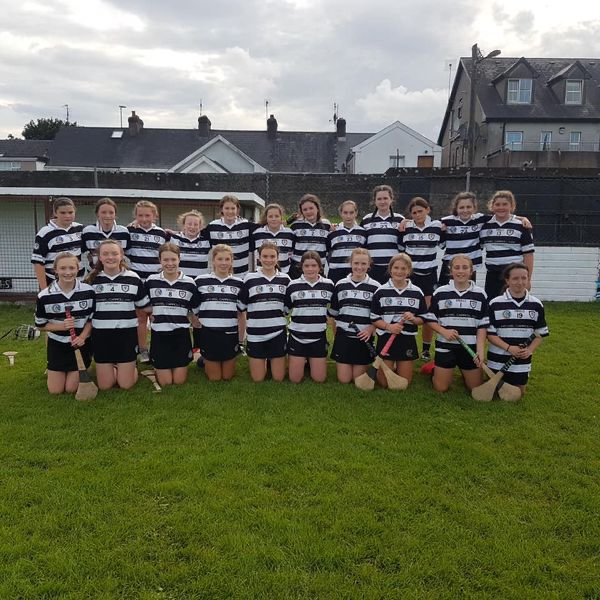 U14 Team V Cobh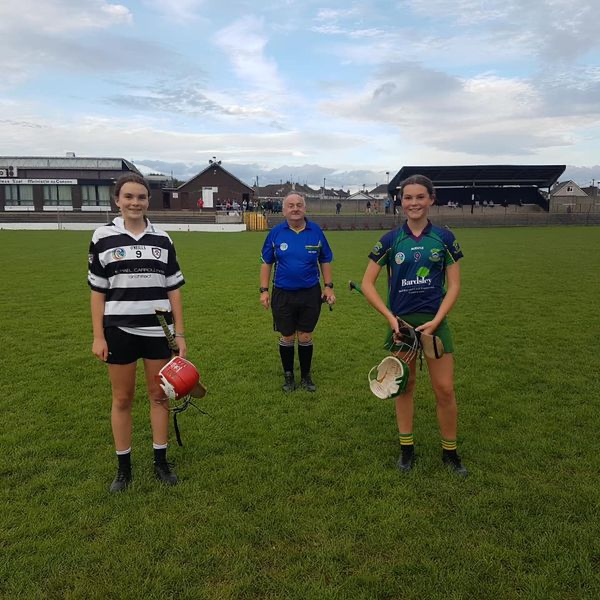 U14 Captains V Cobh
We would like to wish our newly formed Junior Team and their management all the very best of luck as they proceed to Round Two of Championship Camogie. This Panel have already played Killeagh and This time round our girls will travel to Aghada GAA Club to take on Aghada with a a throw in time of 6.15 on Sunday 30th August.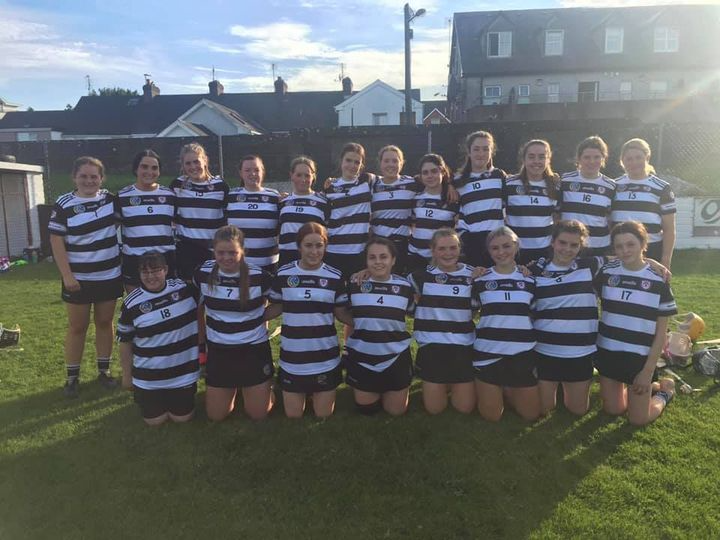 Junior panel ahead of match against Aghada
Our U16 Team are following suit as they take part in their second round of championship when they come up against Fr O Neills on Wednesday next 2nd September. Best of luck to all teams playing over the next few days.
Note to Parents:
Please note that new restrictions have come into place regarding the attendance of Parents and siblings to Matches and also Training. Only one parent/guardian per player and no siblings can attend and parent/guardian must have completed a health questionnaire for themselves along with their daughters at least one hour prior to Training/Match. Although this is against all our ethos in the club unfortunately we will have to comply to these new rules at the moment. Your head coach will be in touch with you over the coming days Again Thank you again for your patience and compliance over the last few months.
Ladies Football
U16 Notes
East Cork League Midleton 4:14 Fermoy 2:04
Midleton U16's ladies continue on their winning ways. This team growing in confidence with each game recorded a great victory last Thursday night when we travelled to the mighty town of Fermoy on the Blackwater for round 3 of the East Cork league. Midleton led from start to finish, leading at the break 1:8 to 2 points with the result never in doubt. Over the hour Midleton were much too strong for a young Fermoy side that fought bravely to the final whistle. Final score was 4-14 to 2-4
Team on the night.
Kate Saunderson, Sophie McCarthy, Emma O'Sullivan, Jade Fitzgerald, Isabelle Nestor, Aisling McCarthy (0-1), Saoirse Ní Theangana, Aoife Fitzgerald, Selena O'Riordan, Rachel Ryan, Rachel Quirke (2-6), Gráinne Finn (1-4), Mia Tarrant (0-2), Aoife Mulcahy (1-1), Elle McManus, Lily Kelly, Seana O'Brien, Elsa Ryan, Kelly Quirke
U12 Notes
East Cork League Midleton 3:02 Erins Own 1:3
Midleton LGFA U12s lined out vs Erins Own for their first game of the 2020 season in Caherlag Sunday last. Perfect conditions for a game. Both teams started out well and were well matched in all areas of the field. However, as time moved on Midleton began to shoot at goal and after a few wides eventually chalked up the first score (a point) midway through the first half compliments of Faye Dunlea. As play ensued there were more wides from us but also a well-placed goal from a free by Roisín McManus from midfield position. The first half closed with a score line of Midleton 1-2 to no score. In the second half we were playing into the wind however this did not put a halt to our gallop and we scored a further 2 goals ( from Oonagh Lang and Caoilinn Fraser) and a point from Faye Lordan Bailey.
Erins own made a change in their forward line after the 2nd water break and they added a tally of 1 -3 to their account. But it wasn't enough to catch up. Credit is due to every one of the players who did not falter once when the pressure was put on towards the end of the game.
The final score was 3-2 Midleton to Erins Own 1-3 A great result considering it was our first game in 11 months. Well done girls!!
Panel: Ciara Murphy, Molly Barrett, Hannah O' Brien, Emma Keeshan, Chloe Corby, Ciara McGrath, Leah
Griffin, Julie Murphy, Lucy Murphy, Caoilinn Fraser, Ciara Hynes, Faye Dunlea, Sarah Goulding, Roisín McManus (Captain), Emma Fitzgerald, Rebecca Ryan, Sadhbh Cronin, Faye Bailey Lordan, Oonagh Lang.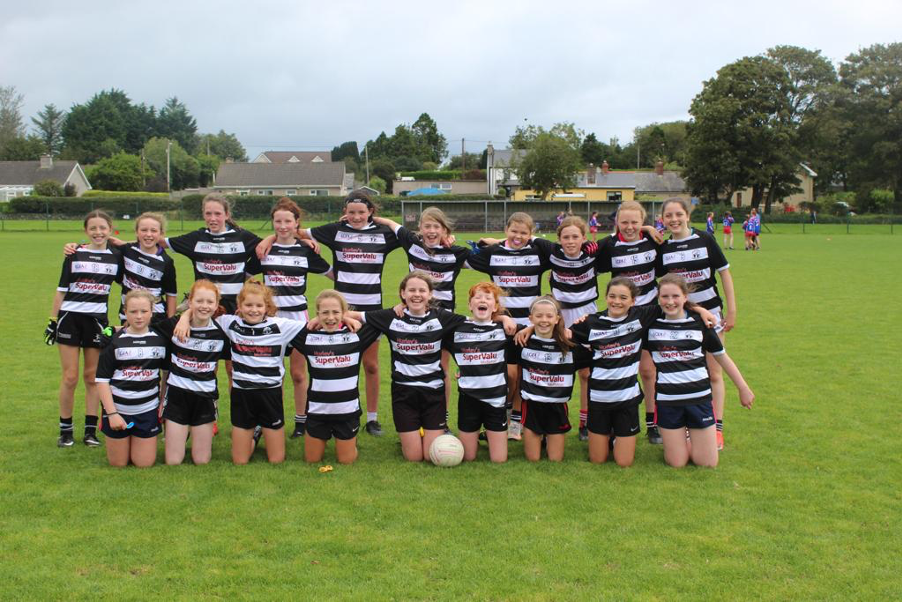 U12 Team V Erins Own
Ladies Football Training schedule next week:
Monday: U8,10,12,14 will train in Ballinacurra from 6.45-7.45pm (Please Note time change)
Monday: U16, Minor and Junior will train in Midleton Gaa Club from 7-8pm
Thursday; U16, Minor and Junior will train in the Gaa Club. Time tbc but a text will be sent with details.
Blast from the Past
Many thanks to those who are sending photographs of past teams and supporters. These are all posted through our social media channels
https://www.facebook.com/MidletonGaa/
https://twitter.com/MidletonGaa
https://www.instagram.com/officialmidletongaa/
In the club notes I won't repost them all but will pick one or two by way of flavour.
This week's flavour: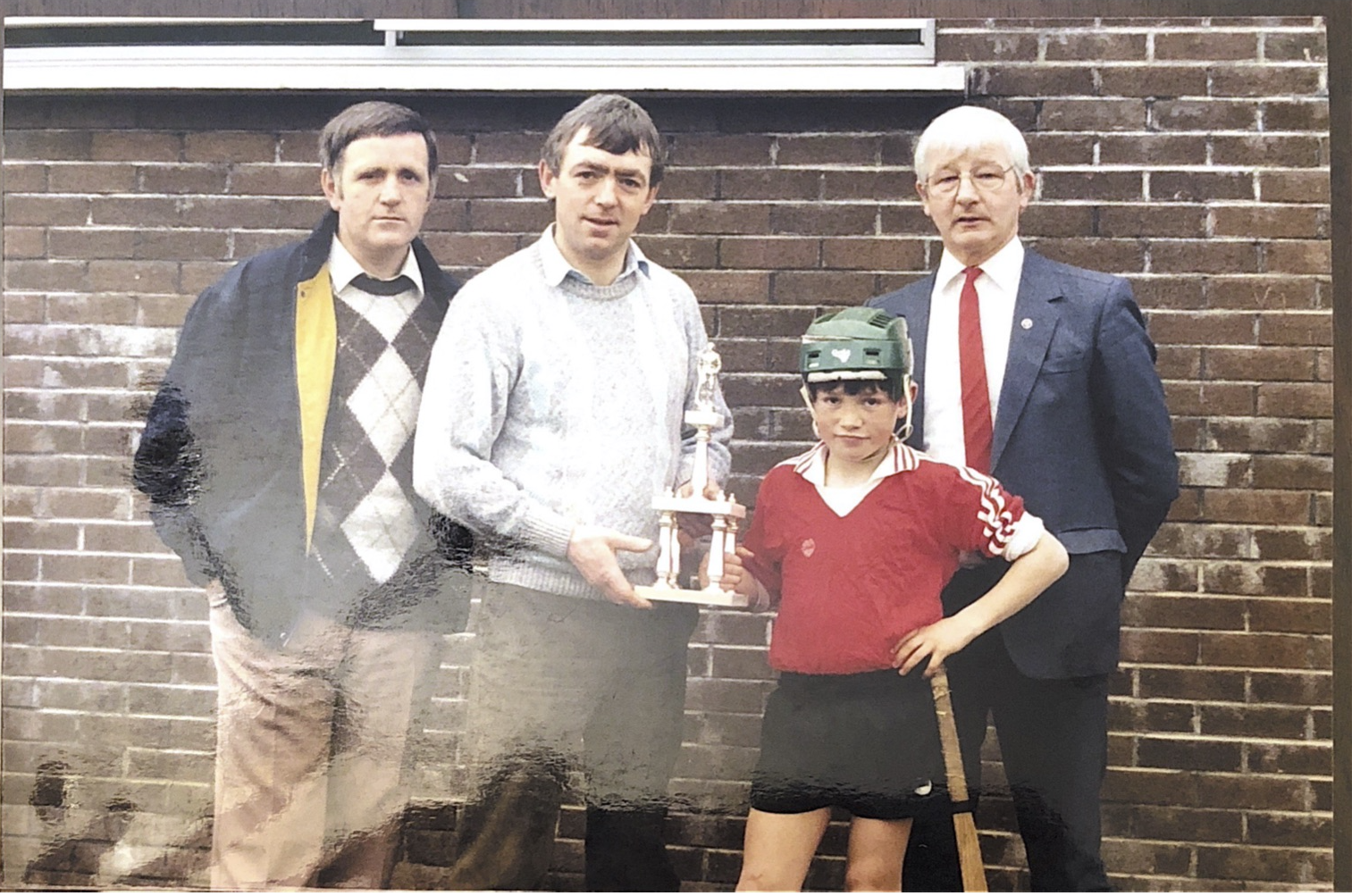 Willie O'Brien, Captain of winning team in Street League c1988 accepting trophy from Donal Keohane, Chairman Juvenile Section. Also included Michael Cahill (left) and Tom Savage (Right).
Condolences
Midleton GAA would like to offer our sympathies to the Crotty family, Patrick, Catherine, David, Timothy, Pat, John, Michael and Eamonn on the recent passing of their wife and mother Kathleen. The Crotty family have been stalwarts of Midleton GAA for many years at playing, coaching and administrative level with Kathleen herself best remembered for her 40 years service in the club shop, for her work on the Ladies Committee and also her dedicated and passionate support of all Midleton teams. The thoughts and prayer of club members are with you all at this sad time.
Ar dheis Dé go raibh a hanam.