Midleton Hurling and Football, Ladies Football and Camogie Club News
16 August, 2020
The key messages for this week:
Do The Right Thing For You & Your Club
Fixtures…Busy week ahead on fixtures front.
First draw of the re-launched lotto
Midleton GAA…at the 'Heart of the Community'. Ní neart go cur le chéile. There is no strength without unity.
Safe Return to Gaelic Games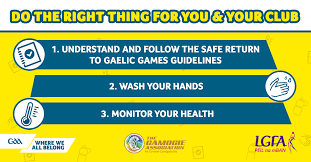 We have put together a comprehensive Plan for the safe return to Gaelic Games in Midleton.
This can be accessed at
downloadforms?rdDF=MIDLETON%20GUIDELINES%20FOR%20RETURN%20TO%20TRAINING.pdf
Prior to return to training, ALL adult players, team personnel and parents/guardians of Juvenile players are required to:
Complete the certified eLearning Module covering the main aspects of the Guidelines. This is available to complete at https://courses.gaa.ie/Covid19ClubEd/#/
Complete the GAA Health Questionnaire once online, which will be available through https://returntoplay.gaa.ie\. Please note that this questionnaire must be completed prior to return to training for the first time.
Using the same online system, all Adult players, parents/guardians of underage players and team personnel will be required to declare, before each training session/game, that their health status has not changed. This must be completed a minimum of 1 hour before the time of the session.
For Insurance purposes membership needs to be paid before training. Go to membership to see how much you need to pay
Midleton GAA H&F Account,Bank of Ireland, Main Street, Midleton
Account Number; 29207259
Sort Code; 90-29-01
IBAN; IE16 BOFI 9029 0129 2072 59
BIC; BOFIIE2D
Please write players name in the reference section.
Please also note that the club grounds are closed to activities other than those planned and supervised under the Safe Return to Gaelic Games protocols.
Re-launch of MegaLotto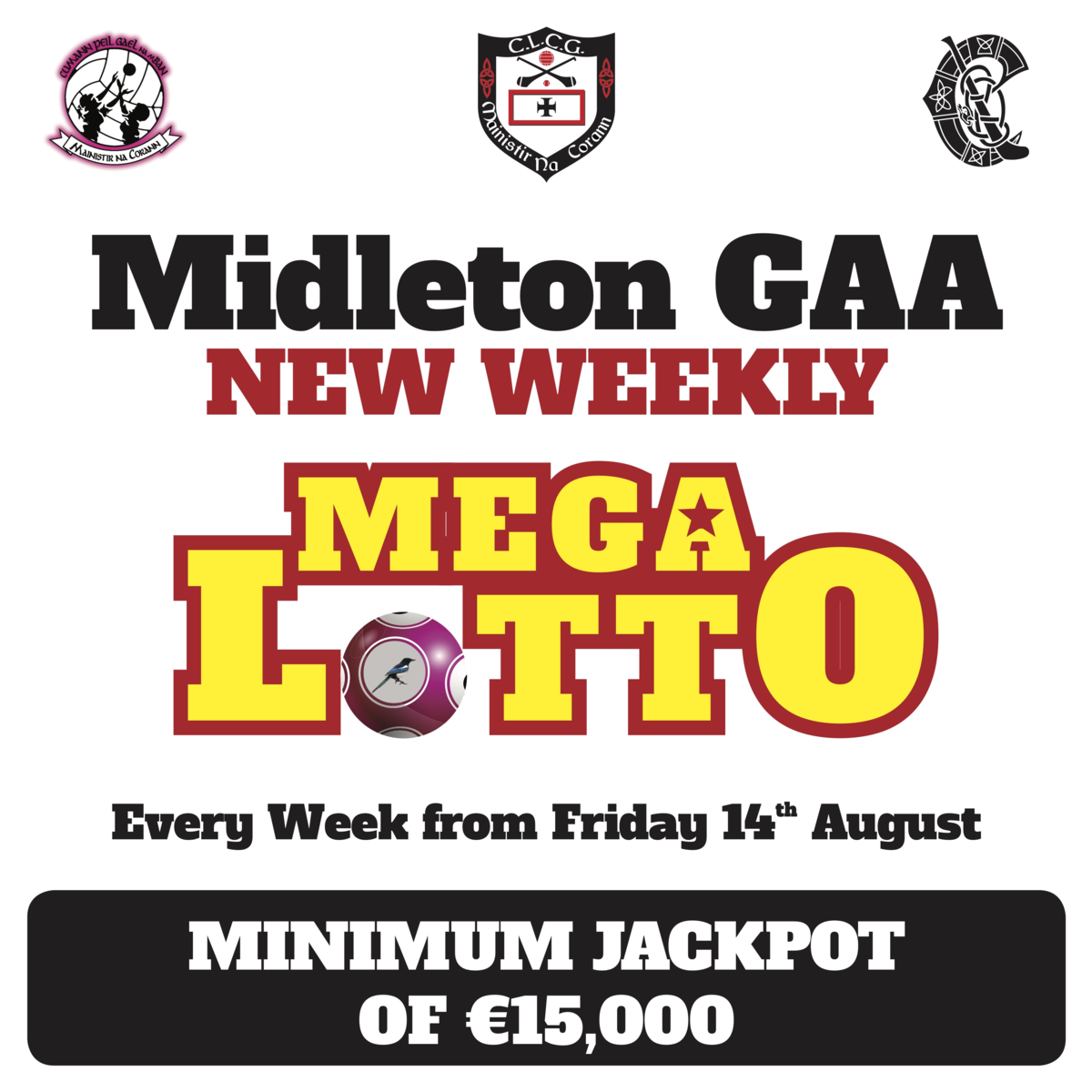 The first draw of the re-launched club lotto took place last Friday (see results below). The positive response by Midleton GAA members and supporters the re-launch has been seen most prominently in the number of annual subscriptions that have been submitted. Onwards and upwards in the coming weeks as we look to build on this positive start.
Of particular mention is the winner of the €100 Local Business Voucher. The winner is drawn from the those who have subscribed to an annual ticket. This month's winner is Damien Garde with the vouchers being for Pat Walsh Paints. In total Midleton GAA will give out local business vouchers to the value of €3,800 every year as part of our "Shop Local, Buy Local" campaign.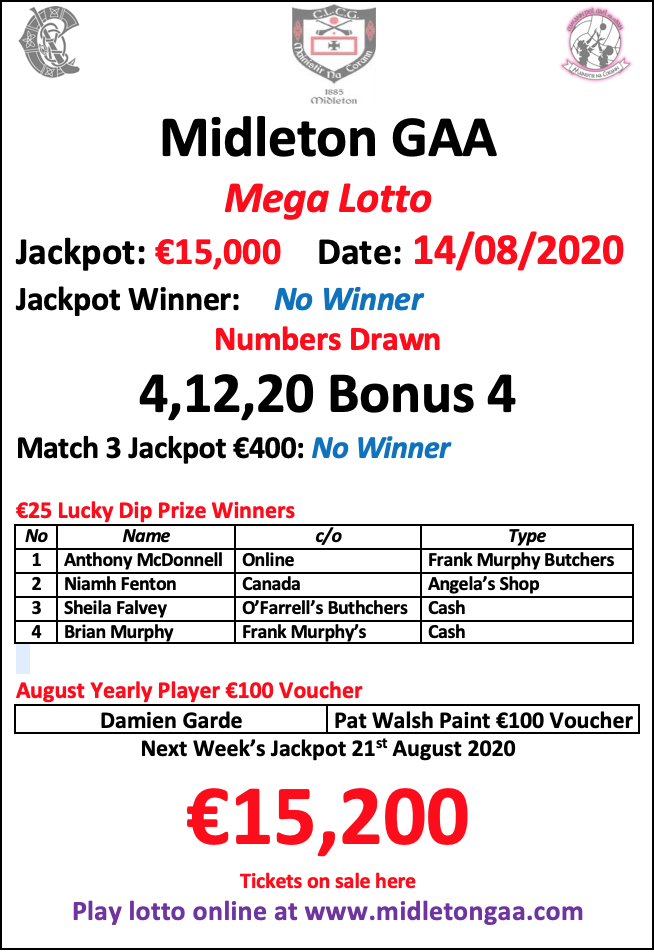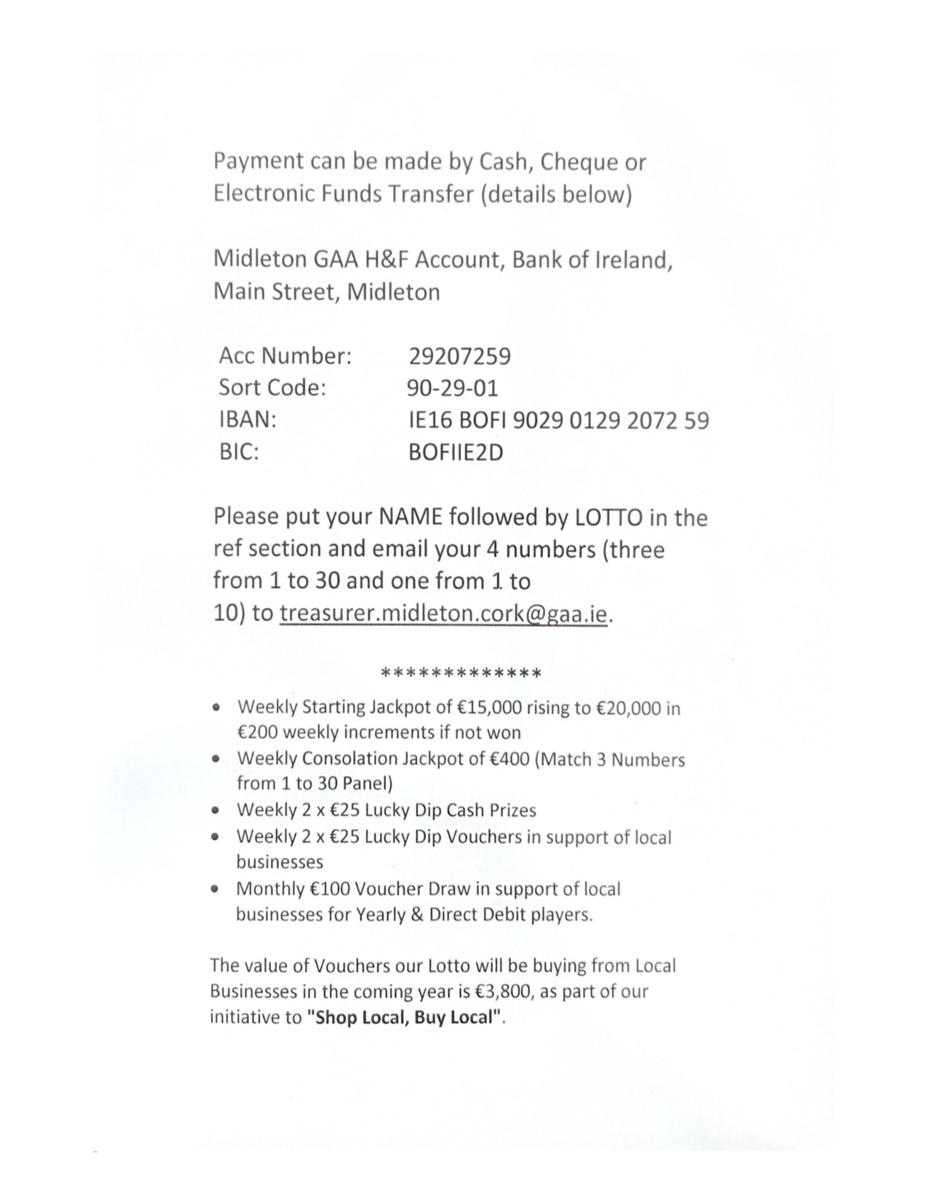 Fixtures & Results
Please keep an eye on the Fixtures & Results sections of the website for updates on matches over the coming weeks.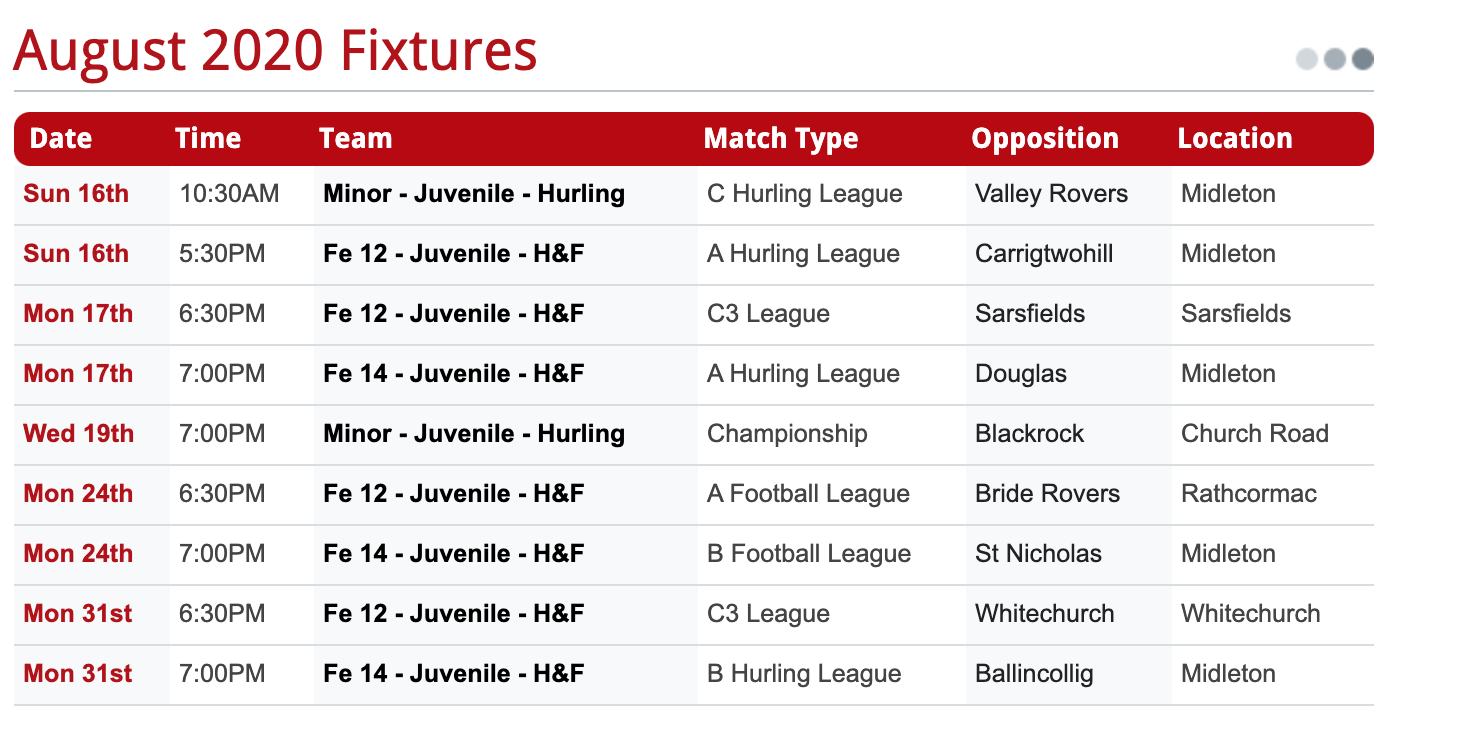 With current COVID guidelines restricting attendance to 200 people (including players, management and officials), some fixtures will be ticketed. For all those playing and attending please observe the guidelines.
Intermediate Hurling
Midleton remain alive in Group C of the Co-Op Superstores Cork Intermediate A Hurling Championship but will need a big performance against the in-form Aghabullogue in the next round after they were defeated by Cloughduv on a scoreline of 0-21 to 1-16 in Carrignavar on Sunday evening.
MIDLETON: A Power; C O'Brien, C Murphy, C Gunning; A Daly, L Dineen, E Mitchell; P Haugney, K Finn; J Hegarthy, P O'Brien, A Mulcahy; M Abernethy, R O'Regan, C Crowley.
Subs: P Connaughton for P Haugney (39), C Farmer for A Daly (43), D Scanlon for E Mithcell (56).
Junior A Football
Midleton 3-12 v Cloyne 3-5
Eoghan Collins, Cian Crowley, Aidan Ryan, Eoin Mitchell, Cathal gunning, Seamus O'Farrell (-1), Luke Dineen, Adam Daly, Sean O'Meara, Ian Kennefic (1-0), Eoghan Maloney, Padraig O'brien (1-3), Christian Daly (1-1), Cormac Beausang (-7, 6f) Kieran Mulcahy.
Up next is Glenbower Rovers. This match is to be played in next first weekend of September.
Junior B Hurling
Midleton 4-21 v Carrigtwohill 1:11
Minor Football Championship
Midleton 6:6 v Kiltha Óg 4:8
Midleton and Kiltha Og threw up a very entertaining hours action at Clonmult Memorial Park on Wednesday last in the East Fe18 Football Championship. Kiltha Og got out of the traps the quickest and had 3 points on the board without reply. Midleton found their feet slowly and stunned Kiltha with 3 quick goals, 2 from full forward Charlie Walsh and the other from Brion Saunderson. The rest of the half was tit for tat until Kiltha found a couple of goals of their own to keep the contest very close. Half time was Midleton 3-4 Kiltha Og 2-5. Midleton goaled through Paul Connaughton early in the second half but Kiltha came back strongly and with the aid of a couple of goals found themselves back in front. Midleton didn't wilt though and further goals from Ciarmhac Smyth and James O Sullivan saw Midleton home in the end. It sets us up for a winner takes all battle with Youghal for a place in the semi-finals. This is provisionally pencilled in for Wednesday the 26th of August in Midleton but will announce once it's confirmed. Final Score: Midleton 6-6 Kilta Og 4-8
Midleton Team: Alex Pranger, Colin Sutherland, Niall Corcoran, Liam McGrath, Luke Deane, Gavin Reddy, Adam Faye, Jack Fitzgerald (0-2), Aaron Coughlan, Paul Connaughton (1-1), Ciarmhac Smyth (1-1), Brion Saunderson (1-0), Liam Kelly (0-1), Charlie Walsh (2-0), Ben O'Neill (0-1). Subs: Daire Mooney, Fintan Greenwood, Rory Hartnett, James O'Sullivan (1-0), Neil Fitzgerald, Gabriel Matejko
Ladies Football
U16 Notes
East Cork League Midleton 6:13 Mayfield 6:10.
Classic in Sun drenched Mayfield
On Monday evening last our U16 girls travelled to Mayfield to take on the Mayfield girls in in the East Cork League. 12 girls (an even blend of U14 & U16 girls) were only available. But in the good sportwomanship that is ladies football Mayfield supplied us with 2 players for each half ensuring the maximum game time for every girl. On a beautiful afternoon for football we started spritely and from the throw in attacked the Mayfield goal. Before Mayfield could settle we had the ball over the bar and in the net. Mayfield soon found their rhythm and what followed was a pulsating, hearth stopping, energy sapping, end to end game. At the half time whistle Mayfield held the lead on a score line of 3:6 to 3:3.
'Fantastic' is the word that sums up the performance in the second half. The backs were brilliant from Elle in goals (we used the goals as a respite for the girls to take a break – started with Sophie in goal, then Aoife and finished with Elle) Their kick outs was the key to all our attacks. Each and every one of the girls were brilliant and the worked and played as a team. Even when Aisling had to retire before half time with a head injury who had an absolute stormer of a first half, the rest of the team responded by increasing their workrate to keep in touch with Mayfield's numerical advantage.
The running and passing movement from both teams was awesome but Midleton were that bit stronger on the night and ran out on a score of 6:13 to Mayfields 6:10.
The Football pathway for these girls is very bright indead. Very Well done.
Next game up is away to Fermoy Thursday 20th Aug, and we can't wait.
Team Grainne Finn (0-5), Aisling McCarthy, Emma O'Sullivan, Aoife Fitzgerald(0-1), Elsa Ryan, Mia Tarrant (2-2)Aoife Mulcahy (2-0),Isabelle Nestor, Rachel Quirke (2-3), Elle McManus, Rachel Ryan(0-2),Sophie McCarthy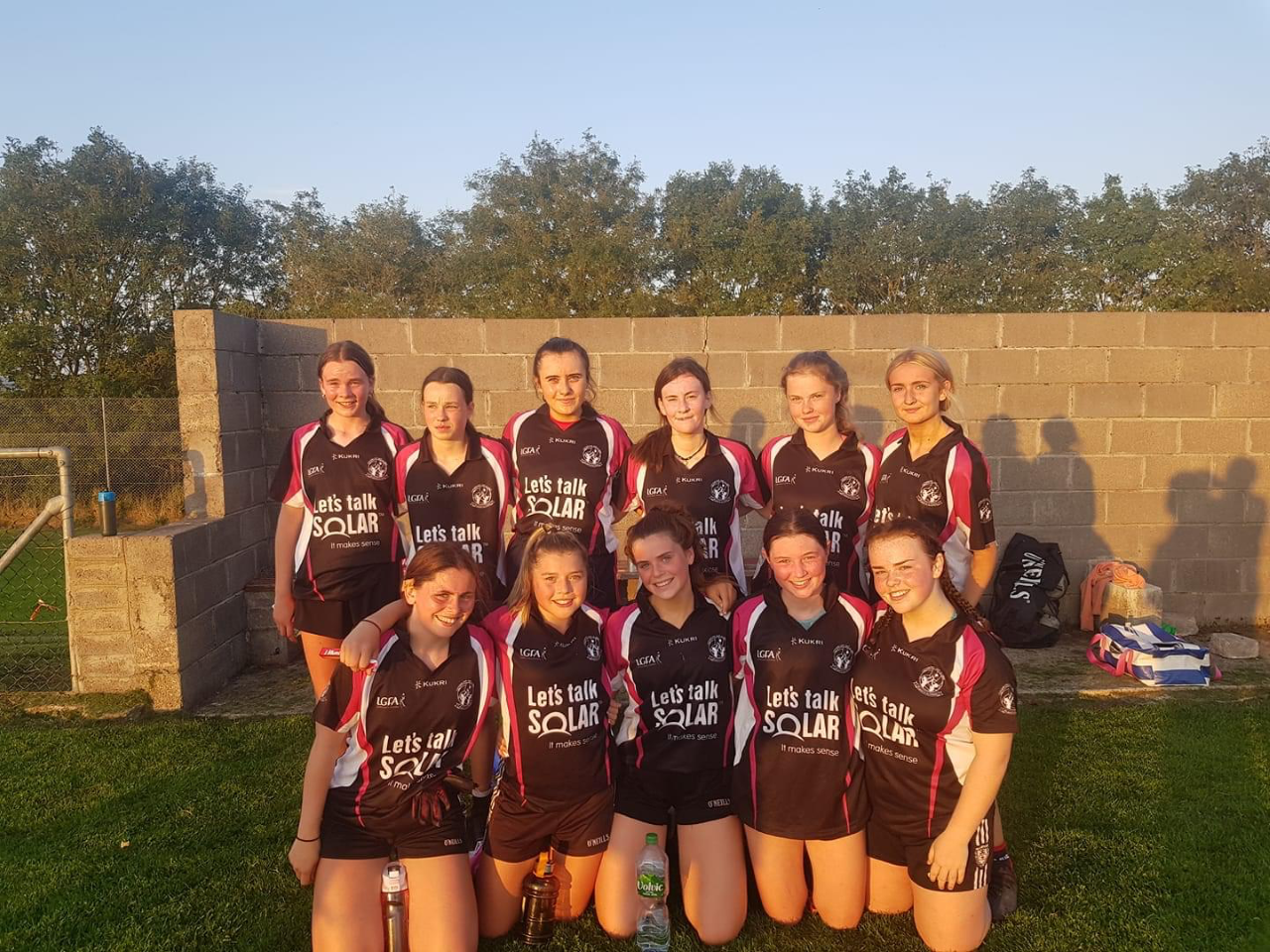 U16 v Mayfield
Ladies Football Training schedule next week:
U8/10/12/14 Monday evening In Ballinacurra pitch 7-8pm
U16/Minor and Junior Monday evening 8pm in Ballinacurra GAA: please note time & venue change.
Thursday - Midleton GAA 8.30 to 9.30pm.
Camogie
Our U13/14 's played an exceptional side in Fr O'Neills in Ahavine on Saturday 8th August but unfortunately it wasn't our day and although our girls battled as hard as they could we came up just short. We wish Fr O Neills all the best for the rest of the season. A big thank you to those who travelled to support us and we look forward to lining out against Cobh on Sunday 23rd at 6:45pm in Midleton GAA club.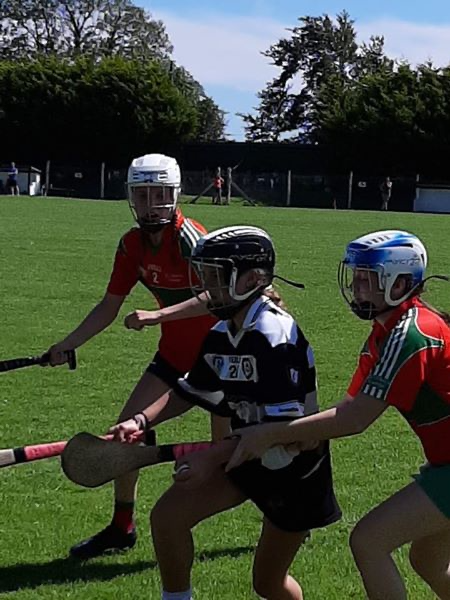 U13/14 v Fr O'Neills
Our U16 Team took part in a team building and bonding afternoon at Fota Adventure Centre on a sun drenched Sunday the 9th of August . The girls participated in a wide range of outdoor activities from Archery and an obstacle course and finished the day off with a very competitive foosball game!! Thank you to all the coaches who made this possible for the girls and to all at Fota Adventure Centre
A very enjoyable day was had by all !! We would like to wish these girls and their management team the very best of luck ahead of their first round of Championship V Sarsfield Camogie Club on Sunday 16th August at home , throw in at 7pm.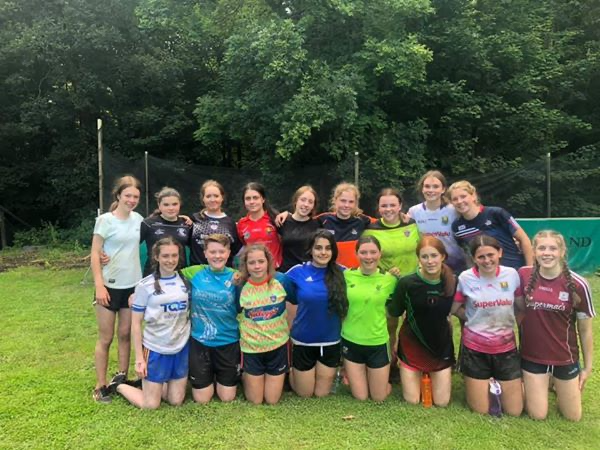 U16 Team Building in Fota Adventure Centre
We would like to congratulate our five Midleton Players Rebecca Cassidy, Lucy Wallace,Jodie Keegan O Connell, Leah Hogan and Vivienne Gleeson who have all made the Senior Imokilly Panel this year. Great to see such young players playing on the panel . Imokilly have already played Seandun and are up against Newcestown on Saturday 15th August. Wishing you all the best Ladies for the rest of the season.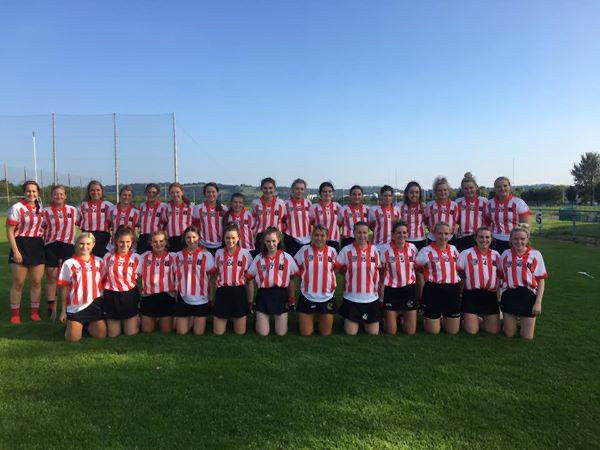 Imokilly Senior Camogie Panel
Midleton U14 Camogie team were up against Castlemartyr in a friendly on Saturday afternoon in what was a very enjoyable and entertaining game. The game was really competitive with some tough challenges throughout the pitch. Everyone fought and battled hard for the team.
Some excellent skills on display and well done to Castlemartyr for travelling and for a great game. Thanks to Joe Coppinger for refereeing. We are very proud of each and every girl on the pitch who togged out in the Midleton Colours.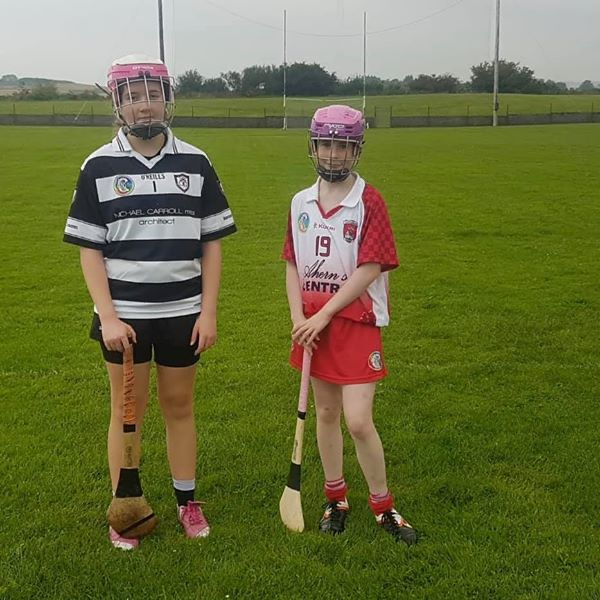 U14 Captains Midleton v Castlemartyr
Finally a sincere Thank you to Coleman Quinn, Mary Quinn , Ingrid O Riordan and all in the main club for organising and ordering a new set of Jerseys for our Junior Panel . The girls looked very well on the pitch in their first ever Adult Match for the club against Killeagh on Wednesday 5th August. We are truly grateful and great to see such support for all the girls across the club.
Juvenile
Fé16 Notes
P1 Hurling League Midleton 4:13 Glen Rovers 2:18
Midleton continued where they left off against Bride Rovers with another gritty performance against Glen Rovers on Saturday afternoon above in the cauldron that is The Glen. Once again our lads fell behind by the smallest margin minutes from the final whistle only to push for two hard earned points and grind out a tremendous win. Our full forward line looked very threatening all day with Davide Nowak impressing by providing his brother Karim the opportunity to grab two goals early on, along with Dara Fitz taking his points in turn. Our first goal was finished to the net by Davy Cremin following a surging run forward and we kept the scoreboard ticking over with a few well taken Mikey Finn frees. The Glen came back into it towards half time where the score read Mid 3-6 to Glen 0-9, with Rory Lester shining at midfield.
With our half back line of Tadhg, Brian and Alex hurling well to prevent the Glen from gaining momentum, Stuart O'Connor pounced in the 40th minute to score a hurler's goal. Tiarnán Roche caught the eye finishing his solo run with a well taken point to push Midleton further ahead. However, the Glen would not give up and started to gain reward for their efforts eventually drawing level, despite the contributions of our solid full back line of Dara Scanlon, Michael Roe, and Cathal Beausang who held firm. Eventually after a lot of pressure the Glen went a point up but not before the excited crowd saw the excellent Zac Smith make save after save to deny the Glen forwards. A self-made point by Dara Fitz and a finely executed free by Mickey Finn ensured the Midleton win, a deserved result for the honest efforts of all. Fulltime score: 4-13 to 2-18.
Well done and congratulations to our lads, three wins from three and we have topped the pool, and are now into the semi-final. A steely bunch who go about their business with purpose, bring on the next opposition.
Squad: Z Smith, D Scanlon, M Roe, C Beausang, T O'Leary Hayes, B O'Connell, A Moloney, T Roche, R Lestor, S O'Connor, M Finn, D Cremin, D Fitzgerald, K Monak, D Monak, D Greene, F Dalton, D Coffey, E Higgins, E McGrath, R de Barra, TJ Murphy, D Garde, N Lang (inj).
Scorers: M Finn 0-6 (0-6f); K Monak 2-1; S O'Connor, D Cremin 1-1; D Fitzgerald 0-3; T Roche 0-1.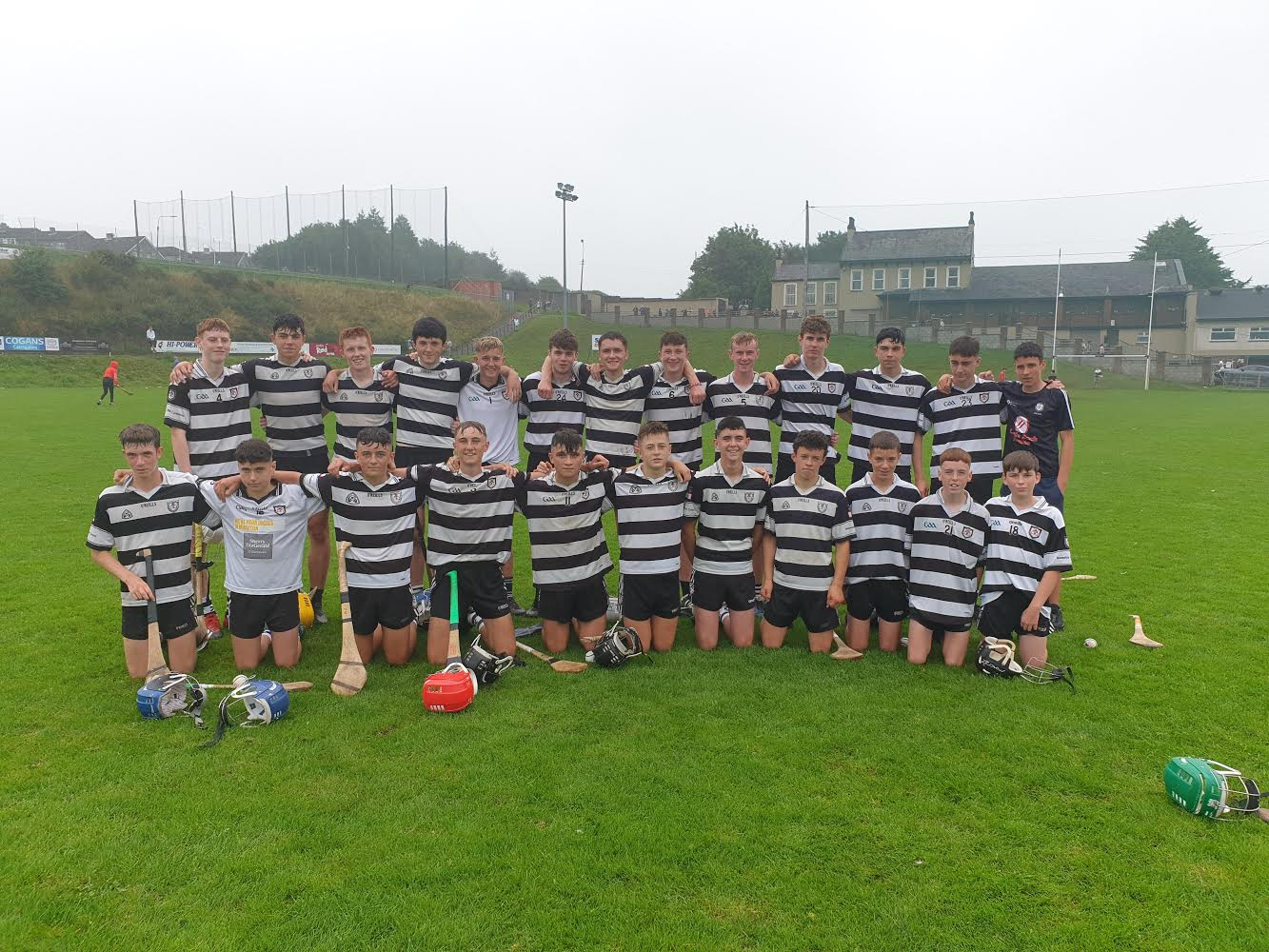 Fé16 Panel v Glen Rovers
Fé14 Notes
P2 Football Championship Midleton 6:12 Youghal 4:10
On Monday Copperalley in Youghal was the venue for our latest P2 Football clash. Under blue skies and a light winds this turned out to be a fantastic display of attacking football from both teams. We began well with Adam O'Connor getting on the score sheet with a well taken point from play, Adam kept this form throughout the match in what was an excellent individual display. Eoghan Fraser and Carthaigh Cronin were having a battle royale with their opponents at mid field. John Paul McManus, Callum McSweeney and Matthew Gregory were tigerish in our defence. Peter Barrett and Darragh Egan were doing great work with some fine link play. Luca Brodkorb and James McSweeney were causing plenty of problems for the busy Youghal defenders. While Callum O' Brien and Odhran Dennigen were on top form. Sean McSharry's clever use of possession allowed us to put the seasiders under pressure in a highly entertaining first half. Half time score Midleton 3.06, Youghal 2.05.
The score fest continued in the second half Youghal were certainly making a game of it, they had some very impressive forwards and kept our backs busy throughout the game. A penalty by Sean McSharry seemed to have sealed the victory for us but Youghal came roaring back with four points from play. Josh Foleys clever kick out enabled us to work the ball up the pitch where Cathraigh kicked a fine point, this was quickly followed by an Odhran Dennigen free to settle our nerves. Conor Morley now playing in defence snuffed out two final attacks from Youghal and we ended up on the right side of a 6.12 to 4.10 result.
Panel: Josh Foley, John Paul McManus, Callum McSweeney, Fionn Kelly, Peter Barrette, Darragh Egan, Daniel Garde, Eoghan Fraser(1.0), Carthaigh Cronin(0.01), Callum O'Brien(1.0), James McSweeney, Sean McSharry (2.02), Adam O Connor (0.03), Luca Brodkorb(0.01), Odhran Dennigen(1.04), Jack Foley, Conor Morley, Matthew Gregory, Senan Gleeson, Odhran Rabbitte(0.01).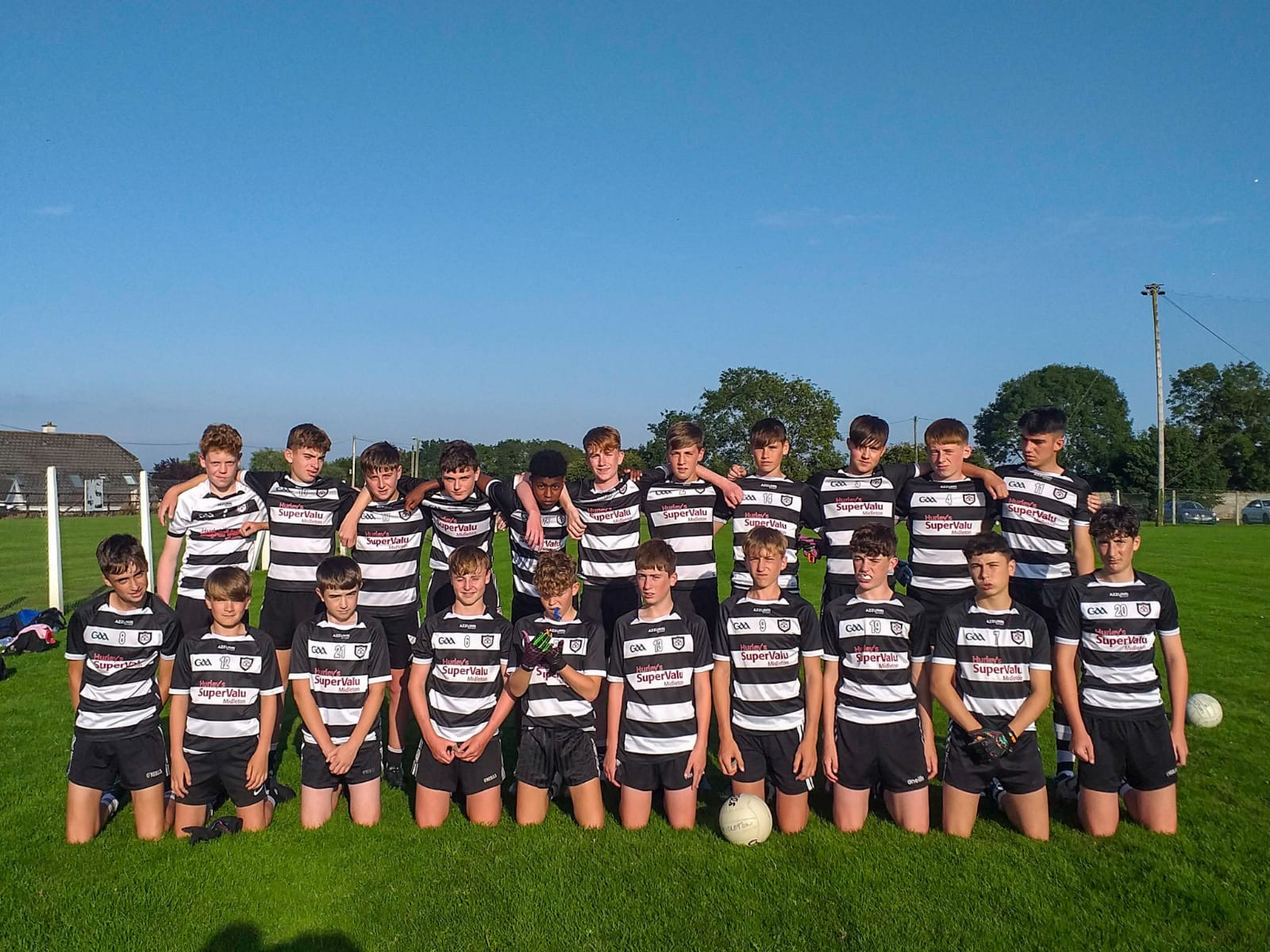 Fé14 Panel v Youghal
Fé13 Notes
On Wednesday evening in a sun drenched Castlemartyr, we took on Kiltha Óg. In a very entertaining hours hurling and in perfect conditions. We came away with a hard fought victory. On the night we some good individual play, but what was more pleasing was the team performance. Thanks to Kiltha Óg for hosting on the night.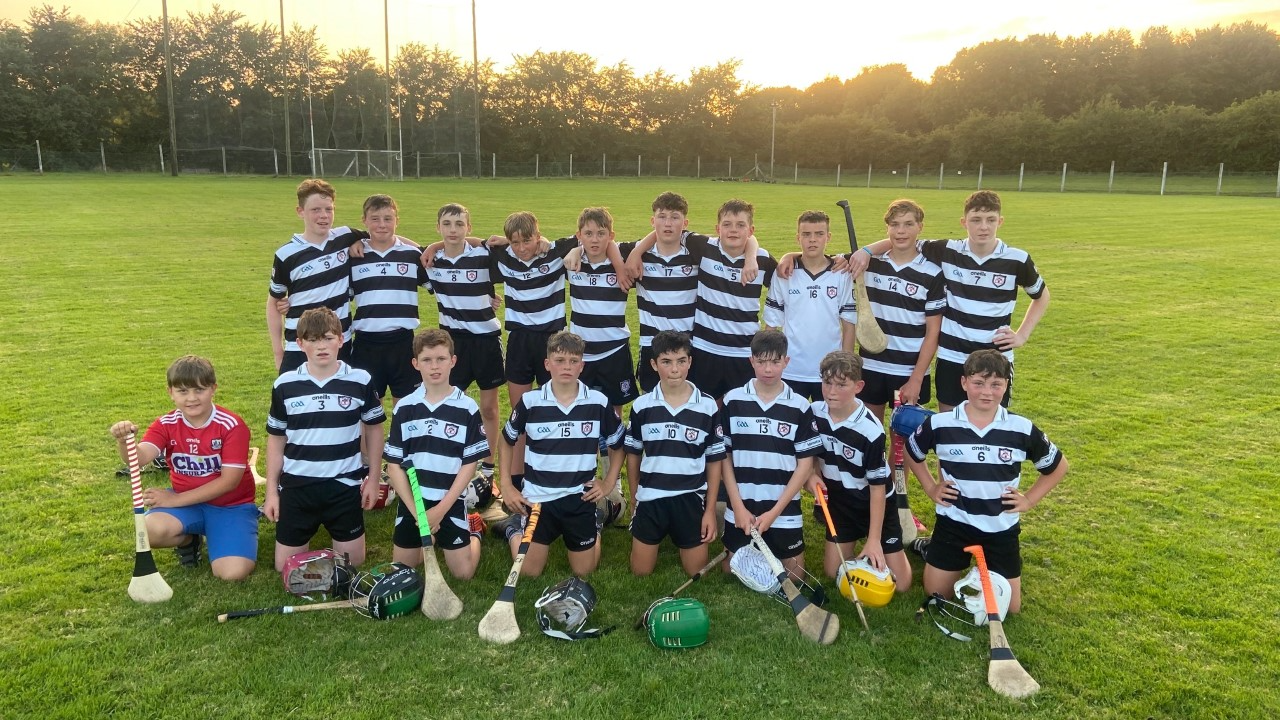 Fé13 Panel v Kiltha Óg
Fé12 Notes
Div 3 Football League Midleton 4:05 Nemo Rangers 2:07
The second round of Football matches in the Division 3B saw the arrival of Nemo Rangers to Clonmult Memorial Park on Sunday August 9th. The game was played in very good spirits throughout with nothing between the teams until Sean Gregory struck for a well taken goal just before the first water break. Substitute Deniss Brusevics was now having a big impact on the game and was involved in the second goal which resulted in a clever finish by sharpshooter Dara Cahill. This put Midleton in front at the half time whistle 2-05 to 0-03. After the restart the lads continued to play some great football with further scores coming from Liam Walsh, James Carey and the Ciaran Kelly, leaving the final score Midleton 4-05 Nemo 2-07. This was a very impressive team performance, with some very notable individual performances from captain Cuan Twomey and Cian Hogan in defence to Ciaran Kelly and Jack Cahill up front, who were a constant threat to the Nemo rear-guard. We done to all the lads.
The panel for this match was: Michael Allegrini, Patrick O'Dowd, Harry Waterman, Jack Connolly, Cian Hogan, Cuan Twomey, James Lambe, Josh Quill, Liam Walsh, Jack Cahill, Ciaran Kelly, Dara Cahill, Jamie O'Donovan, James Carey, Sean Gregory, Michael Barrett, Jason Morley, Deniss Brusevics. Next up is a home match v Carrigtwohill in the Division 1B Hurling league on Sunday at 5.30pm followed by a trip to Riverstown on Monday 17th to play Sarsfields in the Division 3B Hurling league.
Fé12 v Nemo Rangers
Blast from the Past
Many thanks to those who are sending photographs of past teams and supporters. These are all posted through our social media channels
https://www.facebook.com/MidletonGaa/
https://twitter.com/MidletonGaa
https://www.instagram.com/officialmidletongaa/
In the club notes I won't repost them all but will pick one or two by way of flavour.
This week's flavour: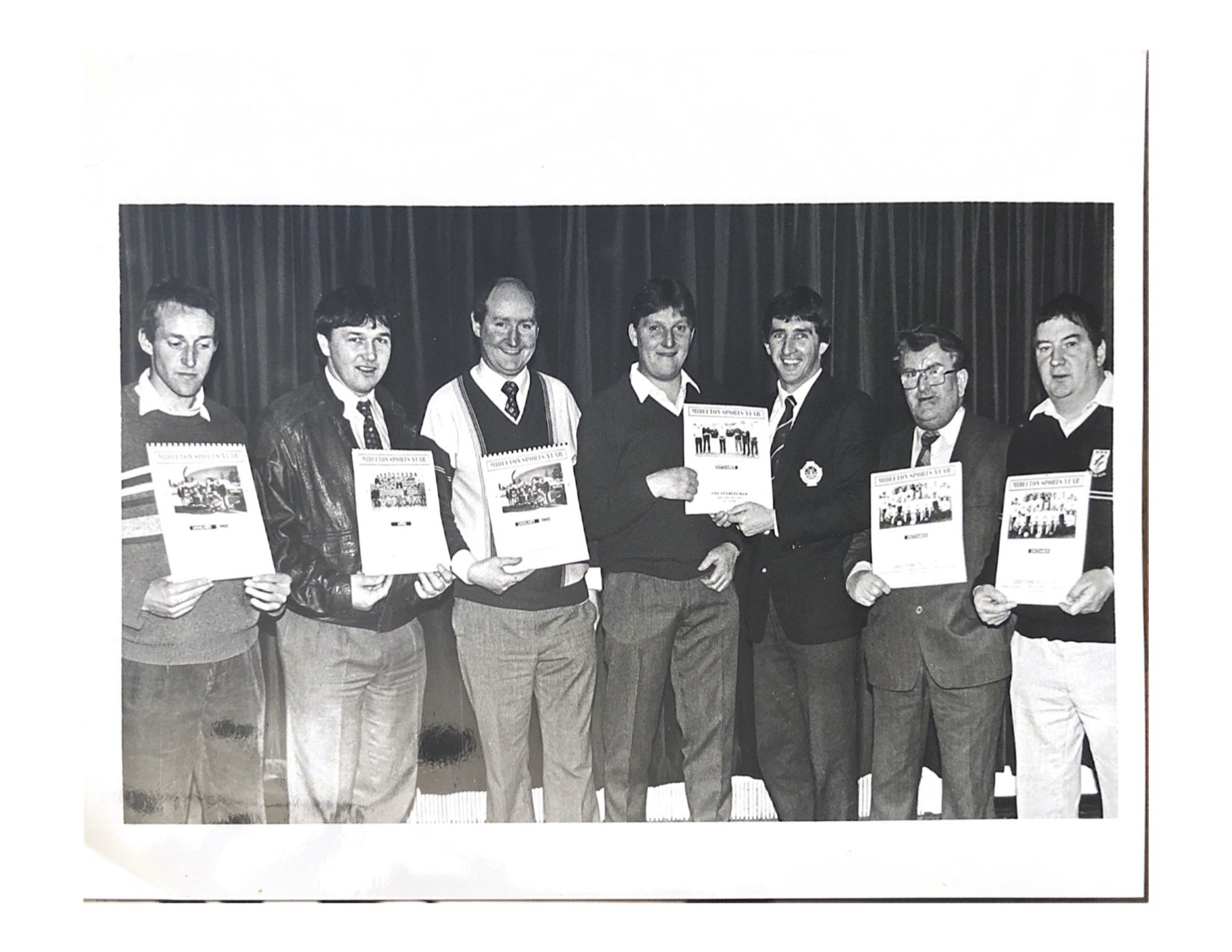 Pictured at launch of 1990 Midleton Sports Year Calendar. L O'Brien (Athletics), S O'Brien (GAA) , P Horgan (GAA), M Moloney (Golf), J Fenton (GAA), JJ Joyce (Rugby) and P Coakley (Soccer).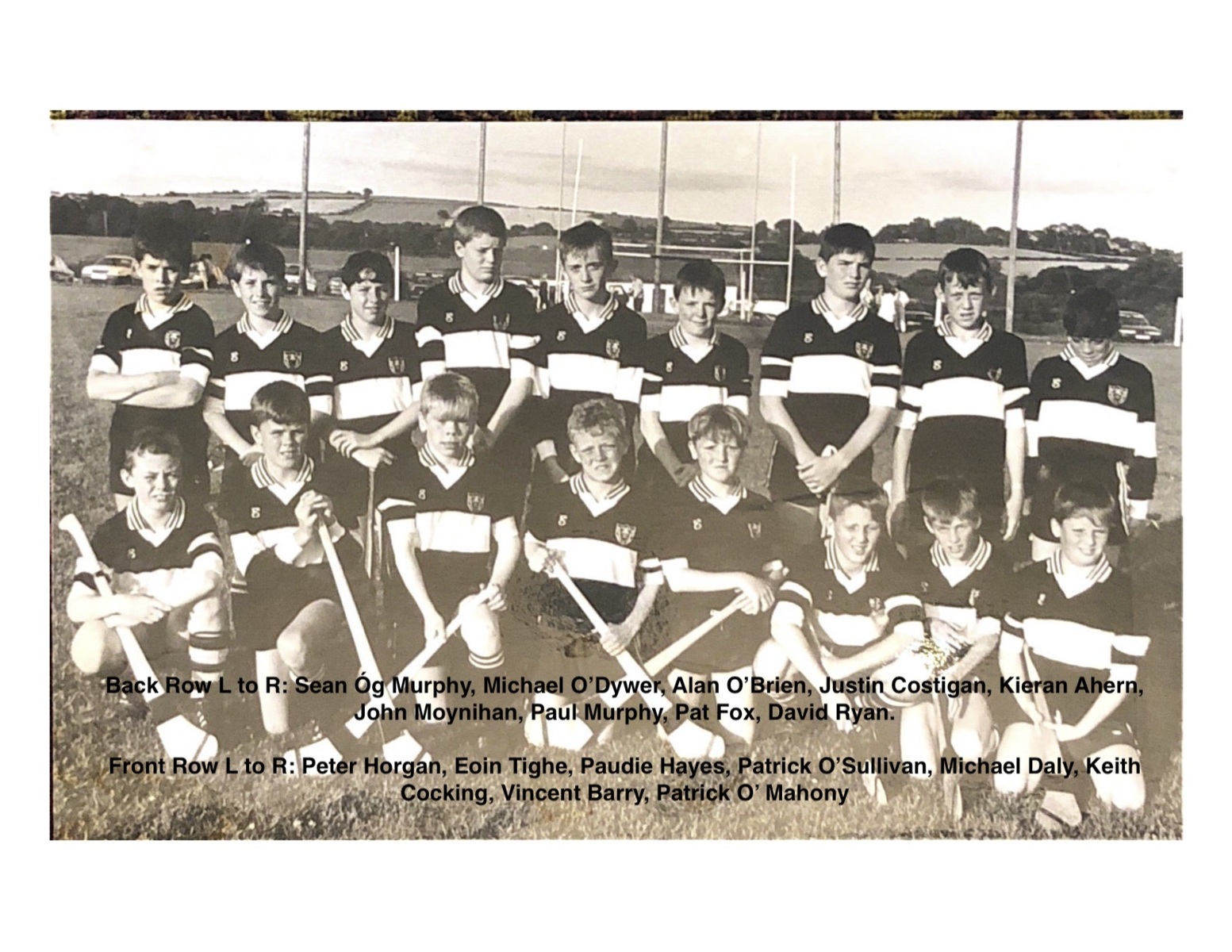 Fé12 Team who played Carrigtwohill in Lisgoold