Midleton Hurling and Football, Ladies Football and Camogie Club News
09 August, 2020
The key messages for this week:
Lot of fixtures in the coming week
Park South Open Day…showcase of new development
Launch of New Magpies Mega Lotto in new exciting format on 14th August
Great win by Seniors against Ballyhea, Intermediates against Glen Rovers & Junior Camogie against Killeagh
Midleton GAA…at the 'Heart of the Community'. Ní neart go cur le chéile. There is no strength without unity.
Safe Return to Gaelic Games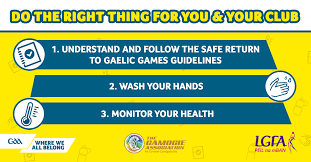 We have put together a comprehensive Plan for the safe return to Gaelic Games in Midleton.
This can be accessed at
downloadforms?rdDF=MIDLETON%20GUIDELINES%20FOR%20RETURN%20TO%20TRAINING.pdf
Prior to return to training, ALL adult players, team personnel and parents/guardians of Juvenile players are required to:
Complete the certified eLearning Module covering the main aspects of the Guidelines. This is available to complete at https://courses.gaa.ie/Covid19ClubEd/#/
Complete the GAA Health Questionnaire once online, which will be available through https://returntoplay.gaa.ie\. Please note that this questionnaire must be completed prior to return to training for the first time.
Using the same online system, all Adult players, parents/guardians of underage players and team personnel will be required to declare, before each training session/game, that their health status has not changed. This must be completed a minimum of 1 hour before the time of the session.
For Insurance purposes membership needs to be paid before training. Go to membership to see how much you need to pay
Midleton GAA H&F Account,Bank of Ireland, Main Street, Midleton
Account Number; 29207259
Sort Code; 90-29-01
IBAN; IE16 BOFI 9029 0129 2072 59
BIC; BOFIIE2D
Please write players name in the reference section.
Please also note that the club grounds are closed to activities other than those planned and supervised under the Safe Return to Gaelic Games protocols.
Fixtures & Results
Please keep an eye on the Fixtures & Results sections of the website for updates on matches over the coming weeks.
Fixtures: club_fixtures
Results: club_results
See below snapshot of current confirmed fixtures for the next week.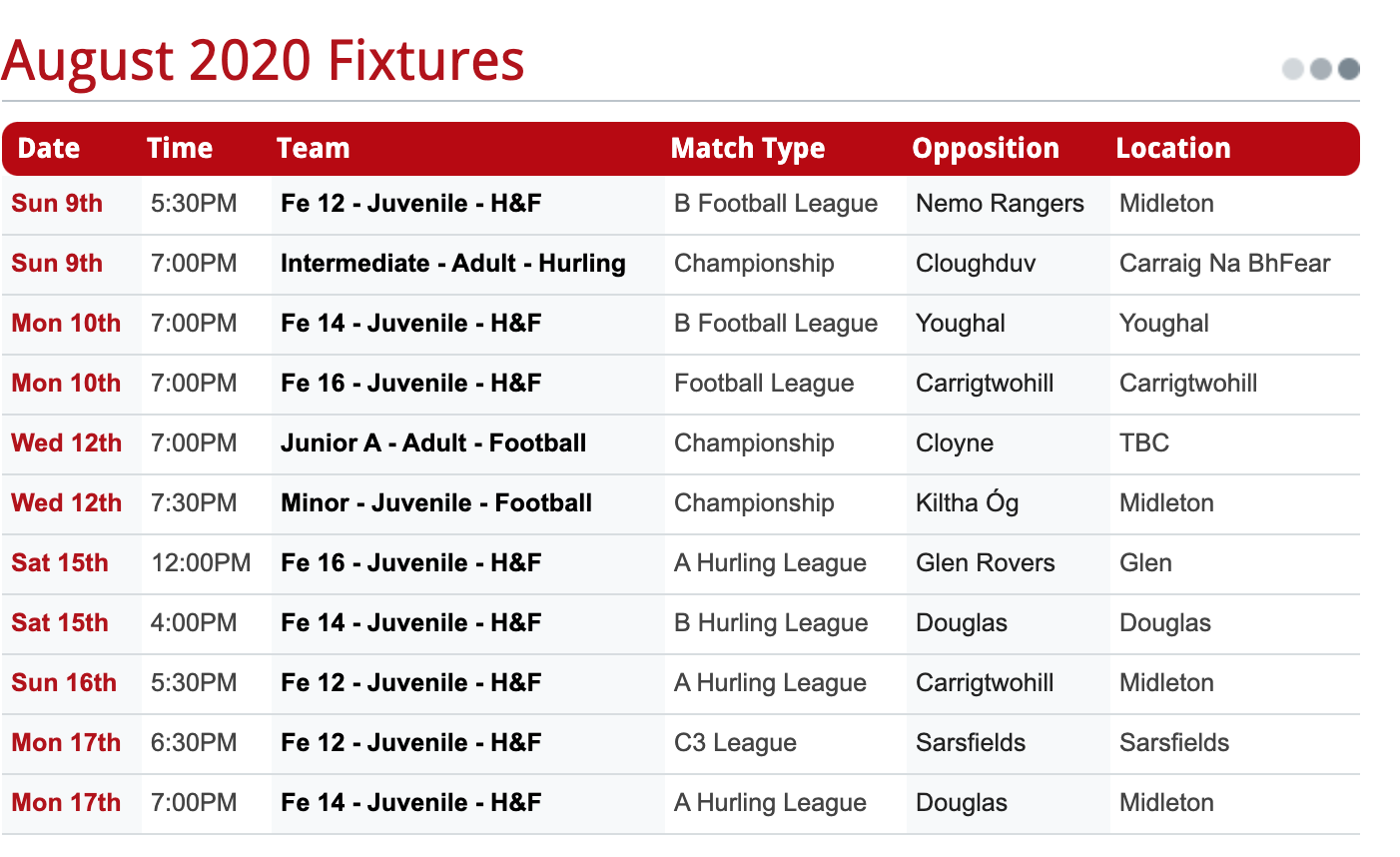 With current COVID guidelines restricting attendance to 200 people (including players, management and officials), some fixtures will be ticketed. For all those playing and attending please observe the guidelines.
Park South Open Day
A decent crowd, in glorious weather conditions, turned out to see and hear about the progress to date and plans for the future in Park South.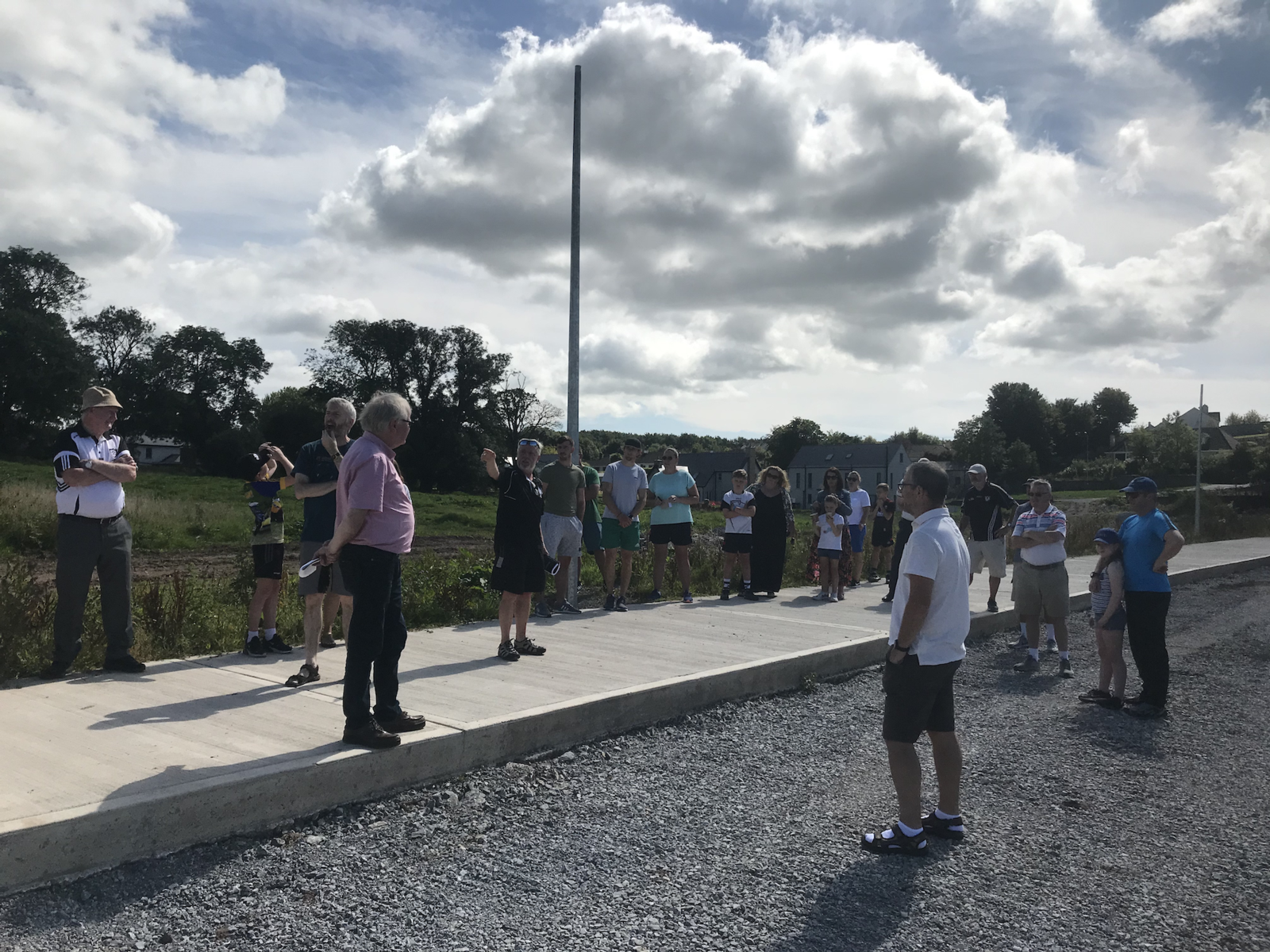 'Tour Guide' Alan Donegan pointing out the development features at the 12noon tour
The 3 'tour guides' on the day were John Fenton, Alan Donegan and Liam Wade. The main points covered during the tour and the Q&A's that followed were:
Grounds cover c38 acres purchased in 2016 for €380k. When walking the grounds there is a genuine amazement at the sheer size of the lands available. There is an extra shock factor to be shown the 'top pitch' of 7 acres (larger than footprint of Clonmult Park. This field, being 'behind a ditch' is not immediately apparent at first glance of the grounds.
Works to date cover seeding of 2 pitches. These pitches are progressing well and have been already cut 3 times (each cut taking c8-9 hours). The attendees heard that professional advice recommends allowing the pitches to settle and mature before playing on them. It is anticipated that the pitches will be first used around this time next year.
Development costs to date have been in the region of €450k bringing the total expenditure to date being c€830k. This has been funded through own funds, grant funding and bank borrowings of €250k. In this sense the new development is not highly indebted reflecting the historical hard work in fundraising and the desire not to over stretch the club.
What next? Sand based pitch, 3G/4G artificial surface pitch? Multiple options are open to us as a club. The different options have differing costs and differing benefits.
Irrespective of which option chosen by the club the attendees heard that the 'new reality' being faced in terms of falling income from Bingo, Facility Rental, and Bar/Hall means that we need to re-focus efforts from an income and fundraising perspective.
When questioned about these fundraising efforts the following initiatives were highlighted:

Re-launch of the club MegaLotto with minimum Jackpot of €15k (rising to max €20k) making annual tickets at €100 attractive. More details on MegaLotto further on in the notes.
Family walking half marathon on 25th October. Plans are underway for this event. In the absence of the Juvenile Golf Classic this year individuals and companies who normally sponsor a team or teebox are being asked to help and support this event.
Continuation of donation scheme to club whereby with a minimum donation of €250 the club can receive a further top up on the donation in terms of 'tax back' from the Revenue Commissioners.
Grants, including large scale infrastructure grants, will be applied for when available. One of the key points regarding grant funding that was made is that it augments but doesn't replace fundraising efforts as we will invariably be required to have matching funding through our means.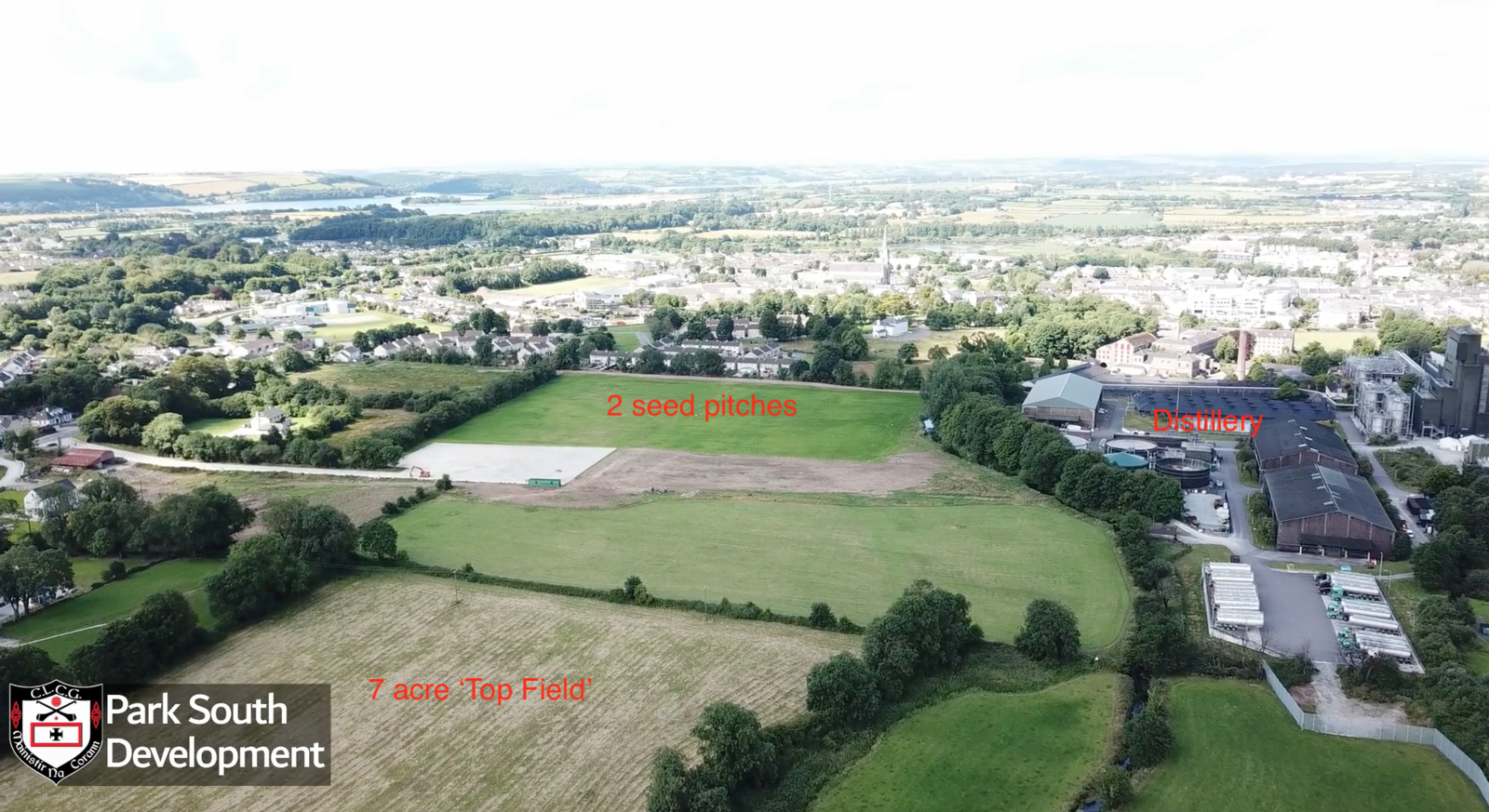 Arial photograph of Park South with 2 seeded pitches and 7 acre 'top field identified
Launch of New Magpie MegaLotto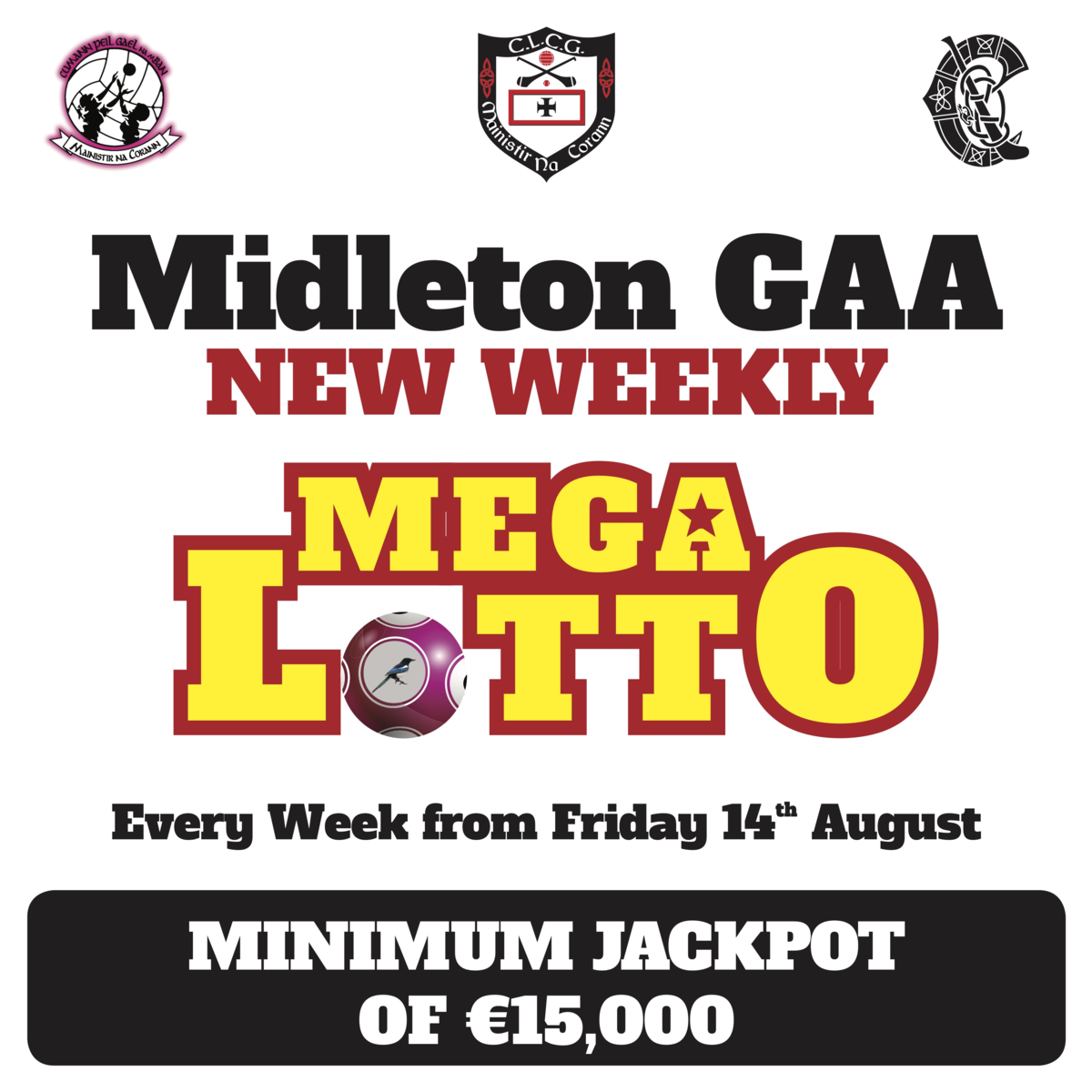 You may be aware that Midleton GAA is re-launching our Lotto on Friday 14th Aug. This features some great Prizes including:
Weekly Starting Jackpot of €15,000 rising to €20,000 in €200 weekly increments if not won
Weekly Consolation Jackpot of €400 (Match 3 Numbers from 1 to 30 Panel)
Weekly 2 x €25 Lucky Dip Cash Prizes
Weekly 2 x €25 Lucky Dip Vouchers in support of local businesses
Monthly €100 Voucher Draw in support of local businesses for Yearly & Direct Debit players.
We're doing a lot of work in the background to make this successful and you'll see and hear more in the lead up to 14th August. The yearly ticket that you play is €100 per ticket and the new Lotto Year runs from 14th Aug 20 to 13th Aug 21. If you're an existing regular player your numbers need to be updated. Please update and return to me.
Payment can be made by Cash, Cheque or Electronic Funds Transfer (details below)
Midleton GAA H&F Account, Bank of Ireland, Main Street, Midleton
Account Number: 29207259
Sort Code: 90-29-01
IBAN: IE16 BOFI 9029 0129 2072 59
BIC: BOFIIE2D
Please put your NAME followed by LOTTO in the reference section and email your 4 numbers (three from 1 to 30 and one from 1 to 10) to treasurer.midleton.cork@gaa.ie.
The value of Vouchers our Lotto will be buying from Local Businesses in the coming year is €3,800.00, as part of our initiative to "Shop Local, Buy Local".
Senior Hurling Championship
Midleton 4-23 Ballyhea 1-13
The senior team ran out comfortable winners, after a keenly contested first half, against Ballyhea. The final winning margin of 19 points didn't look likely when Ballyhea twice led by five points in the first half but Midleton finished the first half well and then blitzed Ballyhea on the resumption. 4 goals in the opening 10 minutes of the second half sealed the win. The next fixture against Douglas in 3 weeks' time will be a 'do or die' fixture for both teams.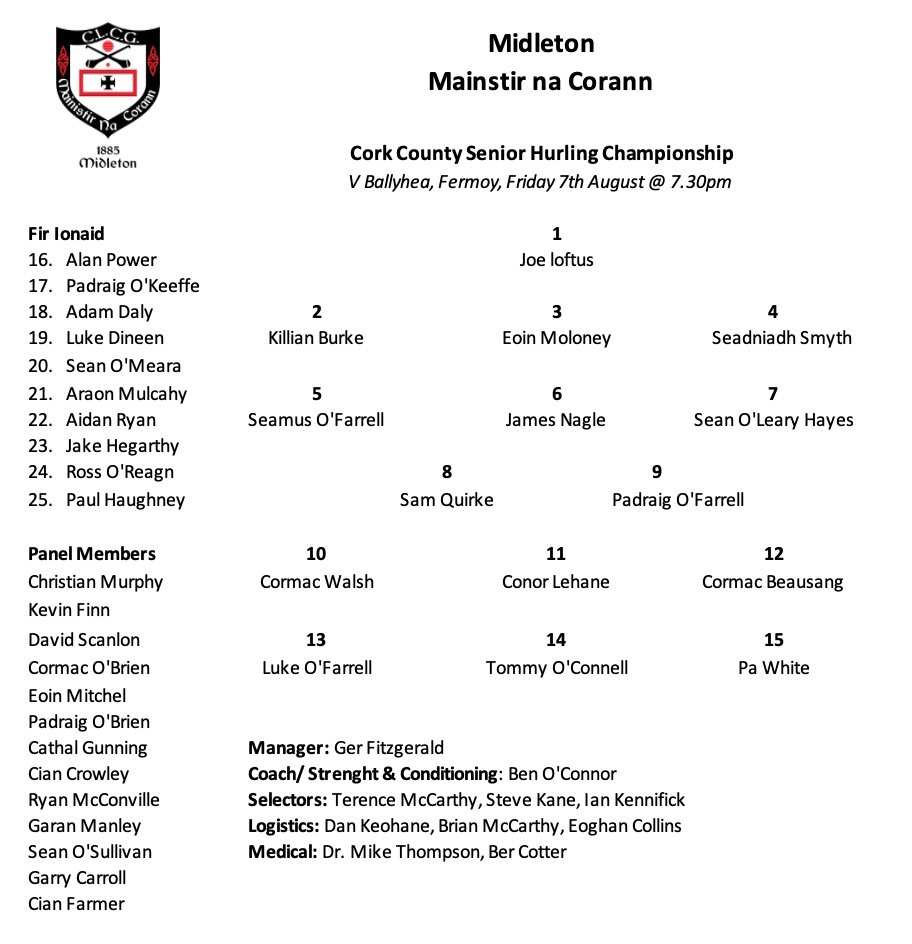 Scorers for Midleton: C Lehane 3-11 (1-0 penalty, 0-6 f, 0-2 65) P White 1-2, T O'Connell 0-4, L O'Farrell, C Beausang 0-2 each, S O'Meara, C Walsh 0-1 each.
Best of luck to our Intermediate Hurlers as they take on Glen Rovers in the Intermediate County Championship in Cobh today @ 4pm.
Intermediate Hurling Championship
Midleton 0:19 Glen Rovers 1-11
The Intermediates made an impressive start to Group C of the Co-Op Superstores Cork Intermediate A Hurling Championship as they beat Glen Rovers by five points in Cobh last Sunday afternoon. Trailing until the last quarter Midleton finished very strong and outscored the Glen by 9 points to 3 in the last 20 minutes. Next up is Cloughduv today in Carraig Na BhFear at 7pm. Best of luck lads.
Midleton Team: A Power; C O'Brien, C Murphy, C Gunning; A Daly, L Dineen, E Mithcel; K Finn, A Mulcahy; J Hegerty, P O'Brien, R O'Regan; C Farmer, I Kennefick, C Crowley.
Scorers for Midleton: A Mulcahy 0-12 (11f), J Hegarty, P O'Brien, C Crowley 0-2 each, R O'Regan 0-1.
Camogie
Things have somewhat slowed down a pace for Midleton Camogie Club as we prepare for the long awaited Championship Matches. Girls across all levels are training hard and putting their skills to the test. We had only two matches this week but they were two very memorable ones! Both the Junior Team and Our U12 girls were put through their paces in two challenging games. Well done to every girl involved and to their hard working coaches.
First up on what was a sun drenched evening in Clonmult Memorial Park on Wednesday 5th August 2020, before a capacity crowd, Midleton Camogie Club played its first Adult Camogie match against a strong Killeagh outfit. A tough encounter ensued, which is what you would expect at this level, but our girls stood up to the challenge and ran out winners on a score line of 1-8 to 1-5. Jodie Keegan O'Connell got our first half goal. Clara McCarthy, Rebecca Cassidy and Chloe Garde added the points. Our defence stood firm all the way through, with Rayanna Power, Lucy Wallis and Yvonne Abernethy leading the way. A great first outing at Adult level for the Club and particularly the girls involved. Thanks to all who came to support and we look forward now to a 3rd Round match in a few weeks' time. Thank you to all the Committee members who came out in force as did many of the coaches to help out on the night and to keep everything running smoothly is these challenging times. Every aspect was covered and we thank you all for your time and effort. Magpies Abu.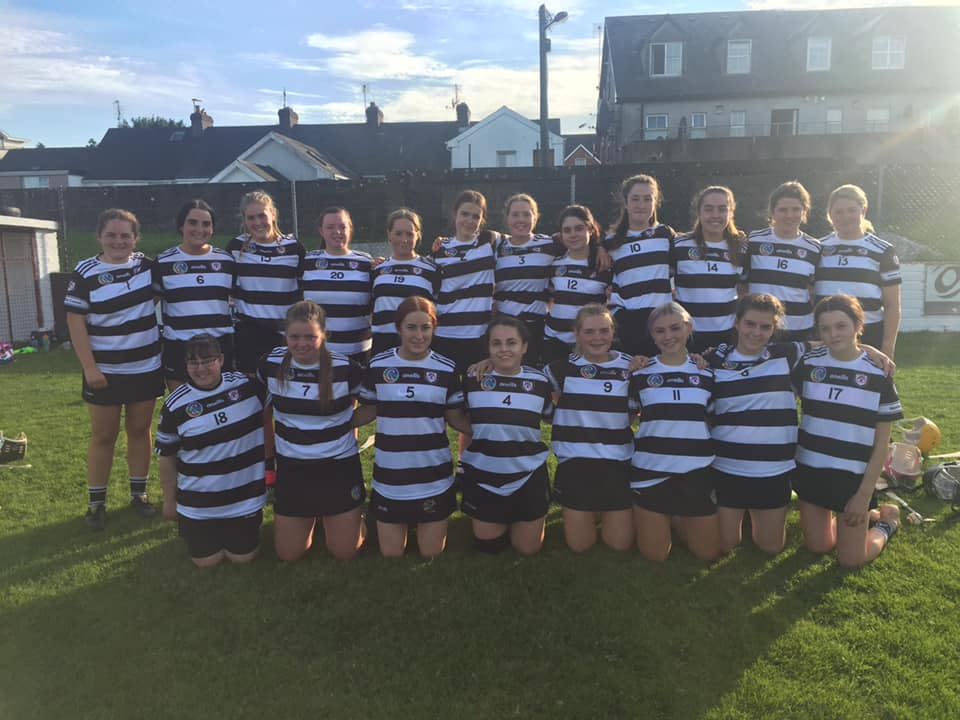 Junior Camogie Panel v Killeagh
To finish off the week our under 12s played Fermoy on Friday night 7th August also at home in Midleton in what was a very enjoyable and entertaining game. The girls were outstanding all throughout the game and played as a team through the whole game. Some excellent skills on display and well done to Fermoy for travelling and for a great game. Thanks to Paul Fitzpatrick for refereeing and a big well done to Abbie Hennessey who Captained the team tonight. We are very proud of each and every girl on the pitch who togged out in the Midleton Colours.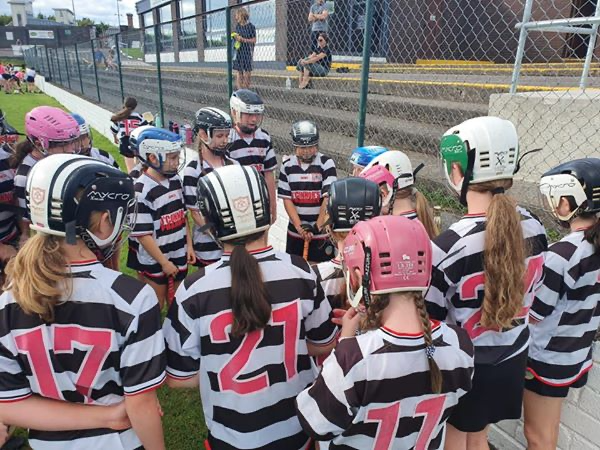 U12 Team Huddle v Fermoy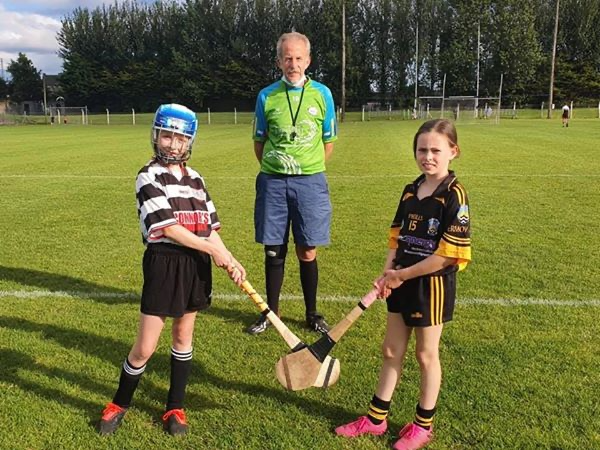 U12 Team Captains v Fermoy
Juvenile
Fé14 Notes
Hurling Development League: Midleton 2:6 Sarsfields 3:6
A busy bank holiday Monday for our lads, on Monday afternoon we took on Sars in group 1 hurling development league, this is a combination of our Fe 14 and Fe 13 players. This turned out to be a very entertaining and hard fought affair. We certainly had the better of the first half exchanges but couldn't convert our dominance into scores. Odhran Rabbitte at midfield (playing his first outfield game for a number of years) was having a great game striking over two long distance frees. His mid field partner Sean Crowley was a livewire throughout and had a fine game for the magpies. Jack Foley also chipped in with a fine pointed free while Lochlann Stewart was having a fine outing at centre back. A Jack Foley shot found the net giving us a slight advantage at half time. Facing into the strengthening breeze was challenging. Our defence was under intense pressure Ben Fitzpatrick was impressive. In goal Diarmuid Lester was confident and had some fantastic clearances. Eoin Ahern and Noah Cahill were defending like men possessed next to them Shane McNamara was giving a man of the match performance clearing ball and easing the pressure on us. Matthew Herbert scored two great points and got on a lot of ball while Tiago Fleming did some great work with an assist for a Ryan Fitzsimons point, Cian Stack goaled after Callum Deegan had drawn the defence. Jack White and Daniel O'Mahony both made valuable contributions. Our first half squandering came back to haunt us when Sars scored a goal at the death to deny us a win. Fair play to our lads never yielding an inch but unlucky with the result nevertheless the performance was heartening.
Panel: Ben Fitzpatrick, Callum Deegan, Shane McNamara, Jack Foley, Jack White, Odhran Rabbitte, Matthew Herbert, Eoin Ahern, Sean Crowley, Cian Fitzgerald, Cian Stack, Diarmud Lester, Tiago Fleming, Noah Cahill, Lochlann Stewart, Tomas Geary, Daniel O'Mahony, Ryan Fitzsimons.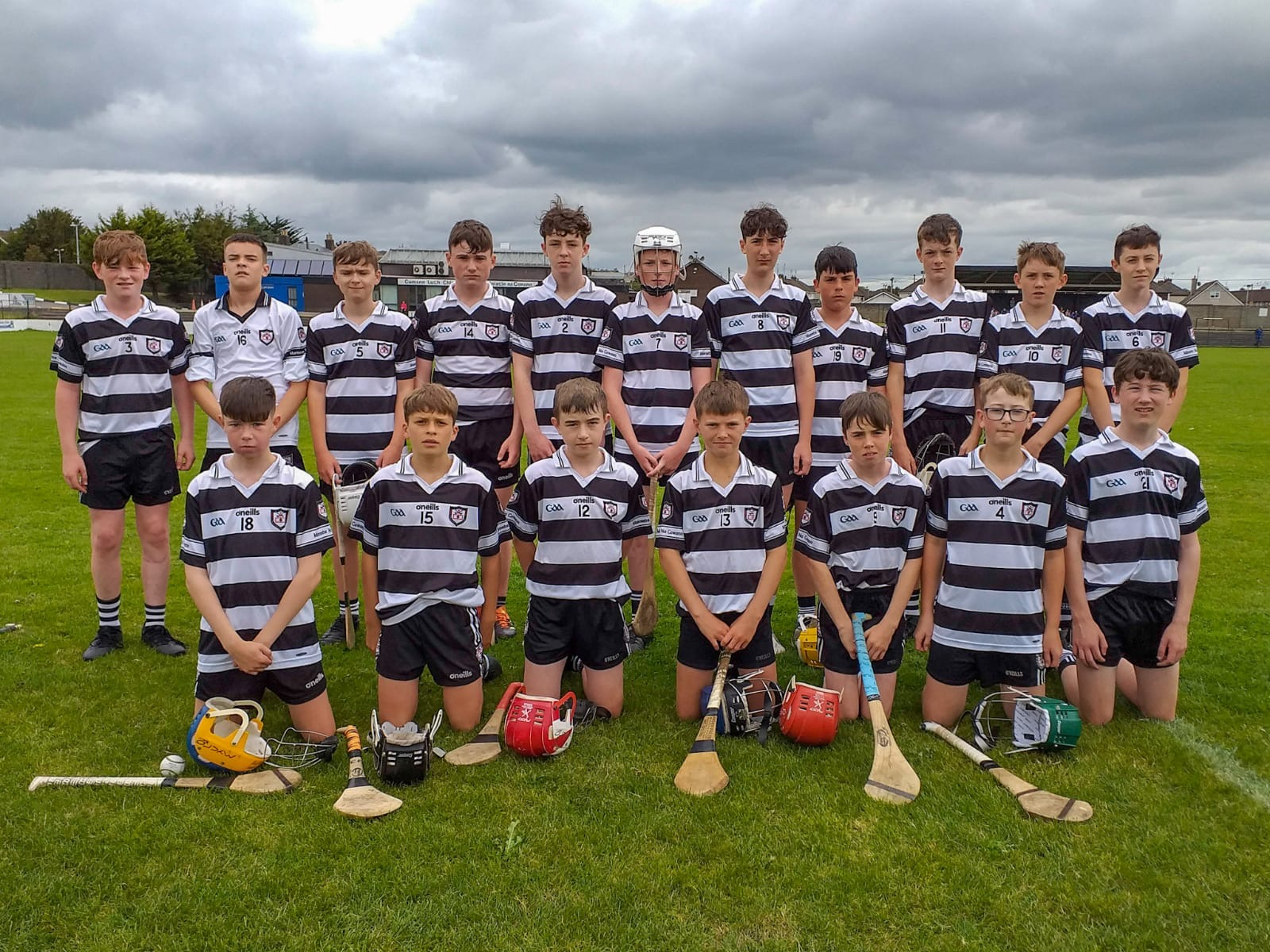 Fé14 Development Team V Sarsfields
P1 Hurling League: Sarsfields 1:12 Midleton 0:13
We headed to Riverstown on Monday night to meets Sars again in the P1 Hurling championship. We had a poor start conceding an early goal and point to our hosts. A James McSweeney free and free front Daniel Garde has us back on track, Josh Hogan then pulled off a great save from a dangerous Sars attack, Sars responded with two quick points from play, while a Daniel Garde free was our response. In what was a very intense first quarter Sars added two more points to lead us on a 1-05 to 0-3 scoreline. We began very strongly after the water break , James put over a 65, we were starting to find our form, Fionn Kelly then split the sticks with a well taken point from play, we added to our tally with three more points Fionn again was on target from play, Daniel then got in behind the defence and his well struck shot grazed the crossbar on the way over and James put over a point from play after some great work from Conor Morley, while Sars had two points just at the end of the second quarter to leave us trailing 0-08 to 1-07.
The second half began with Sars adding a free and a point from play, then James and Fionn combined to get the ball into Daniel, who took on his man seeking a green flag but we settled for a point after some intense Sars defending. Carthaigh Cronin and Darragh Egan were doing their bit in what was becoming a very physical affair. Thomas Dunlea nursing an injury from early on was also prominent putting in a huge shift. Josh Carey was now repelling most ball that came his way with huge relieving clearances. Sars had three points in this quarter a 65, free and one from play. Both teams were now feeling the exertions in what was going to be a battle to the final whistle. James pointed a free after Peter Barrett and Carthaigh had battled hard, Eoghan Frasier pointed from play after some quick thinking from Josh Carey, Sars had two more points while James added another from a free, the clock entered red but we kept hammering at what was now a packed Sars defence, time ran out for us unfortunately and the final score read Sars 1-12 Midleton 0-13. We await Douglas next in a match that will decide our future in this championship, Monday 17th in Clonmult Pairc at 7pm . Credit to the players for manning up in what was a very intriguing and intense contest and from which we will learn a lot.
Panel: Josh Hogan, Adam O Connor, John Paul McManus, Odhran Dennigan, Conor Williams, Matthew McSweeney, Josh Carey, Yohannis Mehigan, Eoghan Fraser, Cathraigh Cronin, Callum McSweeney, Thomas Dunlea, James McSweeney, Conor Morley, Darragh Egan, Peter Barrett, Fionn Kelly, Daniel Garde.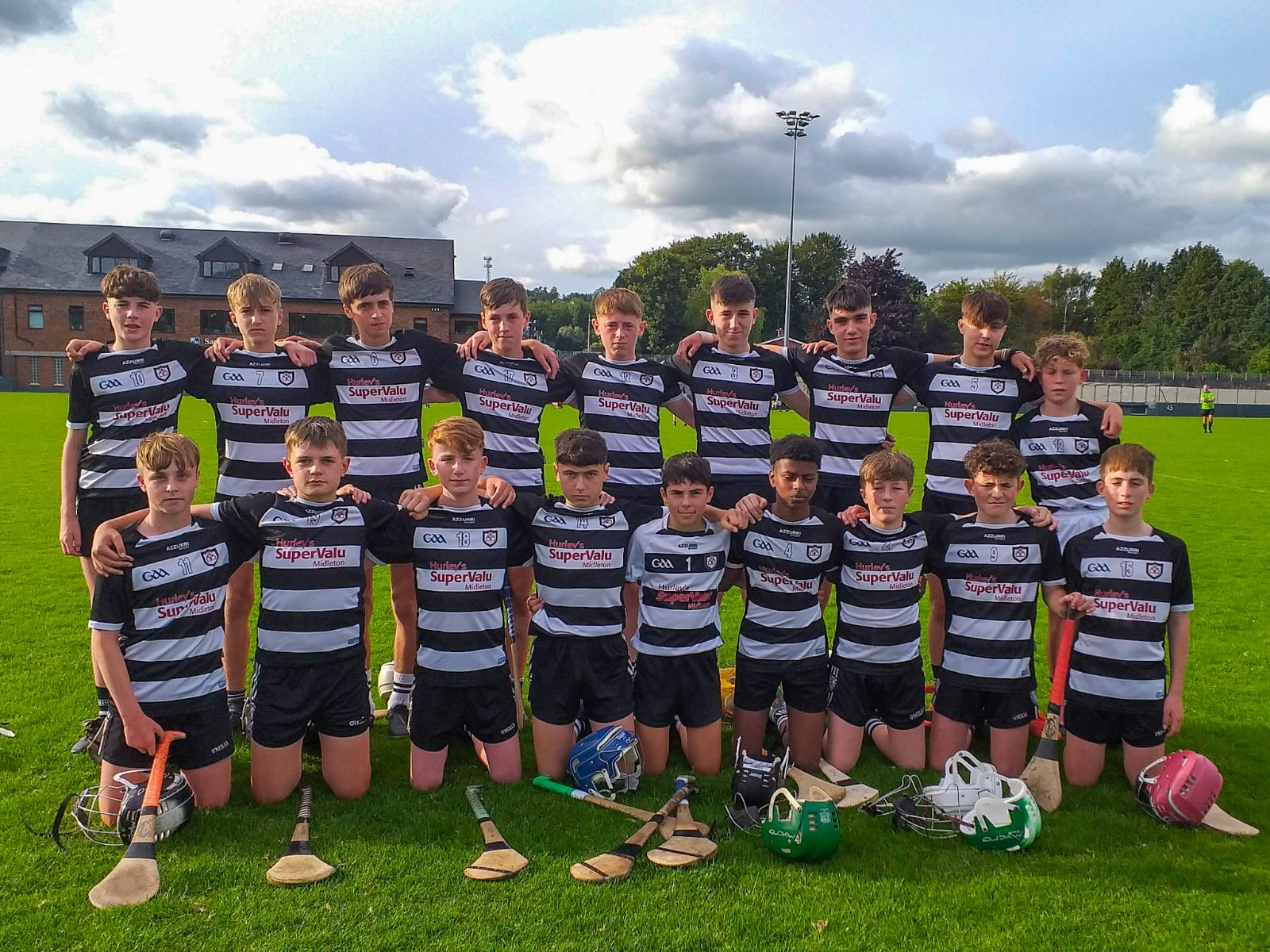 Fé14 P1 Team V Sarsfields
Fé12 Notes
The eagerly awaited start of the Fé12 football season started with a clash of fixtures on Bank Holiday Monday with an away trip to Carraig na bhFear for a Division 3B game against St. Colmcilles and a home match against Carrigtwohill in the Division 2B league.
Div 2B League: Midleton 4:06 Carrigtwohill 1:09
Although it was an early throw in time of 10.30am in Clonmult Park, the Midleton Division 2B lads were wide awake in a move that resulted in Max Murphy finishing to the net for the first score of the game. The remainder of the first half was a tight enough affair which was reflected in a half time score of Midleton 1-01 to Carrigtwohill 1-03. The second half was equally as tight and after the whistle for the final water break Carrigtwohill just led by a single point. However, with some fine performances by Patrick O'Dowd and Jason Morley in defence, Dara Birdthistle in midfield and Cian Lawton in attack, the lads finished the game the strongest, with 2 goals from Cian Lawton and another from Max Murphy to leave the final score Midleton 4-06 to Carrigtwohill 1- 09. Special thanks to Charlie McCarthy & Ciaran O'Brien who played extremely well with the Fé12 lads. The panel for this match was; Harry Waterman, Charlie McCarthy, Scott Dunlea, Patrick O'Dowd, Jason Morley, Shane O'Mahony, Donnacha Horgan, Senan Carroll, Riain McCormack, Ruairi O'Riordan, Max Murphy (captain), Dara Birdthostle, Ciaran Kelly, Cian Lawton, Jack Cahill and Ciaran O'Brien.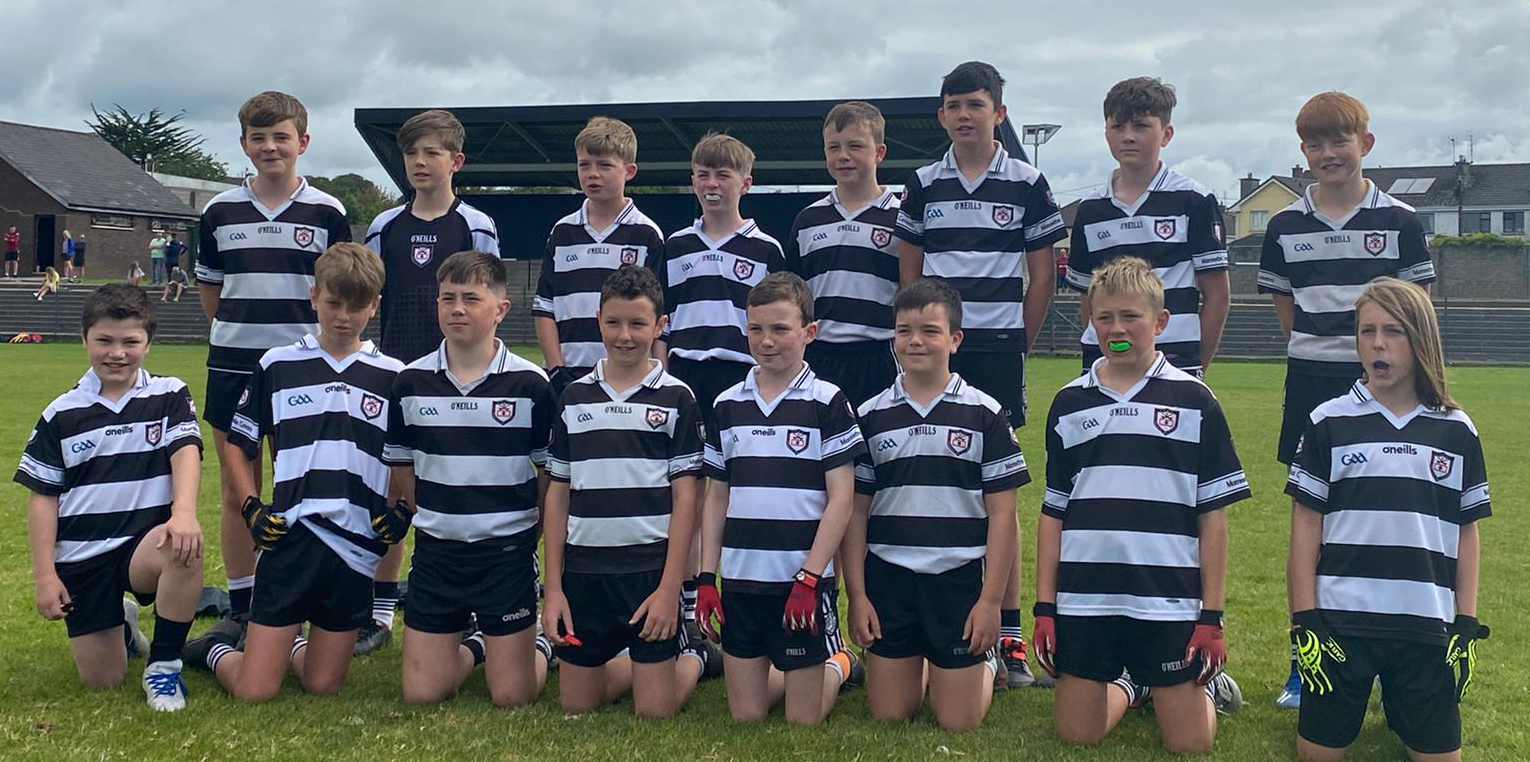 Fé12 panel v Carrigtwohill
Div 3B League: Midleton 2:0 St. Colmcilles 5:9
Our second game on Monday against St. Colmcilles was away and also played at the same time. This along with holidays and injuries stretched our two panels. A tough start in the first quarter was a combination of being our first game of football in this strange year and a good well trained football team in opposition meant we had an uphill battle. A few positional changes and improved work rate by the lads resulted in a much more competitive clash for the remainder of it. Well done lads. Final Score St Colmcille's 5.9 to Midleton 2.0. Thanks to four lads from the under 11 team who helped us make up a team for the game - all who got plenty of game time and acquitted themselves very well, namely Partrick Spellmann, Alfie Hennessey, Finn Cahill and Patrick O'Brien. Also very good games from Josh Quill, Cuan Twomey (Captain), Dara Cahill, James O Meara, Luke Bamber and Liam Walsh.
The panel for this match was: James Carey, Patrik Spellmann, Josh Quill, Jamie O'Donovan, Cian Hogan, Cuan Twomey, Dara Cahill, James O'Meara, Liam Walsh, Christian Ramsell, Luke Bamber, Michael Barrett, Jack Connolly, Finn Cahill, Rossa O'Connor, Alfie Hennessey, Patrick O'Brien.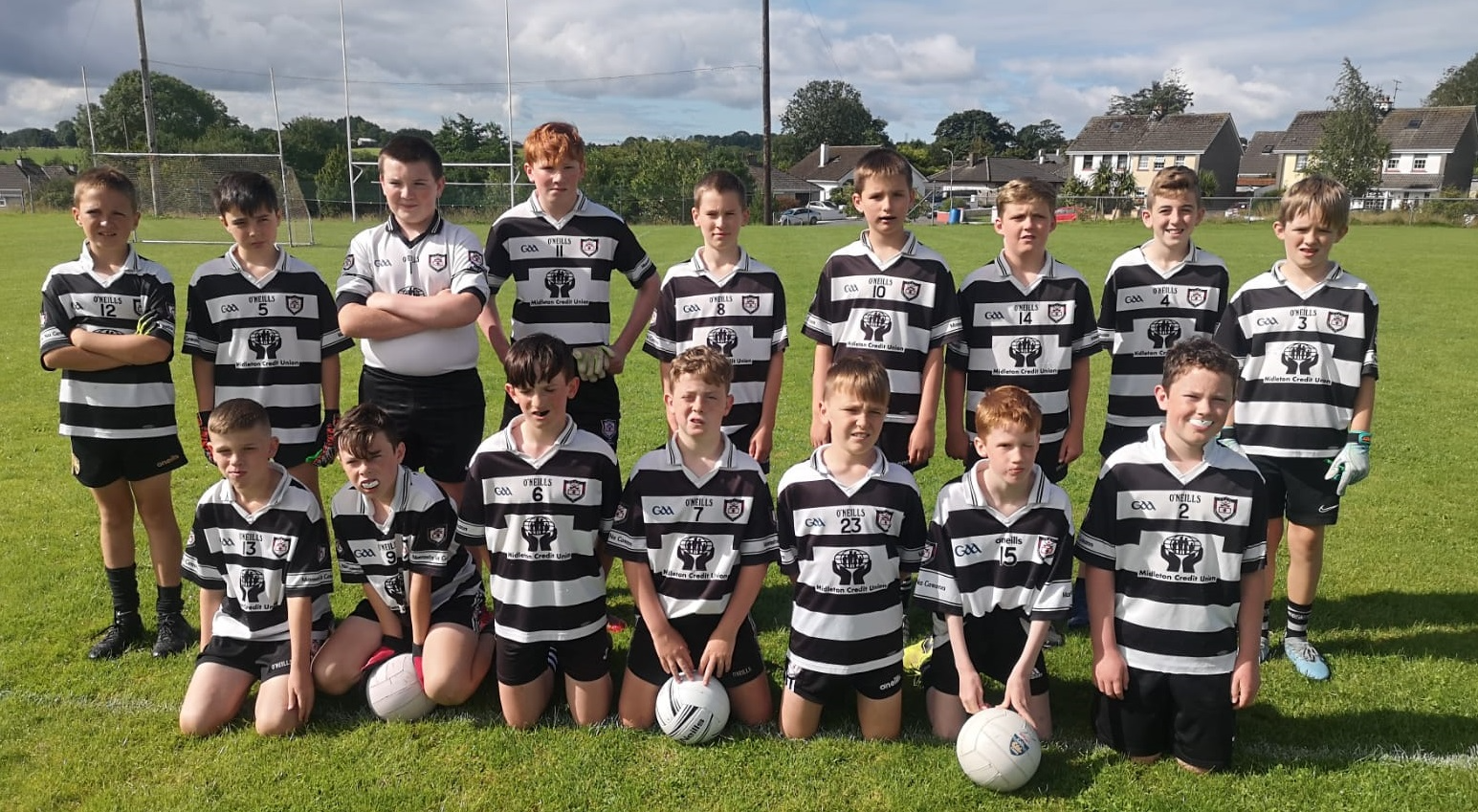 Fé12 panel v St. Colmcille's
Ladies Football
During the COVID Lockdown Lidl Ireland ran a campaign called #Lidl Legends where they asked Ladies Football Clubs to nominate members from within their Club who went above and beyond the call of duty. Our Minor and U14 Players Megan and Lily Kelly spent their days during lockdown and still continue to make masks and are selling them with proceeds going to Charity. As a Club we decided to enter the girls into the competition. Last week we received a call to say they had been chosen as the Munster Winners. We were thrilled and so proud that Megan and Lily are representing our Club. As winners the girls and our Club received vouchers for Lidl. We as a Club will receive a set of Jerseys and we are looking forward to a training session with one of four Lidl Brand Ambassadors with a Ladies Football County Player. Well done Megan & Lily. You deserve to be called Lidl Legends.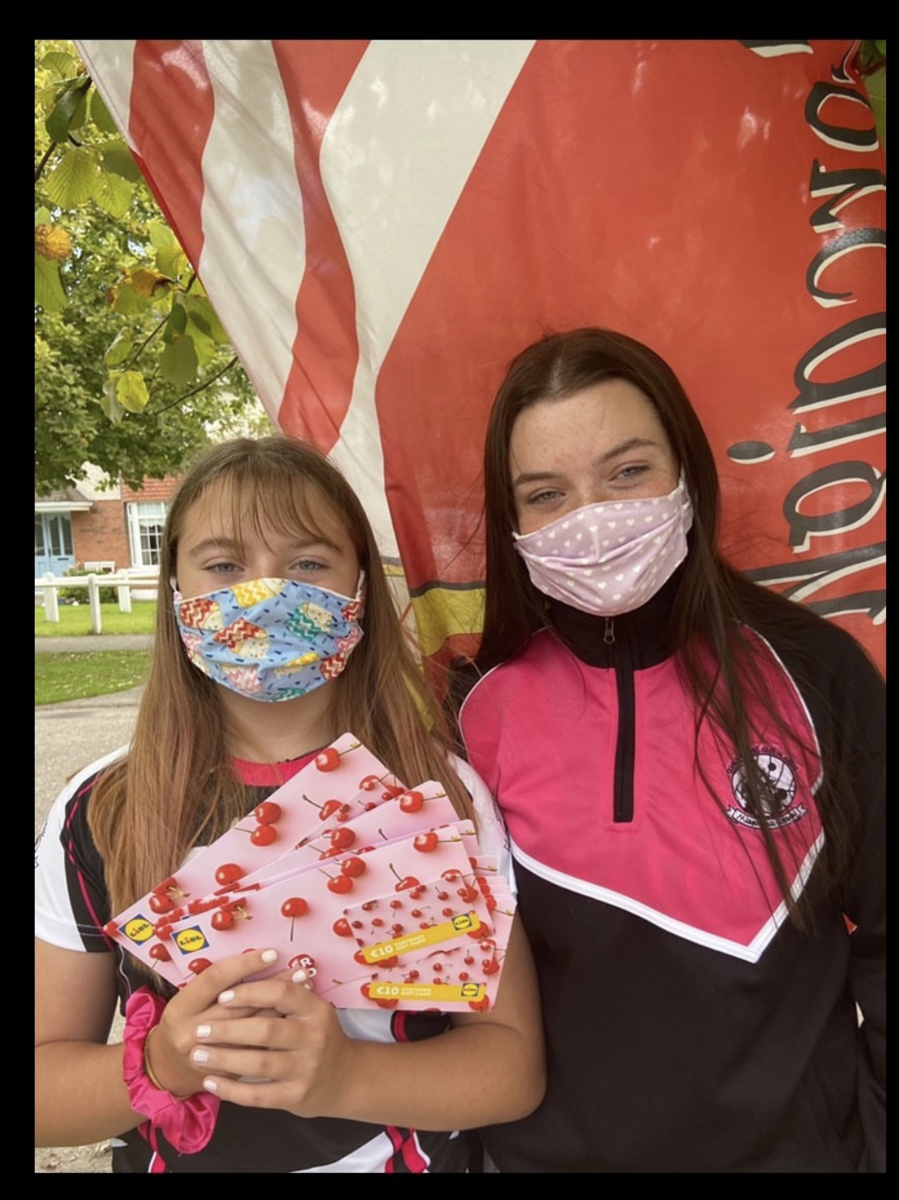 Lidl Legends Lily & Megan Kelly
Training schedule for the coming week :
U8/10/12/14 at 7-8pm in Ballinacurra
U16/Minor and Junior 7.30-8.30pm on the Main Pitch at the Gaa Club.