Midleton Hurling and Football, Ladies Football and Camogie Club News
02 August, 2020
The key messages for this week:
Do The Right Thing For You & Your Club
Fixtures…Busy week ahead on fixtures front. Another Big match next Friday night against Ballyhea.
Park South Update…drone footage and upcoming Open Day
Launch of New Magpies Mega Lotto in new exciting format on 14th August
Midleton GAA…at the 'Heart of the Community'. Ní neart go cur le chéile. There is no strength without unity.
Safe Return to Gaelic Games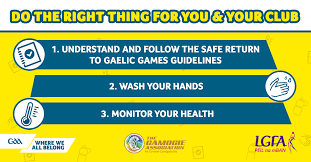 We have put together a comprehensive Plan for the safe return to Gaelic Games in Midleton.
This can be accessed at
downloadforms?rdDF=MIDLETON%20GUIDELINES%20FOR%20RETURN%20TO%20TRAINING.pdf
Prior to return to training, ALL adult players, team personnel and parents/guardians of Juvenile players are required to:
Complete the certified eLearning Module covering the main aspects of the Guidelines. This is available to complete at https://courses.gaa.ie/Covid19ClubEd/#/
Complete the GAA Health Questionnaire once online, which will be available through https://returntoplay.gaa.ie\. Please note that this questionnaire must be completed prior to return to training for the first time.
Using the same online system, all Adult players, parents/guardians of underage players and team personnel will be required to declare, before each training session/game, that their health status has not changed. This must be completed a minimum of 1 hour before the time of the session.
For Insurance purposes membership needs to be paid before training. Go to membership to see how much you need to pay
Midleton GAA H&F Account,Bank of Ireland, Main Street, Midleton
Account Number; 29207259
Sort Code; 90-29-01
IBAN; IE16 BOFI 9029 0129 2072 59
BIC; BOFIIE2D
Please write players name in the reference section.
Please also note that the club grounds are closed to activities other than those planned and supervised under the Safe Return to Gaelic Games protocols.
Fixtures & Results
Please keep an eye on the Fixtures Section of the website for updates on matches over the coming weeks.
See below snapshot of current confirmed fixtures for the next while.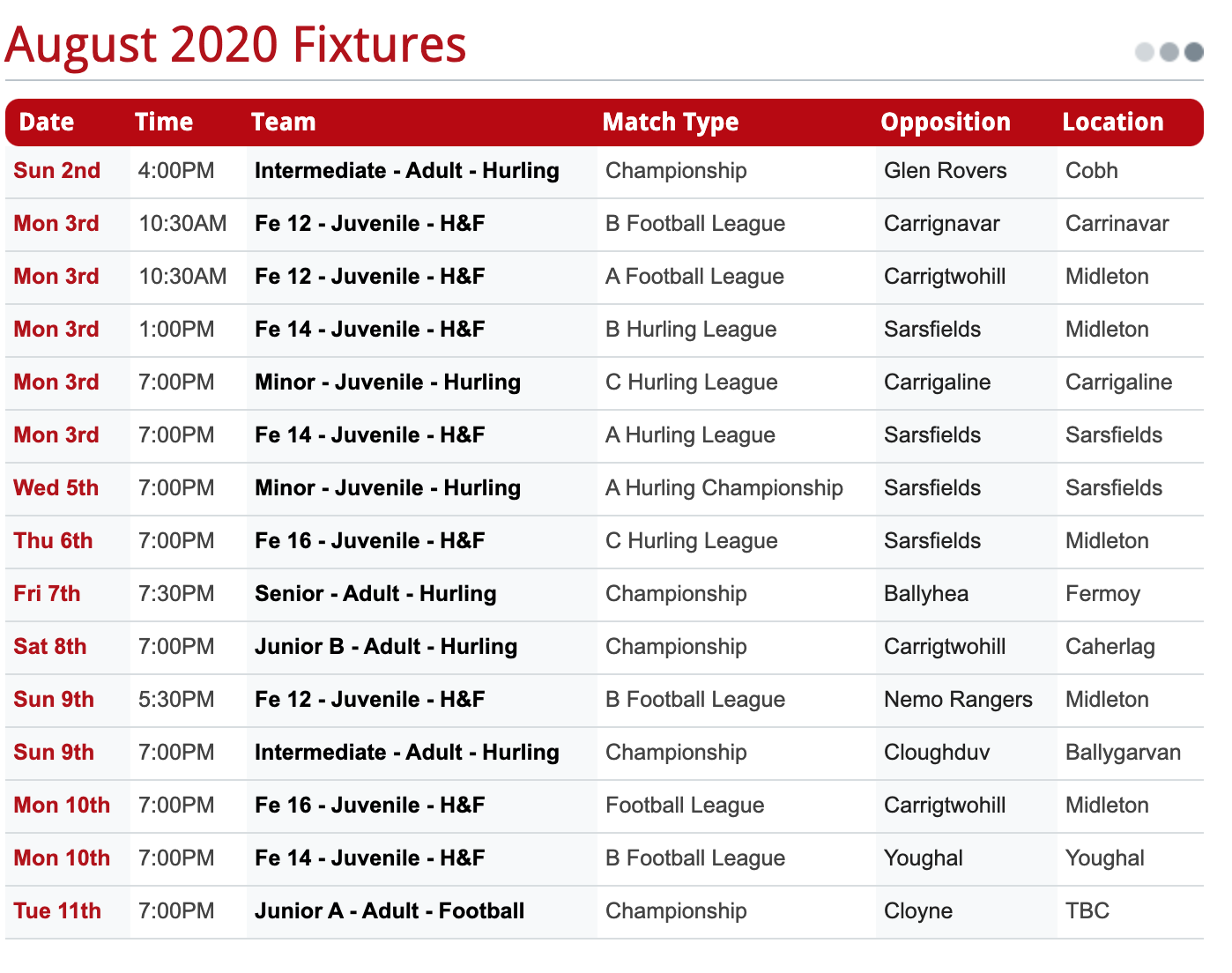 Note: Cork GAA has partnered with the Irish Examiner to provide exclusive live streaming of football and hurling club championship games across all grades up to the end of 2022.
With current COVID guidelines restricting attendance to 200 people (including players, management and officials), some fixtures will be ticketed. For all those playing and attending please observe the guidelines.
Park South Update
The last few months have seen a lot of progress on the new facilities. The facilities and building team put in a tremendous effort to get the grounds for 2 pitches prepared and seeded in early June. See below drone footage showing this work. Great credit due to Shane Goulding for both his drone piloting skills as well as video production skills.
Park South Development - July 2020 from Midleton GAA Club on Vimeo.
An Open Day is planned for next Saturday 8th August whereby members and supporters can come to Park South and see for themselves the progress and hear about the next phases of the development. Further details of this event will be released during the week once finalized.
Senior & Intermediate Hurling
A keenly contested first round of the Senior hurling Championship saw Sars edging out Midelton on a final scoreline of 2:17 to 1:17. With 2 to progress out of the group of 4, that also contains Douglas and Ballyhea, next Friday's fixture against Ballyhea in Fermoy is a must-win game for both teams.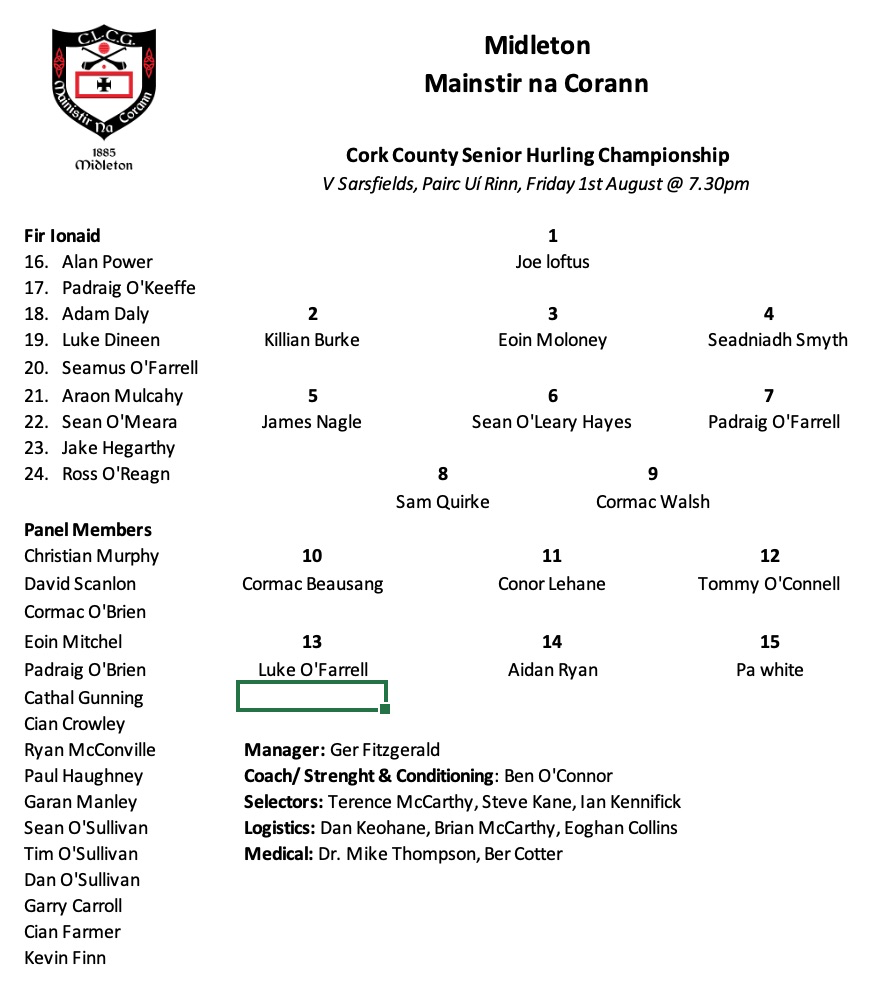 Scores for Midleton: Conor Lehane 0-10 (0-6f), Luke O'Farrell 1-1, Cormac Beausang, Cormac Walsh 0-3 each.
Scorers for Sarsfields: Liam Healy 1-7 (0-5f, 0-1 '65), Aaron Myers 1-2, James Sweeney 0-4, Jack O'Connor 0-2, Cian Darcy, Donal English 0-1 each.
Best of luck to our Intermediate Hurlers as they take on Glen Rovers in the Intermediate County Championship in Cobh today @ 4pm.
Camogie
Another great week of camogie again ,we started off with the U11's who were on the road last weekend with an early start against Douglas. A great performance from every one of the girls! Well done to you all.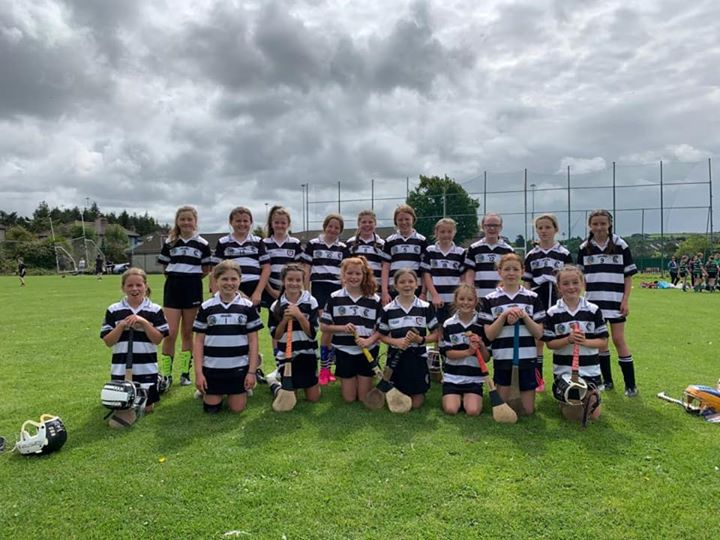 U11 team versus Douglas
Our U12 Team played Eire Og also last Sunday 26th July in a highly competitive, entertaining match with some excellent performances from both teams. The girls were outstanding again today and must be complimented for their fantastic effort and commitment all through. We are very proud of each and every one of them. Thanks to Eire Og for travelling to play us and to the ref Ger Sheehan. Well done also to our Captain today Robyn Keating. Next up is a match against Sars next Saturday 1st August in Bucklearys Cross.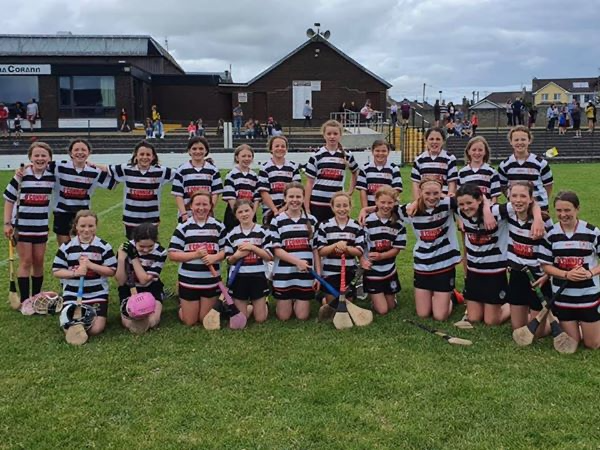 U12 team versus Eire Óg
We travelled to Rathpeacon GAA on Monday last 27th July with our U16 team to play Rockban. Great team work and performance from all the girls, who proved they can play in different positions as slight changes were made in the second half. Even our goalie Jill Connaughton got a chance to play outfield and came close to scoring herself for a change! Thanks to Rockban for a great game ,best of luck in the upcoming championship.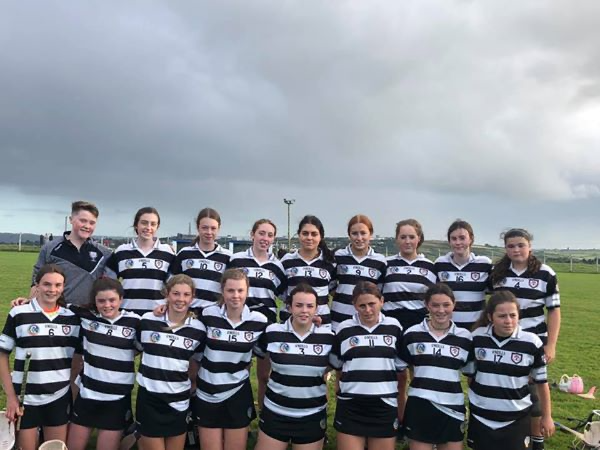 U16 team versus Rockban
Our second match of the season and we welcomed Bishopstown Camogie for an U14 challenge game which was a well contested match with both sides putting in some great scores. The amount of games will be ramping up over the next few weeks and our girls will be more than up to the challenge. Well Done to all involved and thanks to Bishopstown for a great game.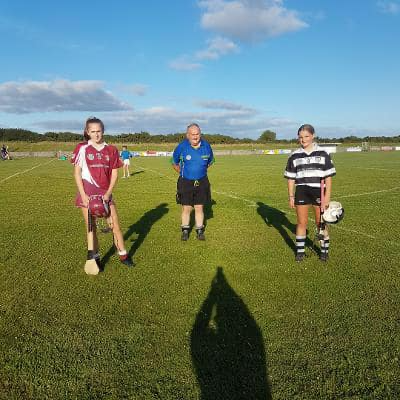 U14 Captains versus Bishopstown
Huge thanks to Martin Enright , fitness coach with the Cork Minor Camogie team who put our 13s and 14s through their paces on the pitch on Friday night before they raced home to support Midleton Seniors for the first round of championship V Sars in Pairc Ui Rinn.
Our U11's were in action in Cobh on Saturday afternoon. All 20 girls were excellent as we played two 10-a-side games against a good Cobh team. Thanks to the parents for traveling. Training is early on Sunday morning @ 9am , please re confirm your daughters health online at least an hour before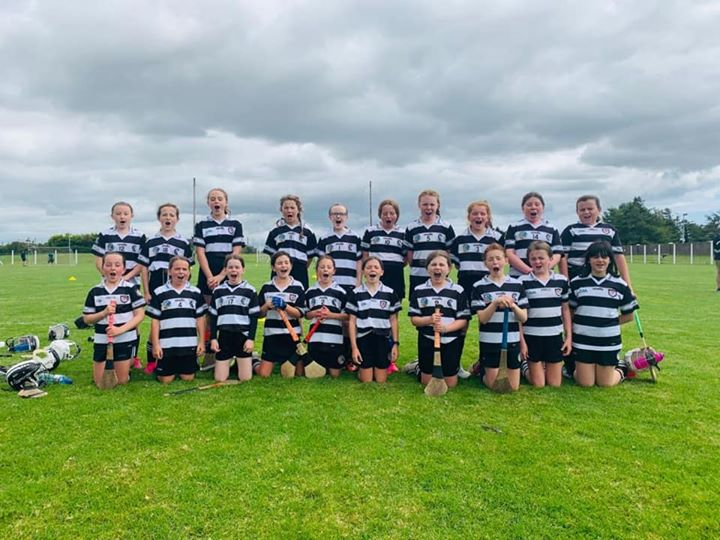 U11 team versus Cobh
We played Sars in Bucklearys Cross also on Saturday morning in what was an outstanding game the girls gave it everything. Their work rate and commitment was excellent all with great performances all over the field. They also recieved a lot of praise from Sars regarding the quality of their play. We are very proud of each of them. Well done girls on a brilliant performance Thanks to Sars for inviting us to play.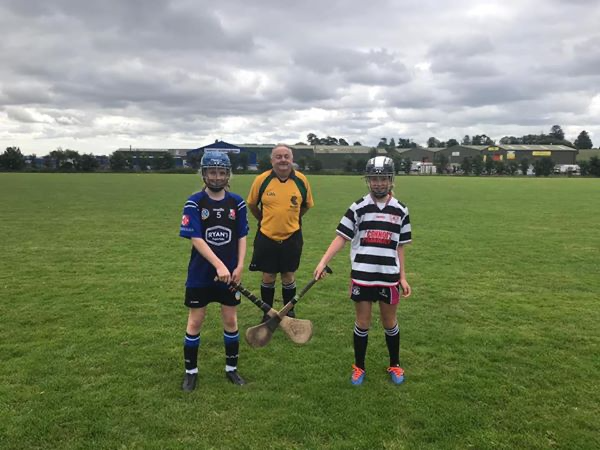 U12 captains versus Sars
After many months of searching Midleton Camogie Club has filled the secretarys position , we would like to welcome Claire Griffin on board, many thanks Claire for agreeing to join the committee and take the role on. She will be in touch with Head coaches in due course over the coming week.
Hard luck to our Minor Panel on Saturday night who met tough competition in Tracton in the first round of the championship. It was a really tough, physical game with plenty of knocks given and taken. It wasn't our night girls. Thanks to all the parents for their support on the night and the girls themselves for fighting until the bitter end. Well done to all involved.
Minor team versus Tracton
On a final note we wish our Junior team the very best on luck next Wednesday evening 5th August as they meet Killeagh in the championship. This is a historic moment for our club as this is the first time ever we have fielded an adult team . So we are all behind you and wish you the very best of luck ladies . Throw in will be at 7.30pm on the main pitch at Midleton GAA Club. Up the Magpies!!
Juvenile
Fé16 Notes
Bride Rovers 1:21 Midleton 3:16
Another gritty performance from this improving Midleton U16 hurling side saw us visit Rathcormac on Saturday morning to defeat a fancied Brides Rovers outfit. This game was set up as a major test of our lads to show could they build on their win over Carrigtwohill and they passed with flying colours. Midleton started with a whirlwind, quickly racing to a 6 to 1 point lead, where our defence proved rock solid with a fullback line of Dara Scanlon, Michael Roe and Cathal Beausang which conceded no score from play throughout the game. First half was nip and tuck and despite Kamil Monak's goal and Mickey Finn's opportunist frees, both sides were level at half time (1-08 to 0-11) after Bride Rovers converted a series of frees. Brian O'Connell excelled at centre back, ably assist by his half back partners Alex Moloney and the impressive Tadhg O'Leary Hayes.
The second half was an exhibition of superb hurling from both sides, a truly competitive contest that saw Midleton players continuously hunting and harassing their opponents, the midfield of Cian Lambe and Tiarnán Roche working very hard throughout. Both sides swapped the lead on a few occasions but goals from Kamil and Mikey gave Midleton confidence to push for the win. Zac Smyth's long puck outs enabled strong contributions from Dave Cremin and Stuart O'Connor, and Dara Fitzgerald was always on hand to pounce for a score. With Bride Rovers leading by two points with five minutes remaining, a collective effort by Midleton saw them score three points in succession to win the match by the smallest margin (fulltime score: 3-16 to 1-21).
Well done and congratulations to our lads, unbeaten, and although there is more room for improvement, this side are on the march and are building momentum towards the business end of this competition.
Midleton Scorers: M Finn 1-10 (0-09f); K Monak 2-00; D Fitzgerald 0-03; T Roche, D Cremin, A Moloney 0-01 each.
Squad: Z Smith, D Scanlon, M Roe, C Beausang, T O'Leary Hayes, B O'Connell, A Moloney, T Roche, C Lambe, S O'Connor, M Finn, D Cremin, D Fitzgerald, K Monak, D Greene, A Howard, D Monak, R Lestor, F Dalton, D Coffey, E Higgins, E McGrath, R de Barra (inj), N Lang (inj).
Fé14 Notes
Midleton 6:10 Killeagh /Ita's 9:07
Tuesday evening in Midleton we faced Killeagh/ Ita's in our first Championship football match. Once again we were blessed with the weather but unfortunately that's where the blessings ended. Killeagh got off to a flyer and the first quarter was one to be forgotten for us, we were blitzed on a score line of Midleton one goal Killeagh 3.04, the skilful Odhran Dennigen just about keeping us in touch with a very well taken goal. Killeagh continued to pile on the pressure but our lads were certainly putting up a brave battle at half time the score line was Killeagh 6.05 Midleton 2.02. Odhran Dennigan was again our main scoring threat with 1.01 and Daniel Garde had a fine point from play .
During the half time break we had a very frank discussion and on the resumption it was like a different Midleton team took the field in what was end to end action with some well taken scores and real team play. A great team move involving James McSweeney and Sean McSharry saw the excellent Odhran Dennigan complete his hat trick. Odhran added another pointed free to his tally. At that point Sean McSharry stood up claiming goal and a point to show his undoubted class. That quarter ended Midleton 2.02, Killeagh/ Ita's 2.01. We faced into the final quarter having regained some pride but still faced a daunting score line. Our lads threw off the shackles and it was an all out attack and through sheer hard work and determination we threw everything at our opponents points from Eoghan Fraser, Daniela Garde and Odhran Dennigan were quickly followed by another Sean McSharry rocket to the back of the net Daniel Garde got forward for his third point from play Sean McSharry and Cathraigh added a point apiece and then Cathraigh goaled a reward for his hard work throughout the match. The final whistle saw the score ended with a score line Midleton 6.10 Killeagh / Ita's 9.07. A game lost but honour gained!
Adam O Connor, Josh Foley and Darragh Egan were defiant in defence, Carthaigh Cronin , Daniel Garde and Eoghan Frasier gave their all while Odhran Dennigen and Sean McSharry were lethal up front.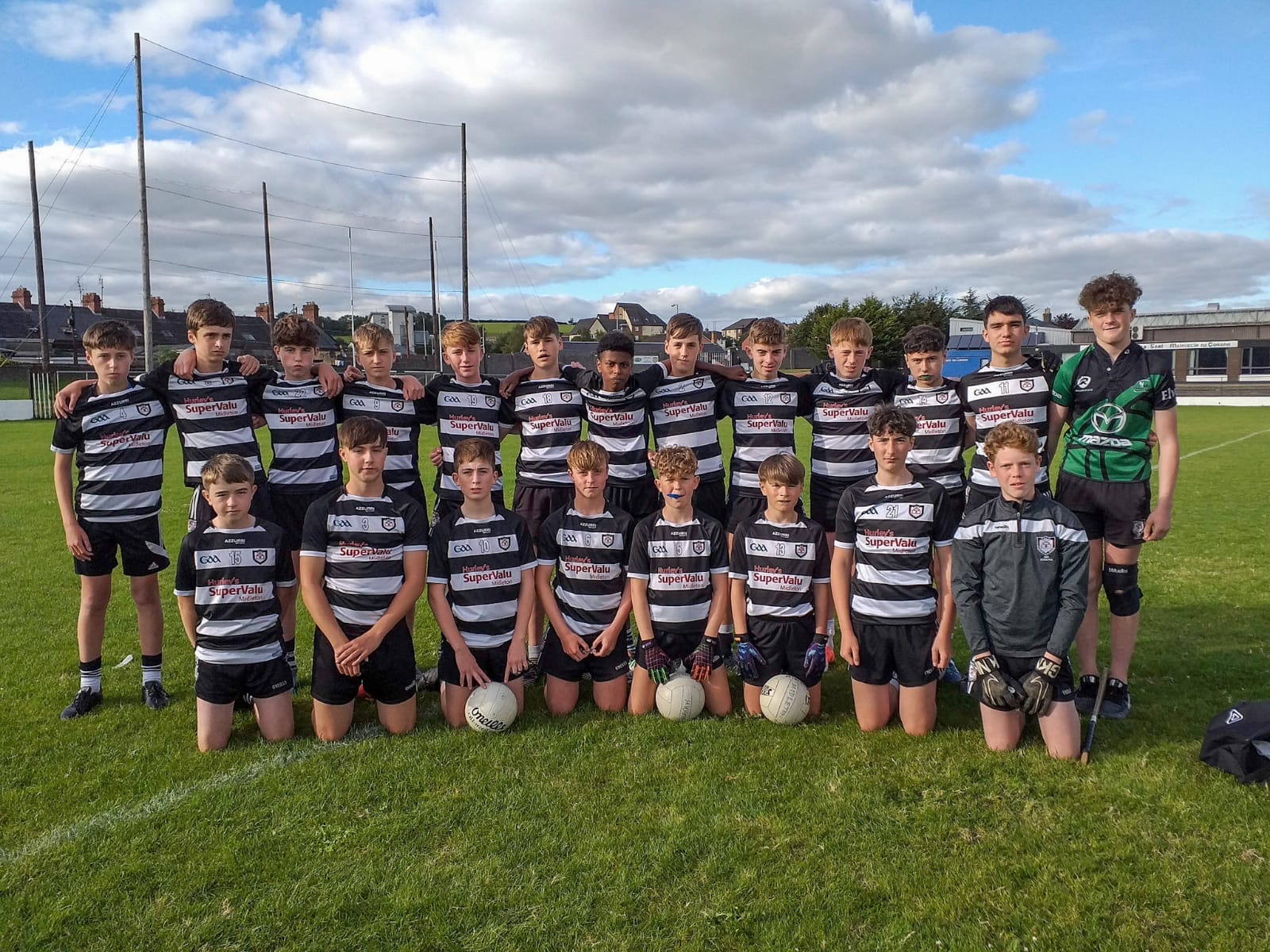 Fé14 V Killeagh/St Ita's
Fé13 Notes
Ballyhea 3:08 Midleton 3:06 (Hurling Challenge)
Last Sunday we travelled to Ballyhea for a hurling challenge match. This was a good outing despite a 3-08 to 3-06 defeat. After a fantastic year last year, COVID-19 has put a big dampener on this year. We are trying to get games for players but it is proving very difficult. Well done to those who travelled last week. We had a very good team performance, with some very good individual performances from Tiago Fleming, Joey Moran, Josh Foley and Nicholas Coughlan. Thanks again for those who travelled, it's not easy when there is no competitive action.
Fé12 Notes
Midleton 0:0 St Colmans 2:06
First up this week for the Fé12 boys was a hurling match at home in the Division 3B league against St. Colman's. This proved to be a tough match with scores hard to come by for both sides in the first half with St. Colman's 3 points up at the break. Despite the weather taking a turn for the worse, all the lads refused to give up with captain Ruairi O'Riordan in midfield, James Lambe in defence and Bréaninn O'Dalaigh up front all working extremely hard. Despite this the scores just didn't come on the night and we went down on a final score the of 2-06 to no score. There will be better nights ahead for this group of lads as they continue to work hard on the training field. The panel for this match was; James Carey, Adam Spillane, Josh Quill, Cian Hogan, James Lambe, Patrick Collins, Cuan Twomey, Ruairi O'Riordan (captain), Dara Birdthistle, Caellum Evans, Bréaninn O'Dalaigh, Luke Bamber, Bradley O'Brien, Rian Casey, Michael Barrett, Jack Connolly.
Erins Own 2:6 Midleton 2:6
The second match in the Fé12 Division 1B was a trip to Caherlag on Monday evening to play Erin's Own. With Erin's Own winning the toss and Midleton playing with the breeze in the first half, the lads took the initiative from the off and stormed into the match with goals from Max Murphy and David Kelly, while holding the opposition to just 2 points from frees. With captain Shane O'Mahony excelling at midfield, Max Murphy and Darragh Mullins constant threats in the forwards, Midleton went into the break ahead on a score of 2-04 to 0-03. With the breeze against us in the second half, the opposition slowly began to reduce the deficit. Despite some heroic defending throughout the night from Peader Egan, Cian Lawton and Senan Carroll, a converted 65 deep into 'injury time' gave Erin's Own a share of the points on a final score of 2-06 to 2-06. The lads should take massive encouragement from their performance and with a small bit of luck on the night could have come away with what would have been a deserved victory. The panel for this match was; Harry Waterman, Fionn Bohan, Cian Lawton, Peader Egan, Jack Walsh, Senan Carroll, Jason Morley, Shane O'Mahony, David Kelly, Ewan Murphy, Scott Dunlea, Darragh Mullins, Ciaran Kelly, Max Murphy, Riain McCormack, Jack Cahill, Patrick O'Dowd, Cuan Twomey, Liam Walsh, Christian Ramsell.
Next up for the Fé12 group is a home football match v Carrigtwohill and an away trip in the football match v St. Colmcilles (in Carraig na bhFear) both at 10.30am on Monday August 03rd.
Fé10 Notes
Fé10 travelled to Killeagh for our first post lock down game v Killeagh Ita's. The boys played some fantastic hurling and really enjoyed being back in competitive action after the long break. Training continues Tuesday evenings and Saturday morning for the time being. Thanks to all parents for traveling on the bank holiday.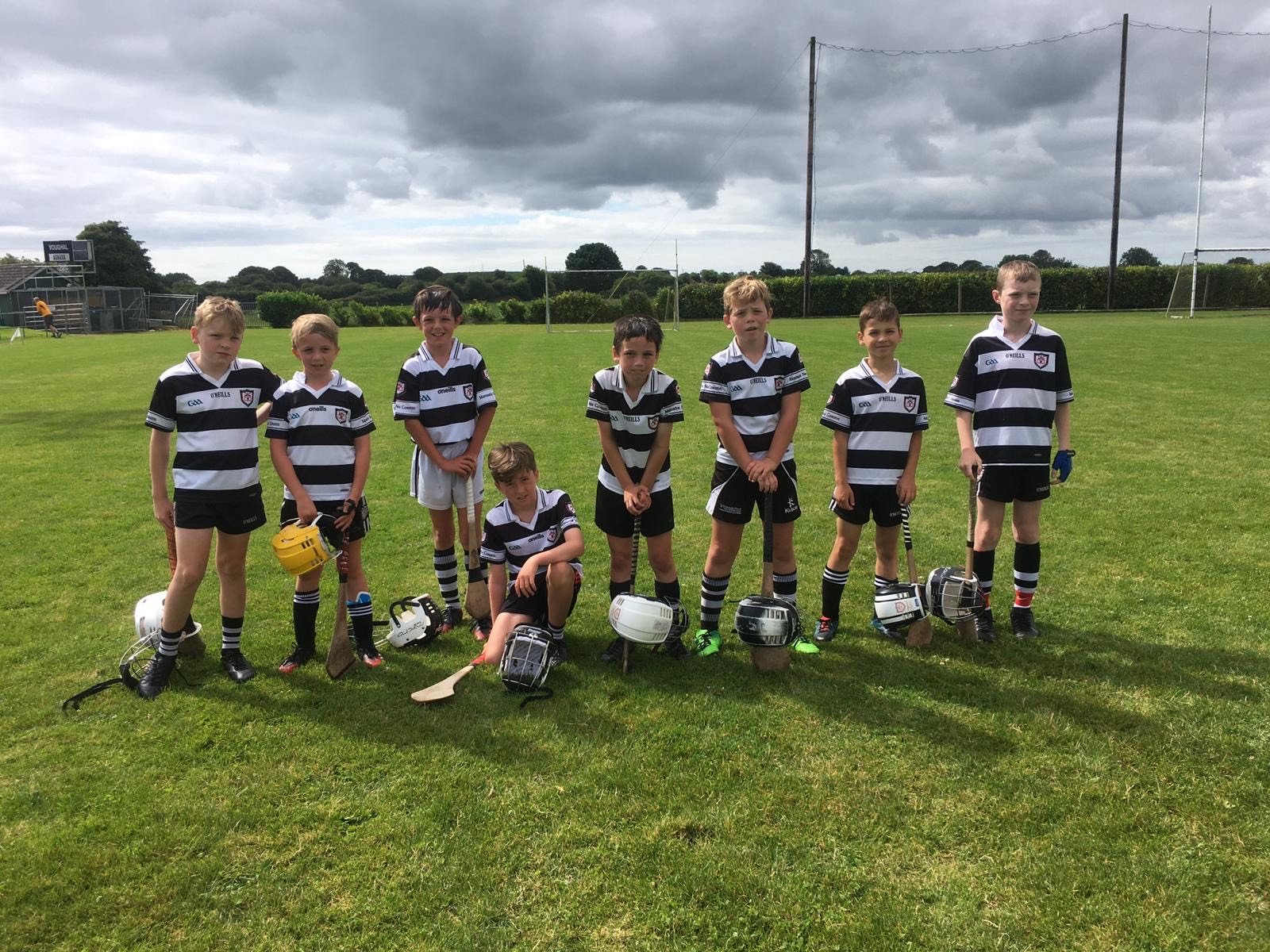 Fé10 in Killeagh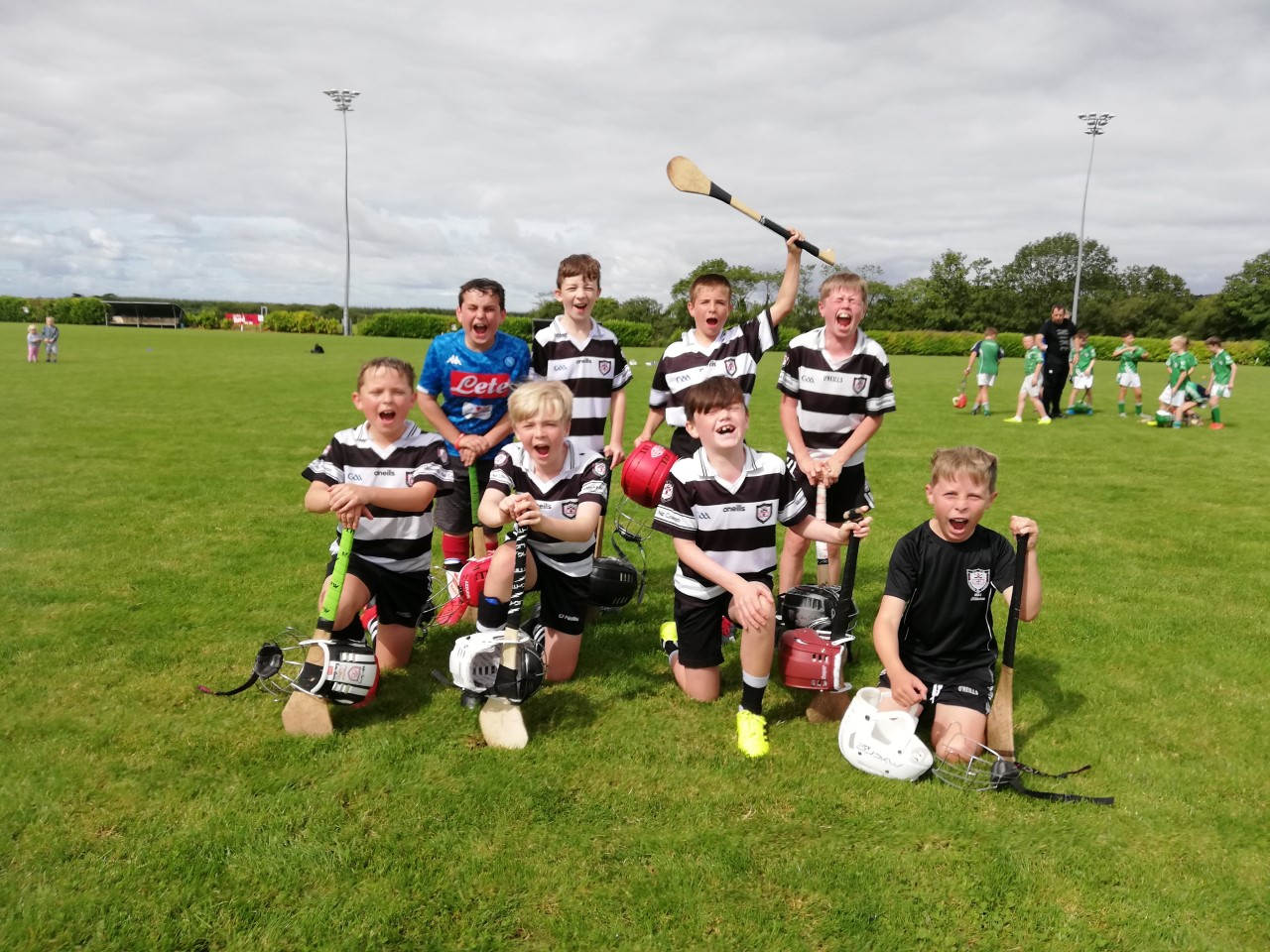 Fé10 in Killeagh
Fé8 Notes
There was fairly good numbers in attendance for U8s Hurling Training on Saturday. This is our fourth week back Training and the lads are enjoying each Training Session in both Hurling and Football. The Fé8 Lads have Football Training on Tuesdays 4-5pm and Hurling Training on Saturdays at 11-12pm.
From mid August to September we hope to play Hurling and Football Matches organised by the Rebel Og.
We would like to thank all Parents and Coaches for their support with this group over the last 4 weeks, it's great seeing all the lads having the Fun with their friends once again.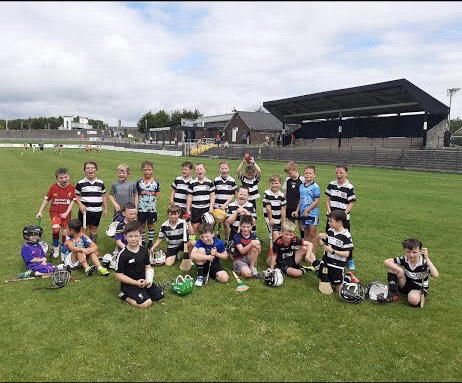 Fé8 Training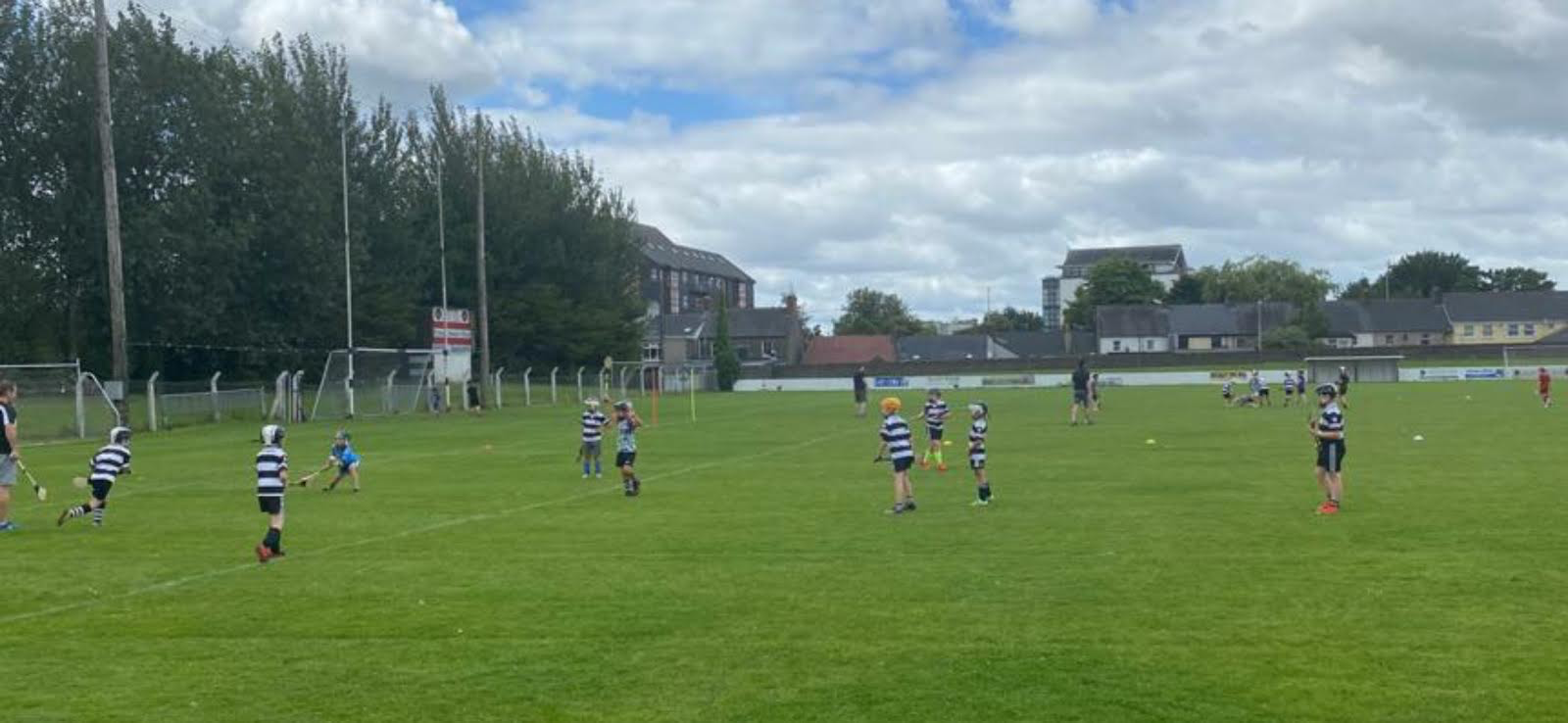 Fé8 Training
Ladies Football
During the COVID Lockdown Lidl Ireland ran a campaign called #Lidl Legends where they asked Ladies Football Clubs to nominate members from within their Club who went above and beyond the call of duty. Our Minor and U14 Players Megan and Lily Kelly spent their days during lockdown and still continue to make masks and are selling them with proceeds going to Charity. As a Club we decided to enter the girls into the competition. Last week we received a call to say they had been chosen as the Munster Winners. We were thrilled and so proud that Megan and Lily are representing our Club. As winners the girls and our Club received vouchers for Lidl. We as a Club will receive a set of Jerseys and we are looking forward to a training session with one of four Lidl Brand Ambassadors with a Ladies Football County Player. Well done Megan Lily. You deserve to be called Lidl Legends.
There will be No training this Bank Holiday Monday for all groups.
Great Crane Drop
Photographs of the some of the winners of the Great Crane Drop Draw receiving their cheques.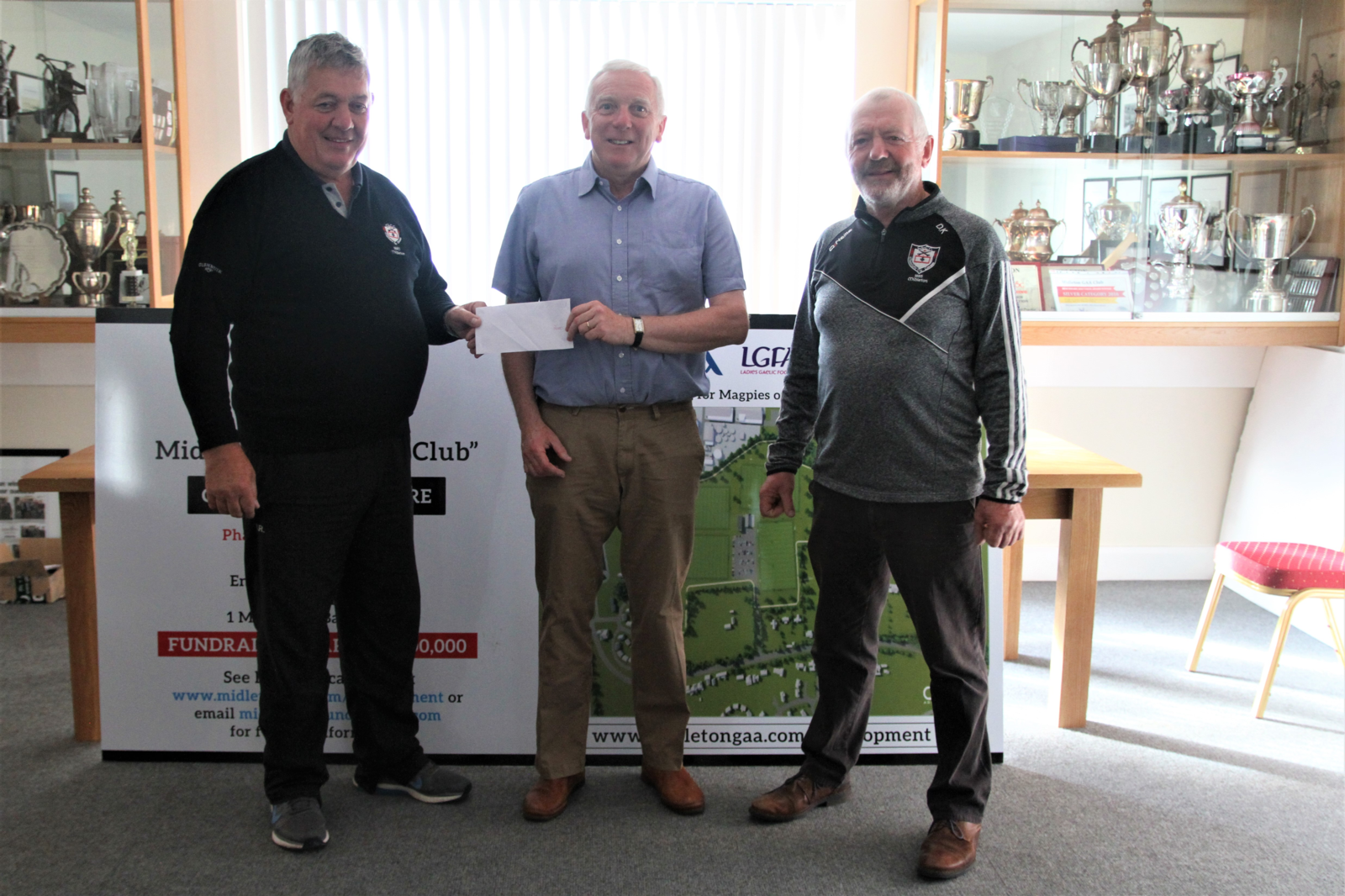 Frank O'Sullivan receiving the 1st prize cheque of €3,000 from Club Chairman Liam Ryan. Also pictured is Donal Keohane, seller of the ticket.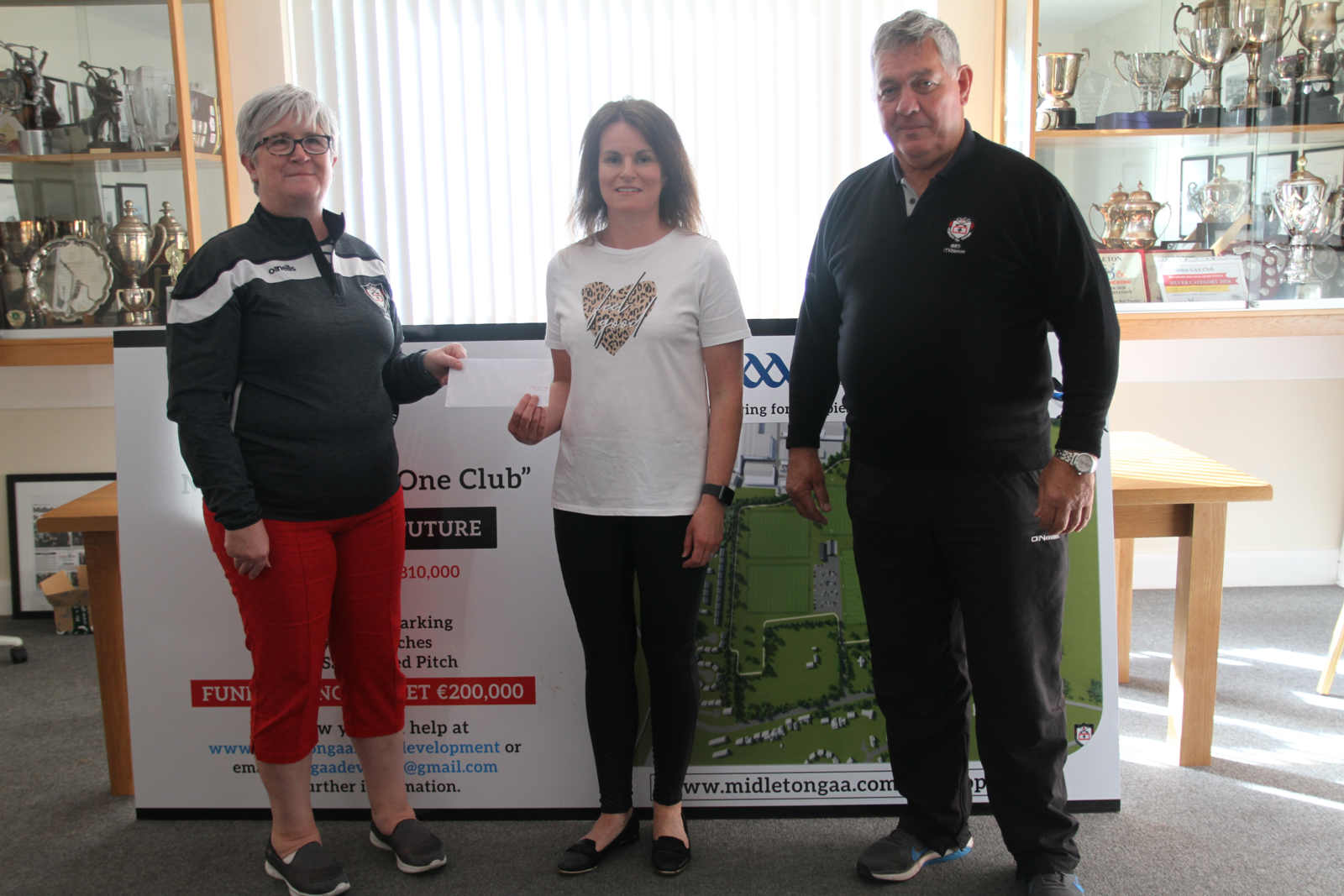 Clare Fahy receiving the 3rdt prize cheque of €1,000 from Juvenile Club Treasurer Mary Quinn. Also pictured is Chairman Liam Ryan.
Launch of New Magpie MegaLotto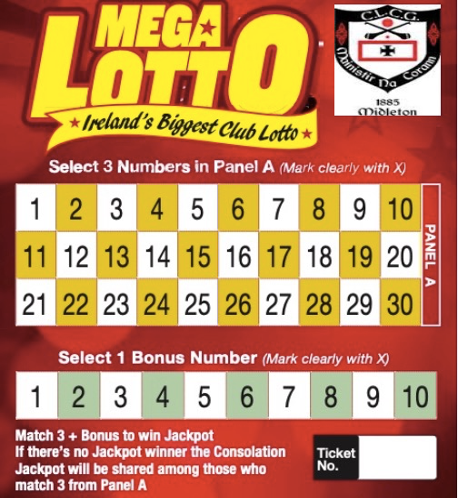 First Draw Date 14th Aug, changed from 31st July due to clash with Senior Hurling Championship
Jackpot starting at €15,000 & rising to €20,000 by €200 per week
Weekly Jackpot: 4 numbers: 3 numbers from 30 and 1 from 10
Weekly Consolation Jackpot: 3 from 30 to win €400
4 Weekly spot prizes of €25 (2 cash & 2 Local Business Vouchers)
First Year: €100 Voucher per Month Draw for Yearly in advance subscribers
Tickets €2 & 3 for €5
How to sign up for €100 annual subscription
Send €100 to Club Bank Account (see below details) put your name followed by the word LOTTO as the reference
Send GAA Treasurer an email address on treasurer.midleton.cork@gaa.ie with 3 numbers from 1 to 30 and 1 number from 1 to 10
Midleton GAA H&F Account, Bank of Ireland. Main Street, Midleton
Account Number: 29207259
Sort Code: 90-29-01
IBAN: IE16 BOFI 90290129207259
BIC: BOFIIE2D
Membership
Due to COVID 19 we were unable to collect membership due. Please ensure you give your fee to your Team Manager. Alternatively you can pay it through the Bank. Details are as follows:
Midleton Gaa H&F Account,Bank of Ireland. Main Street, Midleton
Account Number: 29207259
Sort Code: 90-29-01
IBAN: IE16 BOFI 90290129207259
BIC: BOFIIE2D
Please write the players name in the reference section
Blast from the Past
Many thanks to those who are sending photographs of past teams and supporters. These are all posted through our social media channels
https://www.facebook.com/MidletonGaa/
https://twitter.com/MidletonGaa
https://www.instagram.com/officialmidletongaa/
In the club notes I won't repost them all but will pick one or two by way of flavour.
This week's flavour: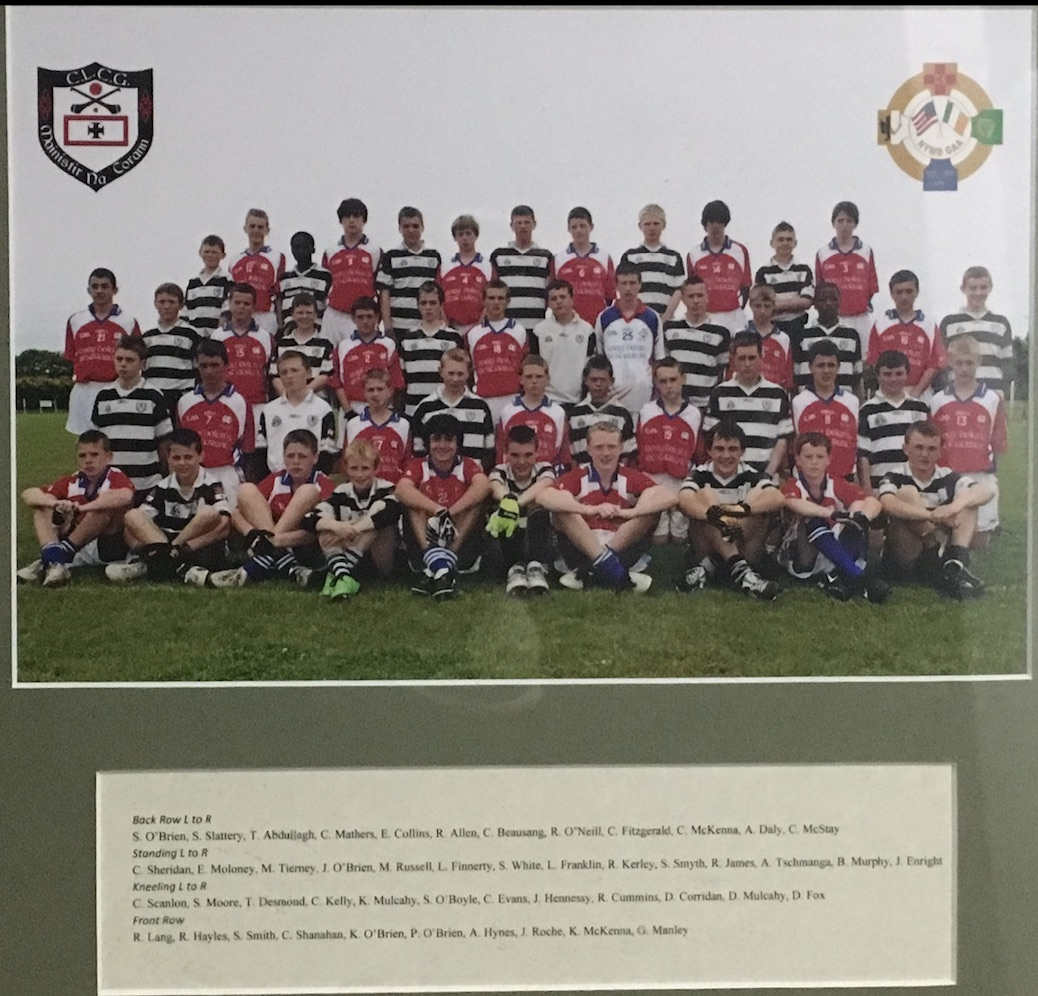 Visiting Feile team from New York hosted by Midleton in 2011
Safeguarding & Vetting
As you will know from the notes in recent weeks coaches and all those of us involved with teams where players are under 18 years of age were reminded to update all mandatory requirements as per the national vetting Bureau Act 2012-2016 and the Children First Legislation 2015.
Phenomenal effort has been made and I would like to thank all those who responded promptly, your cooperation is much appreciated. Further correspondence was sent this week to those outstanding. Once complete please forward evidence to Ingrid by the 21st July on 087 6374748 or childrensofficermidletongaa@gmail.com. I can also be contacted on this number if anyone had any questions or needs assistance. Many thanks to all.
Fortunately, many people were in a position to renew safeguarding and vetting online however a small number of new coaches will need to do a face to face Safeguarding workshop. For those coaches please save the date of Thursday 30th of July at 7pm for this workshop in the club. There are very strict guidelines associated with facilitating such a workshop under the current conditions. Ingrid will be in touch with all those who require this arrangement in the coming days. Only those booked in will be able to participate on the night. There will not be another opportunity to attend one of these workshops until the Autumn.