Midleton Hurling and Football, Ladies Football and Camogie Club News
26 July, 2020
The key messages for this week:
Do The Right Thing For You & Your Club
Fixtures…Big match next Friday night against Sars which will be streamed live online. Keep an eye on Fixtures Section of website for upcoming fixtures. Attendance, including players, management and officials, limited to 200 people.
Midleton Magpie Allstars back in training.
Crane Drop Draw results.
Club shop will open next Saturday. Social distancing measures will be in place.
Launch of New Magpies Mega Lotto in new exciting format on 14th August (changed from 31 July due to clash with Senior Championship Match)
Midleton GAA…at the 'Heart of the Community'. Ní neart go cur le chéile. There is no strength without unity.
Safe Return to Gaelic Games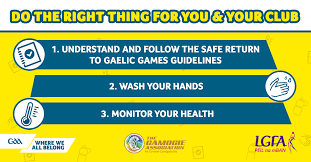 We have put together a comprehensive Plan for the safe return to Gaelic Games in Midleton.
This can be accessed at
downloadforms?rdDF=MIDLETON%20GUIDELINES%20FOR%20RETURN%20TO%20TRAINING.pdf
Prior to return to training, ALL adult players, team personnel and parents/guardians of Juvenile players are required to:
Complete the certified eLearning Module covering the main aspects of the Guidelines. This is available to complete at https://courses.gaa.ie/Covid19ClubEd/#/
Complete the GAA Health Questionnaire once online, which will be available through https://returntoplay.gaa.ie\. Please note that this questionnaire must be completed prior to return to training for the first time.
Using the same online system, all Adult players, parents/guardians of underage players and team personnel will be required to declare, before each training session/game, that their health status has not changed. This must be completed a minimum of 1 hour before the time of the session.
For Insurance purposes membership needs to be paid before training. Go to membership to see how much you need to pay
Midleton GAA H&F Account,Bank of Ireland, Main Street, Midleton
Account Number; 29207259
Sort Code; 90-29-01
IBAN; IE16 BOFI 9029 0129 2072 59
BIC; BOFIIE2D
Please write players name in the reference section.
Please also note that the club grounds are closed to activities other than those planned and supervised under the Safe Return to Gaelic Games protocols.
Fixtures & Results
Please keep an eye on the Fixtures Section of the website for updates on matches over the coming weeks.
See below snapshot of current confirmed fixtures for the remainder of July.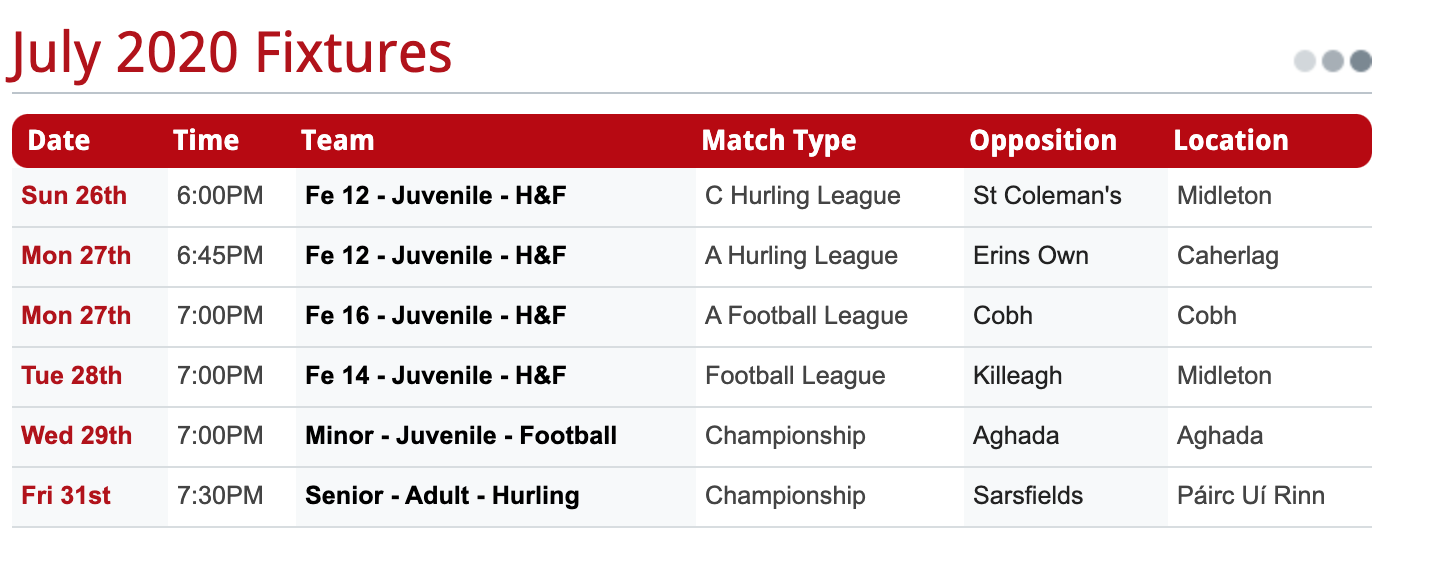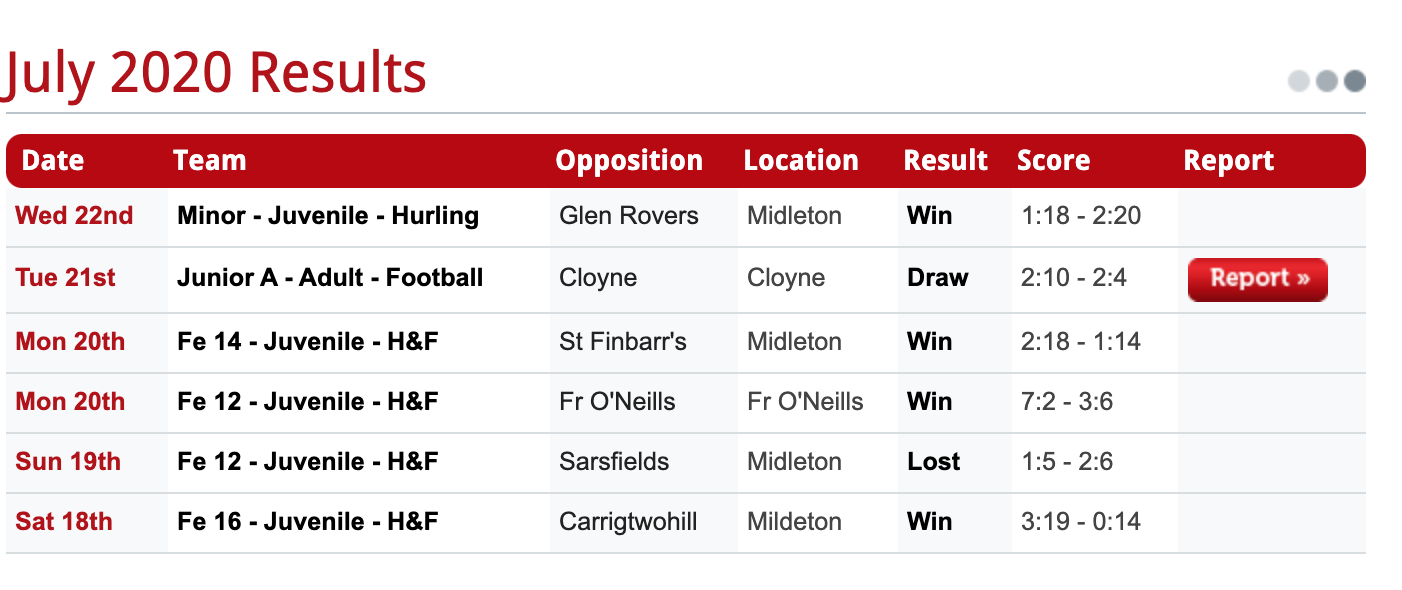 Note: Cork GAA has partnered with the Irish Examiner to provide exclusive live streaming of football and hurling club championship games across all grades up to the end of 2022. This means that the upcoming fixture against Sars in the Senior Hurling Championship will be streamed live. More details to follow.
With current COVID guidelines restricting attendance to 200 people (including players, management and officials), some fixtures will be ticketed. For all those playing and attending please observe the guidelines.
Midleton Magpie Allstars
Today, 26th July saw the Magpie Allstars back in training on the main pitch in Clonmult Park. From the large smiles that could be seen, both on the players and coaches faces, a great amount of fun was being had by all. We have seen a lot of videos during the COVID downtime of the practicing that was being done by the players. Keep up the great work.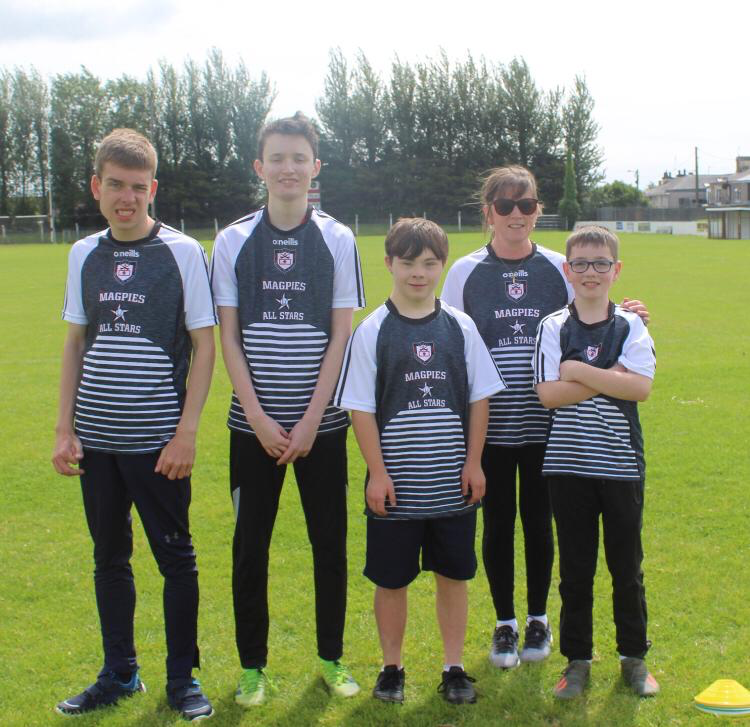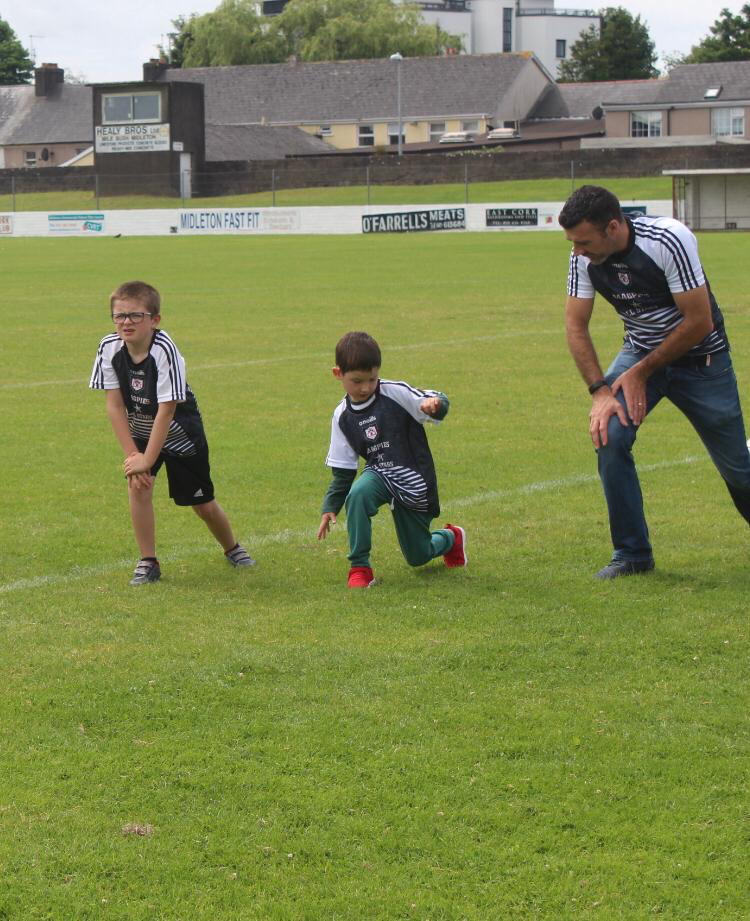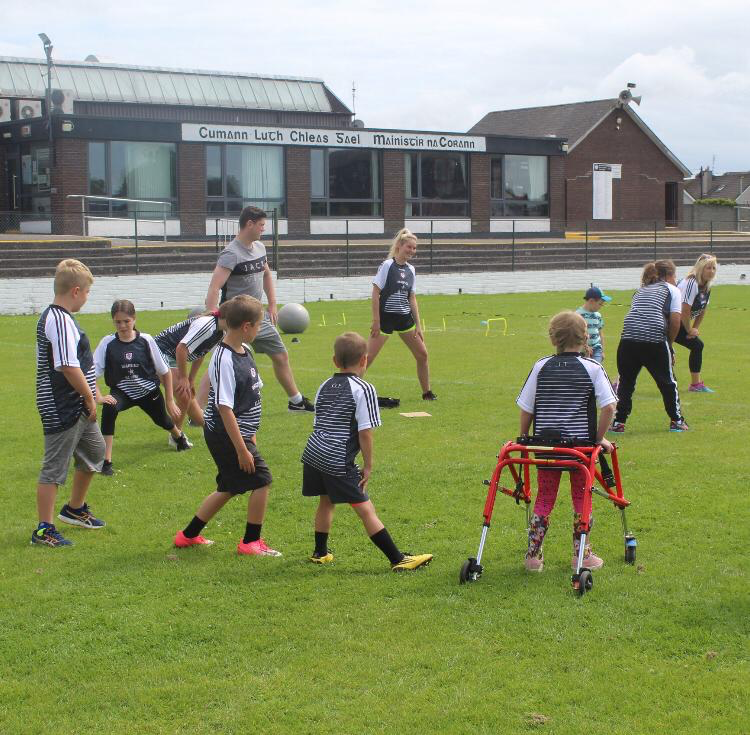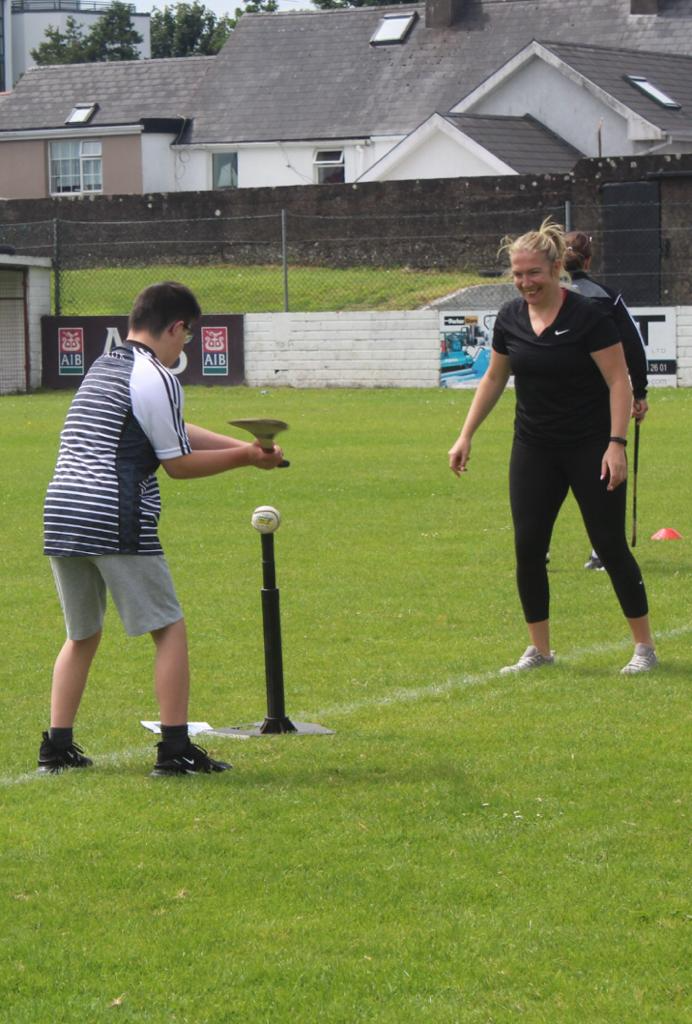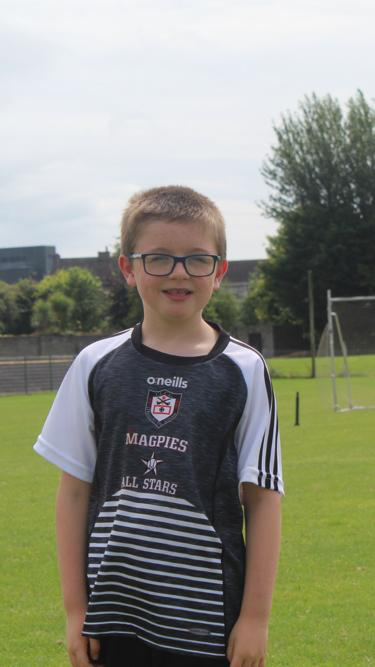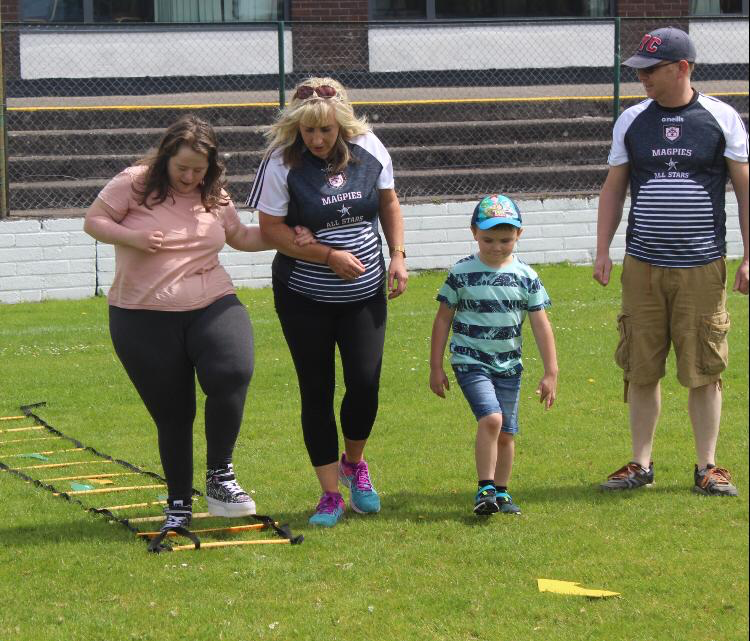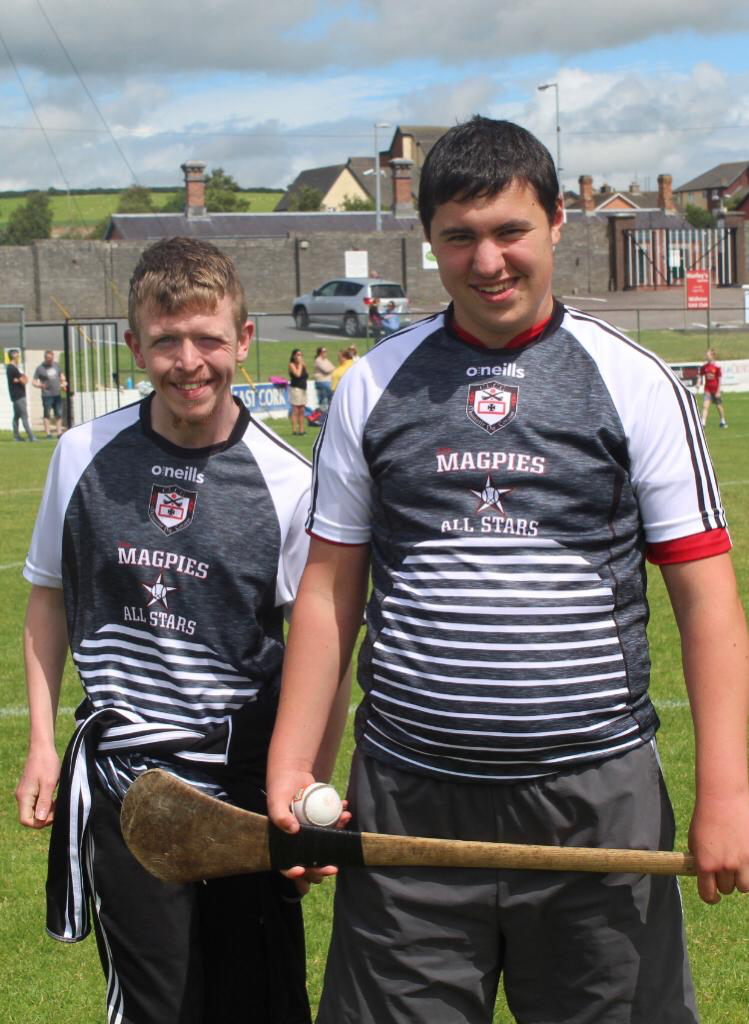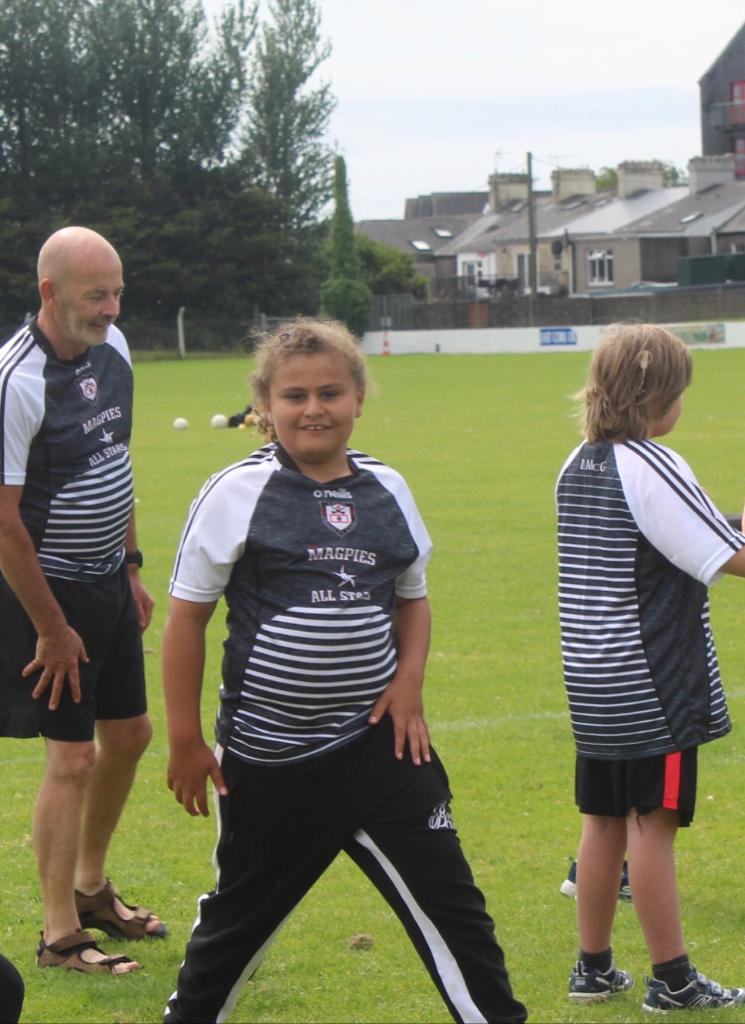 Camogie
Our U12 team played St Catherines in a challenge match last Sunday in very hot conditions on home ground at Midleton GAA. Both teams served up an excellent contest with some fantastic performances from both sides. Some of the skills on display from the girls was excellent and we saw some great point scoring during the game. A brilliant start to the season for the girls we are delighted with every single player. Thanks to St Catherines for travelling and to Ger Sheehan for refereeing what was a highly entertaining contest. Roll on next week against Eire Óg.
Big congrats to Sadhbh Cronin who captained the team and gave an outstanding performance throughout the game.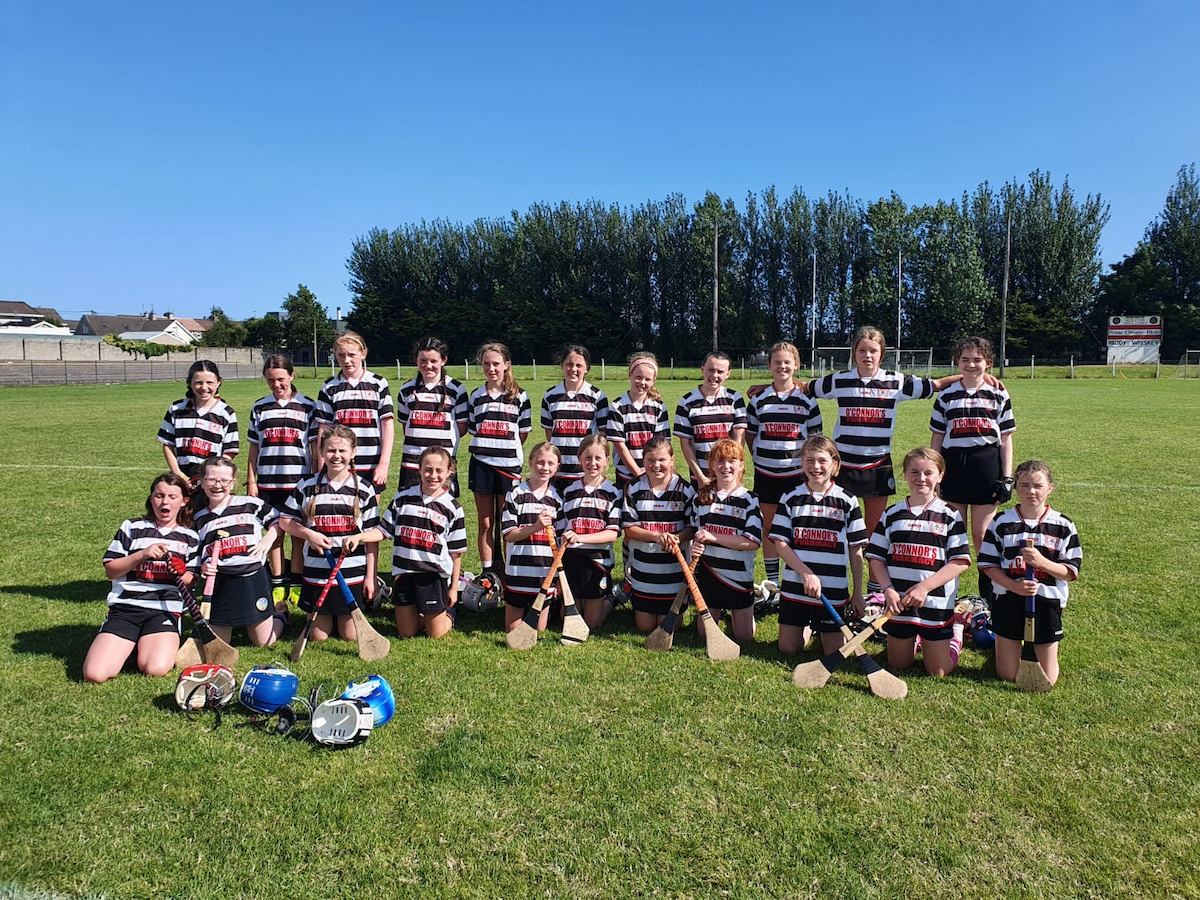 The mighty U11's were in action also on Sunday in Midleton GAA against Sars. A fantastic performance in sweltering conditions against a strong Sars side. Well done girls!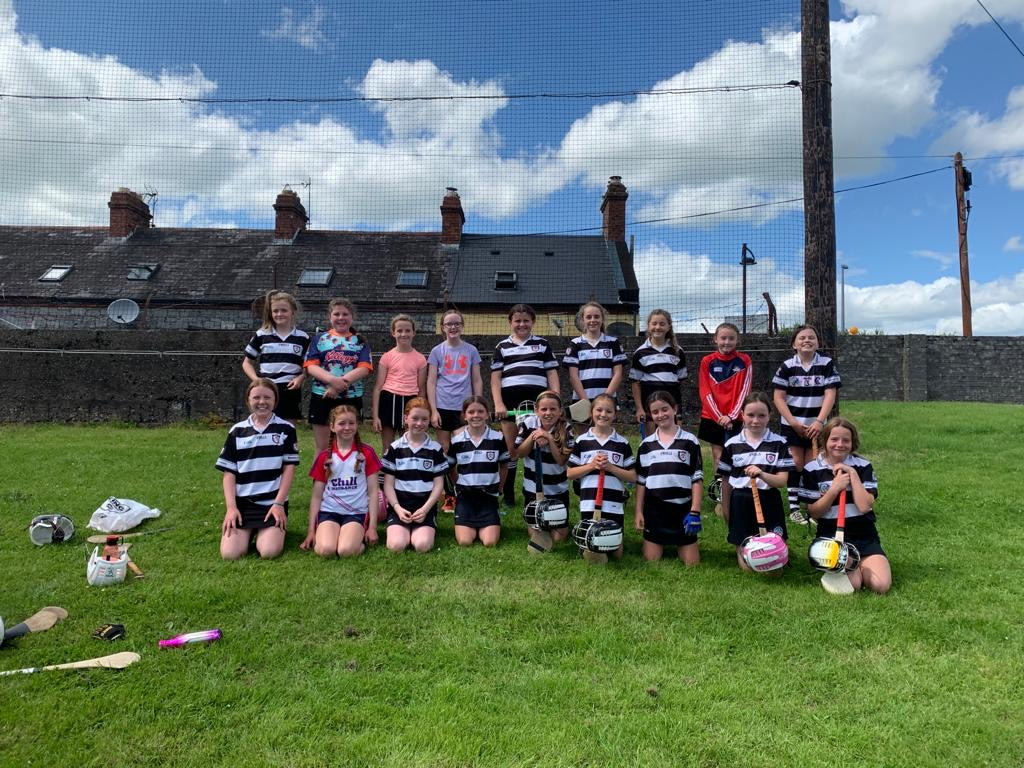 Our Junior team were on the road again this week we travelled to Castlelyons on Tuesday 21st July. A great games from both sides ahead our championship which starts shortly. Thanks to Castlelyons for hosting us. Well done to one and all.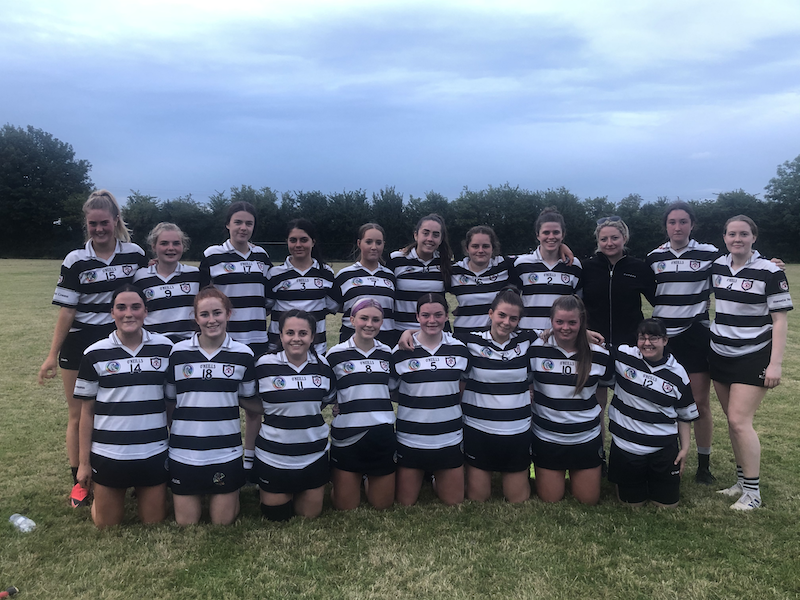 We welcomed our U6 group in great numbers back on the pitch on Friday 24yh July. This was the first time this group have trained outdoors and great fun was had starting with a wheelbarrow race and finishing off with a mini match where the girls showed off their new skills and of course their new hurleys! Lots of happy faces leaving ,well done to all !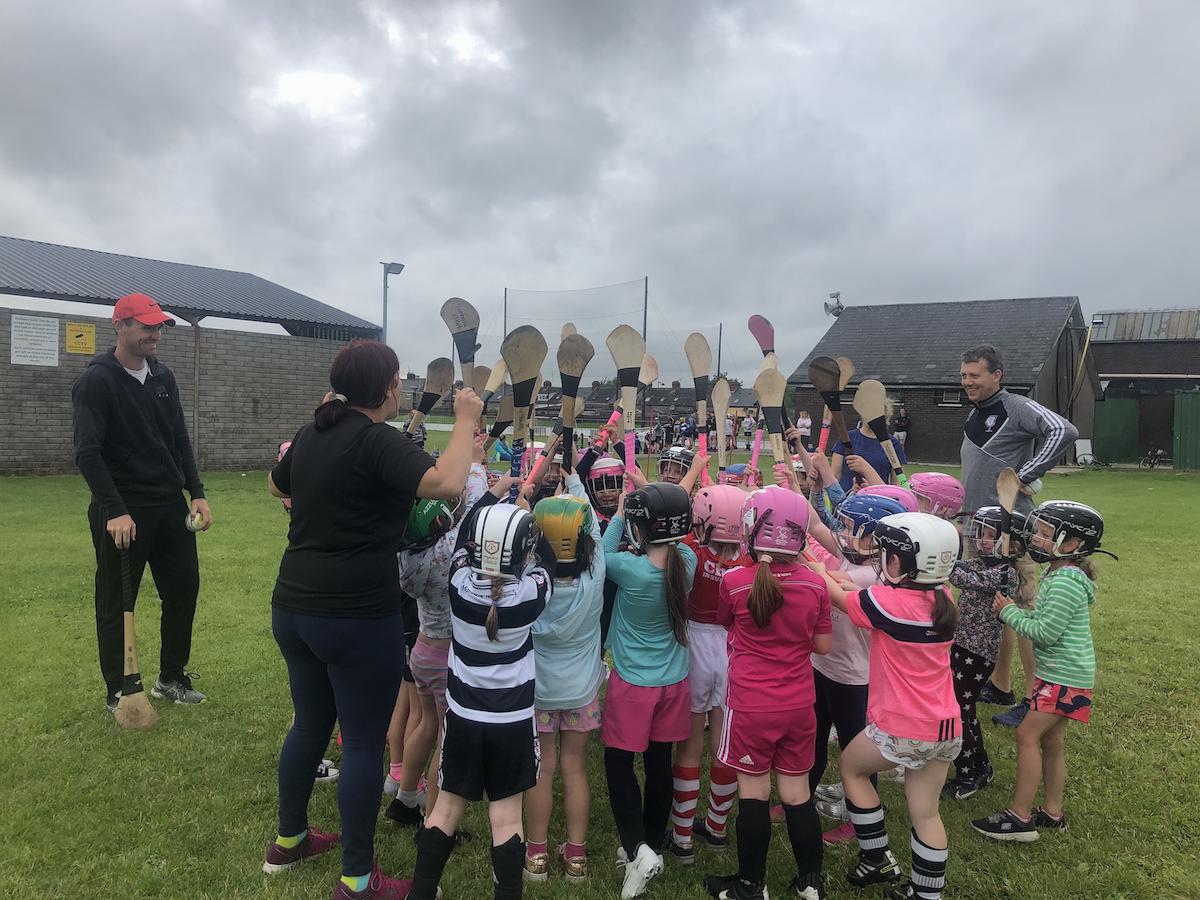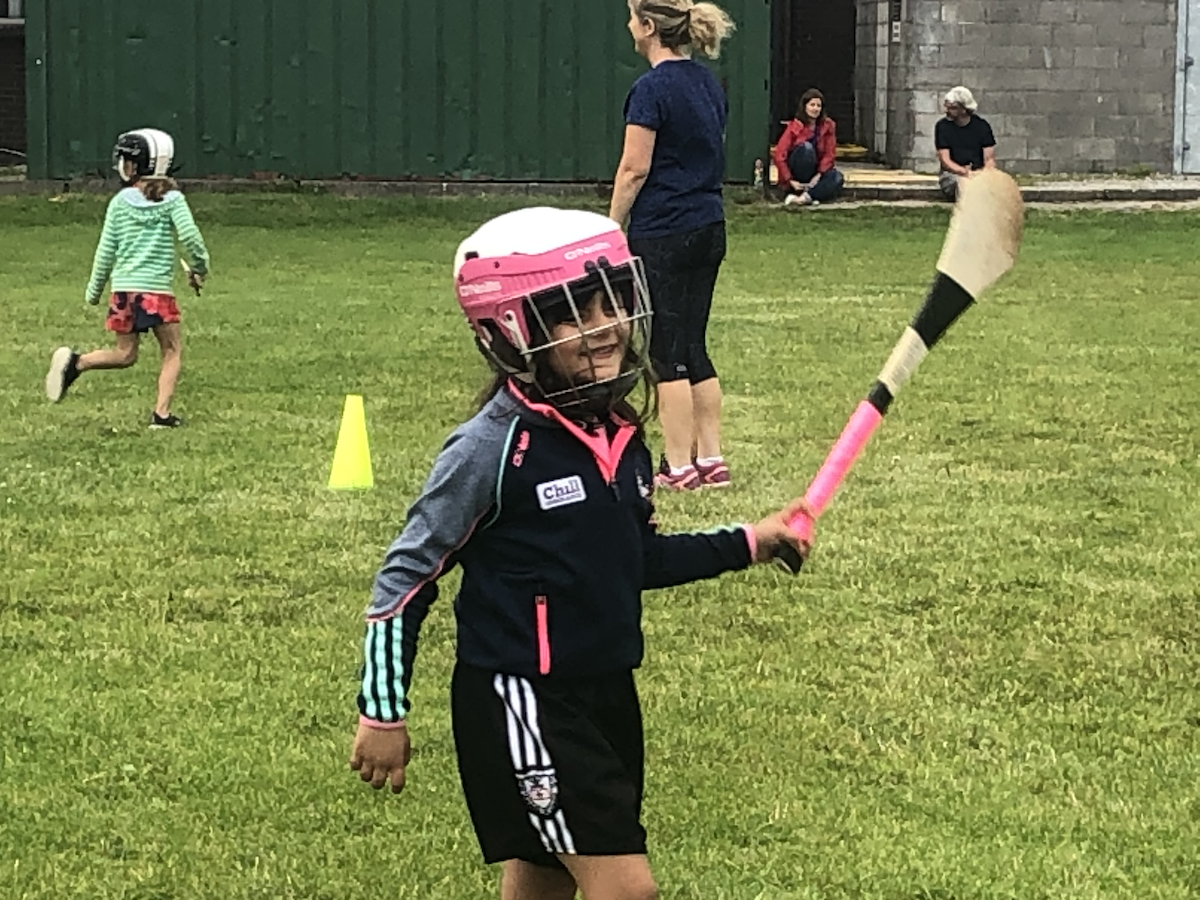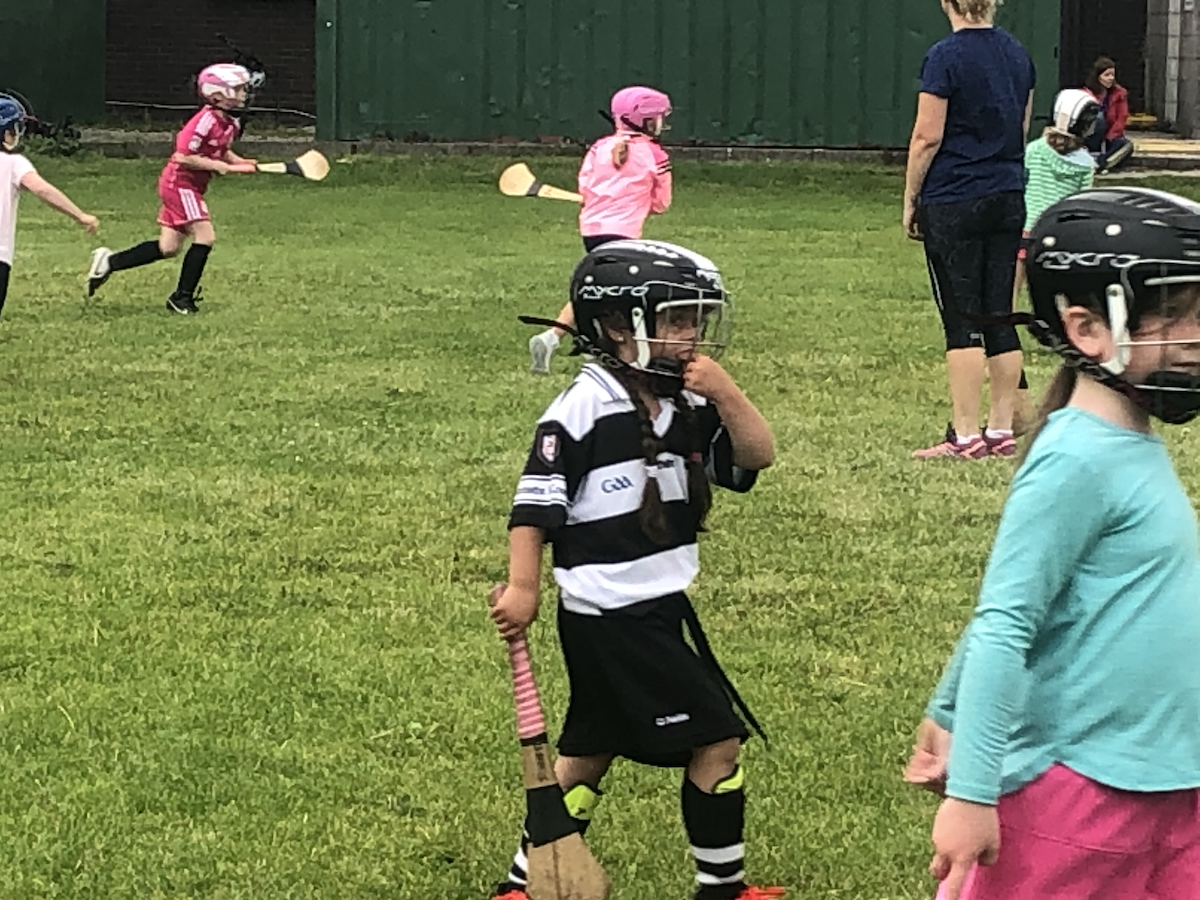 Thank you all for your understanding over the past few weeks, and please remember to bring your own water bottle and reconfirm your daughters health online before each training session and match at least one hour beforehand. If any of you are planning a trip abroad you must follow government regulations in terms of restricting your movements for 14 days on your return to Ireland. Any player/coach in this situation SHOULD NOT return to training or matches until the 14 day period has expired. This requirement does not apply to those returning from countries on the Governments 'Green Travel List'. This list is subject to change every 2 weeks and can be monitored at gov.ie
Juvenile
Fé15 V Carrigtwohill Full-time score Midleton 3-19 Carrigtwohill 0-14
In a group of 4, with the top 2 to qualify for semi-finals, a win in your opening game is absolutely vital. That was the message that the Fe16 hurlers took with them as they faced near and dear rivals Carrigtwohill. We asked the lads to start fast and take the game to their opponents and in fairness that's what they did. A dominant half-back line, combined with an industrious midfield pairing ensured a plentiful supply of quality ball to our forwards. Scores duly followed with a gap opening up, mainly due to goals from the superb Mikey Finn (from a penalty after Kamil was dragged down) and another from Kamil after a powerful run. Indeed Kamil proved to be a thorn in the Carrig defence throughout. These goals, added to excellent points from Stuart, Mikey, Alex and Dara Fitz gave us a healthy lead at halftime, 2-10 to 0-05.
The halftime whistle came at the wrong time for us and Carrig used the break to reshuffle their team and started the second half with increased intensity. We struggled for a while and after conceding 3pts in a row, it was time for Cian Lambe to thunder into the game and regain control in the middle of the field. A textbook shoulder by Michael Roe, showed Carrig that these Magpies were not going to lie down and the storm was weathered. The game was ended as a contest, when Kamil got a lovely touch to a high ball and flicked it to the lively Dara Fitz who gave their keeper no chance. A lovely point off his left from David Greene finished the scoring after an encouraging team performance.
We have favourites Bride Rovers away from home next and nothing less than a 20% improvement will suffice. These lads will put in the work and give it their all to get ready for that challenge.
Congratulations to Stuart O'Connor who made his competitive debut after his recent transfer from Aghada, and contributed 2pts. Thanks also to David Cremin who climbed out of his sick bed to make a vital 20min contribution. That's the type of commitment and dedication that is abundant in this squad.
Full-time score 3-19 to 0-14.
Squad: Z. Smith; D. Scanlon, M. Roe, C. Beausang; A. Moloney, B. O'Connell, T. O'Leary Hayes; T. Roche, C. Lambe; S. O'Connor, M. Finn, N. Lang; D. Fitzgerald, K. Monak, R. De Barra; D. Cremin, R. Lester, D. Greene, F. Dalton, D. Coffey, D. Monak, A. Howard, E. McGrath, E. Higgins,
Fé14 V St Finbarrs Final Score Midleton 2:18 St Finbarrs 1.14
Our long awaited return to competition finally began on Monday last when we welcomed the Barrs to Clonmult Park for an eagerly awaited P1 hurling clash.
In what were perfect conditions for hurling we drew first blood with a well taken Daniel Garde point, the Barrs were certainly up for the battle and had two well taken points from play before a James McSweeney free has us back on the board. The Barrs then hit a purple patch hitting us for 4 unanswered points. At this stage we lost two of our top men to injury Paddy Walsh and Carthaigh Cronin. We kept the scoreboard ticking over with some well taken points from James and Daniel. Strong play from Josh Carey and Eoghan Fraser steadied our defence while Josh Hogan was coolness personified in goal. Up front Daniel Garde, Fionn Kelly and Conor Morley were keeping the Barrs defence busy.The half time score was Midleton 0.08 St Finbarrs 0.09.
The second half began with four unanswered Midleton points but the Barrs confidence never dropped and they kept coming at us, the lead was exchanged on several occasions with Peter Barrett and Darragh Egan adding their names to the score board but just when we began to get the upper hand the Barrs goaled after some heavy pressure on our defence, our lads responded immediately a delivery from the hard working Thomas Dunlea was dispatched to the net by Daniel Garde, James pointed a free after Peter Barrett (who was getting through an enormous amount of work) was fouled. Darragh Egan won the ball 40 meters out headed straight for goal his clinical finish gave the Barrs keeper no chance this capped of what was an exceptional display throughout from Darragh. Sean McSharry was now proving to be a threat with his direct running and clever play. The Barrs struck two more points and had a number of goal bound attacks thwarted by our defence, a Callum McSweeney shoulder and some excellent defending by Josh Carey, Adam O'Connor, Mathew McSweeney and Yohanis Mehigan kept our opponents at arm's length. Luca Brodkorb had the final say when he split the sticks after some good work by the industrious Conor Morley.
Final Score; Midleton 2.18 St Finbarrs 1.14.
Panel: Josh Hogan, Conor Williams, Josh Carey, Yohannis Mehigan, Callum McSweeney, Cathraigh Cronin, Eoghan Fraser, Thomas Dunlea, James McSweeney (0.10), Conor Morley, Darragh Egan (1.01), Peter Barrett (0.01), Fionn Kelly, Daniel Garde (1.05), Paddy Walsh, Odhran Dennigan, John Paul McManus, Matthew McSweeney, Sean McSharry, Luca Brodkorb ( 0.01), Adam O Connor, Nicky Coughlan.
Fé12 Notes
After 3 weeks of training following the long Covid break, Midleton Fé12 boys took to the field in their first competitive matches last weekend. First up was a home match against local rivals Sarsfields, in the first of 3 group matches in the rearranged Division 1B Fé12 grade.
P1/D1 Match Final Score Midleton 2:18 St Finbarrs 1.14
After a slow enough start, the lads stormed into it in the second half. A well worked team move ended with a great goal from Scott Dunlea that reduced the margin to just one score. Unfortunately, time was against us and when the final whistle blew the score line read 2-07 to 1-05. There was much to admire in the lads first competitive performance throughout the team, including some fantastic defending and great team work on display all over.
The panel for this match was; Harry Waterman, Fionn Bohan, Cian Lawton, Jason Morley, Jack Walsh, Senan Carroll, Patrick O'Dowd, Ewan Murphy, Shane O'Mahony (captain), Liam Walsh, Max Murphy, Darragh Mullins, Ciaran Kelly, Scott Dunlea, Jack Cahill, David Kelly, James O'Meara & Josh Quill. Next up in Division 1B is a trip to Eirn's Own on Monday 27th July.
C3/D3 Match Final Score Midleton 7:02 Fr O'Neills 3:06
The first match in the Fé12 Division 3B brought another local East Cork Darby in an away trip to Aghavine to face Fr. O.Neills. Despite playing against a stiff breeze in the first half, the half time score was only 1-04 to 1-00, thanks especially to some excellent goalkeeping by James Carey, with Dara Cahill scoring a vital goal to keep the lads in contention. After some words of encouragement during the half time break and with the breeze in their backs, the lads burst into life in the second half with goals from Riain McCormack, Dara Birdthistle and Cuan Twomey. There was some fantastic skill and work rate shown all over the field and this was evident in the final score line of 3-06 to 7-02.
The panel for this match was; James Carey, Josh Quill, Patrick Collins, Jamie O'Donovan, Cian Hogan, Cuan Twomey, James Lambe, Bréaninn O'Dalaigh, Ruairi O'Riordan (captain), Dara Cahill, Rian Casey, Jack Connolly, Luke Bamber, Sean Gregory, Dara Birdthistle, Adam Spillane & Riain McCormack. Next up in Division 3B is a home match v St. Colman's on Sunday Monday 26th July.
Junior A Football Championship Match abandoned after 49min due to injury. Score at time 2:10 to 2:06 in favour of Midleton.
Team: Eoghan Collins, Bren Ferriter, Eoin Mitchell, Cian Crowley, Sean O'Farrell, Paudie O'Farrell Seamus O'Farrell Adam Daly, Sean O'Meara, Ian Kennefic, Eoin Maloney, Gunning, Padraig O'Brien, Cormac Beausang, Kieran Mulcahy subs used Christian Daly & Seanaid Smyth. Match re-fixed for 12th August @7pm
Ladies Football
Junior B Ladies Football Championship
Our Junior Ladies started their Championship campaign on Saturday evening with a home fixture against O Donovan Rossa from Skibbereen. Our first game since returning to Football the girls were eager to get going. We had some great passages of play throughout the game but the Skibb defence was hard to break through. Great credit is due to the girls who never gave up and kept fighting for every ball. Final score Midleton 1-05 O Donovan Rossa 1-12
Team: Amy O Neill, Deirdre Corcoran, Claudia Kearney, Lucy Lawton, Jena Keating, Lucy Wallace, Charley Moore, Claire O Brien, Orlagh Farmer, Sadhbh Beausang, Aoife Madden, Molly Beausang, Jodie Keegan O Connell, Abby Quirke, Ciara McGrath, Deirdre Kenny, Amy Quirke, Lucy Kenneally, Megan Kelly, Kim Fitzgerald, Rayanna Power, Ellen Ryan, Vivienne Gleeson, Trisha Curtin, Mischa Daly Harkin.
Our next fixture is an away game v Castlehaven.
Training schedule for the coming week:
Monday 27th July in Ballinacurra Gaa pitch U8,10,12,14 from 7 – 8pm.
Thurday 30th July U16, Minor and Junior at Midleton Gaa Club 8.30-9.30pm
Parents please remember to reconfirm your daughters Health Status before training.
Club Shop
We are happy to announce that the club shop will reopen this Saturday 1st August from 9-30am to 11am. The shop will operate a no returns policy for the foreseeable future, sorry for any inconvenience this may cause. Please use card payment where possible and please note that customers must follow the one way system in the club and guidelines must be adhered to.
Great Crane Drop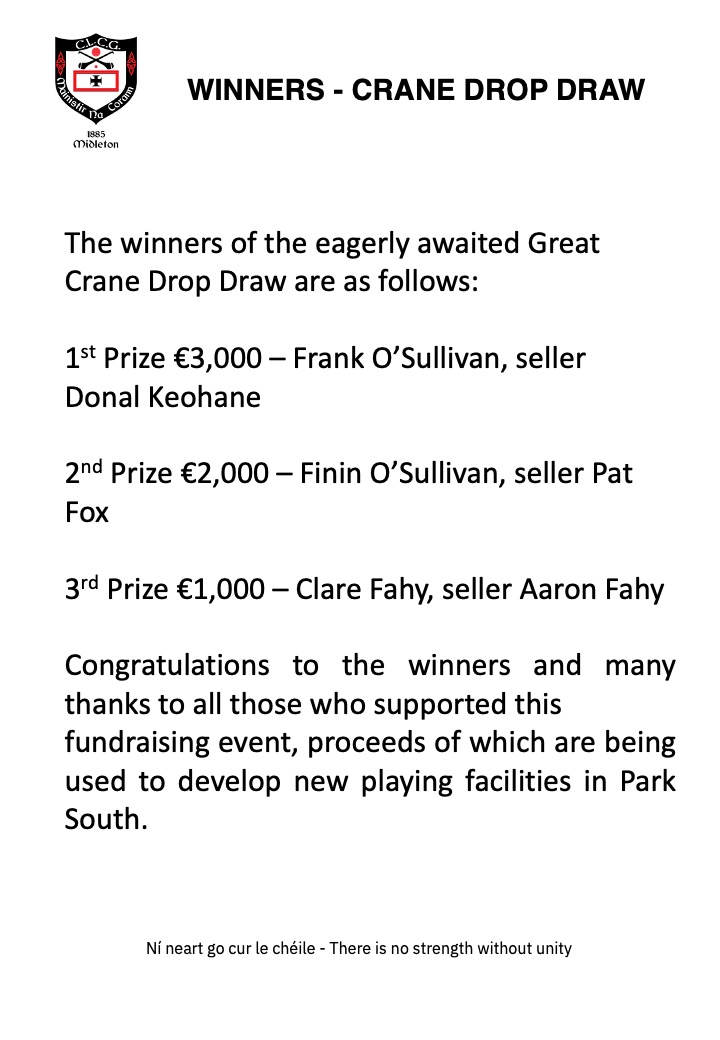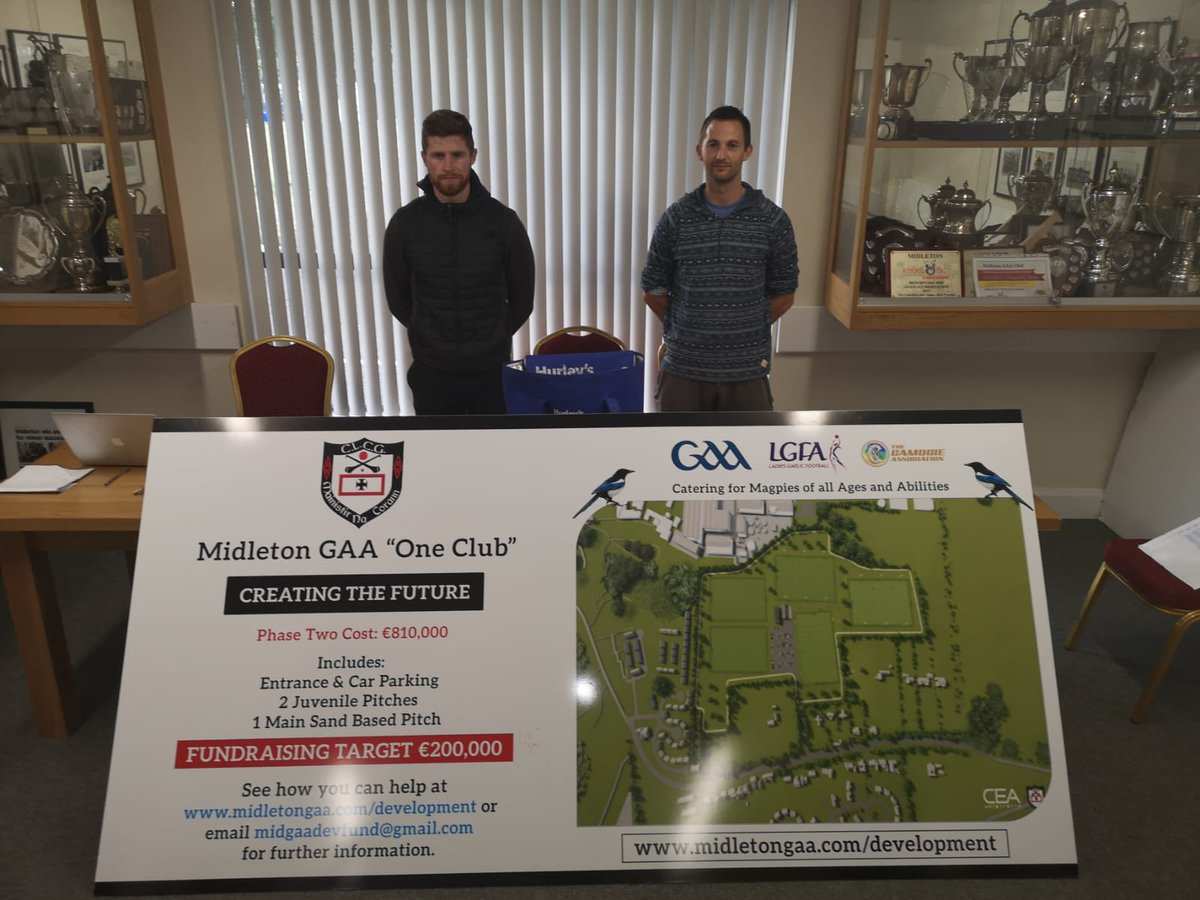 Also pictured at the Crane Drop Draw were senior players Conor Lehane & Luke O'Farrell. On display in the photograph are current plans for the new development at Park South. More to follow on these plans in the coming weeks.
Launch of New Magpie MegaLotto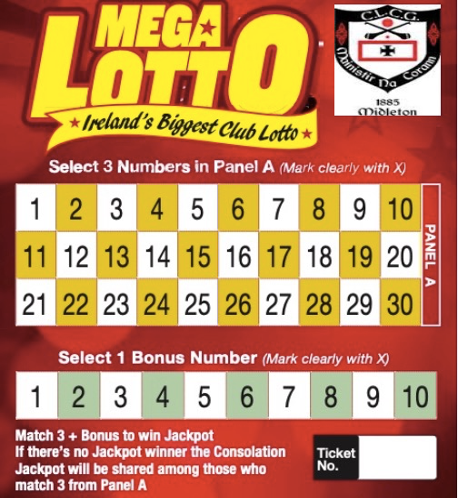 First Draw Date 14th Aug, changed from 31st July due to clash with Senior Hurling Championship
Jackpot starting at €15,000 & rising to €20,000 by €200 per week
Weekly Jackpot: 4 numbers: 3 numbers from 30 and 1 from 10
Weekly Consolation Jackpot: 3 from 30 to win €400
4 Weekly spot prizes of €25 (2 cash & 2 Local Business Vouchers)
First Year: €100 Voucher per Month Draw for Yearly in advance subscribers
Tickets €2 & 3 for €5
How to sign up for €100 annual subscription
Send €100 to Club Bank Account (see below details) put your name followed by the word LOTTO as the reference
Send GAA Treasurer an email address on treasurer.midleton.cork@gaa.ie with 3 numbers from 1 to 30 and 1 number from 1 to 10
Midleton GAA H&F Account, Bank of Ireland. Main Street, Midleton
Account Number: 29207259
Sort Code: 90-29-01
IBAN: IE16 BOFI 90290129207259
BIC: BOFIIE2D
Membership
Due to COVID 19 we were unable to collect membership due. Please ensure you give your fee to your Team Manager. Alternatively you can pay it through the Bank. Details are as follows:
Midleton Gaa H&F Account,Bank of Ireland. Main Street, Midleton
Account Number: 29207259
Sort Code: 90-29-01
IBAN: IE16 BOFI 90290129207259
BIC: BOFIIE2D
Please write the players name in the reference section
Blast from the Past
Many thanks to those who are sending photographs of past teams and supporters. These are all posted through our social media channels
https://www.facebook.com/MidletonGaa/
https://twitter.com/MidletonGaa
https://www.instagram.com/officialmidletongaa/
In the club notes I won't repost them all but will pick one or two by way of flavour.
This week's flavour: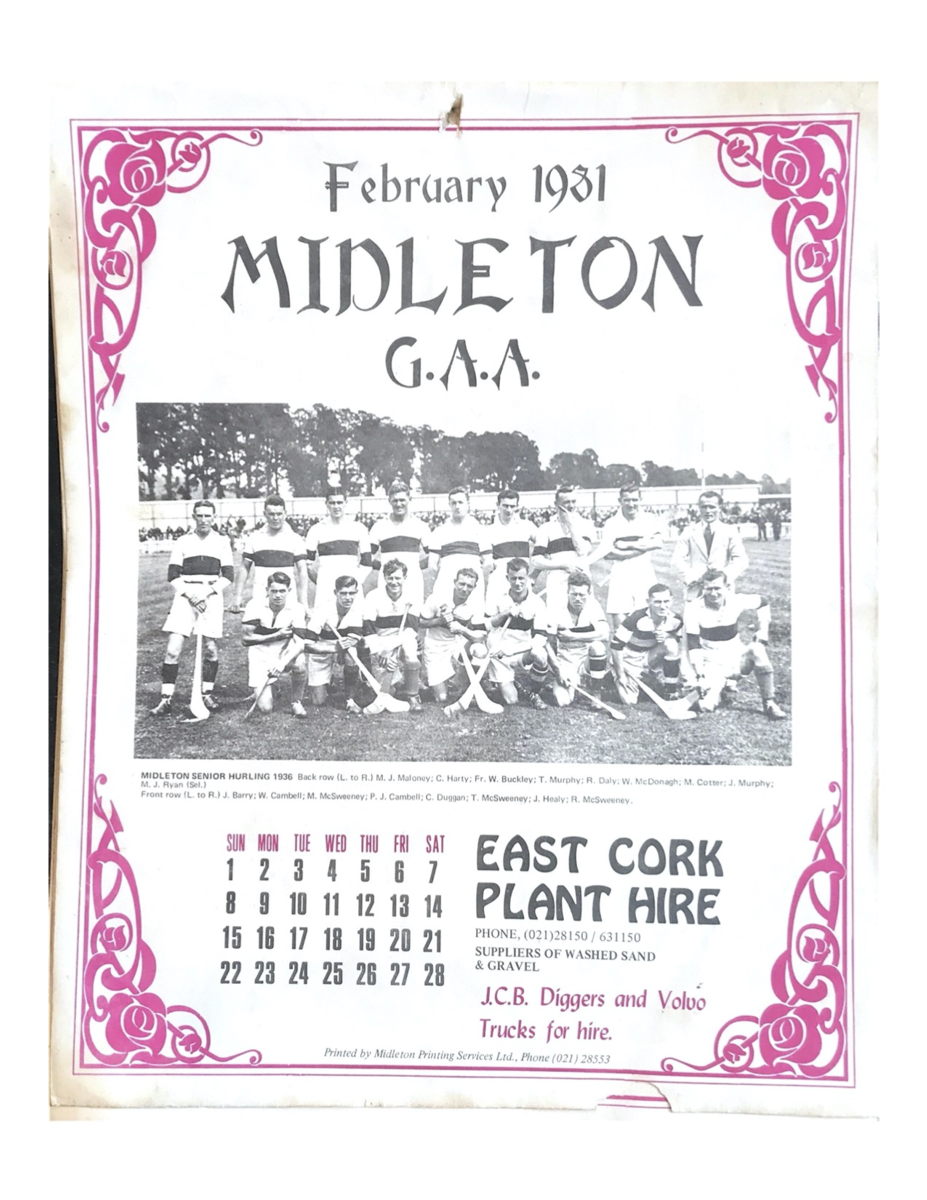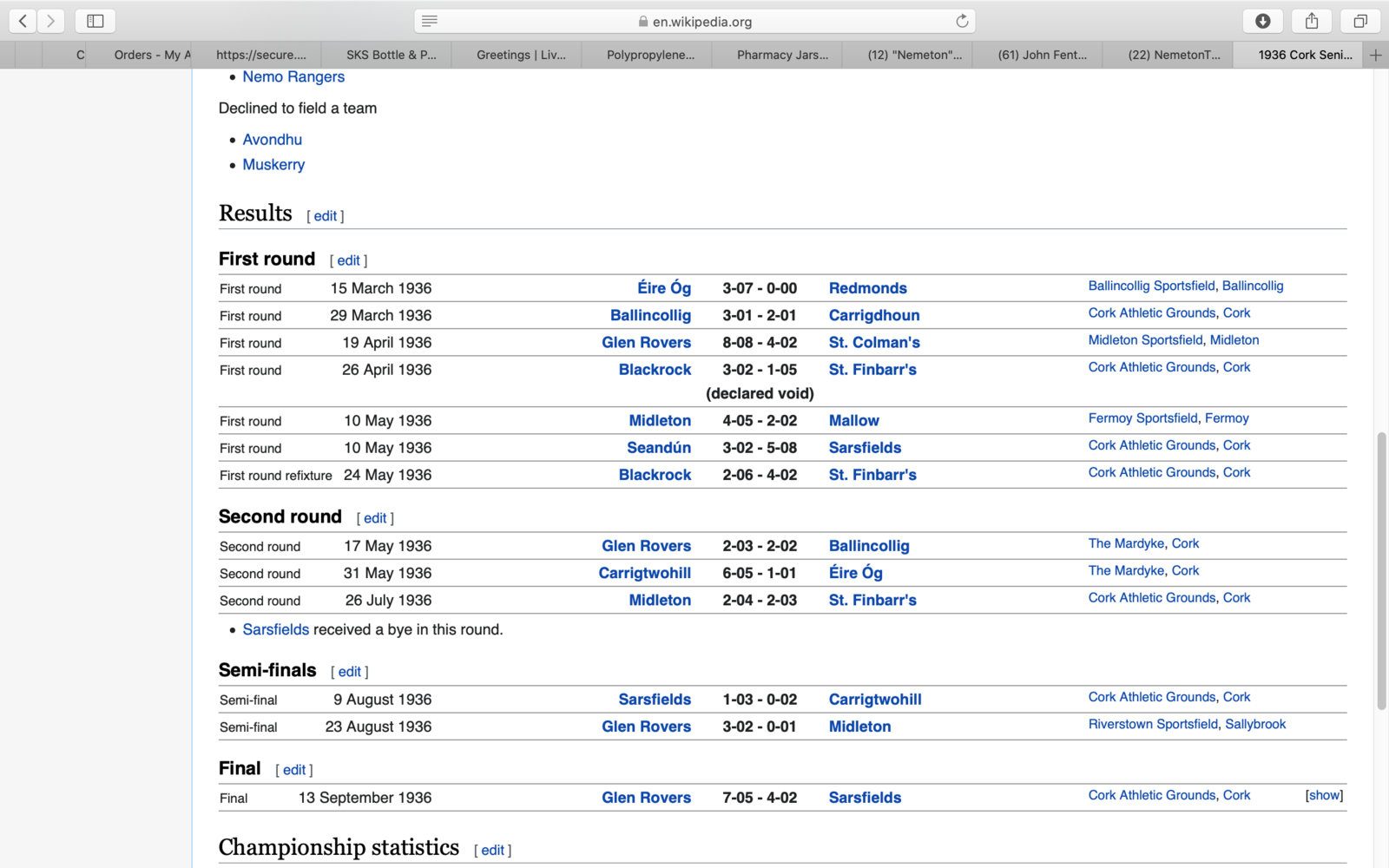 Safeguarding & Vetting
As you will know from the notes in recent weeks coaches and all those of us involved with teams where players are under 18 years of age were reminded to update all mandatory requirements as per the national vetting Bureau Act 2012-2016 and the Children First Legislation 2015.
Phenomenal effort has been made and I would like to thank all those who responded promptly, your cooperation is much appreciated. Further correspondence was sent this week to those outstanding. Once complete please forward evidence to Ingrid by the 21st July on 087 6374748 or childrensofficermidletongaa@gmail.com. I can also be contacted on this number if anyone had any questions or needs assistance. Many thanks to all.
Fortunately, many people were in a position to renew safeguarding and vetting online however a small number of new coaches will need to do a face to face Safeguarding workshop. For those coaches please save the date of Thursday 30th of July at 7pm for this workshop in the club. There are very strict guidelines associated with facilitating such a workshop under the current conditions. Ingrid will be in touch with all those who require this arrangement in the coming days. Only those booked in will be able to participate on the night. There will not be another opportunity to attend one of these workshops until the Autumn.
Condolences
Cumann Luthchleas Gael Mainistir na Corann would like to offer our sympathies to the Walsh family, Rachel, Fran, Cilla, Pat and Liam on the recent passing of their mother Brenda (née Cusack). The family is heavily involved in the affairs of the club at playing, coaching and administrative level and the thoughts and prayers of all the members are with you all at this sad time.
Ar dheis Dé go raibh a hanam.