Midleton Hurling and Football, Ladies Football and Camogie Club News
29 March, 2020
In these difficult times we are heartened to live in a Community. Additionally, we live in a Community where people care and back up caring words with caring actions. The key messages for this week and will probably be similar for the next few weeks are:
You are not alone and we will get through this together. See Midleton GAA Community Assistance Program. Spread the word about this assistance.
Your physical and mental health are critical at this time. See Healthy Club details below.
Practicing hurling, camogie and football skills will help in multiple ways.
Midleton GAA…at the 'Heart of the Community'. Ní neart go cur le chéile. There is no strength without unity.
Midleton GAA Community Assistance Programme – Covid-19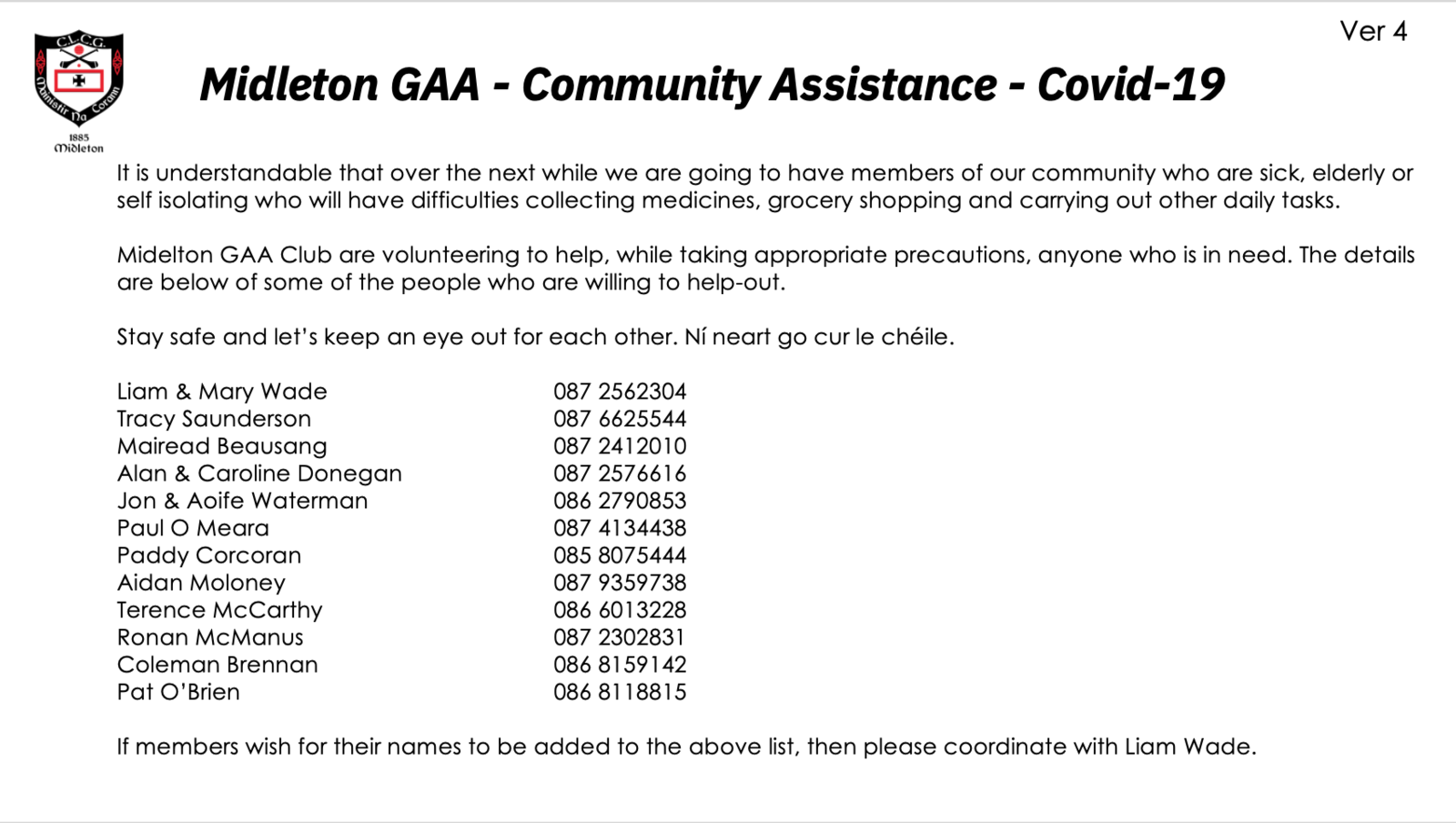 Magpie Daily Challenge
We will have some more time to fill in the next while so why not keep your skills sharp and also manage any boredom. Use social media to reply and post the video of how you are getting on with the skills and Challenge. Have some fun. Weekly prize for the best video. Email your videos to midletongaaweb@gmail.com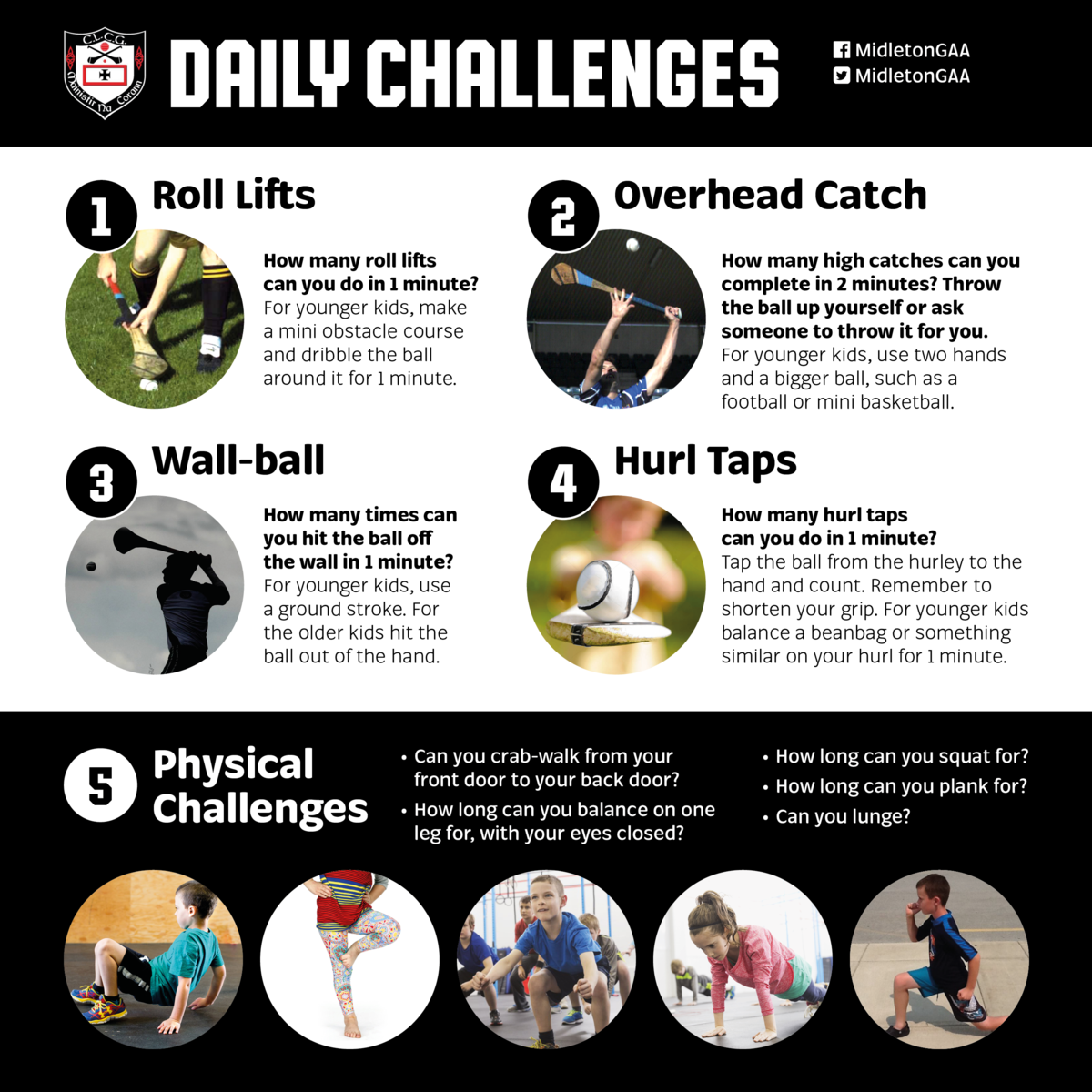 Links to online content
Video created by Paudie and Cormac O'Brien on key skills. Well done lads, next stop the Oscars. https://www.youtube.com/watch?v=rQf25oP70TU#action=share
https://www.youtube.com/watch?time_continue=12&v=asv1Kms_bGA&feature=emb_logo
Hurling Skills
https://learning.gaa.ie/planner/
Football skills
https://ladiesgaelic.ie/learn/skill-drills/
http://coaching.connacht.gaa.ie/coaching-resources/video-library/wallballkickingdrills
Ladies Football
A huge Thank you to Orlagh Farmer for posting her videos every day this week. It was great to get some tips and advice on our Football skills. Remember if you missed any day you can check them all out on our Facebook, Twitter and Instagram pages.
Juvenile
The online booking system for our Cúl Camps this summer is now open. For the moment we still plan to go ahead with our Camps. As we are all aware with the current COVID 19 situation plans can change and we will advise closer to the time if we must alter ours. For the moment we hope to be back to the field of play by then.
Healthy Club Programme
Operation Covid Nation
In these uncertain times that we find ourselves in Operation Covid Nation is coming to RTÉ One in April 2020.
The team from Operation Transformation have a plan to help people stay healthy, mind and body, as people are having to live apart from family and friends and the normal routine of everyday life.
Kathryn Thomas and the team of experts Aoife Hearne, Karl Henry, Dr Eddie Murphy and Dr Sumi Dunne will be helping households deal with the reality of isolation and how we can all play our part in supporting the most vulnerable by our own actions.
They want to hear from households from across the country to capture how they are coping behind closed doors since Covid-19 arrived in Ireland. Whether you are living alone, in a house share, working from home, adapting to home school your children and have chosen to self-isolate our Operation Transformation experts want to support and help you.
Four households will be chosen for this series. The production will install unmanned cameras in your home to see how each household is living day to day. Each household will be paid an appearance fee for participation in the series.
The strict social distancing guidelines will be followed by all production team members to avoid any contact with the household members.
Should you and your household wish to be considered for this unique series, please visit www.rte.ie/ot where you will find the application form.
If you require any further information please email optransrte@gmail.com