Midleton Hurling and Football, Ladies Football and Camogie Club News
16 February, 2020
Lotto
Our Club Lotto was €3,000 and there was no winner. Numbers Drawn were 4, 13, 15, 16
5 Lucky Dip winners were Ber Herlihy, Ballinacurra, Rose Herlihy, Garryvoe, Kayla O Donovan, Mogeely, Johanna Walsh, Whitegate, Nicola Lehane, c/o Online
Next Week's Jackpot is €3,200.
Tickets are available at the Club Bar, O'Neill's Bar, Linehan's Bar, Maple Leaf Bar, Niall Mac's Bar, Wallis Bar, An Teach Beag, Frank Murphy Butchers, Pat Walsh Paints, Chadwick's and O'Farrell's Butchers.
Why not play from the convenience of your home or workplace. Play your Lotto on –line for just €2. Log onto the Club Homepage - www.midletongaa.com to purchase your ticket. Receive a weekly reminder to your phone to play.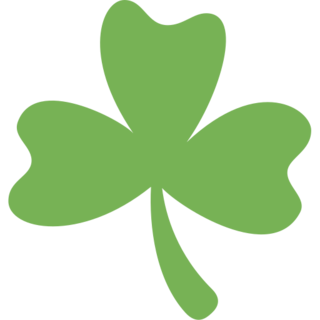 St Patrick's Day Festival - Lá le Pádraig Féile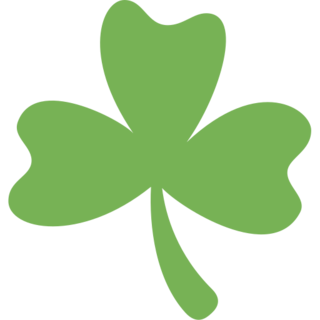 As part of the ongoing Fundraising effort for the New Facilities at Park South, Midleton GAA are organising a St. Patrick's Day Family Festival at the GAA Club. The festivities will start at noon with Carousel, Face Painting, Tug o' War (some teams already in training), Live Music, 'Great Crane Ball Drop' plus loads more. This promises to be a great day.
The Crane Ball Drop is an important fundraiser for the new development. With the imminent seeding of 2 pitches and ground works due to commence on the 'top pitch' we need to maintain momentum to put the facilities in place for the current and future generations. With attractive prizes of 1st-€3,000, 2nd-€2,000, 3rd-€1,000 and a modest ticket price of €10 we would expect the fundraiser to be well supported.
2 things we ask of each player/family. We ask, if at all possible, for 2 tickets to be purchased by each player/family. Additionally, we would also ask for parents/players to help sell additional tickets. The nature of the good cause and prize fund should make this viable. Each player will be issued with 2 tickets. If a family receives more and are unable to sell, they should be handed back asap.
Club members will be contacted to help and support the efforts but tickets are also available from members of the fundraising committee that include Michael Carroll 086 8362218 (Juvenile), Mairead Beausang 087 2412010 (Ladies Football), Ingrid O'Riordan 087 6374748 (Camogie), Tracy Saunderson 087 6625544 (GAA), Michael O'Connell 087 260 6093 (Chairperson Fundraising Committee). Tickets will be available in GAA on Club Registration Day.
Many thanks for your ongoing help in our fundraising efforts.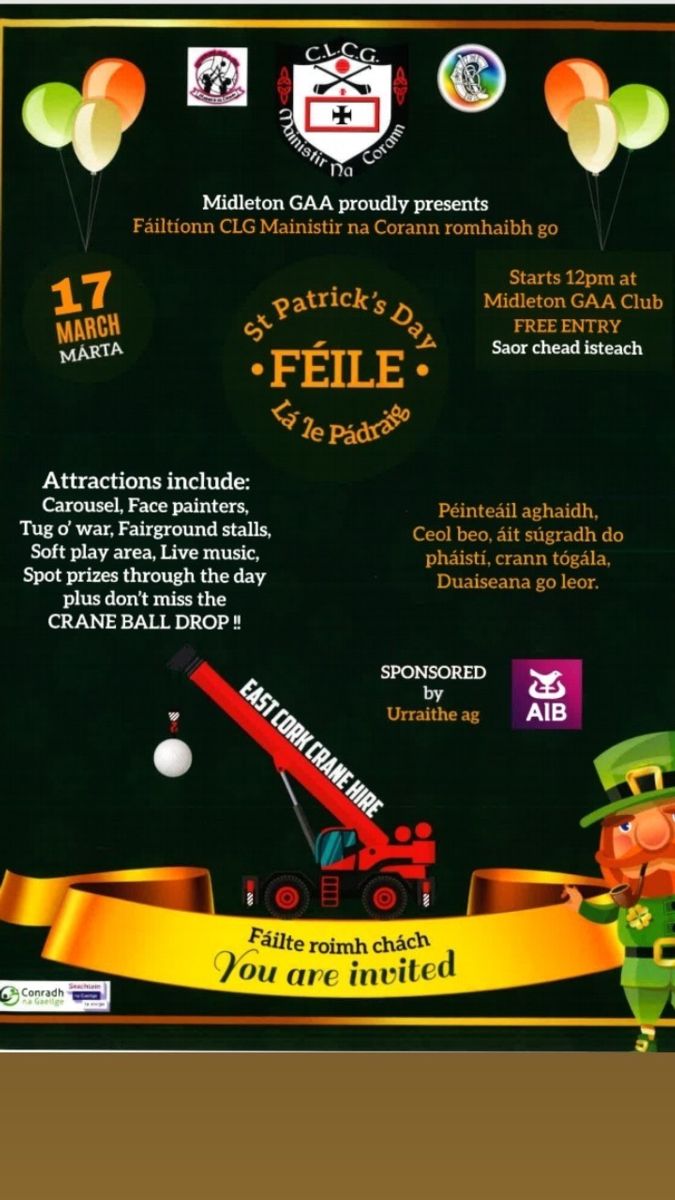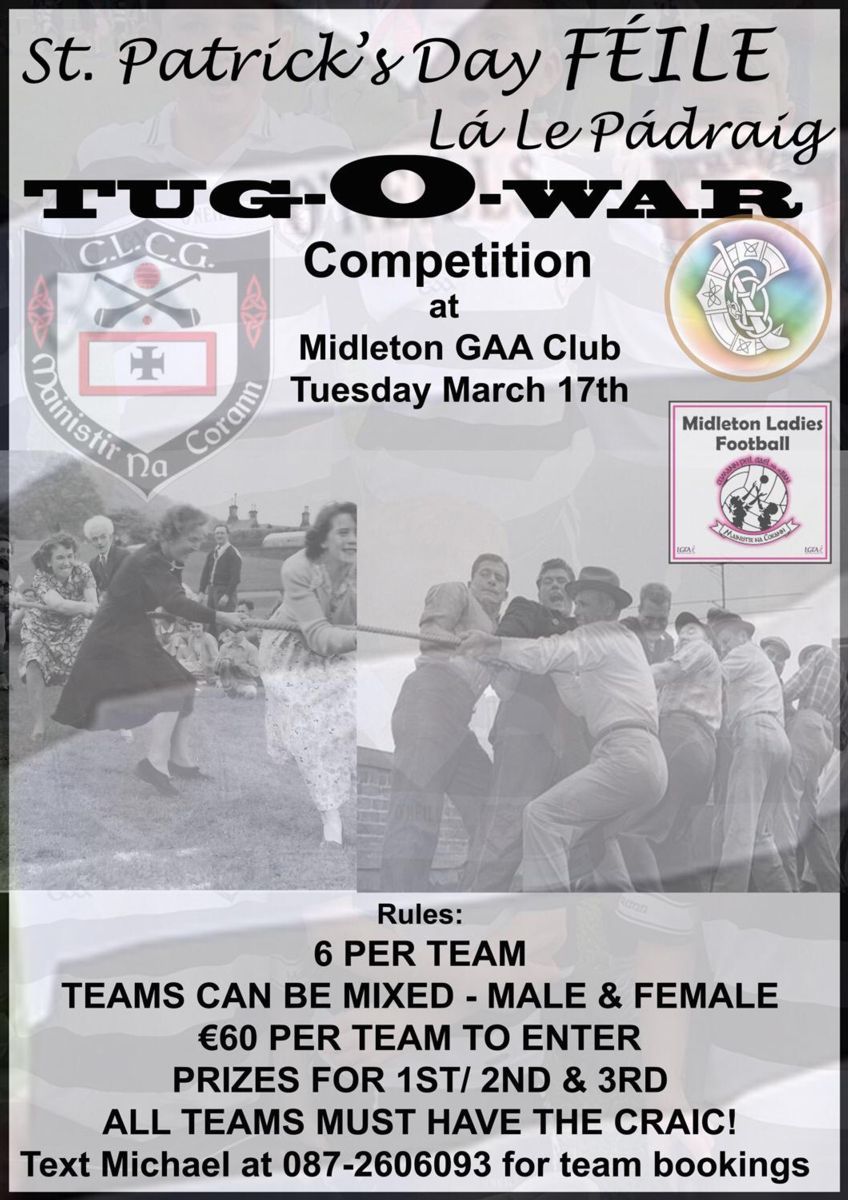 Club Membership & Registration
Date for the diary – Club Registration Day - 22 February 2020 (note change in date)
Midleton Gaa, Juvenile, Ladies Football and Camogie Clubs Registration takes place in the Club Lounge on Saturday Feb 22nd from 10am to 1pm. Please ensure you call and register your Child/Family/Adult membership. All Players must be registered to play and train.
Membership for 2020 is now due. We haven't increased the membership for the coming year on the basis that all Membership is paid immediately. We need this to happen so that we can delay, as long as possible, drawing down loans for the Park South Development. Please show your Goodwill and support by paying your Membership now.
How to Pay
Via Credit Card in Club Bar
Via EFT: IBAN: IE16 BOFI 90290129207259 BIC: BOFIIE2D. Put your name in the Payee Reference Section.
If you have any questions then please feel free to contact Tracy Saunderson (Club Registrar) 087 / 662554
or Liam Wade (Treasurer) 087 / 2562304.
RATES:
Youth Membership:
Player in Junior Infants €50
Player Senior Infants – Fe17* €90
Family Membership: €200
Employed Child/Children do not qualify for Family Membership
Child/Children born in 2001 or before do not qualify for Family Membership
Family Membership does not include the Gym. Additional Gym costs are €100 per person
Adult Full Member, Voting Rights (GAA only):
Non-Player, Team Mentor, Officer, Committee Member €50
Adult Full Member, Voting Rights (GAA only), Player 18 years+** Including Gym €150
Adult Full Member, Voting Rights (GAA only), Player 18 years+ Inc. Gym Full Time Student*** or Unemployed €100
Adult Full Member, Voting Rights (GAA only), Non-Player, OAP (65+), Unemployed €30
* Fe17 means under 18 on 1st January 2020 (born on or after year 2002)
** 18 years+ means over 18 on 1st January 2020 (born on or before year 2001)
*** The membership rate for Players who are studying but who are also in full time employment is €150
U21 Football Championship
On Thursday we travelled to Aghada to play Aghada in the U21A Football Championship 2nd round. Despite not being at full strength we played our best in bad under-foot conditions and lost out to a strong Aghada outfit 2-10 to 1-7. A great effort from our lads on the night.
Ladies Football
Unfortunately, the weather affected this week's training. Training times for the coming week as follows (weather dependent):
Monday:
U8's from 6-7pm in the Community Centre
U12's and U14's from 7-8pm in Ballinacurra
U16's-Junior 7.30pm at the Gaa Club
Thursday:
U14's - Juniors 7.30pm in Ballinacurra
Our U10 girls will return to training on Monday 24th February. A text with times will be sent to all Parents.
Camogie
Huge congratulations to our own Vivienne Gleeson who has made the Cork Camogie Minor Panel for 2020 ! Fantastic achievement Vivienne we are all so proud of you. Wishing you all the very best for the coming year from all at Midleton Camogie.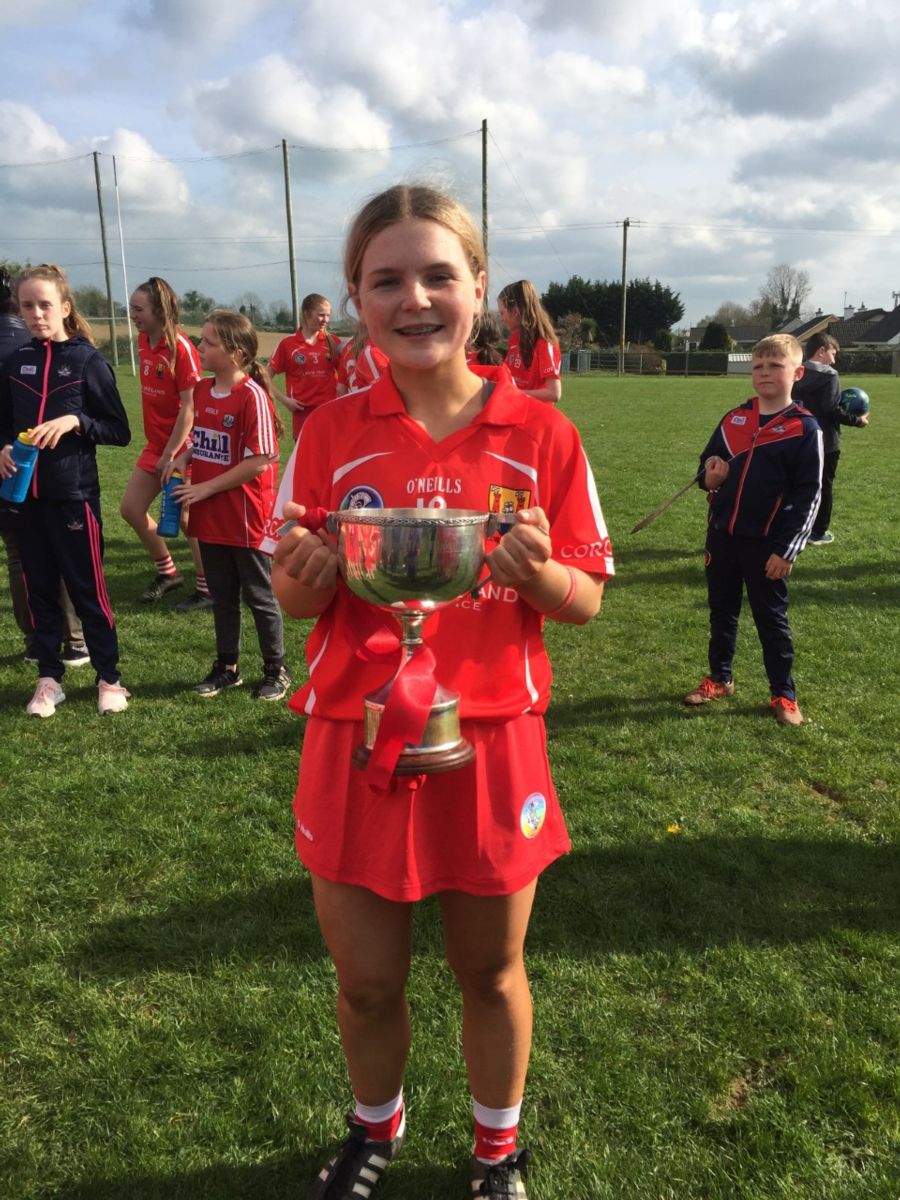 Due to Storm Ciara and also Storm Denis various trials training and matches unfortunately had to be cancelled! Hopefully we will be back on track again next week! Parents will be contacted by coaches and notified of any changes, also keep an eye on our Facebook and Twitter for updates and Camogie news.
Please note all girls must be registered to train and play. Registration Day will take place next Saturday 22nd February at Midleton GAA in the club lounge from 10am to 1pm
Juvenile
Congratulations to our Juvenile Committee, Coaches and Players who have received the Cork GAA Rebel Óg Gold Benchmarking Award for 2019. The Benchmarking initiative is designed to steer Clubs in the direction of coaching and games best practice to help them improve playing standards and increase player participation. Awards will be presented to each Club following a workshop in Nemo on February 22nd.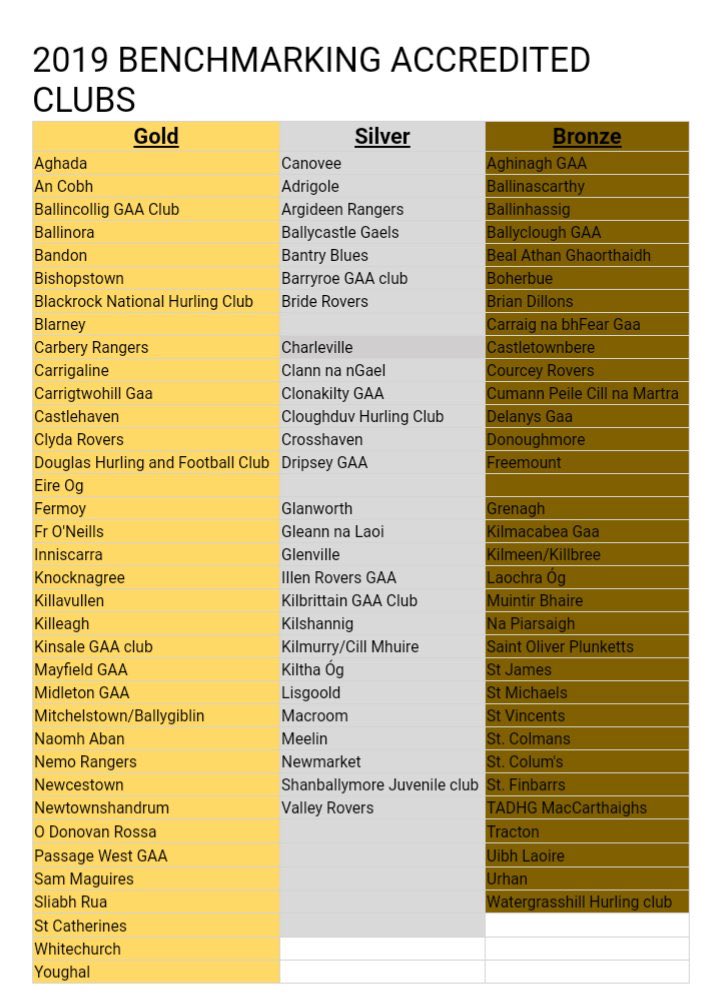 Oíche Ghaelach agus Chultúir Aoine 21ú Feabhra 2020
Irish night and Trad music on Friday 21th ( Next Friday) in Midleton GAA clubhouse at 9.30p.m. A special fáilte for those with ceoil or cúpla focal for trad session. Musicians welcome. 0862340932. Bíonn Oíche Ghaelach i gClub CLG Mhainistir na Corann go rialta . Fáilte roimh chách.
Bingo
Usual session on Friday at 8pm. Jackpot €1,000. Great opportunities on sheet prizes.
Green - check on 48 calls €500.
Blue - check any of 8 numbers €500.
Pink - check any 13 -19 number €500.
Everybody body welcome to a different night out & you will still be home by 10.
45 Drive
Maureen O'Sullivan plays her Ace of Hearts as her Cupid's Bow intimidates her opponents.

On a night where romance was on most people's agenda Maureen O'Sullivan played her ace of hearts to emerge victorious in two of the finals played. Her first victory was with regular Eileen Costine while her second came late in the night with Ballinacurra man Jim Smith. Jerry Beausang kept the Family tradition going taking over from his mother Hannah to win a great final with Dancing guru Denis Crowley. Popular patron and golf classic organizer Jim O'Sullivan coupled with Kitty Griffin took out the third final. Last but by no means least club chairman Liam Ryan partnered by Dina Donovan "stormed "through the field to take the last final of the night despite "Denis" raging outside.

Results:
1) Maureen O'Sullivan/Eileen Costine, 2) Denis Crowley/Jer Beausang, 3) Jim O'Sullivan/Kitty Griffin, 4) Maureen O'Sullivan/Jim Smith, 5) Liam Ryan/ Dina Donovan.
Cards continue this Friday February 21st 9pm. All welcome.