Midleton Hurling and Football, Ladies Football and Camogie Club News
26 January, 2020
Lotto
Our Club Lotto was €2,400 and there was no winner. Numbers Drawn were 3, 8, 17, 24
5 Lucky Dip winners were John Howard c/o Niall Macs, Marie Ryan c/o Tom Ryan, Liam Walsh c/o Pat Walsh Paints, Maura Deady c/o Bingo, Sarah O'Brien.
Next Week's Jackpot is €2,600.
Tickets are available at the Club Bar, O'Neill's Bar, Linehan's Bar, Maple Leaf Bar, Niall Mac's Bar, Wallis Bar, An Teach Beag, Frank Murphy Butchers, Pat Walsh Paints, Chadwick's and O'Farrell's Butchers.
Why not play from the convenience of your home or workplace. Play your Lotto on –line for just €2. Log onto the Club Homepage - www.midletongaa.com to purchase your ticket. Receive a weekly reminder to your phone to play.
Club Membership
Date for the diary – Club Registration Day - 22 February 2020
Membership for 2020 is now due. We haven't increased the membership for the coming year on the basis that all Membership is paid immediately. We need this to happen so that we can delay, as long as possible, drawing down loans for the Park South Development. Please show your Goodwill and support by paying your Membership now.
How to Pay
Via Credit Card in Club Bar
Via EFT: IBAN: IE16 BOFI 90290129207259 BIC: BOFIIE2D. Put your name in the Payee Reference Section.
If you have any questions then please feel free to contact Tracy Saunderson (Club Registrar) 087 / 662554
or Liam Wade (Treasurer) 087 / 2562304.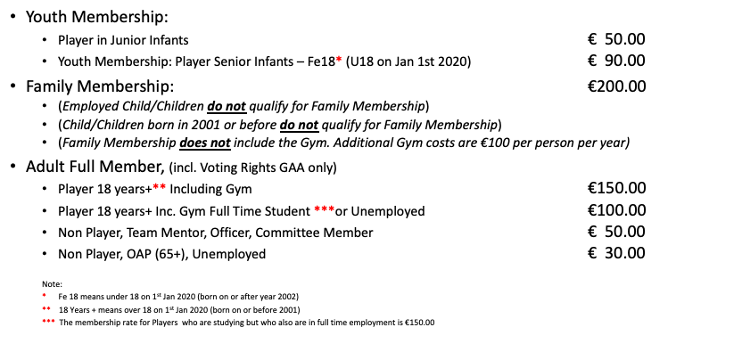 Bingo
End of month BONUS GAME €500 on 48 calls. Usual Jackpot €1,000. Sheet values - Green €500, Blue €500 and Pink €240. T & C apply. Be there for 8 bells to win.
Congratulations to Frank Bransfield on becoming a grandfather for the first time during the week.
45 Drive
Maureen leads the charge in epic final.
Maureen O'Sullivan got out of traps early winning the first final of the night partnered by GAA legend Denis Crowley. Retired teacher Jim O'Sullivan who played in more finals than first rounds on the night took the second partnered by Hannah Beausang. Carrigshane potatoes merchant, Dave O'Brien, was successful in the third with Ballinacurra man Jim Smith . The last final of the night was a tense affair where this scribe was silenced on more than one occasion. It was a game a piece and 35, 30, 25 but the experience of John Barton and Dónal Kelly was decisive when the pressure came on at end.
Well done to all winners. Cards continue this week Friday 31st at 9pm. All welcome
Junior Football League
Good start to the year with a 2 point win. Midleton 3:05 Bride Rovers 0:12. Team Aidan Ryan, Brendan, Eoin Ferriter, Coran Swayne, Niall Walsh, Peter Dowling Eoghan Maloney , Sean O'Meara, Cathal Gunning (-1), Eoin Mitchell, Paudie O'Farrell, Pa White (-1), Jonny Comer (1-3), Conor Evans (2-0)
Ladies Football
On Saturday our U14 girls travelled to Redmonds Gaa to play Douglas in a challenge game as they prepare for the season ahead. A game played in 3x20 minutes segments meant each of the girls got plenty of game time. Plenty of positives to be taken from the match. Thank you to the Parents for travelling.
Fé14 Team V Douglas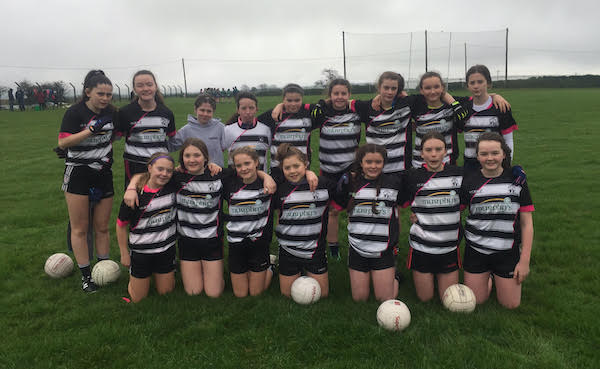 Training this week for the following groups:
U14's – Ballinacurra Pitch Monday from 7-8pm and Thursday from 7.30-8.30pm (Please note times)
U16 – Junior at the Gaa Club Monday from 7.30pm and Thursday at Ballinacurra pitch from 7.30pm.
Yesterday in Pairc Uí Chaoimh was a historic day for our Cork Ladies Football Team. For the first time ever they played a National League match on our home ground v Westmeath. It was great to see our Club Player Orlagh Farmer playing in the red and white. Final score was Cork 1-09 Westmeath 0-06.
Juvenile
Fé8
The Fé8 boys are 3 weeks into Indoor Hurling Training at the Community Centre.
The boys have been practicing with the smaller quick touch sliotars for the first time over the past 3 weeks. The lads are showing great signs of improvement each week and we would like to encourage the boys to keep practicing at Home as well. Hurling Training for the Fe8s is on every Saturday morning from 10am-11am in the Community Centre and New Members are always welcome.
Fé13 returned this week past with an outdoor session in the Midleton College Hockey Pitch on Tuesday plus an indoor movement and agility session on Thursday night in the GAA hall. The latter is the first of a 6 week programme.
Fé13 Team Movement & Agility Session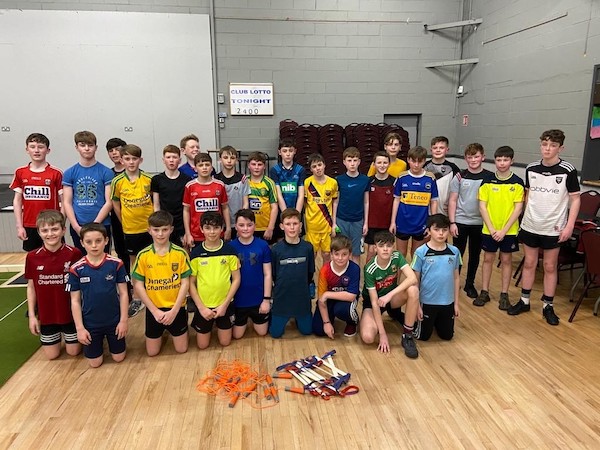 Winter Training details for 2020
Monday: Fé9's at Midleton Hockey Pitch from Feb 3rd at 7-8pm
Monday: Fé10's at Midleton Hockey Ptch from Feb 3rd at 7-8pm
Tuesday: Fé13's at Midleton Hockey Pitch from Jan 21st at 6-7pm
Wednesday: Fé12's at Midleton Hockey Pitch from Jan 29th from 6-7pm
Wednesday: Fé15 and Fé16's will complete a 6 week strength and conditioning session at the Train Station Gym commencing on Jan 15th.
Fé11 and Fé 14 group's to be confirmed
Please Note:
1: No metal studs or moulded studs to be worn
2: Parents should use the parking spaces and not stop at the Astro gate as it is very busy with both the Hockey pitch and Hall rentals.
2020 Indoor Training in the Community Centre on Saturday morning's for the following groups:
Fé8 - 10am to 11am
Fé7 - 11am -12pm
Fé6 ( Junior Infants) 12pm-1pm
Harty Cup Semi Final
Yesterday saw CBC Cork beat Midleton CBS by the narrowest of margins on a final scoreline of CBC Cork 2:11 Midleton CBS 0:16. CBC Cork progress to the final where they will play St Flannan's Ennis who defeated Our Lady's Templemore on a scoreline of 0:18 to 1:13. Best of luck to all Midleton GAA players who will be involved in the final.
Midleton players involved in semi final
CBC Cork: Gavin Reddy, Mikey Finn, David Cremin and Evan Kelly.
Midleton CBS: Sam Quirke, Brion Saunderson, Alex Quirke, Jack Fitzgerald, Paul Connaughton, Ciarmhac Smyth, Conor Fitzgerald
U19 Senior C Munster Semi Final
Coláiste An Phiarasaigh V Scoil Pól Kilfinane
Full Time score Coláiste An Phiarasaigh 3.09 Kilfinane 3.17
Midleton Players involved:
Tim O'Sullivan, Dan O'Sullivan, Liam Kelly, Brian O Connell, Darragh Mooney
Club Shop
The shop will reopen on February 1st.