Midleton Hurling & Football, Ladies Football & Camogie Club NEWS
08 September, 2018
Junior Hurling
Congrats to our Junior B hurlers on their fine victory over neighbours Carrigtwohill in the quarter final of the East Cork Championship in Cobh last Tuesday evening by 1-19 to 1-15.
We came out of the blocks very quick and dominated the first half, we deservedly led at the break by 1-10 to 0-04. The second half was a much tighter affair but our defence remained very resilient and we finished the stronger advancing to the semi final.
Team: Alan Power, Brendan Ferriter, Pat Stack, Conor Evans, Gavin Bagnell Harnett, Henry Foster, Paul Barry, Lochlinn Mc Carthy (0-03), Micheal Keohane (0-05, 4 frees), Johnny Comer (0-02), Ciaran Moloney, Josh Deady (0-01), Mark O'Keeffe (1-05, 1 free), Sean Corcoran & Joe Loftus (0-03). Subs used Luke Finnerty & Padraig O'Shea, not used Coran Swayne, Andrew Rea, Fergus Wade, Jake Shanahan, Ronan Lynch, Mark Daly, Jerome Curtin, Conor O'Neill, Keith Ryan & Eoin Ferriter.
Good luck to our Junior B hurlers in the East Cork semi final against Watergrasshill next Friday, time and venue to be confirmed and also our Junior C hurlers will play their Championship first round against Ballinacurra on Sunday week 17th @ 5.30pm, venue TBC.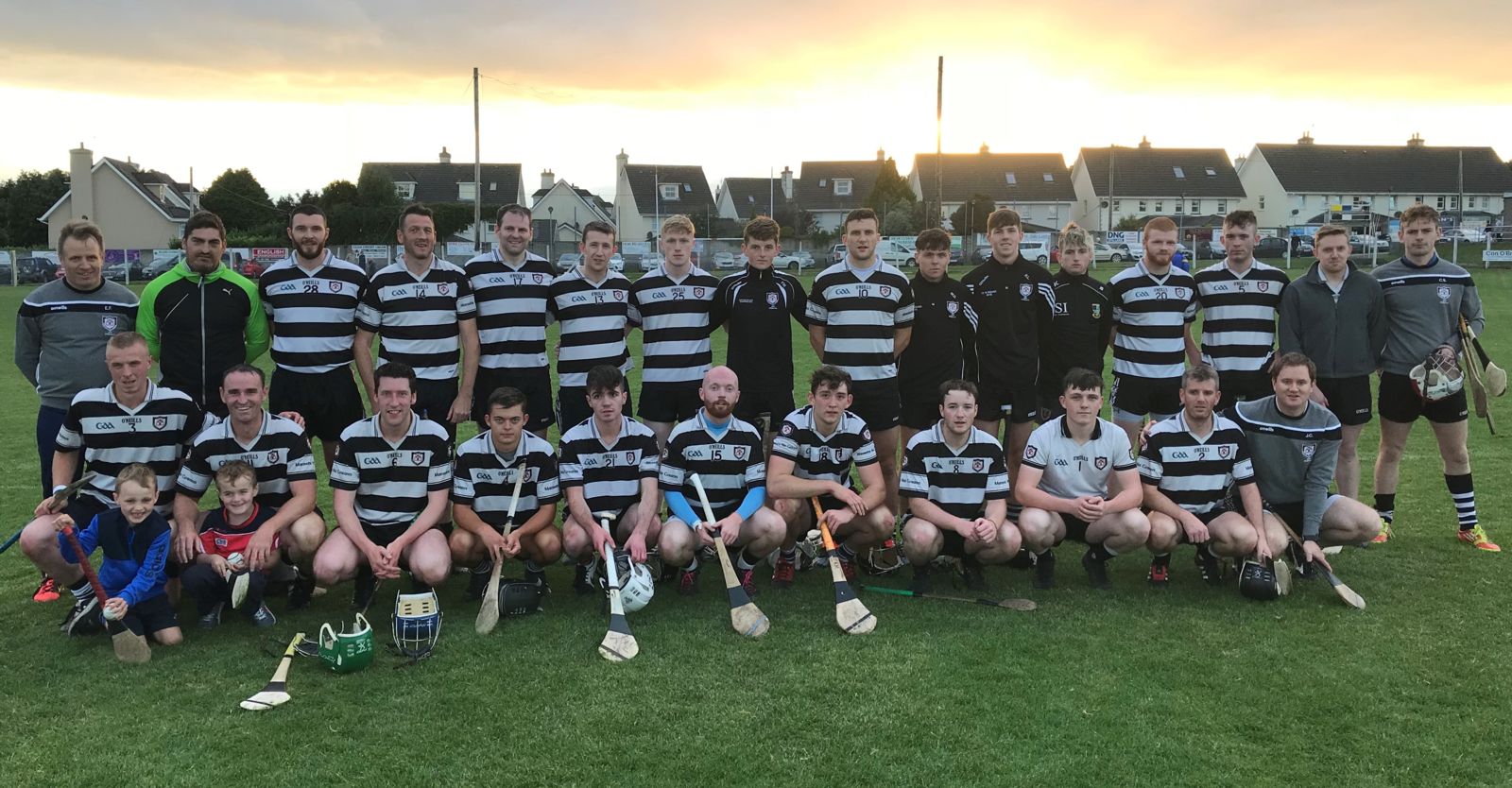 Junior Football
We had a good win over our hosts Dungourney last Wednesday evening in the League by
4-13 to 1-10, this was good preparation for our East Cork final v Fr O'Neills in Killeagh on Tuesday the 18th.
Team: Patrick White, Conor Evans, Luke Dineen, Cathal Gunning, Brendan Ferriter, Peter Dowling, Sean O' Meara, Adam Daly, Kieran Moloney, Seamus Farrell, Aidan Ryan, Cillian Hurley, Cormac Beausang, Johnny Comer & Kieran Mulcahy. Subs used Eoin Ferriter & Jerome Curtin.
Senior Hurling
Best of luck to our players and management on Saturday next 16th when they take on Newtownshandrum in the Championship quarter final at Pairc Ui Chaoimh @ 5pm (second game of a double header).
Minor Hurling
Our hurlers play Na Piarsaigh in the Premier 1 County semi final next Wednesday in the Mardyke @ 6.45pm, we wish all the players and management the very best in this game.
East Cork Junior Hurling Final
This Sunday afternoon hurlers of St Ita's and Russell Rovers will contest the Junior A final in Castlemartyr both aiming for their maiden victory in this competition, referring this game is Niall O'Neill, we wish Niall and his official's well with this fixture.
Fixtures (Cluichí)
Wednesday 12th Premier 1 Minor Hurl semi final v Na Piarsaigh in the Mardyke @ 6.45pm
Friday 14th East Cork Junior B Hurling Championship semi final v Watergrasshill, time and venue TBC
Saturday 15th Senior Hurling Championship quarter final v Newtownshandrum in Pairc Ui Chaoimh @ 5pm
Sunday 16th East Cork Junior C Hurling Championship v Ballinacurra, time and venue TBC
Tuesday 18th East Cork Junior A Football final v Fr O'Neills in Killeagh @ 7.30pm
(Please note these games may change and will be updated on our website.)
Camogie (Camógaíochta)
U8: we played St Catherine's on Saturday of last week in Ballynoe on a lovely sunny day. Our young magpies played brilliantly, with the skills of the games improving week on week. Thanks to our players, supporters, coaches, and the referee and to St Catherine's.
U10: We played Douglas away on Friday evening last, it was a great game of camogie with some excellent skills on display from both team with lots of blocking and hooking making for a very enjoyable game. Thanks to Douglas for hosting.
U12 Whites: We played Brian Dillon's on Saturday last at home in the league under wet conditions. The girls put in a great performance and battled hard from start to finish with Brian Dillon's just piping us at the end. Thanks to Brian Dillon's for travelling.
U14 4th round 'B' championship - Last Sunday evening we met Milford/Ballyhea in the 4th round of the 'B' championship. After a wet day the sun came out for the start of the match which was played in Ballinacurra. Both teams started strong and scores were hard to come by but our girls worked hard and the first half finished with us ahead by seven points.
A downpour in the second half made for difficult playing conditions. They were not going to fade away in the second half and worked their way back into the game with only two points separating the teams with minutes to go. Another goal and point from us resulted in a six point win at the final whistle securing a place in the quarter final v Rockban. Our girls again showed great heart throughout this match against a physically strong side. The work rate was excellent from every player on the pitch. This team is going from strength to strength and will no doubt give Rockban a tough match in the quarter final.
Congratulations to Chloe Garde and the U14 Cork White camogie team who won the Inter county blitz in Dublin on Saturday to claim the title of U14 All Ireland Champions. Both Chloe and Caoimhe Murray have been part of the Cork U14 squad this season which now draws to a close, our Club are very proud of team, well done girls.
U16: We made our exit from this year's championship last Thursday evening in Mallow. The girls started well against an evenly matched home side. There were some great passages of play early on but we left many scoring chances after us, which would prove to be costly at the end of the game. Mallow's accuracy from frees kept them in the game and the decisive score, a goal came from a free late in the second half, put them three points up. Though we got a point back with minutes to go, the girls could not get that all important goal. Final score Mallow 1: 09 v Midleton 0:10. All the girls worked very hard, we defended consistently well as a team but as has been our Achilles heel the last three games, we've failed to dominate teams on the score board when having a lot more possession. We now look forward to the U16 league quarter finals and our own upcoming U15 Clonmult tournament. It has been a difficult number of weeks for our young team but certainly all of us will benefit and learn from these experiences. Best of luck to Mallow in the rest of the Championship.

UPCOMING FIXTURES - U12 Whites V Kilbree Midleton GAA Club Saturday 15th September 3pm, U14B Championship Quarterfinal V Rockban in Whitechurch GAA Club Sat 15th September at 5pm & U15 Clonmult Tournament Midleton GAA Club Saturday 22nd September 11.30am
Training: U6: Friday 6.30pm back pitch Midleton GAA club. U7/U8: Tuesday 7pm Ballinacurra & Friday 6.30pm back pitch Midleton GAA club. U9/U10/U11/U12 Tuesday Ballinacurra Pitch 7pm, Friday St Colman's 6.40pm. U13/U14/U15/U16/U17 Tuesday St Colman's 7.15pm -8.15pm, Friday St Colman's 7.30pm -8.30pm. Any changes to training schedule will be communicated to parents. New players welcome for enquiries contact 087 6822716. Follow us on Facebook: Midleton Camogie Club and twitter@midletoncamogie.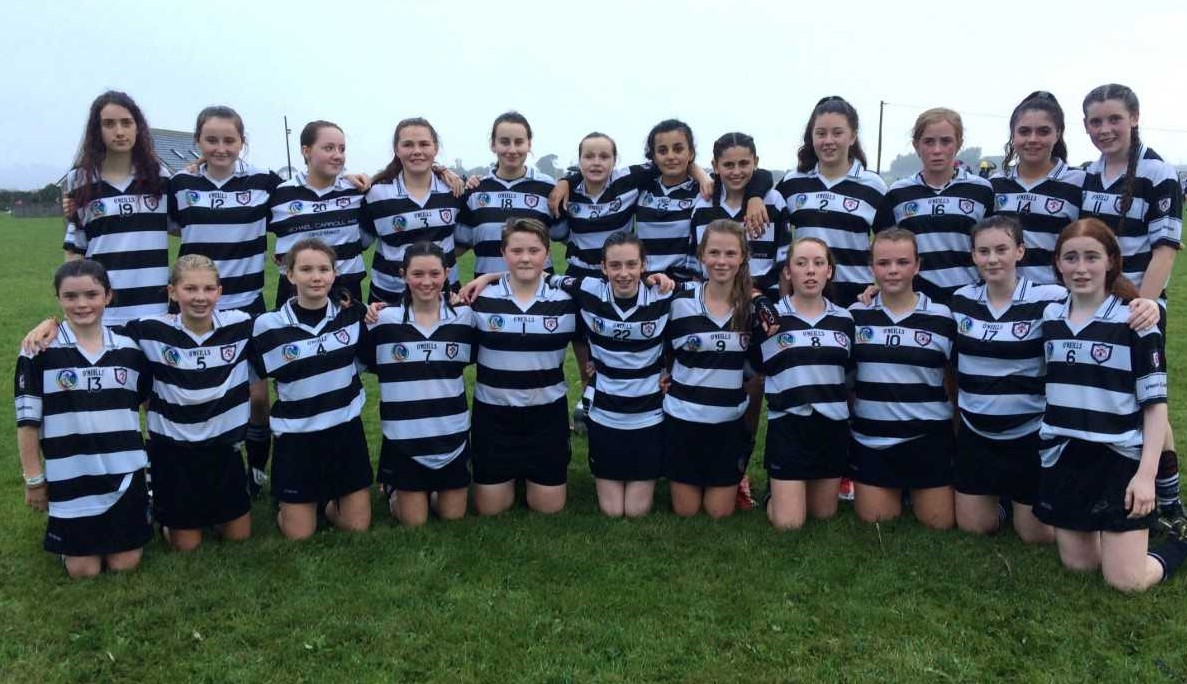 Ladies Football (Peil na mBan)
Our Minor girls travelled to Shanagarry on Friday evening 31st August to play St Colmans in the East Cork Minor Football league. On a really miserable wet soggy evening there is great credit due to both teams for turning out in great numbers. The game started in a good lively pace with the slippery ball moving quickly from end to end. Although they would argue that they had most of the ball in that first half when our girls were battling the breeze, the effort and commitment shown by every girl on them must be applauded. The back six were defending like trojans and when we got our running game going, they simply had no answer for us. We ended the first half in a commanding lead.
The wind that was blowing in the our team's faces completely died down by the start of the second half so any advantage we could've hoped for after the break was wiped away and the St Coleman's girls showed great fight in the second half and definitely had the better of the exchanges and got themselves more into the game. Despite their comeback though, it wasn't translated to the scoreboard as the girls left their shooting boots at home. This was a great fun game with great football displayed by both teams on a night only fit for 'sitting by the fire' Well done all. Final Score: Midleton 5:22 v St Colmans 1:10
Team: Rayanna Power (1-3), Megan Kelly (0-2), Claudia Kearney, Denise Collins (0-1), Deirdre Corcoran (0-1), Lucy Wallace, Rhea Buckley, Abby Quirke (0-1), Vivienne Gleeson, Sadhbh Beausang (0-3), Clodagh Finn (1-0), Lucy Kenneally (0-2), Molly Beausang (2-4), Laura O'Leary (0-5), Aoife Franklin, Katie Horgan, Orla Evans (1-0) & Leah Hogan.
U12 Championship semi final v Naomh Abán
On Saturday afternoon last we travelled to Ballyvourney to take on Naomh Abán in their first year playing Championship. We had defeated Knocknagree in the quarter final and thoroughly deserved our place in the semi final. In very wet and miserable conditions the girls travelled in great numbers. Unfortunately it was not our day as Naomi Abán proved too strong for us but in fairness to the girls they never gave up and fought for every ball.
Best of luck to Naomh Abán in the final.
Team: Kate Saunderson, Cara Foley, Aine Ryan, Rachel Ryan, Alannah Magan, Kate O Sullivan, Saoirse Ni Theanganna, Ellen O Neill, Grainne Finn, Isabelle Nestor, Alex Cahill, Sile O Leary Hayes, Kelly Quirke, Katie Smith, Lily Kelly, Amy Keeshan, Jade Fitzgerald, Laura Goulding, Roisin Crotty & Sadhbh Hartnett.
Training next week as follows: U8- 6-7pm at the Tech Pitch & U10 upwards 7-8pm at the Tech Pitch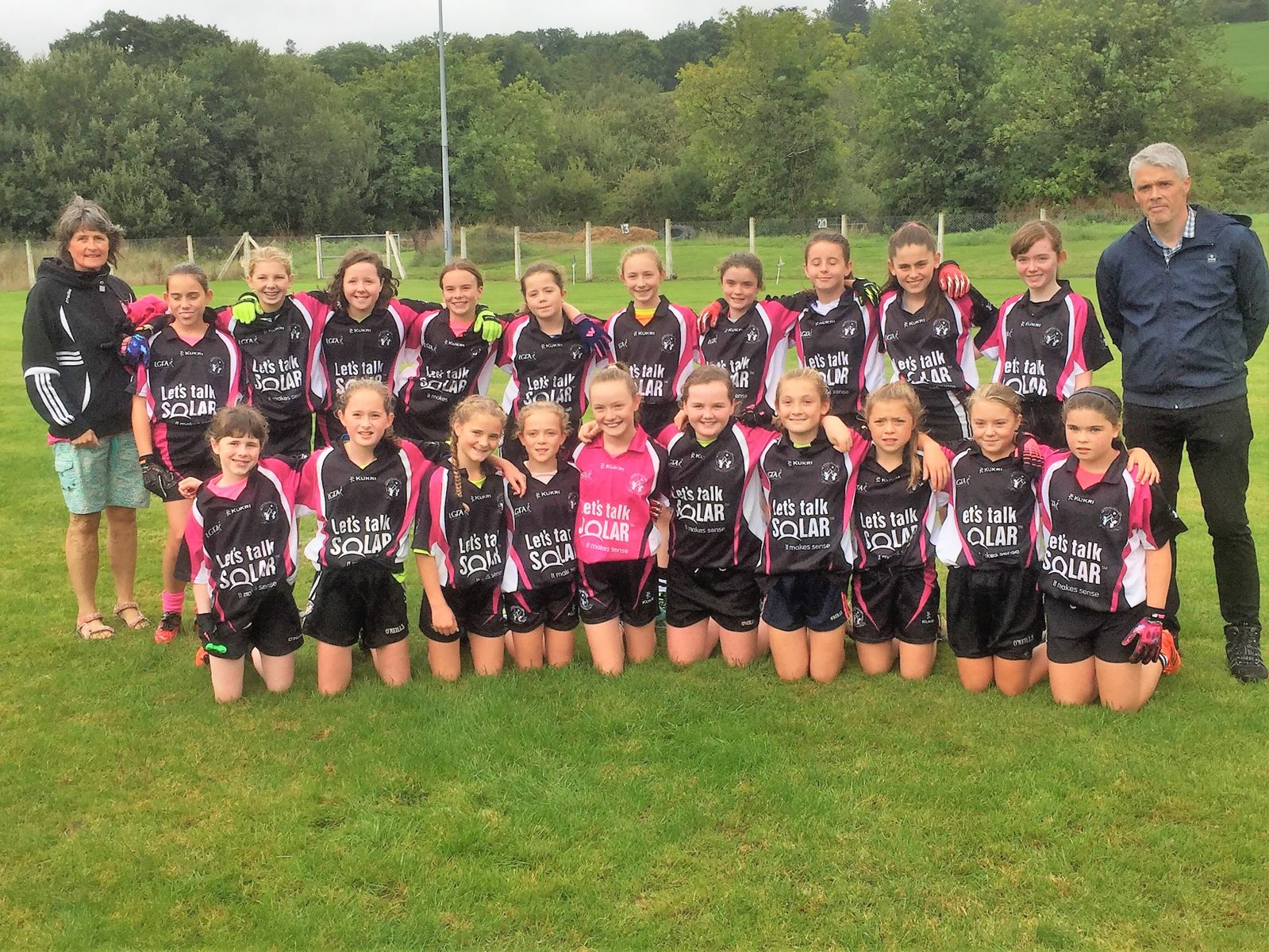 Lotto (An Lató)
Our Lotto Jackpot was €4,000 and there was no winner, the Lucky dip winners were Liz Fitzgerald, Fr. Denis Kelleher, Anne Marie Dineen, Diarmaid Geary & Jim Cagney, next week's Jackpot will be €4,200.
Tickets are on sale at the Club Bar, O'Neills Bar, Linehan's Bar, Maple Leaf Bar, O' Farrell's Butchers, Frank Murphy Butchers, Pat Walsh Paints, Chadwicks, Teach Beag, Niall Mac's Bar & Wallis's Bar. Our Online Lotto is now available, logon to the Club homepage www.midletongaa.com to purchase your ticket.
BINGO – each Friday at 8pm. Usual jackpot on 53 calls, plus sheet prizes, pink €550, blue €500, green €240. Everybody welcome.
Juvenile
Fe 6
On a very wet Saturday morning we travelled to Killeagh to play a challenge game with our hosts. We had 32 young Magpies making up three different teams. All our games were very competitive and the lads showed great skill and enthusiasm in the wet conditions.
On behalf of all the U6 Coaches we would like to thank all the parents for making the great effort bringing the lads to Killeagh for this friendly game in wet conditions.
We will host St Finbarrs at the club on Saturday morning next the 15th of September at 10am. We are sure all the players will have a great morning, stars of the future for both clubs!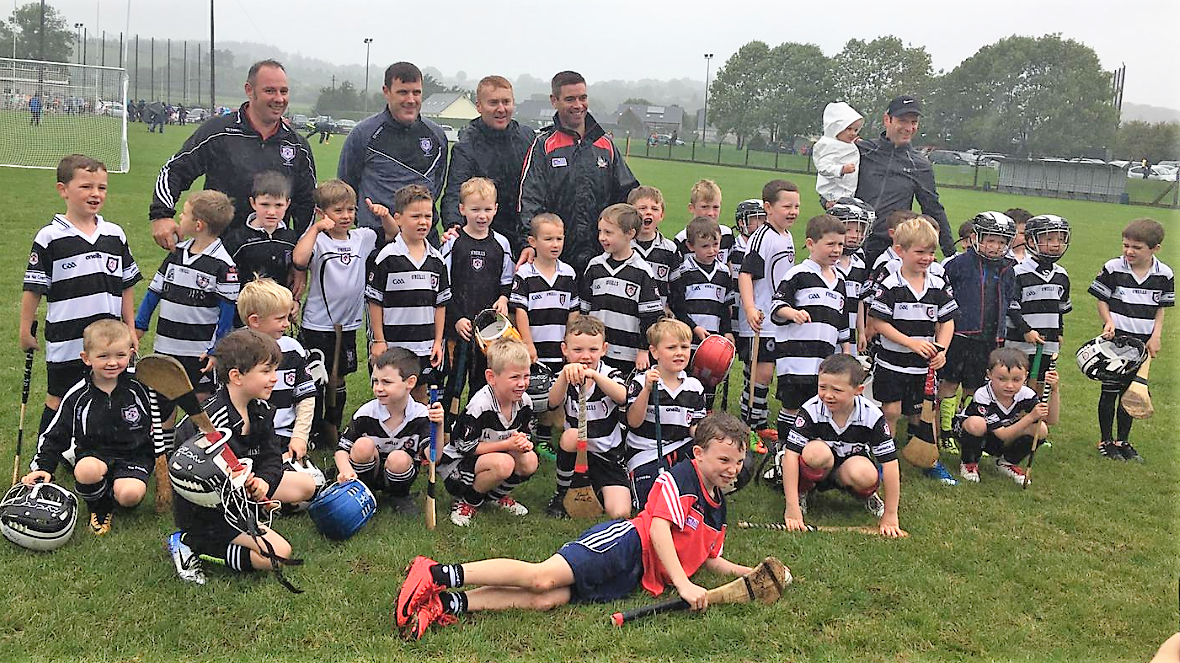 Fe 8
On Saturday morning last our young hurlers braved the elements and took to the field in Killeagh for more hurling action. It was an action packed morning, where we fielded three teams and each team played three games. Our magpies again played some very tough and competitive matches. We have been working very hard in training the last number of weeks and it was great to see our players showing what they learned on the pitch.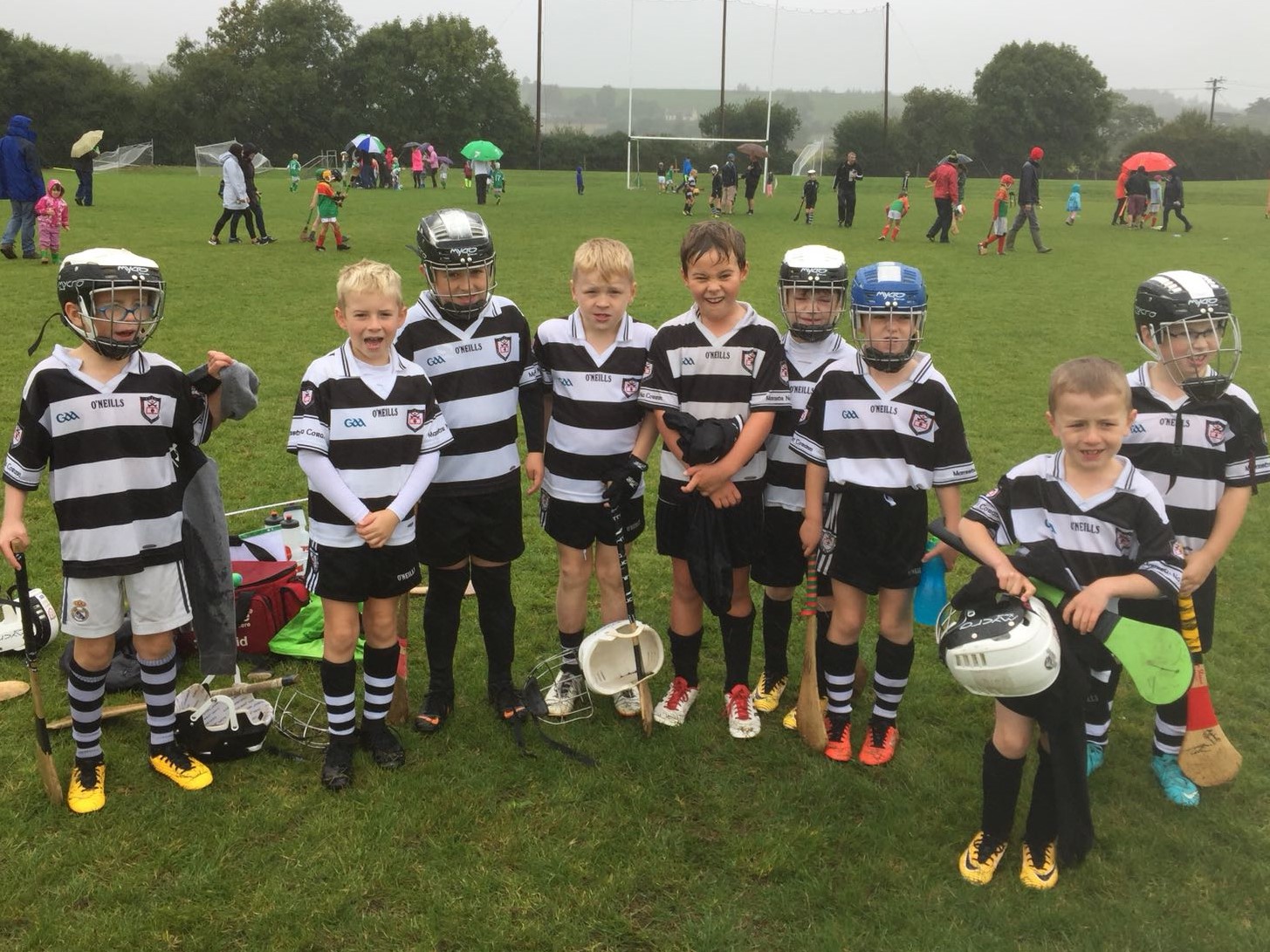 Fe 9
On Saturday we were kindly invited to participate in the O' Loughlin/Kearney Cup in Killeagh. We had a strong panel on the day with 29 players and fielded two teams.
The games were played in a blitz format with all players getting at least two games and plenty game time. Despite the wet conditions some great displays of skill were on show from all teams with Killeagh and Midleton 2 eventually making it to the final. Midleton 2 were winners of the final by the narrowest of margins, one point victors in what was a very tightly contested final which could have gone either way. Team captain Cathal O Neill accepted the O Loughlin/Kearney cup on behalf of all the Midleton Fe 9's. Congratulations to Midleton 2 on their victory and also well done to Midleton 1 on a great display in both of their games, both teams representing the Magpies with pride. Hopefully this will be the first of many trophy's for this group. Thanks to Sean Crowley for the invite and to all in Killeagh GAA for the hospitality afterwards.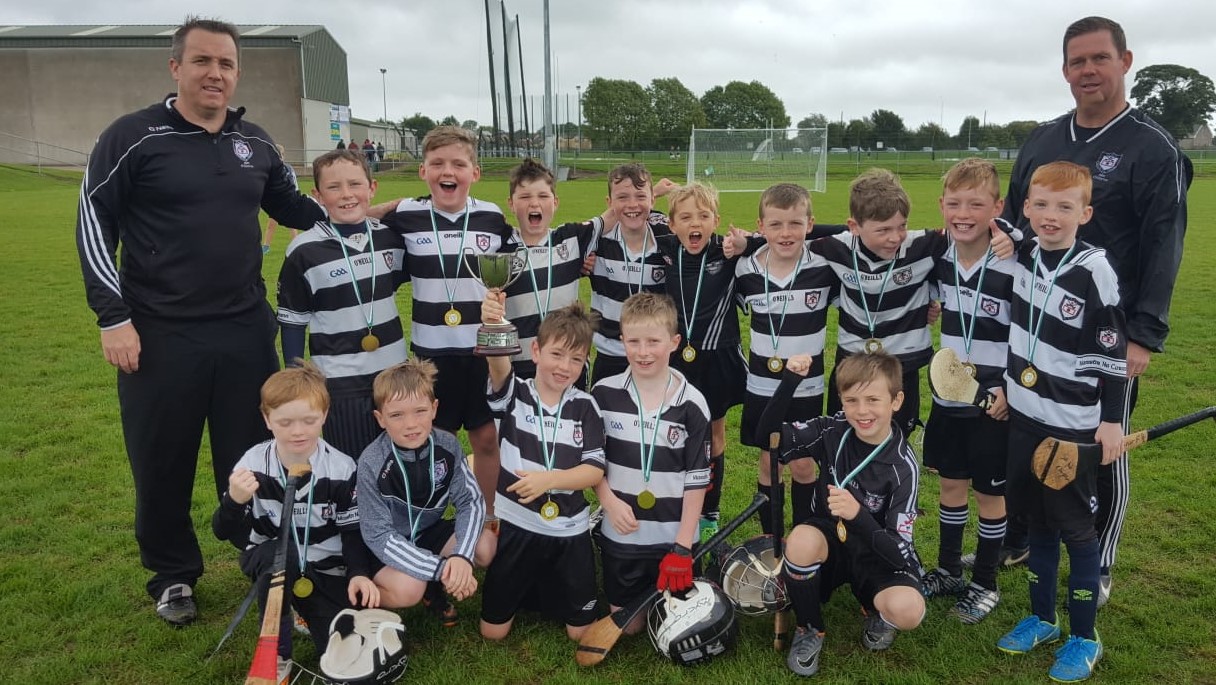 Fe 11
On Saturday morning last, we travelled to a wet and wind swept Youghal. We played Youghal ( 2 teams ) and Fr O Neills in the next round of games in the Rebel Og Hurling league. Fielding 3 teams of 10, the lads really performed excellent in all three games and as a result we got three wins. This was great for the boys, which will give them great confidence going into our last few games of the year. The improvement in the last number of weeks has been brilliant, for us as coaches it's great to see. Training will continue this Tuesday evening and we will turn our attention to football. We are in Youghal again next week for the Dan Coleman Cup and shield. We are hoping once again to be competitive at this tournament. Well done again lads on a fantastic mornings hurling. Magpies ABÚ.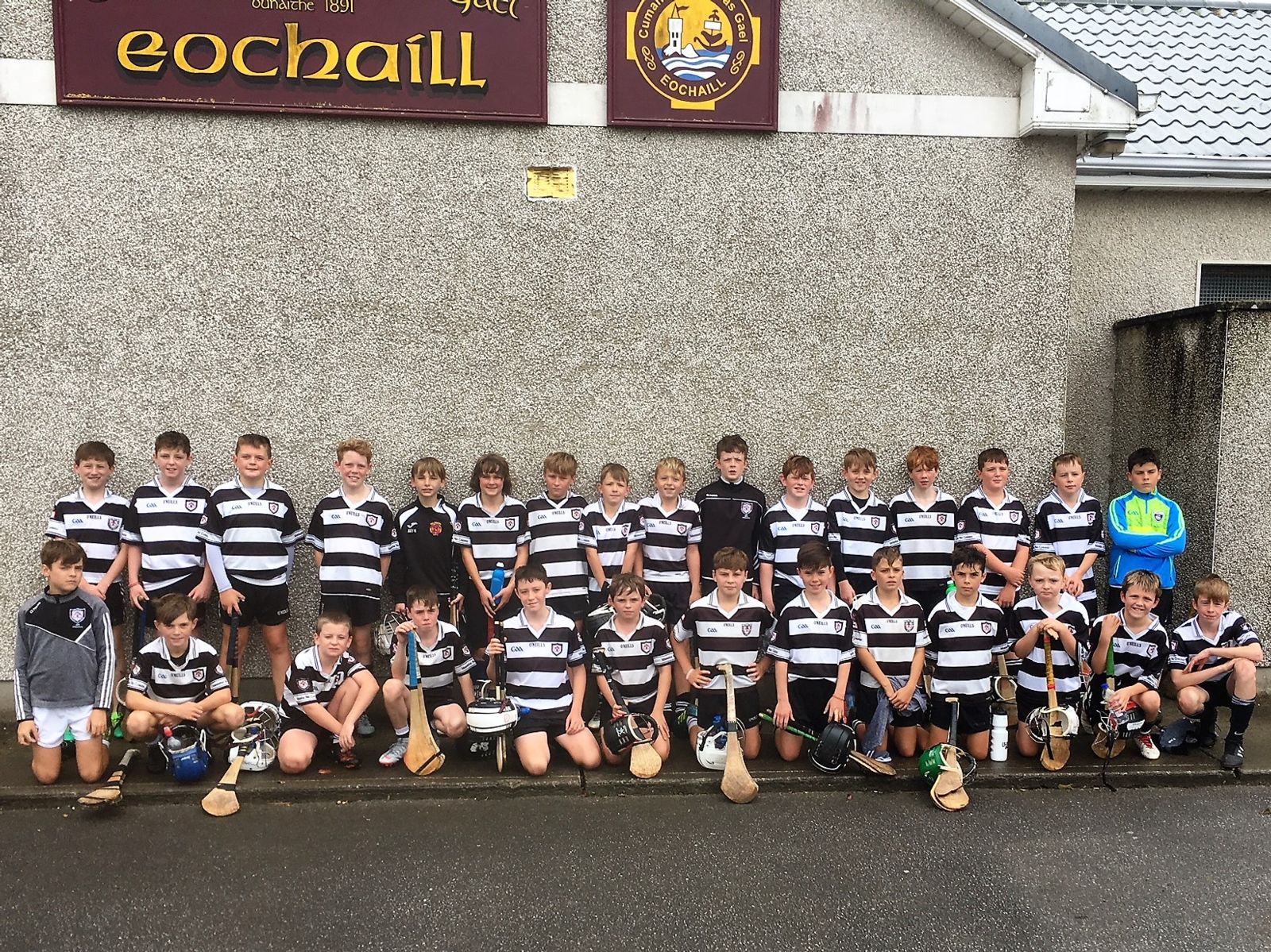 Fe 13
On Monday evening in what proved to be a perfect evening for hurling we had a home game against Valley Rovers. This was a must win game for both sides as both teams were level on points on the Premier 1 table with the winning team coming closer to a semifinal spot. The Magpies started well with a clatter of points from a very fast forward line. Two goals from nippy corner forward Thomas Dunlea followed by another from Evan Mc Grath saw the home side with a strong lead at halftime on a score line of 3-9 to 2-1. However Valleys came out fighting in the second half and put a few scores over but in the third quarter we came good with goals from Niall Lang, Thomas Dunlea, Evan Mc Grath, and a Darragh Fitzgerald penalty saw us back on top. A sublime goal by Tiernan O Connell put the icing on the cake in what proved to be a perfect result for the home side. Final score line was 9-14 to 4-4. This was a great effort by all the lads on the night and the mentors would like to thank them for their efforts also many thanks for the parents support.
Panel: Thomas Dunlea, Tadgh Bohane, Alex Moloney, Tiernan O' Connell, Eoin Higgins, Rory Lester, Evan Mc Grath, Zach Smith, Oscar Brennan, Darragh Higgins, Darragh Aherne, Niall Lang, Darragh Fitzgerald, Tadgh O' Leary Hayes, Darragh Scanlon, James Mac Sweeney, Daniel Garde, Caraigh Cronin, Adam Collins & Cian Lambe.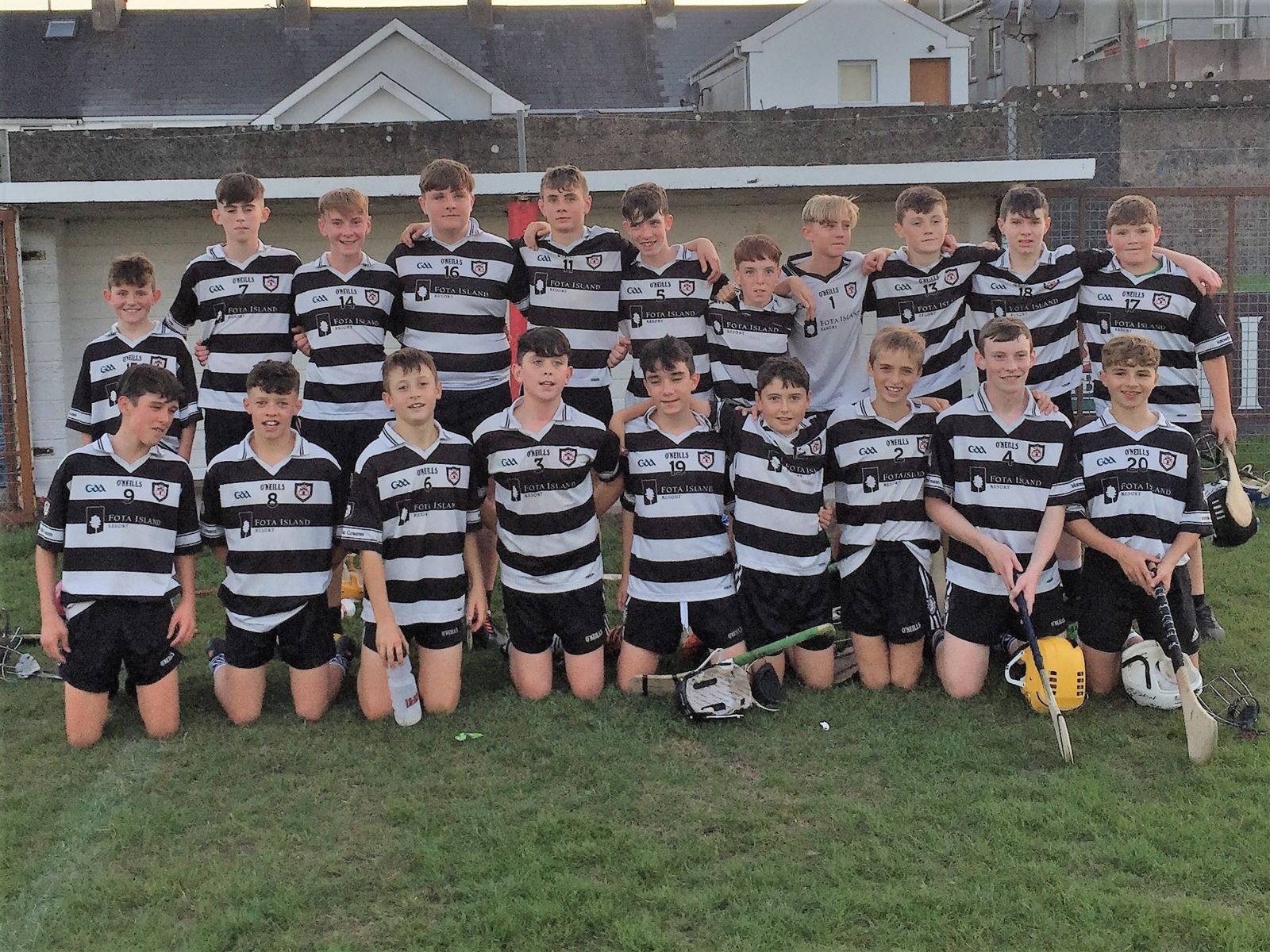 Juvenile Registration
Juvenile registrations for our new Fe6 players for the coming year will take place in the Midleton GAA club on Saturday October 13th between 10am-12noon. Flyers will be dropped into the local schools over the coming weeks. Registration fee is €30.00 and indoor training for our new players will commence in the Midleton Community centre on Saturday the 3rd of November from 12 -1pm. New players for all other age groups are always welcome. All information in relation to membership forms and our code of conduct can be found on our website. membership.
Club Shop
The Club Shop is open each Saturday from 10 to 11.30am and we now have a good selection of Flags, Hats, Headbands & Scarfs for our upcoming Championship games.