Midleton Hurling & Football, Ladies Football & Camogie Club NEWS
09 July, 2018
Junior B Hurling Championship
In the first round of the Championship we had a comfortable win over Killeagh. We started brightly picking off some lovely points along with a wonderful goal from Joe Loftus, who finished the night with an incredible five goals and four points to his name (surely a record in East Cork Championship hurling). We led at half time 2-15 to 4pts, and kept up the pressure in the second half to finish on a score line of 7-26 to 1-7. Great credit is due to Killeagh who kept on fighting until the end in what was a very sporting game of hurling played in beautiful conditions in Dungourney (Who must be credited on having the pitch in excellent condition despite the dry conditions at the moment). This was an outstanding team performance from one to fifteen. Well done to Niall Walsh who heads off on his travels and we hope to still be involved in this competition when Niall gets back.
Team: Alan Power, Brendan Ferriter, Cillian Hurley, Pat Stack, Conor Evans, Henry Foster, John Keane, Cormac O'Brien, Kevin Finn, Keith Ryan,, Micheal Keohane, Kian Farmer, Joe Loftus, Niall Walsh , Mark O'Keeffe. Substitutes: Tommy O'Connell, Andy Rea, Luke Finnerty, Evan Rowlands, Paul Barry, Johnny Comer, Fergus Wade, Jerome Curtin, Shane Goulding, Jake Shanahan, Shane Finn, Declan McInerney, Mark Daly & Christian Daly.
Munster Fe21 Hurling Championship
Congrats to Seanaidh Smyth who played at corner back last Wednesday with the Cork Fe21 hurlers who impressively defeated Tipperary by 2-23 to 1-13 in the Munster final at Pairc Ui Chaoimh. Having struggled to overcome Waterford in the semi final Cork were expecting a serious challenge but this never materialised at all, Cork dominated the game from start to finish despite losing senior player Darragh Fitzgibbon very early on.
They now face Wexford (who were terribly unlucky to lose to Galway in the Leinster final) in the All Ireland semi final which is due to take place on the August Bank Holiday weekend.
Minor
We had two good wins in the Premier 1 Hurling League this week, defeating Sars at home and Ballincollig away.
Fixture
Tuesday 10th Intermediate Hurling League v Kildorrery at home @ 8pm
Ladies Football (Peil na mBan)
Training for all age groups will return on Monday Night after the break for the Cul Camp. Our U8's will train at the Tech Pitch from 6-7pm, our U10'S will train from 7-8pm. Tomorrow night our U12's will head to Killeagh to play Inch Rovers in a challenge match, please ensure the girls have plenty of water.
Junior Championship Midleton v Funcheon Gaels
Our Junior team came from a six point deficit in the second half to bring it to within a point , matching score for score in second half. A great game of football from all , great effort Ladies ,SCORE - Midleton 4-10 v Funcheon Gaels 4-11.
We have been involved with this bunch of girls since some of them were 12 and this one we will remember for years to come. It was a cracker. When we played in the league they gave us a mother of all beatings, and to put in a performance like that to night was unbelievable. 2 points down at half time we ended up down 6 points with 8 minutes to go and to come and level the game with 3 minutes left is a story in its self. At the dying moments they scrambled over a point to take the victory. The only difference tonight was that their panel was bigger, we had only 16 and the tired limbs took their toll in a hot night. These Midleton girls will only get better. They were fantastic. Panel: Deirdre Kenny, Orlagh Farmer (3-0), Sadhbh Beausang (0-1), Rayanna Power, Lucy Lawton, Amy Quirke, Lucy Wallace, Abby Quirke (0-1), Laura O Leary, Ciara McGrath (1-4), Saoirse O Malley, Molly Beausang (0-3), Rhea Buckley, Deirdre Corcoran, Terese Deehan & Claire O'Brien (0-1)
Camogie (Camógaíochta)
Well done to Caoimhe Murray and Chloe Garde who played with Cork U14 squad in Portmarnock last Saturday.
Training: U6/ U7/U8 Friday 6.30pm back pitch Midleton GAA club. U9/U10/U11/U12 Tuesday Ballinacurra Pitch 7pm, Friday St Coleman's 6.40pm. U13/U14/U15/U16/U17 Tuesday St Coleman's 7.15pm -8.15pm, Friday St Coleman's 7.30pm -8.30pm. Any changes to training schedule will be communicated to parents. New players welcome for enquiries contact 087 6822716. Follow us on Facebook: Midleton Camogie Club and twitter@midletoncamogie.

Gaa Golf Classic
The time has finally arrived and it looks like the weather is to remain the same for our annual Juvenile Gaa Golf Classic on Wednesday & Thursday 11th & 12th of July at East Cork Club, contact Coleman Quirke 087/2523759 or Anthony Wall 086/3154016 to reserve your tee time or sponsor a Tee box.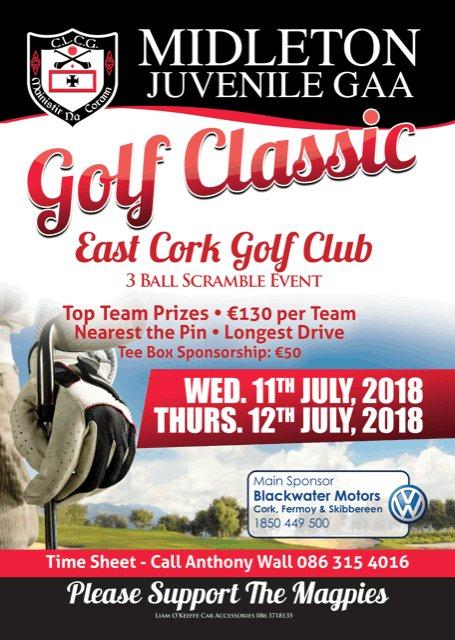 Lotto (An Lató)
Our Lotto Jackpot was €2,200 and there was no winner, the Lucky dip winners were Liam Wade, Una Hennessy, Mary O'Sullivan, Billy Warne & Brian O'Sullivan, next week's Jackpot will be €2,400
Tickets are on sale at the Club Bar, O'Neills Bar, Linehan's Bar, Maple Leaf Bar, O' Farrell's Butchers, Frank Murphy Butchers, Pat Walsh Paints, Chadwicks, Teach Beag, Niall Mac's Bar & Wallis's Bar. Our Online Lotto is now available, logon to the Club homepage www.midletongaa.com to purchase your ticket.
BINGO – Bingo on Friday at 8 pm. Jackpot €1,000.
Sheets*, Green €750. Blue €500, Pink €370. Everybody welcome. * Conditions apply.
Juvenile
Fe 14
Paddy Dunlea Tournament 7th July 2018 - This was truly a very memorable day for all in Midleton GAA Club. The U14 Mentors Stephen Roe, Cian McCarthy, Padraig Dalton, Damien Cremin and Pa Beausang would like to thank everyone who helped to make the day such a success. A special word of thanks to the teams New York, Knockavilla Kickhams, Abbeyside & Midleton. Brian Walsh referee on the day did a fantastic job, all the games flowed, and the time schedule ran smoothly. Andrew Foley photographer for the day was extremely busy as he took over a 1000 photos, we look forward to seeing them. To all the Midleton parents who provided sandwiches and cakes, your support as always is much appreciated again sincere thanks.
Many thanks to Tracy, Ingrid, Susan, Mary & Mairéad who made tea & coffee, filled jugs of cordial and ensured everyone was fed. Thanks to Pat O'Brien & Jim Cagney who manned the bar. Thanks to the Dunlea Family who spent the day watching every game and Christine Dunlea who spoke about Paddy it really was a fitting tribute to a great man. Kevin Hennessy was on hand to present the medals to all the boys and we are quite sure he enjoyed the great hurling on display throughout the day…thanks Kevin. Finally, this day would never have come to fruition without the support of the Juvenile Committee especially Paudie O'Brien, Willie Lawton, Michael Carroll, Mary Quinn, Tracy Saunderson and we have to pay special thanks to Ruth Walsh who unfortunately missed the day but her attention to detail made our lives so much easier on the day. Magpies Abú.
There was some fantastic hurling played by all teams on the day in very warm conditions. Following the round robin games Midleton came out on top in the Cup Final where they were pushed all the way by a very good New York team. Abbeyside were victorious against Knockavilla Kickhams in the plate final. New York very kindly provided the Cup and Plate for both finals, and they also provided specially made medals for all players that took part.
Again, we would like to thank everyone that helped and supported all the teams during this fantastic tournament. We look forward to holding this tournament again next year.
Our panel for the game was, Mikey Finn, Tiernan Roche, Michael Roe, Cathal Beausang, Darragh Scanlon, Alex Moloney, Niall Lang, Tadgh O'Leary Hayes, Darragh Fitzgerald, Zach Smith, David Cremin, Fionn Dalton, Daniel Coffey, Brian O'Connell, David Greene, TJ Murphy, Adam Collins, Rory Lester, Alex Howard, Evan McGrath & Ben Kenneally.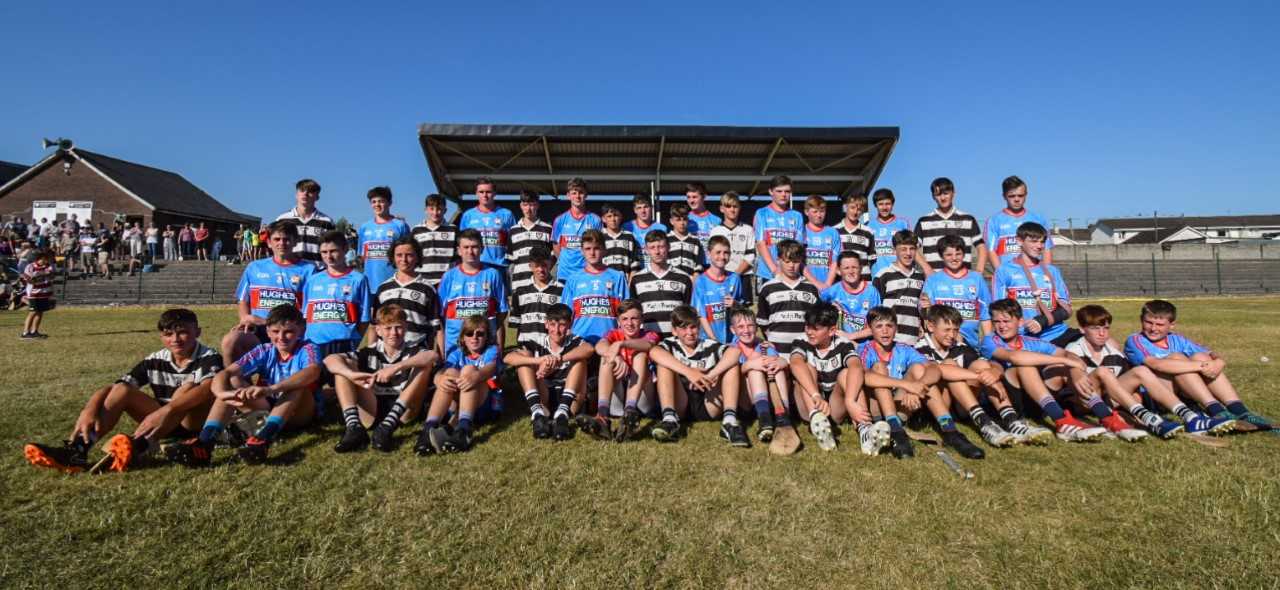 Fe 16
Last Monday night we travelled to Togher to play home team St Finbarrs in our third league game of the year. In beautiful conditions there was some good hurling and well taken scores on both sides in the opening half. Half time St Finbarrs 0-9 v Midleton 0-11.
While we hurled well and looked lively in the first half the second half was the complete opposite unfortunately. St Finbarrs looked much sharper and got scores a lot easier than we did, as we tired very much. Full time St Finbarrs 1-18 v Midleton 1-13
Team: Nicky Hayes, Ciarmhac Smyth, Charlie Walsh, Evan McCarthy, Adam Faye, Gavin Reddy, Luke Deane, Alex Quirke 0-2f, Will O'Sullivan, Paul Connaughton 0-2, Darragh Crowley 0-5, Leo Hennessy 0-1 Ryan Cahill, Conor Fitzgerald 0-2, Dan Cagney 0-1.
Subs: Evan Kelly 1-0, Ollie Murray, Aaron Coughlan, Aaron Coleman, Phelim Magan, Kevin O'Brien .
Paddy Dunlea Memorial Blitz
On Saturday we hosted the Inaugural Annual Paddy Dunlea hurling tournament. Paddy was a lifelong passionate member of our club where he carried out numerous roles over the years and certainly would have be very proud of the fantastic days hurling that the young hurlers from Midleton, New York, Abbeyside (Waterford) and Knockavilla Kichams (Tipperary) produced. The tournament kicked off with a piper leading the 4 teams onto the main pitch at 12.30 and commenced the round robin of games with each team playing each other in brilliant sunshine in front of large crowds. This tournament concluded with a Shield final which Abbeyside won and the excellent Cup final with Midleton overcoming a galant New York side. Congratulations to Midleton with the winning captain Brain O Connell accepting the cup from Chrissie Dunlea and to Mikey Finn who was Man of the Match (in honour of Stacey Dunlea) in the final. It was a very special day for our Club and a sincere thank you to all the extended Dunlea family for the attendance and participation. Christine Dunlea spoke so passionately on behalf of the family and what their Dad meant to them and major part of his life that hurling and the Midleton GAA was for him. It was honour for the Midleton Juvenile GAA to host the travelling teams and especially the New York team, mentors and large travelling party. A great social evening night followed in the club with music provided by members of the local Ceoltas.
A special word of thanks to the Juvenile committee for putting together this memorial event.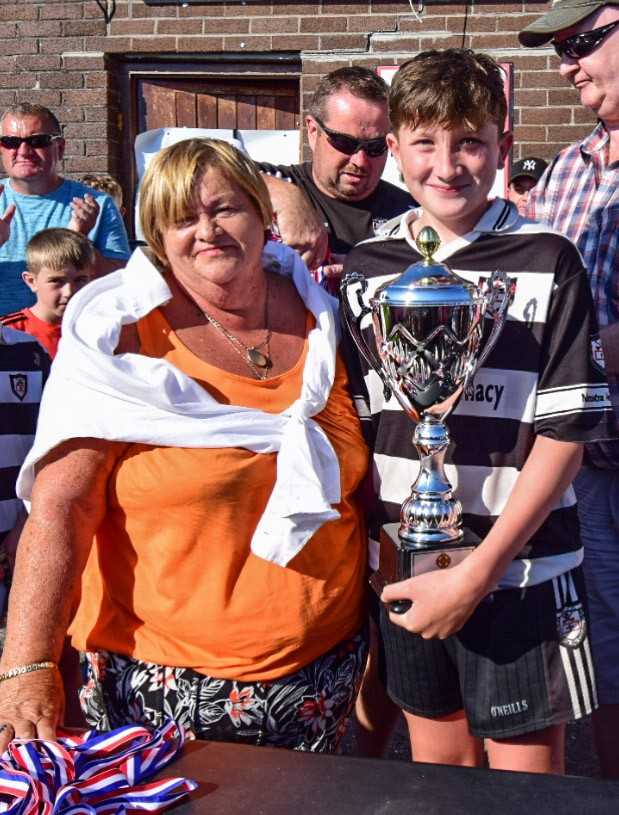 Cul Camp
This week Midleton GAA Club held their first Cul Camp of the Summer. We had over 220 Boys and Girls sign up for an action packed week of Fun and Games learning the skills for Hurling and Football. Thankfully we were blessed with glorious weather each day. In order for a camp like this to run smoothly we were very lucky to have such wonderful Coaches and Helpers on hand each day. A huge Thanks goes to each and every one of them. We were also very lucky to have two Cork Players visit the camp during the week. Cork U21 Munster Winning Captain Shane Kingston called on Tuesday and spent time answering questions and signing autographs for all the children.On Thursday Cork Senior Footballer Sean Powter called and also kindly spent his time doing the same. In the lead up to the Cul Camp there is a lot of time spent organising the logistics of getting the Camp up and running. This can only happen with a lot of help. Many Thanks to the following people who have given their time to make sure it was a success - Paudie O Brien, Sean Crowley, Tracy Saunderson, Mairead Beausang, Marcella O Neill, Mary Quinn, Ingrid Connaughton, Ruth Walsh. Also Thanks to Parents Grainne O Brien and Alan Cahill for your help with the break supervision and to Midleton Gaa Club and their grounds staff for their help in setting up each day. A second Camp will be held on Aug 7th-10th. To book a place please go to the Cul Camp website.