Midleton Hurling & Football, Ladies Football & Camogie Club NEWS
11 March, 2018
Senior Hurling
Last Saturday evening we came up against a very lively Ballyhea team I n the League at home and despite starting very brightly we trailed at the break by the minimum 1-08 to 1-07. But in the second half there really was only one team in it and to compound it we lost a number of players to injury. Final Score Midleton 1-13 v Ballyhea 2-23
Team: Tommy Wallace, Elliot Mulcahy, Finbar O'Mahony, Seanaidh Smyth, Padraig O'Keefe, Eoin Moloney, Seamus O'Farrell, Paul Haughney, Luke Dineen, Aidan Ryan, Sean O'Meara, Cormac Walsh , Patrick White, Ian Kennefick & Cormac Beausang.
Subs used Ryan Mc Conville, Jake Hegarty, Tommy O' Connell, Padraig O'Brien, Conor O'Neill and Cathal Gunning.
Junior Football League
We had a good start to our East Cork League campaign last Tuesday evening away to Cobh winning by 3-08 to 1-08. Team: Patrick White, Mark Daly, Aidan Ryan, Cathal Gunning, Conor Evans, Peter Dowling, Niall Walsh (0-01), Luke O'Farrell, Padraig O'Farrell, Cormac Beausang (1-01), Kieran Mulcahy (1-01), Ian Kennefick (0-01), Padraig O'Brien, Johnny Comer (1-04, 4 frees) & Kevin Daly.
Minor Football
Last Sunday we had a very narrow but deserved win over Na Piarsaigh in the Premier 2 League at home by 1-11 to 2-07.
Team: Arthur Nganou, Cormac O'Brien, Ciaran Evans, Dan O'Sullivan, Mark Daly, Kevin Finn, Cian Crowley, Cian Murray, (0-05, 4 frees), Kian Farmer (0-02), Sam Quirke, Tommy O'Connell (1-00), Luic Ngufang (0-03), Ronan Lynch, Adam Meade (0-01) & Griffin Hurley. Subs used Alan power, Tim O'Sullivan & Ethan Daly Harkin.
Allianz Hurling League
On Sunday afternoon last Cork were defeated by Tipperary in Thurles by 1-24 to 1-21, this defeat means that Cork must play Waterford next Sunday in the relegation play off.
Conor Lehane played at centre forward scoring two points.
30 Year's ago
Next weekend is the anniversary of the Club's most famous win in the All Ireland Club Hurling final of 1988 against Athenry of Galway in Croke Park.
Having defeated Cushendall of Antrim in the semi final by 3-11 to 2-05 in Cushendall before a crowd of 5,000 the Magpies progressed to our first ever All Ireland Club Final.
On St Patrick's day again before a fine crowd many whom had travelled by specially laid on trains from Midleton the Magpies came out on top of Athenry by 3-08 to 0-09 resulting in never to be forgotten scenes of jubilation and emotion.
Team: Ger Power (captain), Denis Mulcahy, Michael Boylan, Sylvie O'Mahony, Edser Cleary, Sean O'Brien, Pat Hartnett, Tadhg Mc Carthy, Michal Crotty, John Fenton, John Hartnett, John Boylan, Ger Fitzgerald, Colm O'Neill & Kevin Hennessy.
Subs used Ger Glavin, Vincent O'Neill & Gerry Smyth, unused Kevin Coakley, Coleman Quirke & David Quirke. Selectors were Fr Denis Kelleher, Paddy Fitzgerald & Joe Desmond.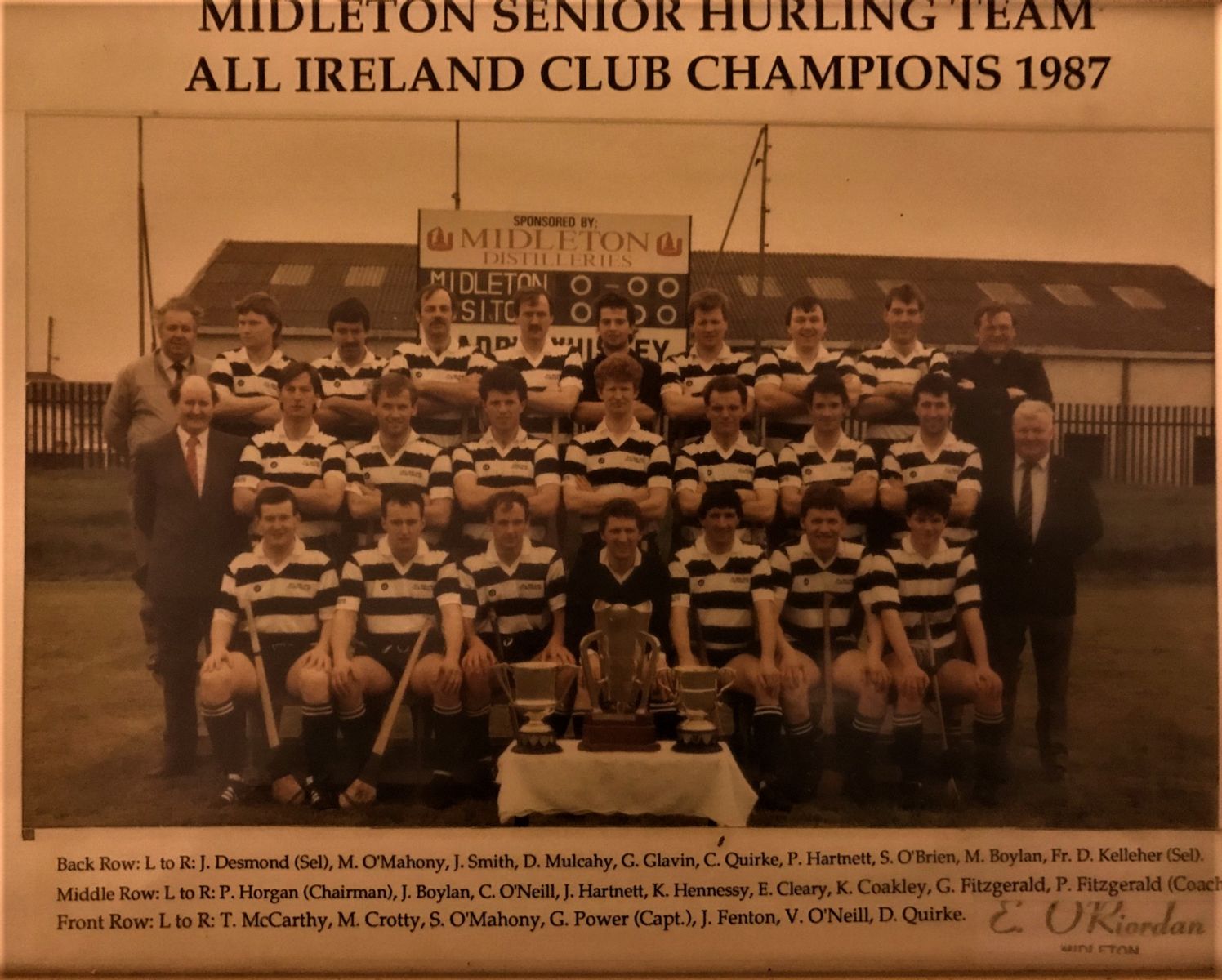 Fixtures
Saturday 17th March Intermediate Hurling League v Barryroe away @ 12
Saturday 17th March Fe16 Football League v Kiltha Og at home @ 1pm
Saturday 24th March Senior Hurling League v Sars at home @ 4pm
Ladies Football (Peil na mBan)
Training continues this week .Under 8's are at the Community Centre from 6-7pm while all other groups from U10 upwards are at Midleton Hockey Pitch from 7-8pm weather permitting. Registration is now due so please complete a Membership Form and return it with the correct fee to your child's Coach.
Congratulations to St Mary's High School and our Club Players involved with the Camogie Team who won the All Ireland Final on Saturday. They defeated St Cuan's of Galway on a scoreline of 3-17 to 2-09.
Camogie
Huge Congratulations to our four U13 players and five U15 players who qualified for their respective Imokilly representative squads. U13: Jill Connaughton, Aoife Fitzgerald, Ruthie Hennessey, Emily Lambe. U15: Hannah Wall, Vivienne Gleeson, Orla Evans, Leah Hogan, Jodie Keegan O Connell. Congratulations to Chloe Garde and Caoimhe Murray who will represent Midleton with the Cork U14 panel for the coming year. Well done all the girls, it is a great achievement for each of the players and for the club.
Congratulations to St Marys High Scholl All Ireland Junior School Camogie Champions defeating St Cuan's Ballinasloe by 3.17 to 2.9 in Limerick on Saturday last.
St Patricks Day Parade: players are invited to participate with the club in the St Patricks day parade and afterward are invited along with their families to Midleton GAA Club details will be sent to parents by text.
Lip Sync: Wishing the best of luck to all the acts in the upcoming Lip Sync Club fundraiser, this is a very important fundraiser for the club and all proceeds will go towards the much needed new development on the Youghal road, a huge effort has been made to make this event a success and a great night out is guaranteed, there are still a few tickets available for the night if you haven't secured a ticket yet contact Tracy on 087 6625544. Please make every effort to support this event.
Child Safeguarding Statement: Following the commencement of recent child welfare legislation all clubs are now required to have in place a child safeguarding risk assessment procedure. This procedure is underpinned by the GAA National code of behavior (underage) and our own Midleton Camogie code of behavior which was reviewed and updated in 2017. A Child Safeguard Risk assessment was carried out by the Camogie executive and the child safeguarding statement of Midleton Camogie club which is a legal document prepared in accordance with the legislature requirements contained in the Children's First Act 2015, this document has been agreed by the Camogie executive and signed by our children's officer, Ingrid Connaughton on the 8/3/18.
Training: U7/U8: Fridays 7pm- 8pm Midleton Community centre.
U9: Tuesday 7.15pm – 8.15pm Midleton GAA Ball Alley & Friday in Ballinacurra 6.15pm-7.15pm. U10: Friday evening Ballinacurra 6.15pm -7.15pm.
U12: Tuesday evenings 8pm – 9pm Midleton Hockey Pitch & Friday in Ballinacurra 6.15pm-7.15pm. U14/U16: Tuesdays 8pm - 9pm in Hockey Pitch & Friday 7.15 pm-8.30pm Ballinacurra GAA Pitch.
New players are welcome.... enquires to 0876822916.
Follow us on Facebook Midleton Club and Twitter@Midletoncamogie.
Registration
Your Club Membership is now due. Please complete a form which is available to download on www.midletongaa.com/membership. You may return the form to your Coach or to any Committee Member. Please note that all Players must be registered to play and train with their team.
Lotto (An Lató)
Our Lotto Jackpot was €6,400, there was no winner, the Lucky Dip winners were Billy Moran, Gail Crotty, Mary Lane/Ellen Sheehan, Joanne Looney & Kathleen Fitzgerald, next week's Jackpot will be €6,600
Tickets are on sale at the Club Bar, O'Neills Bar, Linehan's Bar, Maple Leaf Bar, O' Farrell's Butchers, Frank Murphy Butchers, Pat Walsh Paints, Chadwicks, Teach Beag, Niall Mac's Bar & Wallis's Bar.
Our Online Lotto is now available, logon to the Club homepage www.midletongaa.com to purchase your ticket.
BINGO - BINGO is on each Friday at 8pm, Jackpot €1,000, everybody welcome.
The Bingo group are looking for volunteers for Calling and Administration.
The commitment involved is two hours once every 8 weeks.
Volunteers, male or female must be over 18 years of age.
To enquire further contact Seamus, Marianne or Frank any Friday night.
Lip Sync
The countdown has officially begun. With one week to go until the main Event all of our Acts are putting the final touches to their performances. Last few tickets are available to buy. Please contact Tracy Saunderson on 087-6625544 or Amy Quirke on 086-2664659. For those who have tickets on hold please make arrangements to collect them. There will be a return bus service available from Midleton to the Radisson Hotel for €5. If you are interested in reserving a seat please text your name and number of seats required to one of the numbers above. Please note that seats are limited and there are only a few remaining. We would like to thank everyone who has purchased tickets, placed an ad in our Event Programme or provided a Spot Prize for a free raffle. This Club Fundraiser is vital for the Future Development of our New Site at the Old Youghal Road. With our Club expanding across our four Clubs Juvenile, Adult, Ladies Football and Camogie training pitches and playing facilities are so important in order to facilitate all of our teams. We hope all our Members will come out and Support the Acts on the night. They have put a huge effort into fundraising and have been so giving of their time in the lead up to the Main Event.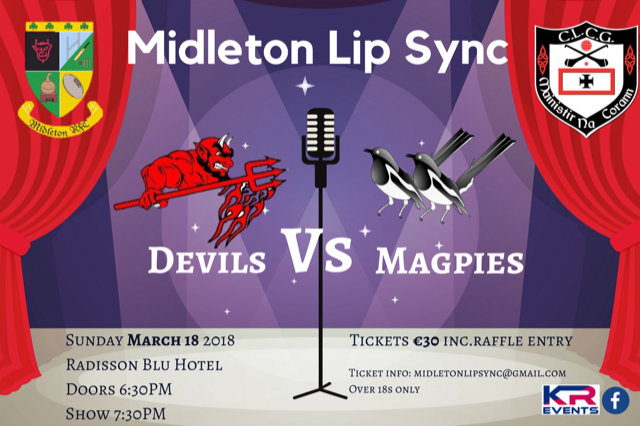 Traditional Music Night
CLG Mainistir na Corann Midleton GAA
Seachtain na Gaeilge Trad Music and Singing session / Oíche Ghaelach Friday 16th March next at 9.30pm in the Club Lounge. Fáilte roimh chách. Thanks Gura míle
Juvenile
Fe 12
On Saturday morning last we returned to the playing field at long last with a hurling challenge match V Aghada in Rostellan. We fielded two teams of 12 a side and in wet and windy conditions, it was a credit to both Aghada and Midleton serving up two excellent games of hurling losing one by a narrow margin and coming out on top in the other match.
It was great to see the lads back on grass and getting our season up and running. Our next outing will be football League V St Michaels. We stick with the big ball for the next few weeks of league action. Thanks to the parents for their support and for travelling on what was an inclement Saturday morning. Thanks to Aghada for hosting and providing refs.
Fe 16
We made the journey on Sunday last to West Tipperary to face Knockavilla Kickhams in a challenge. This was our first hurling outing of the year and was a very worthwhile exercise. First half was tit for tat early on but a goal for the hosts and a few wides from us in the latter stages left us trailing 1-8 to 0-4 at the break. A slow start to the second half didn't help our cause but the lads showed good character in the last fifteen minutes. Fair play to all our guys for turning up and to the host club for providing sandwiches, tea and soft drinks.
Final score was Knockavilla 1-17 v Midleton 1-10. We move on to our first league football match on St Patrick's Day against Kiltha Og in Midleton at 1pm.
Team: Brion Saunderson, Ciarmhac Smyth, Charlie Walsh, Evan McCarthy, Gavin Reddy (c), Jack Fitzgerald, Patrick Kane, Will O'Sullivan, Paul Connaughton(0-2, 1f), Dan Cagney, Darragh McCarthy (0-1), Darragh Crowley (1-6, all frees), Conor Fitzgerald(0-1), Ryan Cahill & James Condon. Subs Used: Nicky Hayes, Luke Deane, Aaron Coughlan, Ben Cummins. Also in attendance were Alex Quirke and Leo Hennessy (both currently injured).
Foundation Training
Our Coaching Officer Martin Mc Sweeney arranged a Foundation Training course for coaches last Saturday the 10th of March. Training was facilitated by Shane Supple GDA from Rebel Og and took place in the Club Lounge and Ball Alley. The Club would like to thank all those coaches who attended and thank our Coaching Officer for arranging the training. Coaches who attended on the day were; Anthony Cody, Damien Cremin, Michael O' Connell, Jon Waterman, Alan O' Brien, Sean Corcoran, Andrew Foley, Brian McCarthy, Ollie O' Regan and Alan Cahill.
Child Protection & Welfare Training together with Garda Vetting and Foundation Training certification are mandatory requirements to be involved in Coaching within the GAA.
We had coaches who were unable to attend on Saturday. Paudie O' Brien, GDA with Rebel Og and our Juvenile Club Chairman will facilitate an additional Foundation Course on Saturday March 24th. Details will be emailed out to those coaches who have yet to obtain their coaching qualification.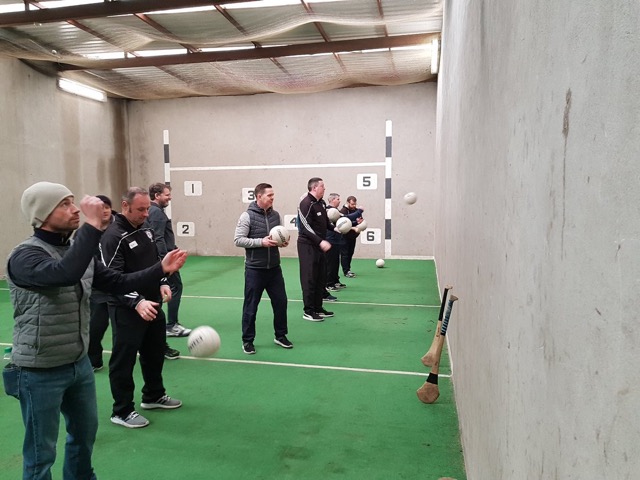 Child Protection & Welfare Training Course
To facilitate the new coaches across the clubs Midleton GAA will host a Child Protection & Welfare Training Course on Wednesday the 14th of March from 6.15 to 9.15pm at Midleton GAA Club. To book your place on this course please email Ingrid Connaughton, on childrensofficermidletongaa@gmail.com or via text on 087 6374748.
St Patrick's Day Parade
All Juvenile members from our Fe6 to Fe11 club players are invited to participate in the St. Patricks Day Parade on Friday. The Parade is set to get underway at 3pm. Coaches from across the Juvenile, Camogie and Ladies Football will be texting out parents. Assembly will be at 2.50 in Distillery Lane. All players are asked to wear their club gear to walk in the parade. The Parade is set to commence at 3pm from Distillery Lane and will carry on up the main street, with the viewing stand on the left outside Midleton Book Shop. All entries with children and walkers will turn down right after the viewing stand and children can be collected by their parents/guardians outside Midleton Garda Station or continue on up to the GAA club where refreshments will be served.
Easter Camp & Summer Cul Camps
Midleton GAA Club will now run our Easter Hurling & Football Camp on the first week of the children's Easter Holidays. Rebel Og are facilitating a camp for U11/U12 & U13 boys on the second week so the decision was taken to run our camp in the first week. The camp will take place at Midleton GAA Club between 10am - 1pm. The Camp is open to boys and girls from Fe6 to Fe12. The cost of the camp is €10.00 per child. To book a place at the Easter Camp please text your son or daughters team manager.
Our first Cul Camp of the Summer is set to commence on Monday the 2nd of July and run until Friday the 6th of July (5 days). Our Cul Camps are open to both boys and girls. Our second Cul Camp of the Summer is scheduled to take place from Tuesday the 7th of August and run until Friday the 10th of August (4 days). Online bookings for 2018 are expected to go live in March. Parents are reminded to book online early to avoid disappointment.
Club Shop
Our Club Shop is open each Saturday from 10 to 11.30am