Midleton Hurling & Football, Ladies Football & Camogie Club NEWS
19 November, 2017
Post Primary Schools Hurling
Last week saw many of our club players involved with Cork schools in Munster Hurling competitions. In the Harty Cup Midleton CBS were defeated by Ard Scoil Rís last Wednesday in the 3rd round in Boherlan by 1-18 to 2-16, Alan Power, Sean O'Leary Hayes (capt.), Sean O'Sullivan, Ross O'Regan, Arthur Nganou, Cormac O'Brien, Kian Farmer, David Scanlon, Luke Smith, Ciaran Evans & Gary Carroll were all members of the panel.
On Friday last CBC had a very comprehensive win over Castletroy College in Charleville by 2-20 to 0-09, Tommy O'Connell (capt.), Kevin Finn and Andrew Nestor were part of their panel and in the Corn Risteard Ui Mathuna Coláiste an Phiarsaigh, Glanmire were defeated by Borrisokane Community College in Cashel by 0-09 to 0-20, Conor O'Farrell (capt.), Christian Murphy, Fergus Wade, Evan Rowlands, Tim O'Sullivan & Dan O'Sullivan were all part of this panel.

Annual General Meetings
Juvenile Wednesday 29th November @ 8pm
Hurling & Football Wednesday 6th December @ 8pm
Ladies Football
Training for all ages is now at the Hockey Pitch at Midleton College. Groups from U10 upwards will train from 7-8pm. Our U8's are at the Community Centre from 6-7pm, please bring €2 to cover hall rental.
Camogie
Our AGM was held on Monday evening 13th November. We bid farewell to our inaugural Chairperson Denis Kelleher after 3 years service at the helm, Denis has contributed enormously to the development and running of the club and will be missed from the committee as will outgoing Vice Chairman Stephen Ivers, thankfully both will remain involved members of the club going forward. We thank them both for their service thus far, for giving of their time, energy, enthusiasm and humour!
In the Chairpersons report Denis thanked Midleton GAA Club for their continued support and use of all the club facilities without this support our club could not continue to provide a valuable sporting outlet for our girls. He also thanked Ballinacurra GAA for the use of their pitch. Denis thanked the coaches, highlighting the time and commitment given by coaches during the year both on and off the field. He encouraged more parents to get involved in any capacity. He also complemented all the players from under 6 to under 16 on a great year of camogie.
In the secretary's report Darina reflected on the playing year; the U6's, U8's, U10's and U11's participated in go games throughout the year in the competitive age group we participated in U12B County League reaching the semi-final. U12 East Cork League - winning the final. U13 Imokilly League - reaching the Shield final. U14C County League - winning the final. U14B County Championship. U14 Féile. U14 Féile Skills. U15 Imokilly League, U16C County League - reaching quarter final. U16C County Championship - reaching quarter final losing out to eventual winners Mallow. Our U9's and U12 participated in the Veronica Stack memorial Tournament in Killarney, U9 were non competitive, U12 winning the tournament. There were also a number of challenge matches throughout the year and we hosted our inaugural U13 Clonmult Tournament. Our U12 were fortunate to also participate in Camán to Munster and Camán to Croke Park. Our U15's and u16's also helped out refereeing the younger age groups and 3 completed a young referee's course.
Outside of the club commitments 13 of our girls played with the Gaelscoil Mhainistir na Corann Camogie team that reached to the Sciath Na Scoil final. Three of our girls participated on the U13 Imokilly panel, Three with U14 Cork development squad, one with U15 Imokilly panel, an one with the Cork U16 squad.
It is a great achievement and the club are very proud of them.
The following officers were elected for the coming year:
Chairperson: Eoin Kennedy, Vice Chairman: Brian Gleeson, Secretary: Darina Foley, Assistant Secretary: Brian McCarthy, Treasurer: Rachel Walsh, Registrar: Shirley Garde, PRO: Sheila Kelly, County Board Delegate: Keith Griffin & Appointed Child Welfare Officer: Ingrid O'Riordan.
The following team mangers were ratified for 2018:
U16: Tim Cronin, U14: Brendan Foley, U12: Keith Griffin, U10: Stephen Ivers, U9: Barry Goulding, U8: Dan Twohig / Rose Quinlan.
Thanks to all who attended the AGM, your support is greatly appreciated.
We now look forward to our annual Christmas party on December 17th, presentation of medals night on January 12th and a family table Quiz on January 28th before we head into the 2018 season.
Christmas Food Appeal 2017
Following on from the huge success of this appeal in 2016, Midleton GAA, Juvenile, Ladies Football & Camogie Clubs will once again run a Food Appeal. Please see flyer with regard to dates and times that donations of NON-PERISHABLE Foods (please ensure food has a best before date well into 2018) can be dropped to Midleton GAA Club. We are asking members, friends and the wider Midleton community to support this very worthy cause and to give families in our community a very happy Christmas.
Please see www.midletongaa.com/notes for a list of suggested food items.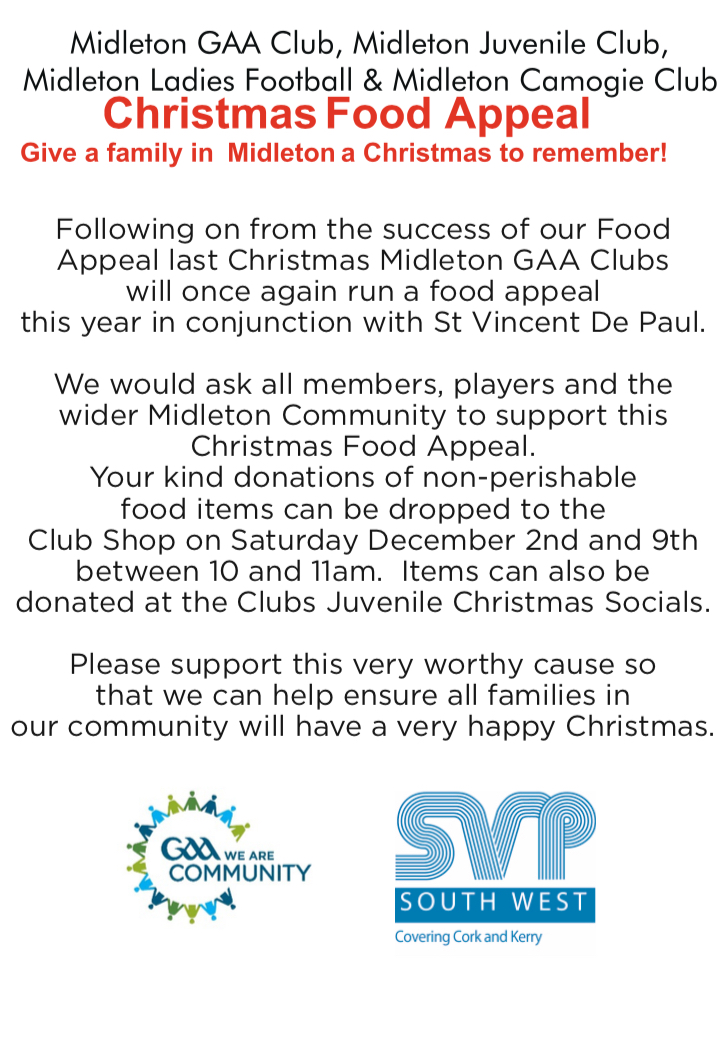 Lotto
Our Lotto Jackpot was €3,200, the numbers were 7,10,21 & 22, there was no winner, the Lucky Dip winners were Brian O'Regan, Ryan/Mags/Tom, Eileen Lehane, Aileen Desmond & Rancher, next week's Jackpot will be €3,400.
Tickets are on sale at the Club Bar, O'Neills Bar, Linehan's Bar, Maple Leaf Bar, O' Farrell's Butchers, Frank Murphy Butchers, Pat Walsh Paints, Chadwicks, Teach Beag, Niall Mac's Bar & Wallis's Bar.
Our Online Lotto is now available, logon to the Club homepage www.midletongaa.com to purchase your ticket.
BINGO takes place each Friday evening @ 8pm in the GAA Pavilion with a weekly guaranteed Jackpot of €1,000. Sheet values are Blue €1,200 & Green €700.
On December 1st there will be an F.O.C. raffle for 50 boxes of Roses sweets.
Juvenile
Fe 14
Our final match of the year took us to Togher in Cork City to take on St Finbarr's in the Premier 1 Hurling League Final. Our young Magpies were quick out of the blocks and a sublime point from out on the wing by Evan Kelly had us off the mark. Alex Quirke struck our second point. The next four points came from the same two players; Even Kelly's two points from play and Alex Quirke's two points – one from a free. An ever industrious Darragh McCarthy struck over two points prior to the half time break along with a point from James Condon and one last point of the half from MOM Evan Kelly. Brion Saunderson, Liam McGrath and Ciarmhac Smyth all put in solid performances in the first half.
Half Time Score: Midleton 0-10 v St Finbarr's 0-08
Our best score of the game came from the hurley of Ciarmhac Smyth when he successfully pointed a shot which came at the end of a brilliant Midleton flowing movement. Further scores from Darragh McCarthy (3) James Condon (2) and Alex Quirke saw us over the finish line. Adam Fay, Evan McCarty and Mickey Finn to name but three were others who contributed handsomely to this win. It was the best team performance of the year and it was great to finish our last game with Alex Quirke receiving the U14 P1 League Cup.
Full Time Score: Midleton 0-17 v St Finbarr's 0-11.
Panel: Brion Saunderson, James O'Sullivan, Fintan Greenwood, Ciarmhac Smyth (0-01), Evan McCarthy, Liam McGrath, Adam Fay, Darragh Codd, Alex Quirke (0-04), David Cremin, Evan Kelly (0-04), Darragh McCarthy (0-05), Kelvin Barry (0-03), James Condon (0-02), Ronan Gies, Mickey Finn, Niall Corcoran, Cian Murray, Ben O'Neill, Rowan Spillane, Neil Fitzgerald, Rory Hartnett, Phelim Magann, John Spellman, Craig Collins, Shay Bohan, Tiarnan Roche & Michael Roe.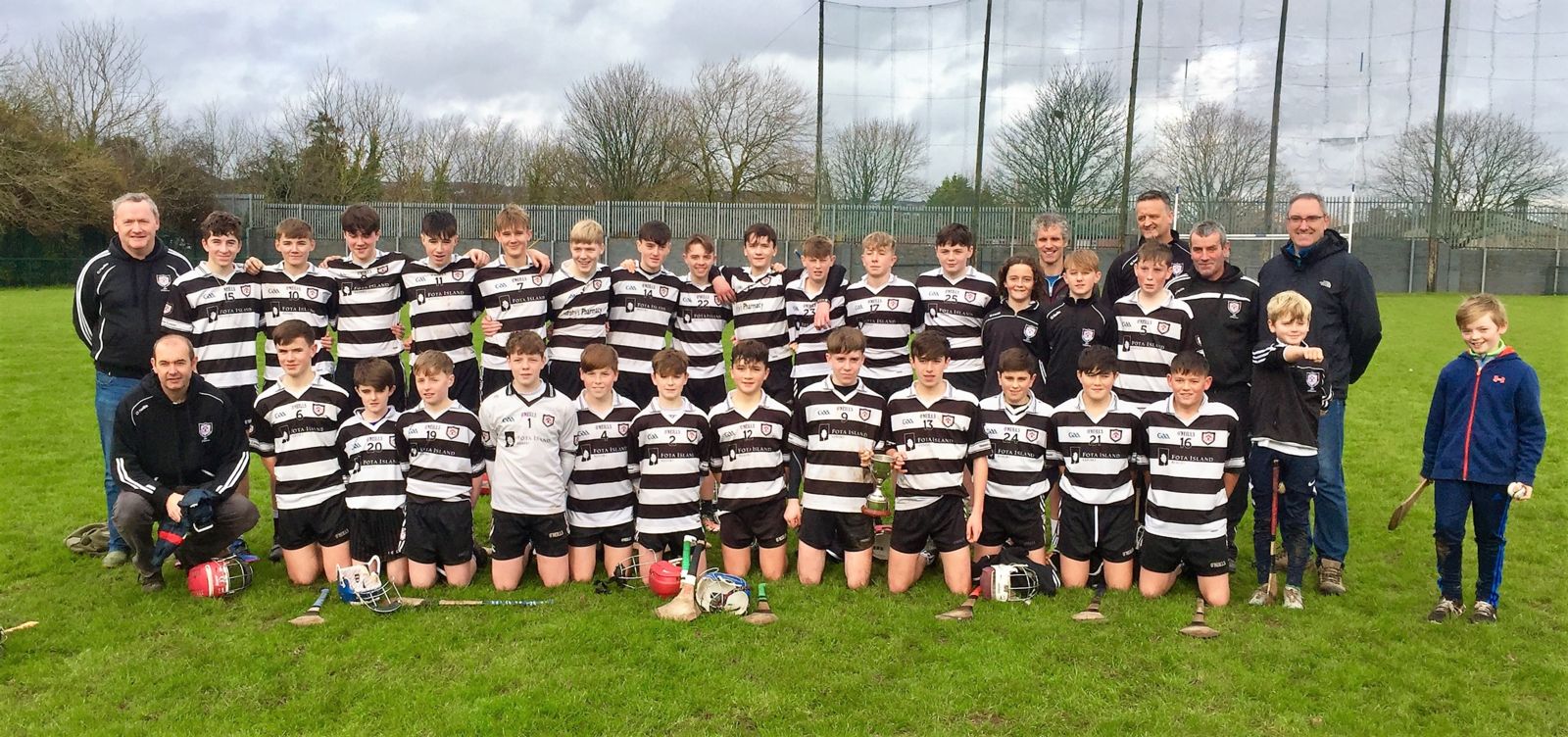 Fe 15
We played the Premier 3 Hurling League final on Saturday at Blackrock versus the hosts in relatively good conditions for this time of year. Having taken a decisive beating during the league campaign on our own patch from The Rockies, this was hopefully a chance of redemption for the lads. After twenty minutes of the first half things did not look good however as we trailed the Rockies by six points having conceded a goal in the first minute of the game. We steadied the ship slightly coming up to the short whistle to trail by five points at half time 1-07 to 5pts. With a clear reminder to the lads of all the hard work that they had exerted in training in recent weeks in training and a few positional changes by the mentors, the change in performance in the second half was amazing.
Our forwards scored 1-07 unanswered in the third quarter to race into the lead, a lead which we were not going to relinquish. The Rockies fought back, but our defence stood firm against everything that was thrown against them. Lads were beginning to tire so we emptied the bench and everyone played their part in what was a superb second half performance. At the long whistle the lads had secured a comeback victory on a scoreline of 1-14 to 1-10.
This was a well deserved victory for a great bunch of lads. Their commitment and honesty of effort in training all year was duly rewarded. A great shout out also to the Premier 1 players who all turned up to support the lads on the day and also to the great support received from all the parents. Everybody went home happy after some pizza and soft drinks back in the clubhouse. A very satisfactory day all round!!!
Panel: Aaron Coleman, Brion Saunderson, Alex Pranger, Rory Lang, Nicky Hayes, Dan Cagney, Joshua Pennant, Conor Hayes, Ryan Cahill, Luke Deane, Darragh Crowley, Ben Cummins (Injured), Trevor Shine, Ciarmhac Smyth, Christopher Leahy, Oliver Murray, Aaron Coughlan, Will O' Sullivan, Conor Fitzgerald, Kevin O' Brien & Daithi Magan.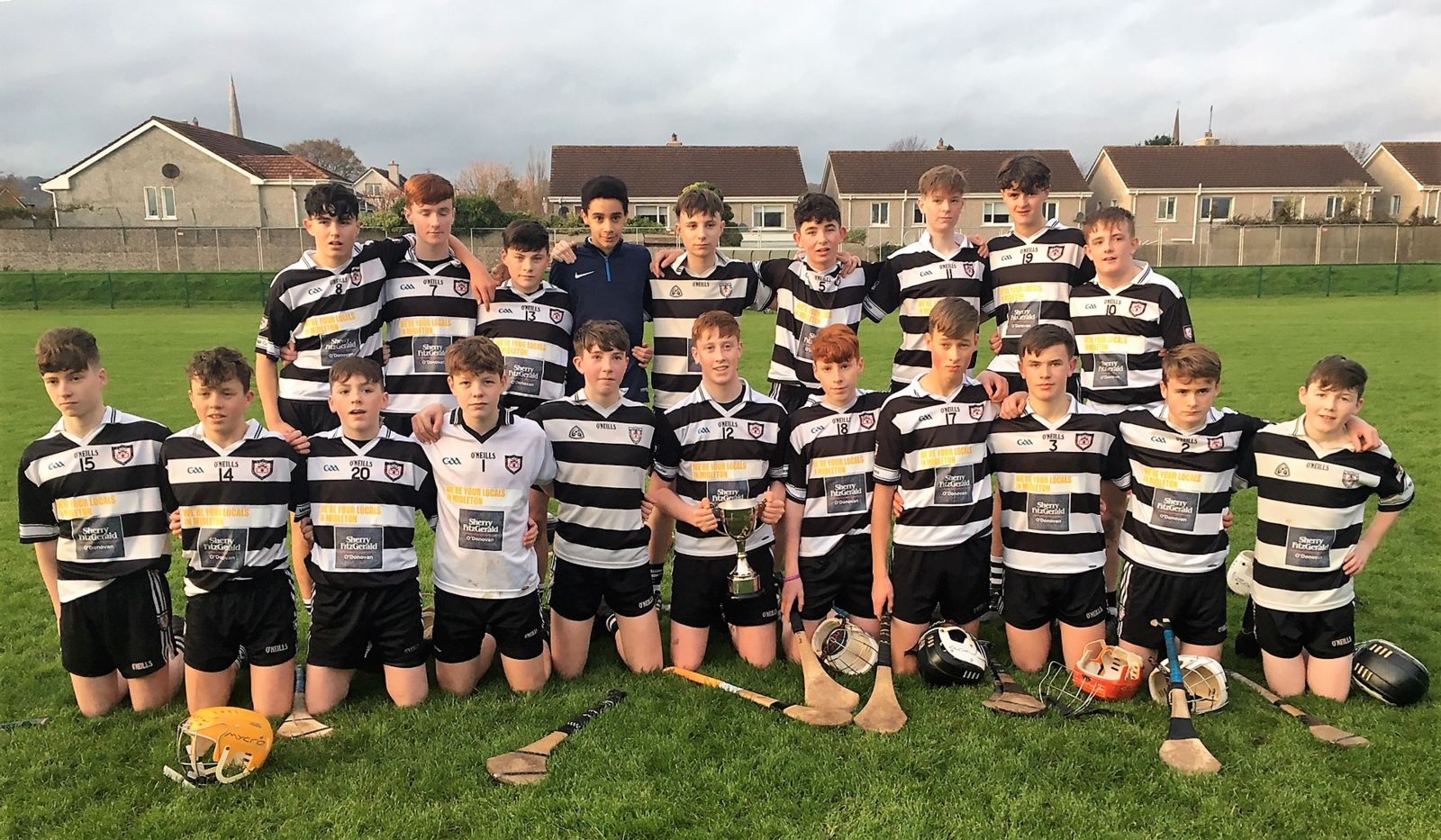 Juvenile Events
Juvenile AGM, Wednesday 29th November at 8pm
Juvenile Social, Junior Infants & Fe6-9 – December 2nd 4-6 pm
Christmas Food Appeal – Saturday 2nd & 9th Donations can be dropped to the Club Shop or can be brought along on the night of the socials
Juvenile Social, Fe10's-16's – December 9th @ 7pm
Juvenile Christmas Draw – December 9th @ 9pm Club Lounge
Club Shop
The Club Shop is open this Saturday from 10 to 11.30am, please note that the Shop is now taking orders for Christmas, call in as soon as possible to place your orders to avoid dissapointment.