Midleton Hurling & Football, Ladies Football & Camogie Club NEWS
12 November, 2017
Rebel Og Premier 1 Minor Hurling
Last Saturday morning our hurlers had a fine victory over Na Piarsaigh in the League Play off in Carrigaline by 5-17 to 3-12, they now play Sars in the final on Saturday the 25th.
Team: Alan Power, Cathal Gunning, Sean O'Sullivan, Cormac O'Brien, David Scanlon, Sean O'Leary Hayes, Eoin Moloney, Shane Finn (0-02), Tommy O'Connll (0-04), Kian Farmer (0-04), Aaron Mulcahy (1-02), Kevin Finn (1-02), Ross O'Regan (1-02), Harry Wall (1-01 & Garry Carroll (1-00). Subs Ronan Lynch & Griffin Hurley.
Post Primary Schools Hurling
Midleton CBS were defeated in the Dean Ryan final by red hot favourites Thurles CBS last Wednesday in Clonmel by 3-15 to 2-15. This was definitely one which was left behind, having conceded a goal in the early moments of the game Midleton battled back in to the game and led at the break by 0-10 to 0-08. Entering the final quarter of the game Midleton led by 2-13 to 1-09 and when Thurles lost a man they looked set for victory. However Thurles got a huge break when a ball came back off the upright and their corner forward buried the rebound. This seemed to turn the tide hugely in their favour and they went on to outscore Midleton by 1-06 to 0-02 in the last ten minutes to secure their 13th title.
We were represented by club players Alex Quirke, Leo Hennessy, Jack Fitzgerald, Samuel Quirke, Ethan Daly Harkin and Paul Connaughton.
In the O'Callaghan Cup Midleton CBS defeated St Colmans in the semi final at Ballincollig recently by 3-13 to 1-14. They now face North Monastery in the final that's after they face Ard Scoil Rís next Wednesday in the 3rd round of the Harty Cup.
Annual General Meetings
Camogie Monday 13th November @ 7.30pm
Juvenile Wednesday 29th November @ 8pm
Hurling & Football Wednesday 6th December @ 8pm
Ladies Football
On Thursday last Midleton Ladies Football Club held their Annual AGM. Whilst attendance was low we appreciate those that did attend and those who sent apologies.
Our outgoing Chairman Paddy Corcoran went through the year and highlighted the achievements that the Club had on the playing field. He thanked the Gaa Club for their help and support throughout the year especially for allowing us the use of the Tech Field and both the Side and Main Pitch at the Club. Our Club Secretary Mairead Beausang followed up on this and thanked everyone who helped in any way in the running of the club.
A big thank you to all the coaches for their dedication with training and matches.
Various items were discussed on the night and recruitment of new players will be a big focus for us next year and with the help of our Junior girls we are hoping to increase the number of girls playing in the Club.
Our Election of Officers are as follows:
Chairperson: Carol O Leary, Vice-Chairman: Ger Collins, Secretary: Mairead Beausang, PRO: Tracy Saunderson, Treasurer: Carol Franklin, Child Welfare Officer: Ber Kelly, Registrar: Carol O Leary, County Board Delegates: Mairead Beausang and Tracy Saunderson East Cork Board Delegate: Paddy Corcoran.
Training for all ages is now at the Hockey Pitch at Midleton College. Groups from U10 upwards will train from 7-8pm. For this Monday Only our U8 group will train at the Hockey Pitch from 7-8pm as we are receiving new Footballs from Super Valu Midleton. A text message will be sent confirming this.
Fe 12 Girls Football East Cork Final: Midleton 2-10 v Bride Rovers 2-11
The Fe 12 girls football panel were in action again this week. Their match versus Bride Rovers was a home fixture in Clonmult Memorial Park in the East Cork Final. A misty wintery Saturday afternoon but perfect pitch conditions greeted the players. The two teams served up a cracking game of Gaelic Football. From the start our forwards were into their stride: Jill Connaughton, Saoirse Ni-Theangana, Aoife Fitzgerald, , Clara Collins, Aisling McCarthy, Grainne Finn, Ellen O'Neill, Katie Smith, Kelly Quirke, Cara Foley contributed to our three point half time lead. Our girls second half performance was as spirited as their first half one. Sadhbh Hartnett, Rachel Ryan, Isabelle Nestor, Ava McAuliffe, Selena O'Riordan-Hernandez, Amy Murray, Sheila O'Leary-Hayes, Lily Kelly and Eva McSweeney all helped propel the Midleton side to a performance to be proud of. Unfortunately Bride Rovers pipped us on the day by a single solitary point. Matches have now finished for the year and already we are all looking forward to the new season.
Final Score: Midleton 2-10 v Bride Rovers 2-11
Panel: Jill Connaughton, Clara Collins, Isabelle Nestor, Ellen O'Neill, Saoirse Ni-Theangana, Ava McAuliffe, Selena O'Riordan-Hernandez, Sheila O'Leary-Hayes Grainne Finn, Amy Murray, Aisling McCarthy, Aoife Fitzgerald, Cara Foley, Kelly Quirke, Katie Smith, Rachel Ryan, Lily Kelly, Eva McSweeney & Sadhbh Hartnett.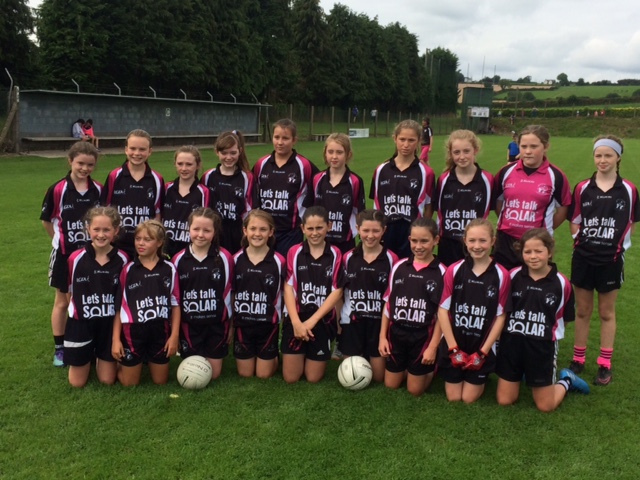 Camogie
Our AGM takes place tomorrow Monday evening in the Gaa Club @ 7.30pm, all welcome.
Lotto
Our Lotto Jackpot was €3,000, the numbers were 3,4,17 & 21, there was no winner, the Lucky Dip winners were Lily &Fiachra Ryan, Catherine Obersby, Johnny O'Sullivan, John Colbert & Phyllis Desmond, next week's Jackpot will be €3,200.
Tickets are on sale at the Club Bar, O'Neills Bar, Linehan's Bar, Maple Leaf Bar, O' Farrell's Butchers, Frank Murphy Butchers, Pat Walsh Paints, Chadwicks, Teach Beag, Niall Mac's Bar & Wallis's Bar.
Our Online Lotto is now available, logon to the Club homepage www.midletongaa.com to purchase your ticket.
BINGO takes place each Friday evening @ 8pm in the GAA Pavilion with a weekly guaranteed Jackpot of €1,000.
Juvenile
Fe 14
Rebel Og Fe 14 Premier 1 Hurling League Semi-final:
Our penultimate match of the year took us to Blackpool in Cork City to take on Glen Rovers in what was an eagerly anticipated game. The Glen have twice this year been our opponents and both games have been tense close affairs. There has never been more than a point between these two teams. Our lads were really looking forward to this game. The pitch conditions were a little heavy but the blue sky overhead more than compensated for this. We were first to score with two points from play, one each from Alex Quirke & Kelvin Barry. Alex then hit the next three scores, two points followed by a goal from a stunning sideline cut. Our back-line were playing their part; Brion Saunderson was solid in goal, James O'Sullivan, Liam Ma Grath and Evan McCarthy were always confident and accomplished in defence. Going into half time Darragh McCarthy shot over a brace of points, Ronan Gies slotted another and Alex added a further three points, two coming from frees. Special mention must go to an outstanding block by Ciarmhac Smyth on a Glen forward on what looked like a certain goal on the stroke of half time.
Half Time Score: Midleton 1-10 v Gen Rovers 0-03
Alex had another cracking goal shortly after the resumption, when after a short solo run he fired an unstoppable shot to the top left corner of the Glen net. Further points from Darragh McCarthy, Evan Kelly, Alex and Kelvin Barry consolidated our lead. Ciarmhac, Darragh Codd, Adam Fay and Niall Corcoran were rock solid in defence. Cian Murray, Rory Hartnett, Rowan Spillane, Ben O'Neill, Phelim Magann, Neil Fitzgerald, Tiarnan Roche & Craig Collins were all sprung from the bench to finish out the game. The final scores for us came from David Cremin (2), Kelvin Barry (1), Mickey Finn (1), Darragh McCarthy (1) and Alex Quirke had the last score of the game with a point from play.
Final Score: Midleton 2-20 v Glen Rovers 2-08.
Panel: Brion Saunderson, James O'Sullivan, Ciarmhac Smyth, Evan McCarthy, Liam McGrath, Adam Fay, Darragh Codd, Alex Quirke (2-08), David Cremin (0-02), Evan Kelly (0-01), Darragh McCarthy (0-04), Kelvin Barry (0-03), James Condon, Ronan Gies (0-01), Mickey Finn (0-01), Niall Corcoran, Cian Murray, Ben O'Neill, Rowan Spillane, Neil Fitzgerald, Rory Hartnett, Phelim Magann, John Spellman, Craig Collins, Shay Bohan, Tiarnan Roche & Michael Roe.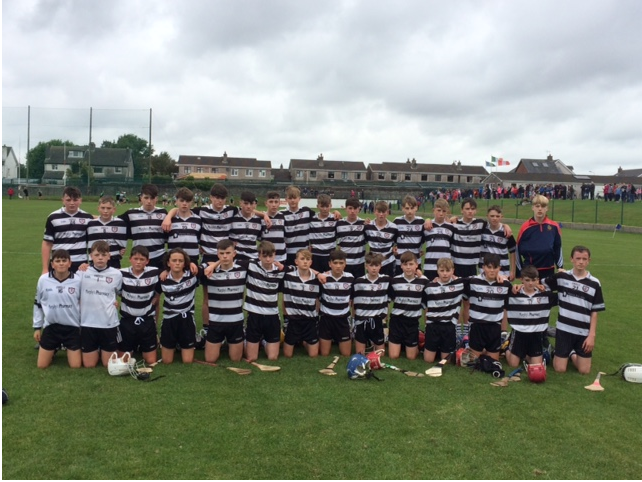 Fe 16
We travelled to Cobh for the Premier 1 Hurling League play off on Friday night last.
What looked to be a fine surface on first viewing soon proved very heavy underfoot and coupled with the rain on the night we knew early on that this game would be a slog and a physical game. We were expecting a backlash after beating Cobh in the semi final of the football and we weren't disappointed. Although Cobh were strong and committed we still hit the front early on and showed the steel that we have come to expect from them. By half time we were well ahead thanks in no small part to a fine goal and another fortuitous one from a free.
The second half saw Cobh come back into the game on the back of several frees and our lead looked in some danger. The heavy ground conditions took their toll and with cramp setting in some changes were required. However a fine burst of energy towards the end saw the Magpies solidify their lead and finish the game those important two goals in front.
Final score Midleton 2-12 v Cobh 0-12.
Thanks again to the Midleton support and to the Fe 15 players who stepped up.
Team: Alex Quirke, Leo Hennessy, David Scanlon, Gavin Reddy, Jack Fitzgerald, Christian Murphy, Patrick Kane, Samuel Quirke, Ethan Daly Harkin, Dan O'Sullivan, Aaron Mulcahy, Gary Carroll, Tim O'Sullivan, Adam Meade, Cian Crowley, Ryan Cahill, Darragh Crowley, Rory Donegan & Will O'Sullivan.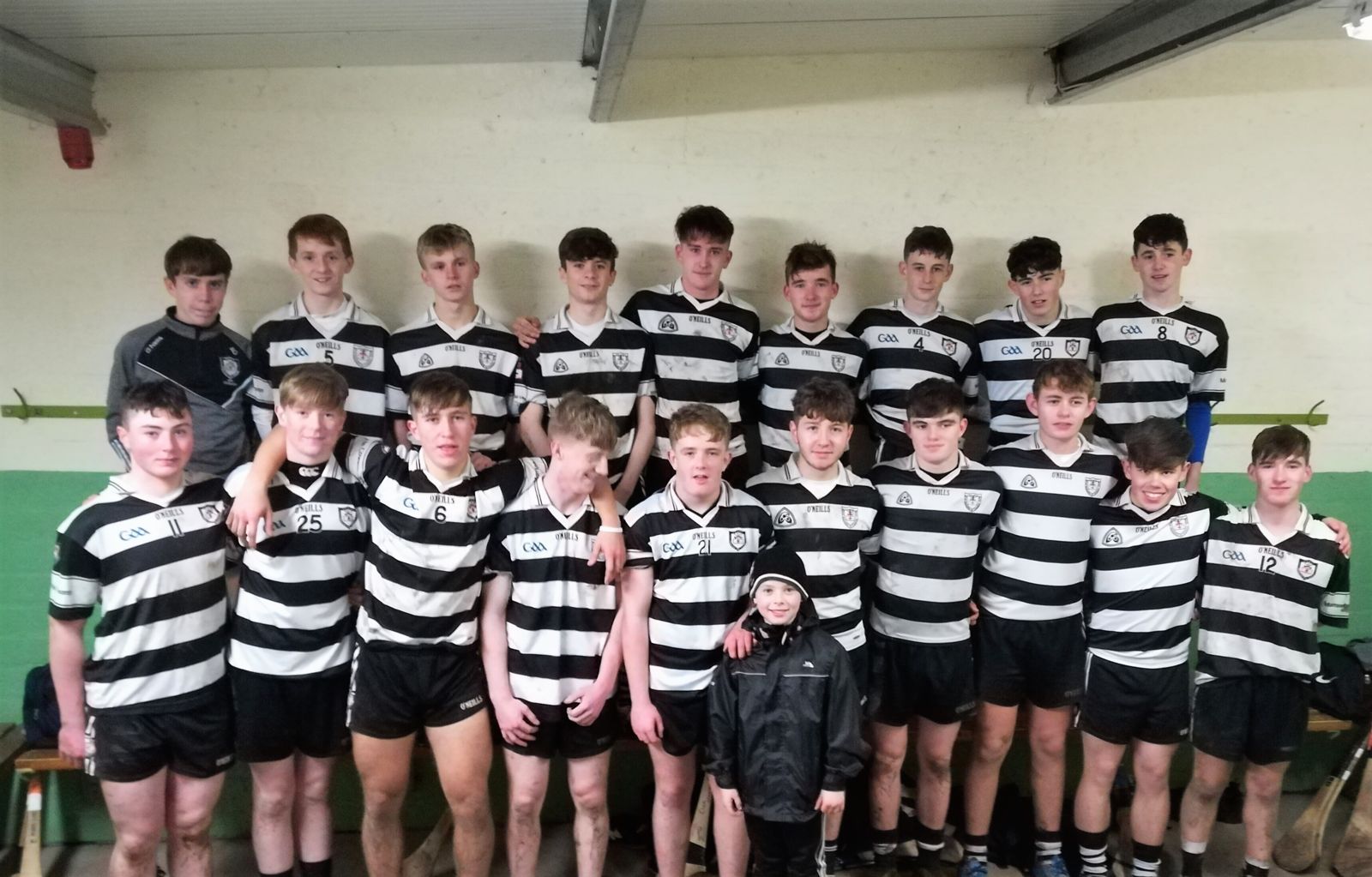 Juvenile Events
We wish to extend a very warm welcome to our new Junior Infants who commenced training on Saturday in Midleton Community Centre from 12-1. Indoor Training also commenced on Saturday the 11th of November for our Fe 8's from 10-11 and our Fe 7's from 11-12. New members at all age groups are always welcome. If interested in joining please come along to the Community Centre on Saturday mornings to find out details about registering .
Our Christmas Parties for our Junior Junior Infants, Fe6 – Fe9 Players and their families will take place in Midleton GAA Club on Saturday December 2nd, from 4 – 6pm and for our Fe10 – Fe16 Players and their families on Saturday Decmeber 9th at 7pm followed by the Juvenile Christmas Raffle Draw in the Club Lounge at 9pm. The Juvenile Christmas Draw tickets are now available and will be handed out to players at training by the team managers. Tickets can also be purchased at the Club Bar. We would ask all members for their support as this is a very important fundraiser for the Juvenile Club. Following on from the success of our Food Appeal last Christmas the Midleton Hurling & Football Club, Juvenile, Ladies Football & Camogie are once again running a food appeal in aid of St. Vincent De Paul. Donations of food items can be dropped to the Club Shop on Saturday the 2nd and 9th of December or alternatiely players and parents can bring along donations to the Juvenile Christmas parties.
Club Shop
The Club Shop is open this Saturday from 10 to 11.30am, please note that the Shop is now taking orders for Christmas, call in as soon as possible to place your orders to avoid dissapointment.