Midleton Hurling & Football, Ladies Football & Camogie Club NEWS
05 November, 2017
Post Primary Schools Hurling
Best of luck to the Midleton CBS Dean Ryan team who face Thurles CBS in the final on Wednesday the 8th in Clonmel @ 1.30pm.
Annual General Meetings
Camogie Monday 13th November @ 7.30pm
Ladies Football Thursday 9th November @ 7.30pm
Juvenile Wednesday 29th November @ 8pm
Hurling & Football Wednesday 6th December @ 8pm
Team Mentor Selection 2018
All members will have received an email recently regarding Team Mentor Selection for the coming year, if you haven't received it please contact Michael Franklin @ secretary.midleton.cork@gaa.ie for further details.
Michael Bonzo Tobin Memorial Cup
This coming Saturday our Intermediate/ Junior hurlers will travel to Knockanore Waterford to take on our hosts The Shamrocks in a challenge game in memory of the late Mick "Bonzo" Tobin. The game will take place at 2pm and there will be a bus leaving the Club from 12.30 sharp with limited availability, anyone interested in travelling on it please contact either Liam Ryan or Coleman Quirke as soon as possible.
GAA Youth Forum 2017 at Croke Park
Midleton were well represented at this year's GAA youth Forum which took place on Saturday 28th October. The workshops were designed for three specific age-grades (12 – 15; 16 – 18; 19 – 21 years), players left the forum having learned invaluable tips and tools that will help them to develop as a player and as a person. There were a number of activities at the Forum including: Exhibition Zone – interactive demos about everything from preparing healthy lunches to hurley care and repair! Plenary Session – Diarmuid 'Gizzy' Lyng opened the 2017 #GAA youth Forum with the assistance of musicians from Rhythm Corporation.· Workshops – experts, coaches and players including Orlagh Farmer, Brendan Maher, Paul Geaney, Cora Staunton, Juliet Murphy & Cathal Cregg who addressed a range of issues from felling performance to Injury Prevention & Recovery to Juggling the Demands in a young player's life. Lunchtime Laughs with Rory's Stories – Rory O'Connor brings his renowned characters to life in an interactive comedy gig! Lunch Hub – Keep the energy levels high and enjoy the best grub Croke Park has to offer…and all for free!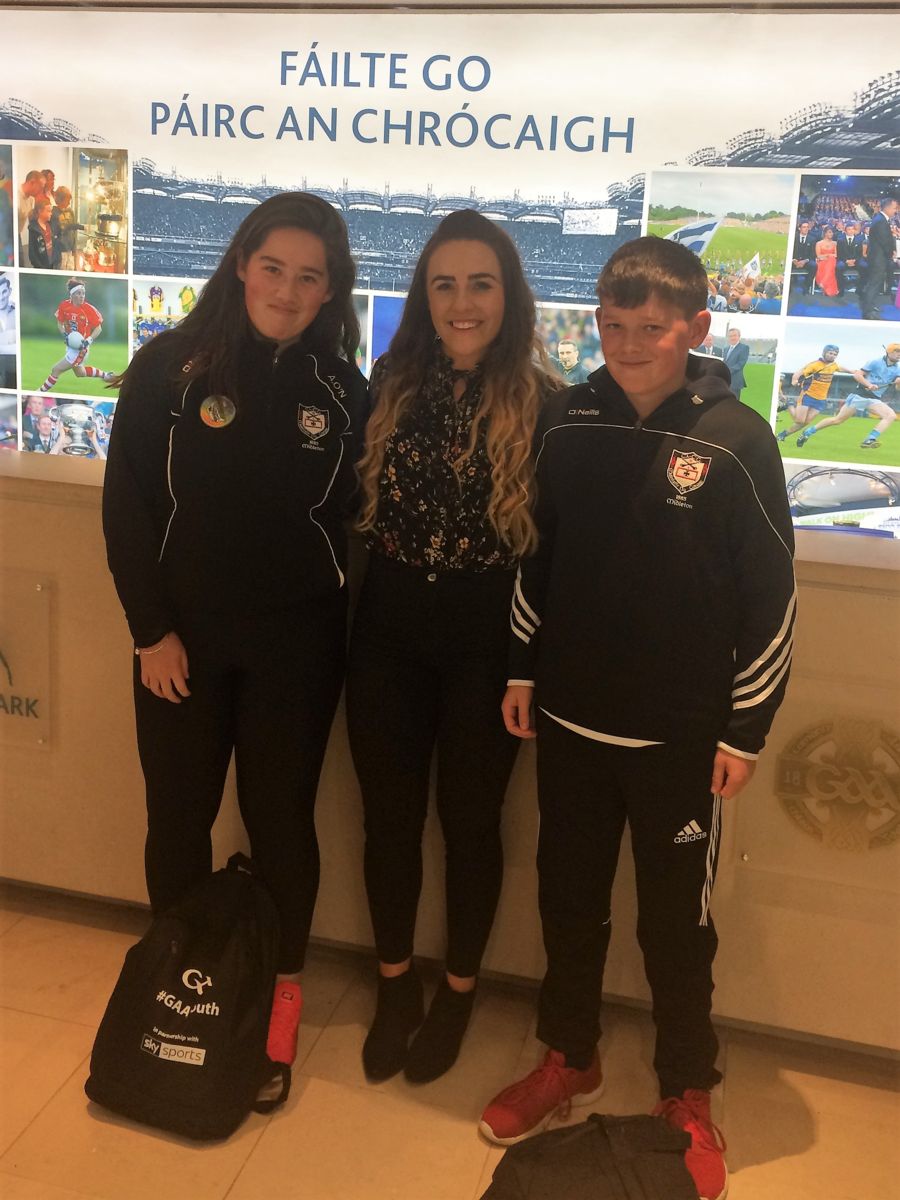 Healthy Club
Phase 2 Healthy Club Recognition Event -
Last Saturday members of our Healthy Club Team attended Croke Park for the Healthy Club Recognition Event. 58 Healthy Clubs from all over Ireland were invited to Croke Park to receive their awards for the completion of Phase 2 of the Healthy Club Project. The GAA Healthy Club team of Aoife, Colin, Stacy and Ronan together with GAA President Aogán Ó Fearghail, Irish Life CEO David Harney, Minister of State for Health Promotion Catherine Byrne and special guest speaker Tyrone Footballer Seán Cavanagh congratulated all the clubs for their tireless work over the past 18 months. The HCP Clubs were commended in their efforts to bring both physical and mental health to the fore in their clubs. In Midleton GAA Club this work was started in 2013 by Pearse McCarthy, Gavin Power and Jerome Curtin and is continuing under the watchful eye of our current Healthy Club team – Cian McCarthy, Triona Scully, Ingrid Connaughton, Paul O'Meara, Vincent Reddy, Diarmuid O'Dalaigh and Mairéad Beausang. 4 clubs in Cork received awards and we would like to congratulate our near neighbours Killeagh, St Finbarrs and Castlehaven GAA clubs also.
It was stressed by all contributors how important it is to support one another and it was agreed that GAA clubs are in a position to do this as our clubs are embedded within communities. The Healthy Club team in Midleton GAA are very fortunate to have the support of the Club Executive, Juvenile, Ladies Football and Camogie clubs. We look forward to starting Phase 3 in early 2018 and if any club member would like to join the team or if you have any ideas please email midletongaahealthyclubproject@gmail.com
Ladies Football
Our Annual AGM will take place at Midleton Gaa Club on Thursday November 9th at 7.30pm, everyone is welcome to attend.
Hard luck to our U16 girls who were defeated by Bride Rovers in the East Cork League Semi Final. Best wishes to Megan and Ali who picked up injuries in the game.
Winter training commences at the Hockey Pitch for all groups, U10 upwards from 7-8pm. Our U8 girls will now train at the Community Centre (previously the Gaelscoil ) from 6-7pm. Please bring €2 to cover Hall rental. Checkout our Facebook Page for all up to date information on our Club.
Congratulations to Midleton Gaa Club on receiving recognition for their Healthy Club Status. We would like to acknowledge the work our Club Secretary Mairead Beausang along with Committee members has done to achieve this.
Laura O Leary and Aoife Franklin are both members of Midleton Ladies Football Minor Team. Next April both girls will travel to India with Hope. As part of this the girls must raise funds to bring with them to donate to the street children that the Hope Foundation support in Kolkata. On Monday next the 6th of November at 8p.m. in Wallis Bar the girls are holding a table quiz. They would be very grateful to the GAA and wider community in Midleton for their support on the night. Tables of 4 are €40 and there will be prizes for the top 2 teams as well as a raffle (kindly sponsored by local businesses) on the night.
All are welcome on the night and all the proceeds will go to this very deserving charity.
Camogie
U12A East Cork Final - We travelled to Killeagh on Sunday afternoon to play the semi-final and final of the U12A East Cork League set up in Memory of Dominic Rooney. Our semi final was against a very tough Brian Dillons team, having had a poor first half, our girls went in at the break 1-1 to 0-0. However the girls put in an outstanding second half to come out on top 2-2 to 1-1 with fantastic scores all from play. In the other semi-final Douglas got the better of Killeagh and this meant a repeat of the County league encounter between Midleton and Douglas which was held in August. Again the girls started slowly and were 5 points down after 15mins and just managed a free in injury time to go in at the end of the first half 0-5 to 0-1 down. Like the semi final the girls came out with all guns blazing at the start of the second half and were level within the first 5mins after the restart. We continued to power on to the end and managed to keep a very strong Douglas team scoreless in the second half to come out victorious 2-4 to 1-1. It was a great end to the season for the girls and with a second trophy to add to the Killarney success proved to be very fruitful. A special thanks must go to Carrigtwohill Camogie for the planning of the tournament in memory of Dominic Rooney. Thanks to Killeagh for hosting and to the Foley family for providing the shield and plate in memory of James Foley. The real winners were the four teams playing highly competitive matches in November. AGM: November 13th 7.30pm at Midleton GAA Club.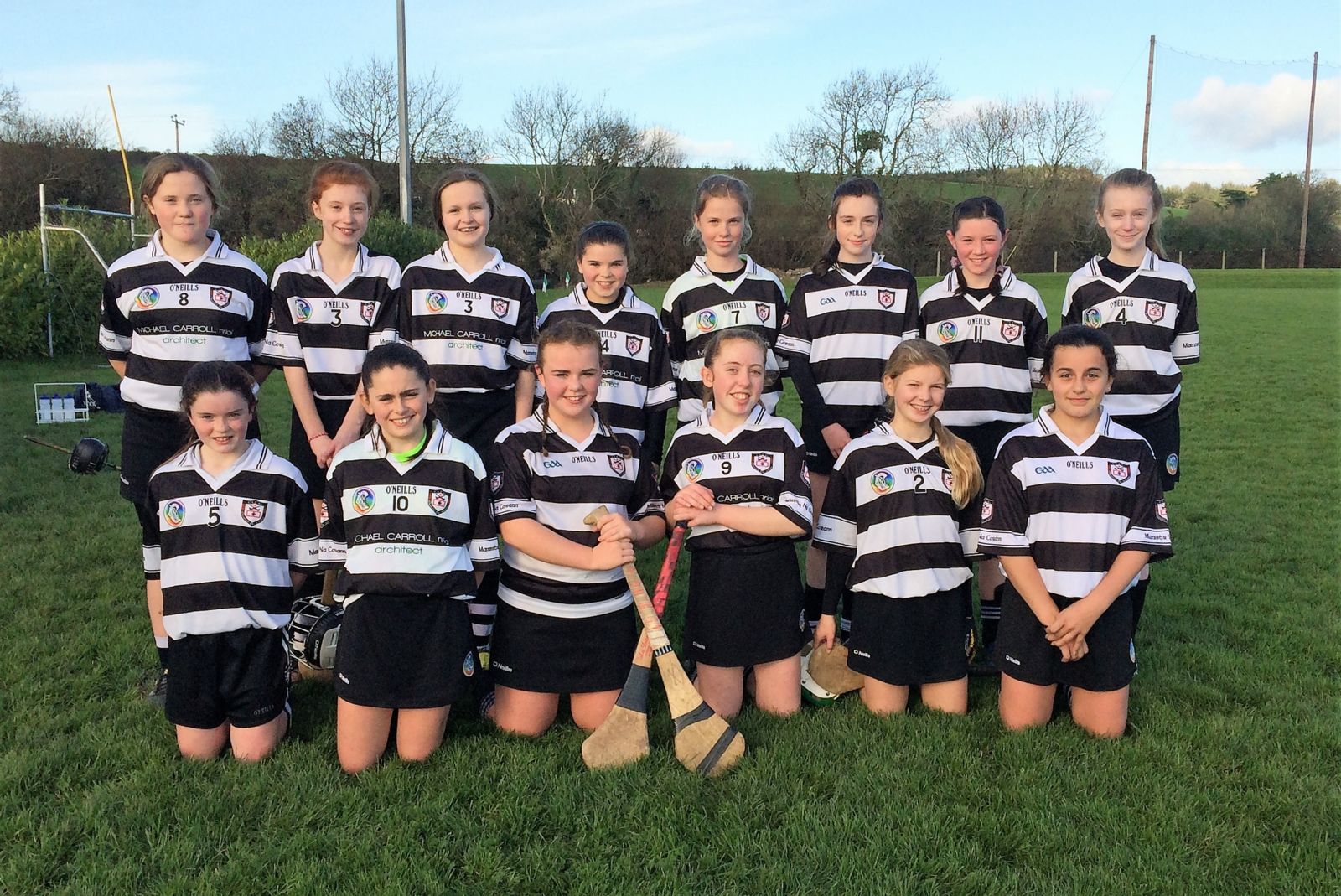 Lotto
Our Lotto Jackpot was €2,800, the numbers were 17,20,27 & 28, there was no winner, the Lucky Dip winners were Ann Ormond, Paula Smyth, Eve Lynch, Carol Fitzgerald & Antoinette Scully, next week's Jackpot will be €3,000.
Tickets are on sale at the Club Bar, O'Neills Bar, Linehan's Bar, Maple Leaf Bar, O' Farrell's Butchers, Frank Murphy Butchers, Pat Walsh Paints, Chadwicks, Teach Beag, Niall Mac's Bar & Wallis's Bar.
Our Online Lotto is now available, logon to the Club homepage www.midletongaa.com to purchase your ticket.
BINGO takes place each Friday evening @ 8pm in the GAA Pavilion with a weekly guaranteed Jackpot of €1,000.
Juvenile

Fe 14
Rebel Og Football Fe 14 Challenge Cup Final: Midleton v Beara
We played Beara last Saturday November 4th at a cold, windy and wet Ovens. This game was the final of the Challenge Cup, we had qualified by beating St Michaels's in the semi-final. As usual we had a great turnout of players with 22 in total and all on the age. Beara are an amalgamation of a number of football clubs all from the their peninsula. The Magpies had put in a number of football training sessions recently and this group of footballers do go into games with a good deal of expectation. Conditions, as written already above, were not ideal with a strong breeze blowing straight down the field. We choose to play with the breeze in the first half. Unfortunately Beara got off to a flier with a goal and a point before we got on the score sheet. Then our boys settled, particularly at midfield where Ciarmhac Smyth, Alex Quirke and Adam Fay started to win the lion's share of possession. Ciarmhac Smyth's penetrating runs resulted in him scoring 1-01 before half time. But regrettably we were not add to this in the first half. This was not because of the lack of endeavor from the young Magpies. Their tackling and overall application was outstanding it was just shot selection on goal was alas a little off. The second half started with a lot of hope 'we' again won a lot of possession but were not able to convert it into scores. In the meantime Beara were adept and kicking over long range points. All of our players tried their heart out with particular mention to some outstanding displays on the day from Ronan Gies (particularly one brilliant save in the second half), Darragh McCarthy, Alex Quirke, Fintan Greenwood, Ciarmhac Smyth, Cian Murray and Kelvin Barry. There is plenty material to build on here for the future (Tiocfaidh ár lá). Final Score: Midleton 1-02 v Beara 2-11.
Panel: Ronan Gies, James O'Sullivan, Darragh McCarthy, Niall Corcoran, Darragh Codd, Fintan Greenwood, James Condon, Adam Fay, Ciarmhac Smyth (1-01), Cian Murray, Evan Kelly (0-01), Kelvin Barry, Ben O'Neill, Brion Saunderson, Alex Quirke, Rowan Spillane, Neil Fitzgerald, Rory Hartnett, Phelim Magann, John Spellman, Craig Collins & Daire Mooney.
Our hurling team traveled away to Church Road on October Bank Holiday Monday to play Blackrock in the final of the C3 Rebel Og League. The two teams had only played each other recently with our Magpies coming out on top in what was a very close contest. Conditions were near perfect in Blackrock for the game. First off the mark for us was Phelim Magann with a well struck point from play. Evan Kelly was next to score a point that gave us a two point lead early in the game. James Condon then hit a purple patch; three points all from play and each one of them better than the next. The final point of the half from the young Magpies was our sixth point of the day and was struck over the bar by Kelvin Barry after he was found by a nice cross field pass from Ben O'Neill. Our back had coped admirably throughout the first half. In particular Liam McGrath, Niall Corcoran and Rowan Spillane repelled a lot of the Rockies attacks. Half Time Score: Midleton 0-06 v Blackrock 1-04.
The second half had only just started when James Condon added two more points to his tally for the day. Cian Murray was next to pop up in front of goal and slot over our ninth point. James Condon, Evan Kelly and a futher brace from James Condon concluded our tally of thirteen points on the day. This was enough to see them claim the silverware by a single point. Our players were outstanding in the second half and all deserve a mention but in particular Mikey Finn, Rory Hartnett, Adam Fay and Brion Saunderson.
Final Score: Midleton 0-13 v Blackrock 1-09
Following the game Midleton's Captain Rory Hartnett was presented with the League Cup on behalf of the panel.
Panel: Brion Saunderson, Rowan Spillane, Niall Corcoran, Neil Fitzgerald, Lam McGrath, Adam Fay, Rory Hartnett (cpt), Evan Kelly (0-02), Cian Murray (0-01), Kelvin Barry (0-01), Ronan Gies, James Condon (0-08), Ben O'Neill, Phelim Magann (0-01), John Spellman, Mikey Finn, Craig Collins, Daire Mooney, Tiernan Roche & Michael Roe.
Juvenile Events
Indoor Training will commence on Saturday November 11th at the Community Centre (former Gaelscoil) Midleton. Fe 8's from 10-11, Fe 7's from 11-12 and Fe 6's from 12-1.
New members are always welcome.
Juvenile AGM - The Juvenile AGM will take in Midleton GAA Club on Wednesday the 29th of November at 8pm.
Christmas Socials – The Christmas Social for Junior Infants, Fe6 – Fe9 Players and their families will take place in Midleton GAA Club on Saturday December 2nd, from 4 – 6pm and the Christmas Social for our Fe10 – Fe16 Players and their families will take place on Saturday Decmeber 9th, Midleton GAA Club at7pm followed by the Juvenile Christmas Raffle Draw in the Club Lounge at 9pm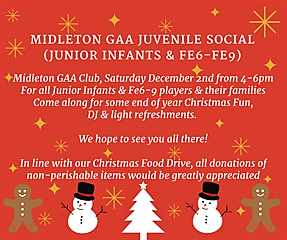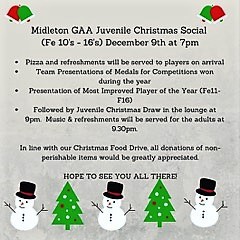 Xmas Draw - The Juvenile Club Christmas Draw tickets are now on sale and can be purchased from any team manager and at the Club Bar, please support this very important fundraiser. The draw takes place December 9th in the Club Lounge at 9pm.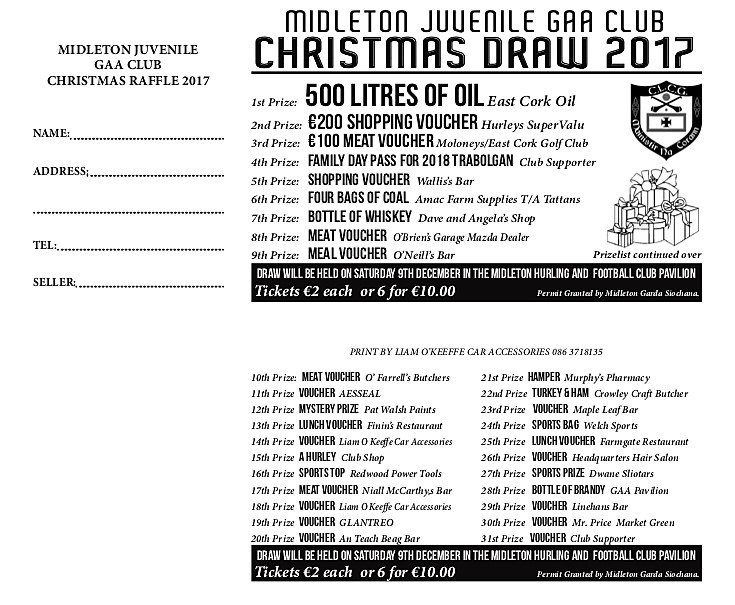 Club Shop
The Club Shop is open this Saturday from 10 to 11.30am, please note that the Shop is now taking orders for Christmas, call in as soon as possible to place your orders to avoid dissapointment.