Midleton Hurling & Football, Camogie & Ladies Football Club News
16 July, 2017
Senior Hurling
In Phase 2 of the Hurling League we were defeated by Sars last Sunday at home by the narrowest of the margins 0-13 to 0-14. The minimum was between the sides throughout the second half also and we just couldn't find that equalising score.
Team: Joe Loftus, Seanaidh Smyth, Alywin Kearney, Declan Ryan, Eoin Moloney, Finbar O' Mahony, Killian Burke, Padraig O'Farrell, Paul Haughney (0-02), James Nagle, Conor Lehane (0-08, 0-04 frees), Padraig O'Shea (0-01), Patrick White (0-01), Luke O'Farrell & Cormac Beausang (0-01).
Sub used Eoghan Walsh, not used Ian Kennefick, Billy O'Shea, Michael Abernethy & Garan Manley.
Junior Hurling Championship
Our hurlers came out second best last Friday evening in the first round of the East Cork Championship against a slick Sars outfit in Ballinacurra. Two first half goals from Sars separated the teams at the break 2-07 v 0-08. In the second half Sars took their scores from distance and we had no answer even though we battled to the very end.
Final score Midleton 1-12 v Sars 2-20.
Team: Bryan Rossiter, Jerome Curtin, Eoin Ferriter, Brendan Ferriter, Liam Clohessy, Micheal Keohane (0-02, 1 free), Barry Fitzgerald, Shane Ryan (0-01), Andrew Rea (0-02), Luke Finnerty, Paul Barry (0-01), Brian O' Sullivan (0-02), Willie O'Brien (1-04, 2 frees), Sean Corcoran & Keith Ryan.
Subs used Josh Deady, John Keane & Jordan Roche, not used Coran Swayne, Declan Mc Inerney and John Dwyer.
Minor Hurling
Our hurlers very impressively defeated Glen Rovers in the Premier 1 Championship first round last Tuesday evening in the Markdyke by 1-22 to 1-14.
Team: Alan Power, Cormac O'Brien, Sean O'Sullivan, Conor O' Farrell, Cian Murray, Sean O'Leary Hayes, Eoin Moloney (0-01), Shane Finn, Kevin Finn (0-03), Kien Farmer (0-02), Eoin Mitchell (0-01), Tommy O'Connell (0-04, 1 free), Ross O'Regan (0-10, 1 free), Arthur Nganou (1-00) & Harry Wall (0-01). Subs used Ciaran Evans, Luke Smith & Christian Murphy, not used Ryan O'Riordan, John O' Dwyer, Evan Rowlands, Jake Shanahan, Mark Daly, Adam O'Connell, Ronan Lynch, Gary Carroll, David Scanlon, Andrew Nestor, Coleman Quinn, Tom Scanlon, Craig Barry, Griffin Hurley & Fergus Wade.
Best of luck to Shane Finn with his rehab having received a nasty thumb injury.
Fe 21 Munster Hurling Championship
Cork's run of success continued in Walsh Park last Thursday evening when a last minute penalty converted by Declan Dalton gave them victory by a single point. The final score was Cork 2-17 v Waterford 1-19 , Cork now meet Limerick in the final on the 26th of July at the Gaelic Grounds, Limerick. Seanaidh Smyth was an used substitute.
Oíche Ghaelach
There is a Traditional Music and Singing session on Friday next the 21st at 9.30pm in the Club Lounge, everybody is welcome. Fáilte roimh chách.
Ladies Football
The U13 Development Academy commences on the 26th of July 2017 for 6 weeks & the U15 Development Academy commences on 23rd of August 2017 for 6 weeks. More information to follow. Training continues at the Tech for all age groups from 6-8pm.
Please note this Monday there will be no training for the U8 group due to mentors Holidays. Training will resume next week as normal. Please continue to support Midleton Ladies Football in Super Valu for the kits for kids. Many thanks for all your support so far.
Keep an eye on a Facebook and Twitter for all up to date Club information.
Camogie
U8 - Killeagh was the venue for the U8 blitz on Sunday morning, in very warm conditions we fielded two teams of eight . We played Killeagh, Cobh and Castlemaytyr, the girls as always gave it their all and it was very enjoyable mornings Camogie. Thanks to Killeagh for hosting.
U10 - We travelled to Youghal on Saturday afternoon for another blitz. It was a beautiful day and there was some fabulous Camogie on display. We had two teams and played Aghada, Killeagh, Castlemartyr and hosts Youghal. The girls played great and were very competitive in all of their matches, it is great to see their skill level continue to improve week on week. Thanks to the parents for travelling and those who helped out on the day and thanks to Youghal for hosting.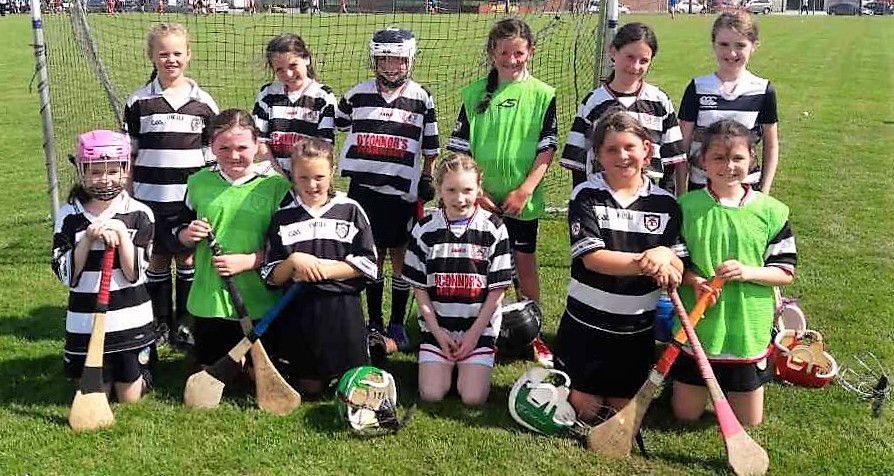 U13 Imokilly League - Last Friday evening we played their last game of the U13 Imokilly summer league against Dungourney. With our U14 league semi final the following day we were very depleted, resulting in some of U11s called into action who were tremendous. All the girls battled hard for the game but unfortunately could not match Dungourney's scoring ability. We lost out on a final score 4-4 to 0-0.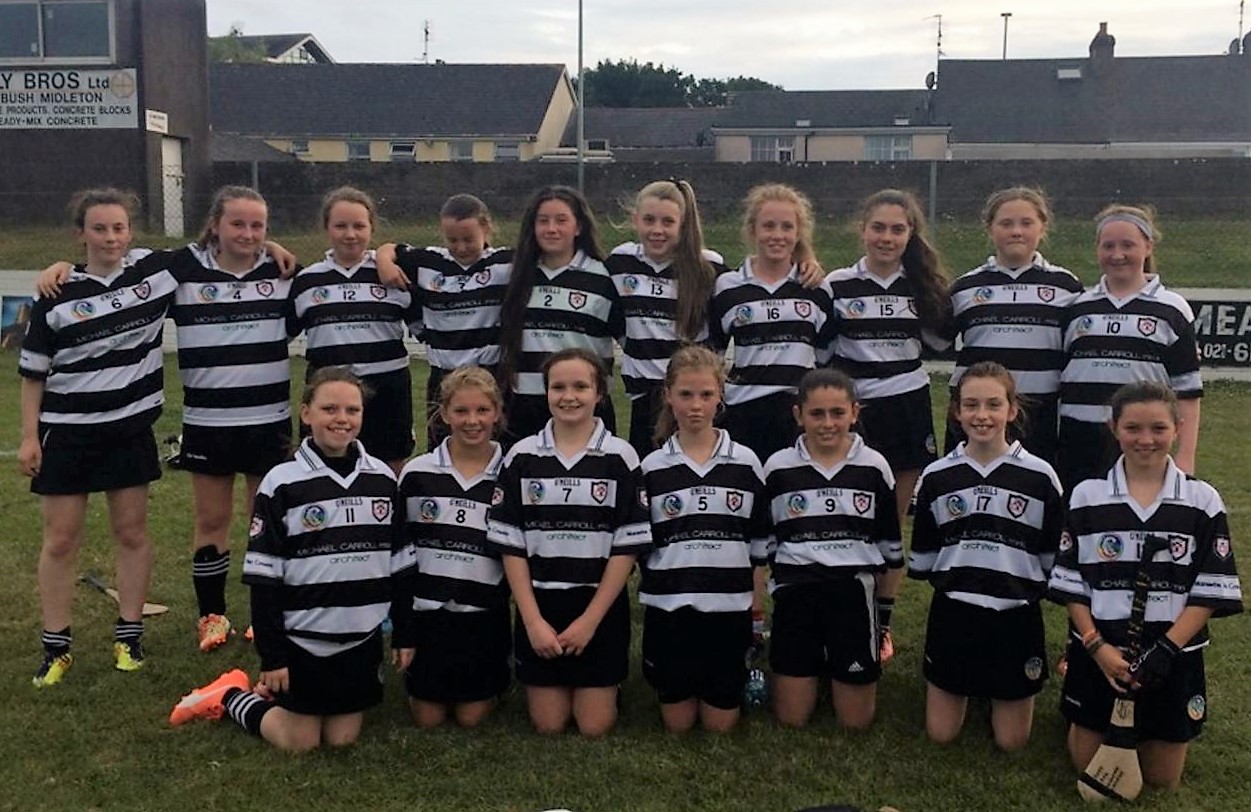 U14 C County League semi-final - On Saturday morning last we took on Millstreet in the county league semi-final in Whitechurch in beautiful conditions for camogie. From the start the girls went about their business in a very determined way that a strong Millstreet side could not cope with. Once Aoife Fitzgerald rattled the net ten minutes into the first half the girls settled and led 4-01 to 1-01 at half time. The Millstreet response came and in fairness every one of the girls responded accordingly, with some great scores in particular Chloe Garde who finished the game with a personal tally of 4-02. The final score finished up 8-06 to 3-02. Every one of the panel contributed to what is a fantastic achievement for the girls and the Club in a short space of time. The girls now move onto their and the Club's first county final next Saturday at 2pm in Ballinlough and would appreciate support on the day.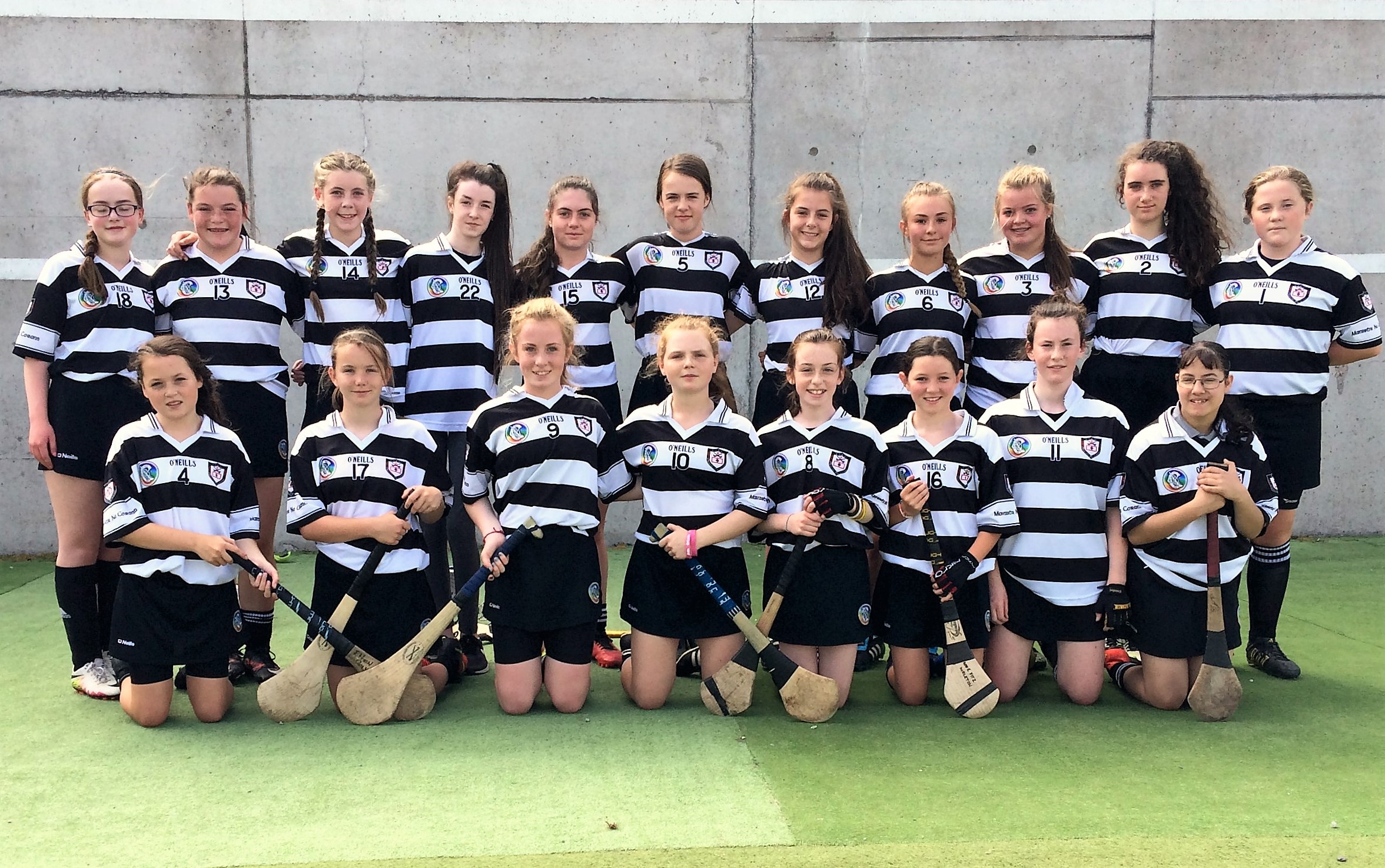 New players are always welcome. Any enquiries to: midletoncamogiepro@gmail.com,
Ph: 0876822916. Follow us on Facebook Midleton Camogie Club and twitter @MidletonCamogie
Lotto
Our Lotto Jackpot was €13,600, the numbers were 6,7,12 & 17, and there was no winner, the Lucky Dip winners were Ger Fitzgerald, Kathryn Smyth, Diane Sheehan, Matthew & Jack & Ciarmhac Smyth, next week's Jackpot will be €13,600
Tickets are on sale at the Club Bar, O'Neills Bar, Linehan's Bar, Maple Leaf Bar, O' Farrell's Butchers, Frank Murphy Butchers, Pat Walsh Paints, Chadwicks, Teach Beag, Niall Mac's Bar & Wallis's Bar.
Our Online Lotto is now available, logon to the Club homepage www.midletongaa.com to purchase your ticket.
BINGO takes place next Friday evening @ 8pm in the GAA Pavilion with a weekly guaranteed Jackpot of €1,000.
Juvenile
Fe 12
On Wednesday evening St Michael's travelled to Midleton for a very important football game as both sides were even on points near the top of the league table. The visitors got off to a flying start with three quick points. We were slow in finding their feet and only for a sublime goal from Oscar Brennan keeping them in the game the score at halftime was 1-05 to 1-00 in favour of St Michael's. The team talk at halftime seemed to wake up the Magpies with a goal from full forward Tiernan O Connell after a great catch turned the momentum in our favour. This was followed by goals from Oisin Berdassa, Zak Smith, Tadhg O' Leary and points from Eoin Higgins and Tadhg O Leary. The backs also stepped up their performance in the second half with Thomas O Connor, Sean Cronin, Alex Moloney, Darragh Aherne and Darragh Higgins all put in a massive shift's to keep St Micheal's practically scoreless in the second half. This was an all round great team effort by all the Magpies with Cian Lambe and Oscar Brennan having a fantastic game on the night. The mentors would like to thank all the lads who once again showed up in great numbers and also to the parents for their support on the night. Final score Midleton 5-03 v St Michael's 2-08.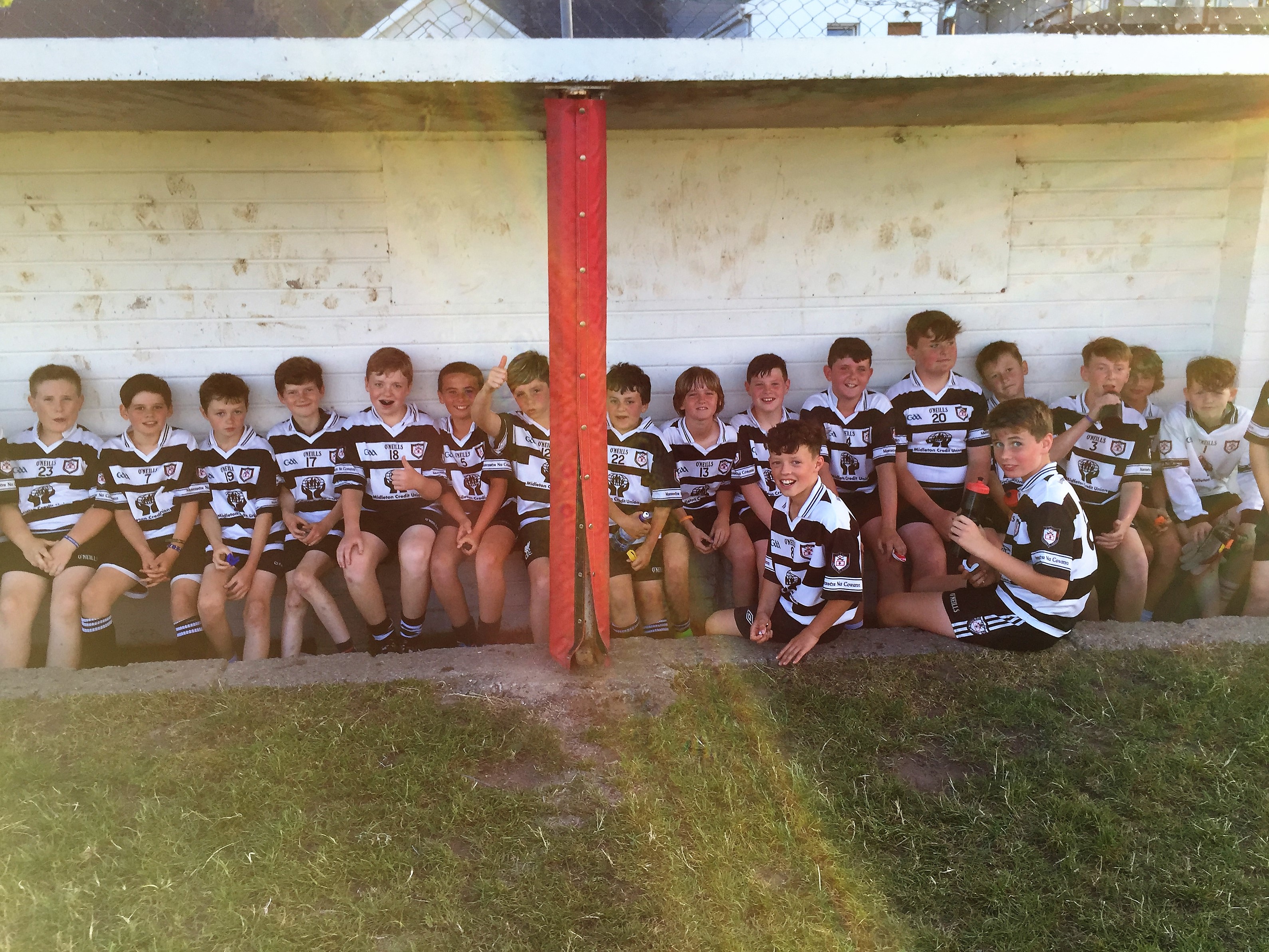 Fe 16
It was a hot and close day in Midleton last Saturday afternoon as we lined out against Douglas in the Premier 1 Hurling League. The last time we met it was a close game with Douglas winning by a point in last years championship. This year however there is a steel about the players which suggested a determination to keep this result at home. We started strongly and went 1-05 to no score up before Douglas got into the game. We continued to impose ourselves on the game and at the break led by 1-11 to 1-01. The second half was even enough for the first quarter before we upped the gears and closed out the game emphatically. Final score was 1-25 to 1-08.
Well done to all and thanks to the Fe 15's who helped out on the day.
Team: Alex Quirke, Patrick Kane, David Scanlon, Leo Hennessy, Jack Fitzpatrick, Christian Murphy, Charlie Walsh, Samuel Quirke, Ethan Daly, Cian Crowley, Aaron Mulcahy, Adam Meade, Dan O'Sullivan, Gary Carroll, Tim O'Sullivan, Will O'Sullivan, Paul Connaghton, Daragh Crowley & Ben Cummins.
Club Shop
The Club Shop is open each Saturday from 10-11.30am.