Midleton Hurling & Football, Camogie & Ladies Football Club News
02 July, 2017
Intermediate Hurling
Despite a number of changes to our team from the first game we had a fantastic win in the Round 2A Championship replay v Glen Rovers last Friday in Caherlag by 2-15 to 1-10. Having got off to a blistering start with the aid of a very strong wind we led at the break by 2-11 to 0-03. The second half saw the Glen raise the tempo but our lads were up to the challenge and matched them score for score, we ran out deserving winners by 2-15 to 1-10.
Team: Joe Loftus, Billy O' Shea, Declan Ryan (capt.), Adam Daly, Luke Smith, Luke Dineen, Elliot Mulcahy (0-02), Shane Finn (0-02), Eoin Moloney, Darren Quirke, Sean O Meara (0-06), Eoghan Walsh (1-02, 1 free), Sean O'Farrell, Peter Dowling & Michael Abernethy (1-03, 3 frees). Subs used Johnny Comer & Harry Wall.
Junior Hurling League
Our hurlers had a good win last Tuesday night in Ballinacurra against the hosts by 3-15 to 3-13. Panel from Bryan Rossiter, Eoin Ferriter ,Brendan Ferriter, Shane Ryan, Robert Williams, Coran Swayne, Liam Clohessey, Andrew Rea, Micheal Keohane, Garan Manley, Luke Finnerty, Paul Barry, Alan Stanton, Ryan Mc Conville, Liam Franklin, Conor Evans, Cathal Gunning, Eoin Moloney, Padraig O'Brien, Christopher Power, Jordan Roche, Lochlinn Mc Carthy, Sean O Meara, Adam Daly & Willie O'Brien.
Minor Hurling
Midleton 3-22 v O Loughlin Gaels 1-14
Our minor hurlers travelled to Kilkenny on Saturday and reported a good win against O Loughlin Gaels. This was in preparation for our upcoming Championship opener against Glen Rovers on the 11th of July. We were short a number of our squad through injury, work and other commitments. Despite this we were on top from the start and hurled well throughout. The score was 0-10 to 0-5 at halftime. When we started to play fast, low, direct ball in the second half we really took over and finished out comprehensive winners in the end. Thanks to O' Loughlin Gaels who were great hosts.
Team: Alan Power, Cathal Gunning, Sean O Sullivan, Conor O Farrell, Cormac O Brien, Cian Murray, Christian Murphy, Tommy O Connell, Shane Finn, Evan Rowlands, Eoin Mitchell, Kevin Finn, Ross O Regan, Arthur Nganou, Griffin Hurley, Cormac Higgins, Coleman Quinn, Mark Daly, Ryan O Riordan & Mark Daly.
Munster Minor Hurling Championship
The Cork minor hurlers "escaped" from Thurles last Thursday evening when they drew with Tipperary in the semi final after extra time, Cork 0-21 v Tipperary 2-18. Sean O'Leary Hayes captained the team from fullback, the replay will take place on Monday next 3rd of July in Pairc Ui Rinn at 7.30pm.
Field Fixture
Last Saturday we hosted Carrigtwohill and Killeagh in the East Cork Junior A Hurling Championship, Killeagh were easy winners on a scoreline of 4-15 to 0-07, thanks to Mary, John, Alan, Coleman & Brian for helping out on the night.
Jim O' Sullivan Retirement
Last Friday spelled the end of Jim O'Sullivan's 38 years at CBS Primary as a teacher.
Jim arrived to the school in 1979 for his first post under the then principal Br. Cunningham and remained in the Midleton school for the whole of his teaching term. No doubt many parents are very grateful for Jim's substantial input and work in the school for many years.
We in the Gaa will be forever in debt to Jim for the role he has played in promoting and organising our Gaelic games in the school. Certainly one can say that it was Jim's home club Meelin's loss and our huge gain. Mr. O' Sullivan from everybody in the Club we wish you a happy and healthy retirement and hope that you will enjoy many days on the Golf course.
The late Michael Roche
Last Saturday week, Liverpool GAA and the Liverpool Irish Centre were proud to unveil a plaque in honour and memory of Michael Roche, who won an All-Ireland Football medal with Midleton GAA in 1890. The Roche family were given this opportunity to commemorate the life of a great man and share his memory, and also enjoy a Gaelic Football match played in Michael's honour between Liverpool's Wolfe Tones and St Peter's from Manchester.
Michael Roche was born in Castletownroche in 1863, and later played on the Midleton Senior Football team that won the Cork County Senior Football Championship in 1889. Following this he won the 1890 Munster and All-Ireland Football Championships playing with Midleton (club champions representing Cork). However, the 1890 final was not played in 1890 at all, as the following report explains:
"After the semi final on Sunday Nov 15th, 1890, there followed a stand-off. Midleton captain Jim Power said he had been told that the final would be played on Monday, so he kept his team overnight in Dublin. They togged out and claimed the match, secure in the knowledge that the Wexford Blues & Whites had already gone home on Sunday night. They claimed the title, and as the GAA tore itself apart over the Charles Stewart Parnell affair, the issue went unresolved. A replay was arranged for 13 March, 1892 but was cancelled because of a fair in Midleton that day. Then on June 26, 1892, eighteen months after the original fixture and after the conclusion of the 1891 championship, the 1890 All Ireland Final was played, and Midleton eventually beat the Wexford Blues & Whites 2-4 to 0-1"
With an All-Ireland medal in his pocket, 29 year old Michael became unemployed and was forced to move to Liverpool, on account of his father's Mill in Midleton going out of business. He found work as a labourer in West Harrington Dock, Liverpool, but unfortunately died of sunstroke, caused while working in a shed with a glass roof during a heat wave, on Liverpool Docks near No 2 Harlow Street where he had lodgings. He collapsed, fell into a coma and never regained consciousness. With no money at home due to the failed business, it was not possible at the time to afford him a private grave and a headstone in Liverpool.
Alan Roche, Michael's Great Grand Nephew and former Midleton GAA player now living in Canada, coordinated the trip last weekend to honour Michael and commemorate him with a plaque. The Wolfe Tones GAA Club picked up on the story and worked with the Irish Centre to organise a celebration to Michael. The fine gesture by Liverpool GAA to dedicate a football match to Michael was greatly increased when they requested Jordan Roche, Great Great Grand Nephew, to throw in the ball to start the game! Thanks to four generations of Roche's from Canada, Carlow, and Cork among others, Michael will be remembered in both Midleton and Liverpool.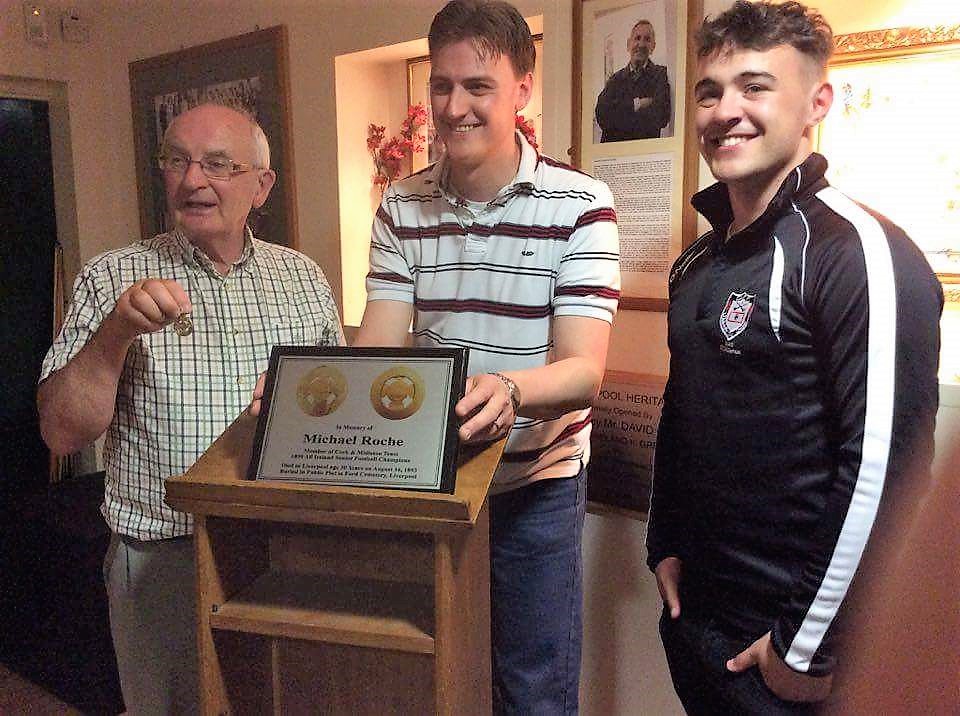 Left to right - Michael John Roche, Alan Roche & Jordan Roche
Gaa Golf Classic
Thanks to everyone who has supported our Golf Classic which will take place next Wednesday & Thursday 5/6th of July at East Cork Club, we look forward to seeing you over the coming days.
Ladies Football
Midleton v St Nicks – our girls had a comprehensive win over St Nicks in the East Cork Minor League played away in the Glen on Tuesday night. We travelled with 13 players as we were missing the rest of the panel due to injuries, holidays and tied up with Cork Camogie U16 team. St Nicks had 17 but in a sporting fashion matched our 13. This game started off as a very one sided affair as the our girls stormed into the game from the starting whistle and were two goals to the good inside five minutes. To balance things up St Nicks put on their full 15 and they started to play good football. This was a game that we were always in control, but the introduction of the extra girls made them work that bit harder. This was a great fun game and both teams got something out of it. Both teams were wasteful at times in front of the goal but as the game progressed improved, St Nicks very much so in the second half. The encouraging thing about this game was the girls off the shoulder running and linked up play resulting in being able to move the ball from the full back line right through up to the forwards. The girls were outstanding, playing great football and we ended up with twenty points on the scoreboard, a record for this team. Well done girls great result.
Full Time Score. Midleton 6:20 v St Nicks 2:07
Team: Deirdre Corcoran, Kari McEvoy(0-2), Claudia Kearney, Rayanna Power(1-0), Lizzie Phiri, Roisín O'Callaghan (1-1), Molly Beausang(0-6), Abby Quirke (1-6), Sadhbh Beausang (0-2), Lucy Kenneally (1-0), Laura O'Leary, Alice Reddy (1-1) & Aoife Franklin (1-2).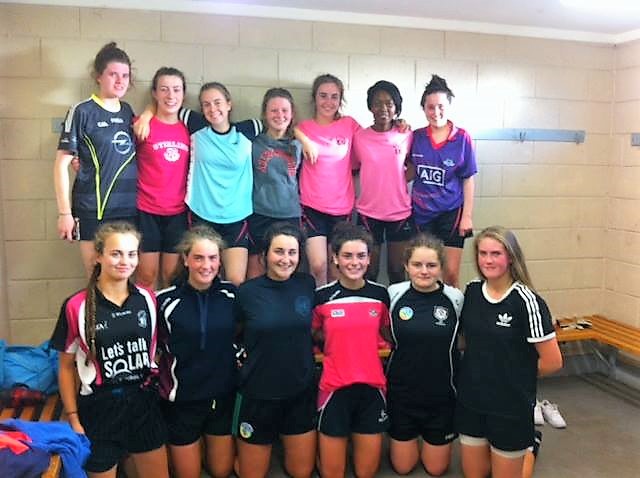 Fe 12 : Midleton 3-8 v Glanmire A 0-03
Our girls played their final match of the league on a very wet Monday night last, July 26th. This team have been playing some terrific football all year. They travelled to the Pike field without the outstanding Ashling McCarthy but knowing that a win would propel them into the knockout stages but winning against Glanmire is never an easy tack.
We settled very quickly and the dominance of the industrious midfield duo of Amy Murray and Selena O'Riordan Hernandez was to be a factor throughout the game. Gill Connaughton, Saoirse NiTheangana, Isobel Nestor & Ava McAuliffe were in total control in defence. Up front Kelly Quirke, Clara Collins & Sadhbh Hartnett were causing the Glanmire back all sorts of problems. Half time score was Midleton 0-08 v Glanmire 0-00.
The girls continued to apply the pressure in the second half. Lily Kelly, Ellen O'Neill, Cara Foley, Rosin Crotty, Sile O'Leary Hayes & Katie Smyth contributed handsomely to the Magpies cause on the night. Racheal Ryan, Clara Collins & Grainne Finn all dominated at times during the match. By the time final whistle came around we had a comfortable lead.
Final Score: Midleton 2-08, Glanmire 0-02.
Panel: Gill Connaughton, Sadhbh Hartnett, Ellen O'Neill (1-00), Aoife Fitzgerald, Cara Foley (0-01), Ava McAuliffe, Lily Kelly (0-01), Kelly Quirke (0-02), Isobel Nestor, Rosin Crotty (0-01), Amy Murray (1-00), Sile O'Leary Hayes, Saoirse NiTheangana, Clara Collins (0-01), Racheal Ryan, Grainne Finn (0-02), Selena O'Riordan Hernandez (1-04) & Katie Smyth.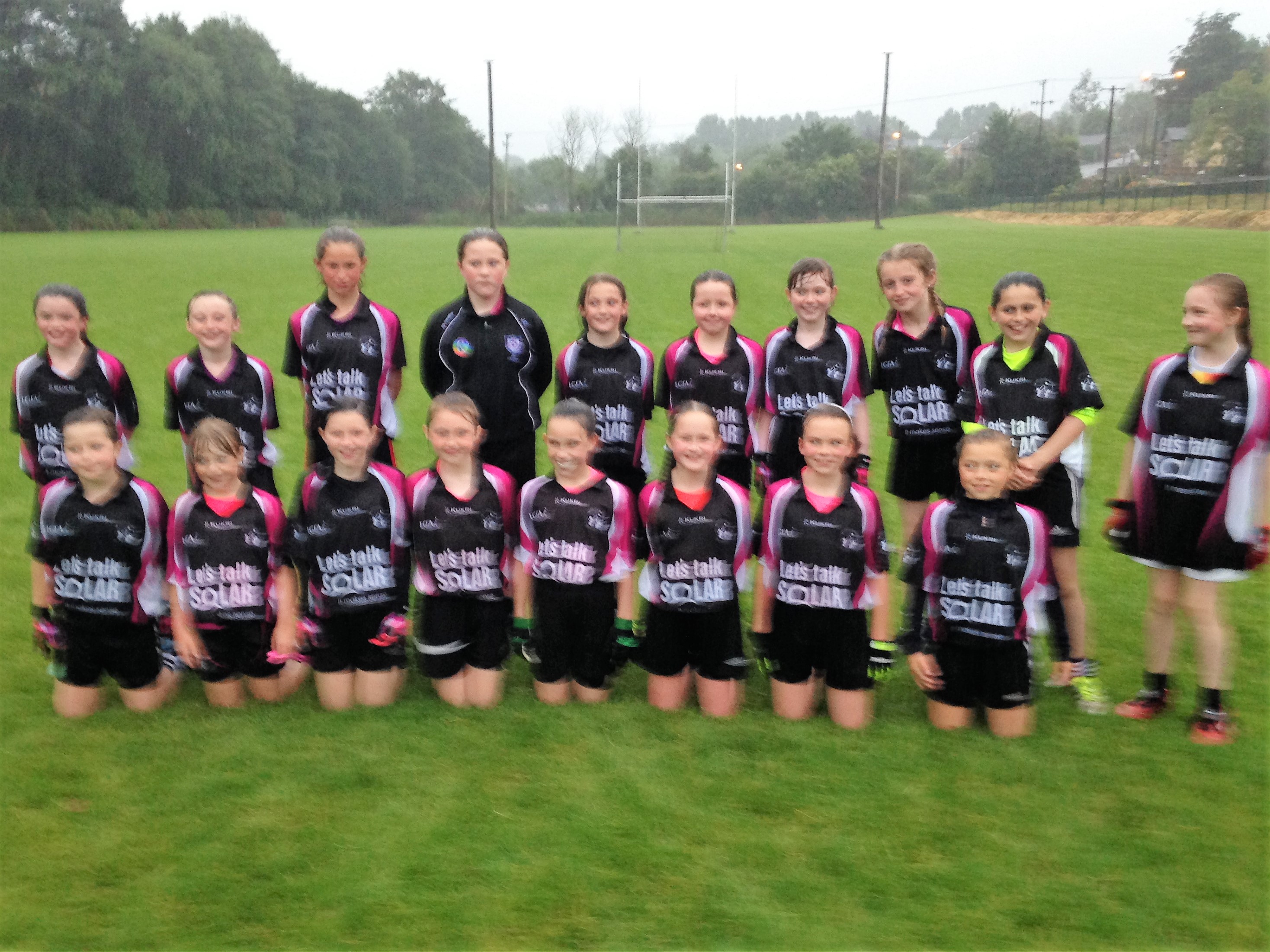 Please support Midleton Ladies Football by placing your receipts in our box in the Super Valu Promotion that is currently taking place.
Training for all ages continues at the Tech Pitch from 6-8pm. If there is a change you will be notified by text so please ensure that your contact details are up to date.
Camogie
Our U7 and U8s took part in another blitz on Saturday last the 1st July. Our young stars showed up in great numbers. Fielding 2 teams we played against Carrigtwohill, Cobh, Killeagh and Castlelyons. What great displays of play there was, both sides got the ball through the opposition's goalposts much to their delight. Midleton every girl played brilliantly - the future is certainly bright for Midleton Camogie!
A big thanks to the supporters, coaches, referees and Cobh Camogie Club for hosting.
We can't wait for our next match – and training Friday nights at 6.30pm for U6, U7 & U8 new players are always welcome.
U10 - We travelled to Killeagh on Saturday afternoon last f or the latest of our blitz series. We had great numbers again, fielding two teams with subs, each team played 3 matches playing Killeagh, Castlemartyr, Youghal and Aghada. All of the girls were outstanding they have all shown real progression in the skills and commitment throughout all the games. The girls as always are a credit to the club. Thanks to Killeagh for organising and hosting and to all the parents and families who supported the girls on the day.
U14 - On Saturday evening last July 1st we travelled to Clonakilty to play our hosts in the league quarterfinal. With perfect underfoot and over head conditions the girls put in their best performance to date securing a place in the U14c league county semi-final. Clonakilty were worthy opponents, the girls fought hard for every ball right up until the final whistle. Thanks to our hosts for a competitive and sporting match in their very impressive facilities and for their hospitality. We await the results of Ballyroe v Millstreet to learn who our opponents will be in the semi final.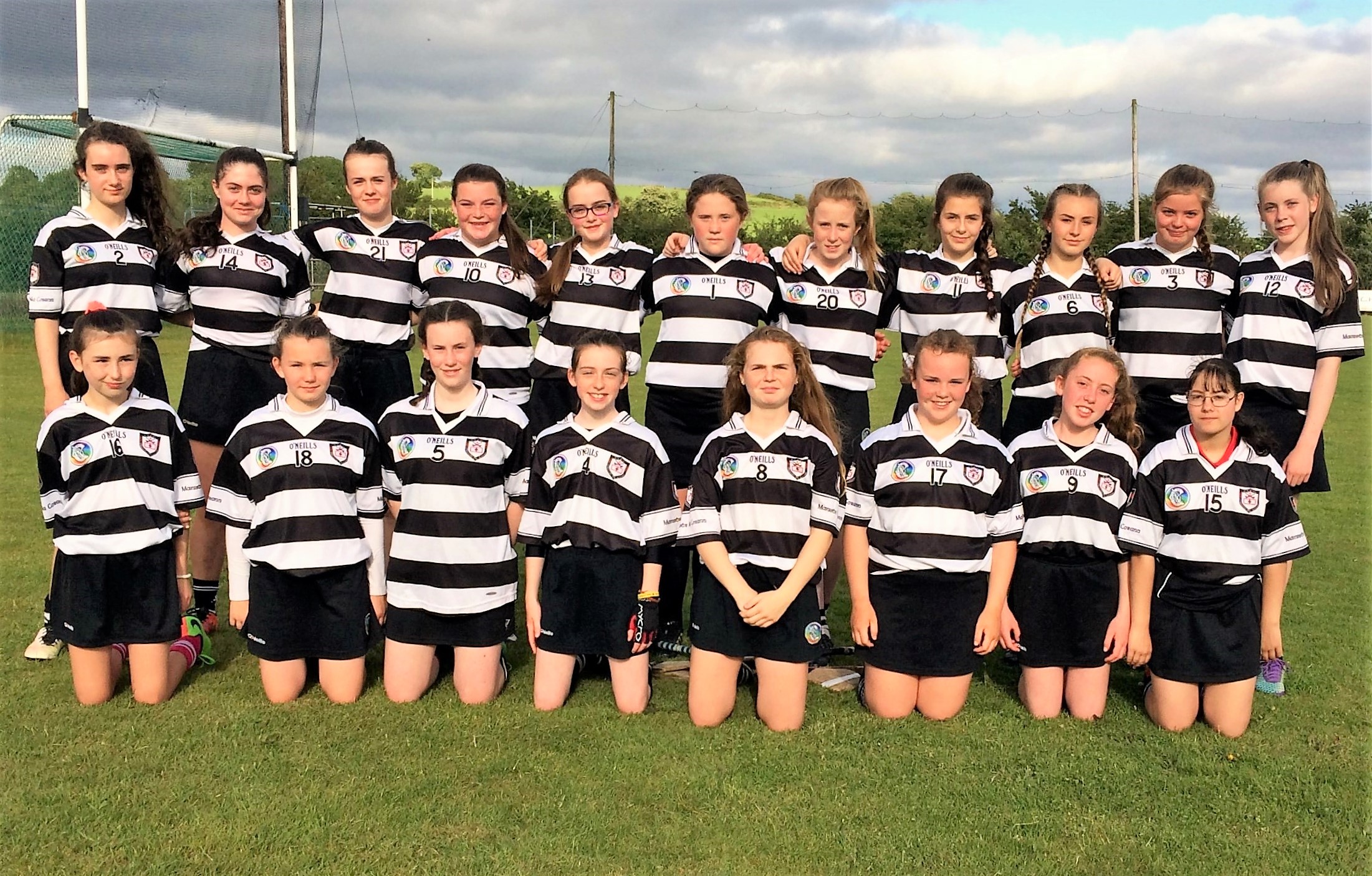 Well done to Midleton's Lucy Wallace playing with the Cork U16 team v Dublin on Sunday last in the All-Ireland Under 16B Championship (group 2).
New players are always welcome. Any enquiries to: midletoncamogiepro@gmail.com, Ph: 0876822916. Follow us on Facebook Midleton Camogie Club and twitter @MidletonCamogie
Lotto
Our Lotto Jackpot was €13,200, the numbers were 9,11,15 & 25 and there was no winner, the Lucky Dip winners were Margaret O Brien, Harry O Flynn, Aidan Moloney, Nuala Kearney & Norma Cotter, next week's Jackpot will be €13,400
Tickets are on sale at the Club Bar, O'Neills Bar, Linehan's Bar, Maple Leaf Bar, O' Farrell's Butchers, Frank Murphy Butchers, Pat Walsh Paints, Chadwicks, Teach Beag & Niall Mac's Bars.
Our Online Lotto is now available, logon to the Club homepage www.midletongaa.com to purchase your ticket.
BINGO takes place next Friday evening @ 8pm in the GAA Pavilion with a weekly guaranteed Jackpot of €1,000.
Juvenile
Fe 7
Monster Blitz - Last Sunday we travelled to Killeagh to take part in the Rebel Og Monster Blitz. In what was a very competitive morning of hurling we took the field against Castlelyons, Youghal, Kiltha Og and Lisgoold. The Magpies should great skill levels and heart in all their games. It has been great to see the improvement in all our hurlers and we look forward to our upcoming games. Many thanks to all the parents who attended on the morning and for their continued support.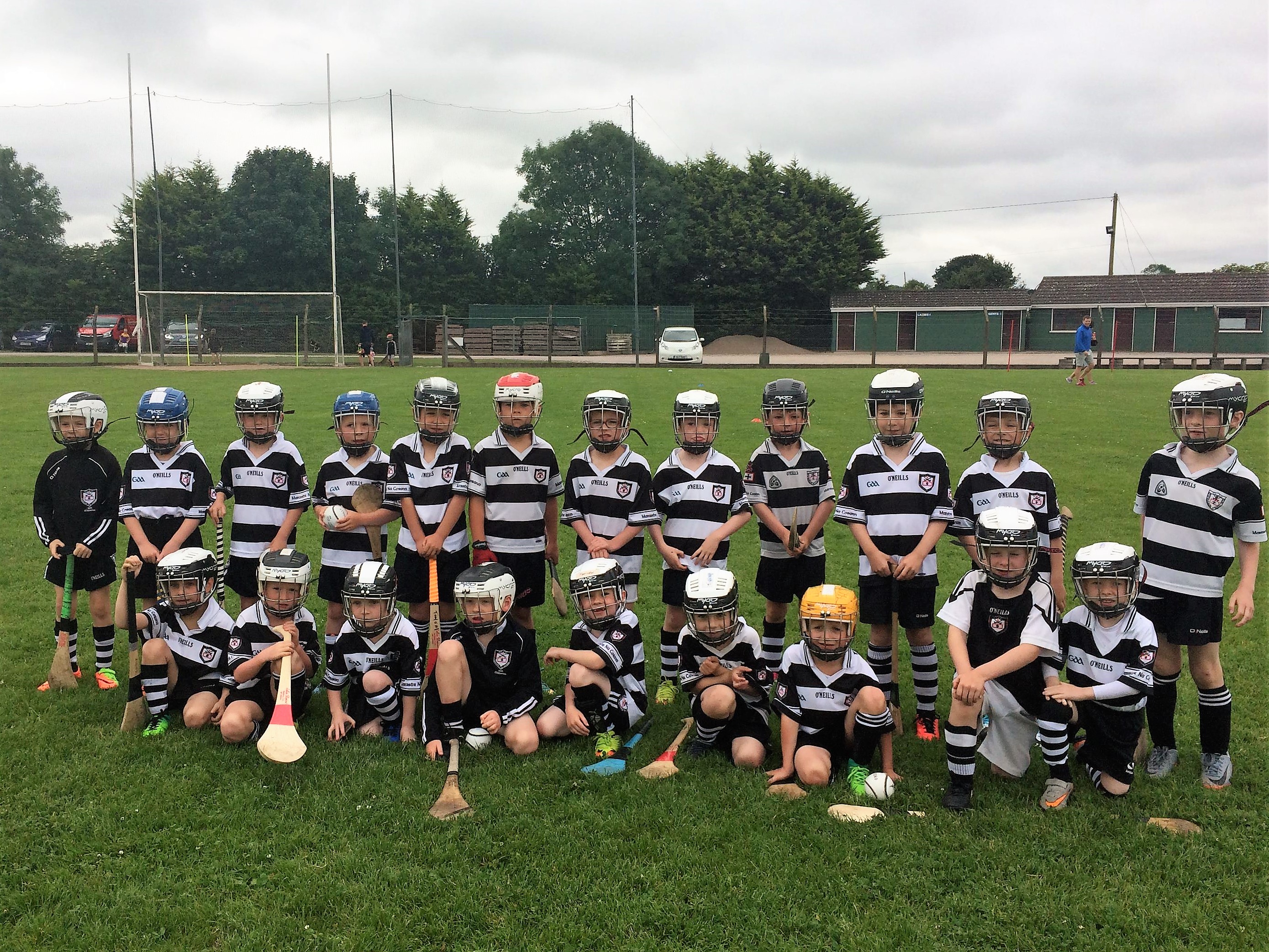 Fe 9
We travelled to Mitchelstown yesterday for the last game before the summer break. We played the local lads in football. Holiday season kicked in and numbers down which is fine every player got to play the full games which was good. Both teams played well and particularly kicked some lovely points which was lovely to see. Mitchelstown had some lovely footballers and came out on top. Thanks to all players and parents who travelled yesterday and for all of the 13 games on the hurling and football games in the league.
For the lads at the Cul camp next have a ball.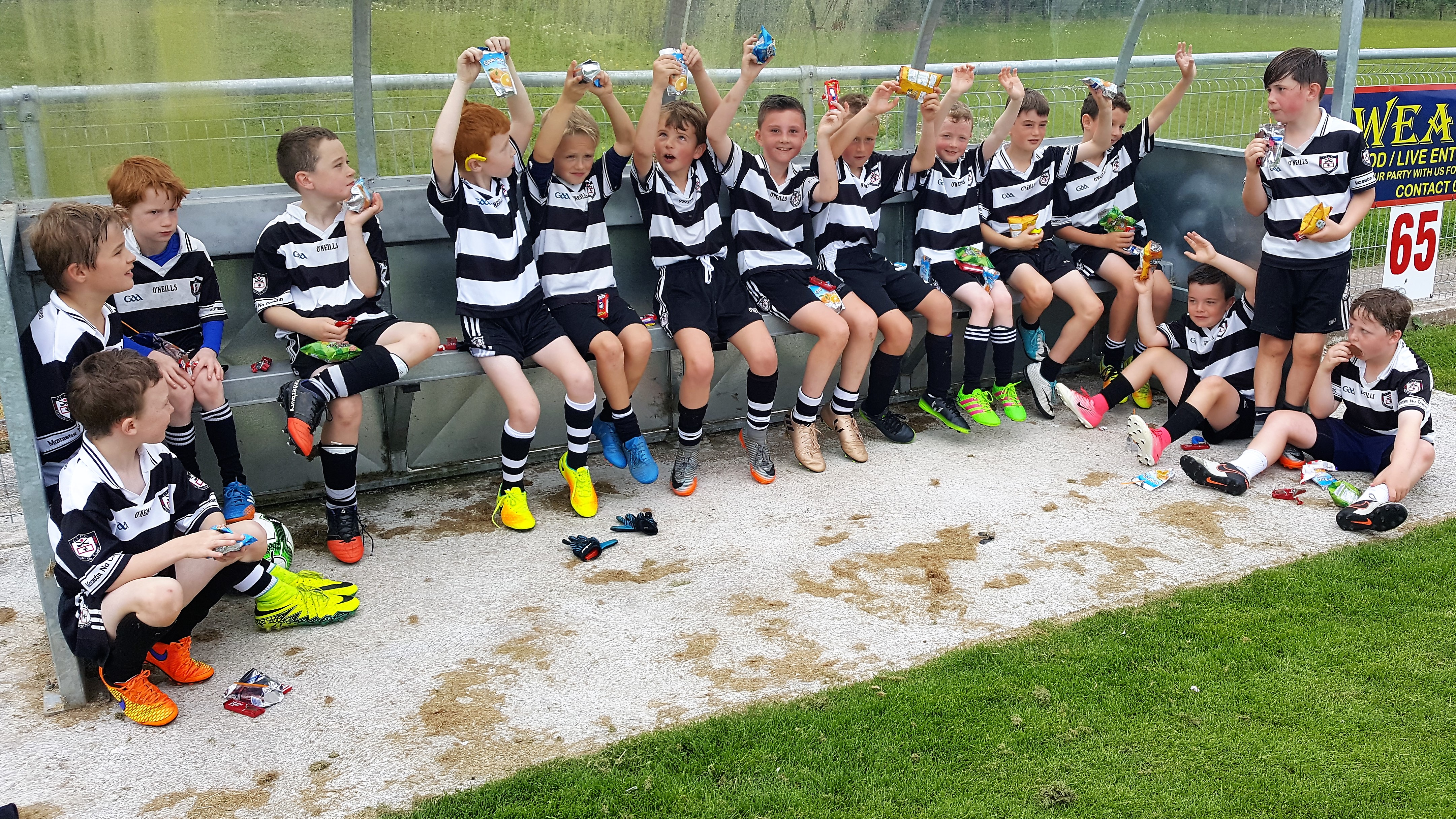 Fe 10
On Tuesday week last we played what looks like our last match before the summer break. Douglas were the visitors to Clonmult Memorial Park. On a beautiful evening for hurling, all 38 magpies produced some fantastic skill and commitment throughout the evening. The improvement of the lad's this year had been great and again it shows their commitment to training with 35 each week turning up. For the boys taking part in the Cul Camp this week best of luck. We will now take a small break from training and get back in mid July. Thanks also to the parents for making sandwiches, tea etc for the visiting Bandon team recently. Also for their continued support for the boys at each game.
Looking forward to the next half of the year. Magpies ABÚ
Fe 11
With the end of school term looming there was no let up for the under 11's. This week saw the lads play two matches in three days. On Thursday we visited Inniscarra fielding three teams in the hurling league on a very windswept night we came away with a very credible draw after fine performances from each team. The wind had a major factor for both sides but to be fair the level of hurling on display was top class. We have one hurling league match V Aghada in Rostellan on Saturday next before we break for the summer. On Saturday we were on the road again travelling to Mallow to play the locals in the football league, we fielded two teams of 11 a side ,both matches were excellent to watch, again weather conditions played a part with a strong breeze affecting kicking in particular. The lads adapted well to the conditions and again a draw was the final outcome (losing one, winning one) this concludes our football programme for the summer which will resume in mid August. Many thanks to the parents who have clocked up a lot of mileage this week its great to have the support especially on the away days. Thanks to Mallow and Inniscarra for hosting us. Magpies abu !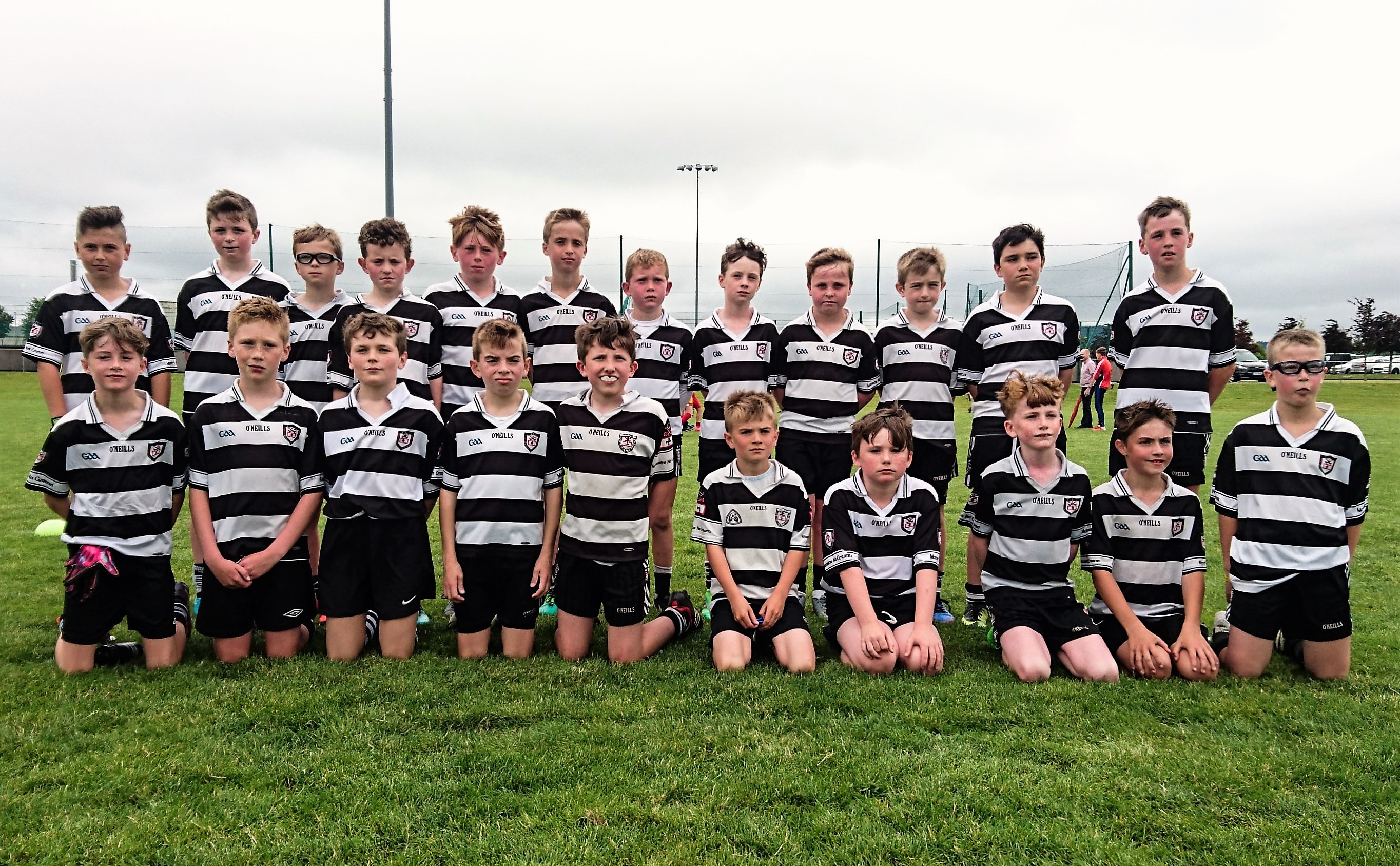 Fe 14
Midleton v Blackrock P1 Rebel Og Hurling League.
Our hurlers outing on Friday 30th June was their fifth match of the P1 hurling league. Prior to Friday's match the Magpies had recorded two wins and two draws. Clonmult Memorial park was the venue for this game and as ever it was in immaculate condition. Blackrock were first to settle in this game. Our defence being well tested in the first ten minutes but stellar performances from Brion Saunderson, Evan McCarthy, Ciarmhac Smyth and Rory Hartnett kept the Blackrock forward line at bay. After the initial ten minutes of the game we finally settled. A Kane Rowlands point was followed by a Evan Kelly goal. Alex Quirke's 1-01 were the final scores of the first half. Half time score Midleton 2-02 v Blackrock 0:01
A speculative lob from the improving David Cremin ended up in the back of the net and was the ideal start to the second half for the Magpies. Alex Quirke and James Condon added a point apiece, then Alex closed out the night with four scores in a row (2-02).
Final Score Midleton 5-07, Blackrock 3-04.
Midleton v Blackrock C3 Rebel Og Hurling League.
We travelled to Ballincollig on Tuesday 27th June. Prior to this game the C3 team had a 100% record; two matches played and both won. A Kelvin Barry point was our first score on the night. Kevin quickly followed this score up with a goal. Evan Kelly scored our next two points. The last Midleton score of the half was a fine point from the left hand sideline executed by Ronan Gies. Half Time score Midleton 1-04 v Ballincollig 1-05.
Ronan's goal at the start of the second put the Magpies into the lead. Then Ben O'Neill got our third goal of the night. Kelvin Barry and Ronan Gies concluded our scoring with a point apiece. Final Score: Midleton 3-06 v Ballincollig 2-14.
Fe 15
It was back to the Premier 1 League programme after an extended break. A very competitive first half ended even on a scoreline of 1-06 to 2-03 with some good hurling from both sides. Unfortunately the same cannot be said of the second half and the less said about it the better. Final scoreline: Midleton 1-09 to 4-09 Glen Rovers.
Panel: Brion Saunderson, Ciarmhac Smyth, Gavin Reddy, Evan McCarthy, Dan Cagney, Jack Fitzgerald, Patrik Kane, Alex Quirke, Will O'Sullivan, Ben Cummins, Leo Hennessy, Daragh Crowley, Luke Deane, Conor Fitzgerald, Paul Connaughton, Conor Hayes, Ryan Cahill & Nicky Hayes.
The mentors & players wish a speedy recovery to Daniel Cagney who was injured during the game.
C3 Hurling League v Ballincollig - A good win for us against the visitors on a bright sunny morning at home. Plenty of good hurling played in a very sporting manner ending with a victory on a scoreline of 1-16 to 2-03.
Panel: Alex Pranger, Rory Lang, Fintan Greenwood, Jack McKay, Luke Deane, Ben Cummins, Conor Hayes, Conor Fitzgerald, Will O'Sullivan, Ryan Cahill, Nicky Hayes, Daragh Crowley, Kane Rowlands, Aaron Coughlan, Ollie Murray, Josh Pennant & Kevin O'Brien.
Fe 16
We travelled to Togher on Thursday last for a Premier 1 Hurling League match.
The scene of many a battle between these teams over the years, the lads knew it would be one they'd need to dig deep for. We got off to a flyer and took some very good scores in the early stages. As expected the Barrs fought back and at the break we led by just one point.
The second half was a very even contest with both teams cancelling each other out for large patches. However in the final minutes The Barrs got a couple of points which gave them the win by a single point. Final score St Finbarrs 1-19 v Midleton 1-18
Thanks to the Fe 15's who helped out on the day.
Panel: Alex Quirke, Ben Cummins, Dave Scanlon, Dan O'Sullivan, Patrick Kane, Christian Murphy, Jack Fitzpatrick , Samuel Quirke, Cian Crowley, Daragh Crowley, Aaron Mulcahy, Daniel Cagney, Tim O'Sullivan, Adam Meade, Paul Connaughton, Ryan Cahill & Will O'Sullivan.
Concussion Awareness
On Friday night last Midleton Juvenile GAA Club arranged a talk on concussion for our club coaches across Midleton GAA, Midleton Ladies Football and Midleton Camogie Club. The talk was given by former Ardmore and Senior County player Johnny Hennessy. Johnny when approached by the Club very kindly agreed to talk to our coaches about his own personal experience of concussion and the devastating injuries he received and his road to rehabilitation following his brain injury sustained in a match in 2011.
Johnny began the talk by outlining that concussion was a brain injury and that players did not need be knocked unconscious to be deemed as having suffered a concussion. Knocks and blows to the head aren't in themselves the only contributing factor in sustaining a concussion. A hit to the back that results in a whip lash effect on the head and brain will also result in concussion. Johnny referenced the popular movie Concussion where Will Smith played Dr. Bennett Omalu, who brought findings to the NFL regarding the appearance of CTE (Chronic Traumatic Encephalopathy) in the brains of former NFL players, which highlights the worrying side effects and potential fatal results of playing on after suffering a concussion.
He then moved to talk about his own personal experience of sustaining a devastating concussion. He recounted in great detail that particular match day. He described each hit he endured in the match and also recounted his determination, despite the blows he sustained to stay on the field of play. This part of Johnnys talk was incredibly impactful. He described the 'toughening' out of the hits. The willingness to get up, say he was alright and play on. With two minutes left in the match, following a team mate asking him to leave the pitch advising him that his 'eyes were all over the place' he left the field. Johnny recounted then how things drastically went downhill for him and it was described by others, as 'he was in trouble'. He had dislocated his shoulder during the match but wasn't aware of it as paralysis was setting in on his right side and as a result he wasn't feeling pain. He recounted how his team mates caught him when he collapsed in the shower as his right leg gave way. His speech became difficult for others to understand. He had sustained a bleed on the brain. He was taken to Waterford Regional hospital and outlined how we spent a week there, 7 weeks in CUH and then got a place in the NRH where he spent 12 weeks getting intensive rehabilitation. Johnny described to the room of coaches how his brain bleed resulted in a road block in his brain. Johnny had to build new pathways in his brain to get around the road block. He described how he had to learn to talk again, write again with his left hand and walk again. There is no doubt but Johnny Hennessy is remarkable. His determination is admirable and his commitment to his own rehabilitation a true testament of his resolve. Midleton GAA Club are extremely grateful to Johnny for sharing his experience of concussion with us and we wish him and his family every good wish for the future.
Concussion is something that Midleton GAA Club will continue to keep a primary focus on. Coaches attend first aid training and all age groups carry, in their first aid bags, fact information sheets regarding identifying concussion signs and symptoms. The' if in doubt, sit them out' following a knock on a player will continue at the club. The safety of our players is of paramount importance to us. There is no doubt that collisions in contact sport are unavoidable, as Johnny highlighted in his talk it's the need to act swiftly following the first concussion is key to the successful recovery of players. It's the potential second or subsequent impact SIS (Second-impact syndrome) when a player suffers a second concussion before symptoms of an earlier one have subsided that can have devastating consequences.
It will be very much a collective effort required by all our Coaches, Players and Parents to bring about the best possible approach to dealing with concussion in our Club. Educating our players to watch out for one another and to be able to identify the signs and symptoms of concussion will be key to this approach. An involvement and encouragement of parents on the sidelines to alert a coach to a particular player who doesn't appear right to them and an overall understanding by both coaches and players that following a concussion players need adequate time for their brains to recover and it's only with medical clearance that a player should be allowed to return to training or playing.
Kellogg's Cúl Camp
Our eagerly anticipated first Cul Camp of the summer kicks into action on Monday next the 3rd of July at the Club. The camp co-ordinator is Alywin Kearney. The camp continues to grow from strength to strength each year and will run each day from 10am to 2.30pm. The Club arranged gear for collection in advance of the camp this year and many parents arrived to the Club on Friday evening to collect the gear ahead of Monday's camp start. For parents unable to attend Friday evening, your childs gear will be availabe to collect on Monday. As we will have over 200 boys attending the camp and all children are provided with the same gear it is imporant to clearly label your childs clothing and bag. We would also like to remind parents that as we can experience all seasons in any given day to ensure you apply suncream to the players before they arrive at the club and provide them with rain gear should the weather be unkind to us. Please ensure that each player has a healthy packed lunch and sufficient drinks for the day. The camp is open to players from our Fe6's to our Fe14's. We have coaches and helpers arranged for each of the days to ensure plenty of coaching experience, supervision and fun is provided to all our participants. The lunch time of the camp is scheduled to take place at 12.30pm, if parents are available and would be willing to help with the lunch time supervision and opening lunch boxes and drinks for our younger attendees please let Alywin Kearney know that morning if you can return to help on that given day at lunch time. In terms of dropping and collecting, please note for Health and Safety reasons the Club Gates will be closed. Children attending the camp will need to be walked into the club grounds for a 10am start and collected from inside the Club gates at 2.30pm.
Midleton GAA will host it's second Cul Camp open to both boys and girls from Tuesday the 8th of August to Friday the 11th of August from 10am to 2.30pm. The camp co-ordinator for our second camp is Ingrid Connaughton. The cost for a child attending a second camp, without receiving the kit and bag is €35.00. Bookings can be made via the Kelloggs Cul Camps website and we would encourage parents to book early to avoid disappointment.
Club Shop
The Club Shop is open each Saturday from 10-11.30am.