Midleton Gaa, Camogie & Ladies Football Club News
30 April, 2017
Intermediate Hurling
Last Sunday afternoon we defeated Grenagh in the preliminary round of the Championship in Caherlag by 2-16 to 2-14. We led at the break having scored two early goals by 2-08 to 1-07. The second half was a very tight affair but our lads dug deep and held out for a good win.
We now play Milford in the next round of the Championship possibly on 14th of May.
Team: Joe Loftus, Billy O'Shea, Gavin Bagnell, Seanaidh Smyth, Luke Dineen, Cillian Hurley, Elliot Mulchay ( 0-01), Sean O'Farrell, Leslie Coughlan, Padraig O'Keeffe (0-03), Padraic Nagle (1-02), Eoin Walsh (1-00), Cormac Beausang (0-08, 6 frees) & Darren Quirke (0-01). Subs used Kieran Mulcahy (0-01) & Ian Kennefick, not used Byran Rossiter, Adam Daly, Peter Dowling, Johnny Comer, Padraig O'Brien, Pat Stack, Micheal Keohane, Luke Smith, Conor Evans & Harry Wall.
Referee Seamus Crowley of Ardigeen Rangers (Timoleague).
Junior Hurling
Training will take place on Monday night in the Club @ 7.30pm for all players interested in playing Junior B & C.
Fe 21 Hurling
Our hurlers have been dealt a tough draw in the County Premier 1 Championship with a first round game against last year's champions Douglas.
Minor Hurling
Our minor hurlers defeated Bishopstown recently in the Premier 1 Hurling League at home by 5-20 to 1-11 and in the Premier 3 League our hurlers defeated Mallow by 3-20 to 2-11.
Team v Mallow: Cormac Higgins, Mark Daly, Conor O'Farrell, Alan Power, Andrew Nestor, Eoin Mitchell, Cian Murray, John Dwyer, Griffin Hurley, Kian Farmer, Harry Wall, Evan Rowlands, Ronan Lynch, Arthur Ngangu, Aidan O'Connell & Jake Shanahan.
Premier 2 Football League result St Michaels 1-12 v Midleton 1-06
Team: Jake Shanahan, Luke Smith, Sean O'Sullivan, Alan Power, Mark Daly, Eoin Mitchell, Kevin Finn, Cian Murray (1-04, 3 frees), Kian Farmer, Cathal Gunning, Shane Finn, Loic Fanloiga, Griffin Hurley, Christopher Power & Arthur Ngango. Subs Tommy O'Connell, Craig Barry & Adam O'Connell.
Cork Fe 17 Hurling
History was made in Fraher field, Dungarvan last Tuesday evening when Cork won the inaugural Munster Hurling Fe 17 Championship defeating Waterford by 3-13 to 1-12 in the final. Well done to our club players Tommy O'Connell, half forward, Kian Farmer was a late substitute and Kevin Finn was unused, selectors Donal Burke, Sean Crowley & John Considine. Cork will now play Galway in the All Ireland semi final in July.
Cork Minor Hurling
Best wishes to our club player Sean O'Leary Hayes who has the honour of captaining the Cork minor hurlers on Wednesday next when they take on Waterford in Pairc Ui Rinn in the first round of the Munster Championship @ 7pm.
Fixtures
Tuesday 2nd Senior Hurling League v Na Piarsaigh away @ 7.30pm
Wednesday 3rd Munster Minor Hurling Championshipo Cork v Waterford Pairc Ui Rinn 7pm
Friday 5th Junior Football League v Lisgoold away @ 7.30pm
Sunday 14th Intermediate Hurling Championship v Milford TBC
Saturday 20th Intermediate Hurling League v Barryroe at home @ 7.30pm
Sunday 28th Senior Hurling Championship v Carrigtwohill in Pairc Ui Rinn @ 2.15pm
Friday 2nd June Intermediate Hurling League v Ballygarvan away @ 7.30pm
Check the Club website for regular updates on all fixtures.
Last Man Standing
As a consequence of all ten remaining participant's losing over the weekend all ten have been reinstated and are back in the race for next weekend.
How costly was Southampton's last minute penalty miss for some !!
Healthy Club Project
Darkness Into Light Midleton GAA, Ladies Football & Camogie Clubs will take part as a team on Saturday 6th of May walk starts 4.15am. Thanks to all who helped out at registration last Thursday in GAA Club if you missed out you can still register at MyPlace (opposite Supervalu) or on-line at www.darknessintolight.ie click register and choose register as a team (Midleton GAA Club) you must have an email address to register online. Cost: Adult 18+ €25, Student 16+/Senior 65+/Unemployed €15 all include a free T-shirt, U16's Free but will NOT get a T-shirt. All U16's must be accompanied by an adult.
Team Midleton GAA will meet outside GAMESTOP (Market Green) on Saturday 6th at 3.50am for a group photo!! – see you all then.
25th Anniversary of the New Stand Official Opening 3rd May 1992
The official opening of the 'new stand' by Iar Uachtarain Cumann Luthchleas Gael Mr. Con Murphy took place on the 3rd May 1992. The stand was blessed by Club President Canon Bertie Troy and the ceremonies were overseen by Club Chairman Patrick Horgan. The cost of the stand and the terracing around it came to £16,000. All the funding for this work was raised by the development committee including a lottery grant of £8000.
The first project undertaken by the development committee was the steps immediately outside the club pavilion and the building of that stand and new terracing at that side of the grounds concluded that phase of the project. The materials for the stand were supplied by local companies including Chadwicks, Muckley Tool Hire, Healy Bros, Ryan Plant Hire, Sheehy Bros, with Munster Steel providing the steel for the pillars and roof of the structure.
The official 'opening' of the stand was followed by a Senior Football challenge between Cork and Kildare. After the game the players were treated to a meal afterwards in the club pavilion, the cost of 82 dinners for all the players and officials coming to £556.00. The net income from the gate was £2,281 this money being used to pay for the work.
Other work carried out by the Development committee that year included a new press/video centre (across from the pavilion) and the clearing of the ground at the rear entrance to the grounds (near where the ball alley is now located). Events organised that year included the golf classic at which golfing great Christy O' Connor senior gave a very well presented and received golfing lesson to all attendees. Christy O Connor was sponsored by Volkswagen at the time and his presence was organised by David Quirke of our present Golf classic sponsors Blackwater Motors. Two poker classics were also organised but as the returns from these were not great these were discontinued. There was a very well received Cork Examiner photographic exhibition in the hall and a programme for Jimmy Magee's Radio Sports quiz was also recorded in the hall. A Midleton team consisting of Ken Murray, Sean O Brien and John Slattery took on other teams in the competition but despite doing very well did not progress. This was a very popular programme at the time with Nemo Rangers doing particularly well over a number of series.
The committee also came across Film footage of the work being carried out on the development of Clonmult Memorial park and the official opening of the grounds in 1962. This film was owned by the late Paul Butler and after some initial reluctance on his part we managed to get some film from him and Brendan Barry transferred this on to a video tape.
Gaa Golf Classic
Our annual Juvenile Gaa Golf Classic has been confirmed for Wednesday & Thursday 5/6th of July at East Cork Club, further details will be announced in the coming weeks.
Ladies Football
Midleton Ladies Football will take part in this years Darkness into Light Walk for Pieta House along with Midleton Gaa and Camogie Clubs. If you have registered to walk please keep an eye on Facebook and Twitter for a meeting time and place.
There will be no training this Bank Holiday Monday. We will return to the Tech Pitch on Monday 8th May from 6-9 pm for all age groups.
U16 Ladies Football League v St Colman's. After a tough start with St Colman's managing to win most of the play our girls settled into the match and came out victorious.. A great team effort from the u16 and the U14 girls who played so well.
Final score Midleton 2:13 to St Colman's 0:2.
Team: Megan Kelly, Denise Collins, Ellen Ryan, Clara stack, Rhea Buckley, Katie Horgan, Leah Daly, Lucy Wallace, Sadhbh Beausang, Lucy Kenneally, Ella Tarrant, Misha Daly Harkin, Orla Evans, Mia Tarrant, Rayanna Power, subs Dianne Perkins Chloe Garde.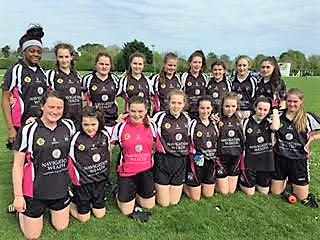 Camogie
Our Fe 14s continued their league campaign on Wednesday last in Ballinacurra against Ballinhasig with a comprehensive win. This bunch of girls give huge commitment and their efforts are paying off as they go from strength to strength.
Next league match v Dungourney this week date to be confirmed.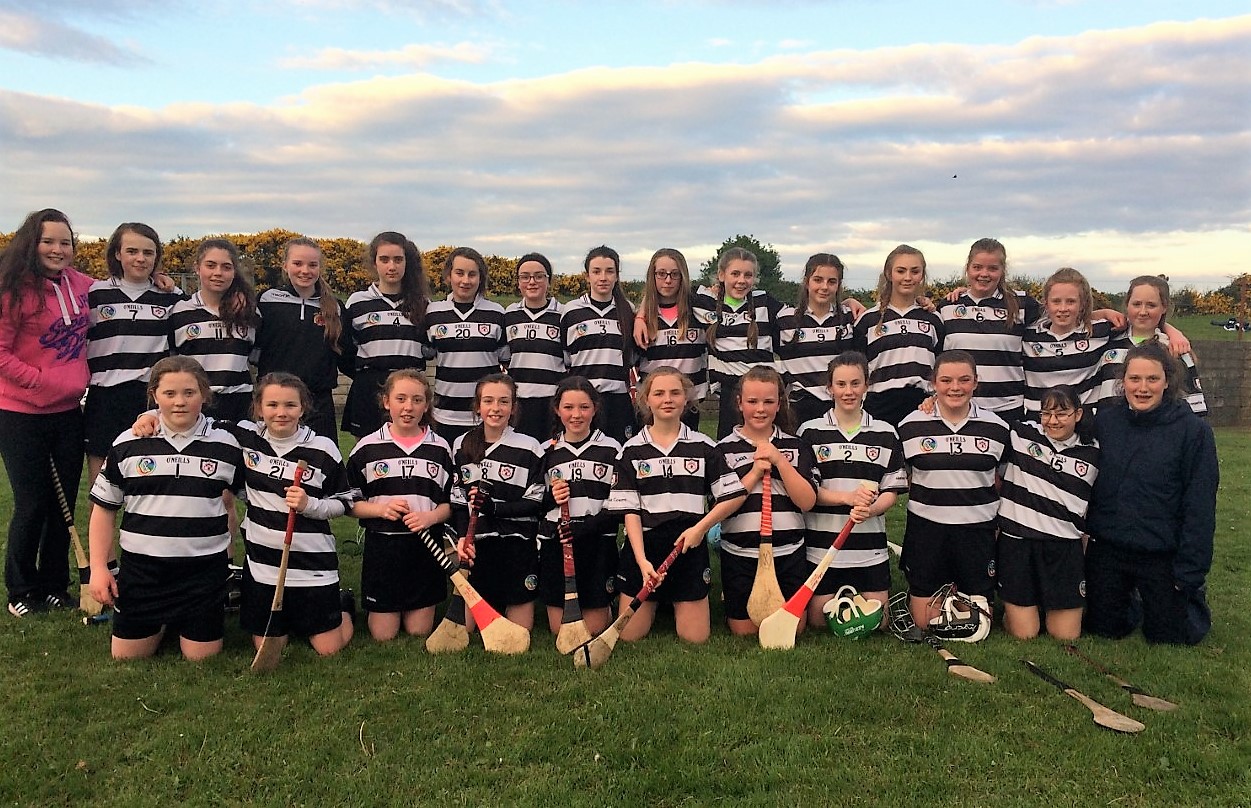 Lotto
Our Lotto Jackpot was €11,400 there was no winner, the Lucky Dip winners were Rachel Walsh Hogan, Diarmuid Ó Dalaigh, Mary Egan, Liz Manning & Rita O'Keeffe , next week's Jackpot will be €11,600
Tickets are on sale at the Club Bar, O'Neills Bar, Linehan's Bar, Maple Leaf Bar, O' Farrell's Butchers, Frank Murphy Butchers, Pat Walsh Paints, Chadwicks, Teach Beag & Niall Mac's Bars.
Our Online Lotto is now available, logon to the Club homepage www.midletongaa.com to purchase your ticket.

BINGO takes place next Friday evening @ 8pm in the GAA Pavilion with a weekly guaranteed Jackpot of €1,000.
Juvenile
Fe 9
Best of luck to all the Fe 9 boys making their communion over the next few weeks.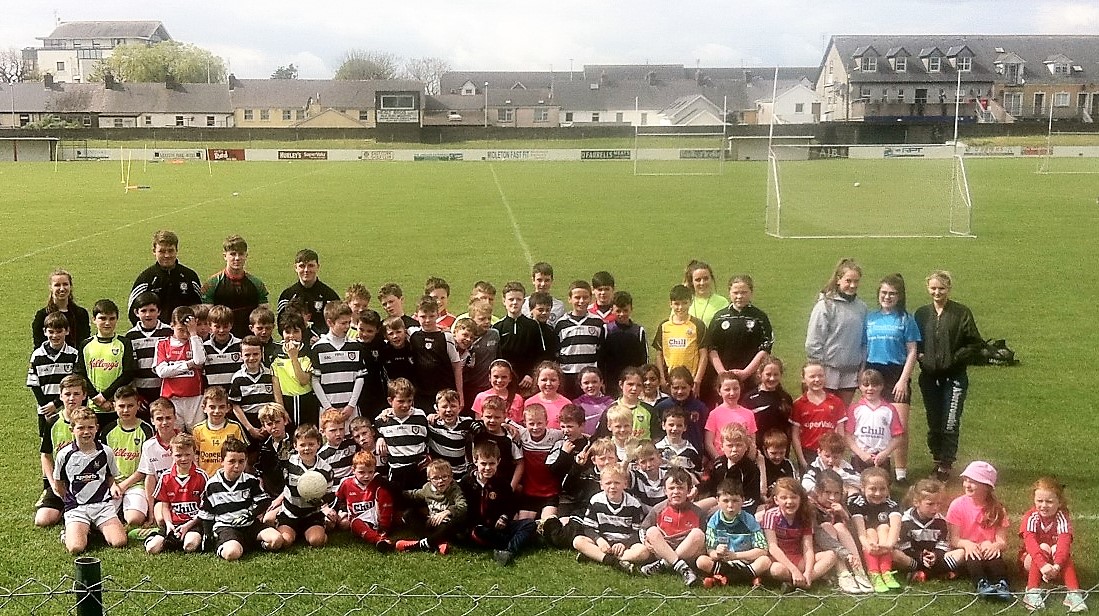 Fe 12
Midleton 5-03 v Ballincollig 1-04
In the C3 League we had a fantastic day recently with a home game. Our lads started well with a fine opportunist goal by Zak Smith, five minutes later the nippy full forward struck again with a great catch at the edge of the square and a superb strike to the top corner of the net. Ballincollig piled on the pressure but with Darragh Aherne in flying form in goals and a strong full back line of Sean Cronin, Conor Williams (captain) and Rory Lester battling hard to keep Ballincollig at bay. Our midfielders Darragh Fitzgerald and Evan Mc Grath worked tirelessly in midfield covering every blade of grass on the pitch. They got a goal just before half time but the magpies went straight down the field and Larry Ward struck for a cracking goal to keep the pressure on. Daniel Shine and Alex Cahill were playing excellent up front continuously hassling their backs. Zak got a third goal and followed shortly with a point, Darragh Fitzgerald scored a fine point from a difficult angle keeping the magpies flying high. Our backs never gave up with Oisin Berdassa and Darragh Higgins clearing every ball that came their way. Liam O' Neill struck for our final goal just on the final whistle. Overall a huge team effort and massive commitment by each and every player on the field, onwards and upwards, keep up the good work.
Midleton 5-03 v Kilara 0-07
On a dreary Saturday afternoon we travelled to Araglen a football stronghold of North Cork. After traveling in large numbers the magpies started well with Darragh Scanlon getting in for a goal on the five minute mark. Kilara responded well with two great scores. Conor Williams and Alex Moloney were defending well and with great running work from Tadgh Bohane and Tadgh O' Leary we kept the pressure on with a Niall Lang goal and point followed quickly by points from Darragh Scanlon and Darragh Fitzgerald. The quick feet and thinking of Cian Lambe saw him through for a goal just before half time.
A strong wind in the second half saw Kilara kick three unanswered points but when Cian got on the end of a ball there was no stopping him and he finished with a wonderful strike to the back of the net. Eoin Higgins and Evan Mc Grath worked tirelessly, and in the dying minutes Zak Smith got in for a lovely goal leaving the final score line 5-03 to 7 points. The mentors would like to think all the magpies and parents for travelling on the day. A huge performance by everyone well done all.
Panel: Darragh Ahern, Oisin Berdassa, Tadhg Bohan, Oscar Brennan, Alex Cahill, Paul Connolly, Sean Cronin, Darragh Fitzgerald, Eoin Higgins, Alex Howard, Cian Lambe, Niall Lang, Rory Leister, Evan Mc Grath, Alex Moloney, Samuel Morrissey, Tiernan O Connell, Thomas O Connor, Tadhg O Leary, Cormac Ryan, Daniel Shine, Zak Smith, Larry Ward, Conor Williams and Darragh Scanlon.
Fe 15
We had a great win over Blackrock in the first round of the C3 Championship. Throughout the game Blackrock played with a lot of intensity and were better at taking their scores and got some very good points. We fought right up to the final whistle and came away with win on a scoreline of 4-04 to 1-10.
Team: Brion Sanderson, Christopher Leahy, Conor Hayes, Daithi Magen, Trevor Shine, Daniel Cagney, William O Sullivan, Aaron Coughlan, Ben Cummins, Nickey Hayes, Ryan Cahill, Conor Fitzgerald, Luke Deane, Darragh Crowley, Ollie Murray, Alex Pranger, Aaron Coleman, Jack McKay, Joshua Pennant, Kevin O Brien and Rory Lang.
Last Friday our hurlers travelled to Carrigaline to play Sars in the semi-final of the Premier 1 Hurling Championship. We knew facing this game that it was going to be a tough encounter. It started off fast with Sars taking some good scores. Half time came and we found ourselves down by five points. The second half started with the same intensity but Sars were better at taking their scores, at this stage we knew we could not catch up and they ran out winners on a scoreline of Sars 2-14 v Midleton 1-09.
Team: Brion Sanderson, Ciarmhac Smyth, Charlie Walsh, Conor Hayes, Gavin Reddy, Jack Fitzgerald, Patrick Kane, Leo Hennessy, Alex Quirke, Daniel Cagney, Darragh McCarthy, Conor Fitzgerald, Paul Connaughton, Ryan Cahill, Darragh Crowley, Ben Cummins, Luke Deane, Aaron Coughlan, Christopher Leahy, Nickey Hayes, William O Sullivan and Trevor Shine.
Divisional Squads
Last weekend was a busy one with the Divisional Hurling squads all out together, the following players represented us with Imokilly;
Fe 14s were in Castlemartyr - Brion Saunderson, Ciarmhac Smyth, Alex Quirke, Evan Kelly, Evan McCarthy and Darragh McCarthy.
Fe 15s were in Mallow - Paul Connaughton, Patrick Kane, Leo Hennessy, Jack Fitzgerald and Charlie Walsh
Fe 16s were in Ballyhea – Aaron Mulcahy & Gary Carroll, both Christian Murphy and David Scanlon are both currently out injured.
La na gClub
Midleton GAA Club are marking La na gClub this year by supporting our Health & Well Being Committee and encouraging all our members, coaches and players to take part in the Darkness Into Light Walk. The walk will take place on Saturday the 6th of May at Market Green, Midleton at 4.15am. Pieta House provides a free, therapeutic approach to people who are in suicidal distress and those who engage in self-harm.
Darkness Into Light is a movement against suicide. Money raised helps keep Pieta House's life-saving services free and helps to broaden their services so that they can reach those who need them. Please if you can support this very worthy cause and help Midleton GAA Clubs to mark La na gClub in such a positive and meaningful way.
Club Shop
The Club Shop will be CLOSED this Saturday due to the Darkness into Light walk.