Midleton GAA , Camogie & Ladies Football Club News
17 April, 2017
Junior Football
Last Thursday evening we were defeated in Round three of the East Cork Junior A Championship by Fr O'Neills in Youghal on a scoreline of 1-10 to 1-07.
The sides were dead locked at the break at 1-05 a piece, a number of injuries disrupted our rhythm and they finished stronger.
One interesting fact from the game, we used four goal keepers … Patrick Dunlea started but went off injured, Josh Deady replaced him but was later black carded, Declan Ryan then took over to be replaced late in the second half by Luke Dineen who made a few great saves … surely some sort of record !
Well done to the players for their efforts over the campaign and to the management team of Davy O'Brien, Sean Corcoran, Cristoir Ó Cashaigh, Kieran Mulcahy and Declan Ryan.
Team: Patrick Dunlea, Seanaidh Smyth, Eoin Walsh, Alan Stanton, Cillian Hurley, Luke Dineen, Padraig O'Farrell, Aidan Ryan, Kieran Moloney (0-01), Leslie Coughlan, Declan Ryan (1-01 frees), Cormac Beausang, Johnny Comer (0-03, frees), Alywin Kearney & Kieran Mulcahy (0-02).
Subs used Josh Deady, Sean O'Farrell & Eoin Moloney, not used Eoin Ferriter, Jordan Roche Brendan Ferriter, Adam Daly, Peter Dowling & Cathal Gunning.
Referee Brian Murphy, Carrigtwohill.
On Easter Monday last we put up a very brave performance in the East Cork Junior B Football Championship first round against Bride Rovers first team in Lisgoold. Fielding a team mixed with youth and experience we lost out on a scoreline of 2-11 to 1-06.
Well done to everybody associated with getting this team out, the selectors, Football secretary John Ferriter and the players for committing to the game.
Team: Conor O'Farrell, James O'Brien, Liam Clohessy, Eoin Mitchell, Jerome Curtin, Micheal Keohane, Adam Daly, Sean O'Meara (0-01), Paul Barry (0-02, 1 free), Brendan Ferriter, Kevin Daly, Andrew Rea (1-00), Cathal Gunning, Keith Ryan (0-02 frees) & Eoin Collins. Subs used Barry Fitzgerald, Davy O'Brien & Willie O'Brien (0-01).
Referee Brian Murphy, Carrigtwohill.
Cork Fe 17 Hurling
Well done to our Club players Tommy O'Connell, half forward (0-05), Kevin Finn & Cian Farmer (0-01) both used substitutes last Tuesday evening when Cork defeated Limerick at the Gaelic Grounds by 0-16 v 0-06 in the Munster Hurling Championship first round.
This is the inaugural year of the U17 hurling competition as the Minor hurling competition will no longer exist at U18.
Best of luck to the lads and selectors, Donal, Sean & John when Cork play Tipperary in the semi final on Tuesday next 18th in Pairc Ui Rinn @ 7pm
Fixtures
Thursday 20th Premier 1 Minor Hurling League v Bishopstown at home @ 6.30pm
Saturday 22nd Senior Hurling League v Na Piarsaigh away @ 7.30pm
Sunday 23rd Premier 3 Minor Hurling League v Douglas away @ 2pm
Check the Club website for regular updates on all fixtures.
Membership
Membership for the Hurling & Football is now due , please contact Membership Officer Terence Mc Carthy or your Team Manager to arrange payment as soon as possible.
Adult Membership is as follows; Waged Adult Player €150, Student Adult Player €100 Waged Adult €80 (€150 with gym), Unemployed Adult €30 (€100 with gym)
OAP >66 yrs €30. Please note that Gym membership is included in a player's membership.
Healthy Club Project
To help celebrate Lá na gClubanna Midleton Gaa, Ladies Football & Camogie Clubs will take part as a team in Pieta House Darkness Into Light Walk/Run 2017.
On Saturday 6th of May at Market Green, Midleton @ 4.15am
Cost: Adult 18+ €25, Student 16+/Senior 65+/Unemployed €15 all include a free T-shirt, U16's Free but will NOT get a T-shirt, all U16's must be accompanied by an adult.
Why Walk?? Darkness into Light is vital to Pieta House fund raising to keep services free, to raise awareness and to bring people together as Pieta House do everything they can to bring about a suicide free world. The vision at Pieta House is to create a world where suicide, self-harm and stigma can be replaced by hope, self-care and acceptance – please see www.pieta.ie for more information.
"I can't do it" never yet accomplished anything "I will try" has performed miracles!!
If you would like to be part of the team please text 087-241210 with your name or email midletongaahealthyclubproject@gmail.com
Condolences
The Club Executive would like to express their deepest sympathys to the family of the late Dan O'Sullivan, Beechwood, father of Club minor player Sean.
Gaa Golf Society
Our first outing of the year took place last Saturday afternoon at East Cork Golf Club with a great turnout of over fifty golfers for the Easter Hamper kindly sponsored by Bernard Cashman of Cashman Car Sales. The course was playing very long and with the summer rules in big scores were hard to come by, it took a fantastic round of 39 points from Liam Walsh (5) to take the overall honours.
Results: Category 1 – 1st Pat O'Brien, 2nd Ger O'Brien & 3rd Gerry Mc Carthy
Category 2 – 1st Liam Williams, 2nd Martin Greaney & 3rd Michael Hayes
Category 3 – 1st Tim Crotty, 2nd Mick Swayne & 3rd Paudie O'Keeffe
Front 9 – Donal Cantwell, Back 9 – John Droog & Visitor – Pat Beirne
Next Outings - Frank O Sullivan's Captains prize, Thursday May 25th, East Cork G C, 5.30 shotgun start and away outing to Mitchelstown on Saturday 17th June, tee time 12.00 to 1.10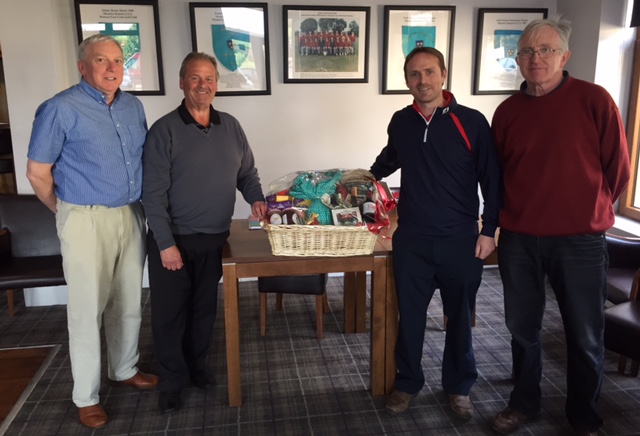 Liam Walsh winner of the Easter Hamper recieving his prize from Frank O'Sullivan, Bernard Cashman & Jim O' Sullivan
Last Man Standing
After eight weeks of Premiership games we are now down to fourteen punters in the race for victory, check out the weekly team selections on the homepage of our website.
Ladies Football
Training for all age groups is now taking place at the Tech Pitch from 6-9pm. Please take care when parking on St Mary's Road. Our Annual Bingo took place on Easter Monday night, many thanks to all those who turned up to support this fundraiser for our Club. A huge thanks to Kia Motors Motorview Midleton who sponsored this event.
Check out Midleton News and the East Cork Journal for photo's.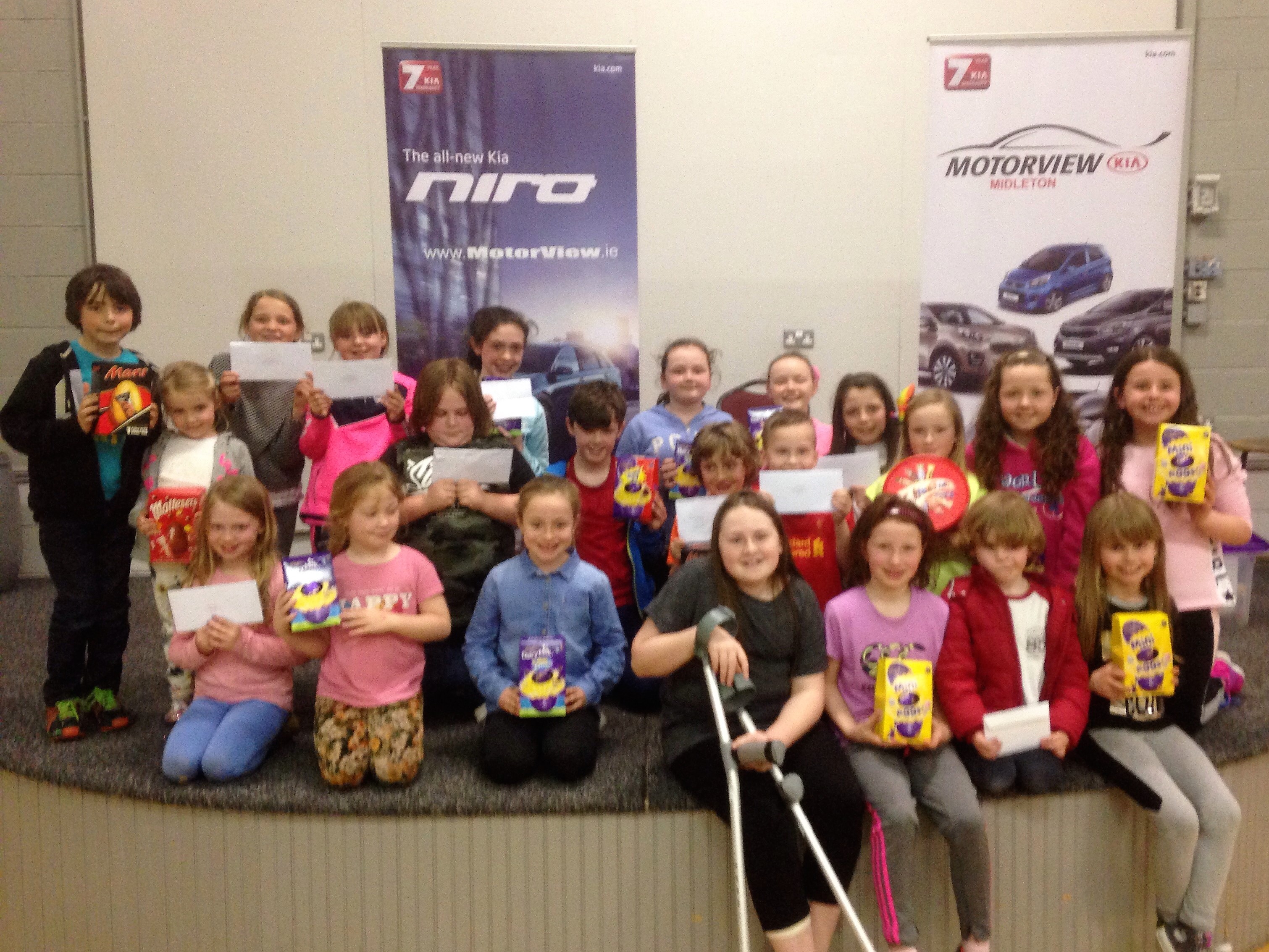 Camogie
Our under 12's gathered at Clonmult Memorial Park early on Easter Monday morning to begin the long bus journey to Dublin for the caman to Croker under 12 blitz, making history in doing so as these nineteen players became the first Midleton Camogie girls to play in Croke Park. With 64 clubs taking part we met Ballyduff Upper (Waterford) , Skehena Menlough ( Galway) & Loc Mor Dal gCais ( Antrim) without losing a match. The event was extremely well organised, a great opportunity for the girls and the club and a great day out. Thanks to all involved especially the parents who brought their daughters from all corners of the country to join their team, thanks to the coaches and the organisers . Well done to the under 12 team on this historic occasion a very proud day for our club. Magpies ABU !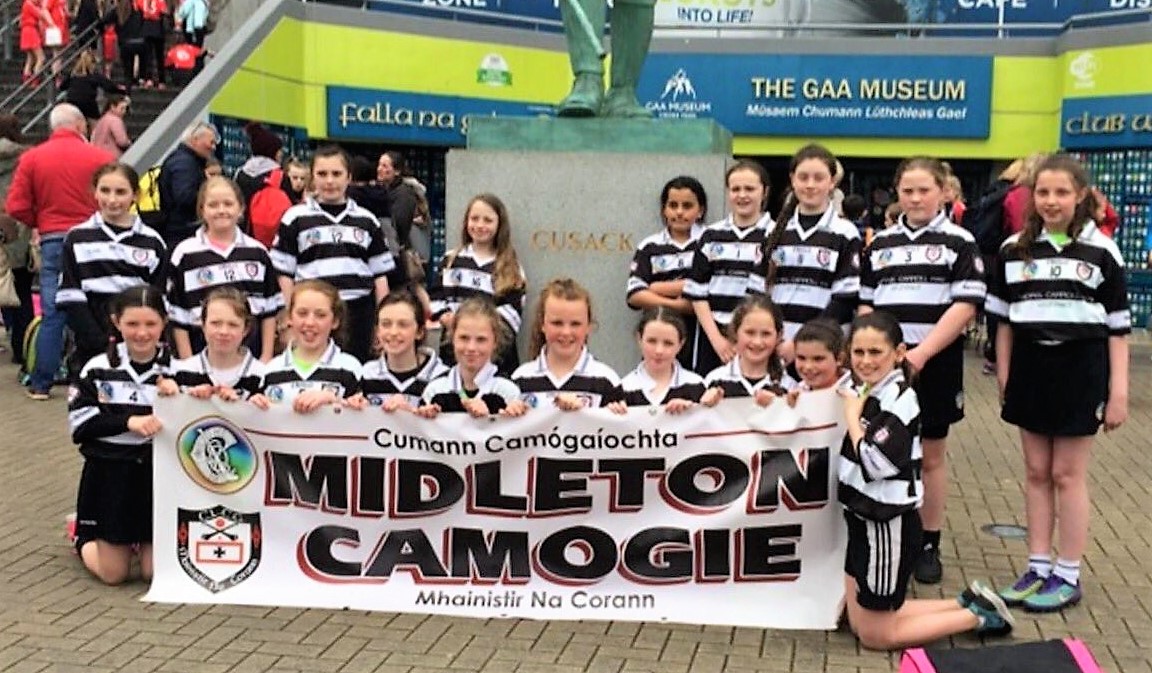 Lotto
Our Lotto Jackpot was €11,000 there was no winner, the numbers were 5,7,12 & 14, the Lucky Dip winners were Doris O'Regan, Gerry Higgins, Breda Smyth, Mick Mc Carthy & James O'Regan, next week's Jackpot will be €11,200
Tickets are on sale at the Club Bar, O'Neills Bar, Linehan's Bar, Maple Leaf Bar, O' Farrell's Butchers, Frank Murphy Butchers, Pat Walsh Paints, Chadwicks, Teach Beag & Niall Mac's Bars.
Our Online Lotto is now available, logon to the Club homepage www.midletongaa.com to purchase your ticket.

BINGO takes place next Friday evening @ 8pm in the GAA Pavilion with a weekly guaranteed Jackpot of €1,000.
Juvenile
Fe 15
On Friday the 7th of April we travelled to Dungourney to take on Kiltha Óg in our first hurling league match. Each and every player put in an outstanding performance paying off on the night winning on a scoreline 1-13 to 1-08.
Team: Brion Sanderson, Ciarmhac Smyth, Patrick Kane, Conor Hayes, Gavin Reddy, Jack Fitzgerald, Liam Kelly, Leo Hennessy, Alex Quirke, Paul Connaughton, Ryan Cahill, Conor Fitzgerald, Daniel Cagney, Darragh Crowley, Luke Deane, Aaron Coughlan, Christopher Leahy, Nickey Hayes, Darragh McCarthy, and William O Sullivan.
On Sunday 9th of April we welcomed Sars to Clonmult Memorial Park for the first hurling C3 League match and the Magpies fully deserved the win. In a very commanding style of hurling played from end to end with relentless accuracy in passing, tackling and scoring, we ran out strong winners on a scoreline 8-08 to 1-08.
Team: Brion Sanderson, Christopher Leahy, Conor Hayes, Daithi Magan, Liam Kelly, Daniel Cagney, Trevor Shine, Alex Pranger, William O Sullivan, Luke Deane, Ryan Cahill, Nickey Hayes, Kevin O Brien, Darragh Crowley, Ollie Murray, Conor Fitzgerald, Joshua Pennant, Rory, Lang and Aaron Coleman.
Fe 16
We travelled north side to the Glen for our opening Premier 1 Hurling League game last Tuesday. We got off to a good start and looked stronger and were quicker to the ball. However our scoring was slow and some makeable scores squandered. Early in the second half it looked like the Glen lads might get back into the game but our lads upped their game and fought hard. Better work from the forwards mid way through the second half saw the scores come and we closed out the game well. Final score Midleton 2-17 v Glen Rovers 2-12
We wish David Scanlon a quick recovery from his recent injury.
Team: Alex Quirke, Patrick Kane, Christian Murphy, Leo Hennessy, Adam Meade, Jack Fitzgerald, Dan O'Sullivan, Samuel Quirke, Ethan Daly, Gary Carroll, Aaron Mulcahy, Charlie Walsh, Tim O'Sullivan, Cian Crowley, Paul Connaghton, Ryan Cahill, & Conor Hayes.
Club Shop
The Club Shop will be open next Saturday from 11 to 12.