Midleton GAA , Camogie & Ladies Football Club News
09 April, 2017
Junior Football
In round two of the East Cork Championship our footballers had a fine win over Carrigtwohill last Thursday night in Carrigtwohill on a score of 3-12 to 0-11.
We now progress to round tree where we play Fr O' Neills next Thursday evening.
Team: Patrick Dunlea, Seanaidh Smyth, Eoin Walsh, Darren Quirke, Luke Dineen, Seamus O'Farrell (0-01), Padraig O'Farrell, Aidan Ryan, Kieran Moloney (0-01), Leslie Coughlan (0-01), Declan Ryan (1-04, 1-02 frees), Cillian Hurley, Cormac Beausang (1-03), Alywin Keraney & Kieran Mulcahy (1-01).
Subs used Alan Stanton & Brian O'Sullivan (0-01), not used Eoin Ferriter, Jordan Roche & Michael Kitching. Referee Jim Hennessy (Dungourney)
Senior Hurling
We lost out to a very sharp Ballymartle side last Saturday evening in the League at home by 0-18 to 0-12. With their championship game coming up in the first week of May they started very well and led at halftime by 0-11 to 0-08. Their defence was on top in the second half and we found scores hard to come by as a result they ran out winners by 0-18 to 0-12.
Team: Tommy Wallace, Seanaidh Smyth, Alywin Kearney, Padraig O'Farrell, Padraig O'Keeffe, Finbar O'Mahony, Luke Dineen, Darren Quirke, Sean O' Meara (0-01), Paul Haughney (0-03), Eoin Walsh, Luke O' Farrell (0-02), Cormac Beausang (0-02), Aidan Ryan & Cormac Walsh (0-04, 3 frees).
Subs used Sean O'Farrell & Declan Ryan, not used Ian Kennefick, Joe Loftus, Elliot Mulcahy & Padraig O' Brien. Referee Joe Larkin (Ballinora)
Intermediate Hurling
Last Sunday morning we hosted Kilbrittan in the County League and came away with the win after a very good performance. We led at the break 1-10 to 0-08 and despite being down to fourteen men for most of the second half we won on a scoreline of 2-16 to 0-16.
Team: Joe Loftus, Alan Stanton, Declan Ryan, Elliot Mulcahy, Leslie Coughlan, Luke Dineen, Darren Quirke (0-01), Sean O'Farrell (0-02), Kieran Mulcahy (0-01), Eoin Walsh (0-01), Padraic Nagle (0-02), Peter Dowling (0-01), Cormac Beausang (0-04, 3 frees), Micheal Keohane (0-02) & Ian Kennefick (1-01).
Subs used Pat Stack, Padraig O'Brien (1-01,1free), Seanaidh Smyth & Eoin Ferriter.
Referee Arthur Murphy (Killeagh).
Minor
Our Premier 1 hurlers had a good workout with Sars in a challenge last Thursday evening at home. Team: Cormac Higgins, Alan Power, Conor O'Farrell, Cathal Gunning, Mark Daly, Eoin Moloney, Luke Smith, Tommy O'Connell, Shane Finn, Kevin Finn, Eoin Mitchell, Cian Farmer, Harry Wall, Christopher Power & Evan Rowlands. Subs used John O' Dwyer, Christian Murphy, Garry O Carroll, Ronan Lynch, Andrew Nestor, David Scanlon, Adam O'Connell and Griffin Hurley.
Last Saturday our Premier 3 hurlers took on Na Piarsaigh in the League and lost out by 1-16 to 0-11. Panel: Ryan O'Riordan, Alan Power, Conor O'Farrell, Mark Daly, Cian Murray, Eoin Mitchell, Samuel Quirke, Garry O'Carroll, John O'Dwyer, Griffin Hurley, Harry Wall, Ronan Lynch, Jake Shanahan, Arthur Nganga, Adam O'Connell, Cian Crowley & Coleman Quinn.
Cork Fe 17 Hurling
Best of luck to our Club players Tommy O'Connell, Kevin Finn, Kian Farmer & Sean O'Sullivan on Tuesday evening next when the Cork hurlers take on Limerick at the Gaelic Grounds @ 7pm.
Fixtures
Wednesday 12th Intermediate Hurling League v Ballygarvan @ 7.15pm
Thursday 13th Junior A Football Championship v Fr O'Neills TBC
Saturday 15th Senior Hurling League v Ballyhea away 6pm
Please note that it is County Board Policy that no Games or Training take place on a Good Friday.

Membership
Membership for the Hurling & Football is now due , please contact Membership Officer Terence Mc Carthy or your Team Manager to arrange payment as soon as possible.
Adult Membership is as follows; Waged Adult Player €150, Student Adult Player €100 Waged Adult €80 (€150 with gym), Unemployed Adult €30 (€100 with gym)
OAP >66 yrs €30. Please note that Gym membership is included in a player's membership.
Healthy Club Project
To help celebrate Lá na gClubanna Midleton Gaa, Ladies Football & Camogie Clubs will take part as a team in Pieta House Darkness Into Light Walk/Run 2017.
On Saturday 6th of May at Market Green, Midleton @ 4.15am
Cost: Adult 18+ €25, Student 16+/Senior 65+/Unemployed €15 all include a free T-shirt, U16's Free but will NOT get a T-shirt, all U16's must be accompanied by an adult.
Why Walk?? Darkness into Light is vital to Pieta House fund raising to keep services free, to raise awareness and to bring people together as Pieta House do everything they can to bring about a suicide free world. The vision at Pieta House is to create a world where suicide, self-harm and stigma can be replaced by hope, self-care and acceptance – please see www.pieta.ie for more information.
"I can't do it" never yet accomplished anything "I will try" has performed miracles!!
If you would like to be part of the team please text 087-2412010 with your name or email midletongaahealthyclubproject@gmail.com
Gaa Golf Society
Our first outing of the year, the Easter Hamper, takes place next Saturday, April 15th at East Cork Golf Club, tee time 12.30 to 1.30. This outing is once again very kindly sponsored by Bernard Cashman of Cashman Car Sales. The society would like to thank Gary Johnson for his work as captain in 2016 and to wish the best of luck to Frank O Sullivan, our captain for 2017. As always, new members are very welcome to join. Perhaps existing members might know somebody who might be encouraged along for a few social games of golf.
Other fixtures: Frank O Sullivan's Captains prize, Thursday May 25th, East Cork G C, 5.30 shotgun start and away outing to Mitchelstown, Saturday 17th June, tee time 12.00 to 1.10
Ladies Football
Training for all age groups will now take place at the Tech Pitch. U8's are from 6-7pm while all other group are from 7-9pm. Please take care as to where you park your car on St Mary's Rd. You can also access the pitch by driving to the back of St Colmans school.
Don't forget our annual Fundraiser. A family Fun Bingo night will take place on Easter Monday in the Gaa club at 7pm. All are welcome to attend. This event is kindly sponsored by Kia Motors Motorview Midleton Cork.

U16 League - Midleton and Bride Rovers played on Monday 3rd April in Rathcormac.
Two early goals by them put us under pressure from the start with the opposition maintaining a steady lead throughout the game. Our girls came back strong in the second half but it wasn't to be their night with a number of unlucky shots at goal. A great effort by all of the girls.
Final score. Midleton 5-04 v Bride Rovers 7-08.
Team Amy O' Neill, Megan Kelly, Ellen Ryan, Leah Hogan, Lizzie Perri, Rhea Buckley, Liah Daly, Ali Smith, Lucy Wallace, Lucy Kenneally, Ella Tarrant, Sadhbh Beausang, Rihanna Power, Lauren Hodnett, Katie Horgan. Subs Mischa Daly Harkin, Orla Evans, Dianne Perkins, Chloe Garde, Mia Tarrant & Denise Collins.
Camogie
Fé 16 - We travelled to Watergrasshill on Wednesday last continuing our league programme. Despite being missing a number of players due to Junior Cert commitments we came out on top with a score line of 2.08 to no score. Our next league outing is Wednesday evening at home v St Fanahans at 6.30pm.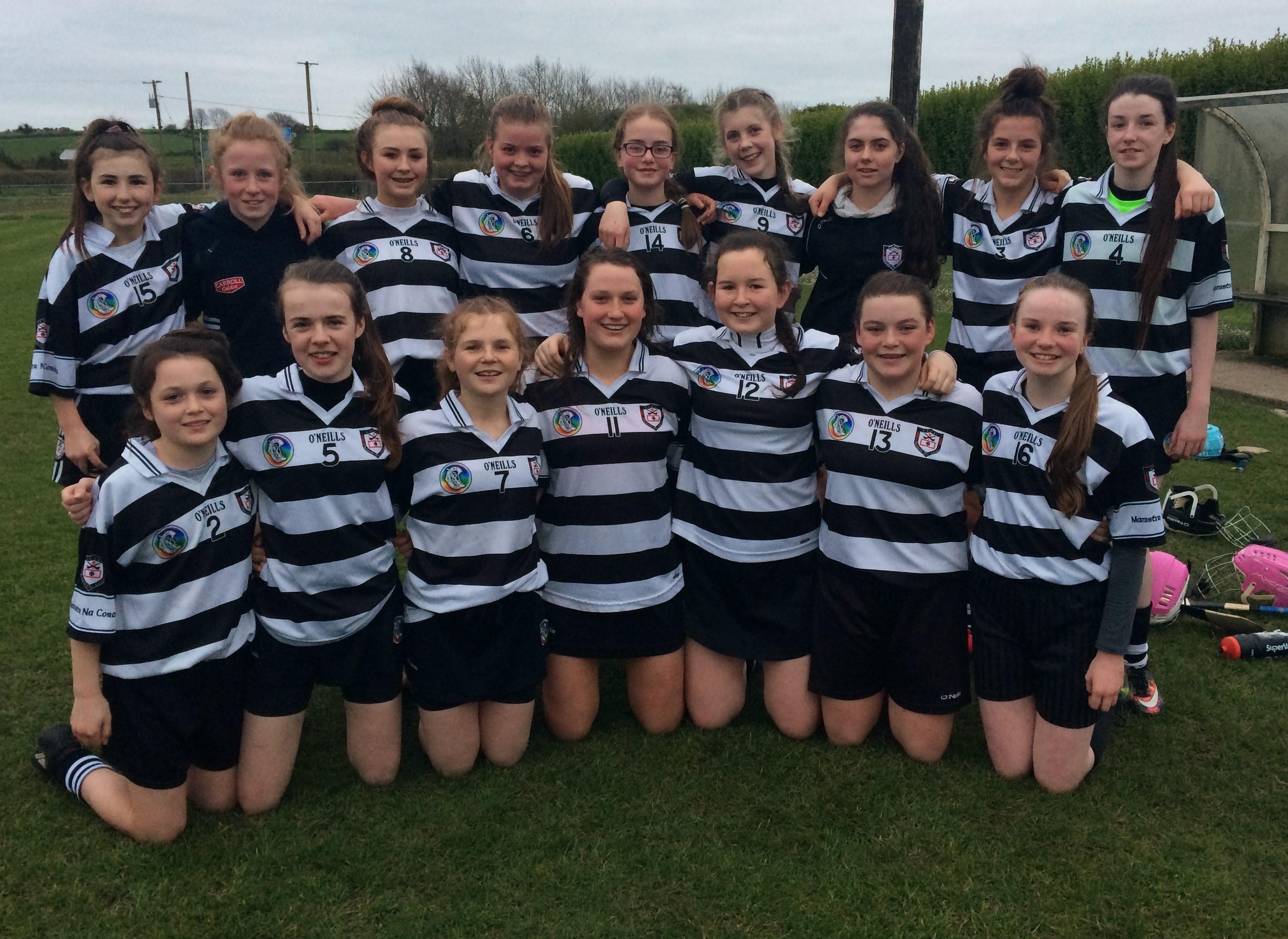 Fé 14 - Our under 14's lined out on home turf again v Watergrasshill on Friday evening last in perfect overhead and underfoot conditions. Each and every girl put in an outstanding performance paying off on the night winning on a score line of 6.04 to 0.02. Well done to all involved, our next league match v Ballinhassig has to be confirmed.
There will be no training next Friday – Good Friday.
Outdoor training resumes for all age groups the following week the 21st April when our newest batch of magpies begin their journey with Midleton Camogie Club. . New players are welcome in all age groups, girls are welcome to come along to try it out, contact 087 6972147 for further information.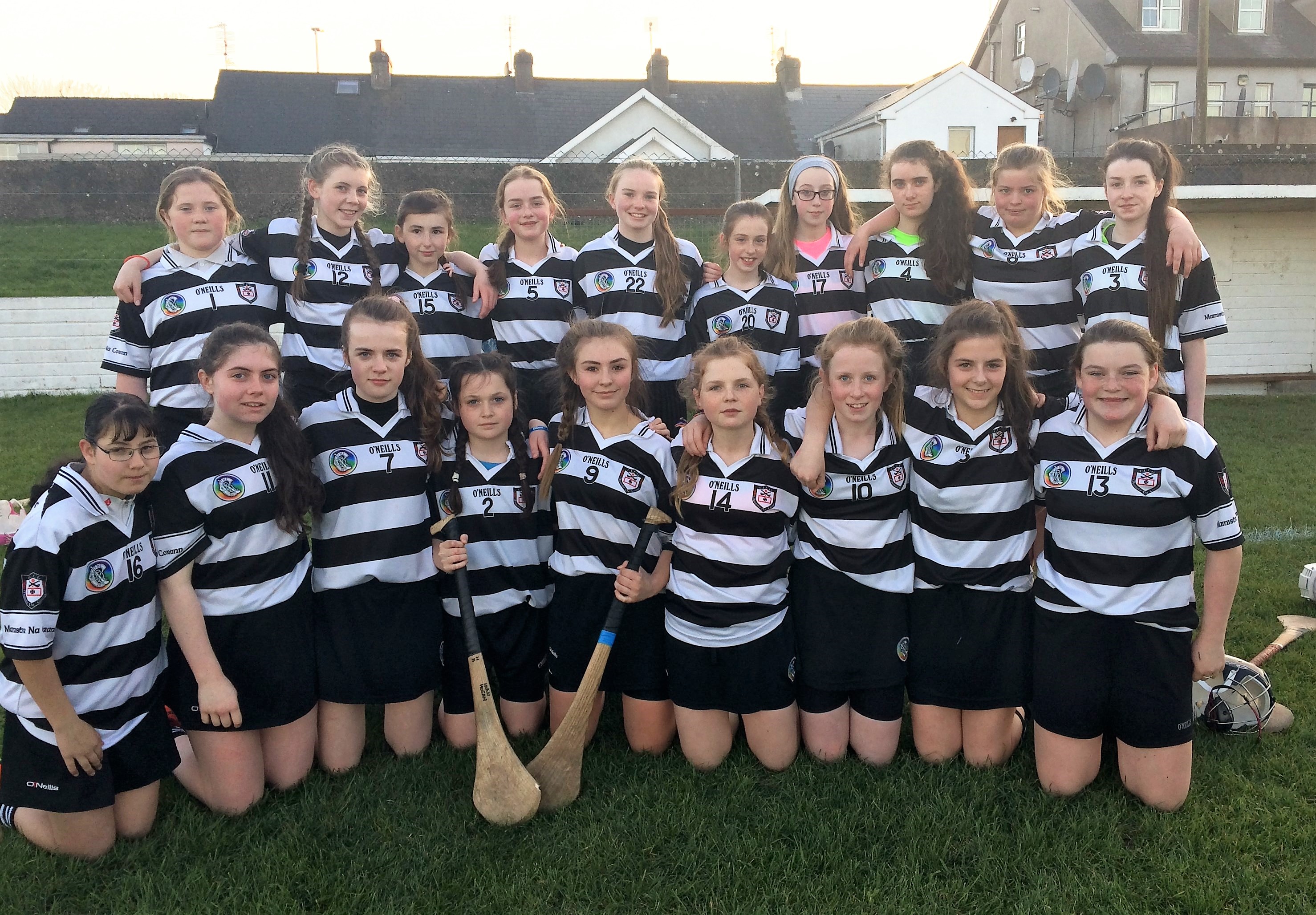 Fe 12 – we hosted an U12 blitz in Ballinacurra on Sunday morning in perfect conditions for Camogie. We had 2 teams (18 girls) along with 2 teams from Castlelyons and one team from Youghal. All the girls got to play three matches each in what were very competitive matches across the teams. There was some great skill, determination and teamwork on display and every girl put in 100%. effort. These girls are getting some great match practice! Thanks to both Youghal and Castlelyons for attending and playing sporting matches and to Ballinacurra GAA for the use of their grounds for the morning.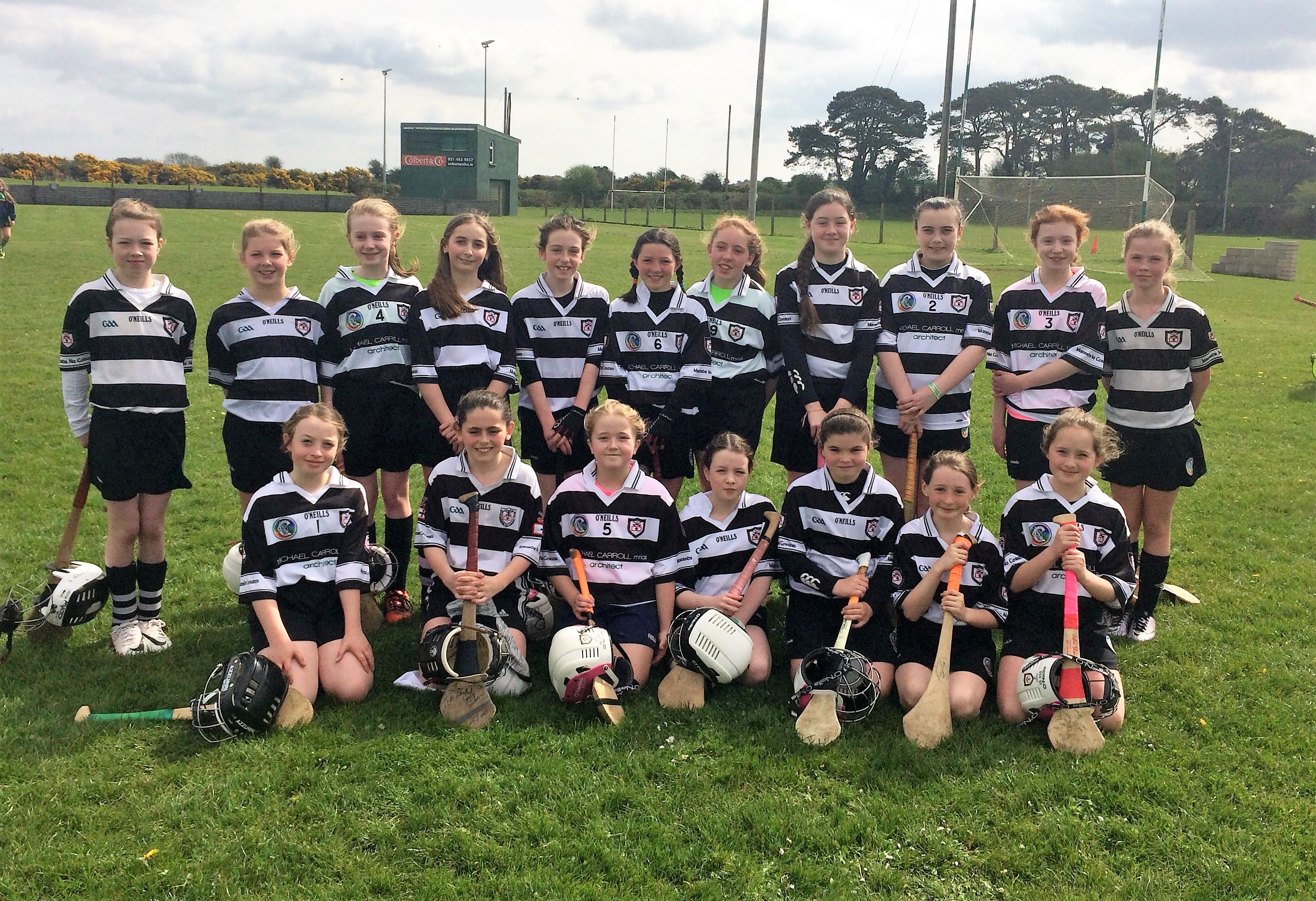 Lotto
Our Lotto Jackpot was €10,800, there was no winner, the numbers were 4,12,20 & 28, the Lucky Dip winners were Dave MC Carthy, Fr Denis Kelleher, Margo Roche, Kevin Mc Sweeney & Eleanor O'Brien, next week's Jackpot will be €11,000
Tickets are on sale at the Club Bar, O'Neills Bar, Linehan's Bar, Maple Leaf Bar, O' Farrell's Butchers, Frank Murphy Butchers, Pat Walsh Paints, Chadwicks, Teach Beag & Niall Mac's Bars.
Our Online Lotto is now available, logon to the Club homepage www.midletongaa.com to purchase your ticket.

BINGO takes place next Friday evening @ 8pm in the GAA Pavilion with a weekly guaranteed Jackpot of €1,000.
Juvenile
Fe 9
We welcomed Sarsfields to Clonmult Memorial Park on Saturday last for their first hurling home match of the Fe9 2017 league. On a warm spring morning, this eagerly anticipated East Cork Derby drew a huge crowd of all ages to watch 37 Magpies line out for Midleton across three different teams. Those that came along weren't disappointed as all teams served up some fantastic hurling. Well done to all the boys who continue to show great improvement. Thanks to all that came to support the lads on the day and thanks also to the three young Midleton referees, who oversaw proceedings. We will be texting all parents soon in relation to resumption of midweek training.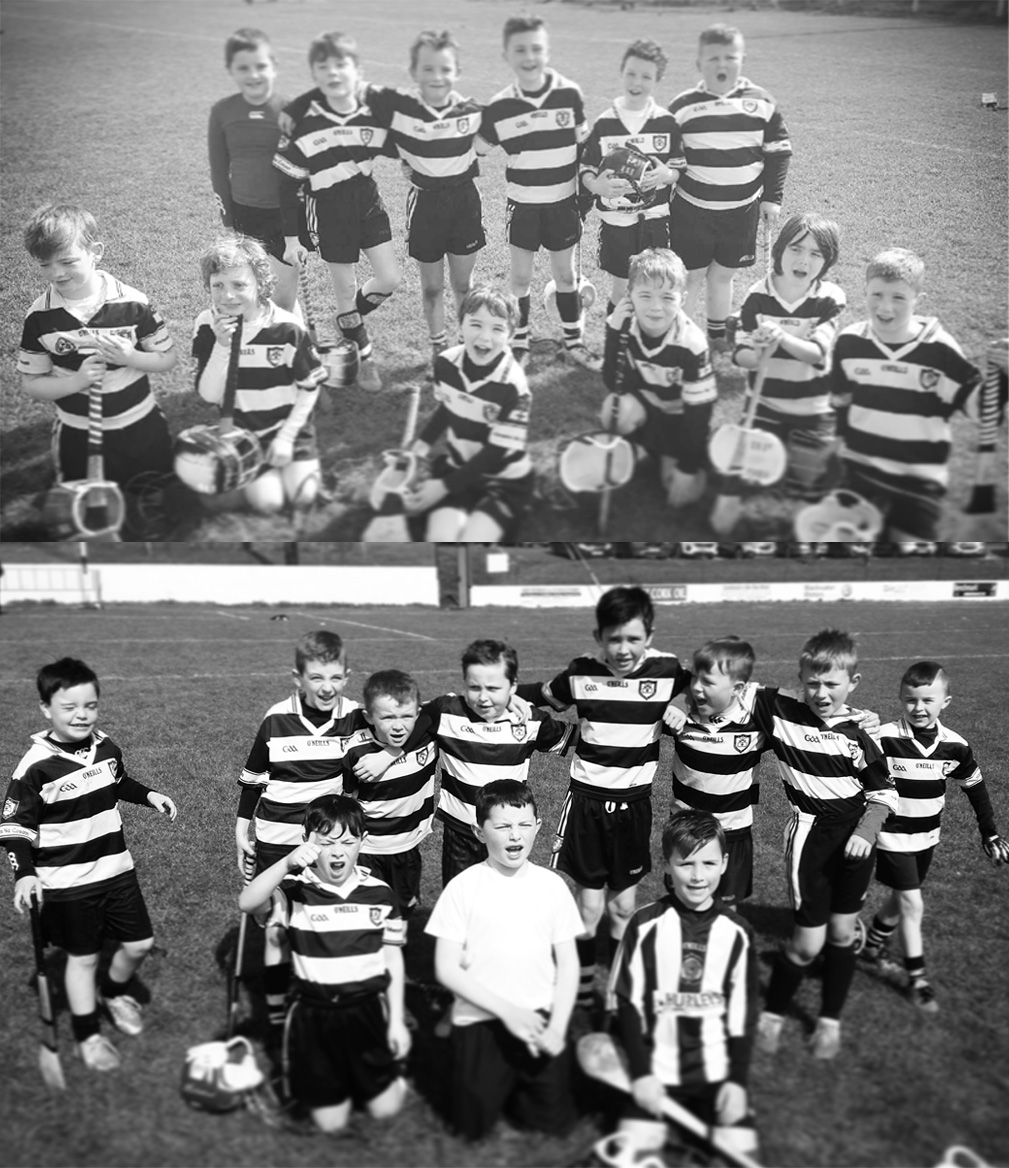 Fe 11
On Saturday we continued our hurling league campaign, fielding three teams with Douglas visiting Clomult Park which as usual was in top class condition. With the common sense approach of our three young whistlers Christian Murphy, Mark Daly, and Jake Shanahan an excellent hours hurling ensued. While there was a huge increase in our performance levels we narrowly lost out on the league points available. It was very encouraging to see the level of skills improving and particularly the amount of hooks and blocks that out lads achieved, great credit due to the players. Our next scheduled match is football v Blarney in the meantime we will continue out training on Wednesday evenings.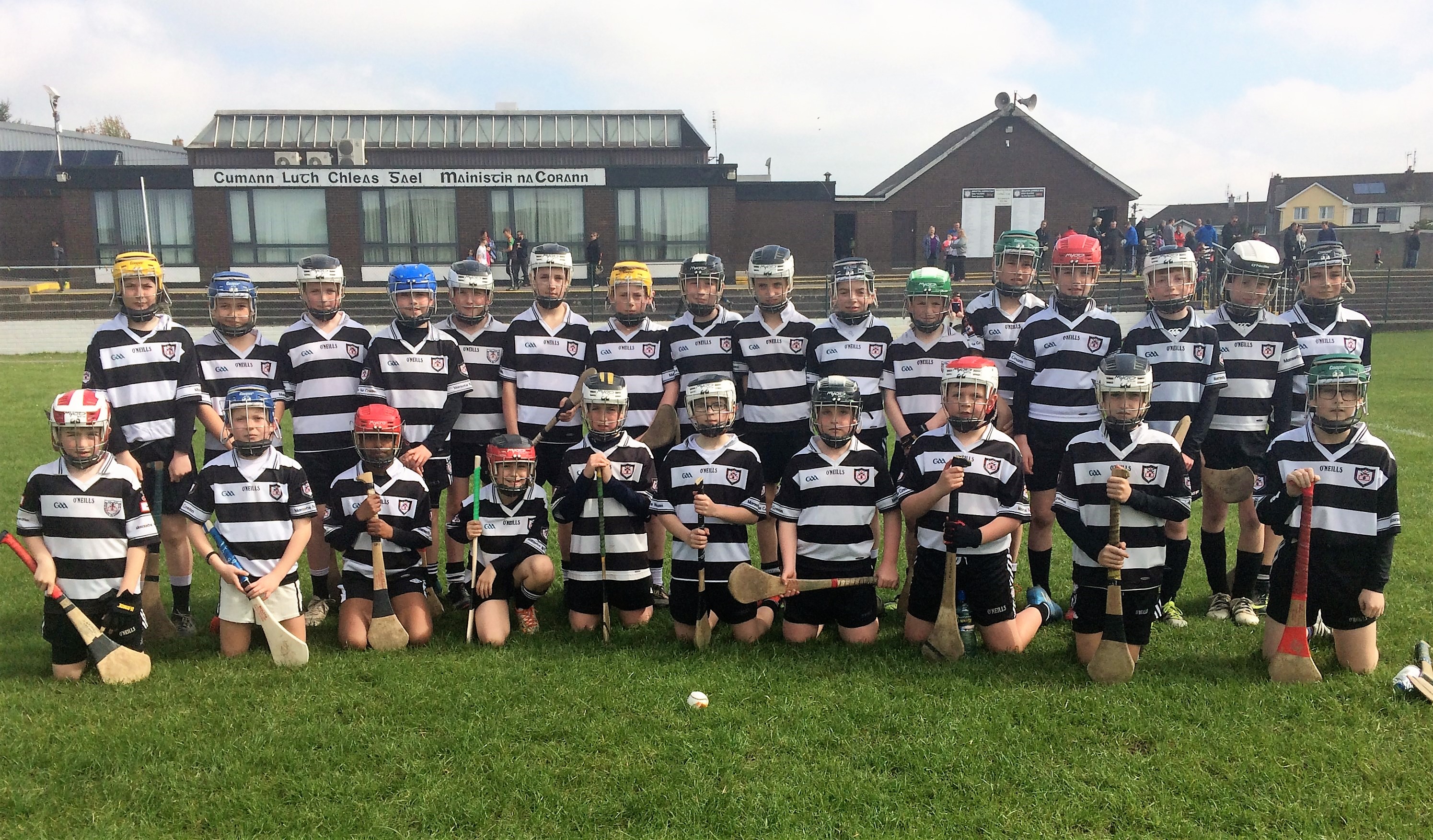 Fe 13
Midleton 2-04 v Na Piarsiagh 0-6
On Wednesday evening, we hosted Na Piarsaigh in the first game in the Premier 1 Hurling League. The game started brightly with our defence performing well, with Riain de Barra, and Fionn Dalton holding their own on the right wing, TJ Murphy and Ben Kenneally were outstanding throughout. Mickey Finn got on a lot of ball in the first half and was ably assisted by David Green, Brian O'Connell and Cathal Beausang. Half-time saw both teams level with 0-2 each and the introduction of Niall Lang who continued to impress with another super display. Na Piarsaig took the lead with some well taken points midway through the second half, but we benefitted from Dara Scanlon's long puck outs and his ability to pick out Davy Cremin who delivered ball after ball into the forwards. Eventually, Odhran Prenter and Alex Moloney pounced to grab a goal each which was key to the victory. Dara Fitzgerald and Tadhg O'Leary Hayes hurled well when required, and Tiarnán Roche and Michael Roe worked very hard all through. Well done lads, a good performance and an important start to the year. The focus is on the next match now, away to Mallow.
Panel from: Riain de Barra, Fionn Dalton, Ben Kenneally, Odhran Prenter, Tadhg O'Leary Hayes, Michael Roe, David Cremin, TJ Murphy, Cathal Beausang, Dara Fitzgerald, Brian O'Connell, Dara Scanlon, David Green, Niall Lang, Mikey Finn, Alex Moloney and Tiarnán Roche.
Juvenile Registrations
We would remind parents that if you missed registrations to contact your son's team coach to complete registrations. Players who are not registered are uninsured and as such will not be permitted to train or play until they have renewed their membership.The Juvenile membership rates for 2017 are as follows;
Coaches & Committee Members €80.00 Membership
Players Rates: 1st Child €70.00/ 2nd Child €50.00/ 3rd Child €40.00
First Child of a Team Mentor of Fe11 down: 1st Child €20.00/ 2nd Child €50.00/ 3rd Child €40.00
Juvenile Flag Day
Many thanks to all our supporters for a very successful Juvenile Flag Day at Hurley's Super Valu on Saturday the 8th of April. A special thanks once again to John Hurley and Tommy Grimes for their continued support. This annual fundraiser is vital to the running of our juvenile Club. Our collectors on the day were made up of Juvenile Committee Members,
Coaches & Parents. We are extremely grateful to them all for their support and appreciate them giving up their time; Mary Quinn, Mairead Beausang, Pearse McCarthy, Mick O' Connell, Aidan Moloney, Dermot Donovan, Liam Wade, Edward Cronin, Stephen O' Sullivan, Willie Lawton, Michael Carroll, Shane O' Dowd, Maura Hodnett, Anita Hennessy, Cormac Quirke & Diarmuid O' Dalaigh.
Easter Camp
Midleton GAA will run a one day Hurling Camp on Tuesday the 11th of April from 10am to 1pm. The Camp coordinator is Aylin Kearney. The camp is open to boys from Fe7 - Fe12. Midleton GAA will run a one day Football Camp on Thursday the 20th of April. The Camp coordinator is Orlagh Farmer. The football camp is open to boys and girls from Fe7 - Fe12.
The price of the camp per day will be €10.00 for the first child, €5.00 for the second child and 3rd child is free. To book your place for the Hurling, Football camp or a place on both please text your son's team Manager. Payment is to be made on the morning of the camps. Children are to be dropped inside the GAA Grounds, signed in each morning and must be collected from inside the grounds at the end of the camp.
Club Shop
The Club Shop will be CLOSED next Saturday and will re open on the 22nd from 11 to 12.