Midleton Hurling & Football, Camogie & Ladies Football Club News
02 April, 2017
U21 Football
Our footballers were defeated by Glanmire last Friday night in the East Cork semi final at Caherlag by 0-11 to 1-03. We put up a very brave performance over the hour but it came down to the accuracy of their free taker which in the end made all the difference. The score at the break was 0-05 to 0-02 in their favour and when Eoin Moloney goaled shortly after the re start after a great run it was game on. Unfortunately we found scores hard to come by after that and they struck a purple patch with four unanswered points.
In the end it wasn't to be and they now face Glenville in the final.
Well done to all the players and to the mentors Dave, Decie, Cristoir, Sean, Kieran and John for their great efforts over the last three games.
Team: Arthur Naguna, Luke Smith, Gavin Bagnell, Jordan Roche, Shane Finn, Luke Dineen, Adam Daly, Eoin Moloney (1-00), Kieran Moloney, Cathal Gunning, Cormac Beausang (0-01), Tommy O'Connell, Luke Finnerty, Padraig O'Brien & Josh Deady (0-02). Subs used Seanaidh Smyth, Sean O'Meara, Cian Murray, not used Conor Evans, Eoin Collins, Kevin Daly, Mark Daly, James O'Brien, Cormac O'Brien & Christopher Power. Referee Brian Murphy, Carrigtwohill.
Intermediate Hurling
Last Sunday morning we hosted Dungourney in the County League and came off second best against a very mobile and well organised side. A fortuitous goal just before half time put us a point ahead by 1-09 to 0-11. Try as we did we could not build on it in the second half and they ran out deserving winners on a score of 0-22 to 1-14.
Team: Joe Loftus, Billy O'Shea, Gavin Bagnell, Declan Ryan, Leslie Coughlan, Luke Dineen, Darren Quirke, Seanaidh Smyth (0-02), Eoin Walsh, Johnny Comer (0-01), Padraic Nagle (0-01), Padraig O'Shea (0-01), Cormac Beausang (0-09, 6 frees, 1 65), Peter Dowling & Ian Kennefick (1-00).
Subs Bryan Rossiter, Pat Stack, Micheal Keohane, Cillian Hurley & Eoin Ferriter.
Referee Ger Scully, Killeagh.
Minor Football
Our footballers travelled to the heart of football country Rosscarbery last Sunday to take on Carbery Rangers in the Premier 2 League and done very well despite losing by 2-05 to 1-14.
Team: Conor O'Farrell, David Scanlon, Sean O'Sullivan, Andrew Nestor, Mark Daly, Eoin Mitchell, Cormac O'Brien, Harry Wall, Cian Murray, (0-03, 2 frees), Ioic Nguefang (1-01), Cathal Gunning, Garry Carroll, Ronan Lynch, Arthur Naguna & Griffin Hurley (1-00).
Junior Football
We wish our players and management the very best of luck next Thursday night against Carrigtwohill in the second round of the East Cork Championship in Carrigtwohill @ 8pm.
Inter County Hurling
Last Sunday afternoon the Cork senior hurlers were defeated by Limerick in the quarter final of the League in Pairc Ui Rinn by 1-20 to 1-18. Unfortunately Conor Lehane and Paul Haughney both missed out through injury, Luke O'Farrell was a late substitute and Killian Burke was unused. Corks next outing will be the Championship against Tipperary in seven weeks time 21st of May in Thurles.
Fixtures
Wednesday Premier 1 Hurling League v Na Piarsaigh at home @ 6.30pm
Thursday Junior A Football Championship v Carrigtwohill in Carrigtwohill @ 8pm
Saturday Senior Hurling League v Ballymartle at home @ 7.00pm
Sunday Intermediate Hurling League v Kilbrittan at home @ 3pm
Membership
Membership for the Hurling & Football is now due , please contact Membership Officer Terence Mc Carthy or your Team Manager to arrange payment as soon as possible.
Adult Membership is as follows; Waged Adult Player €150, Student Adult Player €100 Waged Adult €80 (€150 with gym), Unemployed Adult €30 (€100 with gym)
OAP >66 yrs €30. Please note that Gym membership is included in a player's membership.
Gaa Golf Society
Our first outing of the year, the Easter Hamper, takes place on Saturday, April 15th at East Cork Golf Club, tee time 12.30 to 1.30. This outing is once again very kindly sponsored by Bernard Cashman of Cashman Car Sales. The society would like to thank Gary Johnson for his work as captain in 2016 and to wish the best of luck to Frank O Sullivan, our captain for 2017. As always, new members are very welcome to join. Perhaps existing members might know somebody who might be encouraged along for a few social games of golf.
Committee for the year; Captain--Frank O Sullivan, Secretary---Pat Hayes, Treasurer---Jim O Sullivan, Paudie O Keeffe, Hans Bauman, Gary Johnson, Don Macfarlane, John Droog & Tom Mintern. Looking forward to seeing you all on the 15th.
CBS Primary School Celebrates 150 Years
This year Christian Brothers celebrate 150 years of teaching in Midleton having began in 1867. In 1967 when they celebrated their Centenary in Midleton there was a huge event held on Easter Sunday. Thousands attended a parade in the town led by the local Brass and Reed Band and followed by the Artane Boys Band which proceeded to Clonmult Memorial Park where a Senior Hurling Challenge game took place between Imokilly and Mount Sion of Waterford. The Brothers were hugely instrumental in promoting Irish games and pastimes and from the early 1930's hurling teams participated in the School competitions.
The highlights of their achievements were success's in the Rice, White, Dean Ryan and Harty Cup competitions. The wonderful work at Sciath na Scoil level for the past 20 odd years by Jim O'Sullivan and others is greatly appreciated by the Club.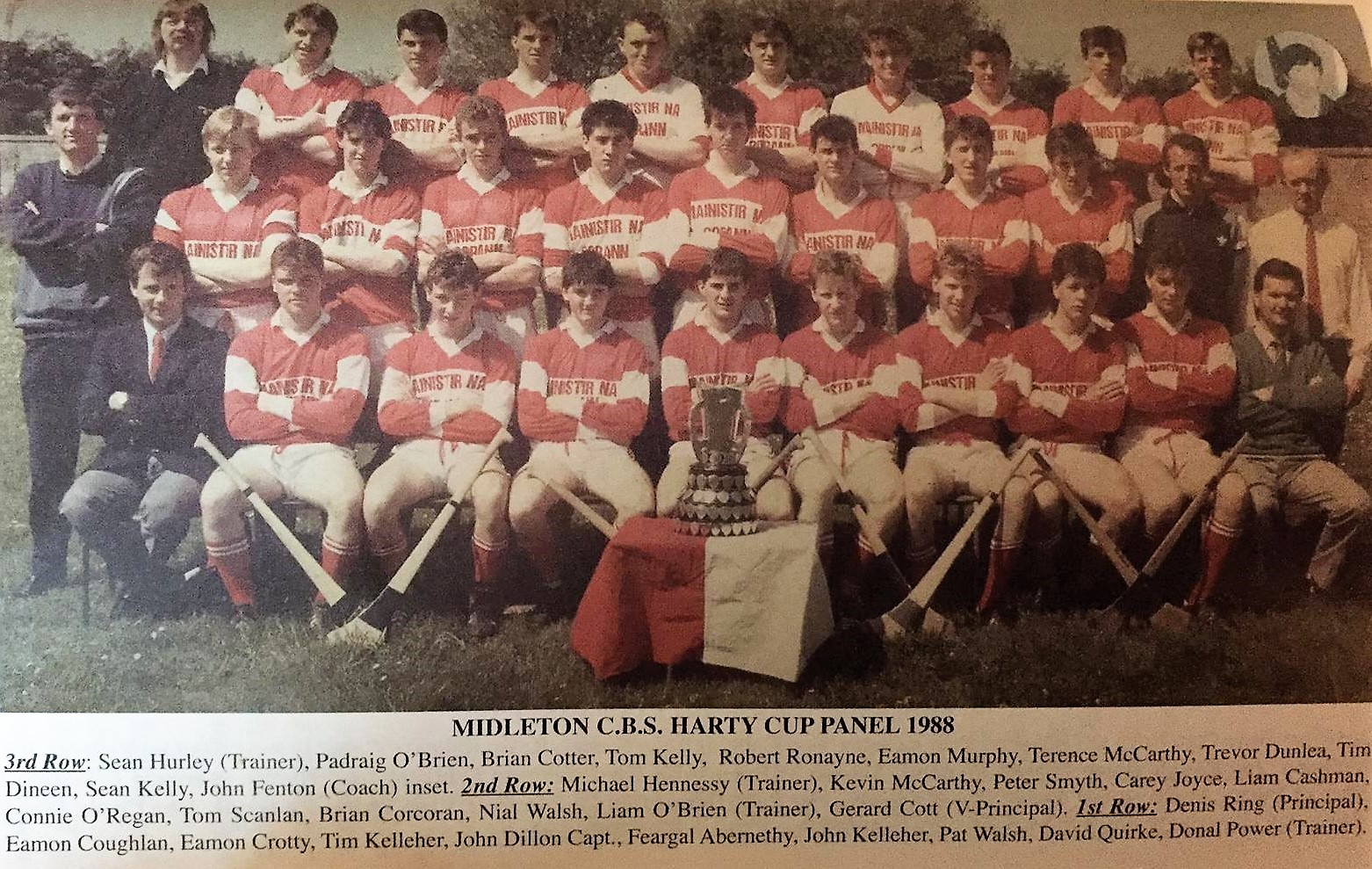 Condolences
The Executive of the Club would like to express their deepest sympathy's to the family of the late Jake O'Keeffe son of Grace (Murphy) and Jerry and grandson of our Club Vice President Seamus Murphy. We also send our sympathy's to the family of the Donie Healy late of Waterock (former Club Sponsor).
Ladies Football
From this Monday night our outdoor training will move to the Tech pitch. The same times will apply for all teams. You will receive a text from the Club Phone with details. Please note if you are parking on St Mary's road that parking is limited and do not obstruct any entrances in the area. Our U8 girls will have their last session indoors and will move to the Tech on Monday week. All details will be sent via text message.
Date for your Diary : Our annual Fun Bingo night will take place on Monday April 14th at 7pm in the Gaa Club. This is a very important fundraiser for our club so your support is appreciated. The usual scrumptious prizes will be in offer so come along and bring a friend. It's always a great night and everyone is welcome.
Camogie
Fé 12 - On Saturday last April 1st we had a big turnout for the Camann to Munster monster blitz in Mallow. The blitz was in the Go Games format where the emphasis is on giving all the girls match time. We had 17 girls with 10 girls in the under 11 (2006) age bracket who all got to sample competitive matches and encouraged to pick the ball and strike out of the hand. The team played 3 matches versus Kilruane from Tipperary, Na Piarsaigh from Limerick and Tracton from Cork and in 50 plus minutes of play Midleton did not concede a single score. So all in all a fantastic day out and experience for the girls.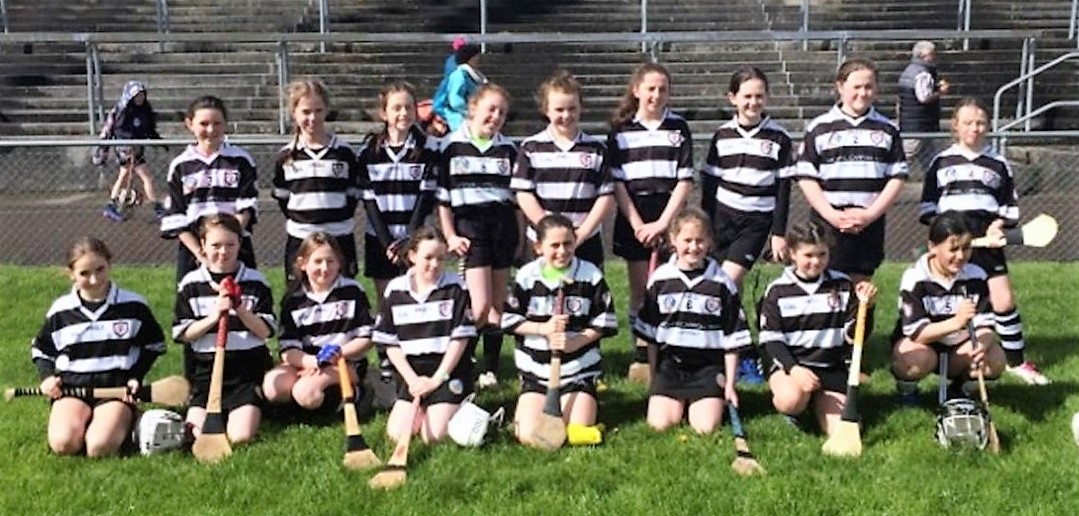 Fé 16 - Our U16s were out in Ballinacurra last Monday night for our second league match where we came up against a strong Youghal side. We played with the wind in the first half and having had most of the possession we should have had more scores on the board in the first half, we finished leading 1-2 to 0 1, but for a courageous block by Leah Hogan there would have been the bare minimum between the sides at half time. On the resumption Youghal grew more into the game and had a dominant 10 minute spell scoring 3-5. We came back strong but eventually lost out 1-4 to 3-8. All eighteen of the girls were involved at different stages and none gave up, battling to the end as expected from this ever improving side. Our next outing is away to Watergrasshill on Wednesday evening.
Cork U16 Munster Championship Final - Congratulations to Lucy Wallace and the Cork U16 Cork squad newly crowned Munster Champions on Sunday last in Limerick . Both A and B U16 teams came out on top against Tipperary and Clare respectively, Lucy lined out centre back to overcome Clare. Well done Lucy !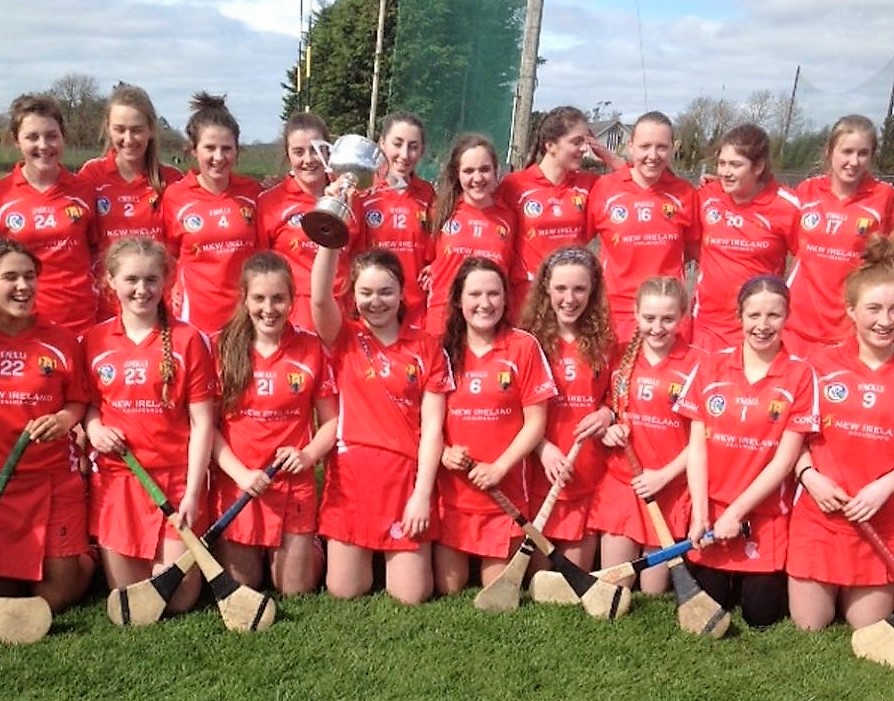 Lotto
Our Lotto Jackpot was €10,600, there was no winner, the numbers were 4,23,24 &28 , the Lucky Dip winners were Antoinette Scully, James Aherne, Aaron Spillane, Eileen Lehane and J P Quigley, next week's Jackpot will be €10,800
Tickets are on sale at the Club Bar, O'Neills Bar, Linehan's Bar, Maple Leaf Bar, O' Farrell's Butchers, Frank Murphy Butchers, Pat Walsh Paints, Chadwicks, Teach Beag & Niall Mac's Bars.
Our Online Lotto is now available, logon to the Club homepage www.midletongaa.com to purchase your ticket.

BINGO takes place next Friday evening @ 8pm in the GAA Pavilion with a weekly guaranteed Jackpot of €1,000.
Juvenile
Fe 9
We played our first " home " league games of the season v Killeagh in football. 33 players turned out for a lovely sunny morning with a great attendance of the parents. Lads played well against a very good Killeagh teams coached by former great Joe Deane.
The next game up for lads is at home next Saturday in hurling to Sars.
Mid week training is also kicking off this week.
Fe 11
On Friday evening last we travelled to Sars second pitch at Buck Leary's cross to take on Sars in our first hurling league match. Although it remained dry on the night conditions underfoot were challenging and not conducive to good hurling. We managed to field three teams with the help of some of our under 10 players ( many thanks to the u10 players).
Unfortunately on the night the result didn't go our way, one of the teams managed to win their match but to be fair to all players involved they never gave up and showed great grit and bravery in what was a very bruising encounter. We return to midweek training this Wednesday in St Coleman's at 6pm and we look forward to the visit of Douglas next weekend in our second hurling league match.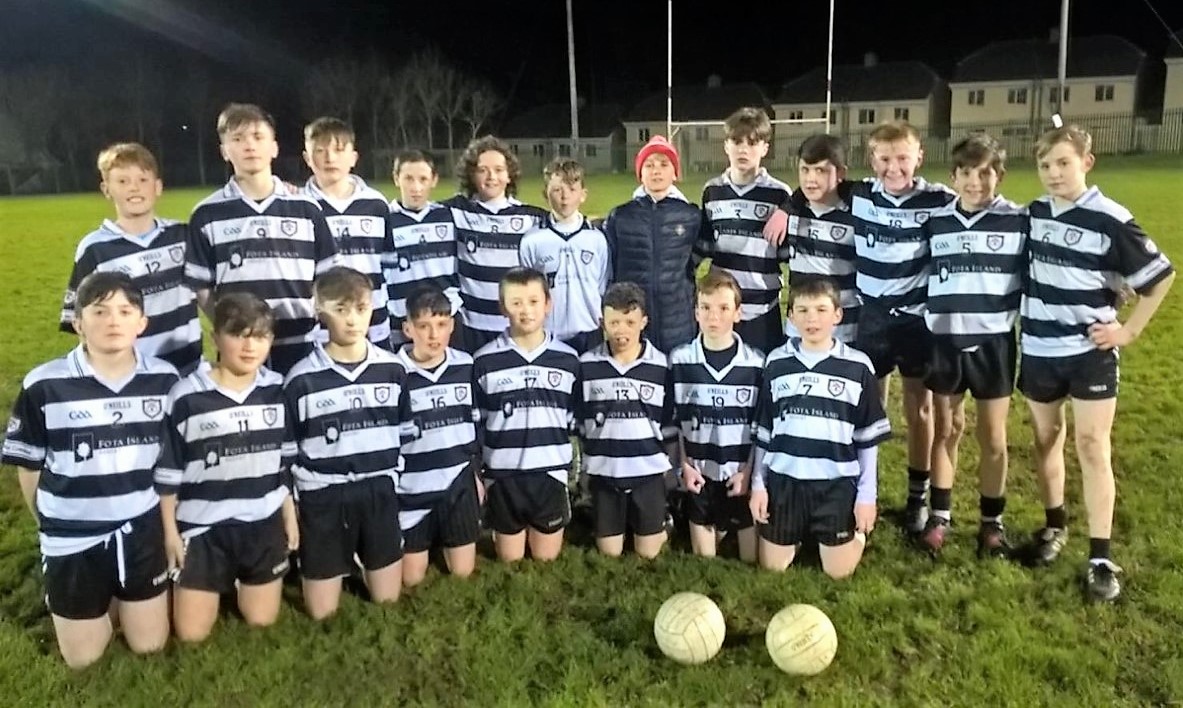 Fe 13s v Cobh recently
Fe 14
Midleton 1-03 v Na Piarsaigh 5-03
In preparation for Feile Peil we played our first evening match on Tuesday 28th March. The game was played on the CBS pitch in Midleton. We had a great turnout of players. Darragh McCarthy registered our first score of the evening with a neatly kicked point. Ben O'Neill finished scored a goal for the Magpies shortly before half time which put us two points in front. The team was playing well put a small lapse in concentration minutes before the short whistle allowed Na Piarsaigh in for two quick goals. This took the wind out of the boys sails and instead of going in to the half time break with a lead we now found ourselves training by a goal. Half Time score: Midleton 1-01v Na Piarsaigh 2-01.
The second half passed by without our boys getting really into their stride. Two points one from the ever sedulous Cian Murray and another from the proficient Liam McGrath were our total for the second half. Final Score Midleton 1-03 v Na Piarsaigh 5-03.
Feile Football (Ballincollig Saturday April 1st)
It appeared to us mentors that the league of death that we were drawn in for the Feile Peil was an April fool's day joke. But on arriving on Saturday morning in Ballincollig we finally realized it was all very real. A gargantuan task lay ahead as we were drawn in the 4 team league with the very best football teams in the county, Douglas (county U13 champions), Ballincollig (autumn league champions) and finally the football stronghold of Valley Rovers.
First up was a game against the home team Ballincollig. They were off the mark early with a goal and a point. But our boys playing against a strong breeze managed to quell the tide and responded magnificently and were very unfortunate not to be level by half time. Half Time score Ballincollig 1-01 v Midleton 0-00.The second half again saw our boys control a lot of possession but try as they might could not reduce the deficit. A game that we would not have been embarrassed about had we won really did just slip out of our hands.
Final Score: Midleton 0-01 v Ballincollig 1-03.
The second game against Douglas commenced almost immediately after the first game had finished. It was a big ask of the team to face them having just given their all against
Ballincollig. But these boys over the years have shown they do not lie down in the face of adversity. Douglas did deserve their victory over us but there would have been no flattery on our faces had we a few more scores on the scoreboard at the final whistle. Effort, toughness, great attitude and bravery were all displayed by the young Magpies during this game.
Final Score: Midleton 0-01 Douglas 1-06. Note: Douglas went on to win Feile Peil.
The third and final game of our day was against Valley Rovers. This is a team that had beaten us comprehensively last year in the football league. But on this day that was not going to be allowed happen by our brave bunch of boys. They had the upper hand at half time having played with the breeze. But scores from Evan McCarthy (2 points), Ben O'Neill (1 goal), and Liam McGrath (1 point) saw us take the win that we fully deserved.
Final Score: Midleton 1-04 v Valley Rovers 0-03
In Summary: To paraphrase Gerry Smyth's words to the panel at the conclusion of the day. The boys had left everything on the field and should be really proud of their efforts throughout the three games. It's a day they should all look back over with great pride.
Panel : Brion Saunderson, Ciarmhac Smyth, Ben O'Neill (1-01), Evan McCarthy (0-02) Rory Hartnett, Evan Kelly, Cian Murray, Darragh Codd, James Condon, Roan Spillane, Alex Quirke (0-01), Kane Rowlands, Phelim Magan, Shay Bohan, James O'Sullivan, Ronan Gies, Daire Mooney, John Spellman, Darragh Mc Carthy (injured but present on the day), Fintan Greenwood (0-01), Adam Fay, Niall Corcoran, Neil Fitzgerald & Liam McGrath (0-01).
Fe 16
We welcomed Buttevant to Clonmult Memorial Park for the second match in this year's Premier 2 Football League last Wednesday evening. It was not a great night weather wise nor result wise. Buttevant proved too strong for our lads, that said the performance from the home team was full of effort and pride. Final score Midleton 1-03 v Buttevant 1-13
Team: Alex Pranger, Tim O'Sullivan, David Scanlon, Dan O'Sullivan, Ethan Daly, Aaron Mulcahy, Patrick Kane, Christian Murphy, Cian Crowley , Charlie Walsh, Adam Meade, Leo Hennessey, Rory Donegan, Paul Connaghton, Conor Fitzgerald, Gavin Reddy & William O'Sullivan.
Juvenile Registrations
Juvenile Registration took place in the GAA Club on Wednesday last the 29th of March. Thank you to those who turned out to register for 2017. We would remind parents that if you missed registrations to contact your son's team coach to complete registrations. Players who are not registered are uninsured and as such will not be permitted to train or play until they have renewed their membership. The Juvenile membership rates for 2017 are as follows;
Coaches & Committee Members €80.00 Membership
Players Rates: 1st Child €70.00/ 2nd Child €50.00/ 3rd Child €40.00
First Child of a Team Mentor of Fe11 down: 1st Child €20.00/ 2nd Child €50.00/ 3rd Child €40.00
Flag Day
Our annual Juvenile Flag Day takes place next Saturday at Hurley's Super Valu, if you can spare an hour please contact Mary Quinn @ 086 3827737
Club Shop
The Club Shop will be CLOSED for the next two Saturdays and will re open on the 29th from 11 to 12.