Midleton GAA , Camogie & Ladies Football Club News
13 December, 2015
County Hurling Championship Draws
In the Senior Hurling Championship we have been drawn to play Bishopstown, the winners play the winners of Newtownshandrum/Killeagh/Muskerry in Round 2A. The losers play the losers of Bride Rovers or Youghal in Round 2B.
Also at the Cork County Board convention last Sunday afternoon in Nemo Rangers our regraded Junior A hurling team were drawn to play Glen Rovers in the first round of the Intermediate Hurling Championship, the winners play the winners of Dripsey or the Barr's in round 2A whereas the losers will play the losers of Aghabullogue or Inniscarra.

As a reward for winning the Senior RedFM League we will be presented with a cheque on Monday evening by the County Board and sponsor's RedFM.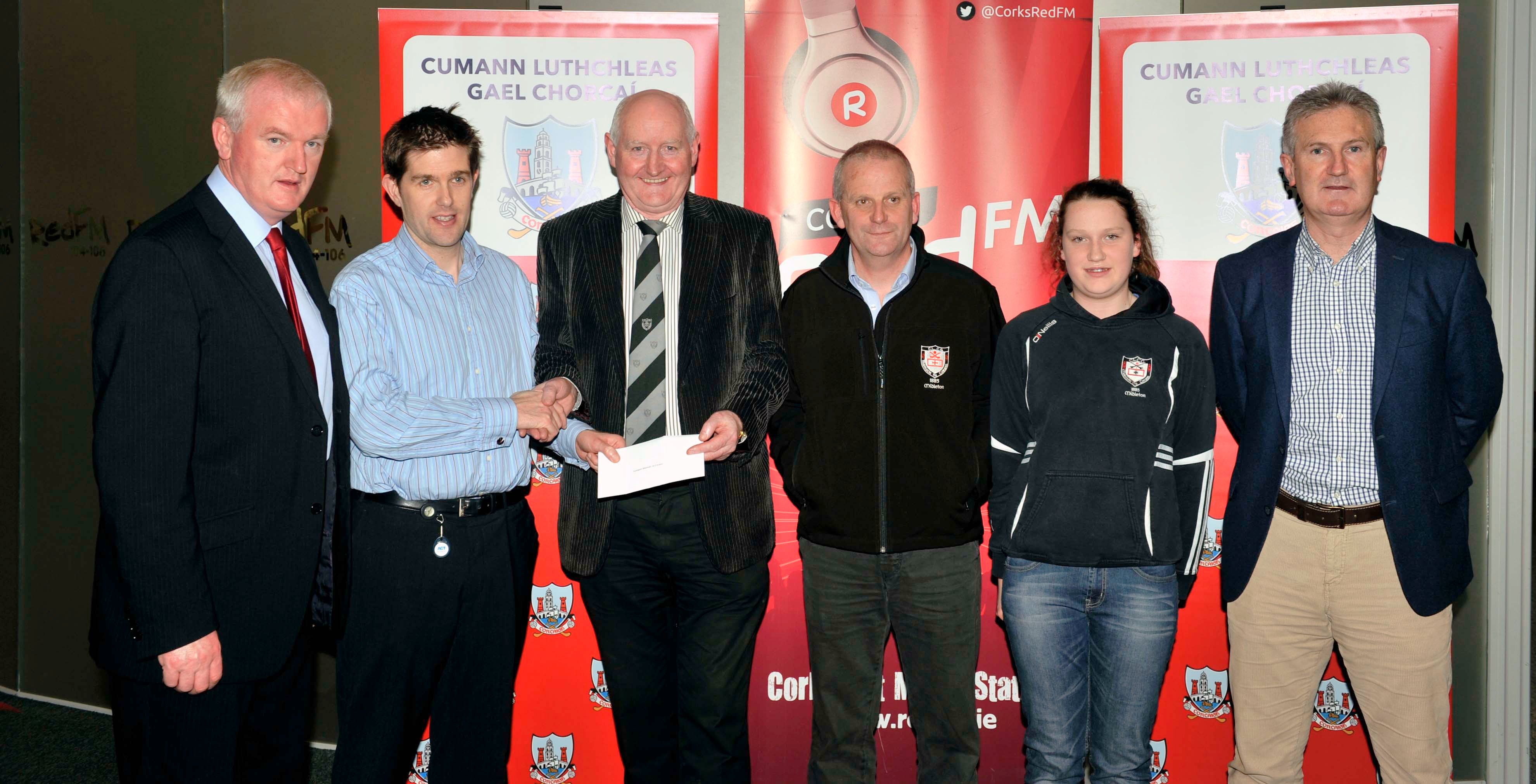 Check out the all the draws here

Post Primary Games
Best of luck to club players Conor O'Neill, Kevin Finn, Christian Murphy, Cian Murray and Conor O'Farrell who line out this Monday 14th with Coláiste an Phiarsiagh in the Corn Sheáin Uí hAnragáin Fe18 ½ D hurling final against St Munchins in Charleville @ 12.30 and to Midleton CBS who will play De La Salle this Wednesday in the Harty Cup at Carriganore (WIT grounds) @ 1.30pm to see who will progress. Seanaidh Smyth, Garan Manley, Padraig O'Brien, Sean O'Meara, Kevin Mulcahy and Adam Daly will all be part of the panel.
Ladies Football
This coming Monday the 14th of December will be our last training session of 2015 for all groups from u10 upwards. Don't forget to wear something festive to get us in the mood for the Christmas break.
Irish Distillers Sponsorship
Once again Irish Distillers Ltd. demonstrated their support for Midleton GAA when, last Thursday, David Harper from Irish Distiller's Ltd presented a sponsorship cheque to Mary Quinn treasurer of Midleton Juvenile GAA club to help promote Gaelic games in our area, Liam Ryan Club Chairman and John Fenton Treasurer also attended. Irish Distillers and Midleton GAA have a long tradition of co-operation with many members of the GAA club being current or former employees of the distillery. Indeed one of our members Kevin Mc Sweeney was instrumental in organising this presentation and we would like to thank Kevin especially for his work, not alone in the under age section of our club, but also for being the link between Midleton GAA and Irish Distillers. Midleton GAA is very conscious of its reputation around the country and of being ambassadors for our club and town and so the link between us continues to promote both entities in a good light. Irish Distillers continues to expand its operations and sales worldwide and this can only be good for all in the area.
Annual General Meeting
The Adult H & F Club AGM will take place on Wednesday next the 16th of December at 8pm in the Club, all members and intending members welcome.
Events in the Club
Tuesday 22nd December - Teenage Disco
Wednesday 23rd December - Bingo & Lotto
Saturday 26th December St Stephens Day - Dancing to Teddy Crowley
Wednesday 30th December - Bingo & Lotto
Thursday 31st December New Year's Eve - Dancing to Dave Rea
Happy Xmas and Healthy New Year
The Executive committee of the Club would like to wish all our members, players, officers and supporters a Happy Xmas and a Healthy New Year.
Condolences
The Club Executive would like to offer their sincere condolences to the family and friends of the late Carla O'Connell, Elsinore sister of our former player Micky and also to the family of the late Phil O'Keeffe late of Dublin who passed away over the weekend, brother of current Senior Hurling selector Oliver. May they rest in peace.
Lotto
Our Lotto Jackpot was €2,000, there was no winner, the numbers were 6,8,9 & 26, the Lucky Dip winners were Trevor O'Reilly, Declan/Caoimhe Ryan, Bernadette Mc Grath, John Walsh & Nora O'Reilly, next week's Jackpot will be €2,200.
There were four extra prizes of €30 Xmas meat vouchers and the winners were Billy Whyte, Helena O'Sullivan, Phyllis Desmond & Adrian Hickey.

The Lotto draws for December will take place next Friday next when there will be four extra prizes once again of Meat vouchers, Wednesday 23rd and Wednesday 30th. Tickets are on sale at the Club Bar, O 'Neills Bar, Linehan's Bar, Maple Leaf Bar, O' Farrell's Butchers, Frank Murphy Butchers, Pat Walsh Paints, Chadwicks, Teach Beag & Niall Mac's Bars.
BINGO arrangements for December are next Friday 18th, Wednesday 23rd and Wednesday 30th, it takes place in the GAA Pavilion with a weekly guaranteed Jackpot of €1,000.

Juvenile
Indoor Training
Our Indoor training for the Street Leagues finished up last Saturday for the Xmas holidays and they were all delighted to get a surprise visit from Santa. Training will resume on the 16th of January, enjoy the break..
Christmas Draw
Our annual Xmas Draw took place last Saturday night after the Social. Many thanks to all those who bought and sold tickets, thanks to Pat Walsh Paints, O'Neill Bar, O' Farrell Butchers, Market Green for promoting and selling our tickets. We would encourage everybody to support all our sponsors which appear on the tickets.
The winners were as follows;
1st Evan Rowlands, 2nd Dick Phelan, 3rd Anne Marie Ryan, 4th Aideen Middleton, 5th Pa Joe, 6th Phillip Hayes, 7th Sandra Carroll, 8th Ita Connolly, 9th Donal Harnedy, 10th Michael Murphy, 11th Alice Reddy, 12th Kelda Tattan, 13th Bernadette Mc Grath, 14th Pa Beausang, 15th Craig Donovan, 16th Ronan Stewart, 17th Padjoe Barry, 18th Laura Walsh, 19th Lisa Stewart, 20th John Barry, 21st Paul Spillane, 22nd Decie Crowley, 23rd Shane Dunlea, 24th Michael Daly, 25th Pat Cusack, 26th Maura Cahill, 27th Ciara Mc Namara, 28th Anne Bannon, 29th Ciara Buckner, 30th Cormac Harrington & 31st Maura Healy.
Social & Medal Presentation
The Juvenile Social Night took place in the Club Hall last Saturday night with a huge crowd in attendance; Chairman Cormac Quirke welcomed everybody and thanked all the team, selectors and parents for their commitment to the Club for the past year. Club President Monsignor Gould and Adult Club Chairman Liam Ryan also spoke.
The Fe10, Fe11, Fe12, Fe13, Fe14, Fe15 & Fe16s teams and family's all attended.
The medal presentation saw each of the successful teams receive their medals from Conor Lehane and Killian Burke.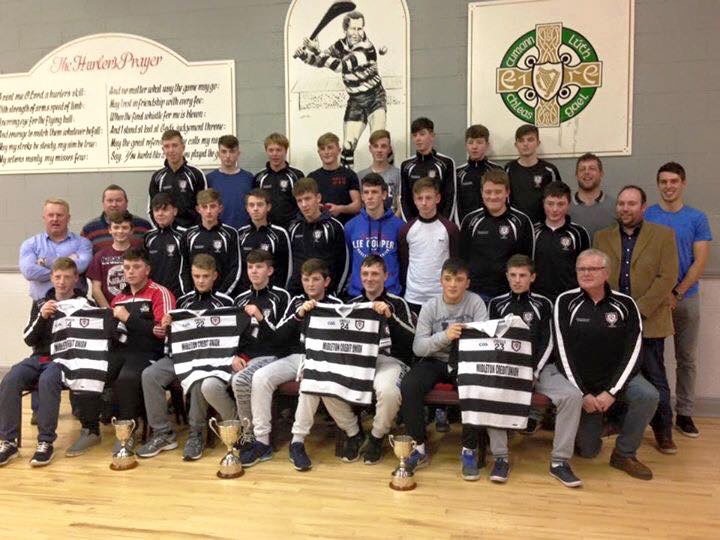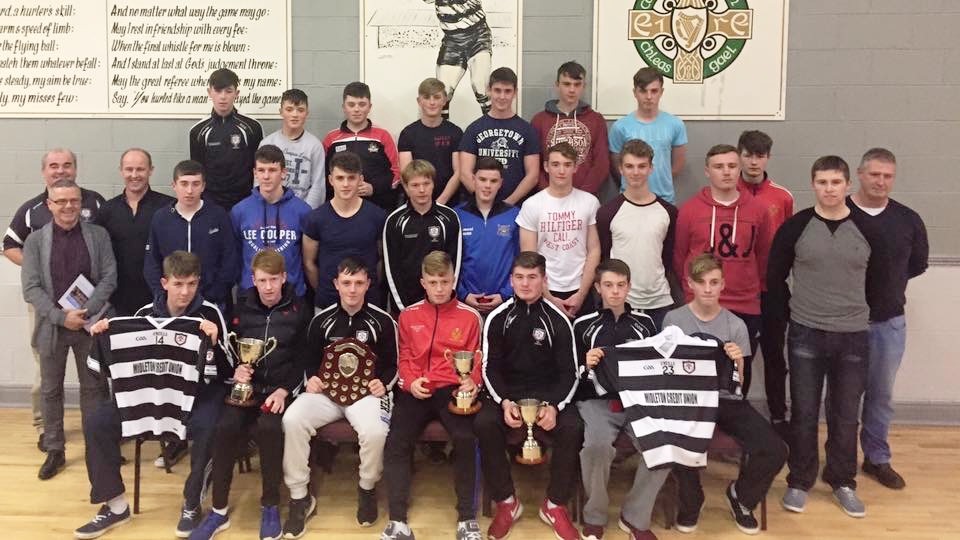 The player of the year presentations for each team followed, the winners were; Fe12 Brion Saunderson, Most Improved Fintan Greenwood, Fe13 Patrick Kane, Most Improved Jack Fitzgerald, Fe14 Christian Murphy, Fe15 Cormac O'Brien & Fe16 Sean O'Leary Hayes and Most Improved Cathal Gunning.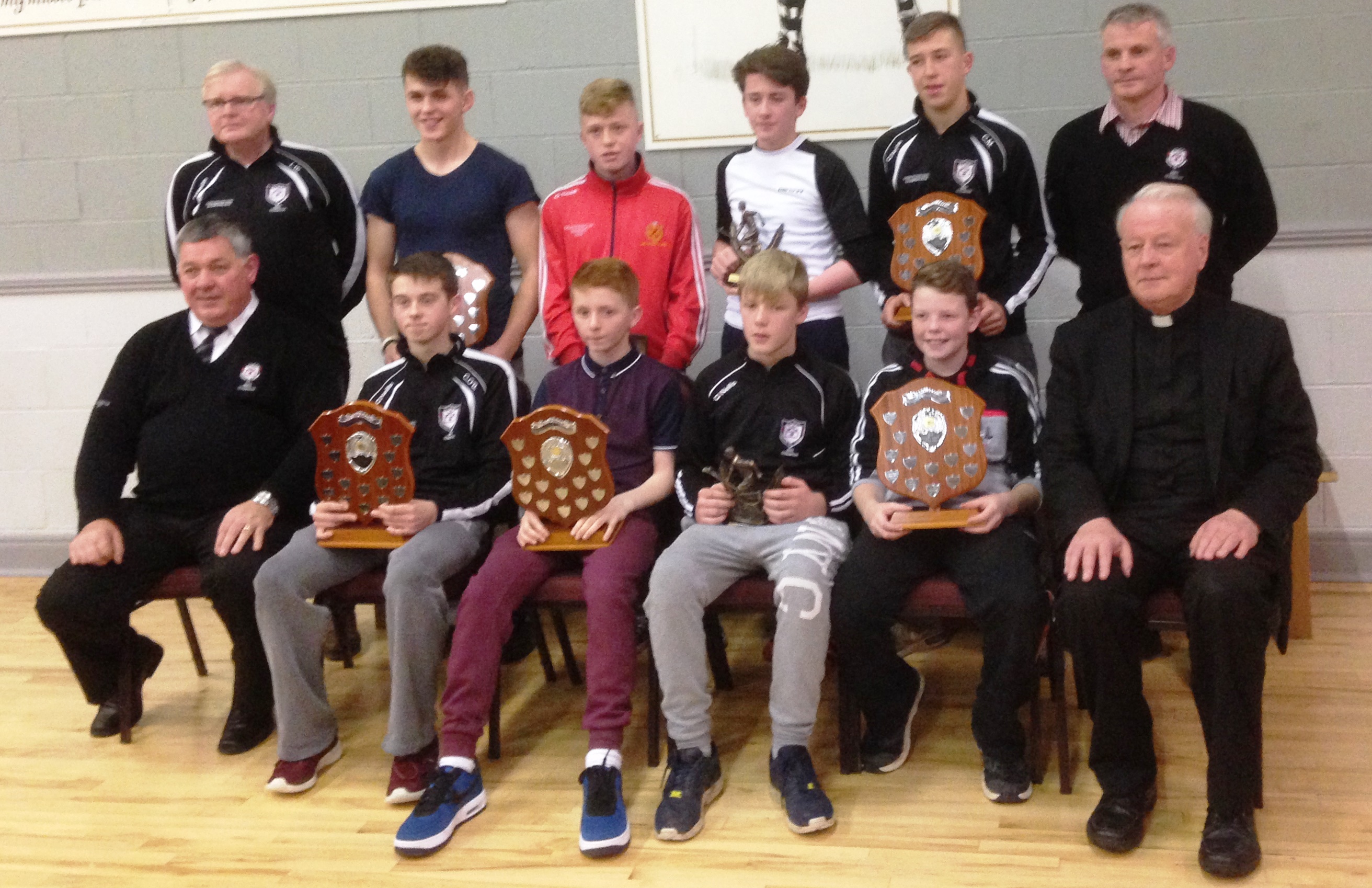 Annual Long Puck
The annual Sean Keohane Memorial Puc Fada will take place on St Stephens's morning December 26th over the usual course. The Juvenile section will have a Fun puck whilst the Adults will compete in teams of 3. Buses will depart the Club at 9.30am sharp for Lisgoold. Please note that Vis vests are essential and everybody is welcome. Refreshments will be served in the Club immediately afterwards.
Club Shop
The shop will be open from 10.30am to 12 next Saturday. This will be the last chance to buy any Club gear before Xmas. The Shop will re-open on January 9th.
Happy Christmas and a prosperous New Year to all from Mary & Sheila.