Midleton GAA , Camogie & Ladies Football Club News
29 November, 2015

Senior Hurling
Congrats to Killian Burke, Aidan Ryan, Paul Haughney & Cormac Walsh who are all nominated for the annual Reardens Hurling All Star team. The team awards will take place on Wednesday next 2nd @ 7pm in Reardens Bar Washington Street and everybody is welcome to attend.
Ladies Football
Minor East Cork League Plate Final Midleton v Inch Rovers
In very tough conditions in Killeagh our girls came up short in a scoreline of 1-10 to 1-01. A more detailed match report will follow soon.
On Monday next our U8 girls will have their final night of training before they finish for the year. On behalf of all the coaches we would like to thank all the parents and the girls for their commitment to training and matches during the year. To all the new girls who have recently joined us and to our current squad we look forward to seeing you all in the New Year. We hope Santa is good to you all. A return date in January is yet to be decided but you will be contacted to inform you of this soon.
Unfortunately the weather has not been good for our older girls but training will continue at the hockey pitch on Monday nights from 7-8pm. You will be informed by your coaches when your training will finish before the Christmas break.
Camogie
All training has now finished for the season. Our end of year Xmas party is on Saturday the 5th for all players and their families in the club at 5pm.
Our AGM was held on the 25th of November, we would like to thank coaches and parents who took the time to attended, and your support is appreciated. All officer positions were filled, details are on the website. We would like to acknowledge and thank our outgoing Vice chairperson and Registrar Brona Haligon who has done a huge amount of work on behalf of the club over the past two years. We welcome new officers Arthur Murphy, Shirley Garde and Keith Griffin. We would like in particular to welcome John Middleton to the new position of Coaching Officer. John has many years of experience in both under age and adult management at club and inter county level. We are very fortunate to have John on board, his knowledge and experience will be a huge benefit not just for player development but also to the committee and the club as a whole.
Registration for 2016 will take place on Jan 9th @ 10am – 12 in the Club.
Registration forms and further information are on www.midletongaa.com/forms.
Annual General Meeting
The Adult H & F Club AGM will take place on Wednesday 9th December at 8pm in the Club (Please note change of date), all members and intending members welcome.
Gaa Golf Society
The final Golf outing of the year takes place on Saturday next December 5th with the Xmas Hamper competition up for grabs at East Cork Golf Club from 11.45 to 1pm. This event is kindly sponsored by Patrick O'Farrell of O'Farrell Butchers.
Everybody is welcome, the AGM will take place immediately afterwards.
Lotto
Our Lotto Jackpot was €1,600, there was no winner, the numbers were 10,14,21 & 24, the Lucky Dip winners were Rebecca Kelly/Edel Milward c/o Bingo, Michael Allen Mill Rd, Ann Marie Carrig Liath, "Tin the Lad" c/o Murphy Butchers & Tom/Marie Cotter, next week's Jackpot will be €1,800.
Next week's Lucky Dip draw will include four extra prizes of €30 Xmas meat vouchers supplied by Crowley's Meat Centre.
The Lotto draw takes place each Friday in the Club. Tickets are on sale at the Club Bar, O 'Neills Bar, Linehans Bar, Maple Leaf Bar, O' Farrells Butchers, Frank Murphy Butchers, Pat Walsh Paints, Chadwicks, Teach Beag & Niall Mac's Bars.
BINGO takes place each Friday night in the GAA Pavilion with a weekly guaranteed Jackpot of €1,000.

Juvenile
Team Reports
Many thanks to all the team managers for submitting their well detailed annual reports, unfortunately due to the size of these we would have difficulty getting them all published therefore we have decided to include them very soon in the website under the various age groups.
Fe15
Congratulations to our Premier 1 Football side on their recent victories; they will be honoured with the Rebel Og Award for November at the Clayton Silversprings Hotel on Monday next November 30th at 5pm. The event is sponsored by the Clayton Hotel, Cummins Sports, RedFM and Irish Examiner.
Best of luck to our hurlers who will take on Inniscarra in the rearranged Premier 1 Rebel Og final over the coming days.
Fe16
Congrats to our footballers who had a fine victory over Mallow in the Rebel Og Premier 2 final last Sunday morning at home by 4-07 to 2-10. Very well done to the lads, this was the last game at Juvenile level for some of them before heading to minor level. It was a great to finish to the year with some silverware. Magpies ABU....
Team: Cormac Higgins, John O'Dwyer, Conor O'Farrell, Ciaran Evans, Adam Wilson, Eoin Mitchell, Luke Smith, Eoin Moloney, Sean O'Leary Hayes, Shane Finn, Christopher Power, Cathal Gunning, Harry Wall, Tommy O' Connell & Tom Scanlon. Subs were Cian Farmer, Cian Murray, Cormac O'Brien, Alan Power, Andrew Nestor, Evan O'Meara & Kevin Finn.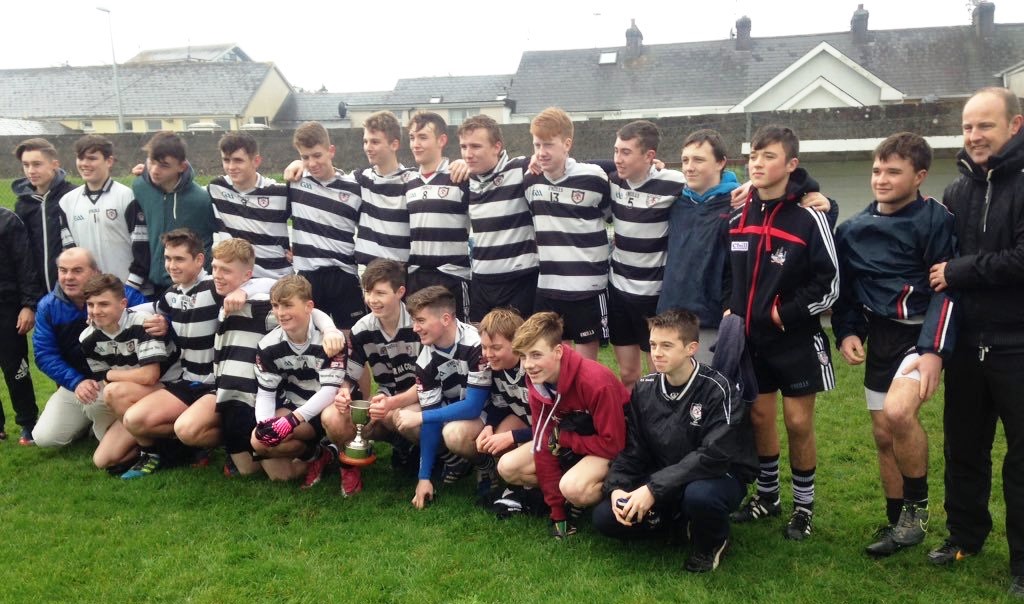 Indoor Training
Indoor Training takes place each Saturday from 10am to 1pm in the Community Centre (Gaelscoil) for Junior, Senior Infants & First Class groups. Have a helmet & shinguards, hurleys will be provided on the day.
Juvenile AGM
The Juvenile AGM took place in the Club last Thursday. The meeting was very well attended and opened with Cormac Quirke delivering his Chairman's Report for the past year. He thanked the Primary schools for the successful work they are doing at an underage level , paid tribute to John Ferriter for representing the club at Rebel Og and thanked St Colman's, CBS, Community Centre and Midleton College for the use of their facilities. Cormac thanked all those involved in fundraising; the Golf Classic and Christmas Raffle being the most successful. A big thanks to Market Green, Tom Kelly and Blackwater Motors for their generous sponsorship one again. He concluded his address by passing on his and the Clubs sincere condolences to the family's of Maurice Moloney and Bill O' Keeffe who passed away and were two very loyal members and supporters of the Club.
Liam Wade Secretary of the Juvenile Club then delivered his report. It was Liam's first year in the Secretary role and he expressed his gratitude to everyone who helped him and paid congratulations to all the teams who's achievements were as follows,
FE11 hurlers who drew the League final, FE12 hurlers who won the Premier 1 League, FE13 hurlers who won the Premier 1 League and the Autumn League, FE14 hurlers who won the Regional Feile, FE15's who won the Premier 1 Football Championship and the FE16's who reached the final of the Premier 1 Hurling League and were narrowly defeated by Na Piarsaigh.
Liam acknowledged that the Club is well represented on the Imokilly teams, Cork Development Squads and schools teams in both hurling and football.
The club participated in a huge number of Blitz's throughout the year and held many events such as the Christmas Draw and social night, Long Puck, St Patricks Day Parade, Cul Camps in July, Easter Camp, Golf Classic and Teenage Discos held at the club. A special thanks was given to Mary Quinn for another great years' service and dedication in her role as Treasurer.
As part of the club's 5 year Plan and through the various Steering Committee meetings and focus groups held throughout the year it was proposed and adopted that the Juvenile section would split into two groups. The Fe 6's through to Fe11's would form the first group with the Fe 12's through to the Fe16's forming the second.
This new structure would require two new positions on the committee for 2016, namely a Vice Chairman and an Assistant Secretary.
The Committee elected for 2016 are as follows;
Chairman – Cormac Quirke, Vice Chairman - Willie Lawton, Secretary - Liam Wade,
Assistant Secretary - Michael Carroll, Treasurer - Mary Quinn & PRO - Ruth Walsh
Managers for 2016 are as follows;
FE6 Criostóir O Cathasaigh, FE7 Aidan Moloney & Robbie Barry, FE8 Willie Lawton, FE9 Kevin Mc Sweeney, FE10 Martin Mc Sweeney, FE11 Peter Smyth
FE12 Pa Beausang, FE13 Jerry Smyth, FE14 Mark Hennessy, FE15 Cormac Quirke
and FE16 Padraig O' Brien.
The Juvenile Committee would like to express their thanks and gratitude to all those who attended. We would like to pay tribute to all those individuals who have helped out within the Club during 2015 and for those in particular who are stepping down from their roles we thank you for your involvement and contributions. We wish our Committee Members and Coaches every success in the coming year and would like to wish you and all your families a very happy Christmas and look forward to your continuing support in 2016. Everybody is welcome to attend the adult AGM on the 9th of December at 8pm where only fully paid members are entitled to vote.
Christmas Draw
Tickets are now available for our annual Xmas Draw which will take place on the 12th of December. Please contact Jim Sullivan or Cormac Quirke if you can help selling some tickets or if you want to buy them as this is a very important fundraiser.
Tickets are also available at Pat Walsh Paints, O'Neill Bar, O' Farrell Butchers.
Please support all our sponsors which appear on the tickets.
Social & Medal Presentation
Our annual Social & Medal presentation will take place on the same night as the Xmas draw Saturday 12th of December in the Club Hall and Lounge.
Further details will follow next week.
Annual Long Puck
The Sean Keohane Memorial Long Puck will take place once again this year from Lisgoold village to Midleton on St Stephen's day, further details to follow.
Club Shop
The shop will be open from 11am to 12 each Saturday; don't forget to order your Xmas gifts before it's too late.