Midleton GAA , Camogie & Ladies Football Club News
22 November, 2015
Senior Hurling
We finished the year off with a great win in the Red FM County League final when we defeated Blackrock on a cold damp evening but on a fine surface in Riverstown.
Despite a slow start to the game we finished the half the stronger team and led at the break by 1-07 to 0-05, the goal coming from James Nagle following a great cross field ball from Aidan Ryan.
We started the second half well and went six points ahead only for Blackrock to score a goal and a point in quick succession to reduce the deficit to two points. Then they struck a purple patch scoring five points to our one and with only five minutes left they went ahead by two points. We needed inspiration from someone and up stepped Patrick White, he gathered a cross field line ball from Declan Ryan and took off on a solo run from just inside their half, leaving defenders in his wake he billowed the back of the net off his left hand to put us back in front by the minimum. Having won the ball from the resultant puck out a high ball into the square resulted in Peter Dowling finishing the ball to the back of the net. A late Blackrock point wasn't going to be enough and referee Joe Larkin sounded the final whistle to the delight of the Midleton supporters amongst the fine crowd to leave us winners on a score of 3-11to 1-14.
County Board Chairman Ger Lane presented the Denis Conroy Cup to our captain Peter Dowling who thanked everybody.
Well done to the players and management on their great efforts throughout the year.
Team: Tommy Wallace, Cillian Hurley, Alywin Kearney, Patrick O'Mahony, Declan Ryan, Finbar O'Mahony, Seamus O'Farrell, Padraig O'Farrell, Cormac Walsh (0-04,3 free's), Padraig O'Keeffe (0-02), Aidan Ryan (0-02), James Nagle (1-00), Luke O'Farrell (0-02), Peter Dowling (capt.) (1-00) & Patrick White (1-01).
Subs used Leslie Coughlan & Seanaidh Smyth, not used Liam Franklin, Darren Quirke, Sean O'Farrell, Shane Ryan, Luke Dineen, Cormac Beausang, Sean O'Meara & Kevin Mulcahy.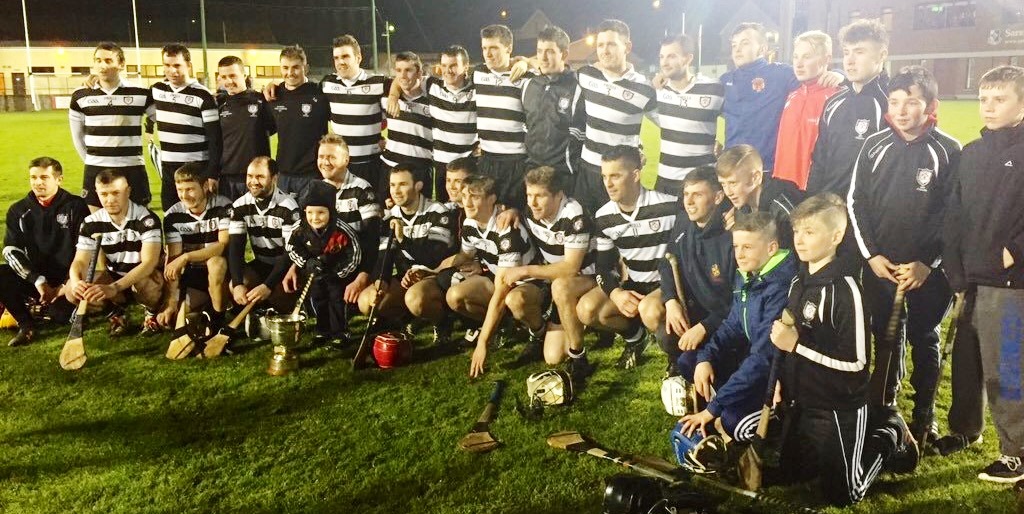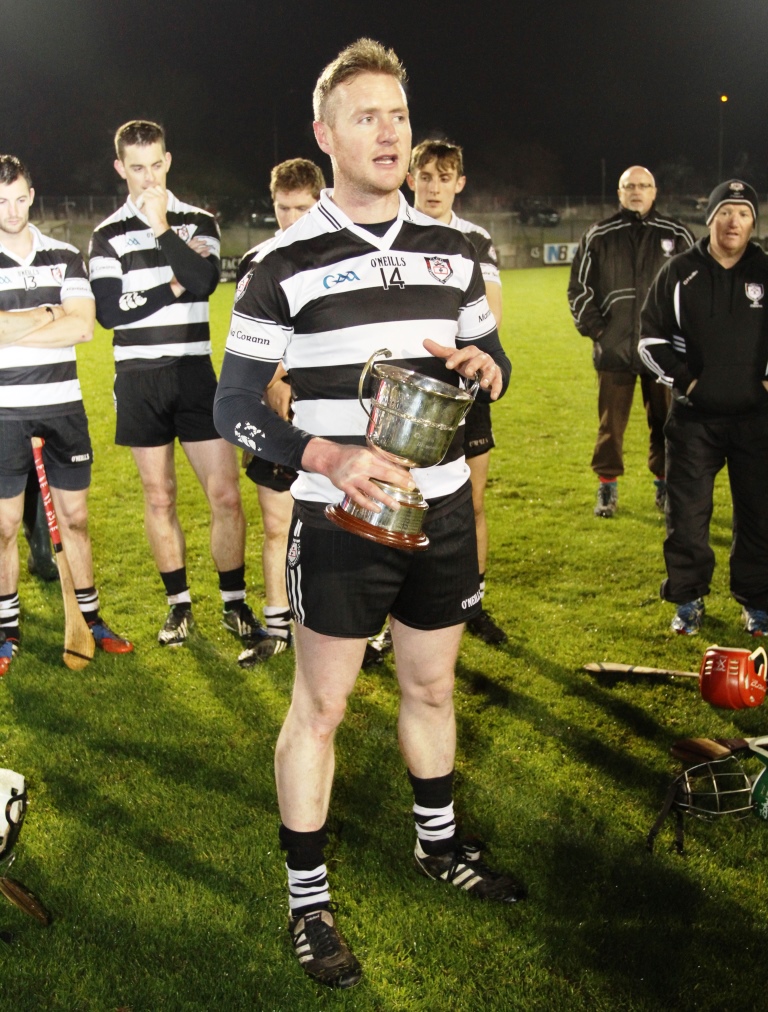 Harty Cup
Last Wednesday two Cork schools had fine victories in the Harty Cup Senior Hurling competition and we had representatives on both teams.
At Ballincollig Midleton CBS defeated Hamilton High School Bandon by 3-15 to 1-06 with Seanaidh Smyth, Sean O'Leary Hayes, Garan Manley, Padraig O'Brien, Sean O'Meara, Kevin Mulcahy and Adam Daly all part of the panel. In Kilmallock CBC booked a quarter final spot with a historic win over St Flannan's by 2-07 to 0-11 with Tommy O'Connell, Eoin Moloney and Shane Finn all part of the team.
Coaching Workshop
On Saturday last in glorious winter sunshine our coaching workshop got underway at 10.30am on the main pitch. Kilkenny senior hurling star and teacher at St. Kieran's College, Michael Rice put our under 14 hurlers through their paces. With a series of drills which included 'winning the dirty ball', 'tackling', 'support play', and modified games to promote the above skills. For ninety minutes it was full on, punctuated by the odd but well earned water break. Michael was constantly communicating to the sixty coaches in attendance offering feedback and tips on how the session was progressing. He was generous with his time staying on for an extra twenty minutes answering questions and offering advice. An excellent morning's activity, with the high skill levels of our Fé 14's making the session flow and enjoyable to watch. Activity on the pitch finished at 12.15 with a welcomed tea break in the pavilion.
The next guest was Dr Wesley O'Brien Lecturer in Sports Studies & Physical Education, UCC, he began his presentation indoors at 12.30, Wesley's subject "A perspective on Human Movement in Cork GAA" was very well received.
His professional delivery but down to earth approach to the subject made for a very interesting but sobering view on issues which are extremely important in the physical development of children not just in a sporting context but for overall health and wellness. Fundamental motor skills were explained, dissected, and finally (in the Ball Alley) demonstrated through interaction with the coaches and with the help of UCC students Orlaith Farmer and Diarmuid Lester.
Wesley answered all questions generously both during and after his presentation.
The attending coaches go back to their clubs throughout Cork with an increased awareness and improved knowledge of both theory and practical aspects of coaching youths. With very positive feedback from those participating we would like to thank Michael Rice, Dr Wesley O' Brien, Orlaith Farmer, Diarmuid Lester and our Fé 14 magpies for their top class contributions. We would also like to thank Alan Donegan Pavilion manager (and IT guru on the day) for making the clubs facilities available.
Well done to Club Coaching Officer Martin Mc Sweeney for organising this event.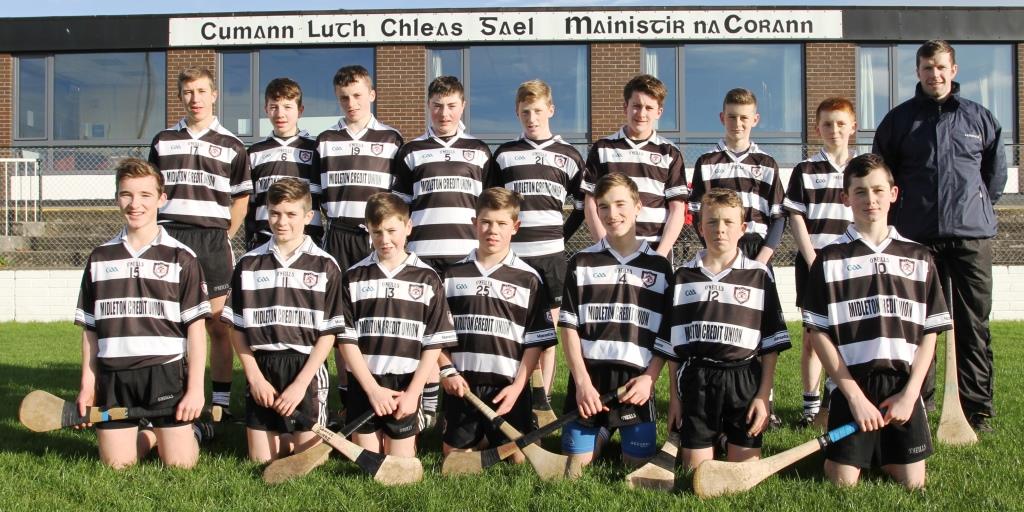 Health & Wellbeing
After a number of recent meetings our Health & Wellbeing committee has been finalised with a number of initiatives planned. The new Committee now is Pearse Mc Carthy, Diarmaid O'Dalaigh, Paul O'Meara, Marcella O'Neill, Ingrid Connaughton, Cian Mc Carthy, Triona Scully, Mairead Beausang & Kevin Mc Sweeney.

Ladies Football
Our AGM was held last Thursday in the GAA Club. Even though attendance was poor it was a very constructive positive meeting with the following officers elected:
Chairperson: Paddy Corcoran, Vice Chairperson: Ger Collins, Secretary: Mairéad Beausang, Vice Secretary: Mags McEvoy, Treasurer: Martin Carr, Vice Treasurer: Carol Franklin, Registrar: Tracy Saunderson, PRO: Tracy Saunderson, Development Officer: Paddy Corcoran & Child Welfare Officer: Ber Kelly
Delegates: Midleton GAA Club: Paddy Corcoran & Mairéad Beausang
East Cork Board: Paddy Corcoran & County Board: Tracy Saunderson & Mairéad Beausang.
Reports from U8 to Junior were read to the meeting from all that was reported a successful year for Midleton Ladies Football. Our U14's won the East Cork Championship against Cloyne. Our Junior's competed in a 7 a side which Lisgoold Club organised it was a fantastic day out with great football played we won this competition which was a great boost to the girls and the club. All teams participated in league and championship and conducted themselves in an exemplary fashion this is proven by the fact that the Chairperson has heard from many other clubs that they enjoy playing our teams as we are welcoming and fair. The U10 and U8 teams played in many blitzes over the year and were extremely successful while having fun too!
The Chairman also thanked Midleton GAA Club for the use of their facilities. Sincere thanks and appreciation to Midleton Rugby Club who allow us use their facilities over the summer for training, U8 and U10 football games without their support the girls would not have had regular weekly training from April to September.
Vincent Reddy from the Hurling & Football Club spoke briefly to the meeting. He wanted to put on record the Club's thanks to Ladies Football and particularly to Mairéad and Tracy for their work on the Development Plan Steering Committee. He said he wished both ladies would come and work for them!
He wished the club every success both on and off the field in 2016.
The meeting concluded with the Chairman congratulating everyone on another successful year within the club. Not much silverware but it was an absolute pleasure to be in the Rugby Club in the height of summer to see so many girls from 6 to 18 playing football and enjoying It. Long may it continue!

East Cork Minor Plate Semi Final played on 15/11/2015
Carrigtwohill 1-4 v Midleton 3-6
Carrigtwohill, playing with a strong wind opened brightly against us scoring the opening point after five minutes in the minor plate semi-final played in Carrigtwohill today. We were defending well and counter-attacking at pace. Ciara O'Doherty found space and fired over an equalising point after nine minutes, having been unlucky with an earlier effort. We were tigerish in defence with Lucy Lawton superbly marshalling the full back area and getting strong support from Roisin O'Callaghan, Caoimhe Morrison and Claudia Kearney at different stages. We kept the ball in hand with Aoife Madden linking well with Niamh O'Farrell and Meg O'Regan in midfield and Chloe Sigerson and Molly Beausang offering outlets for the attacking defenders. Having kicked a number of wides, Carrig retook the lead on fifteen minutes when they raised a second white flag. Kate Mary Cullinane was rock solid in goals and was finding Midleton players on her kick outs with Deirdre Corcoran and Clare O'Mahony showing well in front of their opponents.
On the twenty fifth minute, another fine kick out from Kate Mary found Meg O'Regan on the forty. Following a quick one-two with the tenacious Deirdre Corcoran, Meg laid off a lovely ball to Sadhbh Beausang who turned her marker as she won the ball before setting up the inrushing Charley Moore to fire an unstoppable shot to the back of the net. Ciara O'Doherty was creating openings at full forward and was unlucky when two passes were intercepted when she had an open path to goals. However within three minutes of the goal, Carrig had capitalised on a misplaced hand pass to score their third point. We went into the half time break leading 1-1 to 0-3 despite playing against the strong wind.
Carrigtwohill were quickly into the game and equalised within two minutes of the restart, following a misplaced short pass from the edge of our square. However, within two minutes, a Charley Moore run at the heart of the Carrig defence created space for Laura O'Leary whose quick hands set up Dionne Carroll to fire into an open net. Almost immediately, we had a disallowed goal for a square ball. Following a short kick out, Meg O'Regan, who was a commanding figure throughout the game, won the subsequent clearance and travelled 20m before putting the ball over from c. 30m out. By now, our half back line of Claire O'Mahony, Aoife Madden and Deirdre Corcoran were attacking from deep and creating overlaps only to see stout defending and great block downs from a gallant Carrig team to keep us from adding to their score. With Rhea Buckley putting her body in the line, we were now getting on top in all areas of the field. In the next six minutes Chloe Sigerson scored two fine points, one on her supposed weaker left foot from 35m, and set up a further point for Dionne Carroll. Carrig's character shone through and they scored a fine goal after good movement from their full back line resulted in a beautifully place ball into the bottom corner of our net. Within a minute Deirdre Corcoran won another dirty ball, laid it off to Molly Beausang who found Chloe Sigerson with a 30m cross field pass and Chloe slotted coolly over the bar. The best wine was kept to last when another Stephen Cluxton like kick out from Kate Mary found Aoife Madden near the half way line. Having eaten up ground Aoife parted to Sadhbh Beausang who played team captain, Niamh O'Farrell, into space before she draw two defenders and passed to Dionne Carroll to fire home another well taken goal.
It was a fitting finish to a fine team performance.
We are away to the winners of the other semi-final between Inch Rovers and Mayfield which is being played this weekend. The Final was originally fixed for this Sunday but has been put back to Sunday next 29th. It was good to see the injured Abby Quirke being able to attend the match and we all wish her a speedy return to action.
Midleton Panel : Kate Mary Cullinane, Roisin O'Callaghan, Lucy Lawton, Caoimhe Morrison, Claire O'Mahony, Aoife Madden, Deirdre Corcoran, Niamh O'Farrell, Charlie Moore, Megan O'Regan, Chloe Sigerson, Molly Beausang, Laura O'Leary, Ciara O'Doherty, Dionne Carroll, Claudia Kearney, Sadhbh Beausang, Rhea Buckley, & Abby Quirke.
Camogie
Winter Training:
Under 6: Friday evenings 6.45pm -7.45pm @ Ball Alley, Midleton GAA
Under 8: Friday evenings 7pm – 8pm @ Community Centre
Under 10 & 12 : Tuesday evenings 6pm -7pm @ Midleton College all weather pitch
Dates for your Diary:
Our AGM will take place on Wednesday next November 25th at Midleton GAA Club
End of season party for all players and their families is December Saturday 5th from 5pm -7pm, at the GAA Club
Annual General Meetings
The dates have been set for the various Club AGM's over the coming weeks.
Camogie Club AGM Wednesday 25th November
Juvenile Club AGM Thursday 26th November
Adult H & F Club AGM Wednesday 9th December (Please note change of date)
Gaa Golf Society
The final Golf outing of the year takes place on Saturday November 28th with the Xmas Hamper competition up for grabs at East Cork Golf Club from 11.45 to 1pm. This event is kindly sponsored by Patrick O'Farrell of O'Farrell Butchers.
Everybody is welcome, the AGM will take place immediately afterwards.
CBS India Immersion Project
Two of our club players Sean O'Meara and Cathal Gunning are part of the CBS group which will travel to India in the February. On Friday night last they held a successful raffle at the Bingo in the Gaa Club and on Thursday next a table quiz will take place in the CBS @ 8pm, table of 4 costs €20 with plenty of prizes on offer.
Condolences
The Executive committee would like to express their condolences to the O'Brien family on the recent passing of David J late of Baneshane, father of our Club assistant Treasurer Pat and of our regular sponsor Phillip.
Lotto
Our Lotto Jackpot was €1,400, there was no winner, the numbers were 2,7,10&22, the Lucky Dip winners were Denise Moynihan, Catherine Gaffney, Seamus Murphy, Michael Cahill & Hannah Beausang, next week's Jackpot will be €1,600.
The Lotto draw takes place each Friday in the Club. Tickets are on sale at the Club Bar, O 'Neills Bar, Linehans Bar, Maple Leaf Bar, O' Farrells Butchers, Frank Murphy Butchers, Pat Walsh Paints, Chadwicks, Teach Beag & Niall Mac's Bars.
BINGO takes place each Friday night in the GAA Pavilion with a weekly guaranteed Jackpot of €1,000.

Juvenile
Fe15
Best of luck to our hurlers who will take on Inniscarra in the Premier 1 Rebel Og final next Saturday 28th in Ballyanly @ 2pm. We're hoping that we can emulate the Fe 15 Hurlers of 2014 in winning this competition and retaining the trophy for another year. In advance of the game players will be notified of training shortly.
Fe16
Congrats to our footballers who had a fine home victory over St Nick's last Saturday by 1-15 to 1-07 in the Rebel Og Premier 2 league semi final, we now face Mallow in the final next weekend. Team: Cormac Higgins, John O'Dwyer, Conor O'Farrell, Ciaran Evans, Adam Wilson, Eoin Mitchell, Luke Smith, Eoin Moloney, Sean O'Leary Hayes, Shane Finn, Christopher Power, Cathal Gunning, Harry Wall, Tommy O' Connell & Tom Scanlon.
Indoor Training
Indoor Training takes place each Saturday from 10am to 1pm in the Community Centre (Gaelscoil) for Junior, Senior Infants & First Class groups. Have a helmet & shinguards, hurleys will be provided on the day.
Christmas Draw
Tickets are now available for our annual Xmas Draw. Please contact Jim Sullivan or Cormac Quirke if you can help selling some tickets or if you want to buy them as this is a very important fundraiser for the Club.
Tickets are also available at Pat Walsh Paints, O'Neill Bar, O' Farrell Butchers.
Please support all sponsors which appear on the tickets.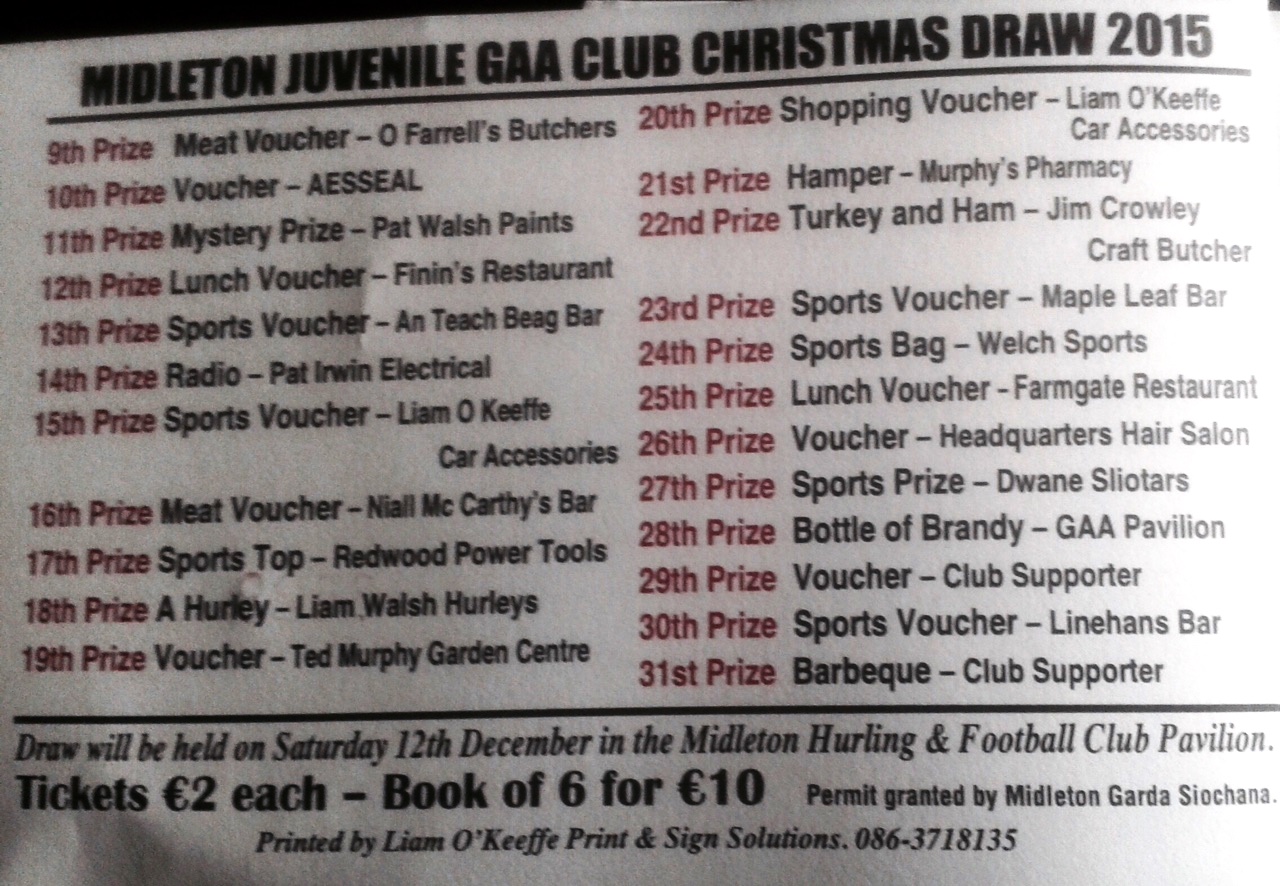 Club Shop
The shop will be open from 10.30 am to 12 on Saturday.