Midleton GAA Club News
08 November, 2015
Senior Hurling
We are provisionally down to play the Red FM County League final against either Blackrock or Erins Own on Saturday 21st in Pairc Ui Rinn.

Junior Hurling
Congrats to our Junior A hurlers who won the County League final last Saturday afternoon when they defeated Mayfield by 3-13 to 0-18 in Ballinlough.
Playing against the wind in the first half we struggled at times to get up to the tempo in the game. Perhaps this was understandable so as we had no game for a number of weeks. Mayfield were coming off the back of a County Football final defeat and looked hungry for success, they led coming up to the break by five points but a goal from a Padraig O'Keeffe penalty and two quick points tied the scores at halftime 1-08 to 0-11. We got a great start to the second half with Cormac Beausang finishing off a long ball from Declan Ryan to the back of the net. Unfortunately we didn't hold onto our advantage for long as some indiscipline was responsible for Mayfield scoring three frees in a row. From here until the very end it was nip and tuck , we held the advantage by two points with only minutes remaining only for Mayfield to finish strong and tie up the game. Extra time looked on the cards only for Padraic Nagle getting on the ball from a puck out and sent it sailing over the bar, followed very quickly by a great solo goal by Declan Ryan who broke in behind their defence.
Our backs held out with some great defending and eventually after what seemed an eternity the ref blew for full time and we finished as champions on a scoreline of 3-13 to 0-18. Our captain Joe Loftus received the Cup on behalf on the team, he thanked the players and selectors and also remembered the two great clubmen we lost in the past week, our Vice President Billy O' Keeffe and great supporter Maurice Maloney. Before the game a minutes silence was observed for both of these great men.
Well done to all the players, selectors Gavin Power, Pat Fox & Iain Cooney.
Team: Joe Loftus, Elliot Mulcahy, Oisin Cotter, Billy O'Shea, Darren Quirke, Luke Dineen, Kevin Mulcahy, Sean O'Meara, Josh Deady, Padraic Nagle, Declan Ryan, Padraig O'Keeffe, Sean O'Farrell, Shane Ryan & Cormac Beausang.
Subs used Adam Daly, Paul Barry & Alan Stanton, not used Liam Franklin, Brendan Ferriter, Mark O'Keeffe, Brian O'Sullivan, Liam Clohessy, James Lane, Davy Hogan & Garan Manley.



Ladies Football
Our AGM will be held on Thursday November 19th at 8pm in the GAA Club.
We would encourage as many parents as possible to attend to hear of the great year the club has had.
Training for all age groups continues. Under 8's are in the Community Centre from 6-7 pm while Under 10's and over are in the Hockey pitch from 7-8 pm.
We would like to send our sympathies to the family of the late Bill O'Keeffe RIP.
Camogie
Winter Training:
Under 6: Friday evenings 6.45pm -7.45pm @ Ball Alley, Midleton GAA
Under 8: Friday evenings 7pm – 8pm @ Community Centre
Under 10 & 12 : Tuesday evenings 6pm -7pm @ Midleton College all weather pitch
Dates for your Diary:
Our AGM will take place on November 25th at Midleton GAA Club
End of season party for all players and their families is December Saturday 5th from 5pm -7pm, at the GAA Club
Condolences
It's with great sadness that we learnt of the passing of Billy O'Keeffe, Elsinore Heights, Midleton on Friday last.
Billy was a Vice President of the club, a lifetime member and a tremendous supporter as are all his family.
Himself and his late wife Jo spent many years in Slough, England where they played host to many exiles seeking employment, he arranged work there for many in exchange for their participation with some of the local GAA clubs where he was active.
They returned to Midleton with their young family in early 70's and Billy became hugely involved in the maintenance of the club grounds for many years, looking after the pitch, and later overseeing the building of the stand and terracing.
Billy also helped out at Bingo and at other fundraisers on many occasions, he acted as an umpire for several years and up to very recent times he acted as a very effective "bagman" at the gate for Championship games, his motto was "though shall not pass without paying" and boy did he carry this duty out to a tee.
In his final few days under the wonderful care of Marymount his concerns were not for himself but for his beloved club, ye'd want to cut the grass in the field he said and he also wondered how we'd cope with the Golf Classic in the future without his late friend Maurice Maloney.
Little did we all expect losing these two great characters and fantastic Magpies within a number of days, I'm sure they'll soon be sharing many a Brandy and tales of old.
The Executive Committee would like to offer our sincere condolences to his daughter Mary (Quinn), son Liam, grandchildren Darragh & Coleman, his sisters and brother, all other relatives and his large circle of friends.
Ar dheis Dé go raibh a anam
Requiem Mass will take place tomorrow Monday 9th at 11.30am in The Church of The Most Holy Rosary, Midleton, burial will be afterwards in the adjoining cemetery.
In Bill's memory there was a great turnout by juveniles and adults members at his removal last Sunday evening from Wallis's Funeral Home.
If anybody is available tomorrow Monday it would be greatly appreciated as we intend to form a guard of honour from the Church to the graveside.
Please wear your Club jacket or jumper.
We would also like to pass on our condolences to Norma Ferriter on the recent death of her mother Mary Collins late of Garrenjames, Killeagh, mother in law of our Club member John and grandmother of players Eoin and Brendan.
Child Welfare Course
There will be a course for Child Protection Awareness on Thursday 12th November from 6.45 to 9.30pm. Any person who wishes to act as a selector with teams which include a minor or younger will be required to have undertaken this course. This course has a limited number of places so if you are interested please contact our Children's Welfare Officer Ingrid Connaughton or any Club officer.
Annual General Meetings
The dates have been set for the various Club AGM's over the coming weeks.
Ladies Football AGM Thursday 19th November
Camogie Club AGM Wednesday 25th November
Juvenile Club AGM Thursday 26th November
Adult H & F Club AGM Thursday 10th December
Gaa Golf Society
The final Golf outing of the year takes place on Saturday November 28th with the Xmas Hamper competition up for grabs at East Cork Golf Club from 11.30 to 12.45pm. This event is kindly sponsored by Patrick O'Farrell of O'Farrell Butchers.
Everybody is welcome, the AGM will take place immediately afterwards.
Lotto
Our Lotto Jackpot was €6,600 and we had one winner Eamon Fitzgerald, Glenville c/o Pearse Mc Carthy, the numbers were 3,7,27 & 28, next week's Jackpot will be €1,200.
The Lotto draw takes place each Friday in the Club. Tickets are on sale at the Club Bar, O 'Neills Bar, Linehans Bar, Maple Leaf Bar, O' Farrells Butchers, Frank Murphy Butchers, Pat Walsh Paints, Chadwicks, Teach Beag & Niall Mac's Bars.
BINGO takes place each Friday night in the GAA Pavilion with a weekly guaranteed Jackpot of €1,000.
40 Years ago
Many thanks to Phillip O'Brien for forwarding this picture c/w names of the Street League team of 1975 which featured in this weeks Midleton News.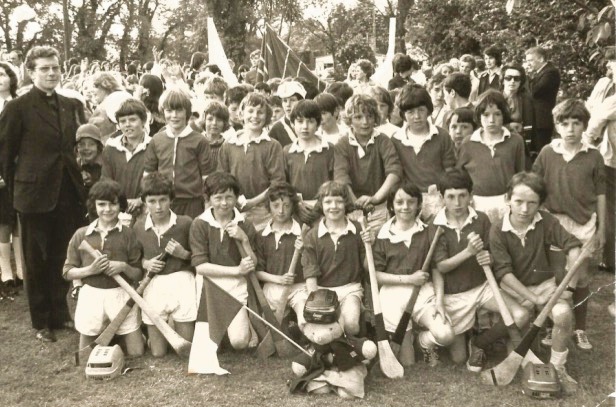 Back Row: Brother Cable, Denis ''Dino'' Deane,(Mascot) Kevin Mullen, Frank Williams, John ''Classy'' Hennessy, John O Regan, Willie Owers, Phil O Brien, Kevin Coakley & David Keane.
Front Row: Declan ''Russia'' Ryan, Pat ''The Wasp'' Crotty, John Cox, Willie ''Chipper'' Higgins, Tadgh Horgan, Ger Twomey, Ger Fitzgearld & Colm O Neill.

Juvenile
Fe16
We just lost out last Saturday in the Premier 1 Hurling League final v Na Piarsaigh at home. In a very good game we did not get off to the best of starts and found ourselves six points down early on but to the boys credit they fought back well and with two very well taken goals were only down by two points at half time.
The second half got off to a flyer with some great points from Ross O Regan and Kevin Finn and we hit the front playing very well. Points were exchanged from there on but unfortunately for us Na Piarsaigh finished just the bit stronger in the end winning by three points. Special mention for Ross O Regan on an outstanding display of stick work... Great credit is due to our boys in their last Fe16 hurling game together before they make the jump to minor grade. The management would like to thank the lads for all their efforts throughout the last ten years plus and wish them every luck in the future... A minutes silence was observed for two great club men before the game. the late Maurice Moloney and Bill O Keeffe.
Final Score: Midleton 2-15 v Na Piarsaigh 1-21
Team; Ryan O Riordan, Ciaran Evans, Sean O Leary Hayes, Conor O' Farrell,
Eoin Mitchell, Eoin Moloney, John Dwyer, Shane Finn, Luke Smith, Cathal Gunning Christopher Power, Harry Wall, Kevin Finn, Tommy O' Connell & Ross O'Regan
Sub: Kian Farmer
Indoor Training
Indoor Training commenced last Saturday morning with the new Magpies from Junior Infants beginning their first mornings training. Each Saturday training will take place from 10am to 1pm in the Community Centre (Gaelscoil) for Junior, Senior Infants & First Class groups. Have a helmet & shinguards, hurleys will be provided on the day.

Christmas Draw
Tickets are now available for our annual Xmas draw, this is a very important fundraiser for the Juvenile Club so your support is very welcome.
For tickets please contact any team manager or club officer.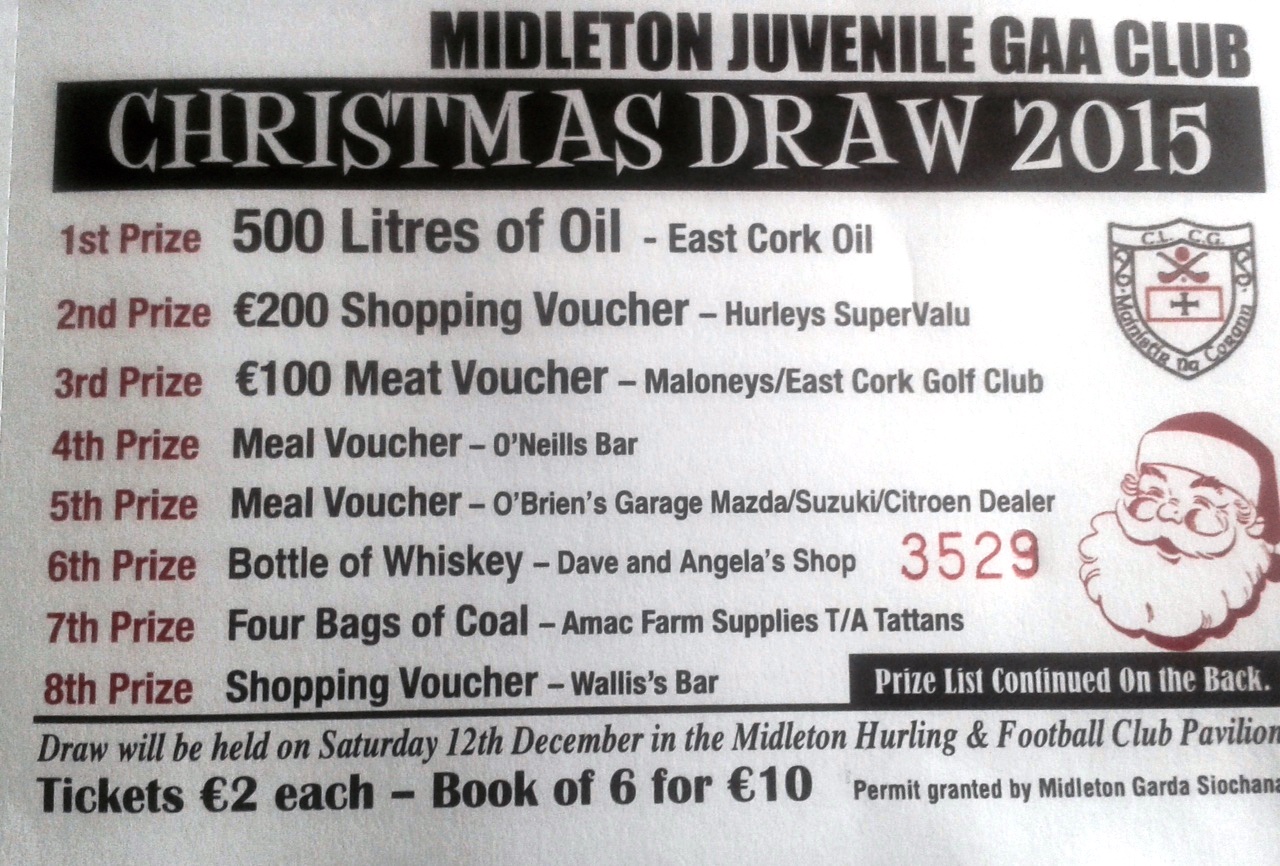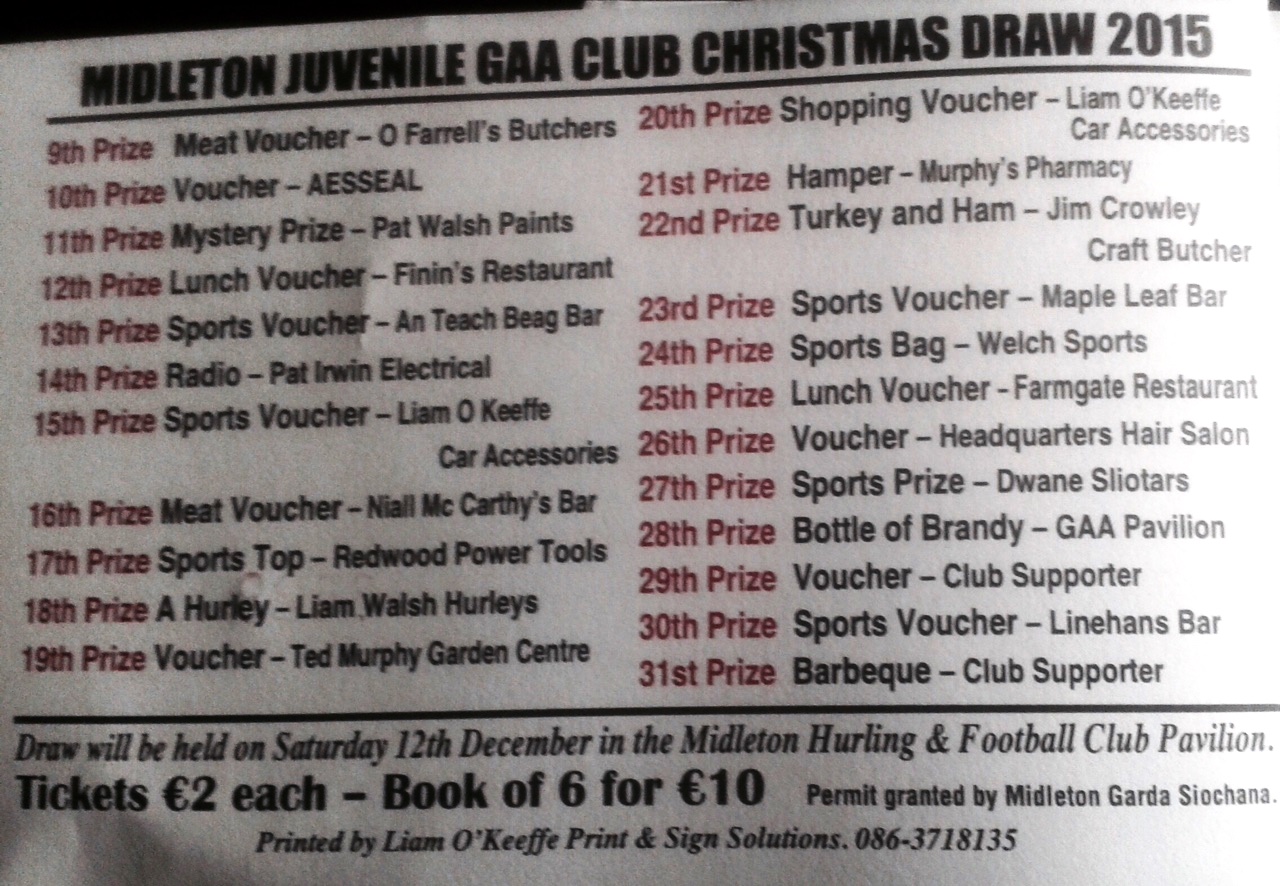 Club Shop
The shop will be open from 10.30 am to 12 next Saturday.