Midleton GAA , Camogie & Ladies Football Club News
01 November, 2015
Senior Hurling
We are awaiting confirmation of the date for the Red FM County League final when we will meet either Blackrock or Erins Own.

Junior Hurling
Our County League final v Mayfield is fixed for next Saturday 7th in Caherlag at 3pm
Ladies Football
Midleton win the Phil McCarthy 7 a side tournament at Lisgoold
We triumphed in a very entertaining and sporting Junior 7 a side tournament played in Lisgoold on the 25th of October. Having qualified as runners up in Group 1 we won the semi-final after a titanic struggle against a young Carrigtwohill side before defeating a combined Carrig/Lisgoold outfit in a very entertaining and sporting final. In total we played four twenty minute games, two pool matches, a semi-final and final, improving with every game, before Claire O'Brien collected the shield on behalf of a magnificent Midleton team.
Midleton Panel: Claire O'Brien, Molly Beausang, Lucy Lawton, Laura O'Leary, Deirdre Corcoran, Abby Quirke, Orlagh Farmer, Rosin O'Callaghan, Aoife Madden & Charley Moore.
Erins Own 5-3 Midleton 4-1
In the first pool game we went down narrowly to a strong Erins Own outfit. Having been first out of the block with a Claire O'Brien goal, Erins Own countered with two goals before Abby Quirke equalised for Midleton. A further goal and a point restored the lead for Erins Own before an Abby Quirke goal and a Claire O'Brien free levelled the scores again. Two misplaced clearances allowed Erins Own go in at half time leading 4-2 to 3-1. With Lucy Lawton and Charley Moore becoming more dominant, Laura O'Leary set up Abby Quirke for another goal to leave just the minimum between the teams. Roisin O'Callaghan made some timely interceptions, using her pace to good effect. However in the final two minutes Erins Own bagged another goal and a point to run out winners by five points.
Erins Own defeated Youghal in the second match of Group One to top the table. The winner of the next match would progress to the semi-final as runners up in the group.
Midleton 5-6 Youghal 1-1
We the team for the second game with Deirdre Corcoran moving to midfield where she went on to dominate the central third for the remainder of the tournament, allowing Claire O'Brien adopt a more attacking role. Charley Moore moved to goals where she played the fly keeper role with distinction. Claire O'Brien opened the scoring with a 45 before Abby Quirke fed off the penetrating runs of Deirdre Corcoran, Claire O'Brien and Roisin O'Callaghan scoring 2-1 before Youghal got on the score sheet, raising a white flag. Following a long ball from defence, Dionne Carroll, Youghal's stylish forward, stepped inside her player to firmly plant the ball in the back of the net. Having recovered their composure, strong running from Aoife Madden was creating space for the Midleton attackers. Claire O'Brien scored a fine long range point before Abby Quirke raised another green flag to leave the half time score at 3-3 to 1-1. Orlagh Farmer's introduction in the second half helped us to get on top and she quickly popped the ball over the bar after a penetrating run.
Molly Beausang with an excellent point and a Laura O'Leary goal put the game beyond the reach of Youghal. Orlagh Farmer picked off another point, and a Claire O'Brien goal finished off the scoring.

Semi Final Midleton 5-2 Carrigtwohill 2-2
The score-line does not tell the full story of the game which was a very close affair with the result only being decided in the final two minutes of the game. Playing against the breeze in the first half Abby Quirke opened the scoring with a fine point. Carrigtwohill utilised the wind, drawing out the Midleton backs and then using long kick outs over the Midleton defenders, setting up a foot race for the ball. Having scored a penalty and a further goal from this tactic, Midleton tightened up their defence where Lucy Lawton & Aoife Madden took control of their half of the pitch. Deirdre Corcoran, who nearly ran herself to a standstill, set up Abby Quirke for a goal before Carrig picked off two good points. At half time Carrig was full value for the 2-2 to 1-1 lead.
On the turnover Midleton adopted a similar long kick out tactic and Orlagh Farmer set up Abby Quirke for a goal to leave the minimum between the teams. Two minutes later, another long Charley Moore kick out created the space for Abby Quirke to get her hat trick. In the final three minutes Midleton notched another 2-1 to finish up with a hard won victory by a flattering three goal margin.
Final Midleton 4-6 Carrig\Lisgoold 0-2
Without doubt, this was Midleton's best performance. Having conceded the first score to a free, Deirdre Corcoran, Orlagh Farmer and Clare O'Brien never stopped running at the heart of the Carrig\Lisgoold combination. After Orlagh Farmer had equalised, the tiring legs of Midleton spurned three great goal chances. However with Charley Moore playing a sweeper role behind Lucy Lawton and Aoife Madden, who were controlling the back line, there was a steady supply of ball and chances for the forwards resulting in two Abby Quirke goals.
Having opened strongly in the first couple of minutes of the half, Carrig/Lisgoold scored a fine point. This seemed to galvanise the Midleton team who would not concede again in the game. The strong running of Orlagh Farmer and Claire O'Brien continued to create problems and eventually set up the opportunity for an Abby Quirke point before Orlagh Farmer calmly slotted the ball into the bottom corner net. Then up stepped Molly Beausang to kick two fine long range points and saw her next effort come back off the crossbar. Laura O'Leary narrowly missed a goal having cleverly created an opening on the left wing. Claire O'Brien, Orlagh Farmer and Abby Quirke finished off the scoring. Overall, Midleton were fully deserving of their win. Sportingly, the Carrig/Lisgoold combination remained on after the presentation and it was smashing to see both teams pose for a joint photograph. This epitomised everything that is good about the game of ladies football.
In the Plate final two former Midleton players, Dionne Carroll and Rhea Buckley played starring roles in Youghal's win over Cobh. Their involvement ensured that all of the Midleton players supported their Youghal neighbours in the plate. Well done girls.
WELL DONE LISGOOLD
Overall, this was a most enjoyable day and a superbly run competition. Both pitches were in fantastic condition and the Lisgoold club could not have been better hosts with food and hot drinks available in the clubhouse and on the second pitch. Well done to all who helped organise the event.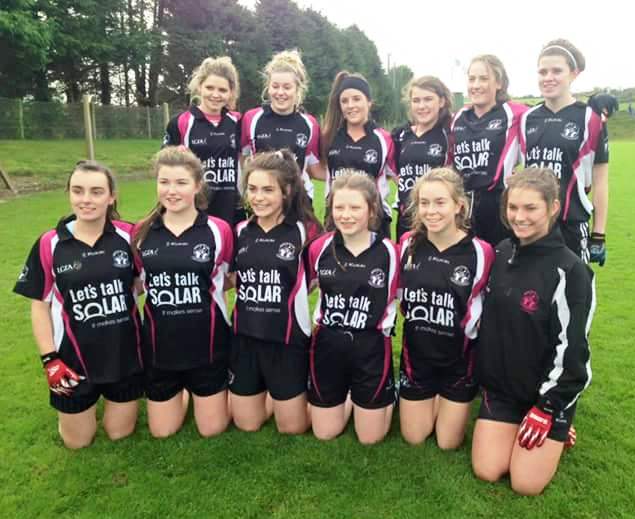 Minor League
Midleton 6:13 v Mayfield 3:09
A good game of open football by two committed teams was witnessed in the Minor East Cork League in Midleton last Wednesday afternoon when we welcomed Mayfield for the 3rd round of this league.
To match numbers we played 13 aside with Midleton adopting rolling substitutions ensuring all players got good game time. This result should secure our place in the semi final pairings which is a great achievement for our girls.
We were well on top at half time 6:13 to 2:03, and to Mayfield's credit came at us with gusto aided by a rising wind. They camped in our half for the first ten mins and scored 1:03 in this period. But our girls weathered the storm and pushed back up field scoring a further 2:05. We are improving with every game as the team finds its pattern from a panel of players with an age profile of 14 to 18.
Panel: Dionne Carroll, Meg O'Regan (3pts), Michaela McGann (1pt), Roisin O'Callaghan, Claire O'Mahony(1pt) Charley Moore(4pts), Abby Quirke(5 goals,3pts) Molly Beausang, Laura O'Leary, Deirdre Corcoran, Sadhbh Beausang(1 goal), Rhea Buckley, Aoife Franklin, Claudia Kearney, Aoife Madden, Lucy Lawton & Niamh O'Farrell(1pt).
Training resumes in the College All Weather on Monday Night 07:00 – 08:00.
Any juniors who would like to keep ticking over are welcome to come along.
Training for all age groups continues in Midleton Community Centre from 6-7pm for the under 8's and in Midleton Hockey Pitch from 7-8pm for u10 upwards.
Camogie
The following is our winter training Schedule;
Fe6's : Ball Alley, Midleton GAA Club Fridays 6.45pm - 7.45pm
Fe8's : Community College Midleton, Fridays 7pm - 8pm.
Fe10's, 12's & 14's: Midleton College all weather pitch Tuesdays 6pm -7pm.
Condolences
It was a great shock to us all today when he heard of the sudden passing of Maurice Maloney. Maurice was a fantastic member and supporter of our Club down through the years and will be deeply missed by us all. The Club Executive want to express their deepest sympathy's to his wife Claire, sons Eamon and Muiris, daughter Roisin, his extended family and all his friends at East Cork Golf Club.
We would also like to pass on our sympathy's to John Collins & family on the recent death of his wife Sheila. Both John & Sheila were judges for many years at the Tops of the Town singing contest.
Child Welfare Course
There will be a course for Child Protection Awareness on Thursday 12th November from 6.45 to 9.30pm. Any person who wishes to act as a selector with teams which include a minor or younger will be required to have undertaken this course. This course has a limited number of places so if you are interested please contact our Children's Welfare Officer Ingrid Connaughton or any Club officer.
Annual General Meetings
The dates have been set for the various Club AGM's over the coming weeks.
Ladies Football AGM Thursday 19th November
Camogie Club AGM Wednesday 25th November
Juvenile Club AGM Thursday 26th November
Adult H & F Club AGM Thursday 10th December
Gaa Golf Society
The final Golf outing of the year takes place on Saturday November 28th with the Xmas Hamper competition up for grabs at East Cork Golf Club from 11.30 to 12.45pm. This event is kindly sponsored by Patrick O'Farrell of O'Farrell Butchers.
Everybody is welcome, the AGM will take place immediately afterwards.
Lotto
Our Lotto Jackpot was €6,400, we had no winner, the numbers were 1,4,12 & 17, next week's Jackpot will be €6,600, the Lucky dip winners were Mike Smyth, Ger/Chris Goldspring, Mary Keohane, Fintan Lawlor & Vincent O'Neill.
The Lotto draw takes place each Friday in the Club. Tickets are on sale at the Club Bar, O 'Neills Bar, Linehans Bar, Maple Leaf Bar, O' Farrells Butchers, Frank Murphy Butchers, Pat Walsh Paints, Chadwicks, Teach Beag & Niall Mac's Bars.
BINGO takes place each Friday night in the GAA Pavilion with a weekly guaranteed Jackpot of €1,000.

Juvenile

Fe15
On Sunday afternoon last our Fe 15 Footballers beat Douglas in the Rebel Og Premier 1 County Final by 3-6 to 2-6 and in doing so not only became well deserving County Champions but also made Club history in securing a Premier 1 Football Championship title for the very first time.
This was a Team victory in every way. We were the underdogs going into the game and the smart money was on Douglas to win well. Yet having beaten both Na Piarsaigh and Nemo Rangers our lads weren't going to give Douglas anything easy.
We opened the scoring with a pointed 45 and held sway in the first ten minutes. Then midway through the half Douglas were dominant and scored two goals. But we finished the half strongly with a goal and two points to leave the half time score Douglas 2-1 Midleton 1-3.
Douglas had the first score of the second half and we had it all to do. Some positional changes worked well for us and we were awarded a penalty ten minutes in which we converted. This was followed by a second Midleton goal soon after. Douglas tried manfully to reduce the deficit but never got any goal chance.
When the final whistle blew we were deserving winners by a single goal.
Team: Sean O Sullivan, Alan Power, Christian Murphy, Mark Daly, Cormac O Brien, Ciaran Evans, Conor O Leary, Kevin Finn, Kian Farmer, Evan Rowlands, Cian Murray, Ronan Lynch, Gary Carroll, Tommy O Connell, Griffin Hurley, Fergus Wade, David Scanlon, Ryan O Riordan, Adam O Connell, Coleman Quinn, Craig Barry, Aaron Mulcahy, Cian Crowley, Ross O Regan & Jake Shanahan.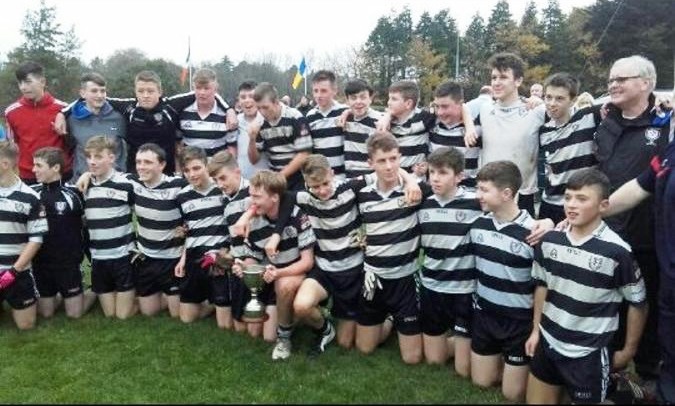 Indoor Training
Indoor Training will commence on Saturday next November 7th from 10am to 1pm in the Community Centre (Gaelscoil) for Junior, Senior Infants & First Class groups.
Please bring a helmet and shinguards, hurleys will be provided on the day.
Club Shop
The shop will be open from 10.30 am to 12 next Saturday.