Midleton GAA , Camogie & Ladies Football Club News
04 October, 2015
Junior Hurling
Our Junior A hurlers had a very good victory over Russell Rovers in the East Cork League last Wednesday evening in Rostellan by 5-19 to 2-15.
As a result of this victory it looks very likely that we will now play Dungourney in the League Final. Many to both Russell Rovers for facilitating us with this rearranged fixture and Aghada for the use of their venue.
Team: Joe Loftus, Adam Daly, Eoin Ferriter, Billy O'Shea, Kevin Mulcahy, Luke Dineen, Elliot Mulcahy, Josh Deady, Declan Ryan, Cormac Beausang, Shane Ryan, Padraic Nagle, Michael Abernethy, Niall Walsh & Mark O'Keeffe. Subs used Paul Barry, Alan Stanton, Davy Hogan & James Lane.
Junior Football
Our Junior A Footballers play Glenbower Rovers in the East Cork League next Tuesday evening in Killeagh @ 7.45pm
Player-Student Information
Some information for any of our players who are currently attending either UCC or CIT regarding a Support Point of Contact (SPOC) in both UCC and CIT.
One of the specific initiatives called out in the Club Development Plan was the setting up of a Third Level Support Point of Contact for all of our Club Members who are attending either UCC or CIT.
The main purpose behind this was to extend the Club Support System for its members into the Colleges. We have always had good linkages with the local primary and secondary schools, but never with the third level colleges.
The way we will do this is to appoint a Support Point of Contact (SPOC) in both UCC and CIT. Gerald Fitzgerald (UCC) and Martin Hill (CIT) have both kindly offered to fulfil this role of SPOC in their respective colleges.
We would appreciate it if any players attending these colleges would send their course information to their Team Manger as soon as possible.
Bank of Ireland Enterprise Town Event
Next weekend the Gaa Club will be a hive of activity with Bank of Ireland taking over the club as Midleton has been chosen for their Enterprise project "Working together to support local communities".
On Saturday there will be a Business & Community Expo from 3 to 7pm and on Sunday from 11am to 3pm there will be a Sports & Community Expo.
Admission is free and everybody is welcome.
Cork Clubs Draw
Congrats to our two winners in the Cork Clubs draw for August, Eddie Thompson claimed second prize of a holiday in Thailand worth €4,500 and Gerard Murphy won €500 for tenth prize.
In recent times we have had some great success in this draw, if you wish to participate or complete your renewal for the up and coming new draw in October please contact Steve Sheehan 085/1741460, John Fenton 086/6065444 or Pearse Mc Carthy 087/0578139.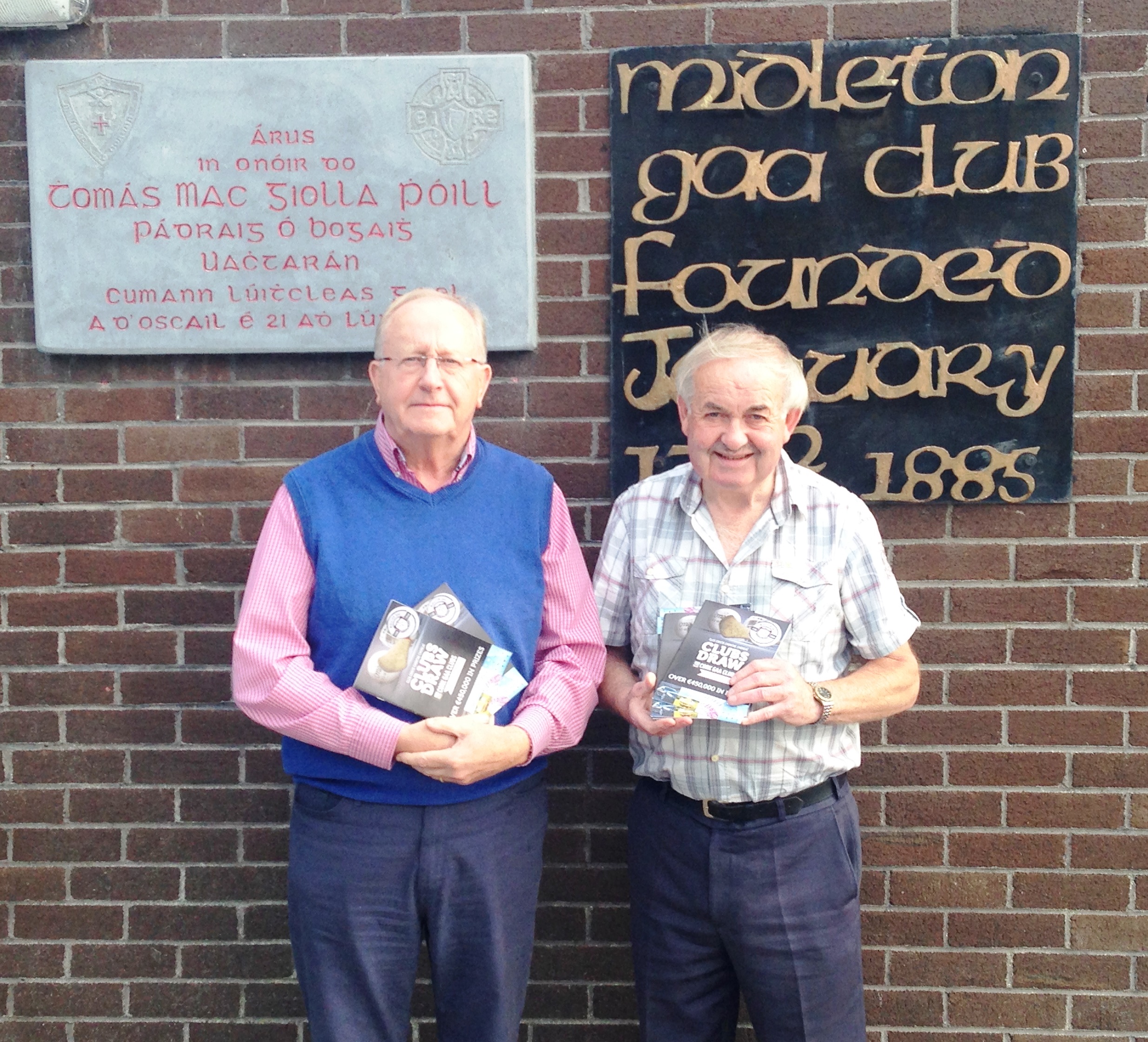 Golden Jubilee
Our Club President Monsignor Eamon Gould celebrated his Golden Jubilee recently. His family member and a large circle of friends gathered at the Church of the Most Holy Rosary for mass. Afterwards a large crowd reconvened to the Midleton Park Hotel for refreshments. We hope to arrange an event in the Club in the coming months to acknowledge this special occasion.

Ladies Football
Fe10 East Cork "C" Final v Lisgoold
A thrilling game of football was served up on Saturday afternoon in
Youghal. The East Cork final between Midleton and Lisgoold proved to be
as exciting and entertaining as anticipated. Conditions were perfect and a
great crowd turned out to support these fine young footballers. A
close, fast paced match with hardly a moment to draw breath, Midleton
girls threw themselves into this game with total commitment. Battling
forward, they took every opportunity to breach the Lisgoold defence. Level
at the final whistle the decision was taken to go to extra time. These
young Magpies dug deep and stepped up a gear, they can be extremely proud
of their performance on the day and all through the league campaign. We
have to do it all again, another day as this game goes to a replay, the
sides level after extra time. Maith sibh go léir.
Team: Jill Connaughton,Anna Dupas,Ashling Mc Carthy,Aoife Mulcahy,Amy Murray,Katie Smith,Emily Dunne,Jane Horgan,Sadhbh Hartnett,Isabelle Nestor,Saoirse Ní Theangana,Aoife Fitzgerald,Gráinne Finn,Kelly Quirke,ClarCollins,Róisín Crotty,Rachel O'Meara and Ellen O'Neill.
Fe12 East Cork Championship Final Midleton v Cloyne
In front of a huge crowd in Midleton Gaa Club, Midleton Ladies took on our nearest rivals Cloyne.
Midleton were slow to start and were trailing by two goals to nil. They were defending well and when the ball came to the forwards our scores would not come. Eventually Midleton started to settle and we were on the scoreboard. A great goal scored by Jill Connaughton. At half time we were two goals down. Midleton came out all guns blazing and put in a fantastic effort against a determined Cloyne side who were in the back of the Midleton net again. Two more Midleton goals, another from Jill Connaughton and a cracker from Shannon Deady had the girls just 1 goal behind. A huge Team performance was put in by the Midleton girls and we were on the score board again with a point. Midleton now only two points behind. They fought hard to get another score but Cloyne defended well. Cloyne were the winners at the final whistle with a score of Cloyne 4-01 to our 3-02. Midleton girls you're Mentors, Parents and Club are very proud of you all. Well done.
Team: Ella Tarrant, Shannon Deady, Heather Kirby, Leah Kirby, Leah Hogan, Megan Kelly, Orla Evans, Kerrie Rohan, Jill Connaughton, Mia Tarrant, Ellie Collins, Lilly Clifton, Mischa Daly Harkin, Jennie Dupas, Haley Wall Wallace, Rachel Barry, Jenny Made, Olivia Madden & Denise Collins.
Winter training will commence on Monday 5th October. U8'S will train in the Community Centre (Gaelscoil) from 6-7pm. U10's upwards will train in the Hockey Pitch from 7-8pm.
Date for your diary. The Club is holding a Fancy Dress Fun Bingo night in Midleton Gaa Club on the Bank Holiday Monday Night October 26th. Time will be confirmed closer to the date. Keep up to date with all details from the club on our Facebook page- Midleton Ladies Football Gaa.
Lotto
Our Lotto Jackpot was €5,600, we had no winner, the numbers were 1,3,5 & 25, next week's Jackpot will be €5,800, the Lucky dip winners were Mary &Majella, Breda Barry, Dave O'Keeffe, Mary Keohane & Jerome Curtin.
The Lotto draw takes place each Friday in the Club. Tickets are on sale at the Club Bar, O 'Neills Bar, Linehans Bar, Maple Leaf Bar, O' Farrells Butchers, Frank Murphy Butchers, Pat Walsh Paints, Chadwicks, Teach Beag & Niall Mac's Bars.
BINGO takes place each Friday night in the GAA Pavilion from 8pm, guaranteed Jackpot of 1,000 euro!!
Juvenile

Fe12
Our Fe12 Annual Hurling Blitz in memory of James O'Brien was held on last Saturday October 3rd. We were very lucky this year in the two teams that travelled to Midleton to participate were Dunamaggin from Kilkenny and our close neighbours Youghal. With the size of our U12 panel we had decided to fill the remaining two teams with our own players (Midleton A & Midleton B). Conditions were ideal it was dry all day and even at times the sun broke through the clouds. The pitch was in perfect condition as the grass had been cut early in the morning.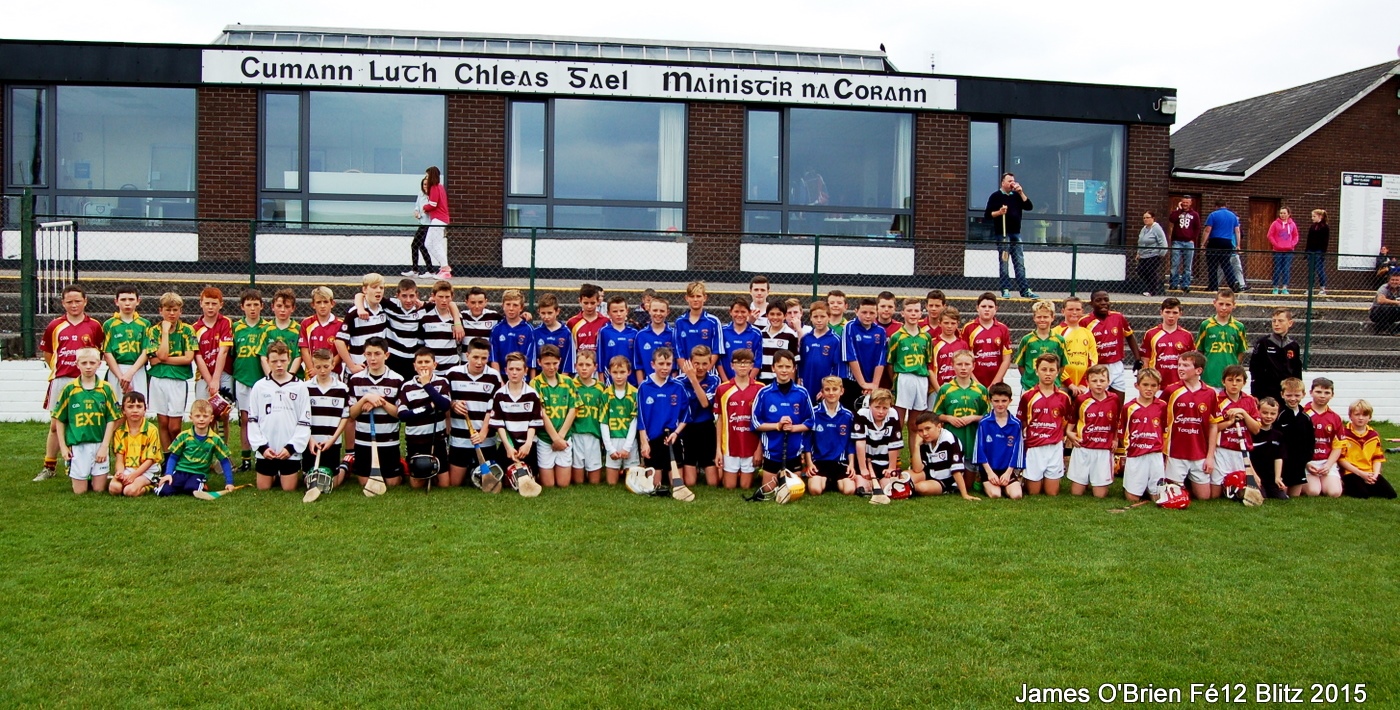 The tournament was to be a cracker. All the teams were similar in that their standard of hurling and their level of fitness had to be seen to be believed. Seven matches were played on the day; six in a league format and one final. The biggest winning margin was three points and that was in only one game. Two of the league games ended in draws. The two teams that emerged from the league to play each other in the final were Dunamaggin and Midleton B.
This final pairing proved to be the icing on the cake for this tournament. There was goals and points galore! At one stage Dunamaggin held a deserved lead by six points and that was with only seven minutes left in the game. Midleton B fought back and were worthy winners on a score line of 3-10 to 5-02.
The winning Midleton B team: Adam McCarty, Liam McGrath, Phelim McGann, David Cremin, Roan Spillane, Evan McCarthy, Ciarmhac Smyth, Niall Corcoran, Billy Foley, Tiarnan Roche, Alex Quirke, Kelvin Barry, Cian Murray & Ben O'Neill.
To conclude the pitch activity Phelim McGann, on behalf of the Midleton B team was presented with the James O'Brien trophy by Jim O'Brien.
Everyone then adjourned to be treated to a spread of sandwiches, cakes teas & coffee that had been brought along by the players parents; this is what's great about these days! Finally we would like to thank everyone who helped out in making the day a roaring success: Referees, Parents , Players, Mentors, Midleton GAA Club and especially the parents that helped out organising the food on the day.
Hurling was definitely the winner in this tournament!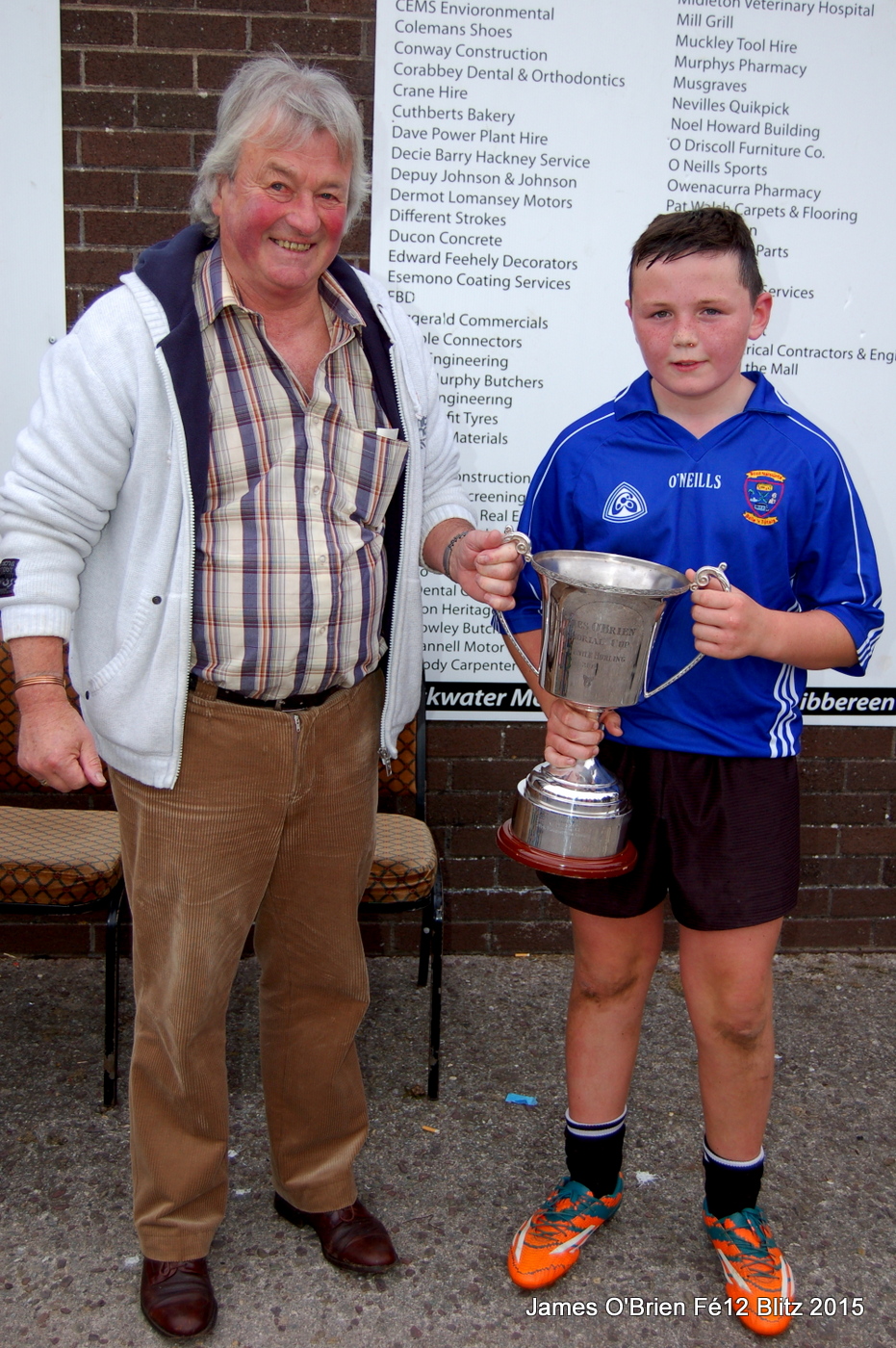 Fe14
Our hurlers stake on Sars in the Rebel Og Premier 1 League semi final on Wednesday evening next in Riverstown @ 7.30pm
Fe15
We travelled to Naas last Saturday for a great Inter county hurling Blitz which after a fantastic days entertainment we emerged winners defeating Clarecastle, Abbeyside and Naas before overcoming Athenry of Galway in the final.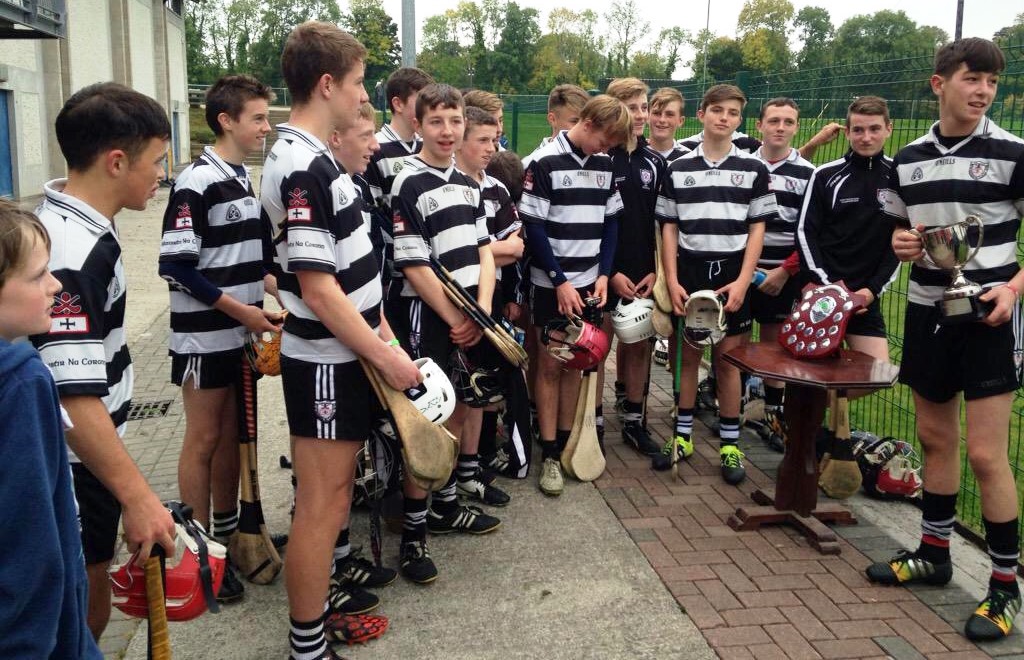 Fe16
On Saturday next our hurlers will play Glen Rovers in the Rebel Og Premier 1 League in Midleton at 2pm.

Junior Infants Registration
Our annual Registration for Junior Infants took place on Saturday last with a great turn out of young boys. We welcome all these young Magpies and their familys into our Club. Indoor Training will commence on Novenmer 7th from 12 to 1pm in the Community Centre (Gaelscoil). Please bring a helmet and shinguards, hurleys will be provided on the day.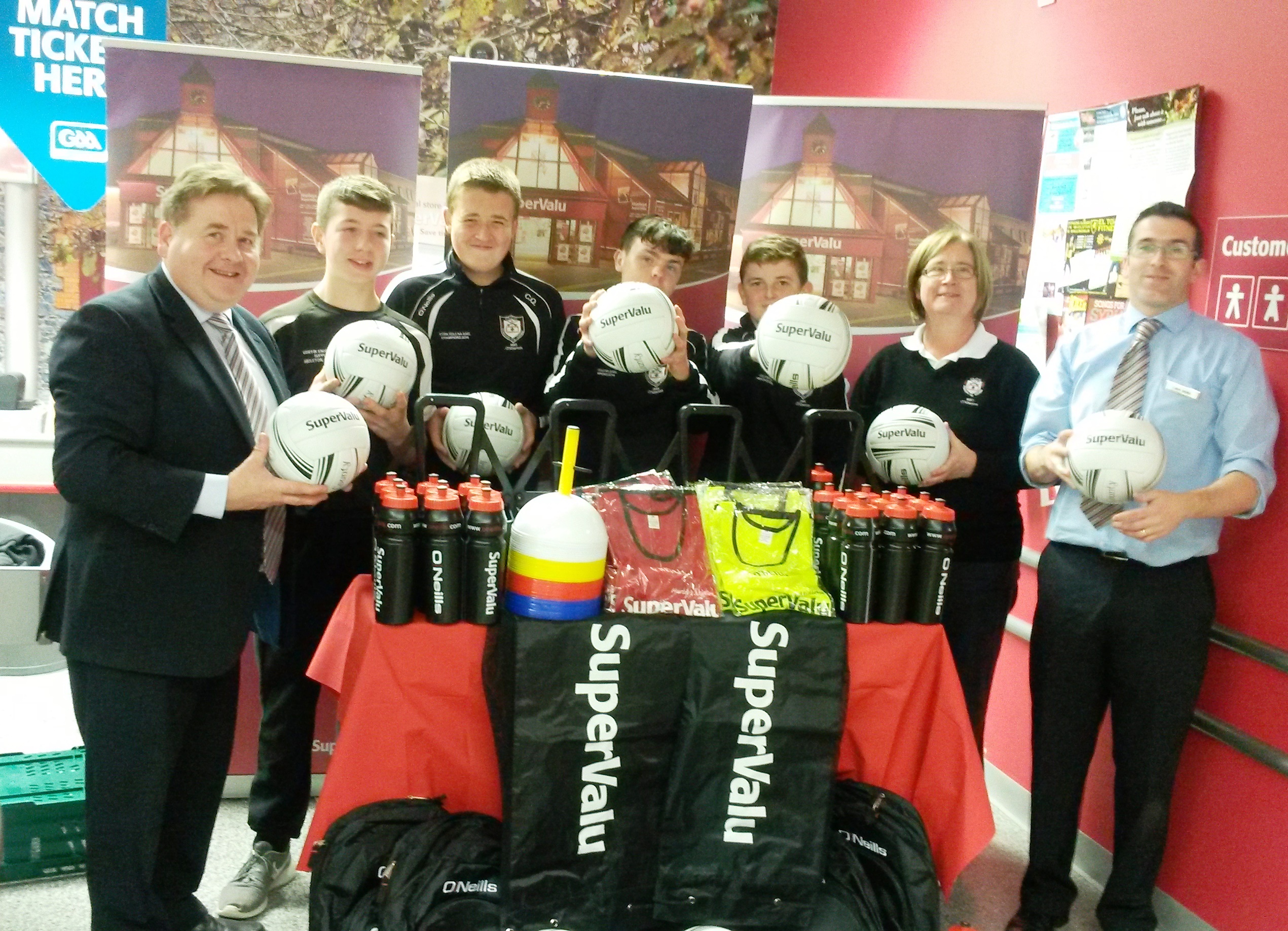 Presentation of Training gear by Hurleys Super Valu