Midleton GAA , Camogie & Ladies Football Club News
13 September, 2015
Senior Hurling
Our hurlers have now reached the County Championship semi final against Glen Rovers which will be played in Pairc Ui Rinn on Sunday fortnight the 27th of September @ 2.15pm.

Junior A Football
In atrocious weather conditions last Friday evening in Youghal our footballers were beaten in the East Cork Championship semi final by Erins Own. They got off to a great start scoring 1-02 inside the first five minutes which really put us on the back foot immediately. We fought our way back into the game just before the break and trailed by 1-06 to 0-02. The early goal we strived for in the second half did not come despite some valiant efforts and when they counter attacked for a second goal there was no way back for us. Final Score was Midleton 0-05 v Erins Own 2-12.
This was a disappointing end to what was a very good campaign in the earlier rounds, well done to the players and management on their efforts throughout the year.
Team: Josh Deady, Seanaidh, Smyth, Killian Burke, Leslie Coughlan, Darren Quirke, Seamus O'Farrell, Cormac Walsh, Shane Ryan, Aidan Ryan, John Keane, Padraig O'Shea, Cillian Hurley, Patrick White, Alywin Kearney & Declan Ryan. Subs used Luke O'Farrell, Brian Hartnett, Cormac Beausang & Gavin Bagnell.
Junior C Hurling
We played Cobh in Lisgoold last Sunday evening in the semi final of the East Cork Championship following our first round victory over Russell Rovers.
Fielding a team mixed with youth and experience we gave a great account of ourselves and only lost in the final minute with a late point settling the game for Cobh. Well done to the players and management for their efforts.
Final score: Midleton 1-12 v Cobh 2-10
Team: Liam Franklin, Adam Daly, Alan Cahill, Neil O'Regan, Conor Evans, Barry Fitzgerald, Dave Hogan (0-01 free), Conor O'Neill, Alan Stanton, Andrew Rea (1-05, 4 free's), Kieran Maloney, James O'Leary, Keith Ryan, Micheal Keohane (0-05, 1free) & Brian Fitzgerald.
Subs used David Mulcahy, James Lane (0-01), Ryan Mc Conville, Eoin Collins & Ryan O'Regan.
East Cork Junior A Hurling Final
Congratulations to our Club referee Pa Beausang who done very well when he officiated at his first East Cork Hurling final in Cloyne last Saturday evening when Dungourney defeated St Ita's on a scoreline of 1-23 to 2-12.
Ladies Football
Midleton Through to East Cork U14 Semi Final
Midleton v Carrigtwohill –Score 5:13 to 6:3.
We advanced to the last four in the East Cork Ladies football championship after defeating our near neighbours Carrightohill in a very entertaining game played at home in Clonmult Memorial Park last Wednesday.
If there were ever a game to test ones nerves, this was it. We stormed into a three goal lead from the throw in and were camped in the Carrig back line for the first ten mins where we added another three points before the Carrightohill girls breached our defence and found the net. This was followed soon after by another goal and point, and suddenly Game on.
What was encouraging from our view point was that each time Carrig scored our girls responded with a point. Half way through the second half the Carrightohill girls showed great character and reduced the margin to two points. Our girls looked to be in trouble at this stage with the Carrig midfield girls driving at them hard. But like the story of Lazarus, our girls rose from the dead and had a storming finish, finishing on a score line of 5:13 to 6:3. Next up is Mayfield in the semi final, keep an eye on our Facebook page for details.
Panel for the night:
Amy O Neill, Leah Daly, Aine O Neill, Katie Dineen, Ellen Ryan, Katie Perri, Lucy Wallace, Ali Smith, Sadhbh Beausang, Lucy Kenneally, Rhea Buckley, Rayanna Power, Megan Shanahan, Eabha Collins, Katie Horgan, Ciara Stack, Shannon Deady & Ella Tarrant.
Scores from Katie Horgan, Eabha Collins, Rhea Buckley, Lucy Kenneally, Ali Smith, Rayanna Power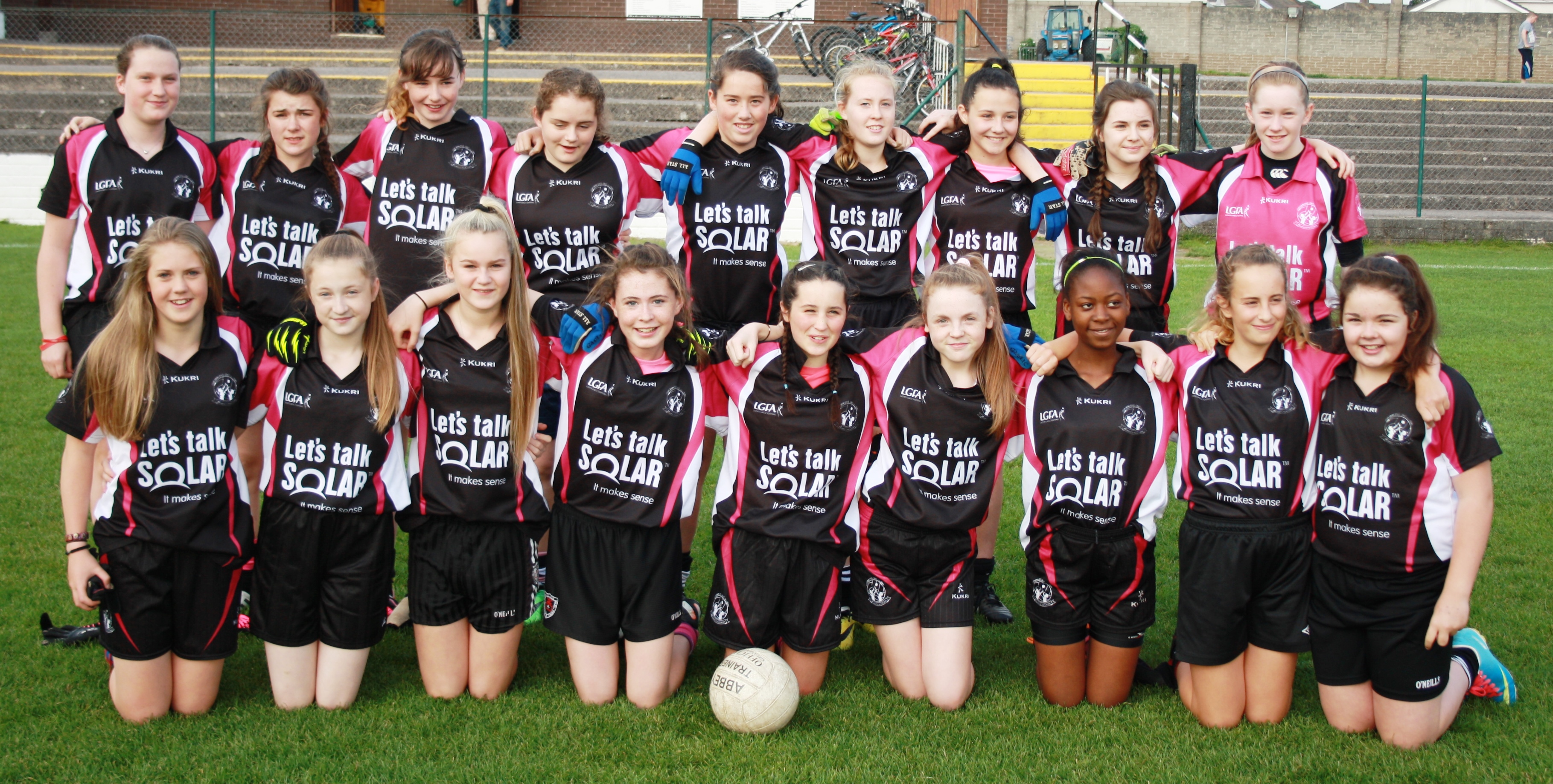 Passage West Blitz – U8 and U10
On Saturday 12th Midleton Ladies Football attended what can only be described as a Monster Blitz in Passage West. On the day there was over 92 teams and 1800 girls present. We were lead out onto the playing field by the Carrigaline Pipe Band, each team proudly displaying their banners and flags. There was singing galore from all clubs and the atmosphere was fantastic. Our U8 girls were stationed on Pitch 1 with Glanmire, Passage West and Arravale Rovers from Tipperary. Our u10 Girls were on pitch 9 with Youghal, Passage West and St Pauls from Antrim. There was some brilliant displays of football on the day and some super scoring. Many thanks to all the girls and especially their parents for travelling and helping out on the day. Our thanks must also go to Passage West for hosting such an enormous task in what was an extremely well run and organised day. We are already looking forward to next year.
Upcoming Fixtures: U16 Championship Midleton v Watergrasshill Wed 16th Sept in Watergrasshill
Camogie
Our Fe 6,7 & 8s take part in an end of season blitz on Sat next the 19th September in Midleton GAA club at 2pm while our older girls travel to Killarney on Set 26th to complete their season of matches. Winter training begins with a change of time this Friday evening with training at the club changing to the earlier time of 6.30 there will be further changes in the next few weeks further details to follow.
Higher Education
Munster GAA invite applications from members of the association (male or female) who are attending a full time Higher Education course and who are or intend to be active participants in UCC GAA Club for their National Bursary programme.
A fixed number of bursaries have been allocated to each Third Level College in the province (based on size and playing population) and are valued at 750 euro each.
More details can be found at http://sport.ucc.ie/gaa-bursary-deadlines-looming/
Completed applications can be sent to Aras Mumhan, Newcastle, Castletroy, Co. Limerick or to the Department of Sport, Ferry Lodge, Mardyke Walk.
Closing date is Friday October 2nd.
Gaa Golf Society
Next Saturday the 19th the annual Paddy Hayes Memorial Golf outing will take place in Water rock Golf Club. The teetime is from 12.20 to 13.30pm, everybody is welcome to attend.
.
Lotto
Our Lotto Jackpot was €5,000, we had no winner, next week's Jackpot will be €5,200, the Lucky dip winners were Gavin Power, John Hennessy Snr., Kevin Guilly, Rose Wiggins & Richard O'Donovan.
The Lotto draw takes place each Friday in the Club. Tickets are on sale at the Club Bar, O 'Neills Bar, Linehans Bar, Maple Leaf Bar, O' Farrells Butchers, Frank Murphy Butchers, Pat Walsh Paints, Chadwicks, Teach Beag & Niall Mac's Bars.
BINGO takes place each Friday night in the GAA Pavilion from 8pm, guaranteed Jackpot of 1,000 euro!!

Juvenile
Fe8
On Saturday morning last, our hurlers travelled to Roanmore Gaa Club for their annual hurling Blitz. On the morning 43 young magpies took the long journey to Waterford. With great excitement and enthusiasm the boys took to the field for a total of 12 matches played throughout the day. The tremendous skill, commitment, teamwork and sportsmanship shown from the boys was outstanding all through the day. The boys played teams from Kilkenny, Wexford, Waterford, Cork and Tipperary. I would like to thank Roanmore for what was a superbly run blitz. Also to all the parents who travelled to Roanmore to support the boys. The mentors have had a great year with the boys, in total we have been to seven hurling blitzes and two football blitzes. With the year almost at an end I would like to thank all involved particularly the players. As I have said before they are a great bunch, so keep up the good work.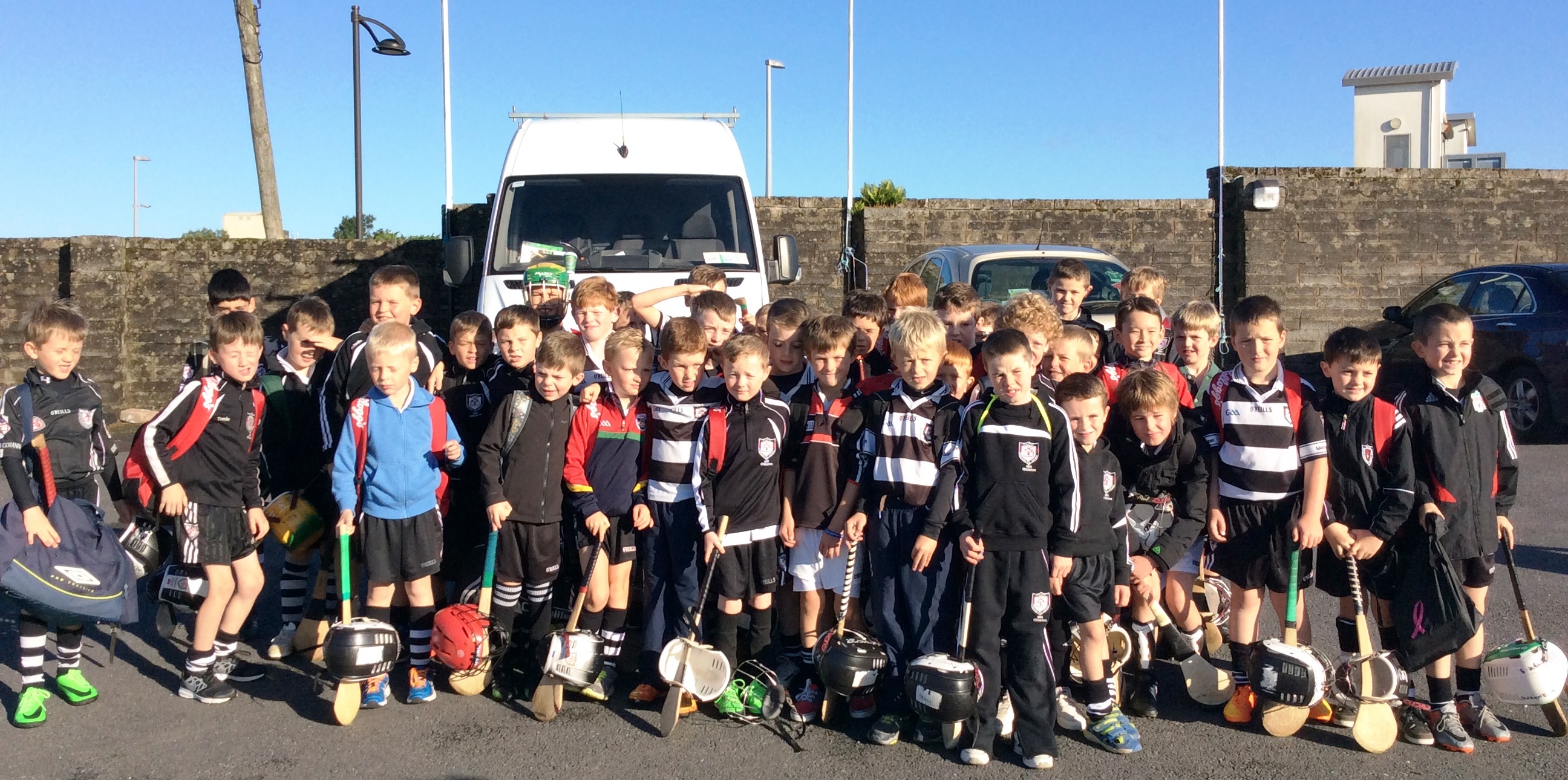 Fe9
Mid-September can only mean one thing - the annual Roanmore Charity blitz. The under 9's boarded their transport from Clonmult Memorial Park, Waterford bound on Saturday last in high spirits and under sunny skies. Arriving mid-morning it was straight into action when the first of our three teams took to the field at 11.30 playing Askamore, this game set the tone for a fantastic and highly entertaining days hurling with ground hurling the order of the day. Next up it was Ballyduff Upper followed by Ferrybank, this concluded the first set of games followed by a presentation of medals. The second set of games began v Davidstown Courtnacuddy followed by Abbeyside and concluded with Conahy Shamrocks. While more medals were being collected the final round kicked off at 2.30 with opposition provided by St Patricks ahead of Kilkenny representatives Slieverue, in our final game of the day we met hosts Roanmore and collected even more medals. In a very competitive blitz great credit must go to our lads for the way in which they represented themselves and our club. Skills honed over the last four years were on display hooking, blocking and striking was of the highest order. The boys skills were matched by their conduct and behaviour on the day making, it a pleasure and for all involved, very proud of you lads. Special thanks goes to the supporters that travelled in large numbers, their presence and enthusiasm added greatly to the occasion. Thanks to hosts Roanmore for their hospitality and a brilliantly organised event. Coaches take a bow!
Magpies abu !!!!!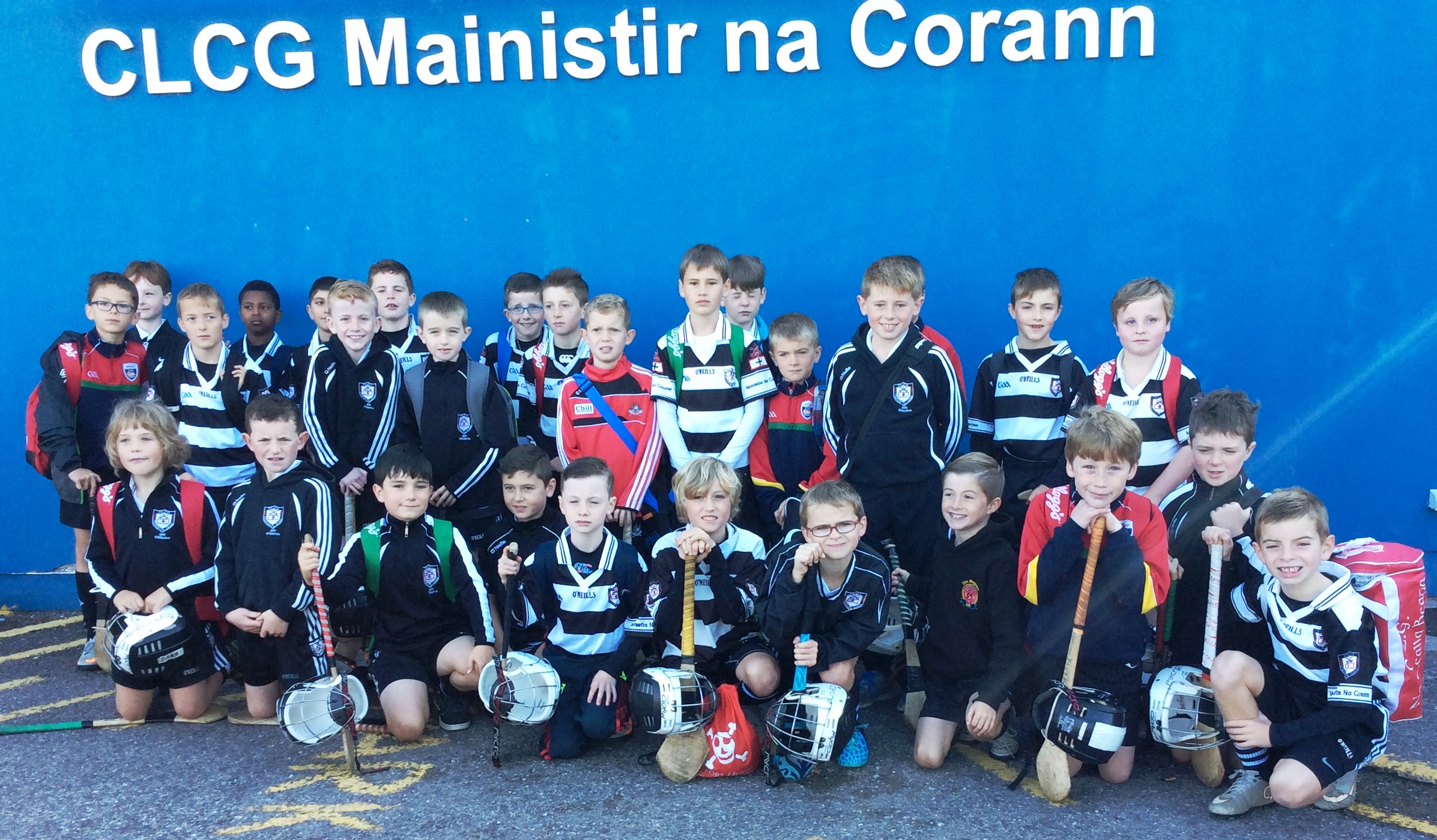 Fe11
Congrats to our hurlers who won the County League Plate on Saturday last in Mallow. Well done to all our players and management.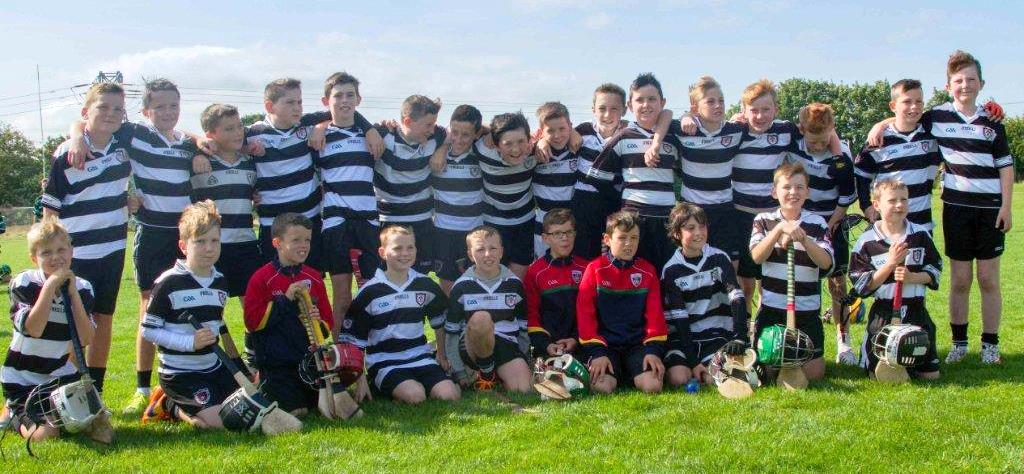 Fe12
The Premier 1 Hurling League final was played last Monday night in Caherlag v St Finbarr's. We had got to the final after a titanic struggle against Sars in the semi-final. That game had swung in the Magpies direction only after extra time in the replayed semi-final. For the Barrs game Monday evening was perfect calm,dry and the pitch in Caherlag was in super condition.
The match started in a welter of excitement, the Barrs had the ball in the back of our net after only forty seconds. The game then saw tit for tat scores, we matched the Barrs point for point. After fifteen minutes Shay Bohan got on the end of a speculative lob into the Barrs square to finish the ball to the net. The Barrs finished the half strong and justified their five point lead at half time. The pivotal period of the match occurred midway through the second half. Alex Quirke pounced to score two goals in a three minute period. The first one was from a free, the second was a classy solo effort when after a long solo run his shot finished high up in the Barr's net. We were in the lead for the first time. In the last ten minutes of the game we consolidated our lead when a shot from Cian Murray was helped into the Barrs net with the aid of a touch from Kane Rowlands.
At the final whistle Midleton were crowned champions on a score line of Midleton 4-08, Barrs 3-11. Our scorers were Alex Quirke: 2-04, Shay Bohan: 1-00, Cian Murray/Kane Rowlands: 1-00, Ronan Gies: 0-02 & Darragh McCarthy: 0-02.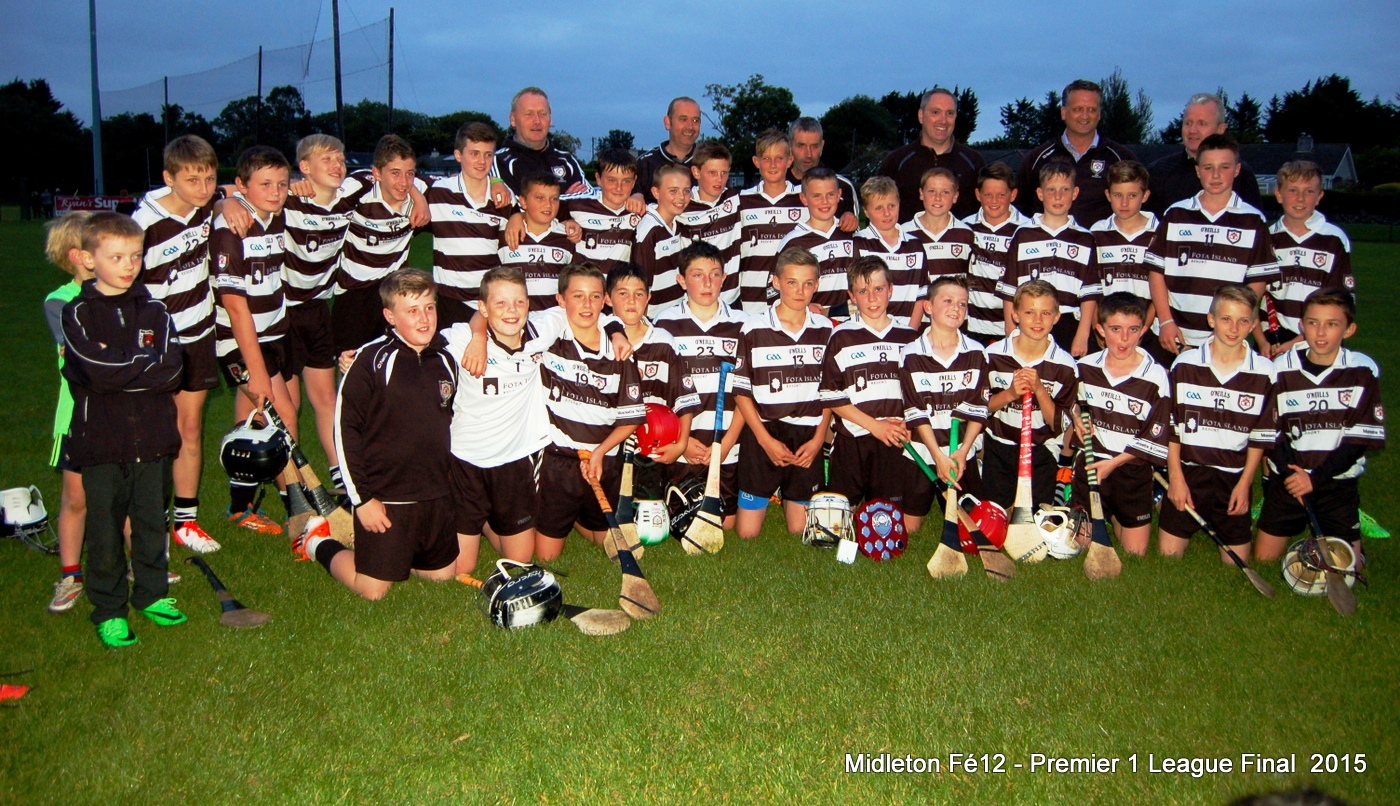 Fe12 Colman Dillon Hurling Blitz
Saturday morning had the Fe12s at the Colman Dillon blitz hosted by the Erin's Own club in Caherlag. We had three league games. The top team from each of the two leagues went straight into the final. First game up for us was against Erin's Own. This was a tough game against two even teams. We won this game by six points. Second game was against Liam Mellows of Galway city. This produced a facile win for the young Magpies. Final score 6-10 to 0-00. Our final league game was against Lismore. This was an even enough game and the Magpies held out for a third win in a row. The final at 2:30 was set v Abbeyside (Waterford). This was a cracking game of hurling with both sides holding periods of dominance. At the final whistle we were the winners by six points. Thanks to all players who turned out at short notice.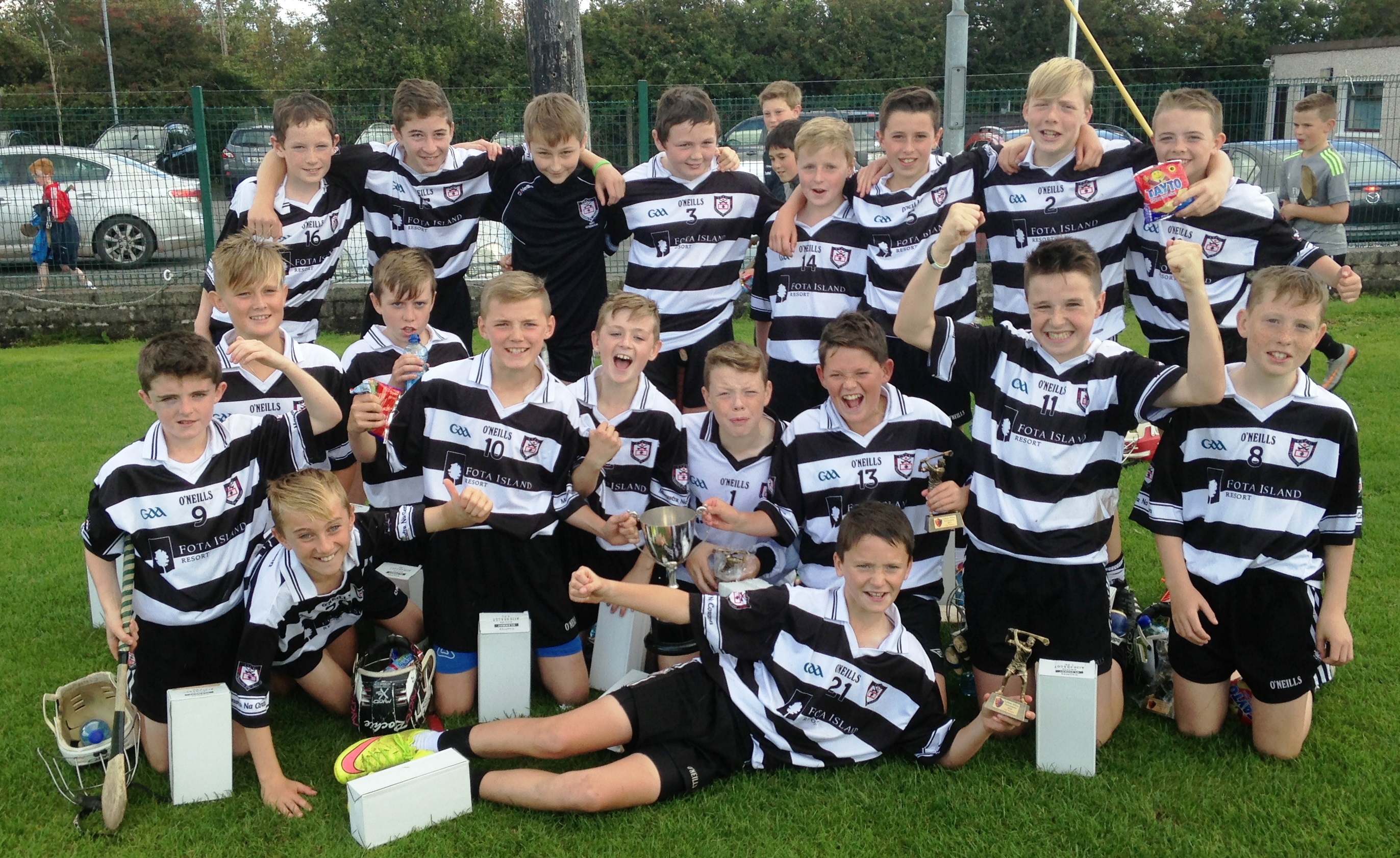 Fe12 Premier 2 Autumn League:
Midleton 2-03 v Ballincollig 2-10:
With all the matches we have had recently and on top of that the heavy rain that was in Ballincollig it would have been forgivable if a number of players did not travel for this game. But this team is made of tough stuff, so as expected we had a large panel of Premier 2 players in Ballincollig by 10:30 am. The standard of hurling particularly considering the conditions was fantastic. We got two goals on the day, one from Evan McCarthy and the other from John Spellman. A great performance from a panel of players that have delivered big time in the last seven days for our club.
Comhghairdeas le gach na himreoirí, meantóirí agus tuismitheoirí.
Fe14
In our last game of the Premier 1 Hurling League we played Ballincollig away last Thursday the 10th, a win in this game would secure a semi-final position for us. This turned out to be a very physical game with both sides giving it everything with our lads coming out on top at the end on a scoreline of Midleton 3-11 Ballincollig 2-9.We now wait for other results before we know who we are meeting in the semi-final.
Fe16
Midleton 4-07 v Mallow 1-06 .
Great win for our Fe16 footballers in the quarter final of the Premium 2 Football Championship in in St Michael's last Saturday afternoon. Next up Inniscarra...
Team: C Higgins, J. Dwyer, C O' Farrell, C. Evans, T.O' Connell, E. Mitchell,
A. Wilson, E. Moloney, L. Smith, C. Gunning, S.O' Leary, S. Finn, R.O Reagan,
C. Power & K. Finn. Subs; C. Farmer, A. Power, E.O' Meara, H. Wall, T. Scanlon & C.o Brian.
Special mention for Cormac Higgins who broke his arm during the match and we wish him a speedy recovery..
Davy Hogan Street Leagues
Saturday the 19th of September from 11 to 1.30 at the Main Pitch.(Qualifiers)
Saturday the 26th of September from 11 to 1.30 at the Main Pitch.(Final)
Junior Infants Registration
Will take place on Saturday the 3rd of October from 10 to 12 at the Clubhouse, all new members are very welcome.
Annual James O Brien Tournament
This Fe12 Hurling Tournament will be held on Saturday the 3rd of October in the Gaa Club. More details of the tournament to follow.