Midleton GAA , Camogie & Ladies Football Club News
06 September, 2015
Senior Hurling
Our hurlers had a well-deserved victory over Douglas in the County Championship quarter final last Saturday evening in Pairc Ui Rinn gaining some revenge for last year's defeat at the hands of the same opposition.
We led at halftime by 0-09 to 0-07 and in the second half we finished the stronger on the back of a well taken goal from James Nagle winning by 1-17 to 0-11.
We now look forward to a semi final meeting with Glen Rovers who defeated Newtownshandrum 1-22 to 2-12 on either Saturday the 12th or 19TH, well done to all our players and management on this fine win.
Team: Tommy Wallace, Cillian Hurley (0-01), Finbar O'Mahony, Patrick O'Mahony, Peter Dowling, Aidan Ryan, Killian Burke, Padraig O'Farrell (0-01), Paul Haughney (0-01), James Nagle (1-01), Seamus O'Farrell, Luke O'Farrell (0-02 1 free), Cormac Walsh (0-09 7 frees 1 65), Brian Hartnett and Patrick White (0-02). Blood sub used Padraig O'Keeffe.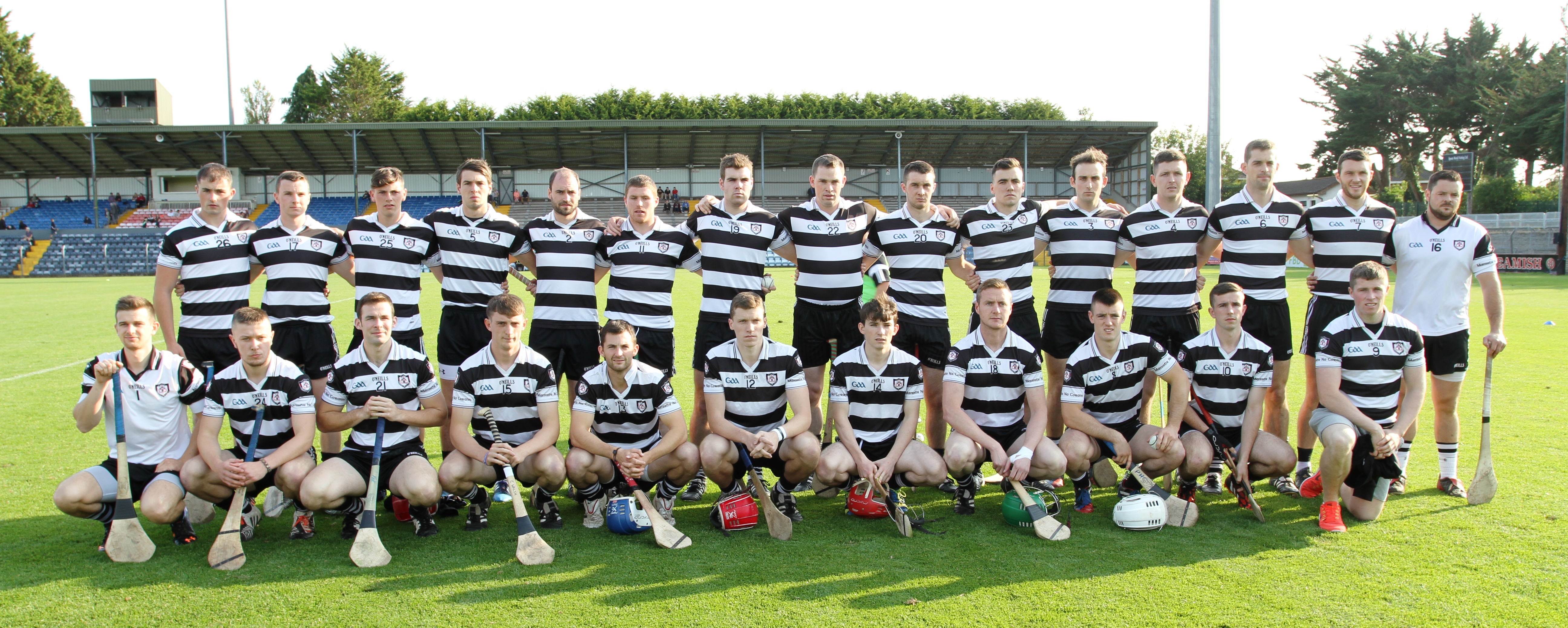 Junior B Hurling
We were defeated by a very lively and skilful Fr O Neills team in the quarter final of the East Cork Championship on Sunday evening last in Castlemartyr by 0-15 to 3-16.
Even though there was only two points between the teams at halftime we couldn't reel them in and in the end the goals proved crucial. Our lads never gave up and fought bravely to the very end. Congrats to the players and management for all their efforts over the past number of months.
Team: Byran Rossiter, Pat Stack (capt.), Sean Corcoran, Jerome Curtin, Brendan Ferriter, Liam Clohessy, Joe Collins, Sean O'Meara, Mark O'Keeffe (0-09, 8 frees), Niall Walsh, Oisin Cotter, Brian O'Sullivan (0-03), Willie O'Brien (0-01), Paul Barry & David O'Brien (0-01). Subs used Kevin Mulcahy, Padraig O'Brien (0-01) & Josh Deady. Not used Liam Franklin, Adam Daly, Conor O'Neill, James Lane, Conor Evans, Keith Ryan, Paul O'Brien, Brian Fitzgerald and Eoin Collins.



Fixtures
Monday 7th Fe12 Premier 1 League Final v St Finbarrs in Caherlag @ 6.45pm
Monday 7th Fe16 Premier 1 Hurling League V Glen Rovers at home @ 6.45pm
Wednesday 9th Minor Premier 2 Hurling League v Passage away @ 6.30pm
Wednesday 9th Fe15 Premier 1 Hurling League v Inniscarra away @ 6.30pm
Thursday 10th Fe14 Premier 1 Hurling League v Ballincollig away @ 6.45pm
Friday 11th Fe16 Premier 2 Football Championship v Mallow at home TBC
Saturday 12th or 19th Senior Hurling County semi-final v Glen Rovers TBC
Check the website www.midletongaa.com for the full list.
Ladies Football
U8 League v Fermoy
On a glorious morning our U8 Girls welcomed Fermoy for another league game. The match took place in St Colmans Community College. We had 17 girls turn up to play so it was agreed to play a 15 aside game and roll on and off our 2 subs. From the offset we spent a lot of the play defending as we found it difficult to get the ball to our forwards. In the 2nd quarter 2 positional changes were made and this proved to be the key to us scoring. Our mid field dominated and soon we were on the score board. In the final quarter our girls put on a fantastic performance and defended very strongly against a determined Fermoy Team. This game has really shown how strong the girls have developed. They played as a team, calling for the ball, passing to each other. Well done to you all girls. It was clear to see how much effort that you all put into the game from the goalkeeper to the backs, mid fields and the forwards. Keep up the good work at training. Many thanks to all the parents who turned up on the day and for the support on the sideline.
Team: Lilly Kelly, Emma Fitzgerald,Ciara Murphy,Alannah Magan,Amy Keeshan,Sinead O Rourke,Johanna Carr, Kate O Sullivan, Alyx Cahill, Kate Saunderson, Faye Dunlea,Lucy Murphy, Julie Murphy, Chloe Carr, Sadhbh Cronin, Emma Keeshan, Lara Geary.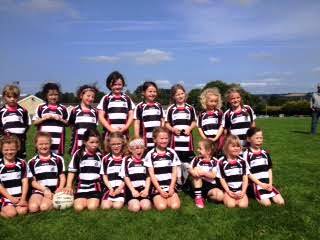 After a recent meeting of the East Cork Board the East Cork Championship Draws were made. These include Midleton Teams in the following age groups U10,12,14,16 and U18. The draws are as follows:
U10 - Our U10's who finished fourth in their group of the East Cork League. This means that we qualify for the "C" semi final. Midleton are away to Bride Rovers.
U12 -Drawn away to Mayfield in the C Qtr final.
U14 -Drawn at home against near neighbours Carrigtwohill in the C Qtr final.
U16 -Drawn away to Watergrasshill fixed for Saturday 19th September.
U18 -Fixtures made for U18 plate. We are in Group 2 with 5 rounds (one round is a bye) First round against Na Piarsaigh.
The Cork Senior Ladies will face Dublin in the All Ireland Final on Sept 27th in Croke Park.
Date for your Diary: Winter Training will return to Midleton College Hockey Pitch on Monday 5th October from 7-8pm from Under 10 upwards. A reminder text from all Team Mentors will be sent out closer to the date.
Under 8's will return indoors to the Community centre. Again a text will be sent out from the Mentors.
All Ireland Final
Kevin Hennessy, Ger Fitzgerald & David Quirke all members of the victorious 1990 Cork hurling team which celebrated the 25th Anniversary and were honoured at Croke Park between the minor and senior finals on Sunday.
Health & Wellbeing
Following on from our success in the Healthy Club Project Midleton GAA, Ladies Football & Camogie Clubs will form a Health & Wellbeing sub-committee over the coming weeks. To avail of the exceptional knowledge that runs throughout our membership we are asking you to consider becoming involved. Topics that will be discussed are Health Promotion, Physical/Mental Health, Diet & Nutrition etc. see gaa.ie/community for further information.
If you are interested please text Vincent Reddy 087-2521285 ASAP.
Lotto
Our Lotto Jackpot was €4,800, we had no winner, next week's Jackpot will be €5,000.
The Lotto draw takes place each Friday in the Club. Tickets are on sale at the Club Bar, O 'Neills Bar, Linehans Bar, Maple Leaf Bar, O' Farrells Butchers, Frank Murphy Butchers, Pat Walsh Paints, Chadwicks, Teach Beag & Niall Mac's Bars.
BINGO takes place each Friday night in the GAA Pavilion from 8pm, guaranteed Jackpot of 1,000 euro!!

Juvenile
Fe 6
We held a blitz last Saturday week and we'd like to thank the clubs who attended the blitz from around East Cork and the support of the GDA in helping to host the event. We would also like to acknowledge the support of the parents who helped out on the day and who also provided us with sandwiches, cakes etc for us to refresh our guests. The weather was glorious and was only surpassed by the effort shown by all the players in some entertaining matches. In all we had 14 teams, and all competed in both codes, hurling and football. It was a great day and enjoyed by all.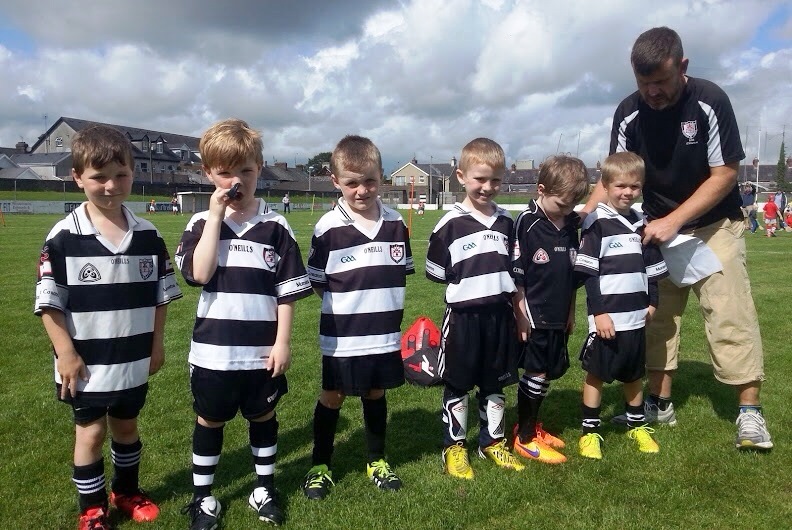 Fe 12
Following our great win over Sars after extra time last week in the League semi final our hurlers will face the Barrs on Monday next in the final at Caherlag at 6.45pm.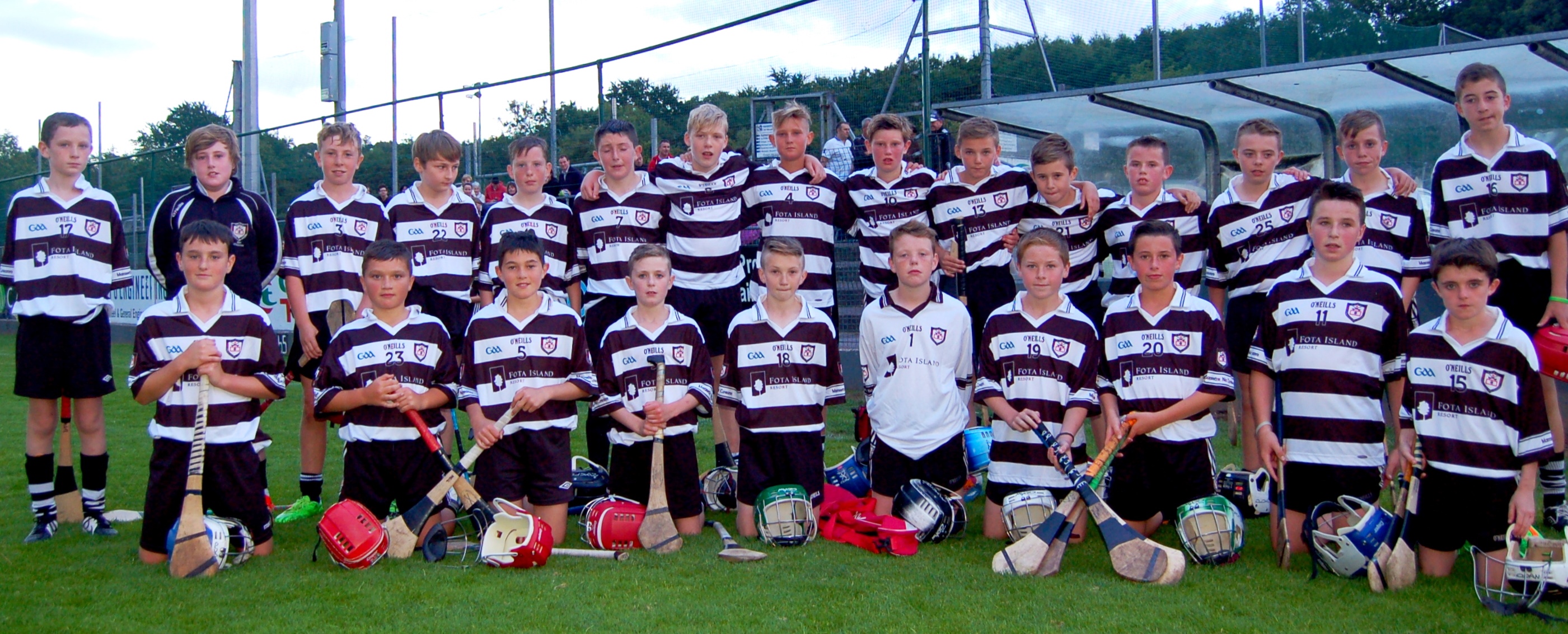 Fe15
Our hurlers made an early exit from this year's Championship at Kilbarry last Saturday when we were beaten by local rivals Sars by 3-9 to 0-14.
This was a game that we should have won and we looked strong when we were ahead by five points with seven minutes left. Sars though worked hard and were rewarded with two goals and three points in the dying minutes to grab the win.
We opened playing with a stiff breeze but were wasteful in front of goal. Having dominated the first half to end up at 0-7 to 1-2 was a disappointing lead with all the possession we had. Again we hurled well in the second half but we were caught by those two sucker goals in the dying minutes.
We now regroup and out next league game is against Inniscarra on next Wednesday in Ballyanly at 18.30 hrs.
Club Shop
The Club shop is open each Saturday morning, we now have Car flags €5, small flags €3 and Headbands €3 for sale.
Outdoor Training
Training for all the Street League groups takes place each Saturday morning at the MAIN PITCH and will continue over the coming months.