Midleton GAA , Camogie & Ladies Football Club News
09 August, 2015
Senior Hurling
Our fourth round Championship game and opponents have finally been confirmed, we play St Finbarr's on Saturday evening next August 15th in Pairc Ui Rinn @ 7.45pm.
We wish the players and management the very best of luck for this game.
In preparation for this game we played Dungarvan in a Tournament final last week, this was a very useful workout for our lads with Aidan Ryan getting the man of the match award and Peter Dowling captaining the winning team.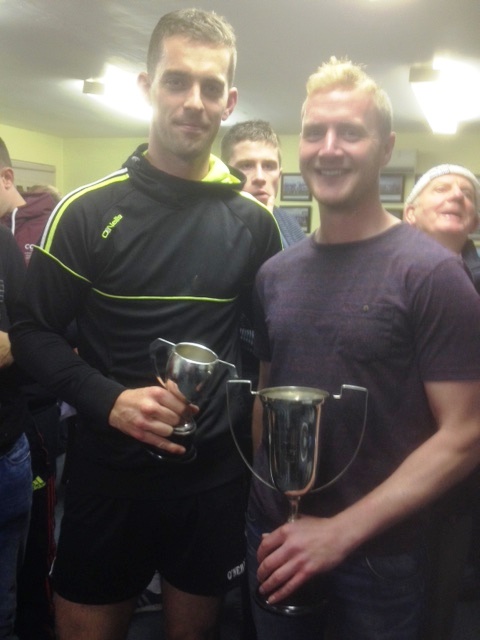 Junior Hurling
Our opponents in the East Cork semi final will be Dungourney, this game has been fixed for Ballynoe on Sunday 16th @ 6pm.
We wish all the players and management the very best of luck..
In the past week our Junior B hurlers had two very worthwhile challenge games, last Thursday evening we travelled to Cloyne to take on our hosts, this was a very even game throughout but we finished it stronger with a few late points to win by 1-19 to 1-15. Many thanks to Harry Framer for the game and arranging the referee.
Team: Tommy Wallis, Pat Stack, Sean Corcoran, Jerome Curtin, Brendan Ferriter, Liam Clohessy, Joe Collins, Mark O'Keeffe, Josh Deady, Brian O'Sullivan, Niall Walsh, James O'Leary, David O'Brien, Oisin Cotter & Calem Deady.
Subs used Andrew Rea, Brian Fitzgerald, James Lane & Neil O'Regan.
On Friday night we welcomed Modeligo of Waterford to Midleton for another challenge game, assisted by a few Junior A & Senior players we had a very enjoyable game with the visitors who proved to be a very formidable outfit winning by 3-19 to 2-13.
Team: Byran Rossiter, Pat Stack, Eoin Ferriter, Jerome Curtin, Billy O'Shea, Finbar O'Mahony, Joe Collins, Patrick O'Mahony, David Hogan, Brian O'Sullivan , Padraig O'Shea, Andrew Rea, David O'Brien, Oisin Cotter & Sean Corcoran.
Subs Luke Dineen, Brian Fitzgerald, Brendan Ferriter, James Lane, James O'Leary & Paul O'Brien.

Minor Hurling
Last Thursday evening our Minor hurlers hosted Charleville in the Premier 2 League and after a very exciting affair we narrowly lost out by 0-17 v 0-20.
Our Championship fourth round game against Aghada is on this Wednesday 12th of August in Killeagh at 7.30pm..
Team: Tommy O'Connell, Conor Evans, Christoper Power, Cathal Gunning, Sean O'Meara (0-03), Seanaidh Smyth, Kevin Mulcahy, Eoin Mitchell, Luke Finnerty (0-01), Ryan O'Regan (0-02), Cormac Beausang (0-07, 6 frees), Padraig O'Brien, Eoin Collins (0-01), Sean O'Leary Hayes (0-01), & Jack Enright. Subs James O'Brien, Liam Franklin, Tom Scanlon (0-01), Luke Smith & Mark Crotty.
Fixtures
Monday 10th Fe16 Premier 2 Football Championship v Inniscarra at home @ 7pm
Wednesday 12th Premier 2 Minor Hurling Championship v Aghada in Killeagh @ 7.30pm
Friday 14th Fe14 Premier 1 Hurling League v Blackrock at home @ 7pm
Saturday 15th Senior Hurling Championship v St Finbarr's in Pairc Ui Rinn @ 7.45pm
Sunday 16th Junior A Hurling Championship v Dungourney in Ballynoe @ 6pm
Sunday 23rd Junior C Hurling Championship v Russell Rovers in Cloyne @ 6.30pm
Check the website www.midletongaa.com for the full list.
Camogie
Training continues on Friday evenings for all age groups at the GAA club 7.15pm – 8.15pm and also on Tuesday evenings for the older groups. New players at all age groups welcome. Enq; 087 6822916. Follow us on face book: Midleton Camogie.
Ladies Football
Training tops are now available to buy. If you are interested in ordering one please contact Tracy on 0876625544.
Various sizes and colours to choose from. €10 payable at training pre order please.
Training for all ages continues in Midleton Rugby Club on Monday Nights from 6.30 onwards. New players are welcome to come along and see what the training involves.
Our U8 team will soon be starting part 2 of their league. Opponents will be confirmed in the next week.
Golf Society
Our next outing has been confirmed for next Tuesday 11th of August at East Cork Golf Club, there will be a shotgun start at 5pm and everybody is welcome to attend.
This outing will be kindly sponsored by Don Mc Farlane.
Lotto
Our Lotto Jackpot was €4,000, we had no winner, the numbers were 5,8,10 & 25, the Lucky Dips winners were Donal Keohane, Paul Britton, Kevin Lester, Ciarmhac Smyth & Deirdre Doyle , next week's Jackpot will be €4,000.
The Lotto draw takes place each Friday in the Club. Tickets are on sale at the Club Bar, O 'Neills Bar, Linehans Bar, Maple Leaf Bar, O' Farrells Butchers, Frank Murphy Butchers, Pat Walsh Paints, Chadwicks, Teach Beag & Niall Mac's Bars.
BINGO takes place each Friday night in the GAA Pavilion from 8pm, guaranteed Jackpot of 1,000 euro!!
Juvenile
Fe12
Our full U12 hurling panel travelled to Thurles (Semple Stadium) in Tipperary on Friday 7th of August to compete in an Activity Day organized by the Munster Council. For once during this summer the sun shone for the whole of the day, so Semple stadium with looking it's brilliant best. We were well looked after by John Grainger who was the chief organiser of the day. There were five hurling matches organised for us against the following teams: Lisgoold, Bruff Emly, Thurles Gaels and Ballina. As we travelled with our full panel (we have 34 registered players on the age) we broke up into two teams and all players had a full 2 ½ games on the famous sod. An organised stadium tour was also part of the day. Our tour guides were a number of inter-county players
Before leaving for home we called into Hayes Hotel for lunch. While there we were taken into the Billiard Room of Hayes Hotel which is the room the GAA was founded in during 1884. A quick overview was delivered on the founding of the GAA and in particular the impact of the Midleton/Ballinacurra man PN Fitzgerald.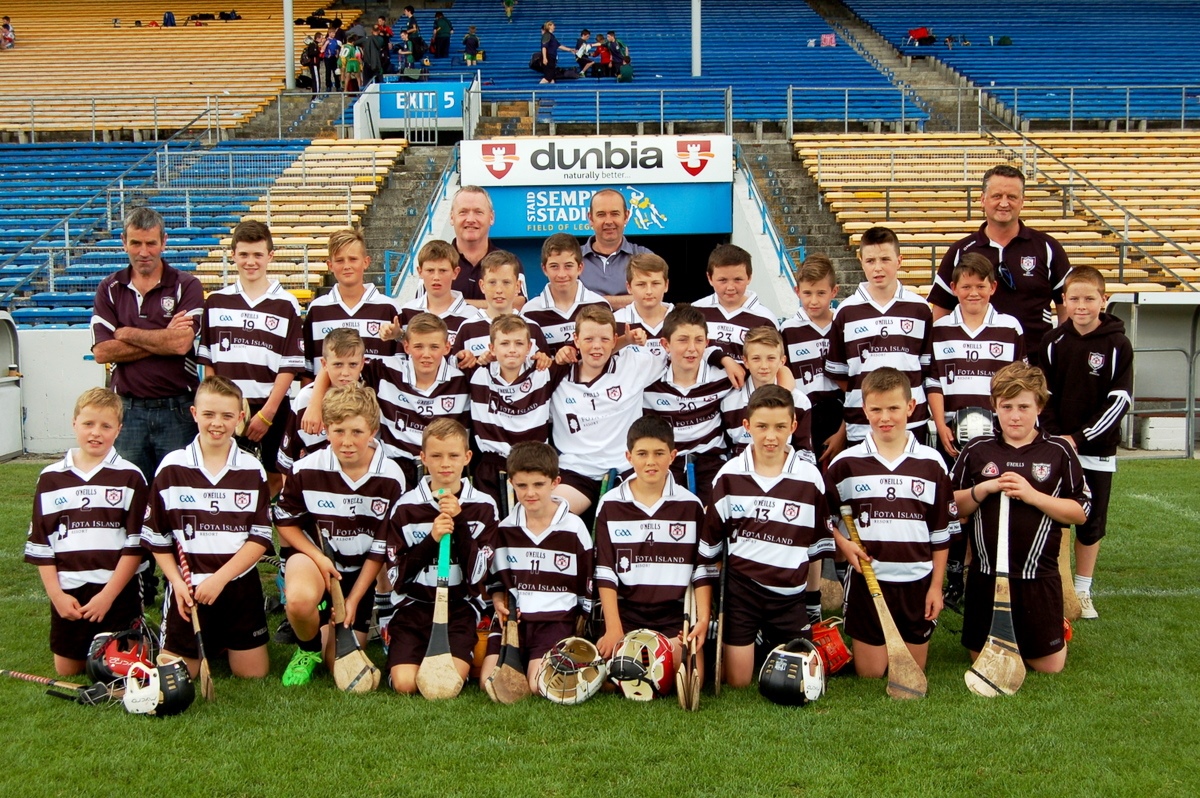 U12 Eastern Football: Our last league game of the season – in both hurling and football - was played on Sunday morning August 9th. We played Glenville on our home pitch of Clonmult Park. This turned into one of the most entertaining games of the season. Both teams showed off some game football. After the ebb and flow of the first half Midleton held a one point lead. Special mention must go to Rory Hartnett who netted 2 goals and 1 point in the first half. There was also great contributions from Roan Spillane, Ben Lowen and Brion Saunderson. The second half was even more gripping than the first. Midleton opened with a goal but Glenville responded with two quick goals of their own. Billy Foley and Cian Murray were Midleton's goal scorers in the second half. At the full time whistle Midleton had a two point lead. This was a great match and all players deserve great praise. Kane Rowlands and Adam McCarthy were excellent for the Magpies.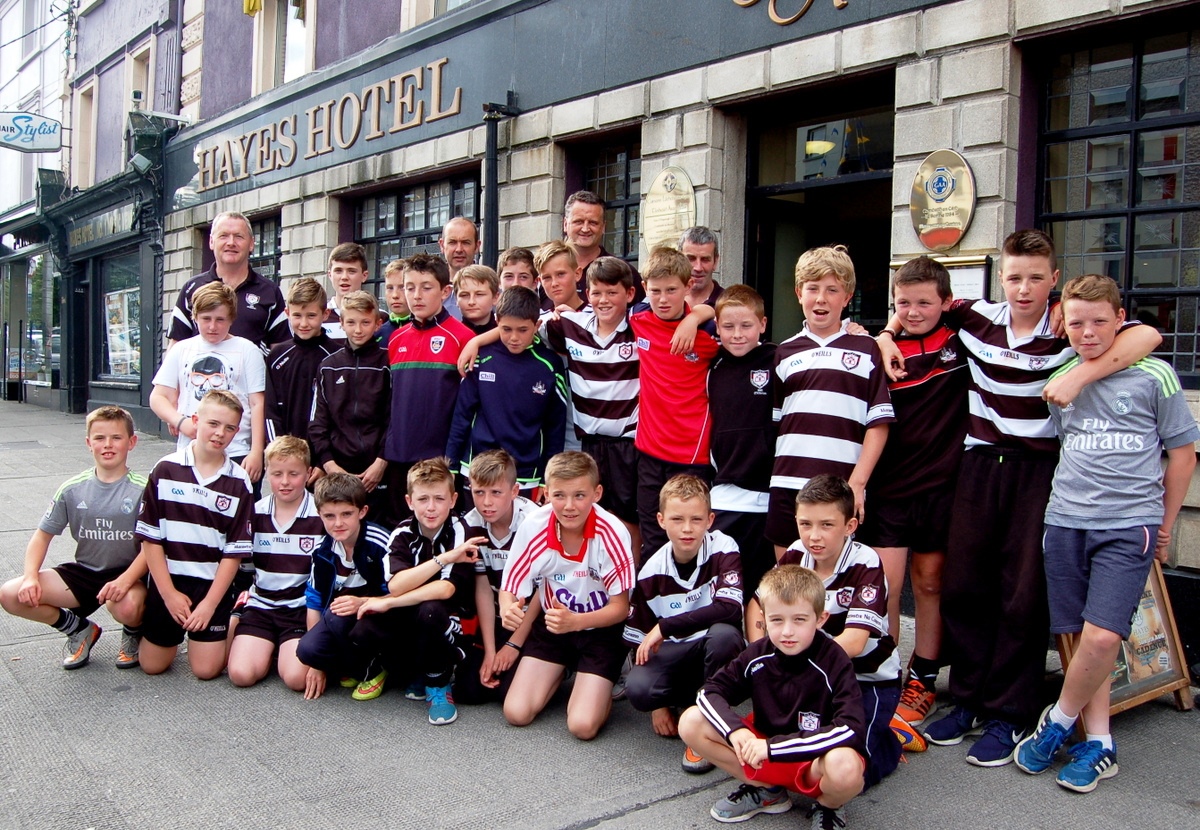 Fe14
Our hurlers will welcome the Rockies to Midleton on Friday night next in the Premier 1 Hurling League at 7pm.
Fe15
Our hurlers are due to play 3 hurling league games in the next two weeks against Ballincollig and Douglas at home and away to Inniscarra. Our hurling league game v Bishopstown scheduled for tomorrow night 10th Aug has been postponed as our Fe 16 footballers are playing Championship.
Fe16
Our footballers will play Inniscarra in the Premier 2 Football Championship on Monday next at home @ 7pm.
Club Shop
The Club shop is open each Saturday morning, we now have Car flags €5, small flags €3 and Headbands €3 for sale.
Outdoor Training
Training for all the Street League groups takes place each Saturday morning at the MAIN PITCH and will continue over the coming months.