Midleton GAA Club News
20 July, 2015
Senior Hurling
We had a very exciting Senior Hurling League game last Tuesday evening in Togher against the Barrs, conditions were very bad with heavy rain throughout the whole game. In the end two late score earned the hosts a draw.
Final Score: St Finbarr's 1-16 v Midleton 0-19
Team: Tom Wallace, Alywin Kearney, Patrick O'Mahony, Cillian Hurley, Peter Dowling, Aidan Ryan, Padraig O'Shea, Darren Quirke, Luke O'Farrell, Leslie Coughlan, Seamus O'Farrell, Killian Burke, Patrick White, James Nagle & Cormac Walsh. Subs used Padraig O'Farrell, Padraig O'Keeffe, Declan Ryan and Finbar O'Mahony.
The draw for the fourth round of the Championship took place on Sunday evening and we have been drawn to play the winners of Bishopstown v St Finbarr's.
Junior Hurling
Our Junior A hurlers had a very good victory over Cobh in a high entertaining contest in the East Cork Junior Hurling Championship last Sunday evening in Rostellan and as a result we now face either Bride Rovers or Killeagh in the quarter final.
Final score: Midleton 1-20 v Cobh 2-12
Team: Joe Loftus, Billy O'Shea, Peter Dowling (0-01), Seanaidh Smyth, Darren Quirke, Finbar O'Mahony, Padraig O'Farrell, Declan Ryan, Padraig O'Keeffe (0-10 7 frees), Padraic Nagle (0-02), Shane Ryan (0-01), Leslie Coughlan, Sean O'Farrell (1-00), Cormac Beausang (0-01) & Michael Abernethy (0-05).
Inter County
Best of luck to Conor, Luke, Aidan & Killian with the Cork Senior team next Sunday in the All Ireland Hurling quarter final against Galway in Thurles at 4pm.
Championship Games
On Sunday afternoon last we hosted Carrigtwohill v Killeagh in the County Senior Hurling Championship which resulted in a comprehensive victory for Carrigtwohill, thanks to all our members who helped out on the day, it was great to see some new members helping out, it was very much appreciated.
Fixtures
Wednesday 22nd Minor Premier 2 Hurling Championship v Valley Rovers in the Mardyke UCC @ 6.45pm
Thursday 23rd Senior Hurling League v Na Piarsaigh at home @ 7.30pm
Friday 31st East Cork Fe21 Hurling Championship v Killeagh Ita's in Shanagarry @ 7.30pm
Check the website www.midletongaa.com for the full list.
Camogie
Our Fe 10's played Killeagh away on Tuesday evening last, fielding two teams on a lovely summers evening, the girls played very well, their skill levels continue to improve reflecting all the practice put in by the girls, the effort and support put in by the coaches and parents. Well done to all involved.
'Come Hurl With Me'
The first session of a 6 week 'Come hurl with me' programme began on Friday evening last. This is a national initiative by the Camogie Association providing parents with the opportunity to learn the skills of the game , encouraging the parents involvement in their daughters development as a player, with the emphasis on fun and participation. Under the direction of tutor Donie Daly the parents first receive a lesson on the basic skills of the game before practicing their new skill with their daughter, and are encouraged to practice together at home . A different skill will be practiced each week .Based on the first evening of the programme the girls and parents involved have a summer of fun and learning to look forward to.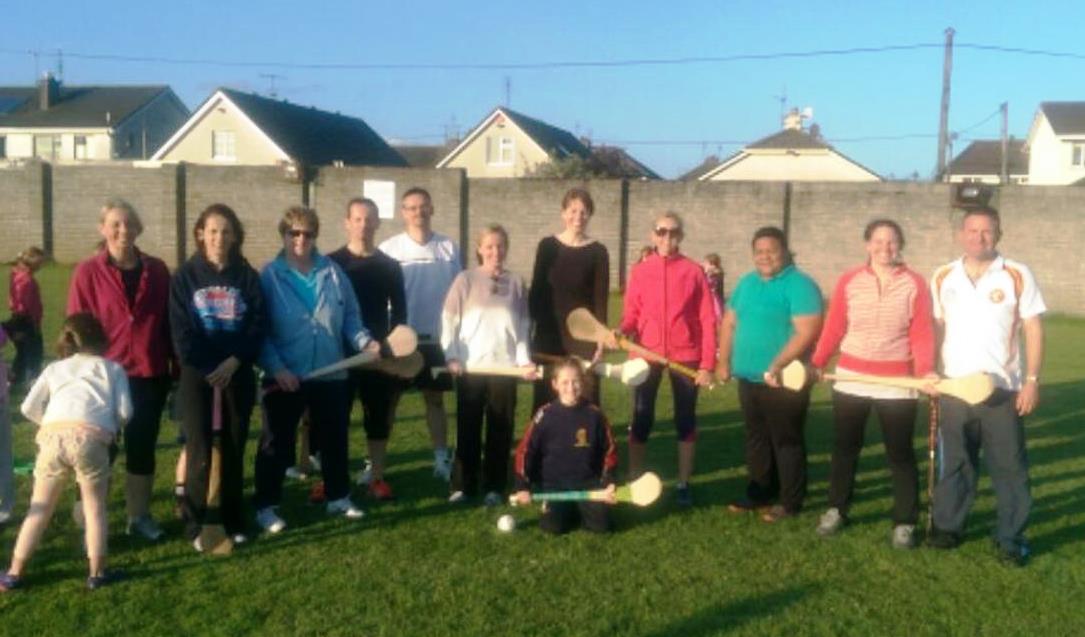 Training continues on Friday evenings for all age groups in the GAA club 7.15pm, and on Tuesday evenings for the older groups. New players at all age groups welcome. Enq; 087 6822916. Follow us on Facebook: Midleton Camogie.
Camogie Summer Camp begins in Midleton GAA grounds this week from the 23rd to 25th July, Enquiries to Ross Corbett Munster Camogie Development Officer ross@camogie.ie or 0876415485.

Ladies Football
Our Ladies Football Camp will take place in Midleton GAA Club next Monday July 20th and Tuesday July 21st. The camp is open to both boys and girls. It will run from 10am to 1pm. €10 per day. Children can take part in one or both days.
Please provide your child with a small packed lunch and plenty of drinks.
Contact 087-6625544 for details.
Training for all age groups takes place in Midleton Rugby Club on Monday nights from 6.30pm onwards. See Midleton Gaa Website (Ladies Section) for further details.
Lotto
Our Lotto Jackpot was €3,400, we had no winner, the numbers were 6, 11, 23 & 26 the Lucky Dips winners were Catherine Desmond, Cyril Condon, Jim Deane, Diane Sheehan & Catherine Wallace, next week's Jackpot will be €3,600.
The Lotto draw takes place each Friday in the Club. Tickets are on sale at the Club Bar, O 'Neills Bar, Linehans Bar, Maple Leaf Bar, O' Farrells Butchers, Frank Murphy Butchers, Pat Walsh Paints, Chadwicks, Teach Beag & Niall Mac's Bars.
BINGO takes place each Friday night in the GAA Pavilion from 8pm, guaranteed Jackpot of 1,000 euro!!
Juvenile
Fe 7
We took part in our first football blitz in Aghada yesterday. We had 24 lads which was a great turn out in the middle of holiday season. We had 3 teams and played 2 games each against teams for Glanmire, Killeagh, Fr. O'Neill's, Youghal and Erin's Own. The lads got stuck in and played very well, it was very enjoyable on lovely a sunny morning. Thanks to all the parents for bringing the lads down to Aghada and to Sean Crowley for a very well run blitz.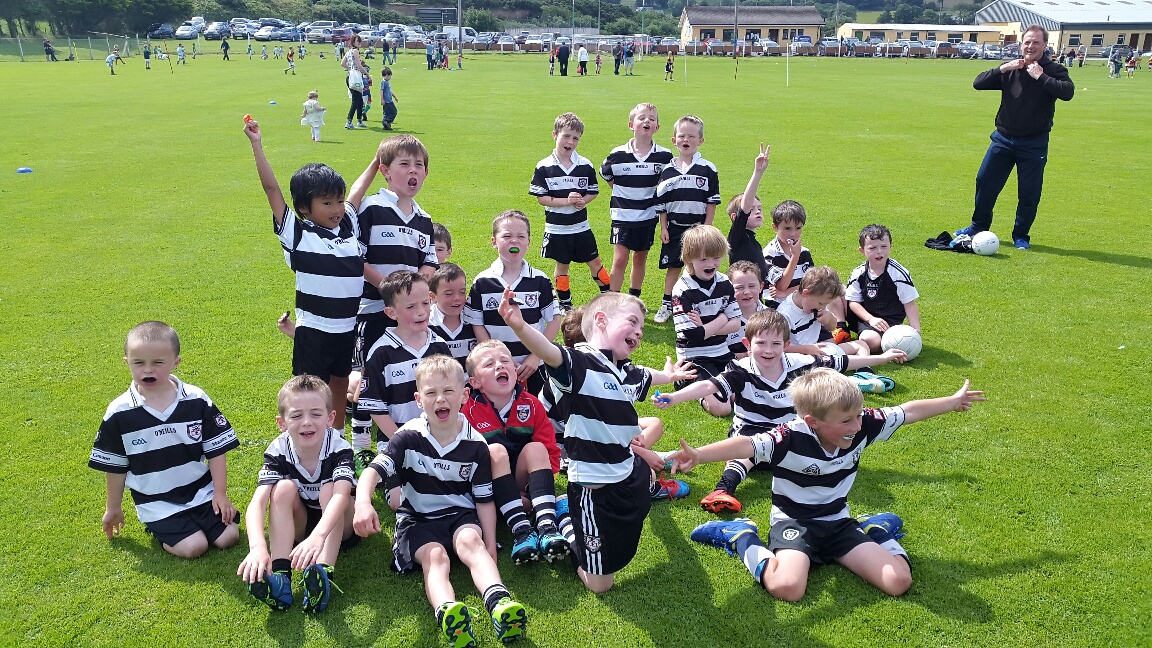 Fé 11
Last Wednesday night we travelled to Togher to take on table toppers St Finbarrs in a hurling league game. The Barr's had the majority of the play and had a goal and a point on the scoreboard before we could get on the ball. It took us a bit to get into the game but back we came with our backs getting on top and giving our forwards some time on the ball. We got 2 great goals and 2 points before halftime. The 2nd half was very tight with little or nothing between us. The lads were playing mighty hurling and as a result we got a goal and 2 points. The Barr's hadn't gone away and got 2 goals with time all most up. We were a point up at this stage but the lads held on with a great win for the young Magpies.
Team: Brian O'Connell, Tyrell Sheehan, Rian Barry, Conor Newcombe, Tadgh Bohan, David Cremin, Alex Moloney, Cathal Beausang, Tiarnán Roche, Seán Frazer, Dara Scanlon, Mikey Finn, Niall Lang, Seán Coffey, Aston Hannaway, Daniel Coffey, Odhran Prenter.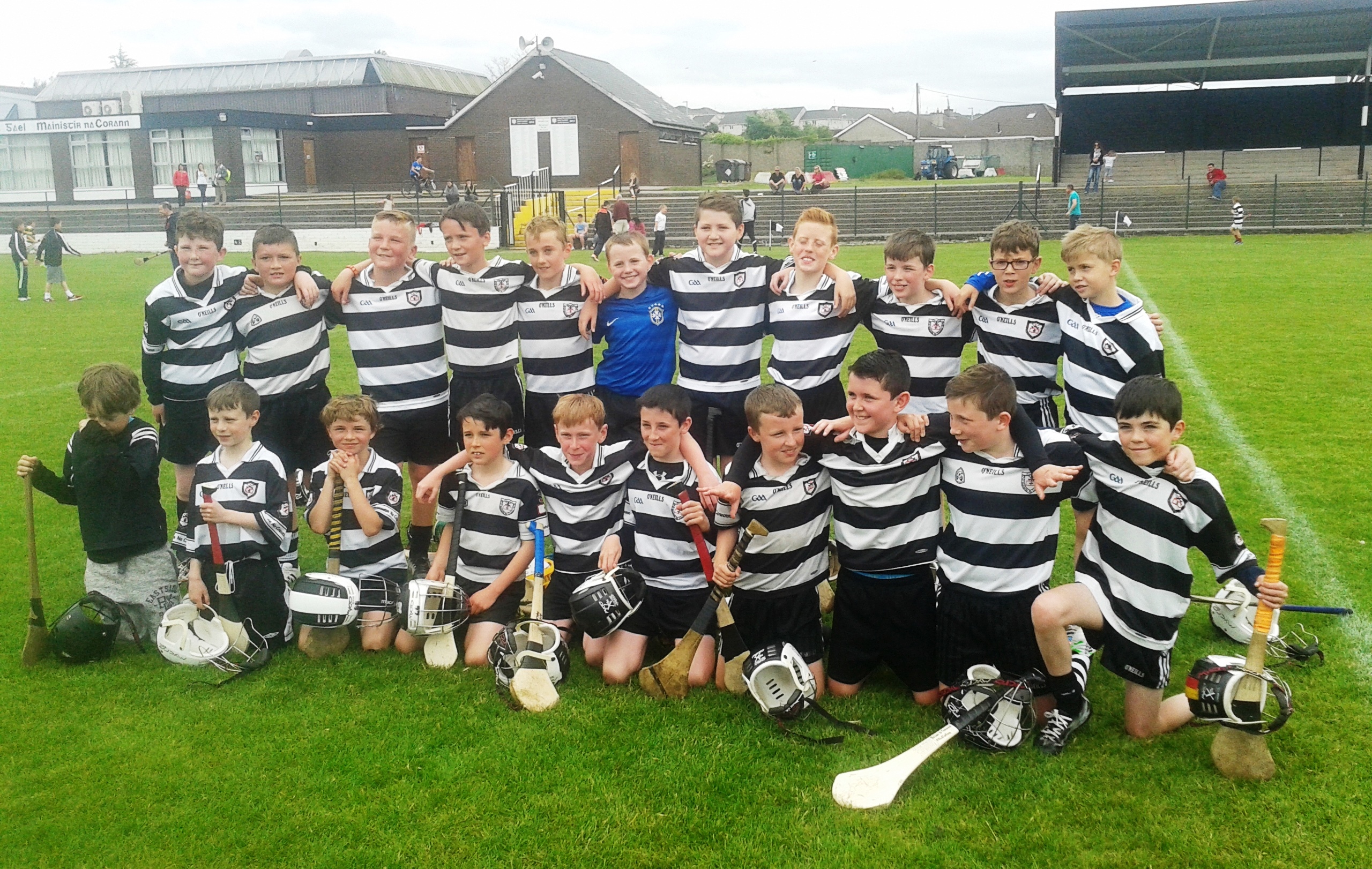 Fe 12
Last Sunday we travelled to Clonea Power (between Leamybrien and Carrick-on-Suir) in County Waterford to compete in the league stages of the Tommy Finn hurling tournament. We played teams from Kilkenny, Tipperary and Waterford.
First up for the young Magpies was Danesfort of Kilkenny at 10: 30 am. The conditions were perfect; beautiful surface on the field, sun shining and no breeze. These were the settings that we were blessed with for all games. We started off in a sprint and we quickly found ourselves 4 points up. We held that lead till half time. On the resumption, after the half time break, Darragh McCarthy got the all-important goal. We held on to win on a score line of 1-08 to 0-01.
There were great performances from Neil Fitzgerald, Brion Saunderson, Evan McCarthy and Shay Bohan.
The second game saw us take on Abbeyside from Waterford. This was a low scoring game but it had high excitement. We won by one point on a score line of Midleton 0-06 Abbeyside 1-02. Best for Midleton were Phelim Magan, Rory Hartnett, Kane Rowlands and Tomas Lambe.
The third and final game of the day was Midleton V Carrick Swans (Carrick-on-Suir). Similar to our 2 earlier games this was high drama stuff. The game ebbed and flowed but Midleton have at the moment learned how to close out games and so the Magpies held on to win out in a very close game: Midleton 2-04 Carrick Swans: 1-04. Ciarmhac Smyth was outstanding and he was ably assisted by Cian Murray, Mickey Finn, Ben O'Neill, Fintan Greenwood and Daire Mooney. I must also mention our non-playing captain on the day Niall Corcoran.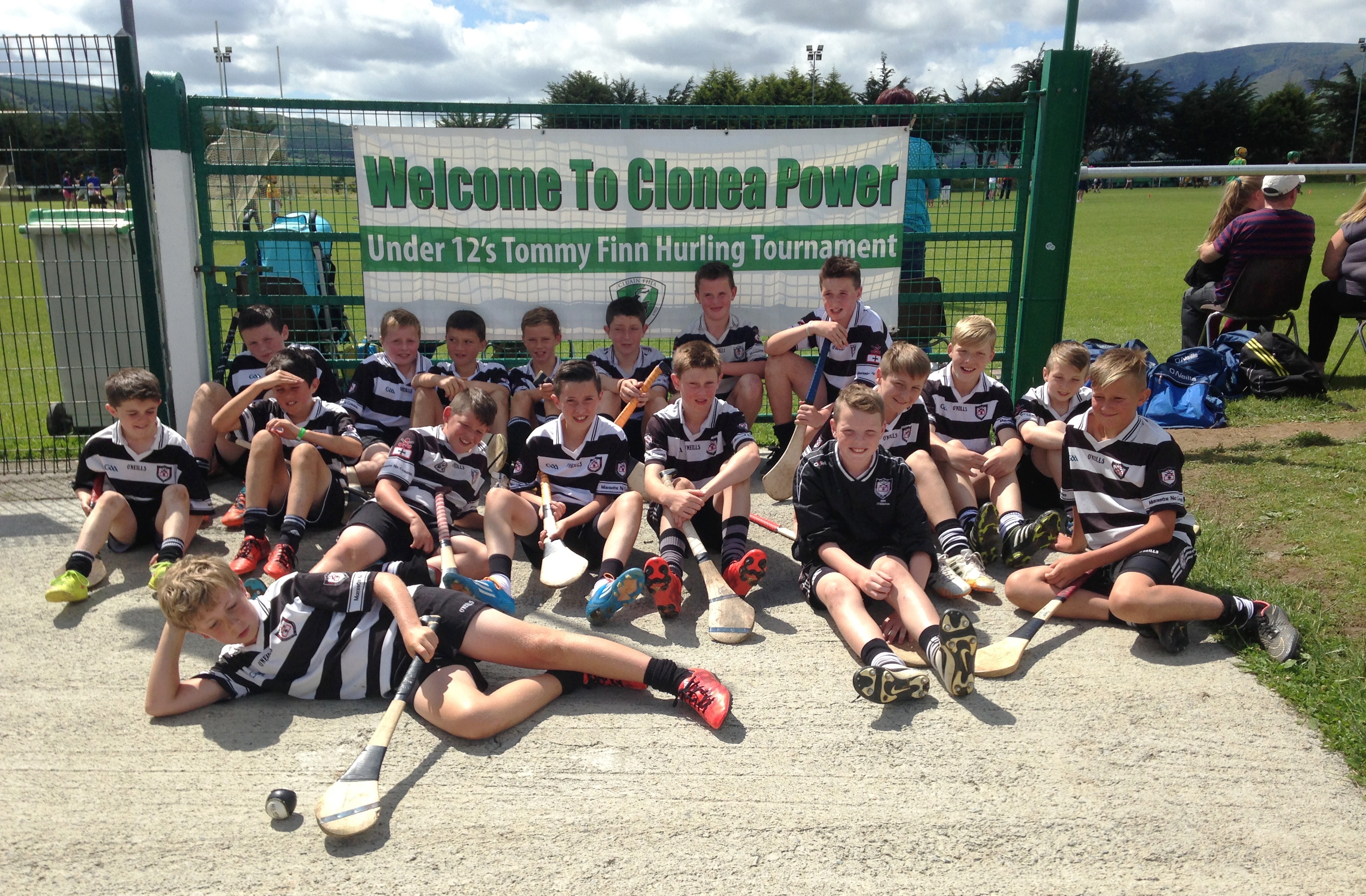 Outdoor Training
Training for all the Street League groups takes place each Saturday morning at the MAIN PITCH and will continue over the coming months.