Midleton GAA Club News
21 June, 2015
Junior Hurling
We played Carrigtwohill last Sunday evening in the first round of the Junior A Championship in Rostellan. An hour before the game the weather turned for the worst but this did not deter our lads from performing very impressively. Our ability to get goals early on in the game was the key element to this victory; we led at half time by 3-08 to 0-05. In the second half we continued where we left off , maintaining control and running out very convincing winners by 5-20 to 0-07.
Team: Joe Loftus, Billy O'Shea, Eoin Ferriter, Seanaidh Smyth, Darren Quirke, Peter Dowling, Padraig O'Farrell, Sean O'Farrell (0-01), Padraig O'Keeffe (1-07 4 frees), Padraic Nagle (0-01), Shane Ryan (0-01), Leslie Coughlan (0-02), Michael Abernethy (1-02), Declan Ryan (1-03) & Cormac Beausang (2-03,1 free).
Sub used Gavin Bagnell for Peter Dowling (inj.).
Fixtures
Monday 22ND Fe14 Premier 2 County Football semi final v Cobh in Mahon @ 8pm
Wednesday 24th Junior B Hurling Championship v Sars in Watergrasshill @ 7.30pm
Friday 26th Fe16 Premier 1 Hurling Championship v Sars @ in Delanys @ 8pm
Sunday 28th East Cork Junior 1 Hurling League v Lisgoold home @ 11.30am
Monday 29th Minor Premier 2 Hurling League v Aghada home @ 7pm
Check the website www.midletongaa.com for the full list.
Golf
Our annual Juvenile Golf Classic is now only 3 weeks away, it takes place on both July 8 & 9th at East Cork Golf Club. The competition is a 3 Ball Scramble and teams cost only €120, Tee times can be booked by contacting either Anthony Wall 086/3154016 or Coleman Quirke 087/2523759. Tee Box sponsorship is also available at €50, we look forward to your support for this very important fundraiser.
Camogie
Last Saturday morning dawned bright and sunny for our U10 Camogie players. We travelled in great numbers to Fr O'Neill's for a Camogie blitz. Two teams lined out for the Magpies and we played Watergrasshill, Killeagh and the hosts themselves Fr O'Neills. A real treat for parents and coaches to see such a fine display of Camogie skills from all teams involved. We played with great determination; we chased every ball, closed down the opposition and kept the scoreboard ticking over.
Míle buíochas to everyone involved for making the day a most enjoyable one.
Panel: Elle Mc Manus, Rachel Ryan, Emily Lambe, Tori O'Sullivan, Amy Mc Carthy, Catherine Finn, Ashling Naughton, Ellen O'Neill, Rachel Yu, Leah O'Connell, Emma O'Sullivan, Ruthi Hennessey, Anna Sheehan, Emma O'Neill, Cadence O'Sullivan, Rionach Finn.
The U12 girls had a busy week with 2 league matches played. The first match of the week was against Grenagh. This was a home fixture and we had a great first half scoring 6 goals to Grenagh's 2 goals. Grenagh came into it in the second half, but we tried hard until the final whistle but in the end Grenagh just came out on top.
The U12's were back on the pitch again in Crosshaven early on Sunday morning in a very competitive match. Both teams were evenly matched with great efforts on goal from both sides. Our never give up attitude saw us scoring an all important goal in the closing minutes of the match to win with a score of 1-1 to 0-2.
Well done to all involved.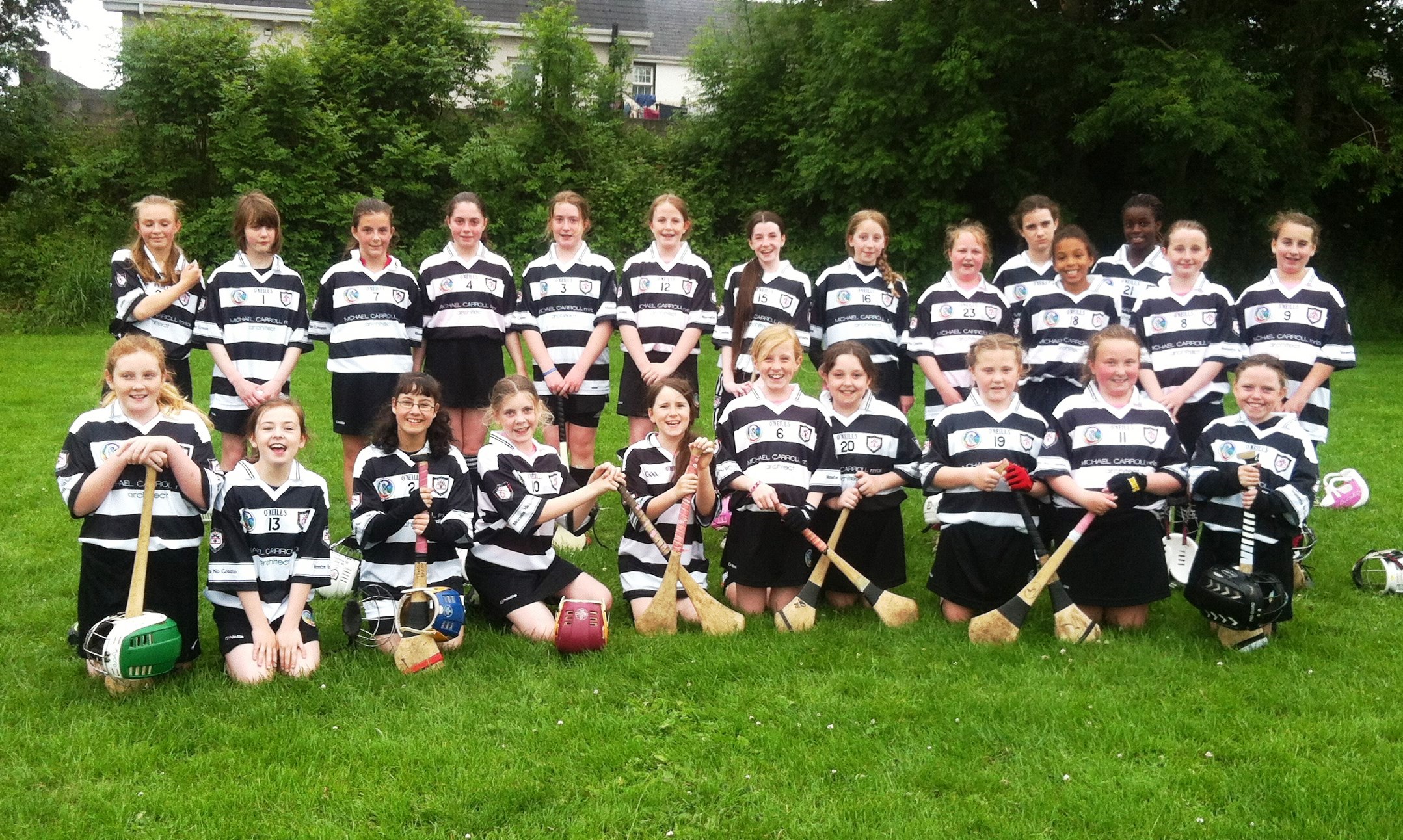 Camogie training continues on Friday evenings in the GAA club 7.15pm, and for the older groups on Friday and Tuesday evenings, new players at all age groups welcome. Enq: 087 6822916. Follow us on face book: Midleton Camogie.
Ladies Football
Our Annual Mixed Summer Camp will take place in Midleton Gaa Club on July 20/21st from 10am to 1pm. It is open to boys and girls from age 5 upwards. Children can take part in one or both days. Registration forms are available from Team Mentors or you may contact Tracy on 0876625544.
Fe8 Midleton v Rockbán Go Game
Our U8 girls travelled to Rockbán on Monday night last. They turned out in great numbers considering the distance to travel.
Many thanks to all the parents who had their girls there on time.
From the first blow of the whistle Midleton dominated all over the pitch. From our back to our forwards they provided great support to one another which in turn brought some mighty scores. A massive well done to all our girls on a super performance.
Team: Roisin Hayes,Alyx Cahill,Chloe Carr,Johanna Carr,Ciara Murphy,Kate Saunderson,Kate o Sullivan,LillyKelly,Lara Geary,Mia Walsh,Faye Dunlea,Sadhbh Cronin,Ava Barry,Elianna Moroney,Julie Murphy,Lucy Murphy,Aine Ryan.
Next up for the Mighty U8's is Glanmire in their final match for Round 1 on Monday night in the Rugby Club. Best of luck for this match.
Midleton U10 v Watergrasshill. League Game
Another exciting and thrilling game of football for Midleton U10 Girls last Monday night.We welcomed Watergrasshill to a sun drenched Costa del Mainistir na Corann,conditions were perfect. All our girls were ready and eager for this our fifth game of the league campaign.Watergrasshill got off to a blistering pace but it wasn't long before the Midleton girls got their name on the score sheet. It was nip and tuck in the first half,with the back line soaking up a lot of pressure. Midleton made great breakthroughs and were rewarded with some fine scores from play. Messi style goals from our new recruits and seasoned campaigners alike. After a rousing speech at halftime the Young magpies took to the field of play with grit and determination. They contested every ball and never gave up chasing down the opposition to gain possession and convert to a score. The forwards kept up the pressure and popped over some great points. Our goalkeepers were outstanding keeping us in the game and bringing off great saves. Míle buíochas to our injured players who came to support their teammates on the night, hope to see you back at training asap.A mighty team effort on the night,well done to all. We have four games left to play in the East Cork U10 development league,so here's to a summer of sun and football. Magpies Abú
Team : Katie Smith,Clara Collins,Róisín Crotty,Anna Dupas,Gráinne Finn,Malika Hassine,Aoife Mulcahy,Isabelle Nestor,Rachel O'Meara,Saoirse Ní Theangana,Sadhbh Hartnett,Kelly Quirke,Ashling Mc Carthy,Rachel Quirke and Ellen O'Neill.

Midleton U12 v Cobh and Watergrasshill
Our u12 girls played two games this week winning both. On Monday evening we played Cobh at home. This was probably one of our hardest games of the season but worked very hard and ground out a very good result. On Thursday evening we travelled to play Watergrasshill. Again this was a fine win in the way the girls achieved it. We started very well against a stiff breeze and led 2-2 to 2 points at half time. Watergrasshill started very well in the second half but our defence and goalkeeper kept the score down. We rallied in the middle of the second half and got two quick goals that saw us through to a very well earned 5 point victory. It's very hard to pick out any individual performances because each of the girls subs included played their part in both victories.
Lotto
Our Lotto Jackpot was €2,600, we had no winner, the numbers were, 6,18,20 & 26,
the €40 Lucky Dip winners were Ciarmhac & Kathryn Smyth, Norma Ferriter, Danny Lehane, Karen O'Brien & Gerry Higgins, next weeks Jackpot will be €2,800.
The Lotto draw takes place each Friday in the Club. Tickets are on sale at the Club Bar, O 'Neills Bar, Linehans Bar, Maple Leaf Bar, O' Farrells Butchers, Frank Murphy Butchers, Pat Walsh Paints, Chadwicks, Teach Beag & Niall Mac's Bars.
BINGO takes place each Friday night in the GAA Pavilion from 8pm, guaranteed Jackpot of 1,000 euro!!
Juvenile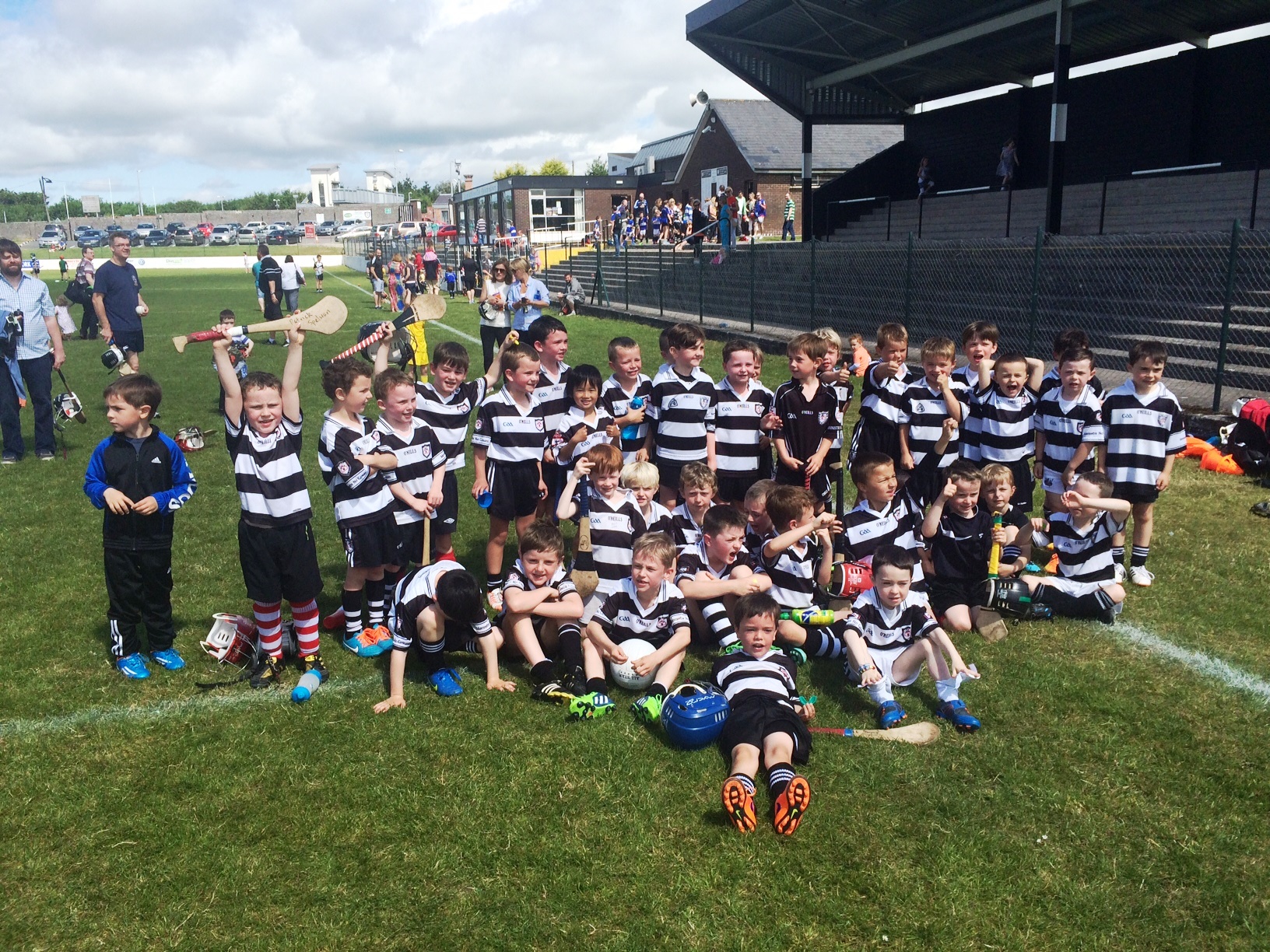 Fe7 hurlers and footballers v Sars & Glanmire last Saturday in Midleton
Fe12
Premier 1 Hurling: We travelled to Riverstown last Monday night for the 3rd last match of the P1 league. The young Magpies lined out without a number of regular starters but because of the strength in depth of our panel we don't ever see it as a big issue. It was a perfect evening for the game. The sun was shining with very little breeze blowing. The early exchanges in the game showed, that similar to previous encounters over the last four years that this was not going to be an easy game for either side to win. We were first to raise a green flag with the brilliant Alex Quirke drilling a long range free straight to the net. At this stage Evan McCarthy, Fintan Greenwood and Ronan Gies were playing out of their skins. At half time the game was a draw. The second half resumed where the first half had finished, commitment, speed and accuracy of hurling again being on display. Rory Hartnett, Neil Fitzgerald Ciarmhac Smyth, Evan Kelly (scorer of one of our goals) and Kane Rowlands were driving Midleton on. With three minutes to go we were 3 points up and it was looking good for another win. But then Sars applied that little bit of extra pressure and finished very strongly to see them just about get the win.
Final score Midleton 3:07 Sarsfields 4:08.

Premier 2 Hurling: Our P2 team travelled the 'long' distance to Innishannon on Thursday evening to play Valley Rovers. We had a great turnout for the match and a real big thank you to all the parents that took time out to get the players to the venue. This panel of players has been amazing us all year with the sheer will to win that they have been showing, Thursday night was going to be no exception to that. We got straight into our stride. Brion Saunderson was dominating the half back line, Mickey Finn was wining every ball going into the full forward line, Rowan Spillane and Shay Bohan were 'fighting' for every scrap of possession that came their way . At half time we were just 2 points down. In the second half we picked it up and with Billy Foley, Ben O'Neill and Liam McGrath taking control we crawled our way back into the match. Final score was a draw: Midleton 2:08 Valley Rovers 2:08
Fe14
Our hurlers took to the bus on Saturday for the Division 5 Regional Feile competition.
The venue was the fantastic WIT complex in Waterford..
Our first opponents were Na Piarsaigh from Limerick. We got off to a flying start with a couple of early goals and never looked under pressure in a game we comfortably won in the end. Next came Faythe Harriers from Wexford who despite their best efforts couldn't handle our attacking game.
As winners of our group we went on to play Whitehall Colmcille's from Dublin in the semi final. This proved to be a tougher test and while the Dubs played a far more physical game than our group opponents, our hurling skills ultimately took us to victory. To the final then and our opponents were Kinvara from Galway. We had seen them play earlier in the day and were ready for both a physical battle and a test of skill from this capable team. From the off the game was tight with both teams cancelling each other out in the first half. However we proved the stronger in the second half and pulled away in the last 10 minutes. This was a well earned win for an honest and hard working team who in particular over the last year have had some battles but never dropped their heads. Our thanks to the travelling support who drove the lads on.
Our focus is now on the County Premier 2 Football semi final on Monday v Cobh.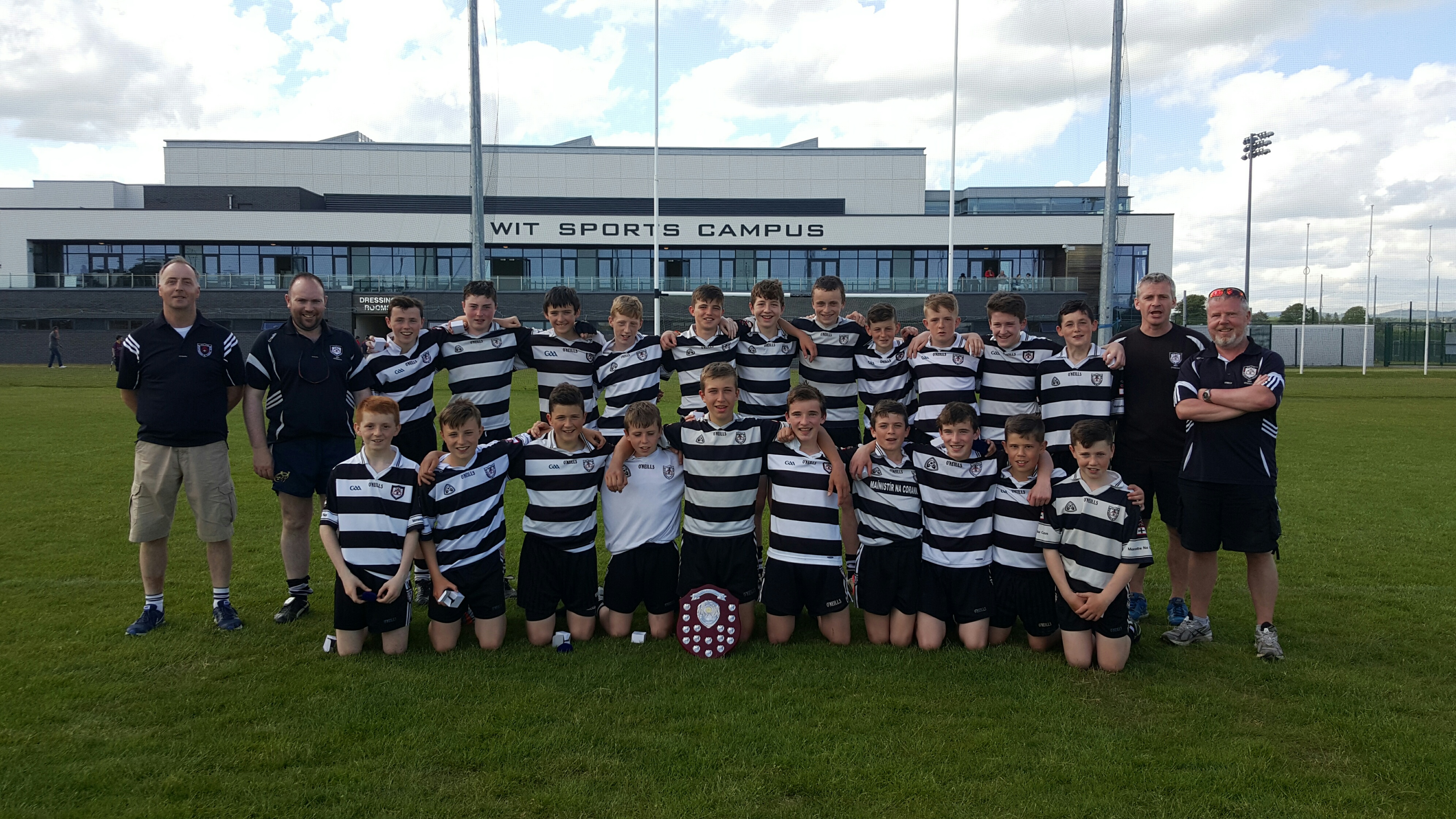 Kellogs Cul Camp
Camp Date: 29th June – 3rd July 2015 @ GAA Club from 10am to 2.30pm daily.
Please note that on-line registration closes Friday 26th at 12am.
As Monday 29th first camp will be very busy it is advisable to arrive early.
Please note there will be NO parking allowed on the grounds of Midleton GAA Club on any day you are asked to avail of the train station parking facilities.
All boys must be collected from the playing field punctually at 2.30pm.
Please remember a packed lunch and plenty of drinks.
A Helmet, Hurley & Gum Shield is a must, your child cannot play without them.
If you have any questions please contact Camp Co-ordinator Pa Beausang 086-2284185.
Outdoor Training
Training for all the Street League groups takes place each Saturday morning at the MAIN PITCH and will continue over the coming months.