Midleton GAA Club News
14 June, 2015
Senior Hurling
We welcomed Ballyhea to Midleton last Saturday night for a Senior Hurling League game and before a nice attendance we overcame their brave challenge to win very comfortably. In the first half they played with the advantage of a strong breeze, both sides traded score for score resulting in the sides being locked at the break by 1-12 a piece. The second half saw the game being closed off in the first number of minutes when eight unanswered points put us into a commanding lead and we ran out very convincing winners on a score of 2-25 v 1-12.
Team: Tommy Wallace, Cillian Hurley, Patrick O'Mahony, Gavin Bagnell, Darren Quirke (0-01), Aidan Ryan, Padraig O'Shea, Luke O'Farrell (0-04), Sean O'Farrell, Paul Haughney (0-02), James Nagle (1-01), Padraig O'Keeffe (0-04), Cormac Walsh (0-10 8 frees), Padraic Nagle (1-01) & Michael Abernethy. Subs used Peter Dowling, Seamus O'Farrell (0-02) & Garan Manley.
Junior Hurling
We played Bride Rovers in the Junior 2 League last Tuesday evening at home and after a very slow start we got our game together in the second half and won impressively on a score of 1-16 v 0-11.
Team: Byran Rossiter, Pat Stack, Eoin Ferriter, Joe Collins, Brendan Ferriter, Billy O'Shea, Liam Clohessy, Josh Deady, Niall Walsh, Brian O'Sullivan, Michael Abernethy, Willie O'Brien, Paul Barry & David O'Brien. Sub used Sean Corcoran.
Last Sunday morning we had a good workout in Rostellan with a Junior 2 challenge against Aghada, thanks to Brian Walsh for facilitating us and also to referee Maurice Mulchay. Final score: Aghada 1.12 v Midleton 4-17
Team: Byran Rossiter, Pat Stack, Sean Corcoran, Jerome Curtin, Joe Collins, Colm Leahy, Brendan Ferriter, Liam Clohessy, Josh Deady, Patrick Dunlea, Niall Walsh, Willie O'Brien, Brian Fitzgerald, Paul Barry & David O'Brien. Subs used James O'Leary & Paul O'Brien.
Minor Hurling
We were defeated in the Non Exam league recently by Sars in Riverstown on a score of 5-13 to 0-11. Team; Liam Franklin, James O'Brien, Christopher Power, Alan Power, Eoin Mitchell, Adam Daly, Cian Murray, Sean O'Meara, Eoin Maloney,
Padraig O'Brien, Conor O'Neill, Shane O'Brien, Kevin Finn, Cristian Daly, Cormac O'Brien. Sub Conor Evans.
In our next game we lost out to Carrigaline in the same league by 2-19 to 3-15.
Team: Liam Franklin, Conor Evans, Chris Power, Cathal Gunning, Cian Murray, Kevin Mulcahy, Eoin Mitchell, Garan Manley, Ryan O'Regan, Conor O'Neill, Eoin Maloney, Jack Enright, Christian Daly, David Mulcahy. No subs used.
We play Aghada on Monday 29th June @ home and Championship is fixed for 6th July, if Cork minors win on 2nd July,the game will go off until after Munster Final.
Fixtures
Monday 15th Fe 14 Premier 2 Football Champ v Castlehaven in Ballinhassig 8pm
Sunday 21st June Junior A Hurling Champ v Carrigtwohill in Rostellan @ 7.30pm
Wednesday 24th Junior B Hurling Championship v Sars in Watergrasshill @ 7.30pm
Check the website www.midletongaa.com for the full list.
Golf
Our annual Juvenile Golf Classic is now less than one month away, it takes place on both July 8 & 9th at East Cork Golf Club. The competition is a 3 Ball Scramble and teams cost only €120, Tee times can be booked by contacting either Anthony Wall 086/3154016 or Coleman Quirke 087/2523759. Tee Box sponsorship is also available at €50, we look forward to your support for this very important fundraiser.
Last Friday evening our Golf Society had a fantastic outing in FOTA with a great turnout for this event very kindly sponsored by Gary Johnson of the Maple Leaf Bar.
The winning scores were as follows; 1st Don Mc Farlane, 2nd Francis Maher, 3rd Donie O Callaghan, 4th Tadgh Horgan, 5th Gary Johnson, Front 9 Bernard Cashman, Back 9 Tim Crotty and Visitor John O'Leary.
Camogie
Our Fe7's and 8's travelled to Killeagh on Sunday afternoon last to take part in a Camogie blitz. Fielding three teams, one under 8 team and two under 7's played against Killeagh, Watergrasshill and St Fanahan's. All teams played brilliantly,each girl put their heart and soul into game and were very happy heading home when it was all over. Thanks to the parents who did a great job helping the coaches on the sideline, to the coaches for all their hard work and thanks to Killeagh for hosting what was a fabulous sunny Sunday's entertainment for all who attended.
Our Fe10's continued their Go Game competition last week playing Killeagh at home. All the girls played with great enthusiasm, it is great to see the skills level continue to improve reflecting all the work done at training by both the coaches and players.
Camogie training continues on Friday evenings in the GAA club 7.15pm, and for the older groups on Friday and Tuesday evenings, new players at all age groups welcome. Enq: 087 6822916. Follow us on face book: Midleton Camogie.
Ladies Football
Our Fe12s played Na Piarsaigh last Monday evening in the rugby pitch. As all games against Na Piarsaigh have been it was a very competitive game from start to finish. We made a very bright start getting 4 unanswered scores. Na Piarsaigh came into the game at the end of the first half and the second half was a great advertisement for the type of football that can be played at this level. In the end Na Piarsaigh came out on top by only one point with Midleton trying until the final whistle to salvage something from the game.
Midleton Ladies Football summer camp is July 20th and 21st. It is open to both boys and girls. More details will follow.
Keep up the support for the Ladies by dropping your receipts into the Ladies box in Super Valu.
Training for all ages takes place in Midleton Rugby Club from 6.30pm.
Lotto
Our Lotto Jackpot was €2,400, we had no winner, the numbers were, 2, 3, 4 & 20,
the €40 Lucky Dip winners were Jim Mc Gann, Teresa Gaffney, Margo Gardiner , Richard O Donovan & Maura Tobin, next weeks Jackpot will be €2,600.
The Lotto draw takes place each Friday in the Club. Tickets are on sale at the Club Bar, O 'Neills Bar, Linehans Bar, Maple Leaf Bar, O' Farrells Butchers, Frank Murphy Butchers, Pat Walsh Paints, Chadwicks, Teach Beag & Niall Mac's Bars.
BINGO takes place each Friday night in the GAA Pavilion from 8pm, guaranteed Jackpot of 1,000 euro!!
Juvenile

Fe 8
On Saturday morning last, we had another great turnout in what is becoming a very committed bunch of lads. This was the boys first ever Football Blitz and again they showed great teamwork, commitment and sportsmanship throughout. 40 of our young Magpies played Carrigtohill, Youghal, Aghada, St Colmans, Cobh, Fr O'Neills and Killeagh, with all players giving a great account of themselves. Keep up the good work. Thanks to our referee's Padraig O'Brien & Evan O'Meara, Sean Crowley and Fr O'Neills Gaa for another well run and organised Blitz.
PANEL - Matthew Herbert, Eoin Ahern, Darragh Savage, Shane O'Mahony, Tomas Geary, Joey Moran, Aiden Jenkins, Matthew McInerney, Patrick O Dowd, Dwayne Sigerson, Cian Stack, Josh Foley, Sean Crowley, Cian Fitzgerald, Miah McGrath, Tom Smith, Conor Bennett, Dara O Conchubhair, Josh Hogan, Matthew McSweeney, Odhran O'Sullivan, Rian O'Driscoll, Aodhan Haughney, Rhys Quill, Ben Troy, Tomas Botta, Lochlann Stewart, Matthew Philpott-Baptista, Conor McCarthy, Tiago Fleming, Nicky Coughlan, Daniel Donovan, Eoin Hurley, Noah Cahill, Shane O Connor, Darragh Cronin, Rory Hynes, David Kelly, Darragh Mullins & Peter Kelly.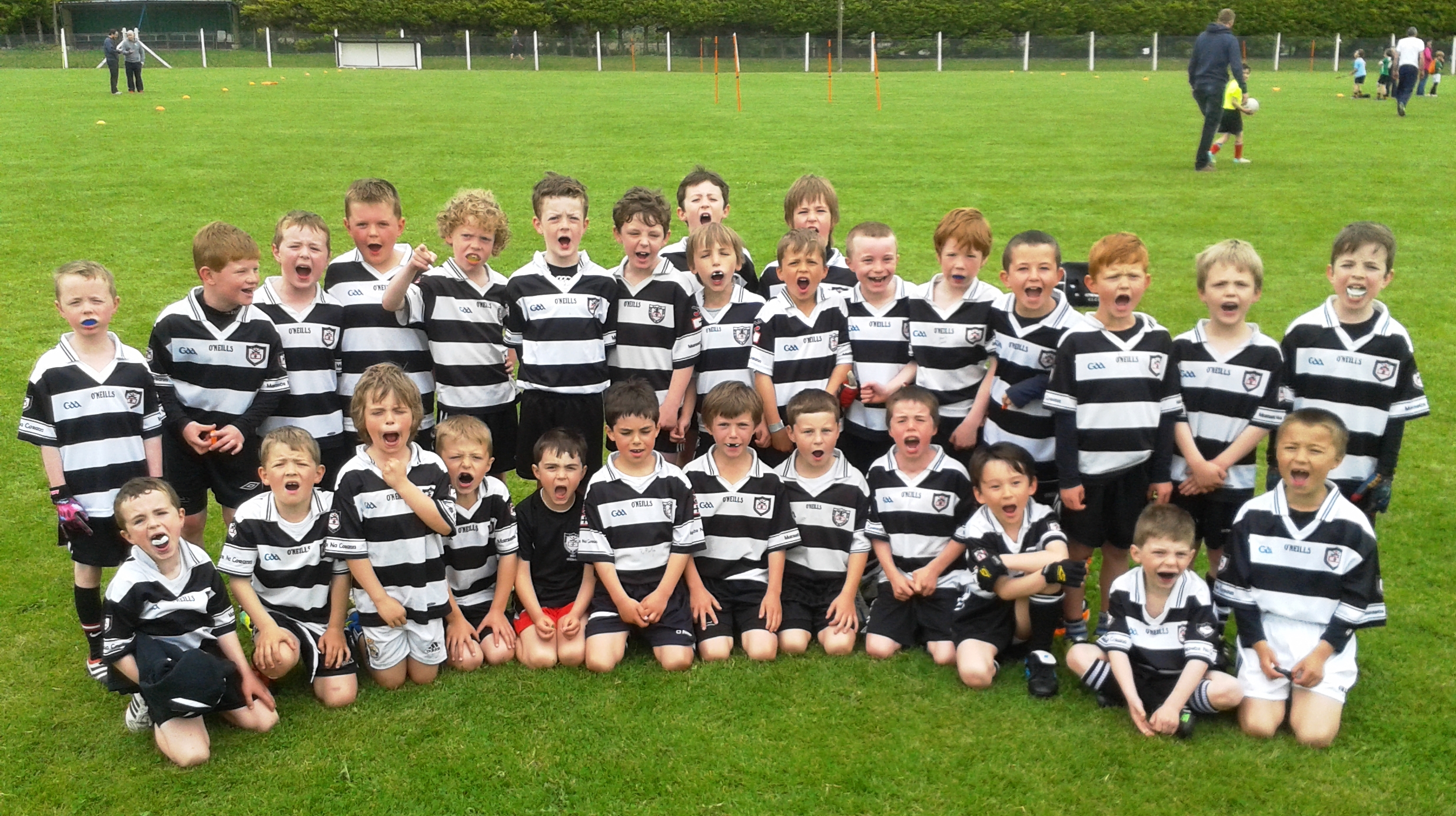 Fe 9
On Saturday last our hurlers made the short journey to the picturesque setting of Rostellan to play Aghada. Once again we fielded 3 teams in what was a very enjoyable and worthwhile outing. Thanks to the hosts for the superb condition of the pitch, as the summer moves on we hope to have the opportunity to visit again.
Well done to players and mentors.
We would like to wish a speedy recovery to one of our players James Mc Sweeney, after his recent stay in hospital.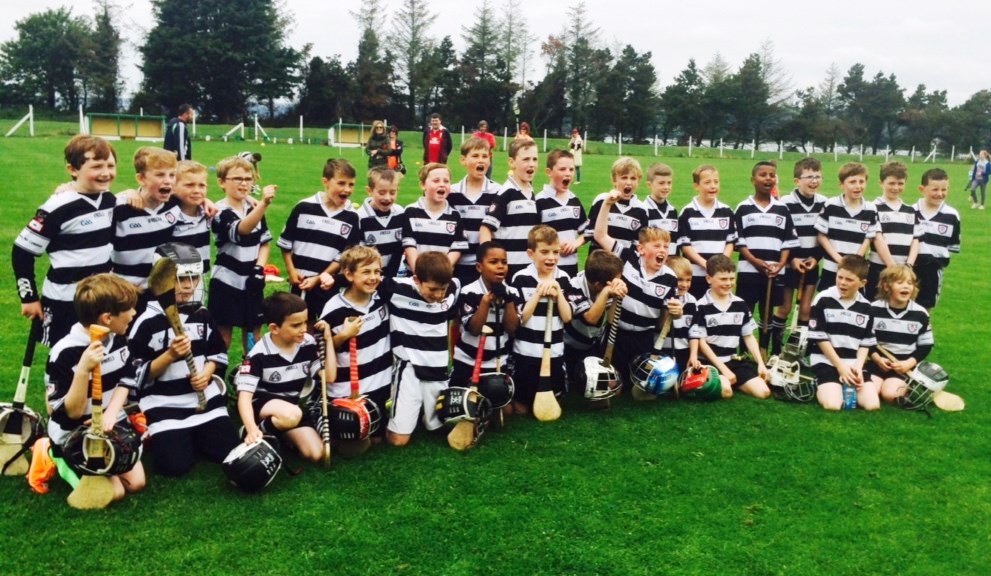 Fe 11
We had two hurling games during the past week away to Carrigtwohill and at home to Glen Rovers.
Midleton v Carrigtwohill
Midleton Blacks: The boys had a very tough game with little between the sides we were 2 points up at half-time. We started the 2nd half with a goal and a point – we were looking good for a win but Carrig hit back with 2 goals and a point to take the lead. With time running out we got a point in the dying minutes of the game to draw.
Midleton Whites: The lads started this game in great battling fashion we took an early lead with a few goals and we ahead at half-time. We continued to play great hurling in the 2nd half and went on to win the game. It was great to see so many players getting on the score sheet.
Midleton v Glen Rovers
Midleton Whites: We played The Glen at home last Saturday we started the game with a goal in the first minute but The Glen came into the game with 2 great goals and 2 points. We won the puck out and got a goal and 2 points to make it a draw at half-time. The Glen hit 2 goals in the first 2 minutes of the 2nd half and we were looking good for the win, our forwards got on top and got some great scores to win by 2 points.
Midleton Blacks: Both teams hit the ground running and played some mighty hurling all over the pitch. Mickey O'Connell was the referee on the day and he even found it hard to keep up with the play!! We started to play some great open hurling and were a few goals up at half-time. The second half we pulled away and had a great win.
Thanks to Carrigtwohill and The Glen for two tough sporting games.
Panels:
Midleton Blacks: Alex Moloney, Cian Lambe, Conor O'Shea, Eoin McGrath, Fionn Dalton, Mickey Finn, Noah Murphy, Tiarnan Roche, Ashley O'Meara, Sean Frazer & Tyrell Sheehan.
Midleton Whites: Ashton Hannaway, Dara Scanlon, Diarmuid Murphy, Brian O'Connell, Sean Coffey, Ben Kenneally, Caolan Dennigan, Daniel Coffey, David Cremin, Leo Kelleher, Niall Lang, Odhran Prenter & Cathal Beausang.
Fe 12
Our team that play in the Eastern Division travelled to Caherlag last Monday night to play Erins Own. The lads have been putting in some remarkably good performances and are most unlucky not to be further up the league table. At Monday's night game we again started very strongly and had registered some valuable scores long before the home team had their first score. We left control of the game slip a little just prior to half time and the Erins Own boys fought their way back into the tie. At half time the score was Midleton 2-03 Erins Own 1-03. In the second half we produced our best football of the year, so far. We kicked some classy long range points and finished off a couple of goods attacks with goals. It was a great game for us and all the more impressive that it came only two days after a long day's hurling in Tipperary.
Final Score Midleton 5-06 Erins Own 1-07. Midleton: Adam McCarthy, Evan McCarthy, Roan Spillane, Phelim McGann, Brion Saunderson, Ciarmhac Smyth, Kelvin Barry, Darra Codd, Ronan Gies, Billy Foley, Neil Fitzgerald, Shay Bohan, Ben O'Neill, Evan Kelly, James Condon, Adam Fay.
U12 Hurling Premier 2: Ballygarvan were our P2 team's opposition last Wednesday night at our home venue of Clonmult Park. We had a massive turnout on the night; twenty-two players who all played their part in the game The game was very even and there were some superb individual displays on the night and I could pick out any number of players but I think Fintan Greenwood, Tomas Lambe and Mickey Finn might just deserve an extra mention. Mickey Finn scored a whopping 2-04 and his second goal was in particular a superb strike.
Final score was Midleton 2-08, Ballygarvan 4-11.
Fe 15
Yesterday at Mallow's GAA Complex, we were crowned Munster Champions for 2015 in the "Super 10" Munster Hurling Blitz. Having come through the qualifiers the previous week in Ballyhea, the finals Blitz was played off between 12 teams from all over Munster in glorious weather.
The Blitz comprised of 4 Groups with 3 Teams in each Group. Our first game was against Kerry opposition Abbeydorney. Having started slowly, we were a good bit stronger than our opponents and finished on a scoreline of 3-16 to 2-6. In the next game we were up at half time by 1-8 to 1-2 against Cappawhite (Tipperary), and got a serious wake up call when 4 minutes into the second half we were just one point ahead. We finished strongly though and the final score was 3-10 to 2-4.
In the semi final against Ballygunner (Waterford) the score was Midleton 0-5 Ballygunner 1-2 at half time. We totally dominated in the second half though and playing great hurling we won easily in the end by 3-11 to 1-3.
The Final saw us going "head to head" with Toomevara (Tipperary) and from the start we continued the great hurling displayed from the second half of the semi and we dominated the game from start to finish.
All our players seemed to "click" on the day. The final score was 4-13 to 2-4.
Panel: Ryan O Riordan, Cormac O Brien, Griffin Hurley, Kian Farmer, Mark Daly, Tommy O Connell, Kevin Finn, Evan Rowlands, Jake Shanahan, Ross O Regan, Fergus Wade, Alan Power, Jake Shanahan, Coleman Quinn, Adam O Connell & Ronan Lynch.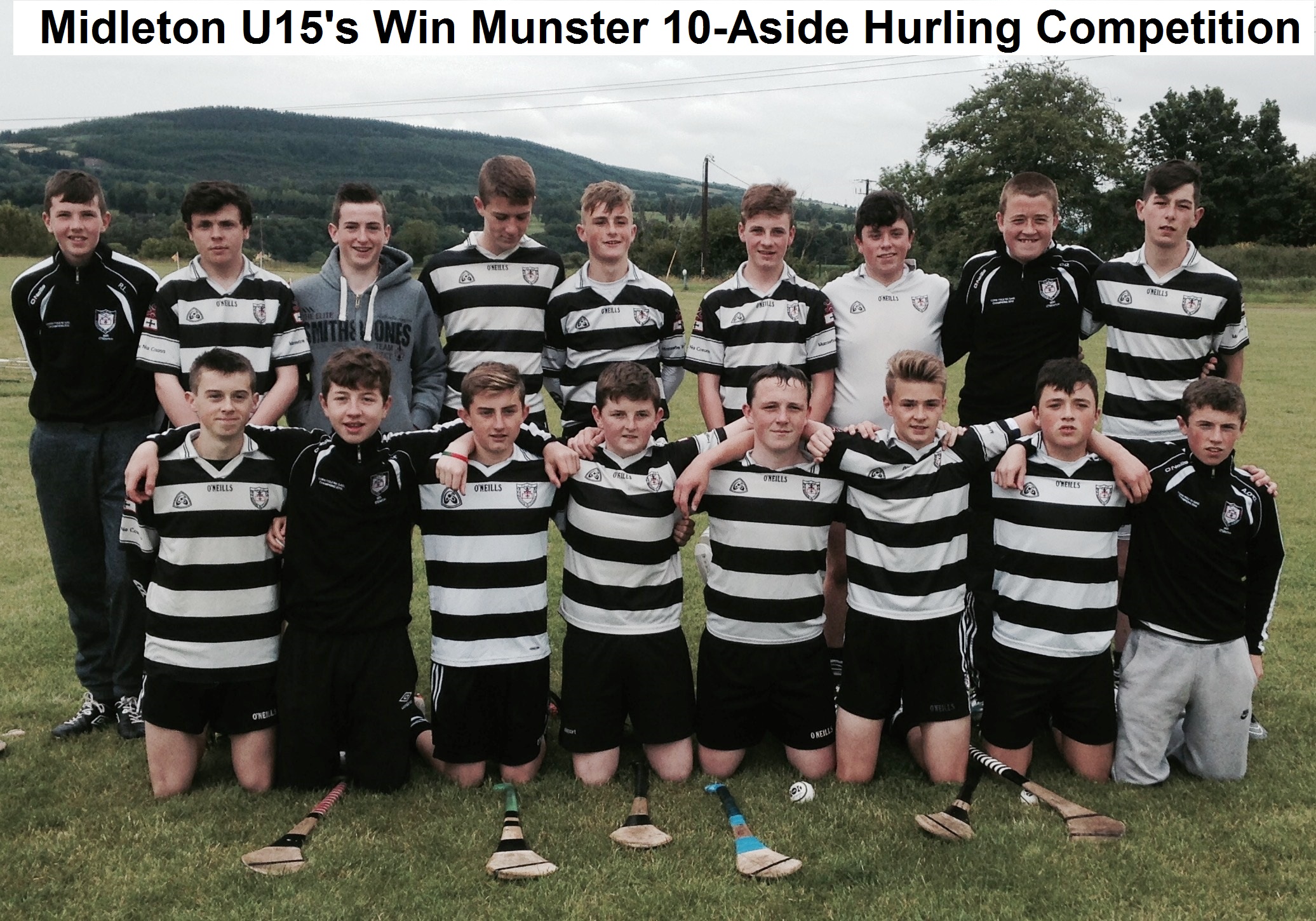 Kellogs Cul Camp
Camp Date: 29th June – 3rd July 2015 @ GAA Club from 10am to 2.30pm daily.
Please note that on-line registration closes Friday 26th at 12am.
As Monday 29th first camp will be very busy it is advisable to arrive early.
Please note there will be NO parking allowed on the grounds of Midleton GAA Club on any day you are asked to avail of the train station parking facilities.
All boys must be collected from the playing field punctually at 2.30pm.
Please remember a packed lunch and plenty of drinks.
A Helmet, Hurley & Gum Shield is a must, your child cannot play without them.
If you have any questions please contact Camp Co-ordinator Pa Beausang 086-2284185.
Outdoor Training
Training for all the Street League groups takes place each Saturday morning at the MAIN PITCH and will continue over the coming months.