Midleton GAA Club News
18 May, 2015
Senior Hurling Championship
Our hurlers played Killeagh in the first round of the Senior Hurling Championship last Sunday afternoon in Castlemartyr and after a very tough hour against a youthful side we emerged winners on a scoreline of 0-20 to 2-08.
At halftime after playing with the aid of a strong wind we led by 0-12 to 1-04.
The players and management will be happy to advance now to round four which is expected to take place towards the end of the summer, well done to all involved.
Team: Tommy Wallace, Cillian Hurley, Patrick O'Mahony, Alywin Kearney (capt.), Killian Burke, Aidan Ryan, Padraig O'Shea, Paul Haughney (0-01), Cormac Walsh (0-01), James Nagle (0-02), Seamus O'Farrell (0-02), Patrick White (0-01), Luke O'Farrell (0-02), Brian Hartnett & Conor Lehane (0-11 6 frees).
Subs Joe Loftus, Padraig O'Farrell, Darren Quirke, Gavin Bagnell, Elliot Mulcahy, Sean O'Farrell, Padriag O'Keeffe, Declan Ryan, Padriac Nagle, Leslie Coughlan, Michael Abernethy, Shane Ryan , Mark O'Keeffe, Keith Ryan & Christopher Dunlea.



Junior Hurling
Last Thursday evening our Junior 2 hurlers played hosts to Carrigtwohill. We played very well in the first half and led at the break by 2-05 to 0-05. In the second half we were under pressure at varous times but some great defending and counter attacking by our lads helped us to claim the points on a scoreline of 3-10 to 1-14.
Our next games are a Challenge this coming Monday 18th v Harbour Rovers at home @ 7.30pm and a League game on Wednesday 20th v Youghal at home @ 7.30pm.
Team: Byran Rossiter, Pat Stack, Eoin Ferriter, Jerome Curtin, Colm Leahy, Gavin Bagnell (0-01), Liam Clohessy, Joe Collins, Billy O Shea (0-03 frees), Josh Deady (0-02), Niall Walsh, Brian O' Sullivan (1-01), Willie O'Brien (1-00), Keith Ryan & David O'Brien (0-02).
Subs Oisin Cotter (1-00), Sean Corcoran, Paul Barry (0-02 1 free), Brian Fitzgerald, Christopher Dunlea, Calem Deady & Paul O'Brien.

Minor Hurling
Our minor hurlers had a very good win last Friday evening in the Non Exam League game when they defeated Bishopstown in St Colmans by 5-12 v 1-12.
Team: Eoin Maloney, Shane O Brien, Adam Daly, Cathal Gunning, Conor Evans, Kevin Mulcahy, Jordan Roche, Seanaidh Smyth, Sean O Meara, Christian Daly, Conor O Neill, Jack Enright, Christopher Power, Padraig O Brien & Mark Crotty.
Subs used Eoin Mitchell, David Mulcahy, Sean Murray & Eoghan Collins.
Next game is on Friday 22nd v Inniscarra away @ 7.30pm

Fixtures
Monday 18th Junior 2 Hurling Challenge v Harbour Rovers at home @ 7.30pm
Wednesday 20th Junior 2 Hurling League v Youghal at home @ 7.30pm
Friday 22nd Minor Hurling Non Exam League v Inniscarra away @ 7.30pm

Club Development
Following on from our hugely successful launch of our 5 year Club Development plan a meeting of the Steering Committee was held recently to discuss its implementation.
Over the coming weeks the committee will be seeking interested people to act on a number of Sub committee's. More details will follow very soon.

SuperValu Tokens
Help our Club get a Kit from O'Neills, for every €40 you spend in Hurleys SuperValu you will receive a token, we would appreciate it if you could donate these to Midleton and place them our collection box.

Camogie
Under 10's kicked off their season of go-games with matches at home last Friday evening playing Watergrasshill. Well done to the girls and all involved.
Training continues for all age groups every Friday evening 7.15pm , Midleton GAA grounds, new players always welcome., under 6 to under 14. Enq: 0876972147. Facebook: Midleton Camogie

Golf Outings
The next outing is on Friday June 12th at Fota Golf Club (Barryscourt course) from 3.40pm to 5pm. Reservations can be made in advance with Jim O Sullivan, this outing will be very kindly sponsored by Garry Johnson of the Maple Leaf Bar.

Our annual Juvenile Golf Classic will take place on July 8 & 9th at East Cork Golf Club. The competition is a 3 Ball Scramble and teams cost only €120, Tee times can be booked by contacting either Anthony Wall 086/3154016 or Coleman Quirke 087/2523759. Tee Box sponsorship is also available at €50, we look forward to your support for this very important fundraiser.

Condolences
The Club Executive would like to express their deepest sympathys to Noel Bransfield & family on the recent passing of Kay, she was a great Magpies supporter, may she rest in peace.

Lotto
Our Lotto Jackpot was €1,600 , we had no winner, the numbers were 9,14,18 & 26, the €40 Lucky Dip winners were Danny Lehane, Sylvia Hickey, Mary Keohane, Norah Higgins & Bernie Kearney, Next weeks Jackpot will be €1,800.
The Lotto draw takes place each Friday in the Club. Tickets are on sale at the Club Bar, O 'Neills Bar, Linehans Bar, Maple Leaf Bar, O' Farrells Butchers, Frank Murphy Butchers, Pat Walsh Paints, Chadwicks, Teach Beag & Niall Mac's Bars.

BINGO takes place each Friday night in the GAA Pavilion from 8pm, guaranteed Jackpot of 1,000 euro!!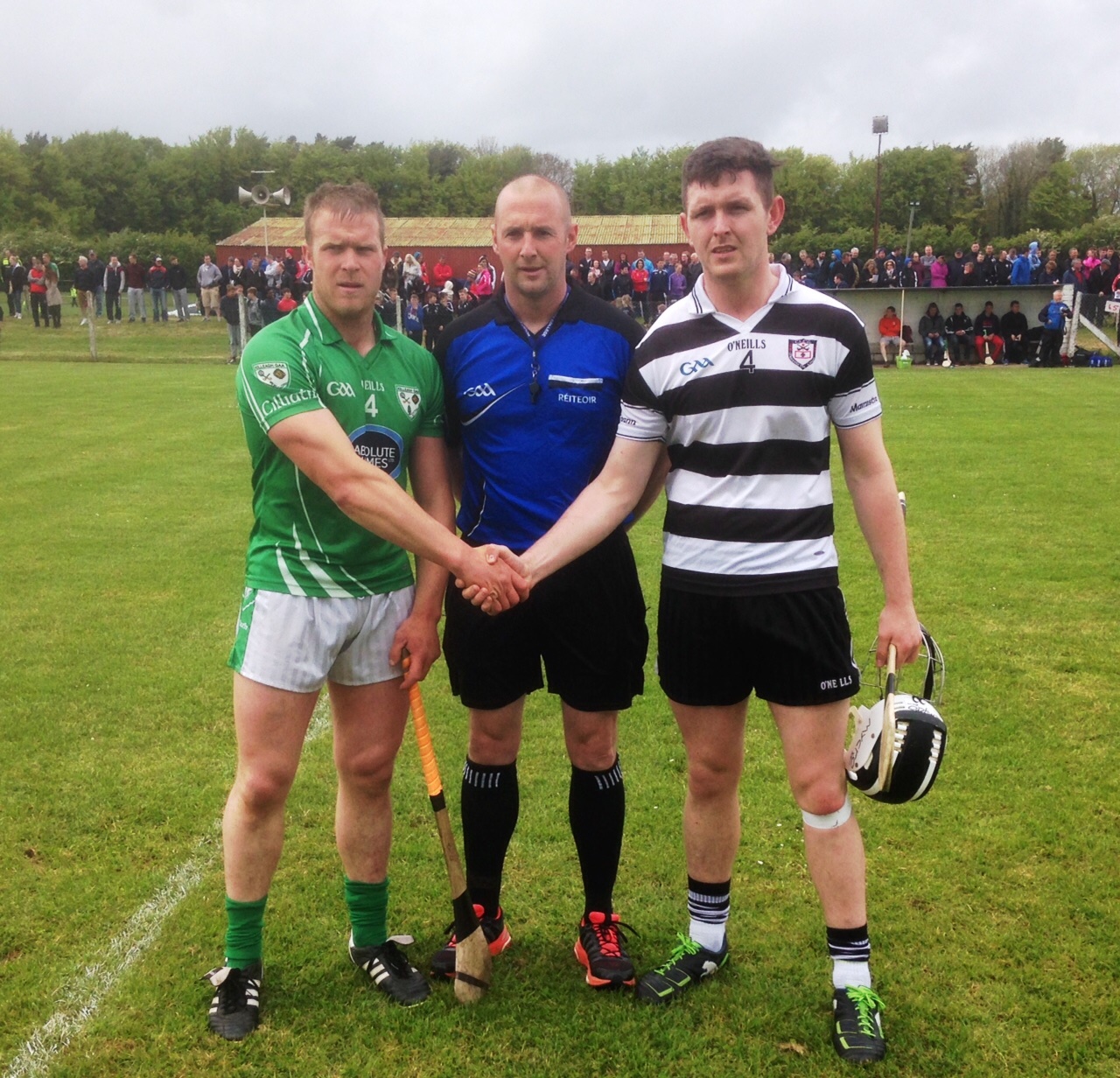 Midleton Captain Alywin Kearney pictured with Killeaghs Patrick O'Brien and referee Joe Larkin prior to the Senior Hurling Championship game


Juvenile

Fe11
We played our first football league game last Saturday week at home v St Nick's.
Short ten players as there was Communion and we had some injuries too. We played two games of nine a side against a very sporting St Nick's. The two games were very tight and at the final whistle we drew both games. All in all it was great to get the football up and going with the lads putting in a great effort from start to finish playing some mighty football – well done lads!
Midleton Blacks: Aston Hannaway, Conor O'Shea, Dara Scanlon, Mikey Finn, Sean Coffey, Tiarnan Roche, Conor Newcombe, Leo Kelleher.
Midleton Whites: Alex Moloney, Diarmuid Kelleher, Rian Barry, Ben Kenneally, Ashley O'Meara, David Green, Cathal Beausang, David Cremin, Sean Frazer
Fe12
U12 Premier 1 Gaelic Football: We traveled to Blackpool in the heart of Cork city last Friday night to play St Nicks in the Premier 1 Rebel Og football league. This was our sixth game out of a series of nine. This team has been consistently performing well above what we have been expecting all year long and the hope from the team's management was that this could be the night to kick start our season. We lined out with a very strong team. From the throw in Midleton took the initiative. Brilliantly taken long range points from Darragh McCarthy laid the foundation for the rest of the game. At the end of a well worked movement, just before half time, Cian Murray pounced on an opportunity to score a cracking goal. David Connolly, Evan McCarthy, Rory Hartnett had super first half performances. The second half was to be this team's best performance of Gaelic Football all year. It consisted of superb defence all the way from the Brion Saunderson out to Neil Fitzgerald, midfield was dominant, capped with three sublime points from Shay Bohan and the forward line helped amass a second half total of 1-07, the highlight being Phelim McGann's goal. For this team the season has just begun…
Midleton Panel: Brion Saunderson, Ronan Gies, Liam McGrath, Evan McCarthy, David Connolly, Ciarmhac Smyth, , Shay Bohan, Cian Murray, Darragh McCarthy, Neil Fitzgerald, Ben O'Neill, Alex Quirke, Rory Hartnett, Phelim McGann, , Darragh Mooney.

U12 Premier 2 Gaelic Football: The P2 football game against Mayfield was played on Saturday 9th of May at Midleton Vocational grounds. Our numbers were very tight because of a number of other events occurring on the same day. All our players worked hard in the first half and we were rewarded by a number of fine scores. At half time we went in four points off the lead. Mayfield started to pull away in the second half and they eventually won on a score line of Mayfield 4-04 Midleton 3-00. We had put up a spirted performance but we just fell short on the day.
Midleton Panel: Adam McCarthy, Ronan Gies, Liam McGrath, Evan McCarthy, Fintan Greenwood, David Connolly, Neil Fitzgerald, Ben O'Neill, Phelim McGann, Brion Saunderson, Billy Foley, James Condon, James O'Sullivan.
Kellogs Cul Camp
Our camp for Boys takes place from Monday the 29th of June until Friday the 3rd of July. Our camp co ordinator is Patrick Beausang, further details to follow soon.

Outdoor Training
Training for all the Street League groups takes place each Saturday morning at the MAIN PITCH and will continue over the coming months.