Midleton GAA Club News
26 April, 2015
Midleton Hurling & Football Notes
Junior Football
Our footballers had a magnificent victory in the third round of the East Cork Championship last Thursday evening against Aghada in Cloyne. Right from the throw in we took control and totally dominated the game from start to finish. This was a great workmanlike performance, both our support play and discipline were first class.
We led at the break 2-09 to 0-02 and finished the game deserving winners on a score line of 3-17 v 0-03.
Team: Josh Deady, Gavin Bagnell, Patrick O'Mahony, Seanaidh Smith, Darren Quirke, Seamus O'Farrell (1-01), Leslie Coughlan (0-01), Aidan Ryan (0-01), Shane Ryan, Cormac Walsh (1-03), Padraig O'Shea (0-02), Cillian Hurley (1-00), Declan Ryan (0-07, 3 frees), Alywin Kearney & Patrick White (0-01). Subs used John Keane, Joe Collins, Kieran Mulcahy, Cormac Beausang & Sean Corcoran (0-01).
We now play Bride Rovers in the quarter final next Friday night.
Junior Hurling
Our hurlers travelled to Cobh last Saturday evening to take on the hosts in the East Cork Junior 1 League and after being 1-04 to 0-12 down at halftime we battled back very well in the second half to earn a share of the spoils on a score of 2-11 to 1-14.
Team: Joe Loftus, Billy O'Shea, Alywin Kearney, Eoin Ferriter, Elliot Mulcahy, Gavin Bagnell, Padraig O'Farrell, Darren Quirke (0-04, 3 frees), Shane Ryan, Sean O'Farrell (0-02), Declan Ryan (0-01), Niall Walsh, Mark O'Keeffe, Padraic Nagle (1-03 fress) & Michael Abernethy (1-01). Subs used Josh Deady & Liam Clohessy.
Last Monday evening our Junior 2 hurlers travelled to Tallow to play the host team in a challenge game. This was a very enjoyable game which we won by the narrowest of margins 2-09 to 1-11, many thanks to Tallow for the game and supplying the referee.
Team: Bryan Rossiter, Pat Stack, Eoin Ferriter, Jerome Curtin, Brendan Ferriter, Gavin Bagnell, Conor O'Neill, Mark O'Keeffe, Josh Deady, David O'Brien, Niall Walsh, Willie O'Brien, Brian Fitzgerald, Keith Ryan & Shane Goulding. Subs used Ian Cooney, Calem Deady, Liam Franklin & Paul O'Brien.
We play Killeagh in the League this Monday away @ 7pm.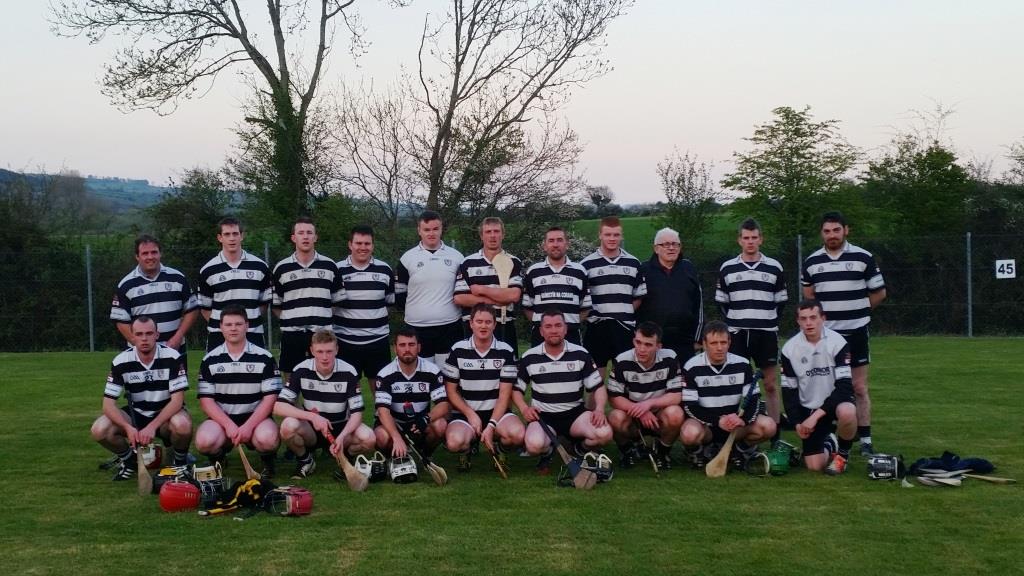 Minor Football
Last Saturday afternoon our minor footballers put up a very brave performance against a fancied Castlehaven side in the first round of the Premier 2 Championship at Cloughdubh. Final score: Midleton 3-05 v Castlehaven 1-13
Team: Liam Franklin, James O'Brien, Sean O'Meara, Conor Evans, Eoin Mitchell, Seanaidh Smyth, Conor O'Neill, Jack Enright, Cormac Beausang, Ryan O' Regan, Padraig O'Brien, Garan Manley, Sean O'Leary Hayes, Adam Daly & Mark Crotty.
Subs used Cathal Gunning, Cristain Daly, Kevin Daly, Luke Smith and Jordan Roche.
We now face Valley Rovers in the second round.
Cork Senior Hurling
Congrats to all our lads involved with Cork last Saturday evening in Pairc Ui Rinn against Kilkenny in the Jamie Wall Challenge. The game ended in a draw 4-18 v 3-21, Aidan Ryan played at full back , Killian Burke (0-01) was half back, both Conor Lehane and Luke O Farrell were unused subs.
Camogie
Last Saturday our under 12 girls travelled to participate in "Canán" at Thurles in a Munster blitz. 48 clubs competed in Semple Stadium throughout the day. We played Clonea (Waterford), St Marys Clonmel (Tipperary) and Killarney (Kerry). Despite the weather not being very favourable for the girls and all involved it was a great experience and a great day.
Panel : Jill Connaughton, Holly Duggan, Abbie Foley, Chloe Garde, Theresa Geary, Elise Halligon, Leah Hogan, Aisling Kelleher, Aoife Lomasney, Emma Lyman, Rachel McSweeney, Meabh Morrissey, Caoimhe Murray, Ella Murphy, Ella Murphy, Lily O'Connor & Ellie O'Keefe . Training for all age groups each Friday 7.15pm – 8.15pm at Midleton GAA grounds. New players welcome. Enquiries Ph 087 6822916. Follow on facebook: Midleton Camogie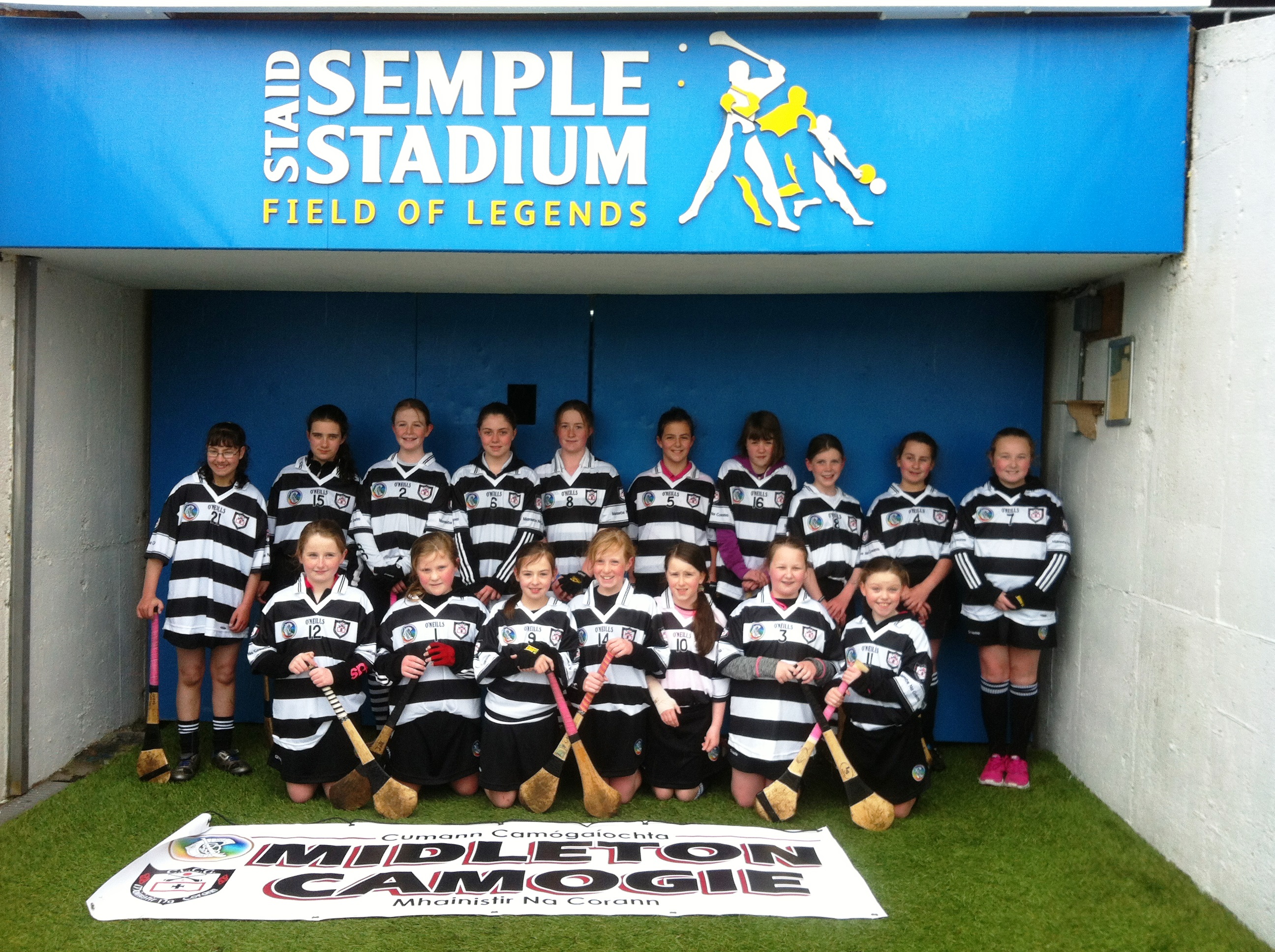 Golf Outings
On Wednesday week 6th May GAA Society Captain Tom Mintern's prize will take place at East Cork Golf Club with a Shotgun start at 5pm, everybody welcome.
Our annual Juvenile Golf Classic has been confirmed for July 8 & 9th at East Cork Golf Club. The competition is a 3 Ball Scramble and teams cost only €120, Tee times can be booked by contacting either Anthony Wall 086/3154016 or Coleman Quirke 087/2523759. Tee Box sponsorship is also available at €50, we look forward to your support for this very important fundraiser.
Lotto
Congrats to our regular Bingo supporter Catherine O'Mahony from Lisgoold who won our Lotto Jackpot of €12,600 last Friday night, next weeks Jackpot will be €1,200. The Lotto draw takes place each Friday in the Club. Tickets are on sale at the Club Bar, O 'Neills Bar, Linehans Bar, Maple Leaf Bar, O' Farrells Butchers, Frank Murphy Butchers, Pat Walsh Paints, Chadwicks, Teach Beag & Niall Mac's Bars.
BINGO takes place each Friday night in the GAA Pavilion from 8pm, guaranteed Jackpot of 1,000 euro!!
JUVENILE NOTES
Fe11
Midleton Team White
Last Sunday we had a very early start in Mallow on a sun splitting day. Midleton Whites started the game with a great goal from out field but even with this great start Mallow came more and more into the game and we found ourselves 3 points down at half-time, 1-3 to 1-0. Half-time gave us a welcome opportunity to regroup. At the start of the 2nd half Midleton Whites started with a different attitude from all 12 players and had a significantly improved performance. In fact, we managed to hold Mallow scoreless, while adding 2-5 to our tally, resulting in a comfortable victory in the end 1-3 to 3-5. Thanks to all those parents who got the lads to Mallow for 10am and to Padraig Finn who kindly volunteered to referee the game and did a great job.
Team: Mikey Finn, Dara Scanlon, David Greene, Fionn Dalton, Alex Moloney, Cathal Beausang, Sean Coffey, Diarmuid Murphy, Ashley O'Meara, Conor Newcombe, Cian Lambe, Riain de Barra
Midleton Team Black
On a beautiful sunny morning for an away game, our U11 Midleton Blacks fought very hard against Mallow on their main pitch. Having started brightly with an early goal we fell behind to a number of converted Mallow frees midway through the first half. Midleton led by a point at halftime and once our forwards got on top with some fine scores we lead by 9 points at one stage in the second half. With 10 mins remaining, Mallow applied a lot of pressure and reduced our lead to three points, but our defenders and midfield battled to the final whistle and held out. Midleton were deserving winners with every player working hard and improving with every game. Magpies abú!!
Team: Tiarnán Roche, David Cremin, Niall Lang, Tadhg Bohan, Ben Kenneally, Tyrell Sheehan, Daniel Coffey, Odhran Prenter, Conor O'Shea, Eoin McGrath, Caolán Dennigan, Seán Frazer, Ashton Hannaway
Fe 12
Our U12s played two games over the last week. The third round game of the Premier Hurling League was played on Monday 20th of April v Blackrock. The second game of the week was a Premier 2 Hurling League which was played at the Tech field on Tuesday 21th of April v Youghal. Both games had contrasting fortunes.
The P1 game resulted in a facile win for the young Magpies. There was a lot of outstanding performances on the night particularly from Liam McGrath, Ciarmhac Smyth, Rory Hartnett and Phelim McGann. The next game will be a very different affair and is set for Monday 27th against a strong Ballincollig panel. The P1 team have now recorded three wins from three games.
Midleton Panel: Ronan Gies, Liam McGrath, Evan McCarthy, Fintan Greenwood, James O'Sullivan, David Connolly, Ciarmhac Smyth, Darragh Codd, Shay Bohan, Cian Murray, Darragh McCarthy, Neil Fitzgerald, Ben O'Neill, Alex Quirke, Evan Kelly, Rory Hartnett, Phelim McGann, Brion Saunderson, Niall Corcoran, Tomas Lambe, Darragh Mooney, Kelvin Barry.
The P2 game was a completely different affair. Youghal started very strongly and found the net a number of times before Midleton got into their stride. But once the Magpies got going a cracking spectacle was delivered up for all the spectators that attended. Youghal held on to win in the end by three goals but this Midleton panel are a developing bunch of young hurlers and are certainly finding their form at the right time. Best on the night for Midleton were James Condon, Niall Corcoran and Fintan Greenwood. Currently they have played two games in their league and have1 win under their belt. Next game is Thursday, 30th of April v Cobh.
Midleton Panel: Liam McGrath, Evan McCarthy, Fintan Greenwood, David Connolly, Shay Bohan, Neil Fitzgerald, Ben O'Neill, Phelim McGann, Brion Saunderson, Niall Corcoran, Tomas Lambe, Kelvin Barry, Craig Collins, Billy Foley, James Condon, Ben Lowen, Jon Spellman, Kane Rowlands, Michael Finn, Tiernan Roche, David Cremin.
Fe 13
Our Premier 1 hurling team defeated Ballincollig at home on Sunday morning in the League by 3-11 to 1-07 and our Premier 2 team lost narrowly to Newtonshandrum away this morning by 6-08 to 6-09. Great performances by both teams, many thanks to the players and parents for their commitment over the weekend.
We have two football games this coming week, on Monday 4th away to Canovee @ 7pm and on Wednesday 6th away to Eire Og @ 7pm.
Fe 14
Our hurlers take on the Feile Champions St Finbarrs in the Premier 1 Hurling League on Tuesday in Togher @ 7.15pm.
Fe 16
Our hurlers had a comprehensive victory over Newtonshandrum at home last Sunday morning in the Premier 1 Hurling League on a scoreline of 4-37 v 0-05.
Team: Cormac Higgins, Conor O'Farrell, Christopher Power, Andrew Nestor, Cathal Gunning, Sean O'Leary Hayes, Eoin Mitchell, John Dwyer, Luke Smith, Tommy O'Connell, Eoin Maloney, Shane Finn, Daniel Sheehan, Cian Murray & Ryan O'Regan. Subs used Tom Scanlon, Harry Wall, Evan O'Meara, Cormac O'Brien and Ciaran Evans.
Outdoor Training
Training for all the Street League groups takes place each Saturday at the MAIN PITCH and will continue over the coming months.

Club Gear
The Club shop is open each Saturday morning from 11am to 12, a full selection of gear is available.