Midleton GAA Club News
05 April, 2015
Senior Hurling League
Our hurlers had a very good win over the Ballymartle last Saturday afternoon in Riverstick. In perfect conditions we led at the half hour mark by 2-09 v 0-09. In the second half we continued were we let off and powered on to finish deserving winners by 2-22 to 0-14.
Team: Tommy Wallace, Peter Dowling, Finbar O'Mahony, Patrick O'Mahony, Killian Burke, Aidan Ryan, Padraig O'Shea, Paul Haughney, Cormac Walsh, James Nagle, Seamus O'Farrell, Patrick White, Brian Hartnett, Luke O'Farrell & Conor Lehane. Subs used Leslie Coughlan, Darren Quirke, Alywin Kearney, Declan Ryan & Padraig O'Keeffe.
Junior A Hurling League
Last Sunday afternoon our hurlers had a tough hour against the hosts St Catherines at Ballynoe. Despite getting off to a slow start we fought back into the game and were unlucky not to come away with both points in the end.
Final score St Catherines 1-12 v Midleton 2-09.
Team: Joe Loftus, Elliot Mulchay, Eoin Ferriter, Billy O'Shea, Darren Quirke, Cillian Hurley, Leslie Coughlan, Cormac Beausang, Sean O'Farrell, Shane Ryan, Declan Ryan, Padraic Nagle, Mark O'Keeffe, Niall Walsh & Michael Abernethy. Subs Keith Ryan, Brendan Ferriter, Gavin Bagnell & Liam Clohessy.
All Ireland Colleges
Congrats to James Nagle and Cormac Walsh who were members of the UCC Intermediate Hurling team who defeated Carlow IT recently in the All Ireland Colleges final.
Membership
Club membership for 2015 now due. Playing members and selectors must have membership paid to allow participation in games post 31st of March.Membership rates can be viewed on the club website www.midletongaa.com or by contacting the Membership officer Terence McCarthy on 086/6013228 or any club officer or team manager. New members most welcome, please note that 31st of March is also the Club deadline date for eligibility to vote in the 2015 AGM.
5 Year Development Plan Launch
Next Friday the Steering Committee of the Club Chaired by Mark Walsh will officially launch the Final draft of our Club Plan.
The launch will take place at 8pm in the Club Lounge with club members and all contributors welcome to attend. Light refreshments will be served.
Healthy Club Project
Recently the Club launched our NUTRITION MAP , this has been distributed to the various teams from Fe12 to Minor. We would like to thank both Shane & Nicky Quill of the Owennacurra Pharmacy for their kind sponsorship of same. Also thanks to Laura Fitzgerald and Shane Goulding for their valuable contributions.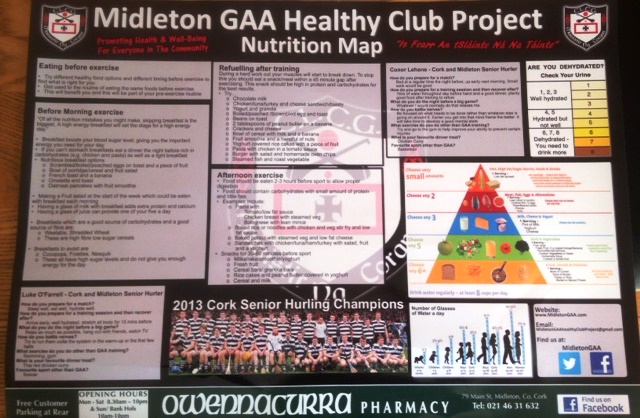 GAA Golf Society
We had a great turnout for the Easter Golf Society outing last Saturday at East Cork Golf Club. The event was very kindly sponsored by Bernard Cashman of Cashman Car Sales. The list of prize winners was as follows;
Overall Winner – Coleman Quirke
Category 1 Winner – Cian Mc Carthy, 2nd Bernard Cashman & 3rd John Hogan
Category 2 Winner - Michael Crotty, 2nd Liam Williams & 3rd Hans Baumann
Category 3 – 1st Paudie O'Keeffe, 2nd Tim Crotty & 3rd Tom O'Halloran
Best Front 9 – Pat O'Brien and Best Back 9 – Martin Greaney
The next outing are the Captain's prize on 6th May in East Cork 5pm Shotgun start & on the 12th of June at Fota Golf Club 3.40 – 5pm.
Lotto
Our Lotto Jackpot was €12,000 the numbers were, there was no winner, Lucky Dips were Pauline Fitzgerald, P O' Shea, G Bransfield, A Hickey & S 'O Cronin, next week's Jackpot is €12,200. The Lotto draw takes place each Friday in the Club. Tickets are on sale at the Club Bar, O 'Neills Bar, Linehans Bar, Maple Leaf Bar, O' Farrells Butchers, Frank Murphy Butchers, Pat Walsh Paints, Chadwicks, Teach Beag & Niall Mac's Bars.
JUVENILE NOTES
Fe13
On Saturday last our hurlers travelled to Douglas for our second league game of the season. Our first outing was against Sars last Wednesday evening with Midleton winning on a scoreline of Midleton 2-8 Sars 0-8.
This was always going to be a cracker between two teams who have met each other quite a lot over the last few seasons and on all occasions a puck of the ball either way has been the difference between the sides. The game opened brightly with both teams scoring a few points each. Douglas looked dangerous running at our defense every time they were on the ball, but some great defending from our backs and midfielders turned the game in our favor, some great work in the half forward line delivering great low ball to our inside forward's reaped great reward with Darragh Crowley and Dan Cagney scoring two well taken goals leaving the score at half time 2-5 to 0-6 in Midleton's favour. On the resumption both sides went at it hammer and tongs from the off, what a second half of hurling we had in store, a pointed free from Douglas followed by another goal from Midleton seemed to have us well in control after 10 min's of the second half, but as in all underage games nothing can be taken for granted. As soon as we had time take a drop of water on board Douglas had the ball in Midleton's net twice to leave us in for a nail biting last five. Back came Midleton and again trojan work in our half back line as well as in midfield, we rattled the Douglas net twice to leave us looking likely winners, back they came and two pointed frees and a soft goal conceded left the score line at Mid 5-10 to Douglas 4-10 with the watch saying time was well up, one last gasp effort from Douglas, confusion in the Midleton defence and the rest is history an unstoppable shot to the roof of the net by the impressive Douglas Centre forward who scored the bulk of his sides scores left the game tied at 5-10 apiece.Well done to all players who turned in two outstanding performances not alone today but also on Wednesday last.
Team: Aaron Coughlan, Ciarbhac Smith, Jack Fitzgerald, Daithi Magan, Liam Kelly, Alex Quirke, Patrick Kane, Leo Hennessy, Charlie Walsh, Darragh Mc Carthy, Patrick Kelly, Luke Deane, Daniel Cagney, Darragh Crowley, Paul Connaughton, Nicky Hayes, James Sullivan, Ronan Gees Conor Hayes and Conor Fitzgerald.
Fe14
Our hurlers had a great start to the PI HL with a win away last Thursday evening against the Glen on a scoreline of 2-7 to 0-10.
Team: Dan Cagney,Adam Meade,Cian Crowley,Ellis Rowlands,Frank O Brien,David Scanlon,Leo Hennessy,Shane Connor,Samuel Quirke,Eabhan De Barra,Christian Murphy,Aaron Mulcahy,Tim O Sullivan,Gary Carroll,Dan O Sullivan.Subs.Rory Donegan,Luke Obersby,Patrick Kane,Paul Connaughton.
Feile Hurling will take place on Saturday the 11th venue and time to be confirmed.
Juvenile Training Camp
Midleton Juvenile GAA will run a 1 Day Hurling Coaching Session for all players from Fe 6 upwards. On Thursday next 9th of April from 10am to 1pm at the main pitch for Boys from Fe6 upwards.
All Boys to bring Hurley,Helmet ,Boots, Runners and also a healthy lunch.
The cost for the Session is €10 for the 1st Boy, €5 for the 2nd brother and the 3rd brother is free.
Parents must TEXT the Boys name to their Team Manager to reserve a place.
All Boys must be collected from within the Club grounds immediatley afterwards.
Session Coordinator.Cormac Quirke.
Juvenile Flag Day
The Juvenile Flag took place last Saturday all day at HURLEYS SUPER VALU. Thanks to Tommy Grimes again for facilitating us, to Mary Quinn for organising the rota and to all those who gave of their time.
Outdoor Training
Training for all the Street League groups will restart on Saturday next the 11th of APRIL at the MAIN PITCH. Also on the same day the COFFEE MORNINGS will take place,we will be looking for PARENTS to help out each Saturday

Club Gear
The Club shop is open each Saturday morning from 11am to 12, a full selection of gear is available.