Midleton GAA Club News
22 March, 2015
Senior Hurling
We played two games in the Red FM Senior Hurling League in the past week. The first was at home to Newtownshandrum on St Patricks morning when despite a good first half performance we lost out by 1-13 v 2-17.
Team: Tommy Wallis, Cillian Hurley, Padraig O'Shea, Alywin Kearney, Finbar O'Mahony, Aidan Ryan, Peter Dowling, Patrick O'Mahony, Killian Burke, Padraig O'Keeffe, Seamus O'Farrell, James Nagle, Patrick White, Brian Hartnett & Paul Haughney. Subs used Leslie Coughlan & Padraic Nagle.
On Saturday last also at home we played Douglas in glorious conditions, the first half was quite even but just before halftime we took the initiative and finshed with some great points to lead by 1-10 v 0-07. In the second half we played very well and ran out comfortable winners on a score of 2-18 v 0-13.
Team: Joe Loftus, Cillian Hurley, Finbar O'Mahony, Alywin Kearney, Peter Dowling, Aidan Ryan, Padraig O'Shea, Patrick O'Mahony, Darren Quirke, Sean O'Farrell, Seamus O'Farrell, Leslie Coughlan, Padraig O'Keeffe, Padraig O'Farrell & Brian Hartnett. Subs used Elliot Mulcahy, Shane Ryan, Niall Walsh, Cormac Beausang & Declan Ryan.
Junior B & C Hurling
Training continues each Monday night @ 7pm in the Club for anyone eligible and interested in playing Junior B & C Hurling. The first round of League games will take place around the second week of April.
Allianz Senior Hurling League
Cork lost out to Tipperary in Pairc Ui Rinn by 4-21 v 2-28 , Conor Lehane scored 1-01, Luke O'Farrell came off late in the game and Killian Burke was unused.
Cork's League quarter final is now on Sunday the 29th v Wexford TBC
Membership
Membership for all Officers, Selectors and Players who wish to act or play beyond the 31st of March is now due. The rates are as follows and can be paid to Terence Mc Carthy. Adult: Waged , Player (Gym inclusive) €150, Adult: Student, Player (Gym inclusive €100, Adult: Unemployed, Player (Gym inclusive) €100, Adult: Waged, Non Player + Gym €150, Adult: Waged, Non Player (Without Gym ) €80, Adult: OAP > 66yrs €30
Midleton Senior Hurling team 1913-17
The 1913-1917 period marked the first great hurling era in the club's history (following our historic All Ireland Football victory in 1890) with the first two of our seven County Senior Hurling tiles being annexed in 1914 and 1916 along with the Croke Cup (representing Cork) in 1914. This team contested county senior finals in 1913,1914, 1916 & 1917 and also reached the semi final in 1915.
Recently the club was presented with a 1916 winners medal by Mr. Dan Cronin of Monard Cross, Cork. The medal was won by Bill Twomey, whose wife was a sister of Martin Corry, legendary IRA figure/TD in East Cork (buried in Midleton graveyard) and who was related to Mr. Cronin. The club intends putting this medal on permanent display in the new trophy cabinet in the new meeting room in the coming weeks. With the centenary of these victories now taking place if anybody else has trophies or family histories of the players who were involved in these teams the club would be delighted to hear from you.
We are aware that there is a 1914 hurling medal in the Kerry County museum in Tralee but unfortunately this will not be made available to the club. This medal ended up with a jeweller in Tralee (who purchased it a part of a job lot in an auction) and he donated it to the Tralee museum. If there are any such similar medals around in houses we would be delighted to put these on permanent display in the club.
For the record this is the list of the players involved during the 1913-1917 period, in what the Midleton GAA history book describes as 'possibly the best hurling team we ever had'.
G O Shea (Capt 1914), Jack Grandon, Dan Twomey, William Twomey, Jim O Connell (Capt 1916), Tom Deasy, Pats Cahill, Dick Gorman (Capt 1917), Jimmy Ramsell, William O Donovan, Pat O Leary, Jerh. Egan, Bertie Walsh, John Horgan, Willie Williams, Patsy Kirby, Michael Kearney, David O Keeffe, W. Ahern, Paddy Mc Carthy, Thomas O Connell, Gerald O Shea, Tom Twomey, Johnny Desmond, Tom Powell, Jim O Connell, E. Cronin, J Kelleher.
Photographs of these teams are on display in the new committee room in the club pavilion.
Fixtures
Friday 27th March East Cork Junior Football Champ v Cloyne in Rostellan @ 7pm
Sunday 29th March Junior A Hurling League v Ballymartle home @ 12
Wednesday 2nd April Junior A Hurling League v St Colms @ Cloughdubh 8.30pm
Saturday 4th April Senior Hurling League v Ballymartle away @ 5pm
Sunday 5th April Junior A Hurling League v St Catherines away @ 2.30pm
Condolences
The Executive of the Club would like to extend their deepest sympathys to the White family on the recent death of Mary late of Thomas Street.
Lotto
Our Lotto Jackpot was €11,600, the numbers were 2,8,22 & 28 , there was no winner, Lucky Dips were Peader O'Brien, Ann Mullaney, Paula Smyth, Pat Mc Carthy & Anthony Mc Grath, next week's Jackpot is €11,800.
The Lotto draw takes place each Friday in the Club.
Tickets are on sale at the Club Bar, O 'Neills Bar, Linehans Bar, Maple Leaf Bar, O' Farrells Butchers, Frank Murphy Butchers, Pat Walsh Paints, Chadwicks and now also at Teach Beag & Niall Mac's Bars.

BINGO for all every Friday night in the GAA Pavilion from 8pm, guaranteed Jackpot of 1,000 euro!!
JUVENILE NOTES
Fe 12
Our Footballers had a great battle with Carrigaline last Saturday in St Colmans pitch in the Premier 1 League, in the end a draw was a fair result, well donr to both teams.Score Midleton 4-06 v Carrigaline 3-09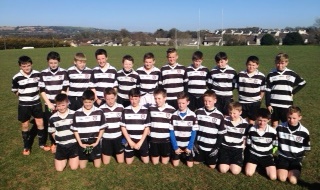 Fe 15
We lost out at home to St Michaels on Sunday last in the Premier 1 Football League after a gallant effort by our lads, final score Midleton 2-05 v St Michaels 1-14.
Scor
Gaelscoil MhainistirNa Corann under Midleton Hurling entered five competitions in the Scór na bPáistí competitions recently. Four groups progressed to the semi finals with two groups the Ballad Group and the Novelty Act progressing to the final. Both groups gave an excellent performance on the day and were placed in runner up positions in both competitions. These competitions are of a very high standard and praise must go to all participants for all their effort as well as the efforts of the teachers who prepared the children. Many thanks to Principal Mairead O'Flynn.
St Patricks Day Parade
Our Juveniles took part in the St Patricks Day Parade. They were joined this year by the Midleton Ladies Football and Midleton Camogie Clubs. All groups from Junior Infants upwards participated and the three groups adjourned to the Gaa Club for refreshments after they paraded up through the Main Street before huge crowds.
Juvenile Registration Day
The annual Juvenile Registration Day took place last Saturday in the busy Club Lounge from 11 to 1pm. We had a great turnout once again , many thanks to all those who helped out on the day.
Juvenile Flag Day
This years Juvenile Flag day will be on Saturday the 28th of MARCH from 8 to 5pm at HURLEYS SUPER VALU. Help will be required from all Club members on the day. Please contact Mary Quinn for available times.
Outdoor Training
Training for all the Street League groups will restart on Saturday the 11th of APRIL at the MAIN PITCH,training times at the MAIN PITCH will be decided in the coming weeks. Also on the same day the COFFEE MORNINGS will take place,we will be looking for PARENTS to help out each Saturday
Club Gear
The Club shop will be CLOSED next Saturday morning, it will re open on Saturday 4th from 11am to 12, a full selection of gear is available.