Midleton Senior Hurling Team 1913 - 1917
20 March, 2015
The 1913-1917 period marked the first great hurling era in the club's history (following our historic All Ireland Football victory in 1890) with the first two of our seven County Senior Hurling tiles being annexed in 1914 and 1916 along with the Croke Cup (representing Cork) in 1914.
This team contested county senior finals in 1913,1914, 1916 & 1917 and also reached the semi final in 1915.
Recently the club was presented with a 1916 winners medal by Mr. Dan Cronin of Monard Cross, Cork. The medal was won by Bill Twomey, whose wife was a sister of Martin Corry, legendary IRA figure/TD in East Cork (buried in Midleton graveyard) and who was related to Mr. Cronin.
The club intends putting this medal on permanent display in our trophy cabinet in our new meeting room in the coming weeks.
With the centenary of these victories now taking place we would be delighted to hear if anybody else has trophies or family histories of the players who were involved in these teams.
We are aware that there is a 1914 hurling medal in the Kerry County museum in Tralee but unfortunately this will not be made available to the club. This medal ended up with a jeweller in Tralee (who purchased it a part of a job lot in an auction) and he donated it to the Tralee museum.
If there are any such similar medals around in houses we would be delighted to put these on permanent display in the club.
For the record this is the list of the players involved during the 1913-1917 period, in what the Midleton GAA history book describes as 'possibly the best hurling team we ever had'.
G O Shea (Capt 1914), Jack Grandon, Dan Twomey, William Twomey, Jim O Connell (Capt 1916), Tom Deasy, Pats Cahill, Dick Gorman (Capt 1917), Jimmy Ramsell, William O Donovan, Pat O Leary, Jerh. Egan, Bertie Walsh, John Horgan, Willie Williams, Patsy Kirby, Michael Kearney, David O Keeffe, W. Ahern, Paddy Mc Carthy, Thomas O Connell, Gerald O Shea, Tom Twomey, Johnny Desmond, Tom Powell, Jim O Connell, E. Cronin, J Kelleher.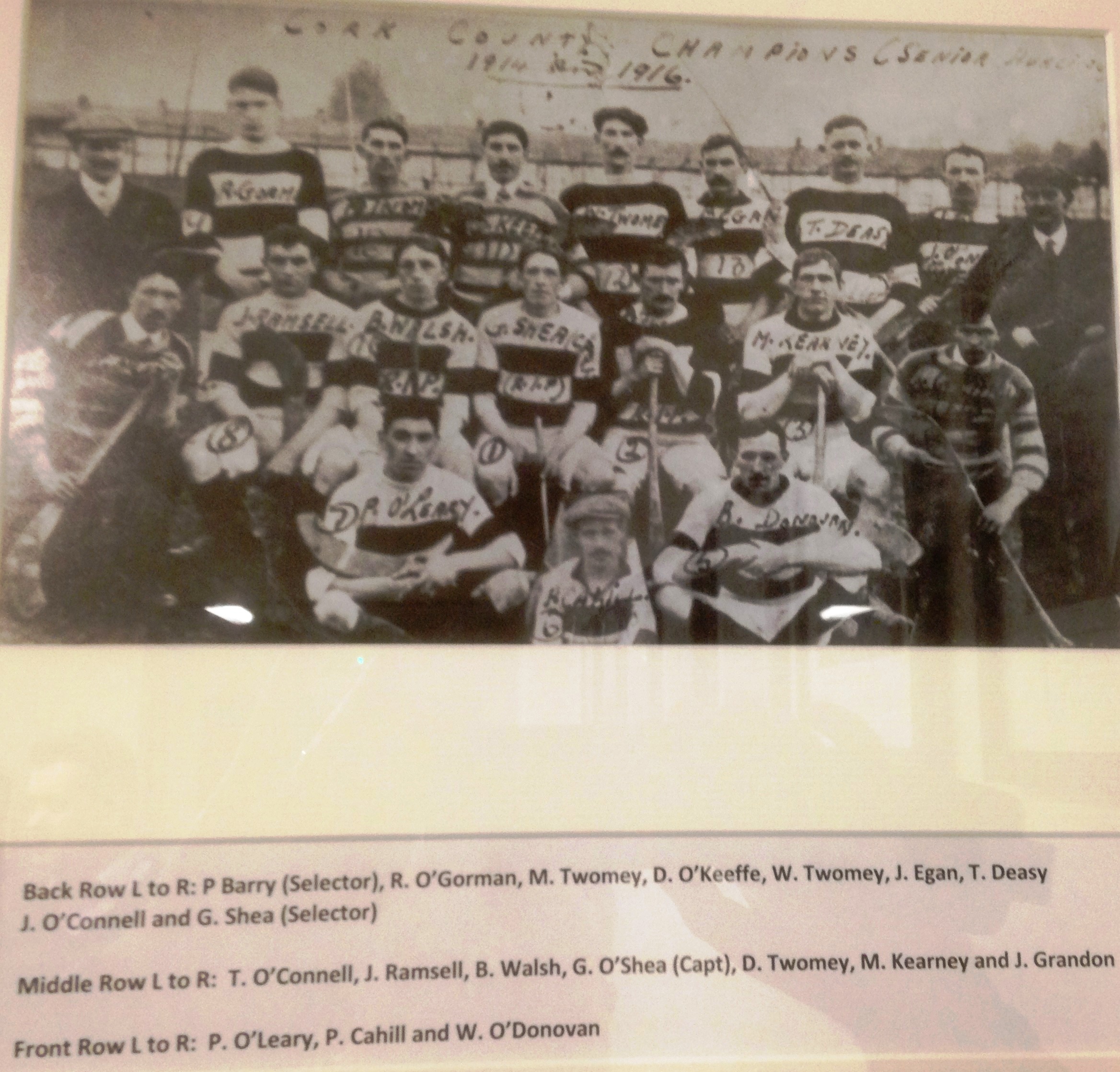 Photographs of these teams are on display in the new committee room in the Club Pavilion.
(Article written by John Fenton)