Midleton GAA Club News
15 March, 2015
Midleton Hurling & Football Notes
Senior Hurling
Our next League game in on St Patricks Day at home to Newtownshandrum @ 12 followed by a League game v Douglas also at home on Saturday 21st @ 5pm
Junior Football
Our footballers had a hard fought victory last Saturday afternoon in St Colman's Community College against Carrignavar. Playing with the wind in the first half and aided by an Alywin Kearney goal we led at the break by 1.04 v 0.05.
Despite lots of possession in the second half it took a very late point from Declan Ryan to decide the outcome of this game.
Final Score Midleton 1.09 v Carrignavar 1.08
Team: Sean Corcoran, Brian O'Sullivan, Eoin Ferriter, Joe Collins, Gavin Bagnell, Finbar O'Mahony, Darren Quirke, Patrick O'Mahony, Seamus O'Farrell, Leslie Coughlan, Declan Ryan, Kieran Maloney, Cormac Walsh, Alywin Kearney & Padraig O'Farrell. Sub used Padriag O'Keeffe.
Allianz Senior Hurling League
Cork had a very good away victory over Galway in Pearse Stadium in Galway by 0-20 v 2-17, Conor Lehane scrored three points, Luke O'Farrell came on as a late substitute and Killian Burke was unused.
Cork's next outing in the League is on Sunday the 22nd at home to Tipperary @ 2pm
Fixtures
Tuesday 17th March Senior Hurling League v Newtownshandrum at home @ 12
Saturday 21st March Senior Hurling League v Douglas at home @ 5pm
Sunday 22nd Allianz Hurling League v Tipperary in P Ui Rinn @ 2pm
Sunday 22nd March East Cork Junior Football League v Ballinacurra away @ 3pm
Friday 27th March East Cork Junior Football Champ v Cloyne in Rostellan @ 7pm
Camogie
Midleton Camogie participated in their first go-games competition on Sunday last when the Under12's travelled to Grenagh on what was a very cold but thankfully dry morning. The girls played exceptionally well in all of their three matches v Nemo Rangers, Grenagh, & Crosshaven. Despite the cold the girls remained enthusiastic and committed throughout, displaying the skills learned over the past few months.
Well done to all involved, thanks to the organisers and to Grenagh for hosting the blitz and providing much welcomed refreshments after.
Panel: Holly Duggan, Jill Connaughton, Ella Murphy, Rachel McSweeney, Leah Hogan, Aoife Lomasney, Ciara McNamara, Teresa Geary, Lilly O'Connor, Chloe Guard, Aoife McNerney, Elise Halligon, Meabh Morrissey , Emma Lynam, Abbie Foley, Ashling Kelleher.
Topaz "Cash for Clubs"
Topaz Cash for Clubs gives you the chance to win thousands of Euro for your local club, every club that meets the threshold will be rewarded. Ask your friends, family and work colleagues to get behind our club's effort and start collecting for Midleton today. The Cash for Clubs initiative runs until Sunday 10th May 2015 after which date all complete entries will be entered into a random draw for a chance to win Thousands of Euro!
Lotto
Our Lotto Jackpot was €11,400, the numbers were 8,9,19 & 26, there was no winner, Lucky Dips were Mia Walsh, Peg Murray, Gerard Fitzgerald, Denis Cashman & Denis O'Driscoll, next week's Jackpot is €11,600.
The Lotto draw takes place each Friday in the Club.
Tickets are on sale at the Club Bar, O 'Neills Bar, Linehans Bar, Maple Leaf Bar, O' Farrells Butchers, Frank Murphy Butchers, Pat Walsh Paints, Chadwicks and now also at Teach Beag & Niall Mac's Bars.

BINGO for all every Friday night in the GAA Pavilion from 8pm, guaranteed Jackpot of 1,000 euro!!
JUVENILE NOTES
Fe12
Our second game of the Premier Football League was an away fixture versus Glanmire. The game was played on the GAA field at Buck Leary's Cross and what a perfect Spring morning it was for it. It started similar to last week's fixture with the young magpies under a little bit of pressure. But while Glanmire were dominating the early exchanges it was obvious that our boys were not going to let them get to far ahead. James O'Sullivan, Liam McGrath, Alex Quirke Rory Hartnett were some of the boys that kept pressure on Glanmire at these early stages of the match. Then as the first half developed the tide slowly started turning in our favor. The score at half time was Midleton 0-2 Glanmire 3-3.On the resumption on the game is when we saw a totally different Midleton team. They were dominant in the back line, in control at mid field and winning every ball in the forward line. With five minutes to go there was only a goal between the two teams. But unfortunately the Magpies were not able to get the leveling score before the final whistle blew. The final score was Midleton 2-7 Glanmire 4-4. Kelvin Barry, Cian Murray, Shay Bohan, Neil Fitzgerald, C Smyth contributed handsomely to our second half performance. Ach ba cheart é a bheith ina motivator mór do chéad lá eile a bhí Mainistir na Corann in ann tionchar an-mhór an cluiche agus níl aon amhras faoi beidh neart níos mó le teacht ón bhfoireann seo.Panel and scorers: R Gies, L McGrath, E McCarthy, F Greenwood, J O'Sullivan (0-1), D Connolly, C Smyth (2-1), D Codd, S Bohan, C Murray, D McCarthy (0-3), N Fitzgerald, B O'Neill, A Quirke, E Kelly (0-1), R Hartnett, N Corcoran, B Saunderson, K Barry (0-1)
Fe 14
On Saturday last our FE14's travelled to Killeagh for the Feile Football group matches,because there was 6 teams in group 8 it was split in to two groups of 3.
In our group were hosts Killeagh and Mitchelstown with matches 20mins aside.
First up for the Magpies was host club Killeagh who we had played in a very competitive challenge games a few weeks ago,this turned out to be a great game with the Magpies coming out on top.Next up was Mitchelstown who we had never played before but again this turned out to be a very even game until we pulled away towards the end.After winning the two games we were in the group final against Carrigaline who came through from the other side of the group,this turned out to be a great game of football from two very committed teams with Carrigaline pulling away in the end on a scoreline of 2-10 to 3-2.The Fe14 Mentors are very proud of the commitment shown by all 20 panel members on the day.
Leo Hennessey,Tim O Sullivan,Cian Crowley,Dan O Sullivan,Rory Donegan,Ellis Rowlands,Samuel Quirke,Christian Murphy,Gary Carroll,Frank O Brian,Aaron Mulcahy,Eabhan De Barra,Shane Connor,David Scanlon,Luke Obersby,Adam Meade,James Gillespie,Jack Fitzgerald,Paul Connaughton & Conor Fitzgerald.
Thanks to Ethan Daly who was injured but helped out on the line for the day,we wish Ethan a speedy recovery from his injury.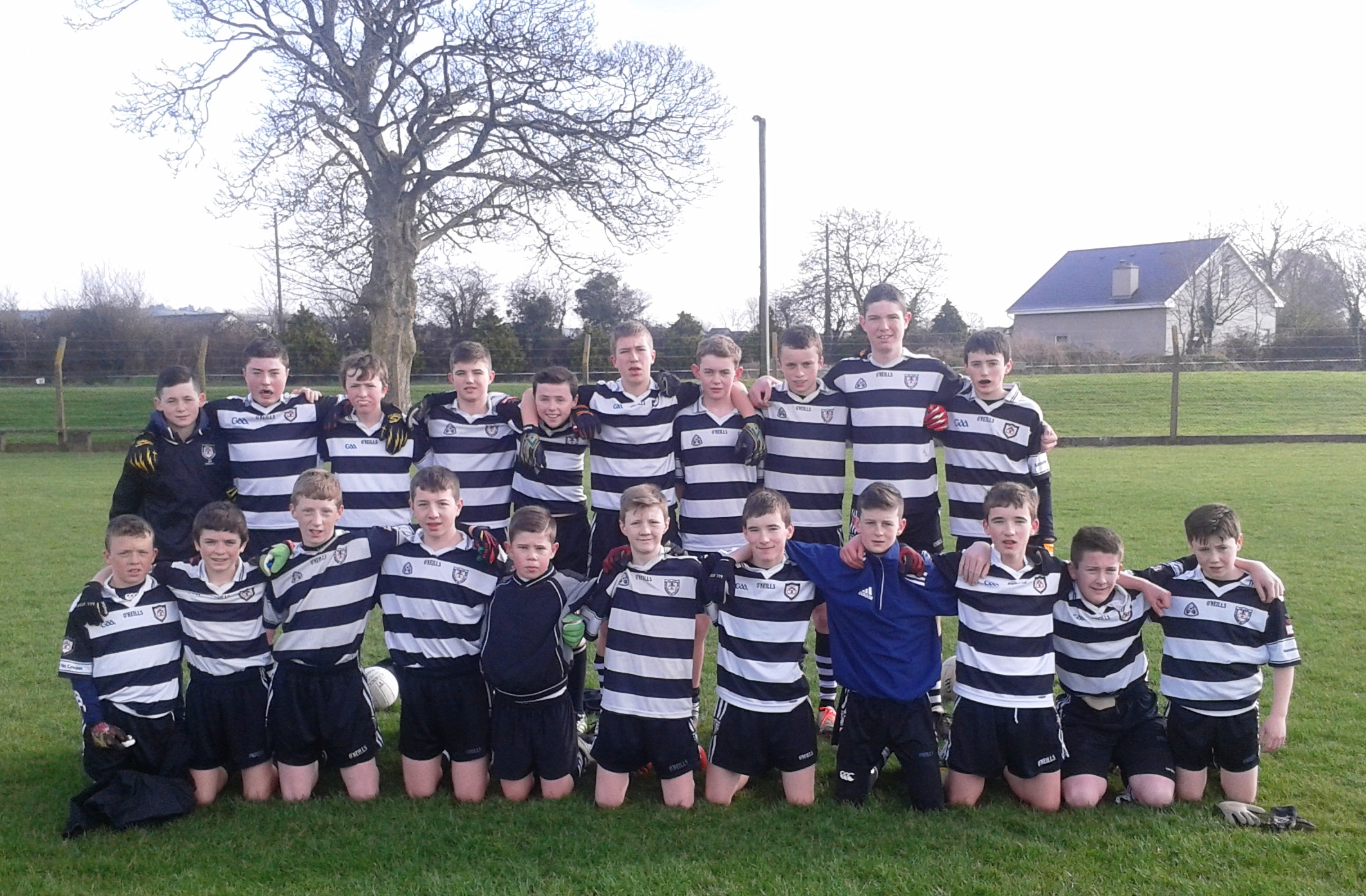 Fe15
Premier 1 Football result St Finbarr's 0-10 v Midleton 3-12.
This morning in Togher our Fe 15 Fooballers recorded their first win of the season when they defeated St Finbarrs. The game opened brightly with both teams getting a few points each. The Barrs though looked dangerous up front and with Midleton gifting a few frees for fouls on the ball the Barrs raced into a 0-5 to 0-2 lead after 15 minutes. Midleton then started to play direct football and scored 3-3 before half time. Two of the goals were as a direct result of great runs from midfield. The half time score was Midleton 3-5: Barrs 0-7. Midleton played more controlled football in the second half and cut out the silly technical fouling that had yielded Barrs 5 of their 7 first half points. Both teams went point for point in the first 10 minutes of the second half and Barrs were finding it hard to break down the Midleton rearguard to get the goal they needed to get back into the game. Time after time they were repelled by strong physical and fair defending. While we were soaking up pressure we alway threatened on the break and we proved to be the better team in the second half tacking on 0-7 to Barrs 0-3. The final score was probably a bit flattering for Midleton but without question this was a deserved victory.
Team: Jake Shanahan, Alex O Brien, Cormac O Brien, Adam O Connell, Kian Farmer, Kevin Finn, Griffin Hurley, Coleman Quinn, Cian Murray, Ross O Regan, Evan Rowlands, Ciaran Evans, Ronan Lynch, Ryan O Riordan, Dan Sheehan, David Scanlon, Gary Carroll.
St Patricks Day Parade
Midleton Juvenile GAA will once agaian take part in the St Patricks Day Parade this year.The Juveniles will be joined this year by the Midleton Ladies Football and Midleton Camogie Clubs. All groups from Junior Infants(FE6) upwards will meet at 1.45pm at the car park off Old Distillery Road. All three groups will walk up the main street in the Parade and then back to the Clubhouse for refreshments after.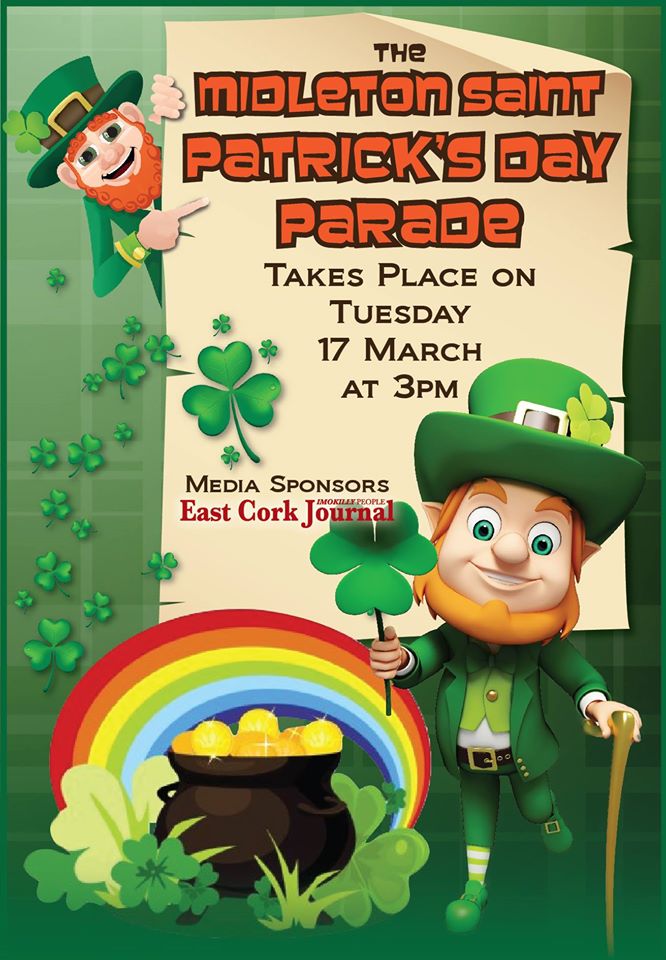 Juvenile Registration Day
This years Juvenile GAA Registration Day for all BOYS from Senior Infants (FE7) to FE16s will be on next Saturday MARCH the 21st from 11 to 1pm in the Club Hall.
All Juvenile Coaches can also Register on the same day in the Club Hall,all Players and Coaches have to be paid members by the 31st of March.
Terence McCarthy the Club Membership Officer will also be there on the day.Membership RATES will be sent to the parents and Coaches soon.
Juvenile Flag Day
This years Juvenile Flag day will be on Saturday the 28th of MARCH from 10 to 5pm at HURLEYS SUPER VALU. Help will be required from all Club members on the day. A Club TEXT will be sent out in the coming weeks with further details.
Juvenile GAA Easter Camp
This years EASTER CAMP will be on the 8th(Wednesday) and 9th(Thursday) of APRIL at the Main Pitch.The EASTER CAMP is for all BOYS from Junior Infants(FE6) upwards.The CAMP will run from 10 to 1 both days with the help from all Coaches from all teams from both Adult and Juvenile.The numbers at the CAMP are growing every year so it is VERY IMPORTANT that we have plenty of help for both days.Details of the CAMP will be sent to all parents in the coming weeks and also to all the Club Coaches looking for people to help out on one or both days.
Outdoor Training
Training for all the Street League groups will restart on Saturday the 11th of APRIL at the MAIN PITCH,training times at the MAIN PITCH will be decided in the coming weeks. Also on the same day the COFFEE MORNINGS will take place,we will be looking for PARENTS to help out each Saturday.
Cul Camp
This years CUL CAMP will run from Monday the 29th of JUNE to Friday the 3rd of JULY.This CAMP will be for BOYS from Junior Infants(FE6) upwards.
More details will follow closer to the date.
Club Gear
The Club shop is open each Saturday morning from 11am to 12, a full selection of gear is available Price lists are available on the club website www.midletongaa.com